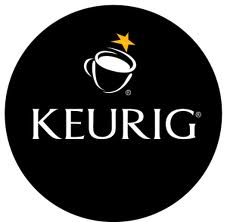 My typical day is pretty hectic with three little ones and this Momma needs her coffee. In the morning while I am getting breakfast ready, I normally get out my canister of coffee with intentions of brewing a pot. Keyword there: intentions. Some days, I get so sidetracked I forget all together. Other days, I notice the canister is out an hour or two later and finally brew my pot of coffee. However, I get sidetracked again and I forget that there is a pot brewing. After another hour or so, I will remember and eventually get a cup. By the time I go back for cup number two, to my disappointment, the auto-off has already shut off the brewer. I could turn it back on to keep the coffee hot, but it just gets burnt and doesn't taste that pleasant. As much as I love coffee, I always seem to be wasting almost a whole pot or not making any at all. However, I am enthused to say that I finally found a solution: The Keurig OfficePRO Single-Cup Coffee Brewer.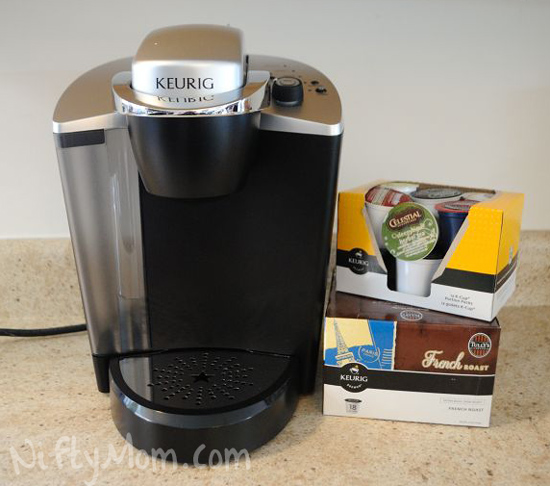 I have only heard good things about Keurig, and thanks to Staples, I finally got to discover for myself how great they really are. The OfficePro is a commercial brewer that has a 48oz water reservoir and generally brews about ten times the amount of a typical home brewer. This is perfect for me because it is always ready to brew and I can drink a lot of coffee. The brewer also comes with a 12 pack of variety K-Cups to sample (I enjoyed each of them). I also recieved an 18 pack of Tully's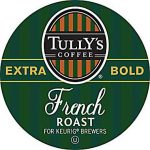 French Roast (my selection and very delightful).
Once I received the package, I couldn't wait get my new Keurig set up and brewing. Setup was simple and the instructions are easy to follow. Before use, it has to be primed. To prime it, all I had to do was fill up the water reservoir and turn the power on so the brewer fills and warms the water. Then, press 'brew' to cleanse and fill a cup of water (with no K-Cup). The process takes less than five minutes. Now, its ready to go.
To brew a cup of coffee (or other beverage), insert a K-Cup into the holder and close. The blue light around the 'brew' button will flash alerting you it is ready to brew. Within about 30 seconds of pressing the brew button, you will have a fresh cup of coffee ready to enjoy! After 15 seconds, the brewer will be ready to brew the next cup of coffee. Please note that when the water tank is filling up the there is a vibration noise momentarily. It's not that bad, but it is normal.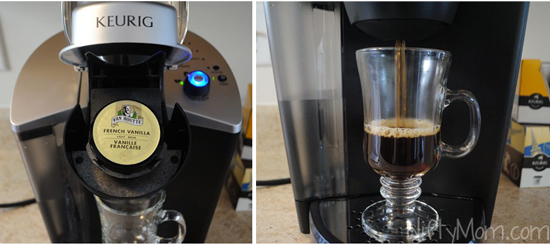 There are many features to the Keurig OfficePro including:
'Auto-Off' Button: When selected, it will turn off 2 hours after the last cup of coffee is brewed.
Cup Size Selection: The brewer can brew 6oz, 8oz, or 10oz at a time
Removable Drip Tray: Removes to allow for travel-size mugs and easy clean up. Also holds about a cup of liquid in the event that a cup is brewed with no cup/mug.
Single Cup Brewing: No wasted, forgotten about, or burnt coffee
Always ready to brew: When I turn it on in the morning, I am enjoying a fresh cup of coffee within three minutes.
Designed to stay on all day: I have comfort in leaving the brewer on all day long knowing it can handle it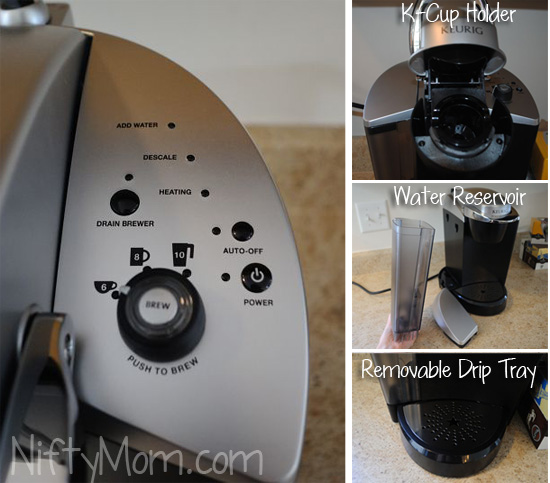 Not only is the Keurig OfficePro convenient, is also eliminates the mess of coffee grounds & filters and the error of using too much or too little coffee grounds. The only thing that could be negative about the brewer is that I may be drinking way too many cups of coffee now.  I have not went a morning without at least one cup of coffee since I received the Keurig and I have even enjoyed a cup or two in the evening. I am truly in love.
Disclosure:  I received a Keurig® OfficePRO® Single-Cup Commercial Coffee Brewer from Staples to facilitate my review. All opinions expressed are 100% mine.