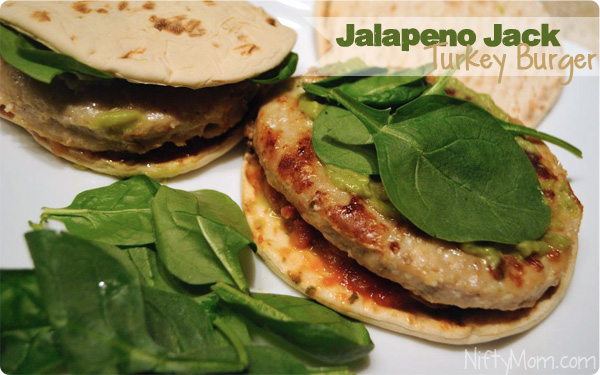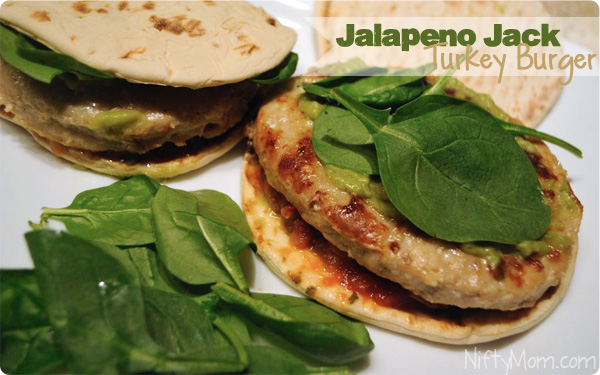 Recently, you may have noticed a pattern in my articles regarding my desire to eat healthier. It has not just stemmed as a New Years Resolution, but as my inclination to keep the recently shredded pounds/baby weight off. Sometimes, when I find companies that offer great foods that are also good for me, it really makes my health-eating easier. Two brands I have been using lately include Jennie-O Turkey Store and Wholly Guacamole.


Wholly Guacamole and Wholly Salsa
When I went to purchase a few Wholly dips and spreads, I was happy to find them in the produce aisle, right next to all the fresh vegetables. Being with the fresh and natural products is a good sign when shopping for healthy choices. Another good sign: Their products have no preservatives or additives and all of the ingredients are well-known and detectable. The fresh taste is full of flavor and makes for a great dip, spread on a sandwich or burger, or an extra zest for a recipe. I love the salsa just for a nice dip for tortilla chips. Both products are a must have at our Superbowl party this year!
Jennie-O Turkey Burgers
Jennie-O has a wide variety of turkey products from sausage to frozen patties. One of my favorite picks is turkey bacon, which has 60% less fat and sodium than normal pork bacon. When I found out they have a Jalapeno Jack burger, I couldn't wait to try it. The burgers come in a box of six 1/3lb frozen patties, so they are easy to prepare. The jalapeno seasoning and monterey jack cheese gives them a great flavor with a little kick. You can find the Jalapeno Jack Turkey burgers exclusively at your local Walmart through March 31st, and then they will be distributed to other retailers.
Jalapeno Jack Turkey Burgers Recipe
Yesterday for dinner we made these Jalapeno Jack turkey burgers. The taste was zesty and savory.  It also makes for a great lunch paired with some tortilla chips and Wholly Salsa.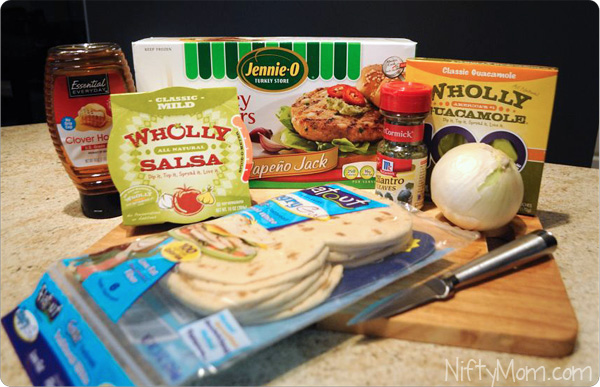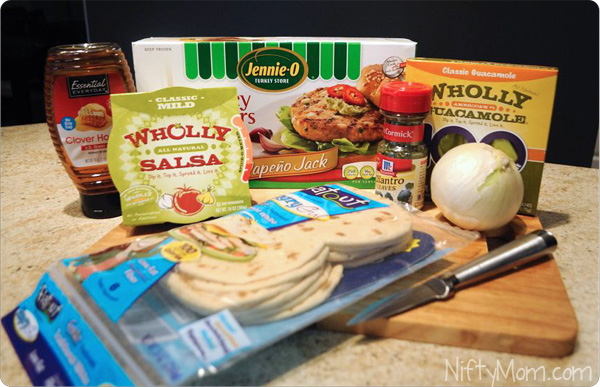 INGREDIENTS: (double to make 6)

3 Jennie-O Turkey Store Jalapeno Jack Burgers
1 cup thinly sliced onions
2 tablespoons cilantro
1 tablespoon honey
1/2 cup Wholly Salsa (flavor of your preference, I used Mild)
3 Flatbreads
Baby spinach leaves (optional)
Wholly Guacamole Classic
DIRECTIONS:
Cook turkey patties as directed on the package. I pan-fried them over medium heat for about 9 minutes on each side. Cook until a meat thermometer measures the internal temperature at 165°F.
In a large skillet coated with cooking spray, cook the onions over medial heat for about 5 minutes until they are softened and start to brown. Stir in the cilantro, honey, and salsa. Mix thoroughly and cook for two minutes until hot.
Spread some of the salsa mixture onto the bottom of the flatbread. Add the turkey patty, spread on desired amount of guacamole, and top with some spinach leaves.
Enjoy!
**CLICK HERE to enter to WIN a Wholly Guac & Jennie-O Prize Pack** (ends 1/21)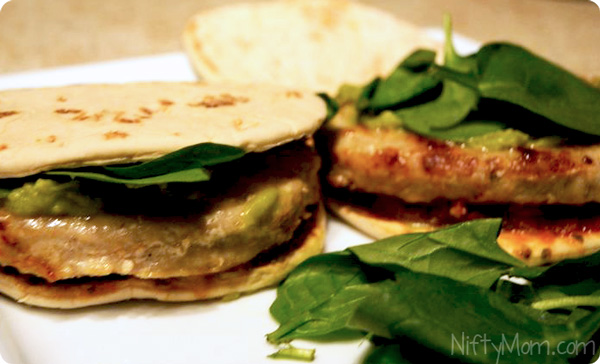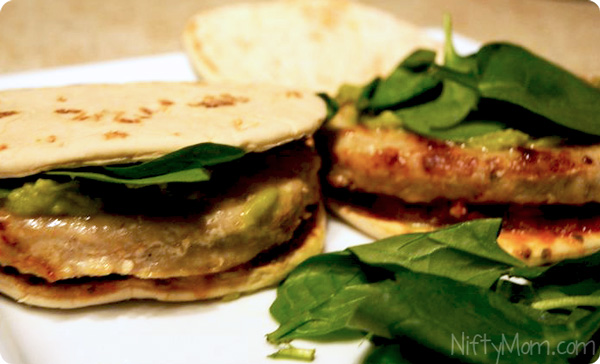 For updates, recipes and product information, be sure to connect with Wholly Guacamole and Jennie-O:
Wholly Guacamole: Website • Twitter • Facebook • Pinterest • YouTube
Jennie-O Turkey: Website • Twitter • Facebook • YouTube
I was provided with promotional items to facilitate my review and post the recipe. The recipe was provided to me and derived from Jennie-O. All opinions expressed are 100% my own.