With all three kids in school, those first few days were like everything got shaken and turned upside down. Not that it's a bad thing, but for a person of routine, it is slightly alarming and difficult. Accepting changes and creating happiness for yourself takes guts. While this post is sponsored by Renew Life® Ultimate Flora Probiotics, all opinions are my own.
Routines have always been my thing. Not just routines, but having everything written down was/is a must. Since I was a kid, I always set routines and schedules for myself. Now that I have kids of my own, they are now accustomed to such set schedules. When something changes though, I tend to have a tough time with it, even if it's a positive change.
Last month school started. This year all three boys are in school now, which is a huge change. I thought I was ready for it. I spent the week before slowly changing our schedules to fit that of a typical school day. I wanted the kids to already have the basis of their school schedules down pat before jumping right in. What I didn't do was prepare myself or consider my new routines.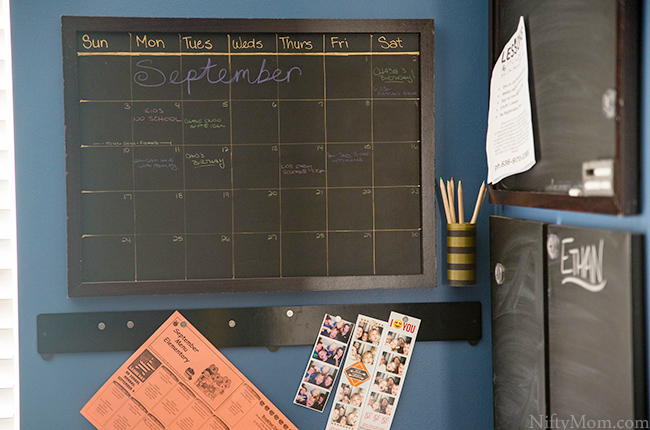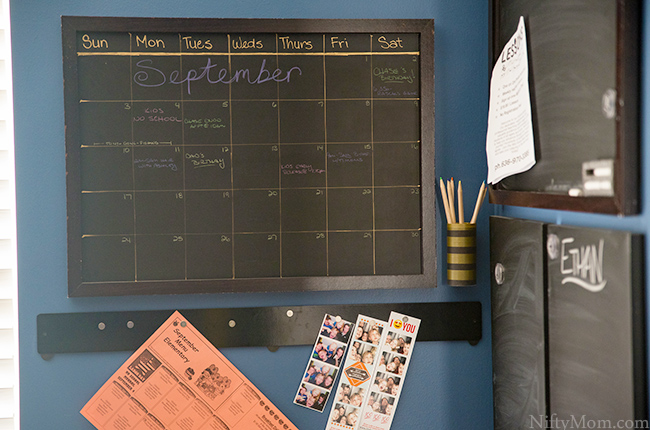 I am not talking about 'oh I miss all my babies' all day long (don't get me wrong, I do miss them at times). I am talking about my new schedule. I was so focused on them and getting things ready for their big change, my own change took the back burner.
I work from home and knew some things would be the same, just without the background noise of boys arguing or playing a game. I didn't realize that it would take creating a whole new schedule for myself to make the day more productive, which always makes me happier.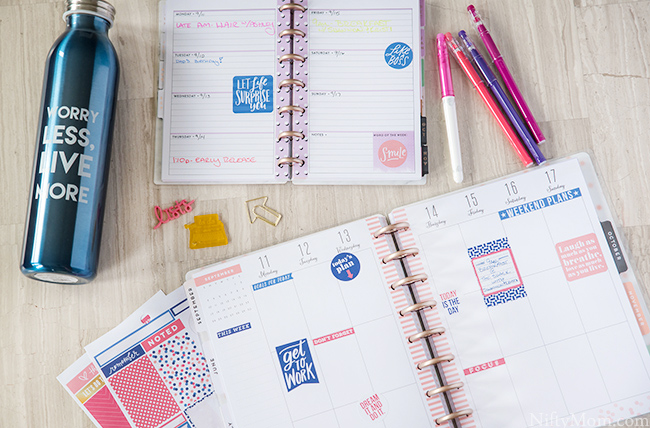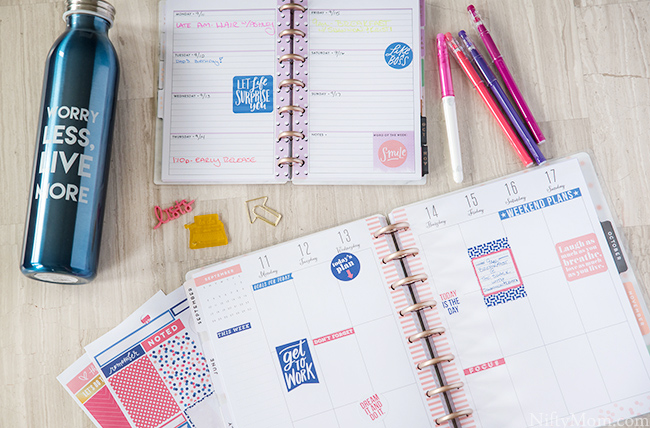 Once I got through the first few days, I found that I was working better out of two planners: one for weekly appointments/events and a larger one for daily tasks. Instead of spending my mornings scheduling out my day, my mornings are prepping for school. On Sunday, I make sure my weekly appointments are all set.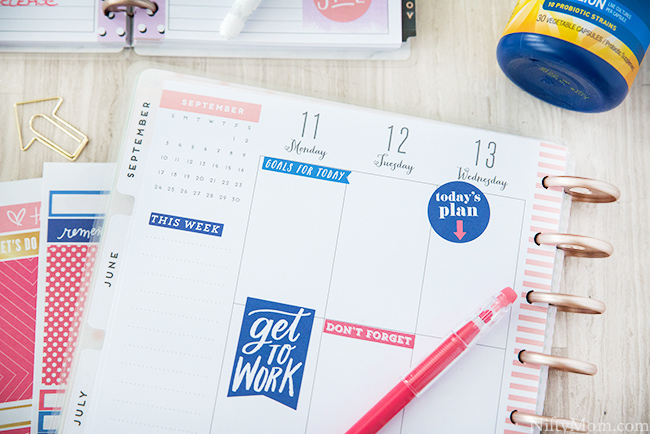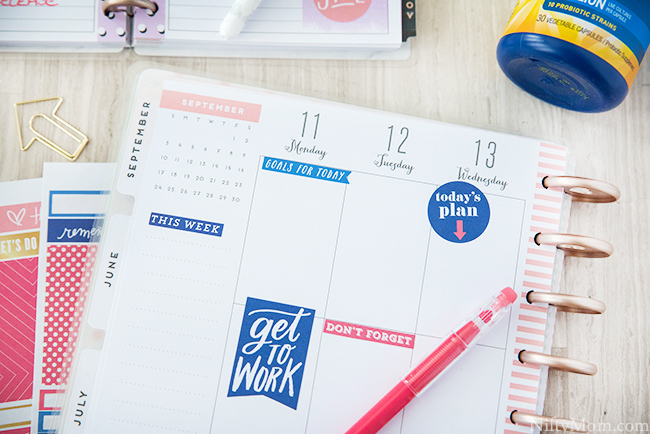 Then each night, I fully plan the next day. This way, as soon as I get the kids to school, my day continues smoothly. This was actually a huge change for me. For years, I would do my planning in the morning. I wasn't sure it was going to work, but I had to try. Between that and the little changes we have made over the last month, it has been a huge success. Not only do I find myself getting more accomplished, it creates more happiness for me. I may still have to play music in the living room where the kids used to play (because I am not quite used to all the quietness), but that's another story.
Accepting changes and creating happiness for yourself takes guts.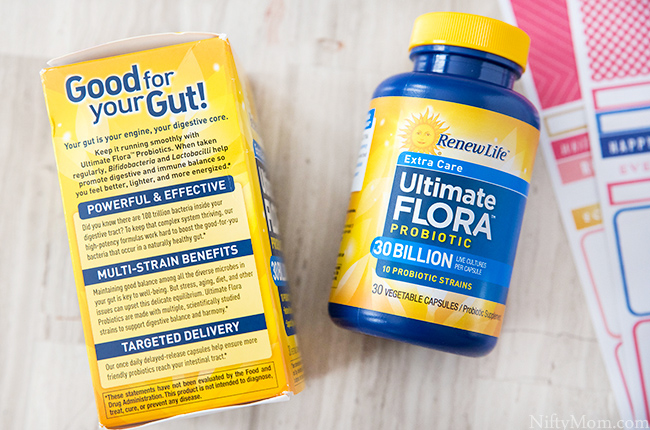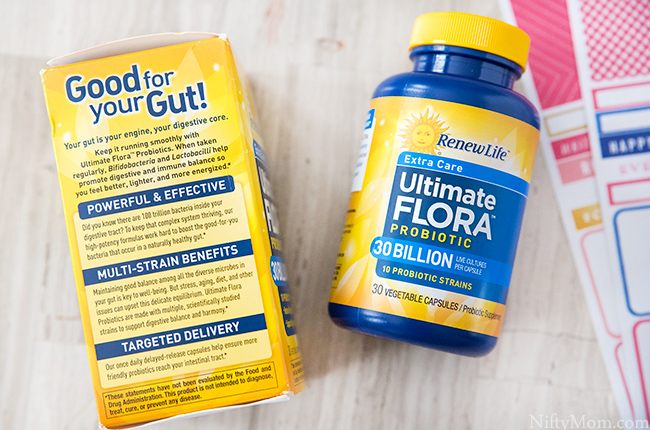 I also have to stay on top of my health to manage our daily chaos. Science shows that a healthy gut positively affects mood, memory, immune health, digestion and more – all important aspects we need every day. Renew Life Ultimate Flora Probiotics is a daily capsule with 30 billion live cultures per capsule, that supports digestive and immune health. 95% of your body's happiness-inducing serotonin is produced in your gut and a healthy gut can help lower stress & expend energy better. While I work on continuously creating lists and schedules to make our days go smoother, caring about my gut health is essential. Having a healthy gut is key to keeping active and keeping me going from 5:30am to late at night.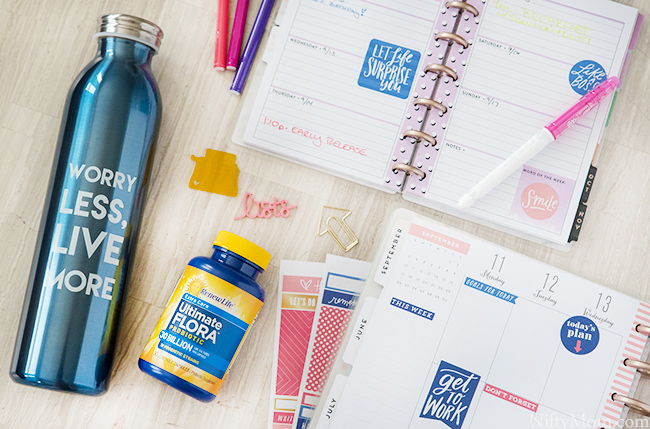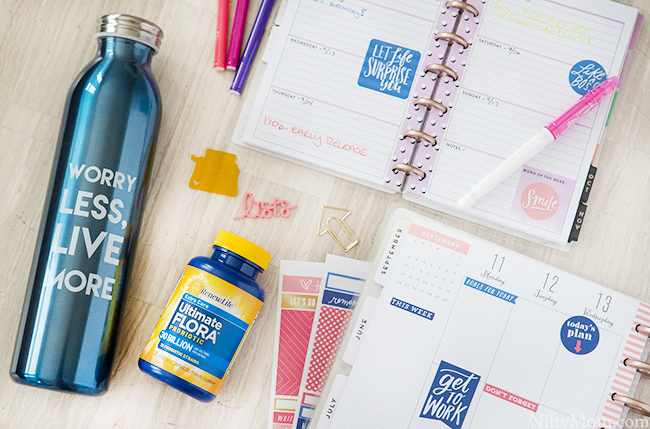 For more information, check out RenewLife.com.
Being human takes guts. Make sure yours are up for it.
This is a sponsored post written by me on behalf of Renew Life Ultimate Flora Probiotics.