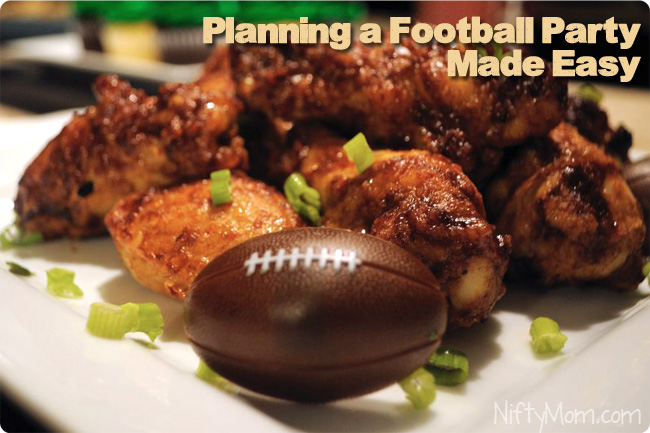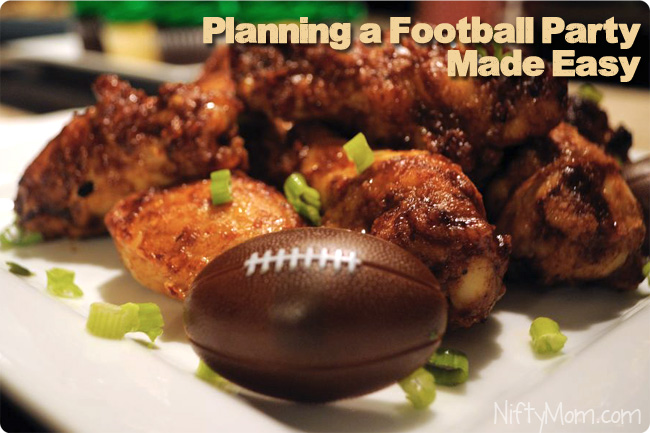 I love having friends and family over and take any chance I get to host a party that involves food. One of my favorite times to do so is during football season. Normally when I want to have a big party, I like to go all out. I spend hours in the kitchen making lots of food, decorating an awesome cake, and setting everything up for the party. Which can sometimes leave me exhausted and allow for less time enjoying the company. I decided the next big football party we host (in a few weeks), I am going to spend less time in the kitchen. Right away, I knew my one-stop shop to make this happen: Sam's Club.
Shopping for Food and Supplies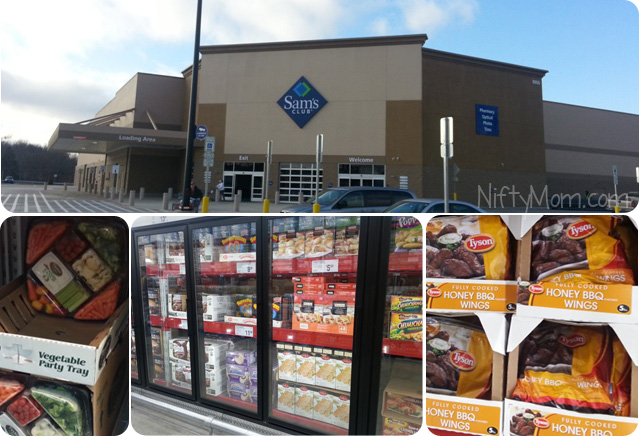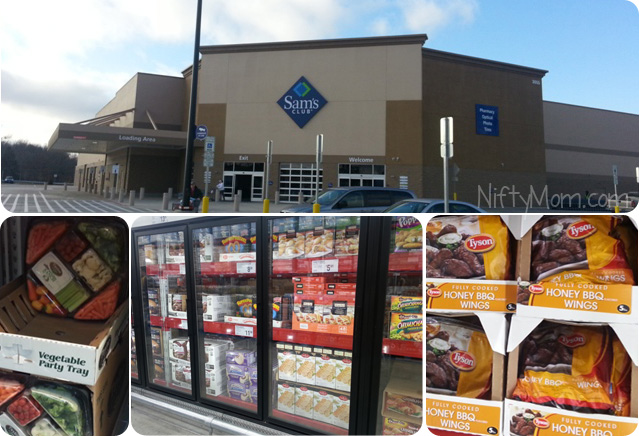 Shopping for supplies is a crucial step for planning a party. The easiest way to conquer all the necessary shopping is by only going to one store. There is everything one needs at Sam's Club to host a party, from paper goods to beverages to tasty foods. They size of the packages are larger than the ones at your typical retailer so they work best for hosting parties. You really get your money's worth and it makes planning easier. I spent a lot of time trying to narrow down some of the foods I was going to purchase because there are so many. What foods work best?
Football Party Foods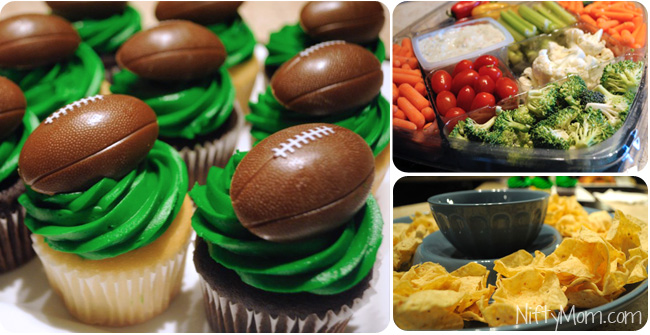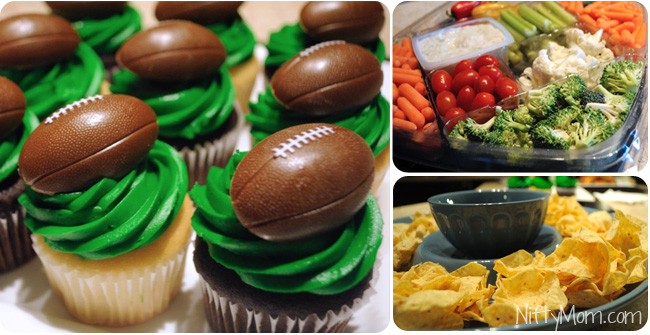 For parties, I like to serve finger foods. They are easy for the guests to snack on throughout the game, socialize around and can really bring a good variety to the table.
Vegetables and/or Fruits: Include corresponding dips. This time instead of spending time cutting everything up myself and making dips, I purchased a veggie tray that included a dip. All I have to do is open it and set it on the counter.
Chips and Dips: Have a good variety chips and dips available. People tend to socialize around dips.
Variety of Cheese and Crackers: Another food that will include little to no preparations.
Cupcakes: These are a great dessert and they require no cutting (like a cake) or even get a plate. Sam's bakery had a 30 pack of football cupcakes and I couldn't resist. As much as I love decorating desserts, it's nice to have a break.
Tyson's Fully Cooked Chicken Wings: These are perfect because you can just pop them in the oven for about twenty minutes and they are ready to serve. I picked from three flavors Buffalo, Tequila Lime, and the one I got, Honey BBQ.
Setting Up Food and Supplies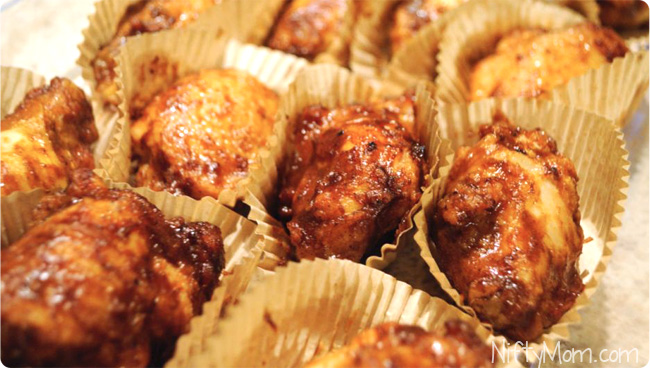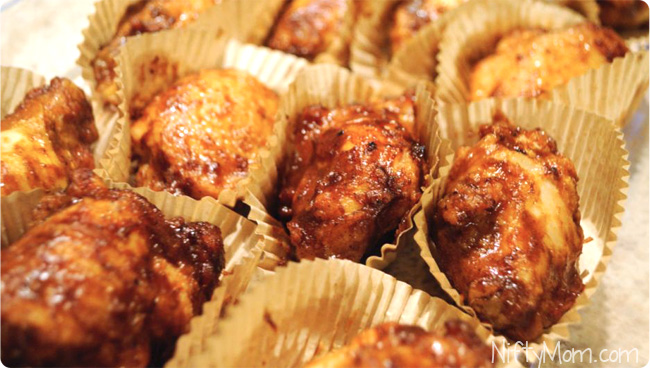 Placement is important when it comes to the food and supplies. Here are some tips to keep things functional around the party:
For the chicken wings, I like to set out a plate that has single wings in cupcake liners (shown above). When people just want one wing as they are passing through the kitchen, they can easily grab one without getting their fingers coated with sauce.
Keep an extra bag of chips near the chip plates. If they get low, it is easy to add more.
Keep disposable plates, utensils (if needed), and napkins in at least two locations. Some spots can include opposite sides of the counter or on the dining room table. This allows for people easily access them if they missed the first location.
If you are utilizing more than one room (kitchen, living room, garage, etc), put a cooler for drinks in each room. As a host, I always offer beverages to my guests throughout the party and this makes them quicker to access.
Also when utilizing more than one room, make sure each room has a trash can. This helps eliminate the amount of trash left out and it will not fill up as quickly, reducing the time you spend cleaning during the party.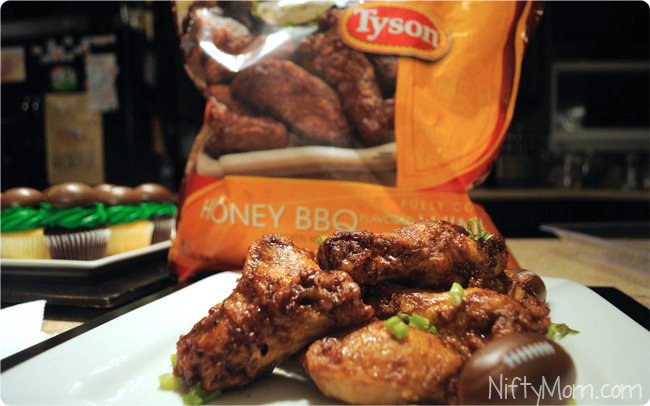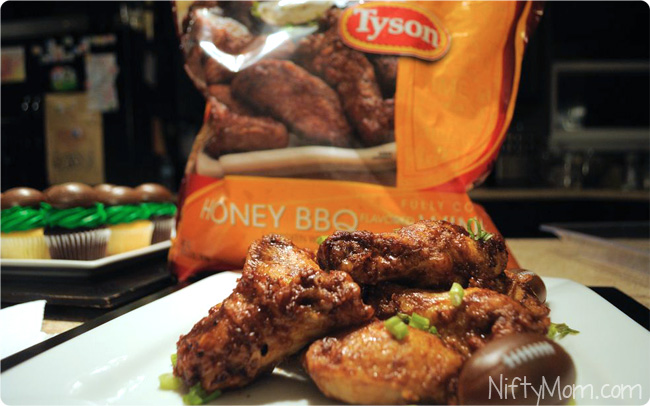 Hosting a party doesn't have to be stressful and when it comes to our party must-have (chicken wings), I am glad Tyson came through! I can't wait for the BIG GAME! See my whole shopping experience through photos on Google+. You can check out some great recipes and more football party ideas here and connect with @ClubTysonLive on Twitter and become a fan of Tyson on Facebook.
"I am a member of the Collective Bias®  Social Fabric® Community.  This shop has been compensated as part of a social shopper insights study for Collective Bias®  and Tyson. #cbias #SocialFabric #MealsTogether. All opinions expressed are 100% my own."