*As a Fellowes Bankers Box Ambassador, I received an assortment of boxes in order to provide an honest opinion.
I have been doing a lot of cleaning, sorting, and organizing this month. Aside from my every day cleaning, my home office and closets have been my prime focus. A few weeks ago, you may remember when I showed you what they looked like and my goal of organization. I have been hard at work to get those area organized and de-cluttered.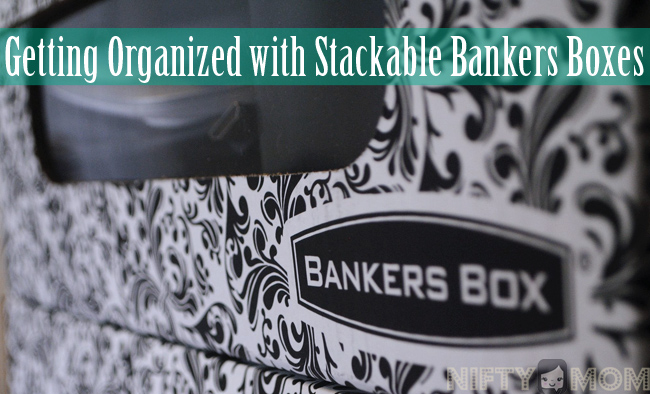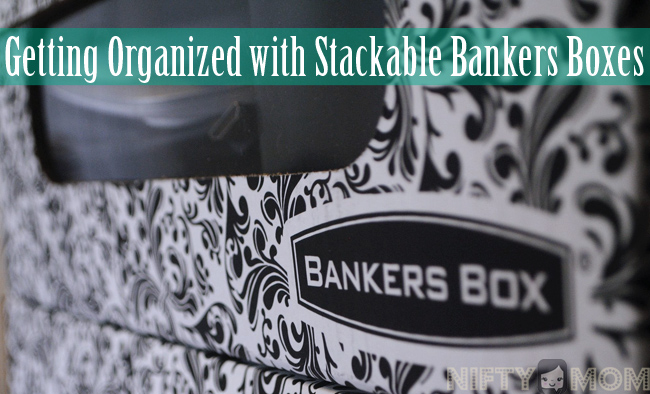 5 Simple Organizational Tips
Beginning an organization project can be intimidating and overwhelming at first. I use five simple steps to make the process more manageable.
Select a specific target area and goal. For example, instead of having just a goal of organizing my office, I wanted to de-clutter the bookshelves and eliminate all the canvas storage bins. 
Layout everything you are sorting and organizing so you know what you are working with. This typically requires making a larger mess than you started with. However, it helps you easily see everything. In my case, I completely cleared off the bookshelves and lined up all the storage bins.
Group items in different piles. I normally have four piles: Keep, Trash, Recycle, Donate.
Store like products together. I had a storage box for camera accessories, software products, extra binders and supplies, and electronic cords. For the cords, I used paper towel rolls to keep smaller cords separated.
Use easy storage, such as Fellowes Bankers Box Stackable Storage.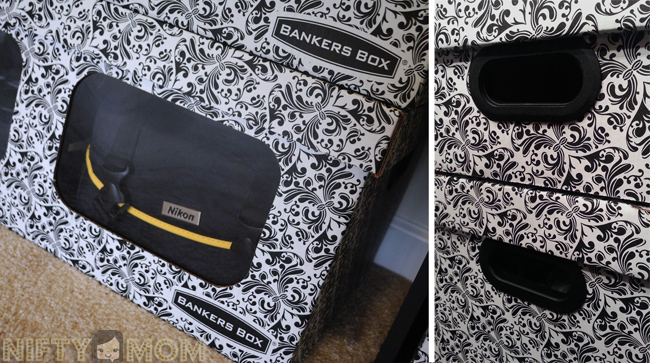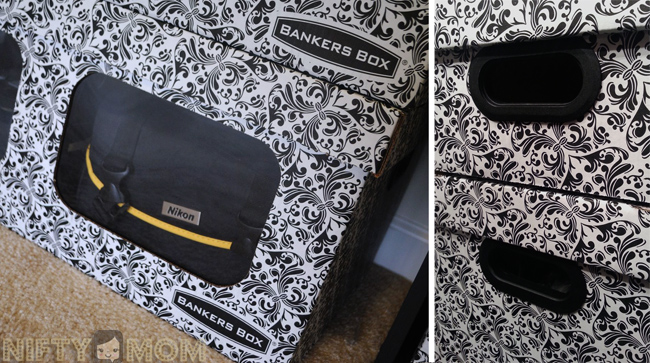 These storage boxes were a huge help in my closets and office. They are available in four sizes: Small, Medium, Large, and Underbed. Assembly is simple with their FastFold Design. One if my favorite features  is the large window on the side of the box. This allows me to easily see the contents without having to open the box.
They also have reinforced plastic handles. This makes lifting and carrying the boxes easy and painless. After loading the large one up with all my camera accessories (tripod, cases, photo printer, video camera, photo paper, etc), I began to worry it was too much. I picked it up and it was pretty heavy, but the heavy-duty construction make the box sturdy and durable. The boxes are great for just about anything, including clothing, paperwork, office supplies, craft supplies, and anything needing to be stored.
Before and After Pictures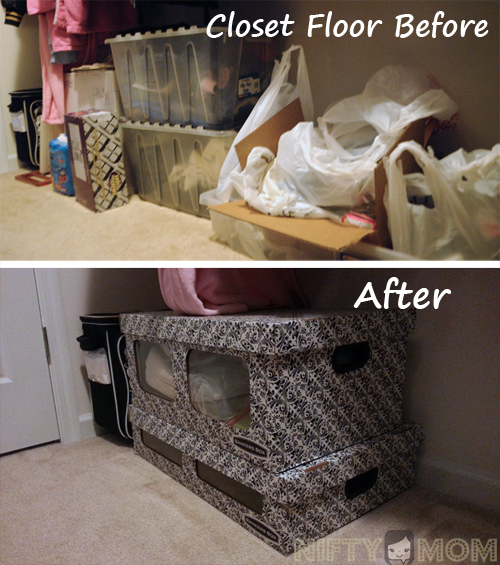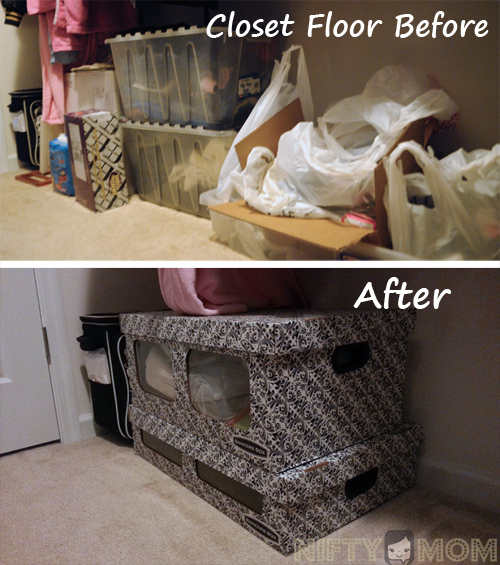 The floor on my side of our master closet was a huge mess. I had bags of unfinished projects or supplies that needed to be put away, boxes of clothes, and other misc things. I moved the boxes to the basement and used a large Bankers Box to store my projects in. It is definitely more organized and looks much better.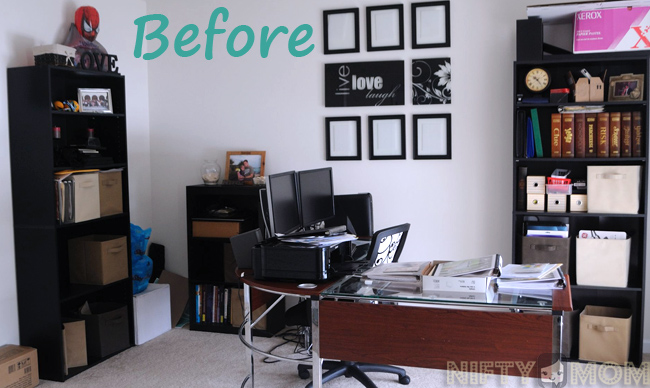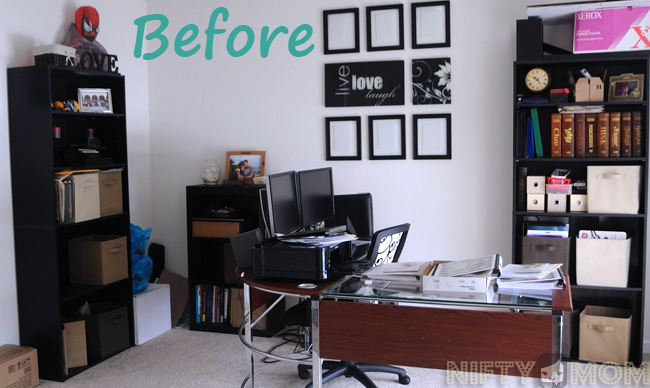 The bookshelves in the office were a larger task. I focused on eliminating the canvas storage bins and the clutter in the corner between the bookshelves.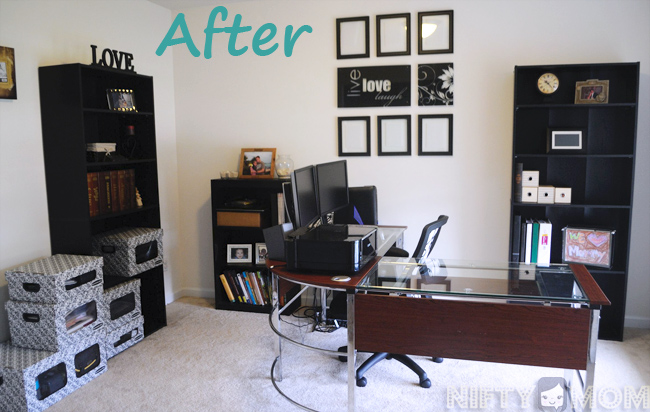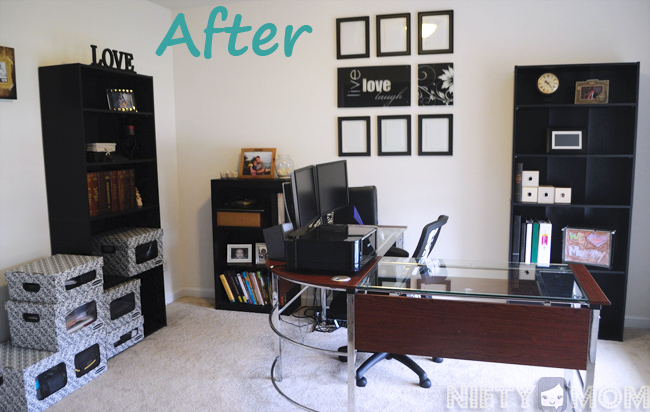 The bookshelves look empty and bare now, but at least the bins are gone. I have a good reason to go shopping and find some decor for the shelves though! I'm excited that I am one step closer to my office re-design.
Fellowes Bankers Box 'Messiest Closet' Contest
Don't forget about the Fellowes Bankers Box Messiest Closet contest on their Facebook Page. Submit a photo of your closet and get votes ('likes') to win a consultation with a professional organizer and up to $500 in free Bankers Box Stackable Storage Products. Five second place winners will also win $500 worth of products. Contest ends April 28th. Enter now.
"I participated in a campaign on behalf of Mom Central Consulting for Fellowes Bankers Boxes. I received product samples and a promotional item as a thank you for participating."