Make sure you check out our most recent visit in July 2014 and the newest attractions at Grant's Farm. 
I love visiting attractions around St. Louis throughout the year with the family. Luckily, there are a good number of family-friendly and budget-friendly places in the area. One of the most popular free attractions in St. Louis is Grant's Farm. I haven't been there since I was a kid so I have been looking forward to taking my little ones this year. Last Saturday (April 13th, 2013) was their opening day for the season. Sunday was really nice out so we headed out for a day of fun.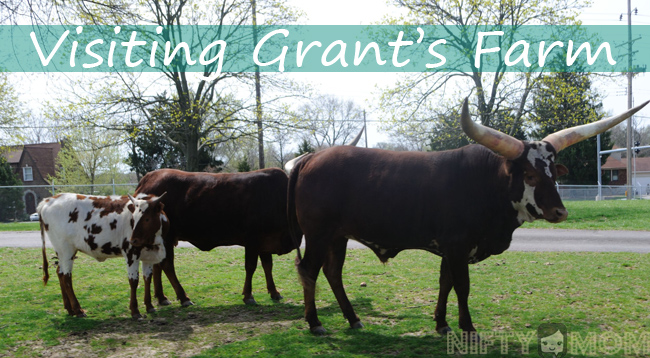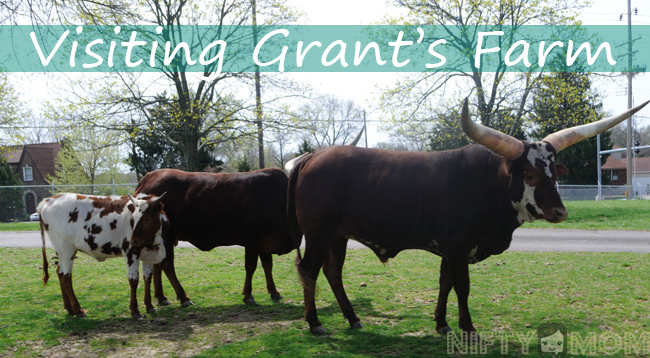 Grant's Farm has free admission, but if you want to park in their parking lot, there is a $12 parking fee (this helps cover maintaining the farm). When we first arrived, we could have visited the Clydesdale stables next to the parking lot, but it was pretty busy so we waited in line for the Tram. It was the second day it was open for the season and the weather was awesome. It seems a lot of other people had the same idea we did, so we did have a little bit of a wait.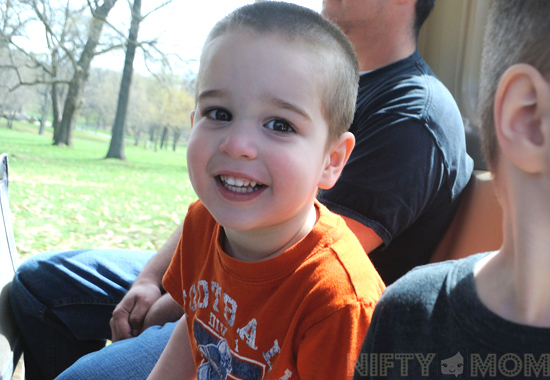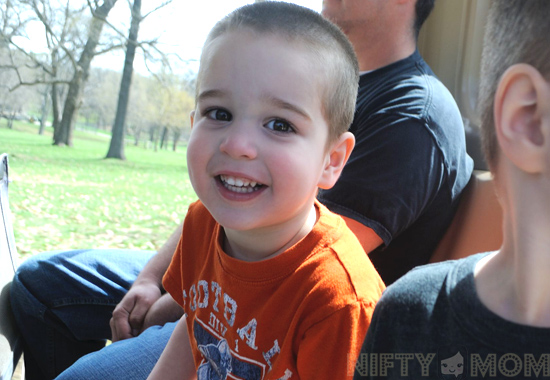 The Tram goes through Deer Park where countless animals roam freely. You never know what is going to be out, but it is likely you will spot some animals from all over the world such as such as bison, Black Buck Antelope, Buffalo, Deer and more.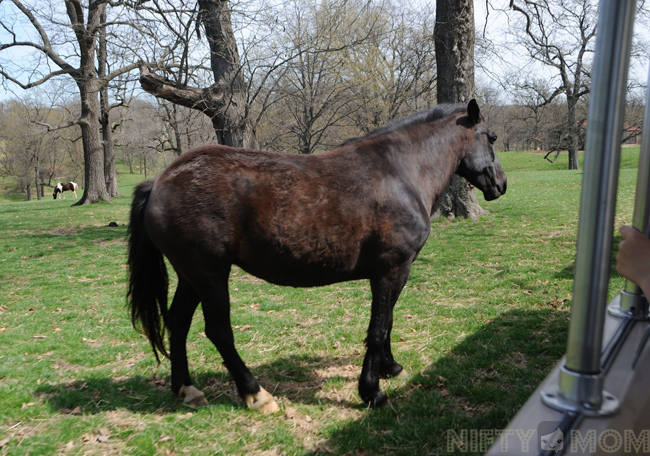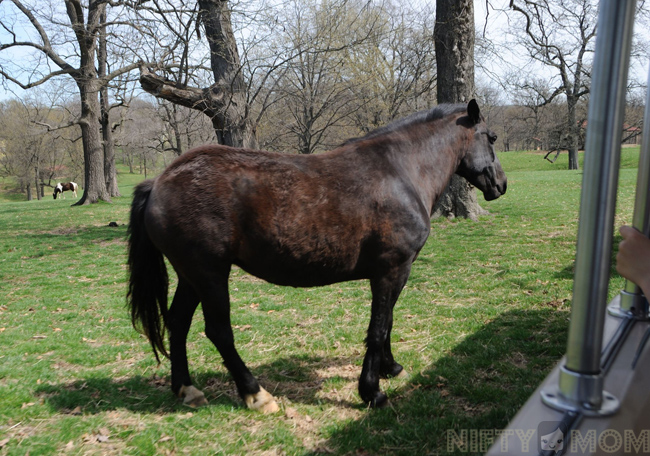 This was a big hit with the kids because the animals can get extremely close to the Tram. This horse was very close and we had a buffalo even closer on the other side. It was a nice relaxing ride to the back of the farm where all the activities are.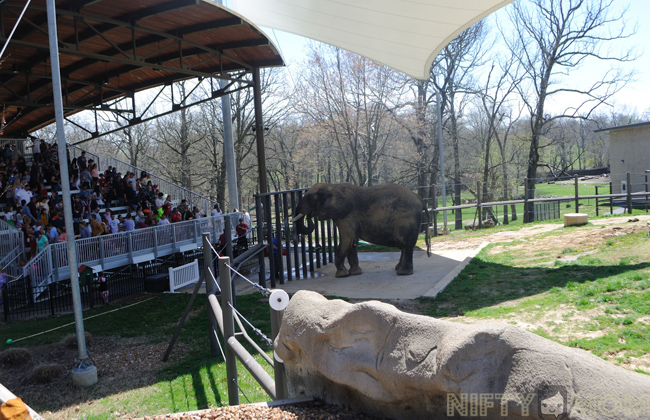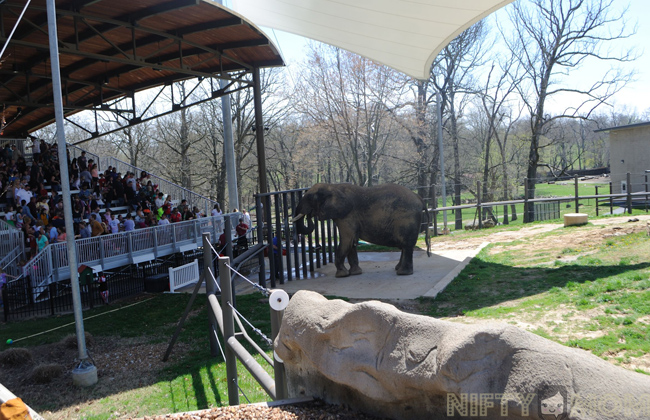 Besides all the close encounters with the animals, there are a lot of different things to do Grant's Farm for kids of all ages and adults. We caught the end of the Elephant Education show while walking around which runs a few times throughout the day.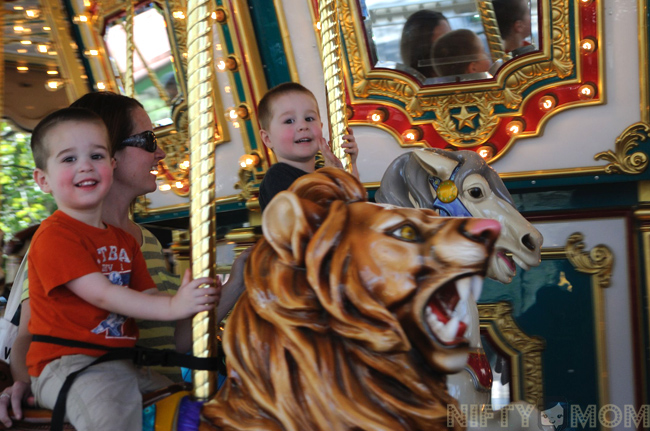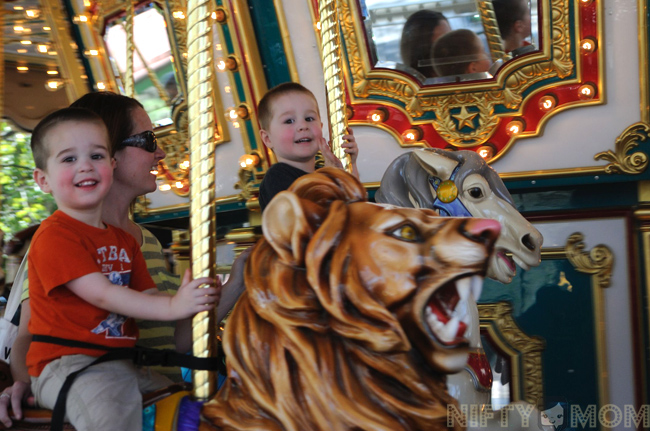 When were waiting in line to get in, I noticed a sign for a Fun Pass they offer. For just $5, you get a ticket to redeem 1 snow cone, 1 carousel ride, and 2 goat bottles. We didn't jump on the deal because we weren't sure what the boys wanted to do. Well, we ended up doing all three of them anyway. Next time we go, I will definitely be purchasing a couple of the passes.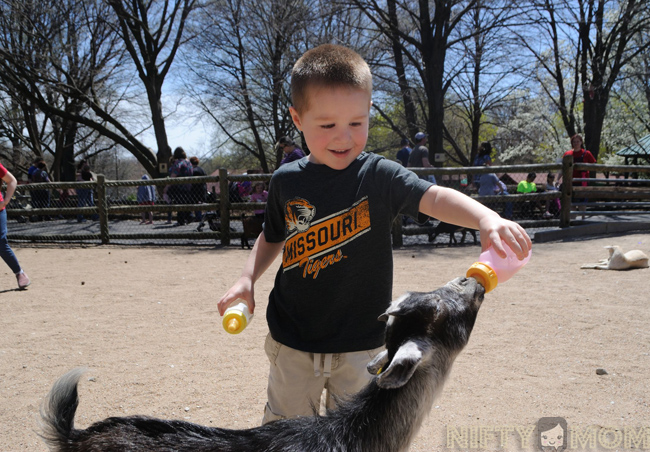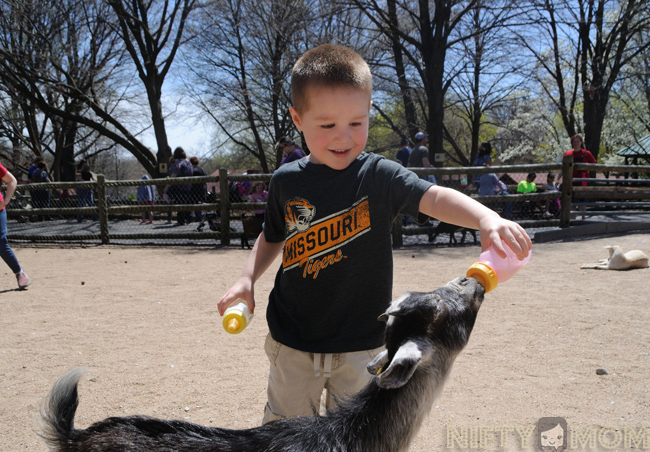 When we went to feed the baby goats, they told us that they were all pretty full and most likely won't eat anything, but we gave it a try anyway. My three-year-old was determined to find a goat that was hungry and he did. It was by far his favorite part of the day. After he was finished eating the bottle, he just wanted to sit with the baby goats.
Some of the other activities we didn't get to do last weekend (there will be more trips to do them, so I am not worried about it):
Camel Rides
Feed the Llamas (they weren't hungry)
Visit the Clydesdale Stables
Behind-the-Scenes Clydesdale Tours
Animal Encounters Show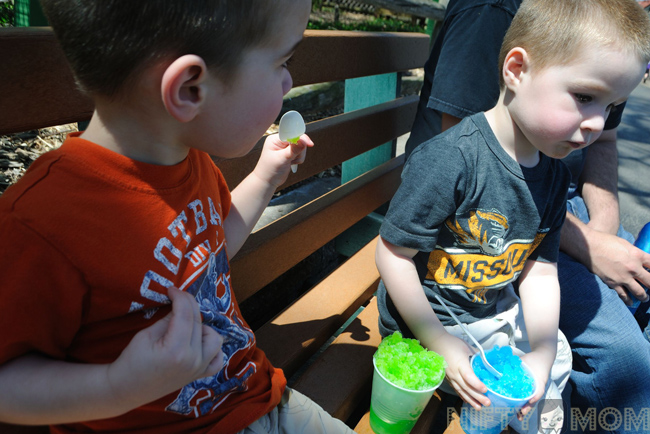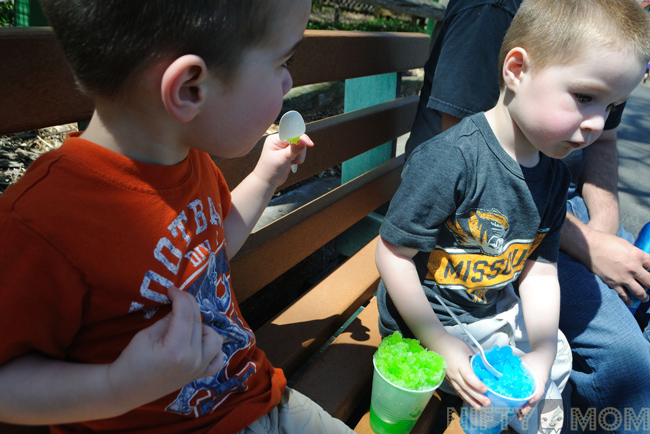 After eating lunch and all the activities, the boys were pretty exhausted, but they couldn't let us leave without getting a snow cone first.
Adult Bonus: Since Grant's Farm is owned and operated by Anheuser-Busch, adults over 21 can enjoy two complimentary Anheuser-Busch samples.
We can't wait to go back this year and I hope if you are in the area you get to visit as well. For hours, maps and more information, visit GrantsFarms.com.
I was not financially compensated for this post. I was provided with free parking. All opinions expressed are 100% my own and I just wanted to share our fun trip and love for Grant's Farm.