The last couple weeks have been hectic in my house. I didn't even have the chance to get to the store to do my normal shopping or my bulk shopping. It is times like this, I remember one of the main reasons I stock up on everyday essentials.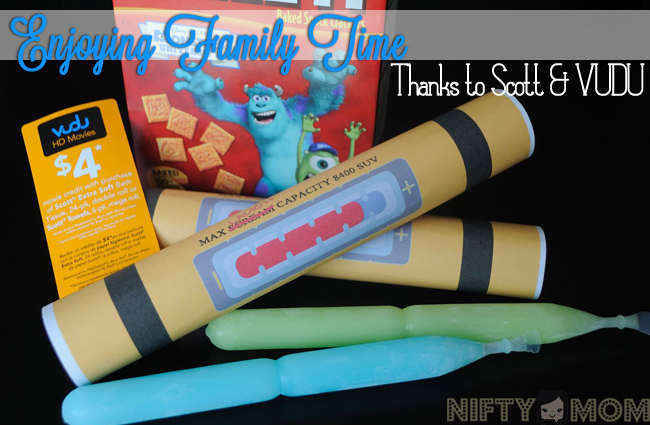 It started at the beginning of last week during the big storm through the Midwest. After we got our kids to bed and sat down to get some work done, we heard a loud a BOOM. Lightning hit our house. Luckily, there was no fires (even though one of the laptops' ac adapter blew up) and no one was injured. We lost a LOT of electronics and even need new carpet. I spend the next day scheduling appointments to get things fixed and quoted.
Then, the following day, all three of our kids and myself woke up sick. I hadn't felt that ill in a while, plus I had to take care of the other three sick ones, it was rough. The rest of the week went on like that. All caught up in trying to get the family healthy again and all our belongings fixed and replaced, I never got to the store.  Luckily, I stock up on as many products as possible. I like to buy in bulk and I like a good value. The main reason I stock up on products is to save time.  I don't like to make numerous trips to the store each week. If I spend less time at the store, I can spend more time with my family.
At dinner the other night I opened the cabinet under the sink where all the paper towel rolls. I was shocked to see my last roll. That never happens, but with everything going on, I realized I never had a chance to re-stock or even get to the store. I made a quick trip to Walmart to re-stock after dinner which was rushed, but I probably needed a breath of fresh air anyway.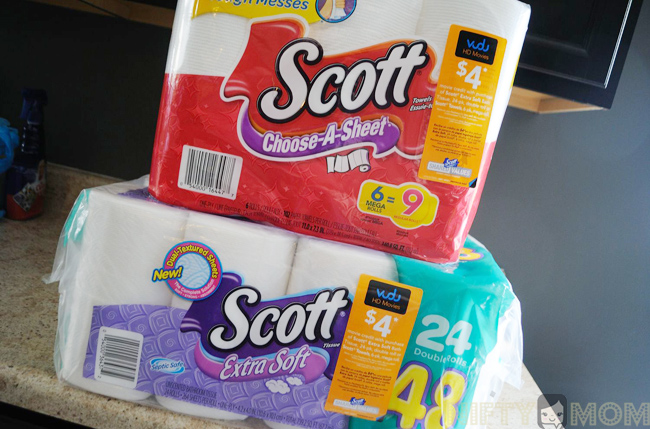 Since I was purchasing paper towels, I decided to stock up on bath tissue as well (time-saver later). I was excited see both Scott packages included a $4 VUDU movie credit. We use VUDU at least once a week so this was a pleasant bonus.
I typically purchase Scott brand because their products are always a good value and they have a Scotts Shared Values reward program. I have been enrolled for months and have redeemed numerous coupons, a $5 Amazon MP3 credit and other deals. Monthly they have 4-5 offers and deals. I logged in today to see some of their current offers and it included a free roll of bath tissue. #ScottValues their customers and it truly is a rewarding program.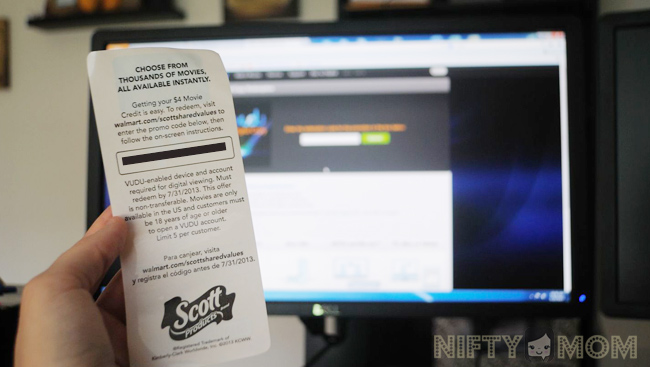 I knew I wanted to use one of the VUDU credits, I would have to redeem it before my husband saw it. He loves movies and I know of at least 5 he has been wanting to rent. To redeem, I just went to Walmart.com/scottsharedvalues and entered my code. I was then prompted to log into my VUDU account. At this point, if you don't have one you can create an account. The credit was instantly added to my account within seconds.
Monsters, Inc Mid-Day Movie with the Kids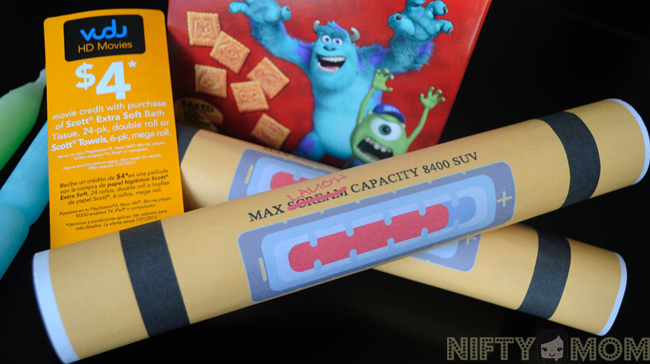 Since we are all starting to feel better, I decided to have an afternoon 'Movie & Snack' with the kids. With all the Monsters University hype (can't wait to see it!), I thought Monsters, Inc would be a perfect movie. I had some Monsters snacks, blue and green freezer pops, and my VUDU credit ready to go.
I save all my empty paper towel rolls for crafts with the kids and other uses. To go with the movie, I had a 'Laugh Canister' on the computer and printed it out to wrap around the paper towel rolls. They ended up extremely cute and the boys loved them. They even held on to them through most of the movie.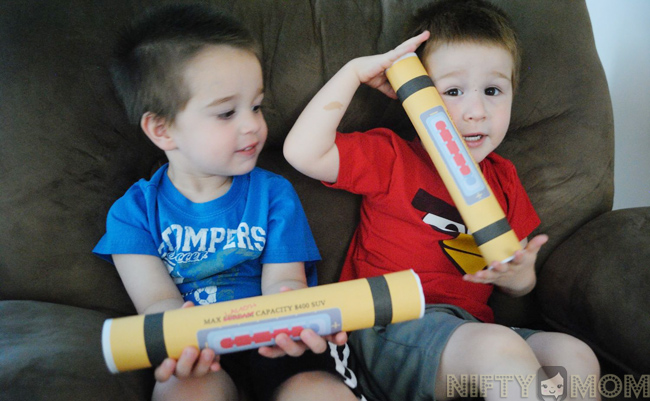 It was a nice treat to relax and watch the movie with the boys after the last couple weeks. We needed it. I still need to plan my 'stock up' shopping trip and grocery trip for the weekend to get caught back up on everything else. I will probably even get more Scott Paper Towels with the VUDU credit to make sure we don't run out again.