I received the mentioned preschool learning products to review. All opinions are my own.
A few months ago my oldest turned four and we have been debating on sending him to preschool this year. After going back and forth, we decided to set up a little school area at our house so our younger two (3 years old & 20 months) can benefit from it as well. Then I realized it was time to figure out what I needed to start an in-home preschool.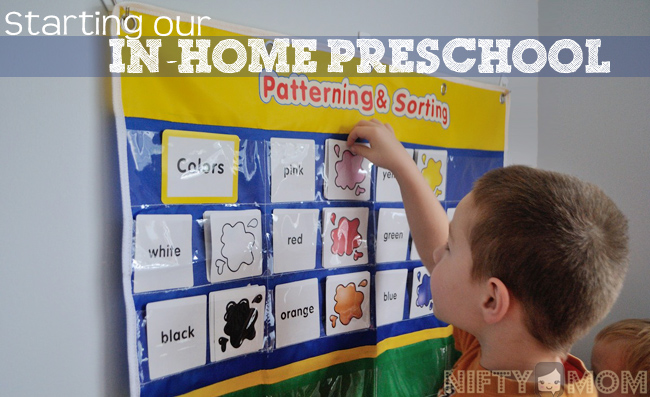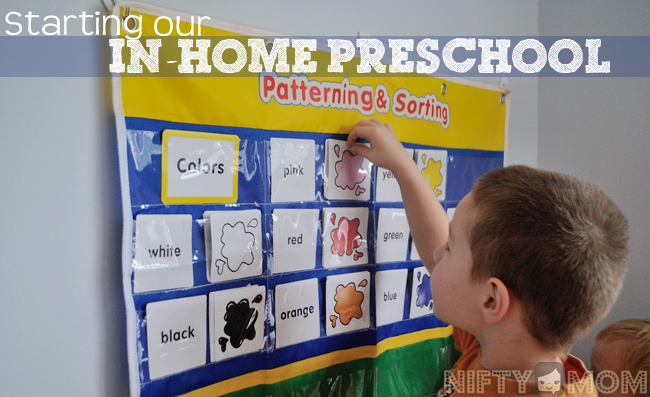 I have been overwhelmed with list of things to do and what to buy. It has become so much that I didn't start a curriculum when I had planned (late August). I am actually still waiting on our school desks to be delivered, which should be here any day. Until then, I have decided to start using the first things I got for our 'school' activities.
Oriental Trading is a company that I like use when shopping for craft materials, party favors, party decorations, etc. When I noticed their Teaching & Curriculum categories, I was thrilled. Just like every other category, it was packed with great deals and hundreds of products. To get our school area started, I knew I wanted at least one pocket chart and multi-purpose sorting, alphabet, and numbers items.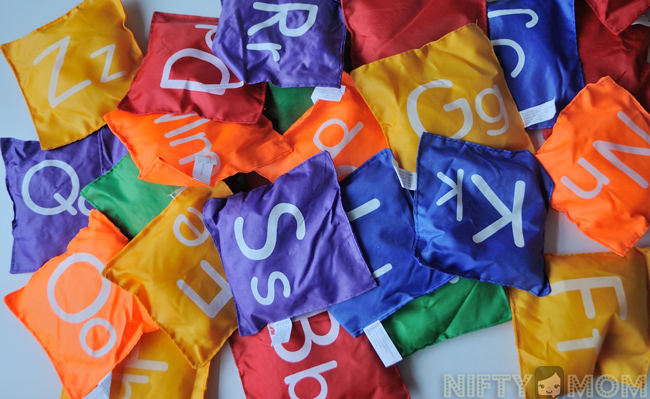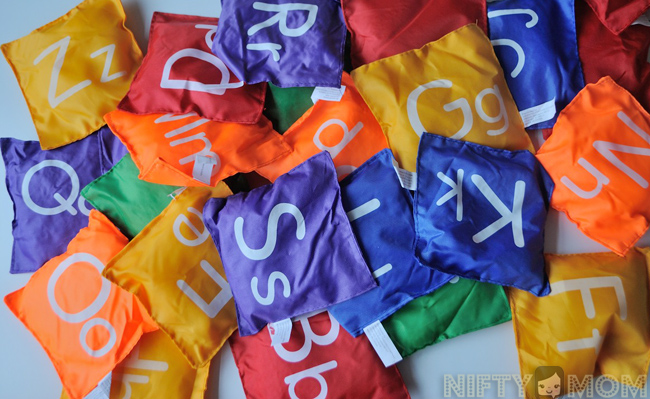 I selected Alphabet Bean Bags for an alphabet item because I knew they could be used for numerous activities. The set includes twenty-six 5″ square nylon bean bags. They aren't very heavy, so the kids all can handle them easily. I can tell they will be able to handle rough play from the boys through continuous play.
One side of the bags are blank without the letters, so they can be used for non-letter activities as well, so I plan on creating games with color sorting and counting.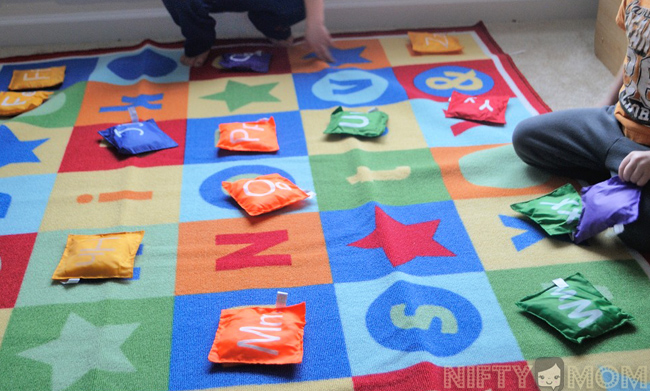 The first time we used the bean bags, we used their alphabet rug. They each took turns matching the bags to the correct square on the rug. They were having so much fun, and my four year old loved helping the younger ones make matches. Clean up is even fun because they got to actually toss them into the storage box.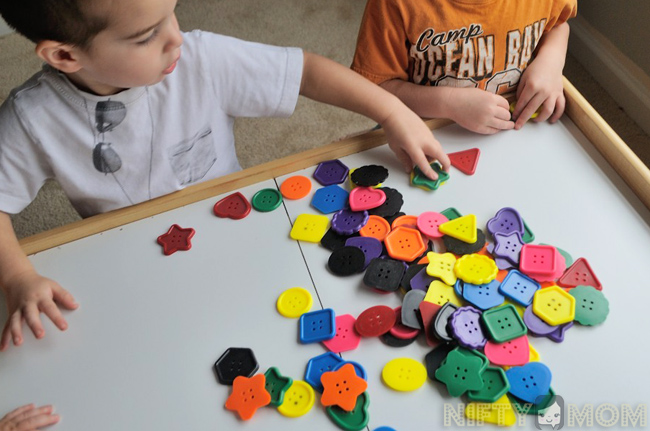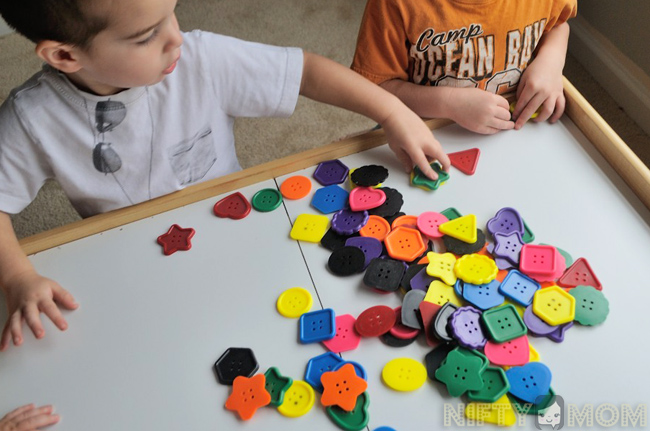 Large Buttons just made sense for learning activities. These come in a package of approximately 90 buttons with 8 different shapes and 8 different colors. They are just over 1.5″ wide, so I don't have to worry them being too small for my 20 month old.
They are great for counting and sorting shapes, and colors. Every time we would finish sorting them, my sons want to immediately do it all over again. They will definitely get lots of use this year. When we are done using them (years down the road) they will be great for crafts and art products. I may actually get another set just for crafts.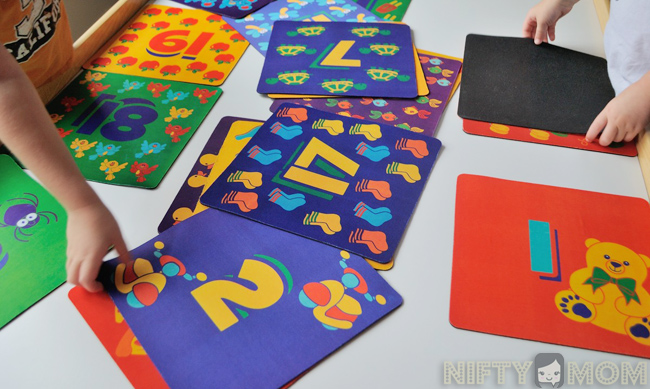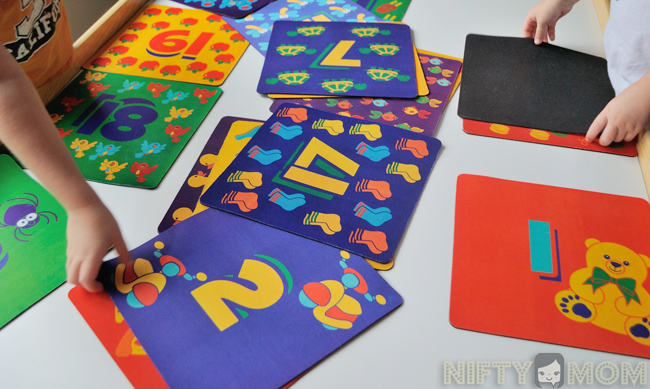 The 26-Piece Number Activity Mats was a great decision for number learning. The material and size of each one is basically like a mouse pad. This allows for lots of usage and my youngest can't destroy them (as he was unsuccessfully trying to).
The set comes with twenty numbered mats and six activity cards with different games. We have simply been laying them out, then stacking them in order. Each time we add the next number mat, we count the items on it. Each number has a different item, which helps when giving them hints on where to find the correct number.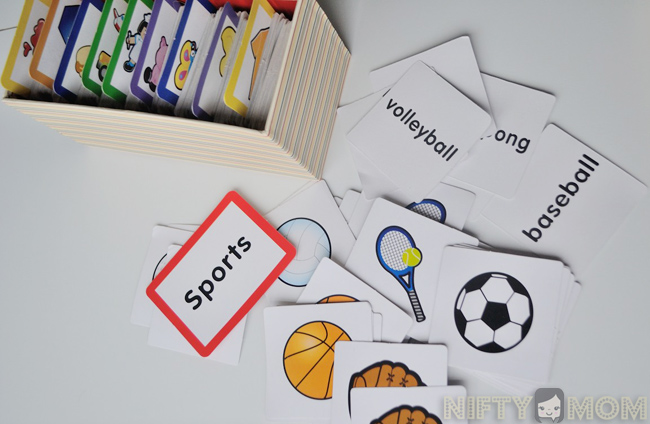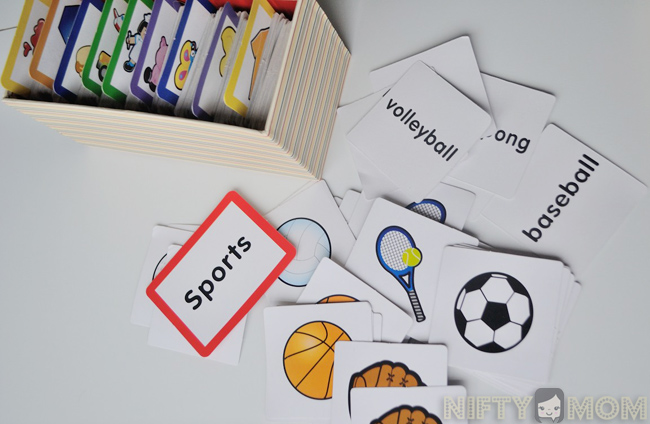 My favorite product we have right now is the Patterning & Sorting Pocket Chart. It comes with 414 double-sided cards. The cards can be sorted into ten groups: sports, colors, shapes, careers, food, animals, bugs, clothing, toys, and transportation. There are 10 items in each category, with four cards for each item. A picture is on one side and the word written out on the other.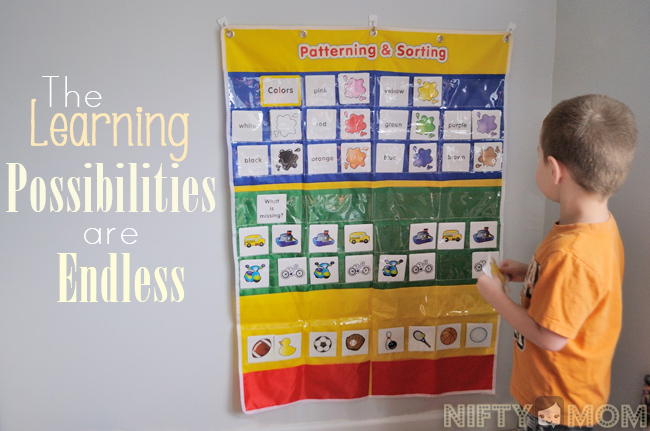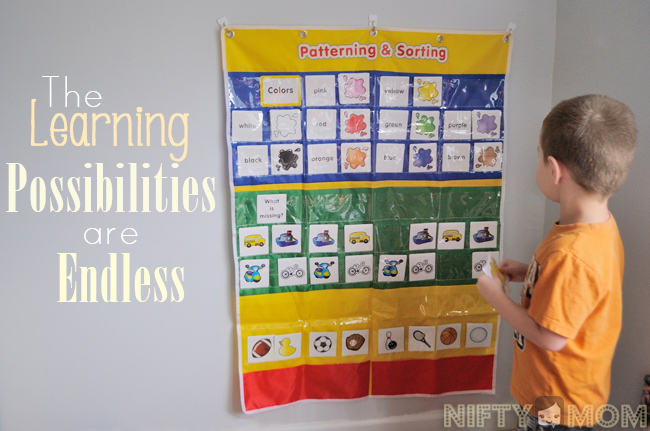 The chart is 30″ wide and 40″ long. I hung it close to the floor so my sons could easily access all of the pockets. The chart is made of nylon, plastic pockets, and two fabric pockets at the bottom. I leave it hanging up in our school area and it holds up great.
I make patterns with one card missing for them figure out what goes there or goes next. I also place cards that are all alike, besides one, and they have to find which one is different. Simply displaying one category at a time with the word next to each item can be a learning experience. With so many cards, the different possible activities are endless. We are able to do something different each day and it is the one thing they ask to use every morning.
I can't wait to place another order from Oriental Trading and add more to our little family school. When I say the prices are unbeatable, I mean it. The above four TOTALED $70 and will last a long time.
Be sure you check out all the great products from Oriental Trading. For the latest products and updates, follow @OrientalTrading on Twitter and become a fan on Facebook.
I can't wait to share more of out little In-Home Preschool with you as it grows. Hopefully our desks will be here this week!