I received the book 'Santa's Secret Deal' to review and share with my kids. All opinions expressed are my own. 
I don't think we will ever have too many children's books. There are loaded bookshelves in each of the boys' rooms, plus a stack downstairs. There are many lessons and skills taught through reading books and my sons soak up all that information daily. I always found a good excuse for new books, including the holidays.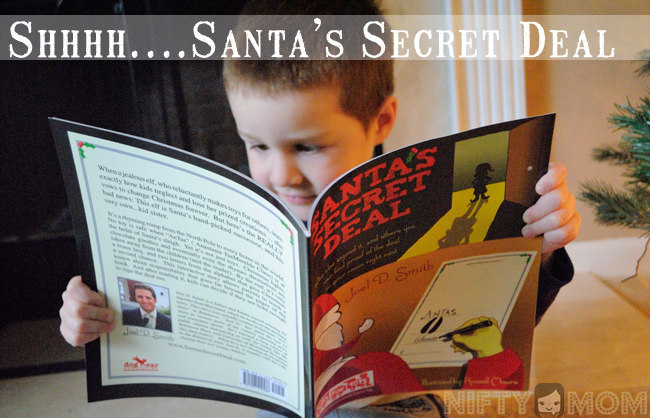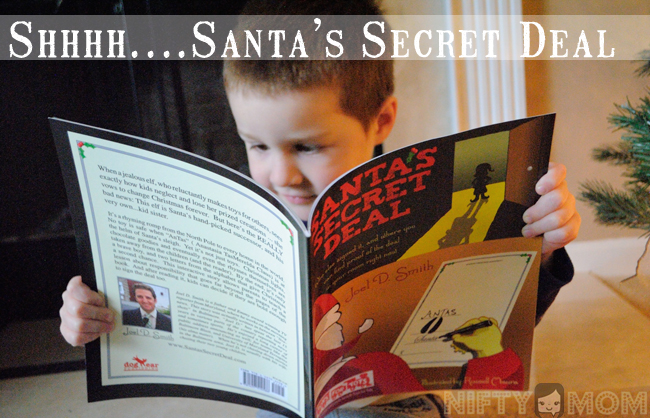 This weekend I realized how close Christmas really is. I mean, less than ten days now? Yikes! This month is half over and we still have a lot of things to cross off our Christmas Bucket List. One of those things include getting at least three new holiday books. We have purchased a few already, but the latest addition is one that gives the kids a reason to clean up their toys.
Santa's Secret Deal is about a little elf, AnTas (short for Anastasia TasMerelda Claus), who is extremely jealous. She spends all her time working hard to make toys for all the kids all around the world. In a fun twist, it turns out she is Santa's hand-picked successor and his own little sister.  One Christmas Eve, she went out with Santa and seen how kids neglected their toys (that she made), leaving them laying all over the floor and losing them. She was so upset, she decided to take the toys back, plus take anything Christmas related in each child's home. Nothing was safe. Luckily a brave boy, and two special letters, helped give Christmas a second chance.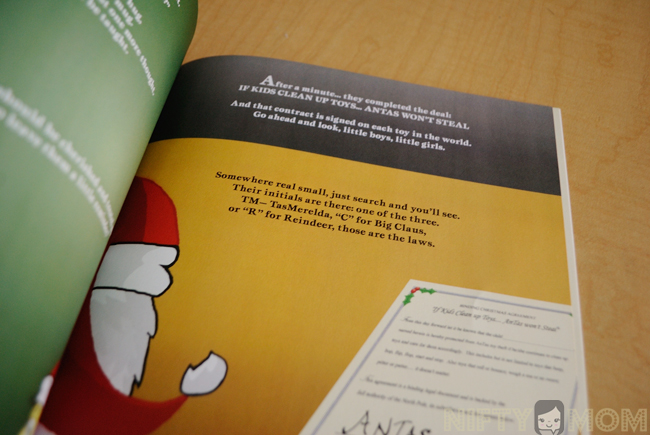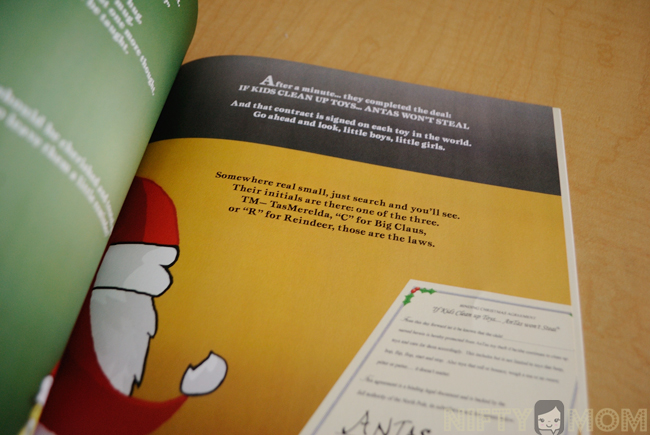 The first time we read the book, my four year old gasped when AnTas was taking the toys from the kids, saying that's not fair. As we read further, it became clear to him, it was because the toys aren't appreciated, left all over the house without a care. As he asked questions (as he does through every book), I assured him we should clean up as soon as we are done reading.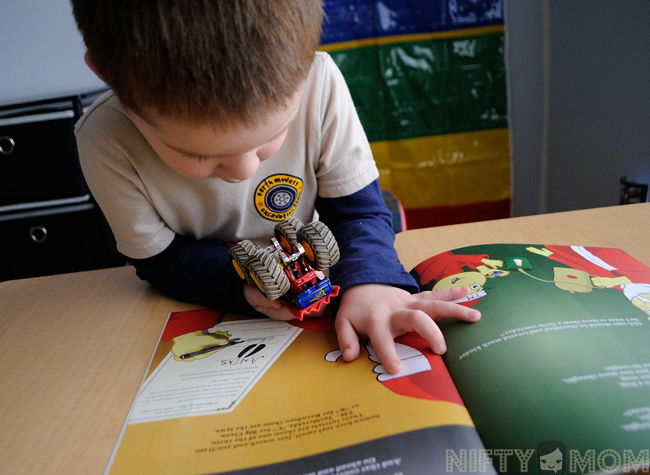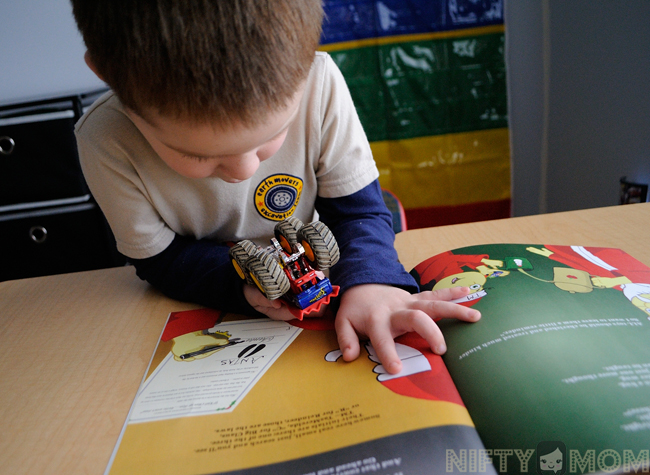 In the book we learn that when AnTas makes her toys, she always marks them with 'TM'. Other toys may have a 'C' for Big Claus or 'R' for Reindeer. One time we were reading it, my son grabbed a truck he had on his desk, and examined it for some letters, to see who marked it. To his surprise, he found a small, circled 'C'.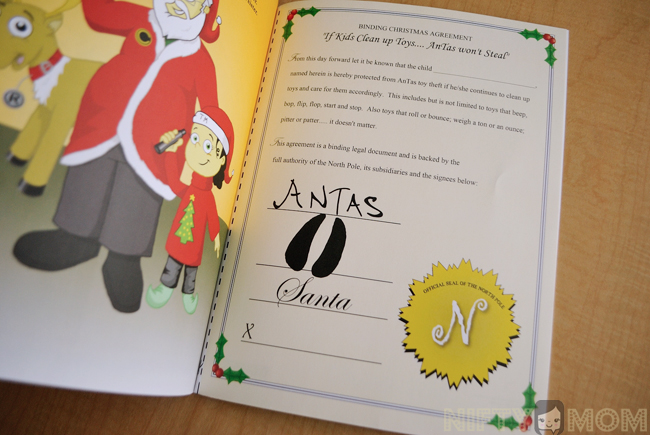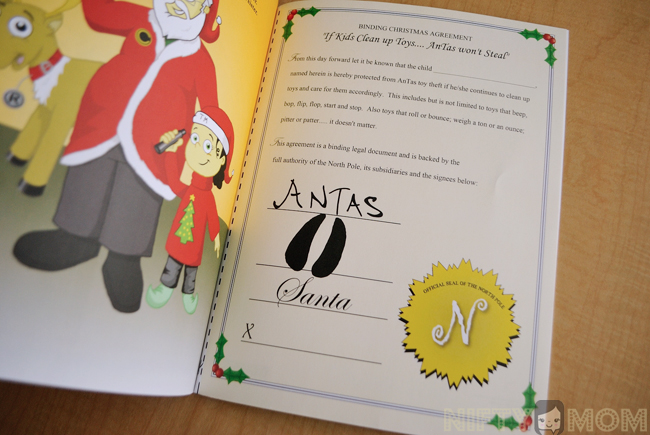 At the end of the book, there is an agreement that the kids can sign, to let them know that if they take care of their toys, AnTas will not steal. The whole book is interactive, allowing me to teach my sons that they need to be responsible for their toys.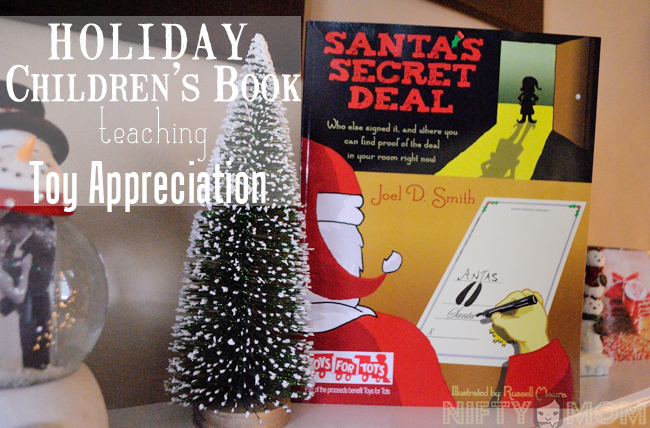 Santa's Secret Deal is best for kids ages 5 and up. We read it as a family with my (almost) 2, 3, and 4 year old the first time after we received it. The book is a little long to hold the attention of my youngest, but the older two loved it through the end. They kept pointing to the illustrations, asking questions, and wanted to read it again when it was over. It is a great book to add to our holiday book collection and use every year to remind the kids to be responsible.
The learn more about the book and the amazing author, Joel D. Smith, visit SantasSecretDeal.com and become a fan on Facebook. If you would like to purchase a copy, it is available on his site or Amazon.com for just $14.25.
Flash Giveaway
Joel is graciously giving one lucky Nifty Mom reader a book of their own! To ensure the winner gets their copy before Christmas, this will be a flash giveaway, ending tonight!
No purchase necessary to enter. Enter using the Rafflecopter form below. The giveaway is open to US  residents 18+. Giveaway ends at 11:59pm EST December 16, 2013. The winner will be selected via random.org and contacted by email. Winner has 24 hours to reply to confirm their prize or a new winner will be picked. If you have any issues entering or have any questions, please email me at contact (at) niftymom(dot)com. Sponsor is responsible for prize fulfillment.
GOOD LUCK!