"This shop is part of a social shopper marketing insight campaign with Pollinate Media Group™ and Kleenex but all my opinions are my own. #pmedia #KleenexTarget  http://cmp.ly/3/8vNxcO"
When someone gets sick on our house, a one-day virus can easily turn into a few week ordeal. It doesn't take much for my 2, 3, and 4 year old to pass around the sickness like a ping pong ball. No matter how much I try to prevent it, every year it happens. We have to find ways to stay busy indoors during these times, and crafts are always a hit.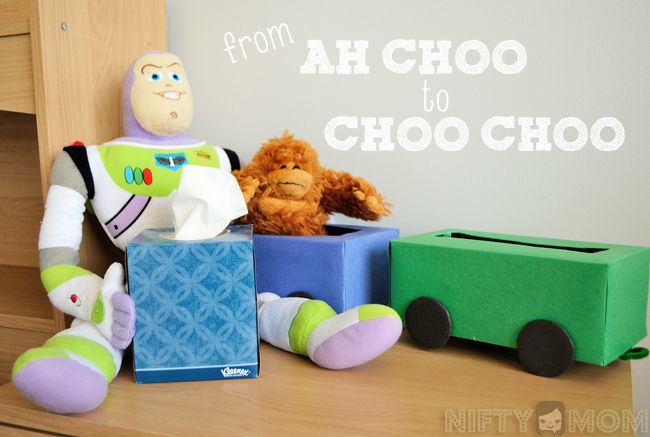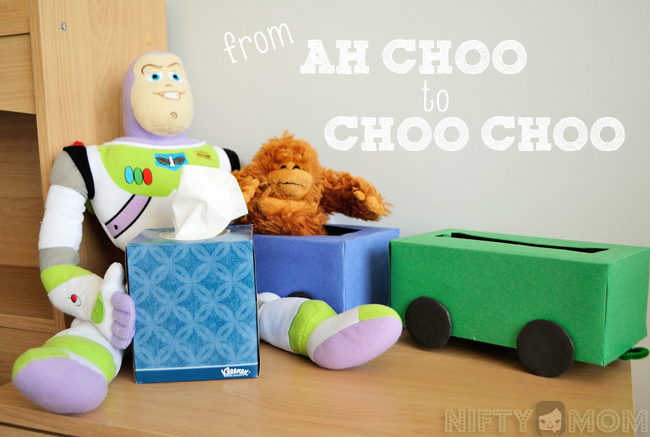 Battling the cough, cold, & flu season with these kids is almost a never-ending battle. There are days I feel helpless and just have to cuddle with them. Then there's the days where one will wake up fine again and the next wakes up sneezing with a runny nose. The days (or weeks) are filled with soups, movies, lots of warm blankets, honey, and boxes of Kleenex.
When I say boxes, that is no exaggeration. If I don't buy a four pack or larger, I find myself making trips to Target just for more tissues. At all times, we keep at least one box upstairs and one downstairs. The boys know where they are and even my two year old (currently sick), knows when it's time for a tissue. But since they are still little, most of the time they grab 2-5 tissues with each pull. So we go through the boxes pretty quick.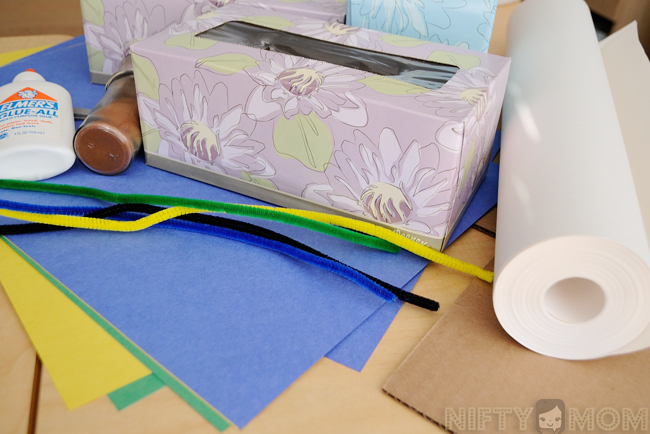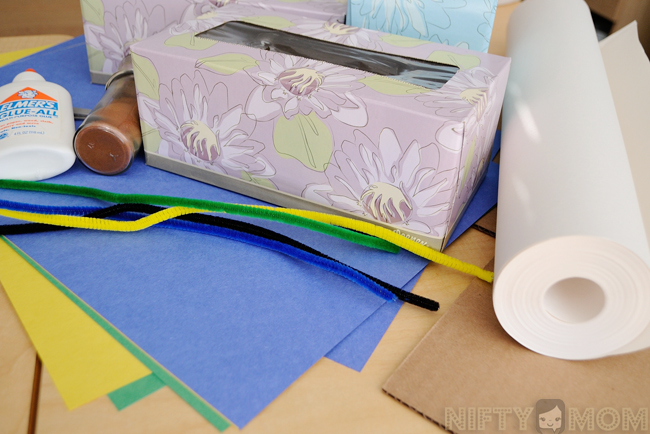 With a sick one, and the weather being cold outside, I am always trying to find things to keep us busy inside. Going through my Recycle Bin for Crafts, I noticed the abundance of Kleenex boxes and knew it was time to upcycle them with the kids. One of our favorite things to make with the boxes are trains and c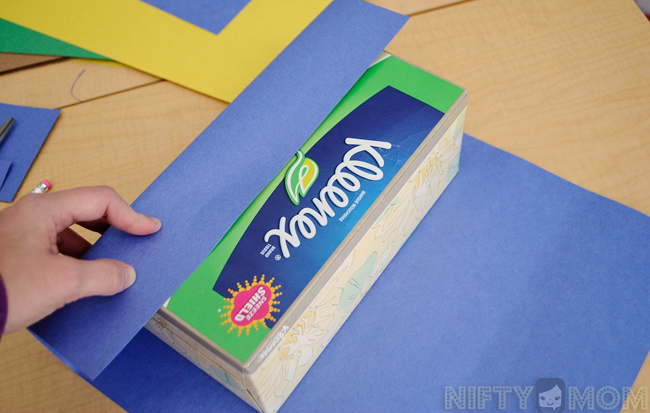 There are many different ways we have made the cars. Sometimes I let them go crazy with paint and cover the whole box. This time we pulled out some large sheets of construction paper to cover them. The paper was a little small on the sides, so to get a more seamless look, I cut out squares to fit over the sides after the box was wrapped.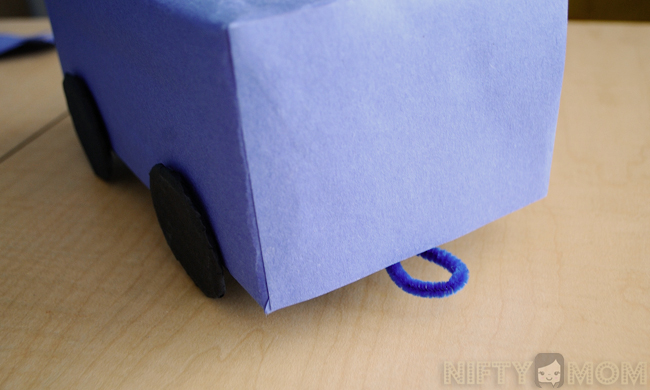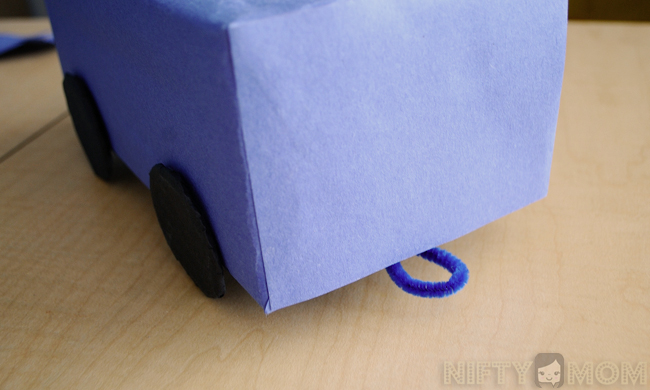 For the wheels, I used a spice bottle to trace circles onto a piece of cardboard from a box and cut out. For small wheels, I have used paint bottles, too. Then we covered them with black paper. The best way to do this, is by gluing the wheel onto a square of paper larger than the circle. Then cut slits from the edge up to the cardboard circle. The pieces from the slits fold down around the back and will be secured with tape. To put the wheels onto the box, hot glue has proved to hold the best.
A pipe cleaner works great to attach the boxes. Use hot glue to attach one in a loop on both sides of the Kleenex box. To attached the different boxes, use a pipe cleaner and bend it onto the loop.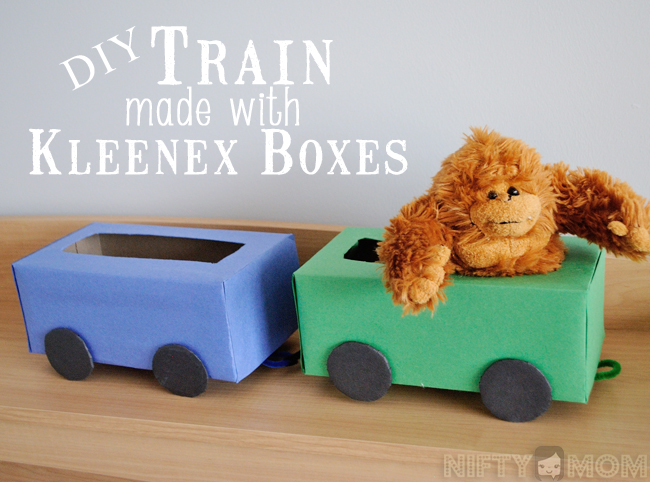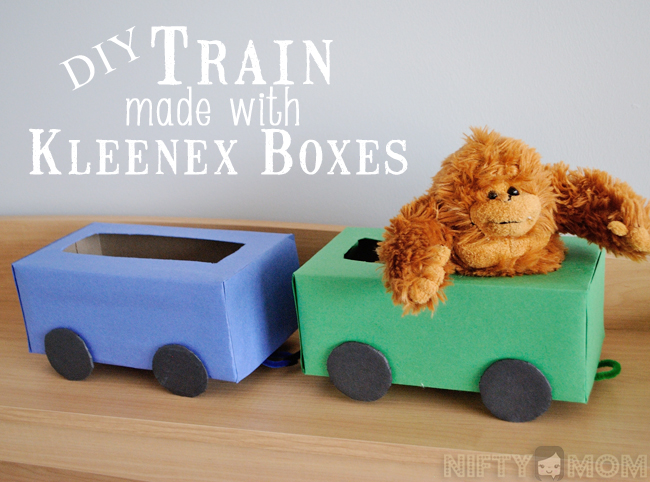 Kleenex boxes work great for this DIY project because of the slot on top. After the box is wrapped, I just poke a hole in the top where I know is open and cut out the slot, creating space for train passengers (aka toys).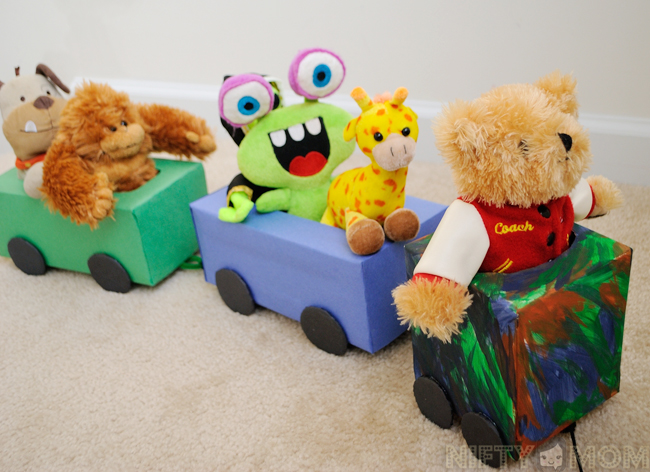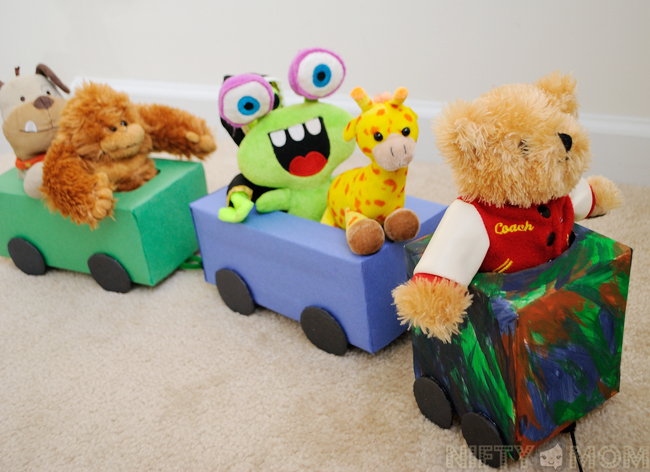 With a string attached to the front, in another pipe cleaner loop, the kids can happily pull the train around. We added a few hot wheels in the front car for additional weight so it stayed on the ground when pulled. The kids decided to paint one of the cars.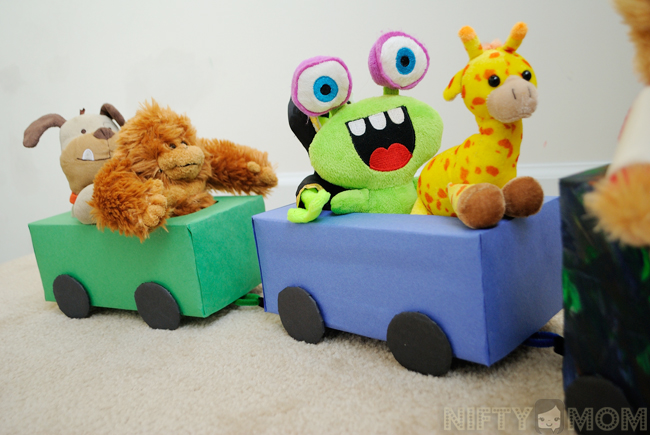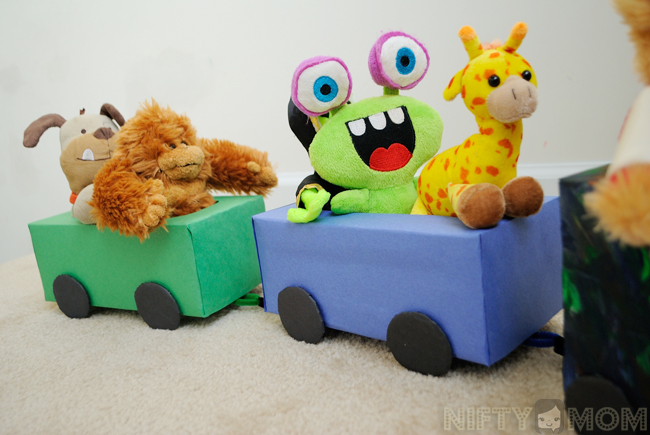 As we hang out inside, with at least one kiddo sick, tomorrow we plan on covering the cars with stickers and drawing on them. This way the project can carry us through more than just one sick day.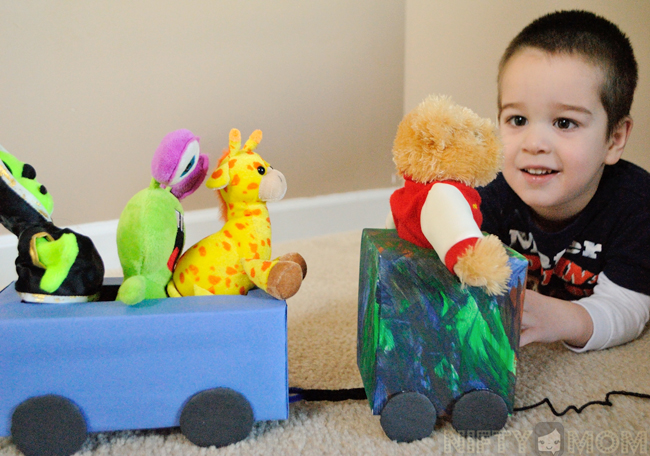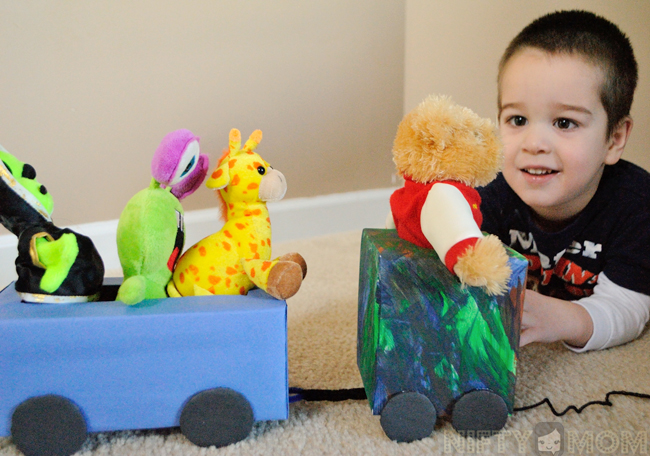 With a winter storm coming this weekend, we will probably head to Target to get some more Kleenex boxes. If you are headed there soon as well, make sure to print off this coupon for $1 off Kleenex four pack or larger.
How do you keep busy with sick little ones at home?