The St. Louis area is rich with historical landmarks and attractions. It is also well-known for for the iconic Budweiser Clydesdales. During most major events in St. Louis, the Cydesdales are sure to make an impressive appearance. When I was invited to visit the largest Budweiser Clydesdale breeding facility with my family a couple weeks ago, I couldn't pass it up.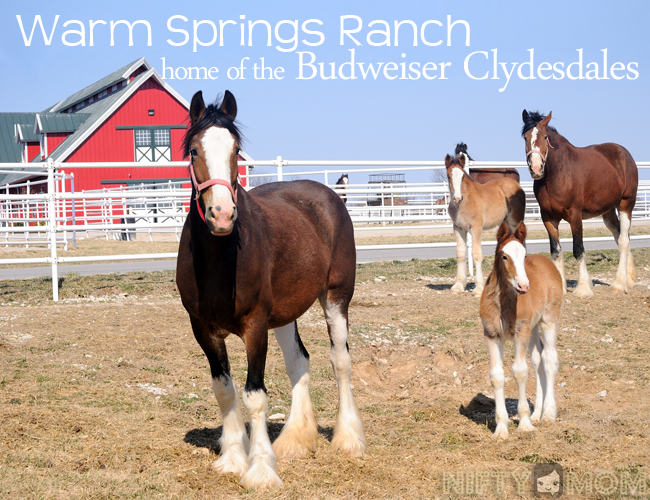 If you are familiar with Super Bowl commercials, you know that Budweiser often has memorable commercials featuring their Clydesdales. The last two years, two popular heartfelt Super Bowl commercials have a connection to Warm Springs Ranch. This year's commercial, "Puppy Love" was inspired by real-life interactions that handlers witnessed at the ranch between the Budweiser Clydesdales and Golden Labrador puppies. In 2013, the commercial "Brotherhood" was partially filmed at Warm Springs Ranch and the star Hope, currently calls the ranch home. This seems to cause a surge in the growing popularity of the farm.
Last year, we visited Grant's Farm where many of the Clydesdales are raised. However, it was extremely busy on opening weekend and we didn't have the chance to check out the stables. The boys really wanted to see the horses, so when they found out about our trip to Warm Springs Ranch, they were elated. The state-of-the-art breeding farm is about 2 hours west of St. Louis in Boonsville, MO. It allowed us to have a nice day trip to a new destination, but not too far away.
After driving through the gates into the ranch, we were greeted by a pair of Clydesdales. On both sides of the road, there are large open areas for them to exercise and roam. The whole view is quite breath-taking and tranquil, as the ranch is tucked away with over 300 acres of land.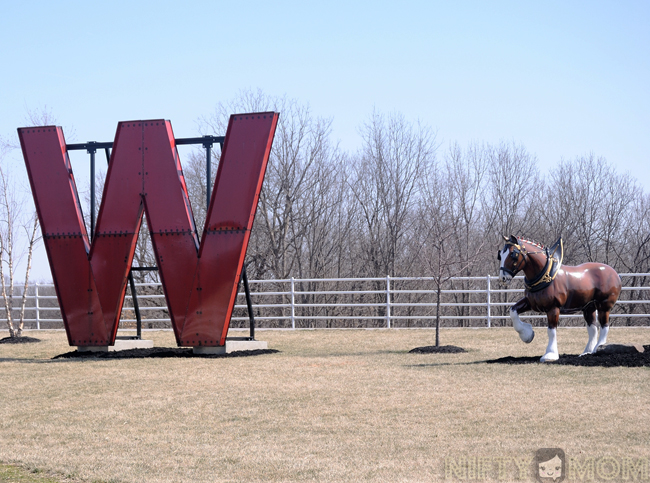 A 15-foot, 1,600 pound 'W' is easily seen from the street. This new feature was just added last month. The 'W' was previously part of the historic  'Budweiser' neon sigh that was on the top of the St. Louis Anheuser-Busch brewery. It holds lots of meaning and adds a great look to the scenery.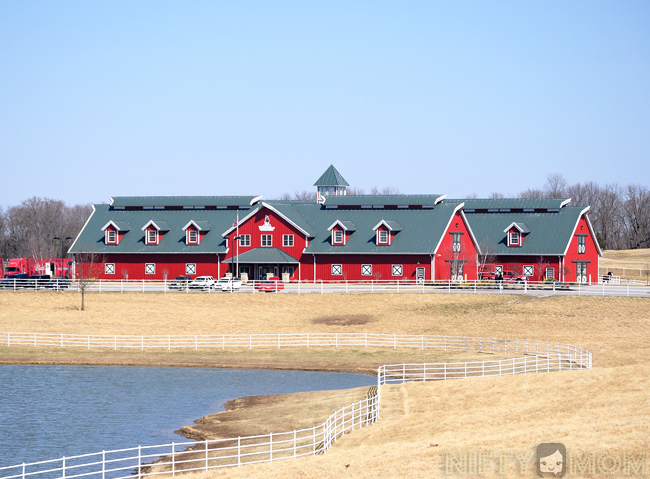 As we continued to drive back, the gorgeous red barn sits peacefully at the end of the road. The 25,000-square-foot breeding barn contains a veterinary lab and 10 pastures, each with a customized, walk-in shelter and free-flowing water dispensers. Everything about the barn and area is amazingly well-kept and clean. Everyone we encountered on our visit was exceptionally kind and professional.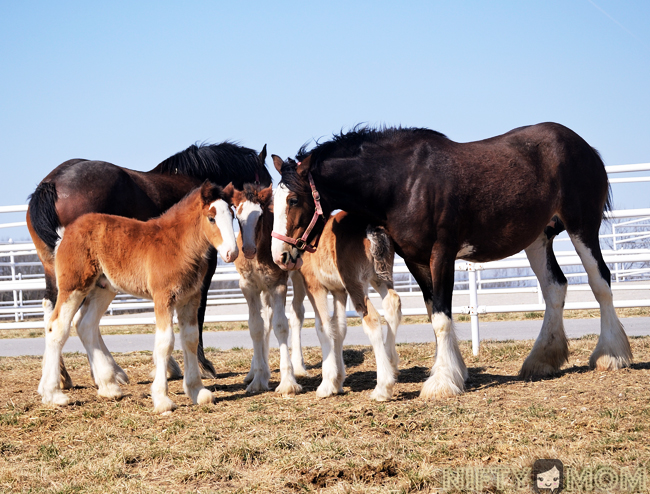 To start the tour, we sat in a tractor-pulled custom-wagon and took us to a pasture to get an up-close look at the Clydesdales while learning about them and the facility. The friendly breed of horses are very laid back and a few walked right up to the wagon giving us a chance to pet them. That experience alone was really exciting and rewarding for my little ones.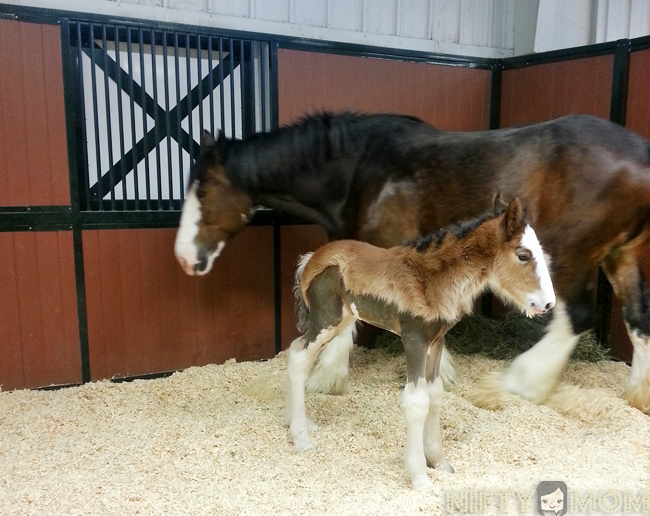 While touring the inside of the barn, we learned everything from how they are bred to the different stages of life. It is very informative, as well as entertaining for the little ones. Warm Springs Ranch is currently home to approximately 70 Clydesdales, including 15 foals. The ranch expects 13 more, for a total of 28 new foals this year.
We got to see the above little newborn that was only 3 days old. It is hard to believe how big they are at birth.  Their hair is clipped on the day they are born because they have trouble regulating their body temperature.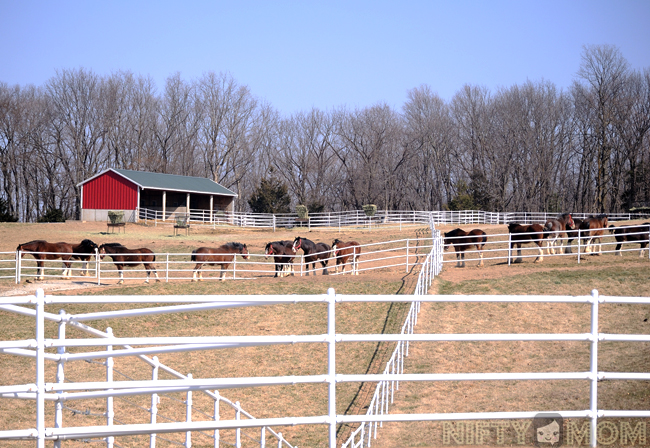 The tour also included a look into the luxury tractor-trailers that transport the traveling Clydesdales. While outside, we could easily look around to see many Clydesdales roaming in the pastures. At the end of the tour, we got the the opportunity to pet and take our own pictures with a Clydesdale. At this time, adults over 21 can also sample an ice cold Budweiser beer.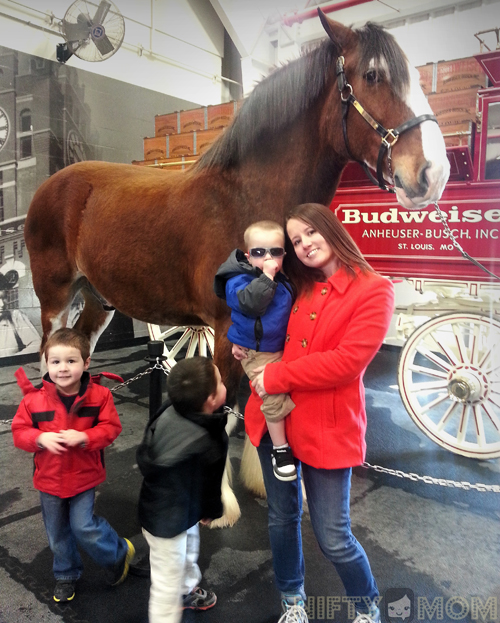 Tours are offered at 10am & 2pm every day except Wednesday (through Nov 2nd) and lasts about an hour and a half. It costs $10 per person and is well worth it for the unique up-close experience with such an iconic breed. They also offer VIP Tours once a day for a private excursion on the ranch. Those costs $500 and can accommodate up to 16 guests. Any tour requires a reservation and days are already filling up for the summer.
For more information or to make reservations, visit WarmSpringsRanch.com. You can also following them on Facebook for the latest updates.
I was not financially compensated for this post. I did tour the ranch at no charge. All opinions expressed are 100% my own and I wanted to share our amazing experience.