I am a member of the Collective Bias®  Social Fabric® Community.  This shop has been compensated as part of a social shopper amplification for Collective Bias.
It's true, every single room in my house holds at least one product that came from shopping online. I have never denied my love for shopping on the web. There's something about the ease of finding new or everyday products and comparing prices without leaving the house. It can be rough getting around a store with three little ones some days. Having products arrive at my doorstep saves a lot of time and eliminates those not-so-fun in-store tantrums.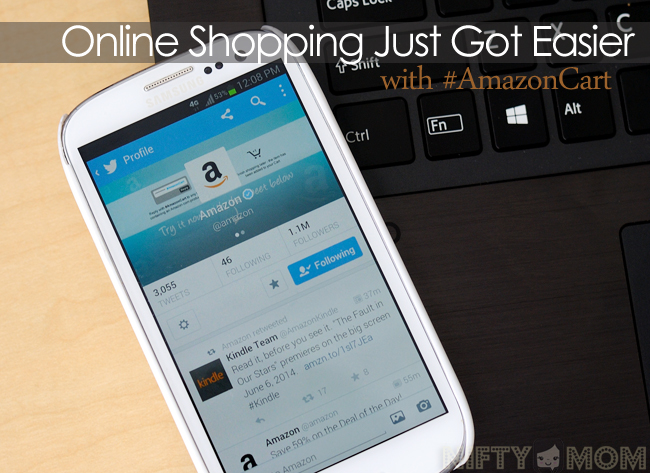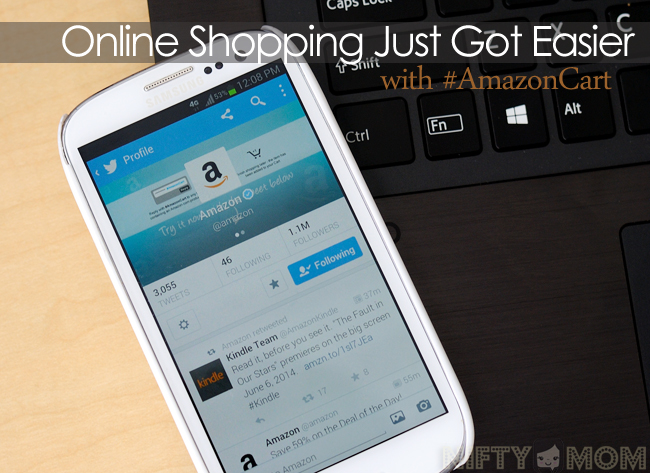 Amazon has made my life so much easier over the years. It started with diapers, Amazon Mom, and the Subscribe & Save Program.  The cost of diapers adds up quickly, especially when having more than one that young. I found out about the programs that Amazon.com has that give discounts for monthly (or less frequently) auto shipments. I have one left in diapers and I still get diapers delivered monthly at a discount. It has been a life-saver.
Now, with Amazon Prime and free two-day shipping, I tend to turn to Amazon for any and everything I am looking for. From my son's bedroom furniture to computer accessories, I get it from Amazon. It is so bad that I have a list on my phone of things I want to remember to look up on Amazon. It may be something I saw on television, something that came up in conversation, or something I saw on social media. A lot of the time I still forget to look at it or purchase it.
However, when it comes seeing products on Twitter I like, things just got easier. I can add things to my Amazon cart without leaving Twitter just by a simple reply to any tweet containing an Amazon link and tagging #AmazonCart.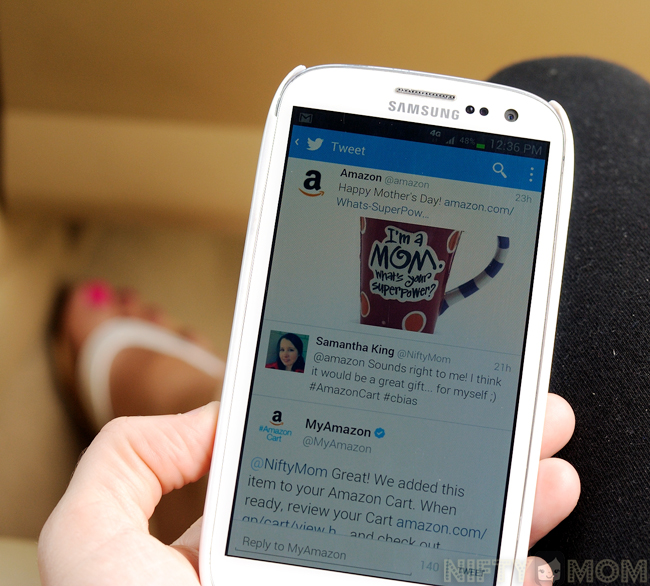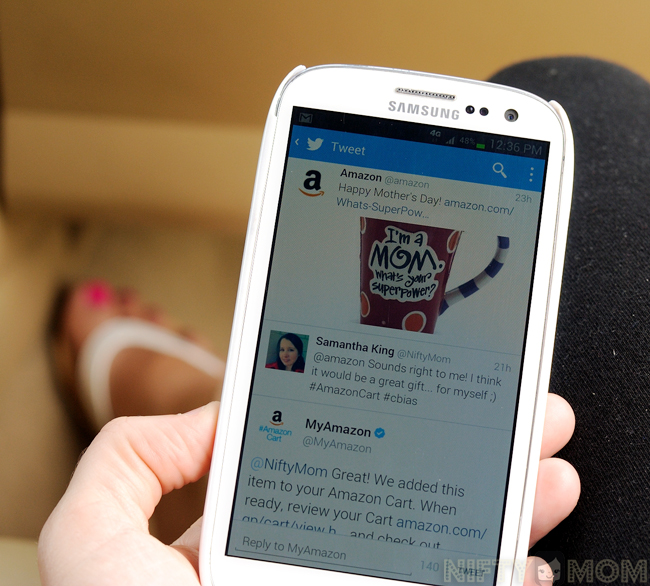 Take yesterday for example. We were on the road to a family Mother's Day gathering that was almost two hours away. I intended to take my laptop so I could get some work done on the drive there (my husband was driving). Once I got situated and we got on the highway, I realized I forgot my laptop.
So instead, I did what I always do: check my social media accounts. Going through my Twitter feed, I saw an cute coffee mug that Amazon tweeted out for Mother's Day. I had to have it. Right there, I replied, including #AmazonCart. I then continued down my feed. I immediately got a tweet from @MyAmazon (and an email) that it was added to my cart and ready to be reviewed and purchased.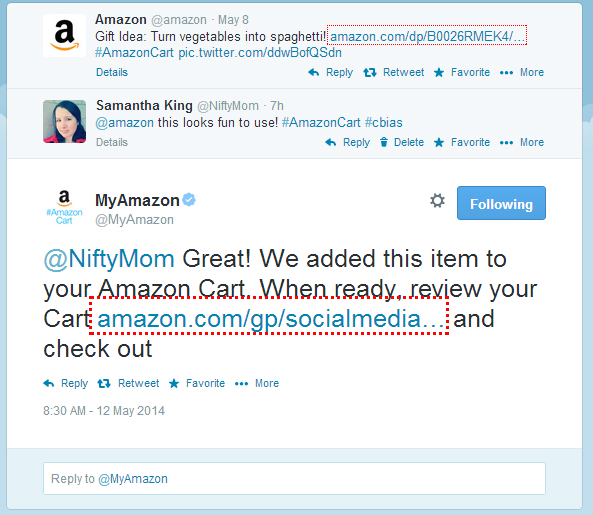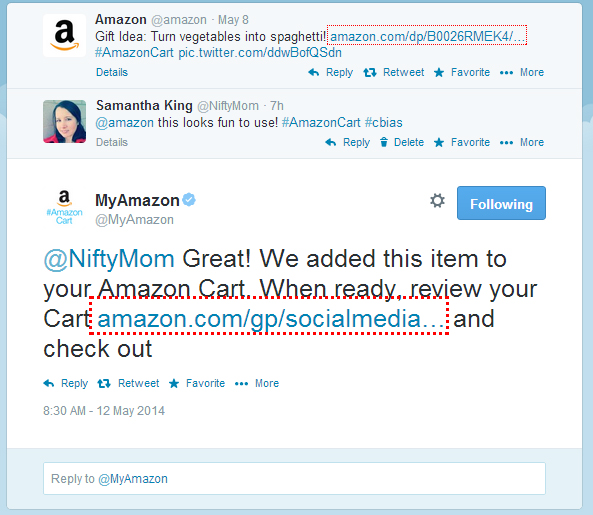 Before I made my purchase today, I decided to scroll through @Amazon's feed. That's when I saw a spiral slicer for vegetables. I thought it could be a good way to get my picky eaters to eat more veggies, so I easily added that to my cart as well. Shortly after, I visited Amazon.com to noticed I had two things in my cart.


There they were, the two things I found on Twitter. Just like any other time I add things to my cart, I could change the quantity, save it for a later shipment, add it to a wishlist, etc. It was nice to have everything there already and not have to try to remember to find it later.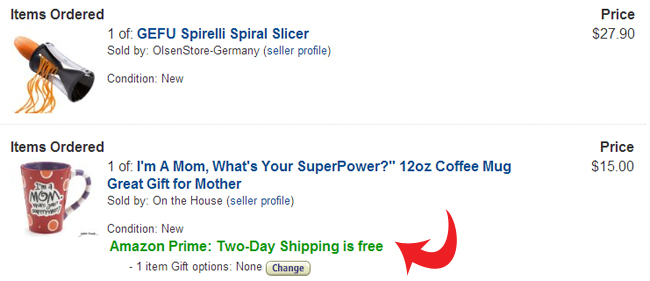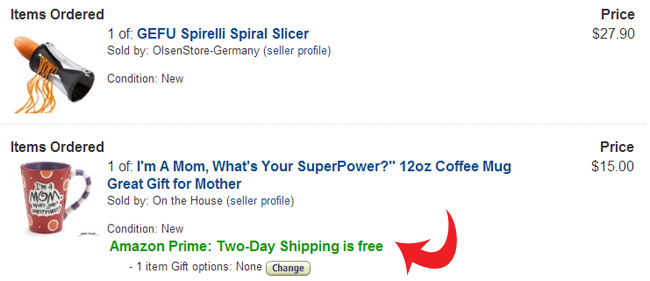 The mug I bought as a gift for myself was eligible for Amazon Prime shipping. So shipping was free and it will be here in just two days. I know that I will be using #AmazonCart often, probably more than my husband will like. You can see the whole process in action in the following Amazon video.
The mug says "I'm a Mom. What's your superpower?" I have to credit Amazon.com for some of my superpowers!
How will #AmazonCart help you?
#collectivebias #cbias #AmazonCart