This patriotic petits fours recipe is a #SLSweetTreats sponsored post for Sara Lee. All opinions are my own.
Memorial day quickly approached and soon it will be The Fourth of July. It makes me think about all the great heroes that serve our country. It makes me proud to be a Marine's sister and the wife to an incredible man who served in the Navy. Each year, I like to make a patriotic dessert for our celebrations as a tasty treat.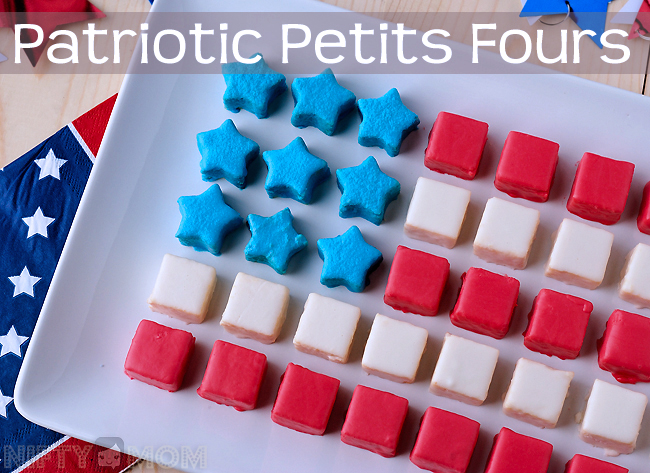 This year I wanted to make a fun and easy dessert for parties. I have always been a fan mini cookie cutters. They are normally about 1.25″ wide and can be used with fruits, cheeses, bread, veggies, deli meats, etc. How about using them on cake? I planned on just making a bunch of petits fours iced in red, white, and blue. Then I had the idea to make them look like a flag. After all, isn't it all about presentation?
Yes, but we can't forget the taste! While I love decorating cakes and making fun treats, sometimes I need a shortcut: a little time-saver. The best way to do that is with desserts that are already made and ready to be decorated. For this recipe, Sara Lee Pound Cake was the clear answer. From the freezer it is thawed in as little as a minute and ready to be used. Very convenient for me.
Patriotic Petits Fours Recipe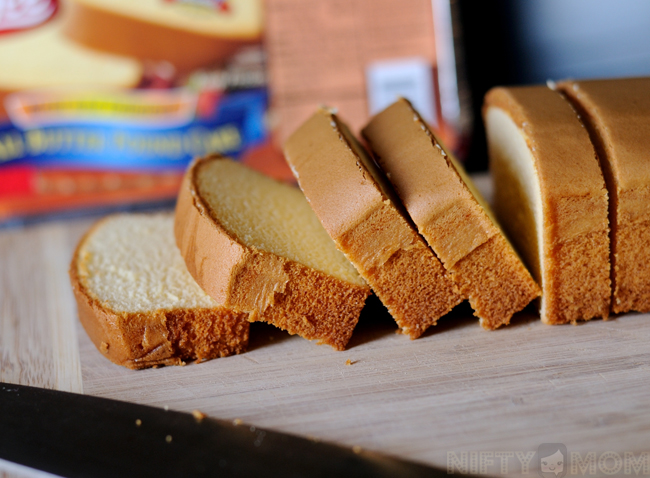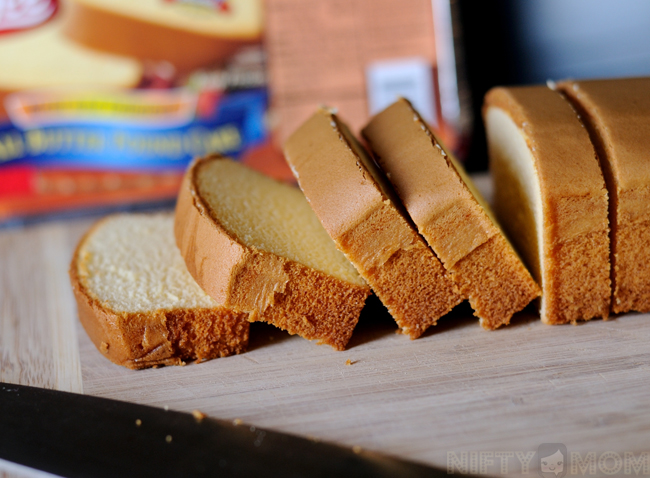 Ingredients:
2 Sara Lee All Butter Pound Cakes (thawed)

1 can – Vanilla Icing
Red & Blue Icing Color Gel (sold at Michaels)
Piping Bag or Sandwich Bag
First, slice each pound cake to the thickness of the cookie cutter (approx. 3/4″).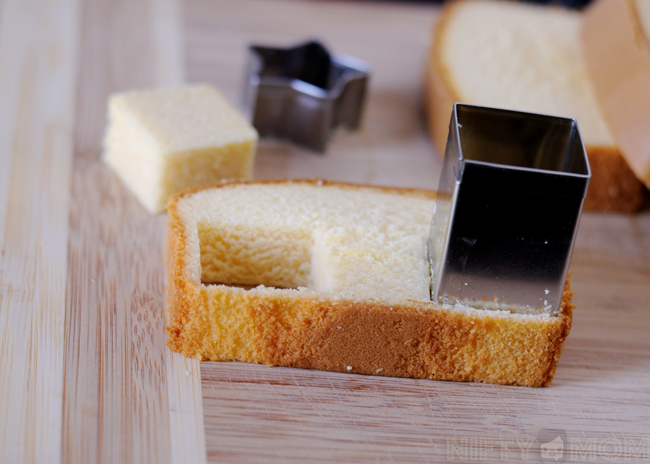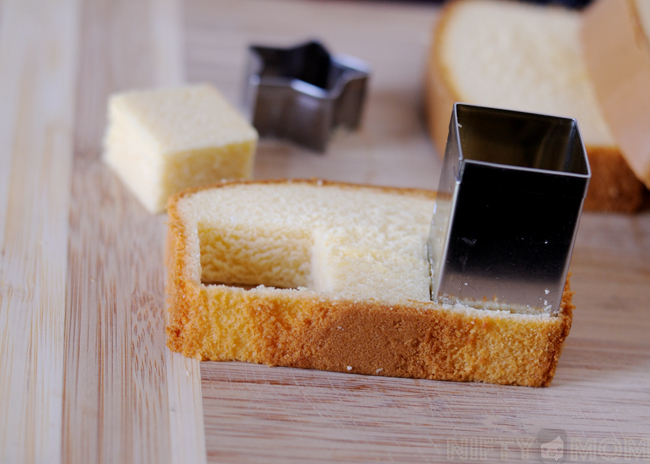 Next, I cut out the petits fours. For this project, we need 31 squares and 9 stars. With most slices, I could get two squares and one star.
(A little tip: Don't throw away the scrap pieces. They are perfect for tossing in a bowl with some fresh fruit and whipped cream. That's like getting a second dessert out of the recipe!)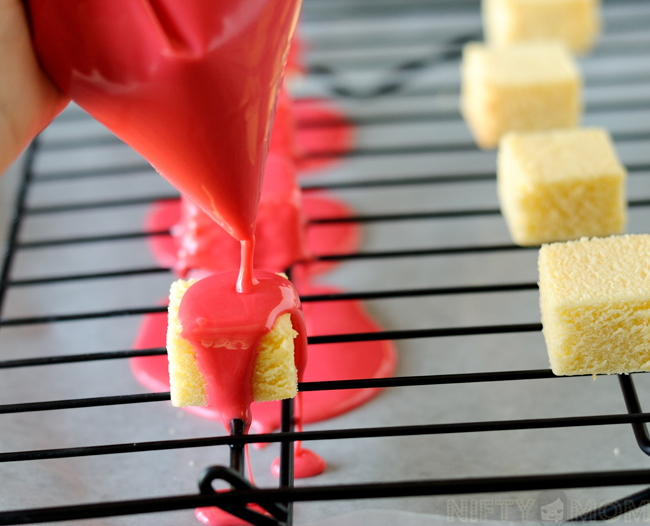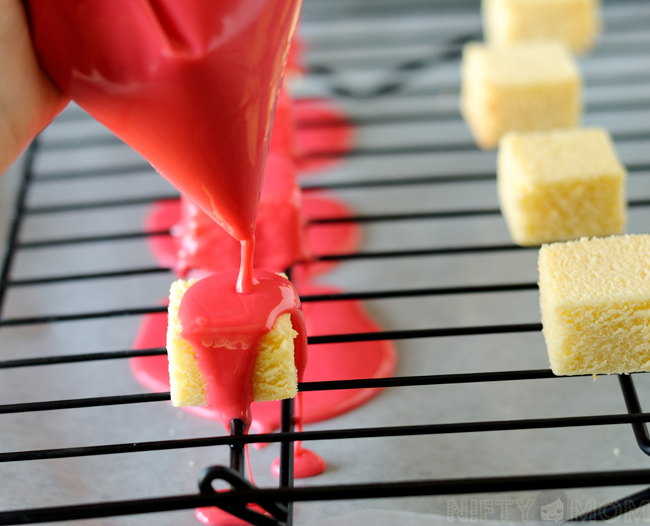 Place the bites on a rack (that is on a baking sheet to catch what drips off).  Melt a couple spoonfuls of icing for 10 seconds in the microwave. Transfer it to a bag and slowly cover 13 white squares. This make take patience, because it can take some time to get a hang of it.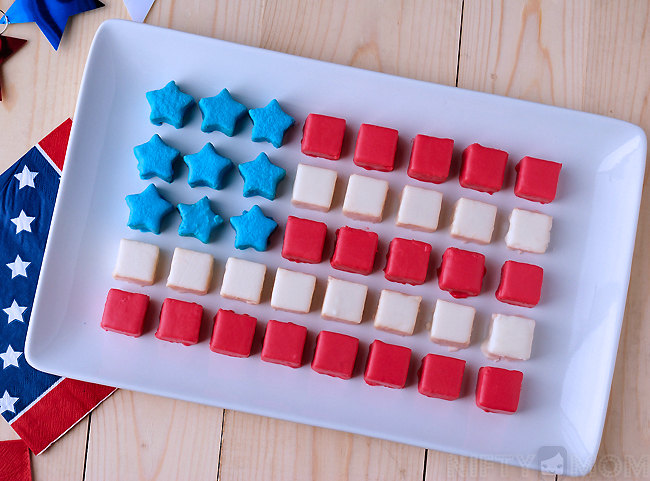 I then melted two more spoonfuls of icing, added blue coloring gel and covered the 9 stars. Repeat with the remainder of the icing for 18 red squares.
Once they are all done, cool in the refrigerator for about 20 to 30 minutes (or until ready to serve the same day). This will slightly harden the icing. When ready, place the bites on a serving platter to look like a flag as shown.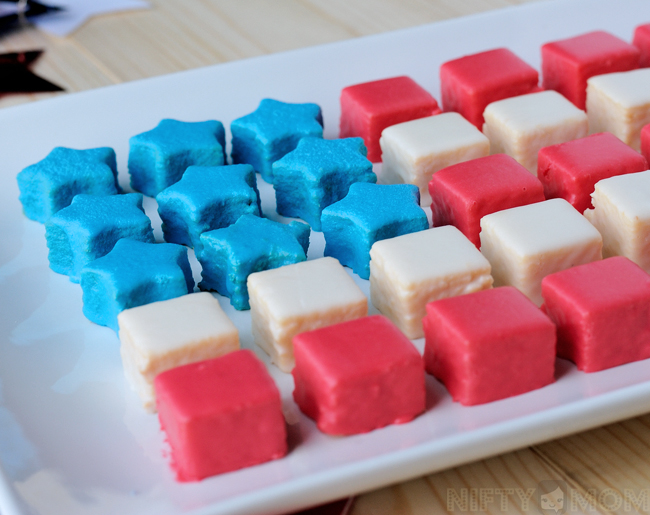 For more recipes and ideas, visit SaraLeeDesserts.com, follow @SaraLeeDesserts on Twitter, become a fan on Facebook, or follow their Pinterest boards.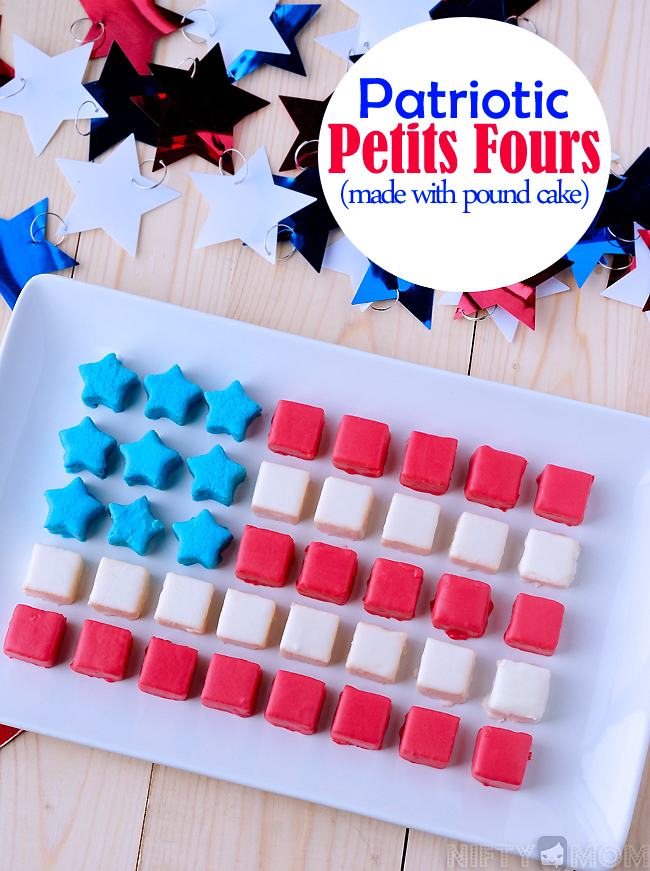 How do you enjoy your pound cake?
#spon: I'm required to disclose a relationship between our site and Sara Lee. This could include the Sara Lee providing us w/content, product, access or other forms of payment.