As I prep for swimming season, I'm sharing my goal for summer legs as part of a #SummerizeYourLegs campaign. This shop has been compensated as part of a social shopper amplification for #CollectiveBias and its advertiser. All opinions are my own. 
It only took one day back from our beach vacation for the boys to start talking about going to the pool. And by talking, I mean begging, nagging, and non-stop asking me about it. They just enjoyed a week at a vacation home on the beach, but I guess that isn't good enough for the little ones. They needed more water time. I think the beach reminded them of all the fun we had last year at the pool.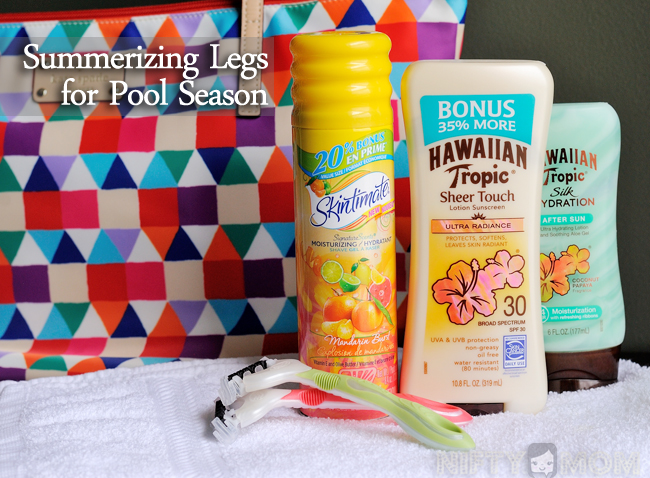 I don't mind going the pool and all, but while we were on vacation, I realized my vacation-prep lacked one thing: summer-ready legs. I seemed to focus on dropping a few pounds and forgot to give some attention to my legs. Those legs that have been hidden under yoga and sweat pants for the last few winter months.
The worse part is that leg care isn't hard. It just takes a little attention; a little tender, love and care. Really just three steps of preparing, shaving, and protecting. It's actually the perfect time to get relax and get some 'me time'. Even better than the 'me time' I shared earlier this week (doing the dishes).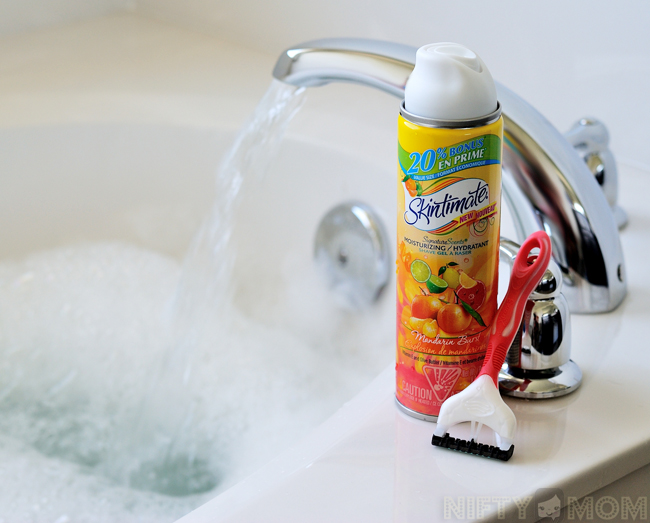 A little bubble bath to relax and start my leg care routine was a good way to bounce back from the week-long vacation. Since having my three little ones, I am finally starting to realize I need to relax and slow down more. I have been trying to do it for awhile now, but I always relapse and quickly forget about myself. Not this time. This time I am finally putting in continuous self-conscious efforts to stay on top of 'me time'.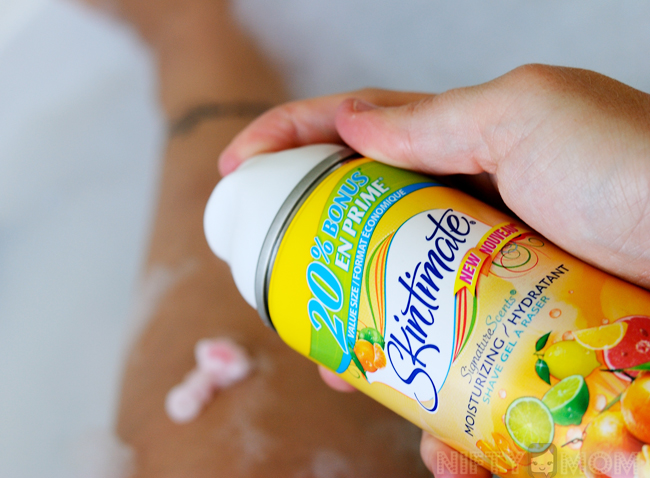 Back to getting summer legs. Before shaving, preparing my legs is important. That's where Skintimate Moisturizing Shave Gel comes in. A generous layer of the rich lather not only protects my legs against the dreaded nicks and cuts, but it also leaves  my skin refreshed and moisturized. If you haven't already, you should try the Mandarin Burst scent. It takes me back to being on vacation and helps me relax.
When it comes to shaving, my skin is pretty sensitive. There are only a few razors that don't bother my legs. One of those being Schick Xtreme3. To help set the relaxation mood, I used the Hawaiian Tropic razors that have a scented handle. They are amazing at leaving my legs smooth and razor-burn free.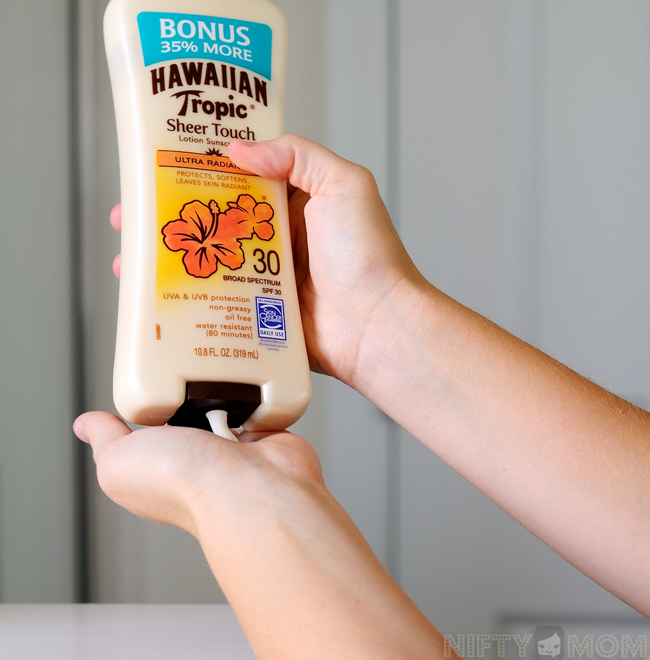 Once I decide to get back to reality, protecting my legs is necessary to continue to get that perfect summer look.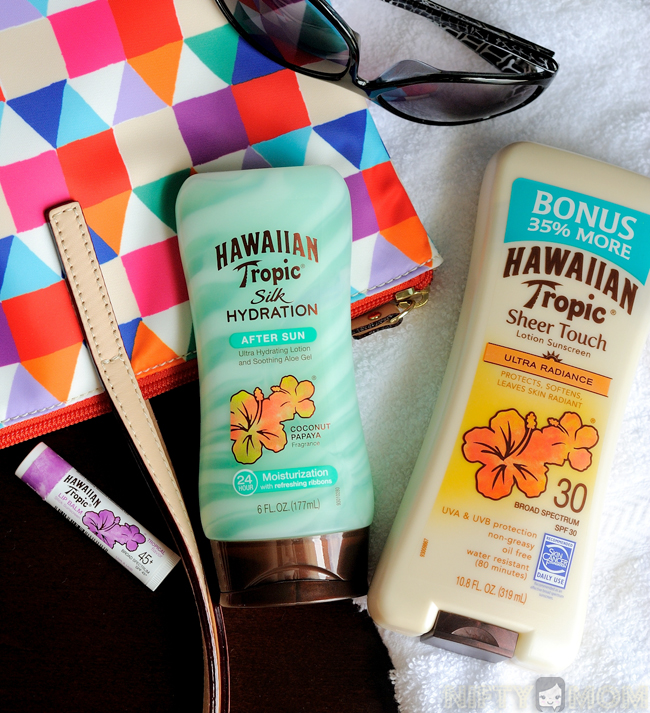 If I am planning to head outdoors, sunscreen is a must, and always SPF30. After a long day out with the kids, I use a hydrating, after sun lotion. The soothing sensation after a day in the scorching heat is relaxing all on it's own. I can't wait to start hitting the pool this season and enjoying all our days outdoors.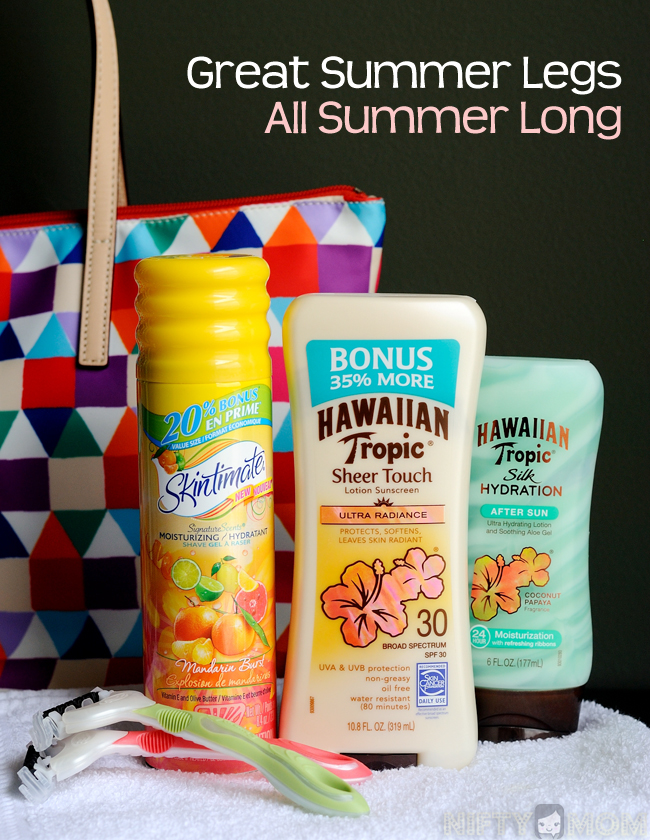 If you still need to kick start summerizing your legs, head over and enter for a chance to win a Summerize Prize Pack. for savings, you can check out the All You magazine that includes an ad with coupons for savings on Schick and Skintimate products.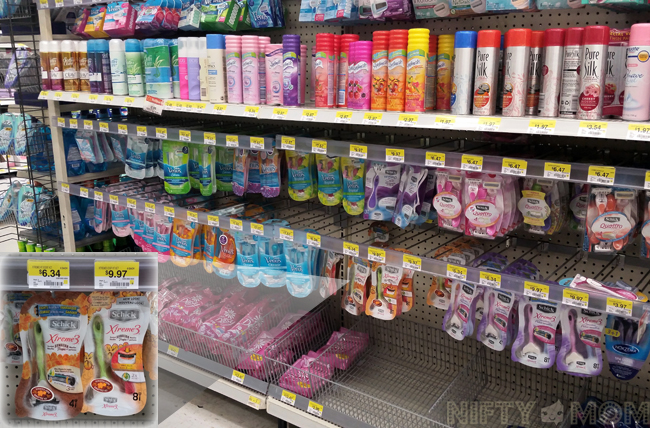 I picked up all the mentioned products at Walmart last week with the coupons, it's all a great deal for summerized legs.
How have you prepped your legs for the summer months?