This holiday kickoff party has been compensated by Collective Bias, Inc. and its advertiser. All opinions are mine alone. #HolidayMadeSimple #CollectiveBias
Well, hello December! As excited as I am about this month full of Christmas cheer, family fun, and entertaining, I know it is going to go by too fast. To kickoff one of my favorite months, we had a Holiday Kickoff Party complete with cookie decorating, DIY coffee mug station, and plenty of laughs.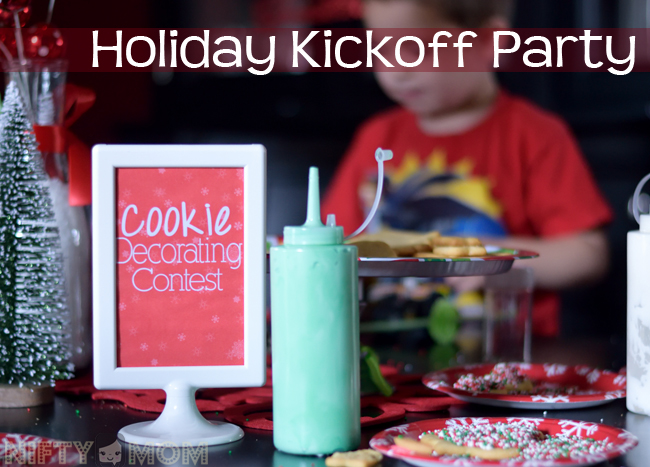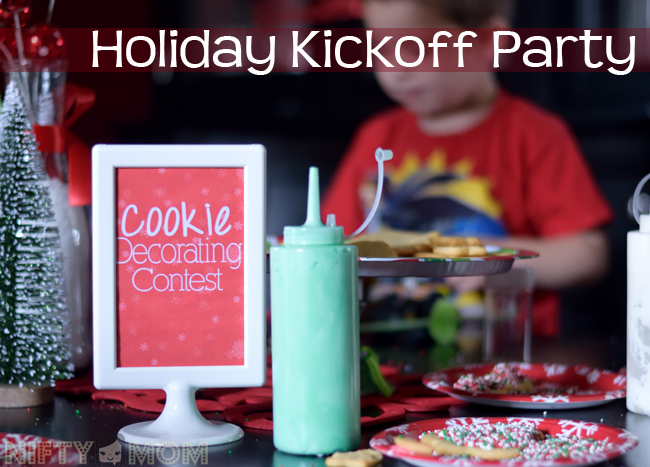 The idea was simple: put together a fun party for not only the younger kids, but also for the adults. It didn't take long to get a bunch of ideas flowing and I headed out for supplies. Knowing that we were definitely going to be decorating cookies, I momentarily panicked. Last year when we got the kids together to decorate cookies, we spent so much time trying to make the cookie dough and roll it out to the best thickness. We didn't get much time to actually have to kids decorate.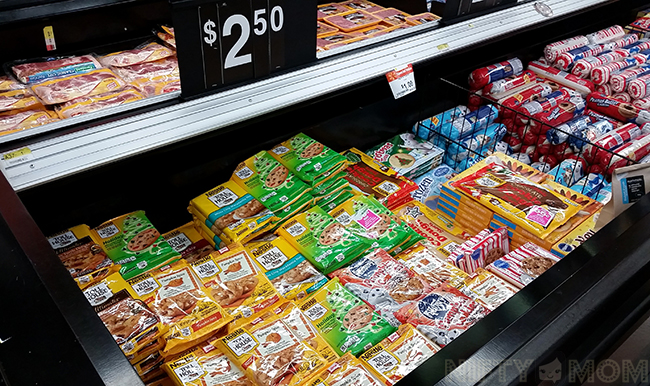 I wasn't going to let that happen again this year. When I was at Walmart in the refrigerated section, I had a light-bulb-moment. Nestle's cookie dough varieties would eliminate all those issues we had last year. Less prep work equals more time to spend with the friends and family. So while I was there, I also grabbed some Stouffer's Party-Sized Entrees.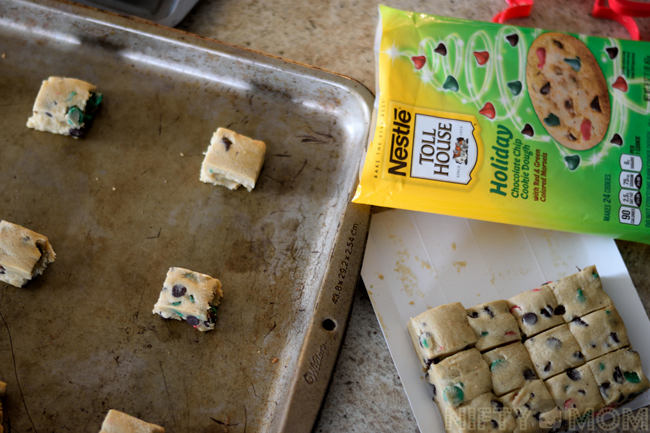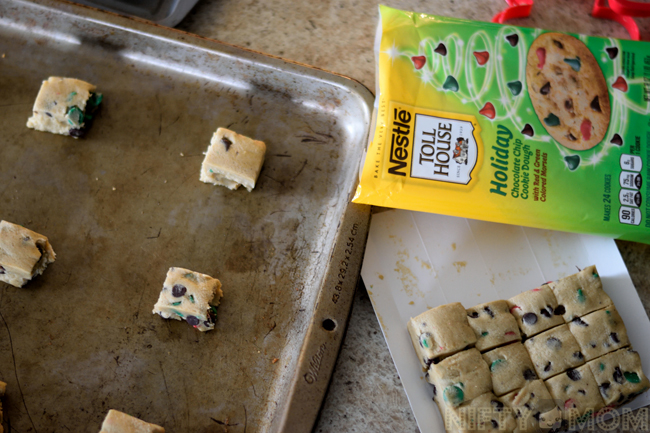 The day before the party I got all the baking out of the way. It was easy to get done while I was also cleaning the house. All I had to do was get out 3 cookie sheets to keep in rotation and lay everything out.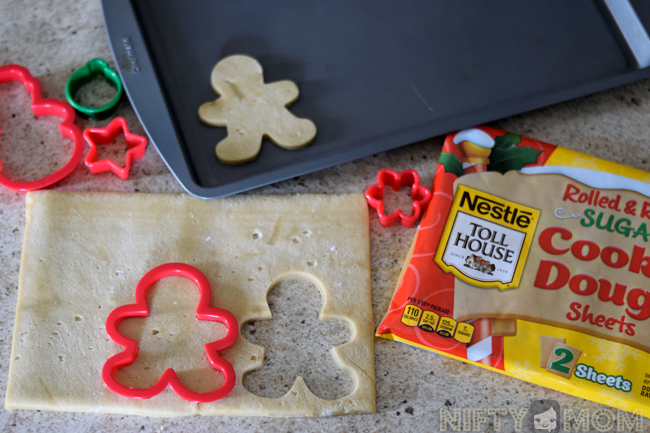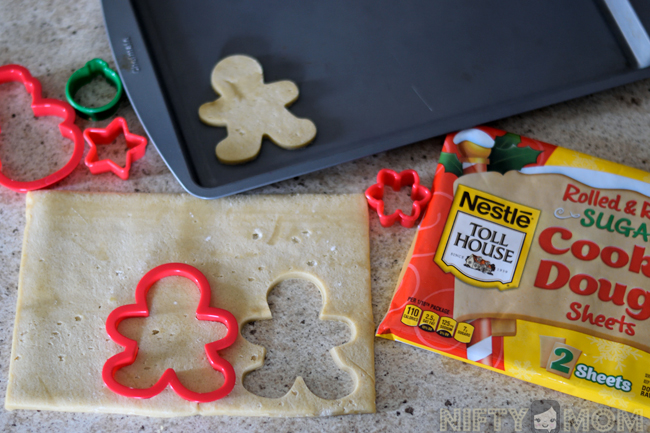 The NESTLÉ® TOLL HOUSE® Rolled & Ready Sugar Cookie Dough Sheets was such a time-saver. Once I got done cutting out a few dozen cookies, I left myself wondering what to do with the extra cookie dough (I piled up as I went) that was too small to cut another cookie out.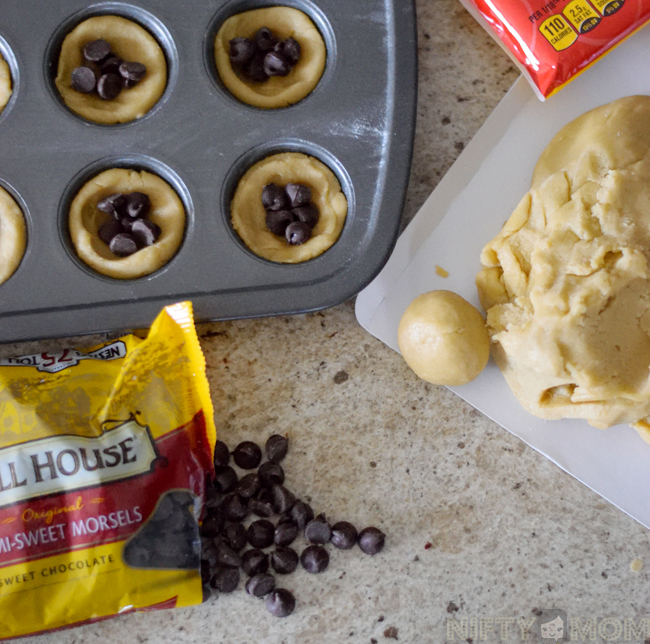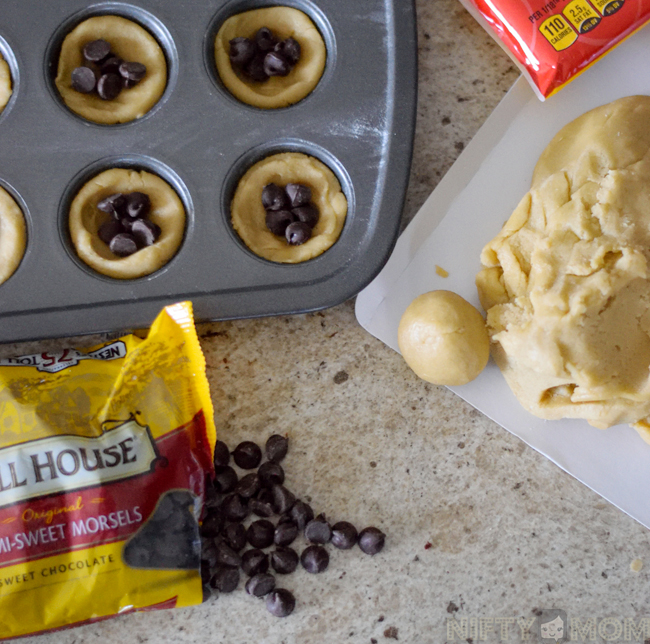 That's when I had the idea to get out the mini muffin pan. I rolled the dough into little balls and filled the tin, pushing the dough down to make them bowl-like. Then I dropped in 4-8 NESTLÉ® TOLL HOUSE® Semi-Sweet Chocolate Morsels into each one. I baked them a few minutes longer than the cookies (total 10-11 minutes at 350°) since they were thicker.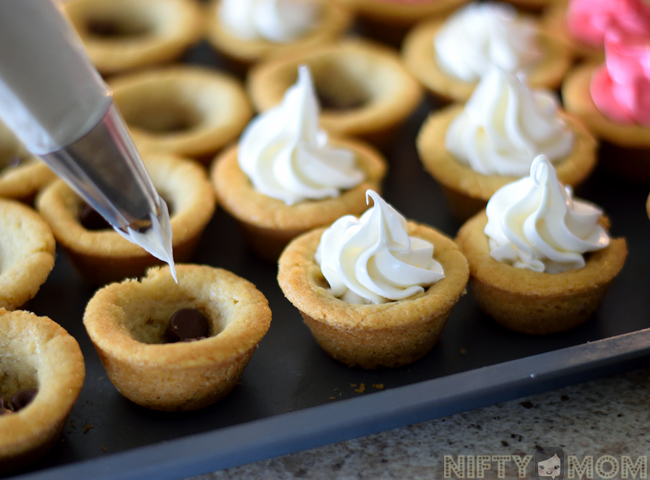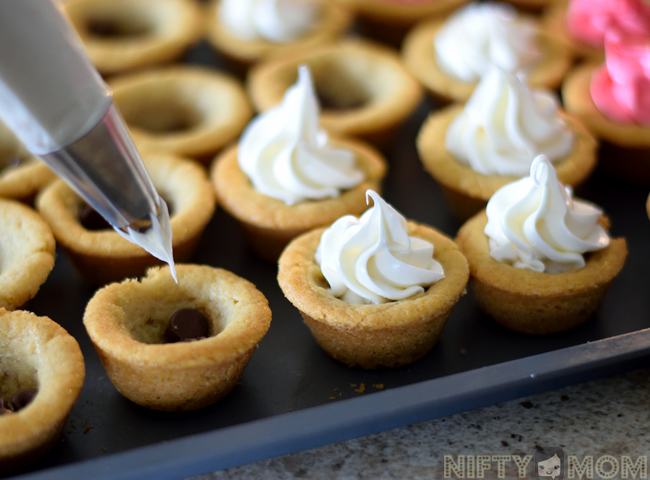 Once cooled, remove them from the pan and put a little bit of icing on each one.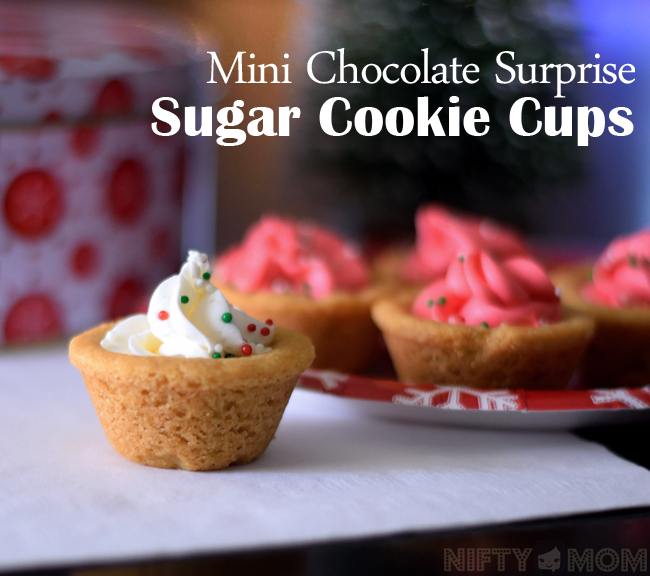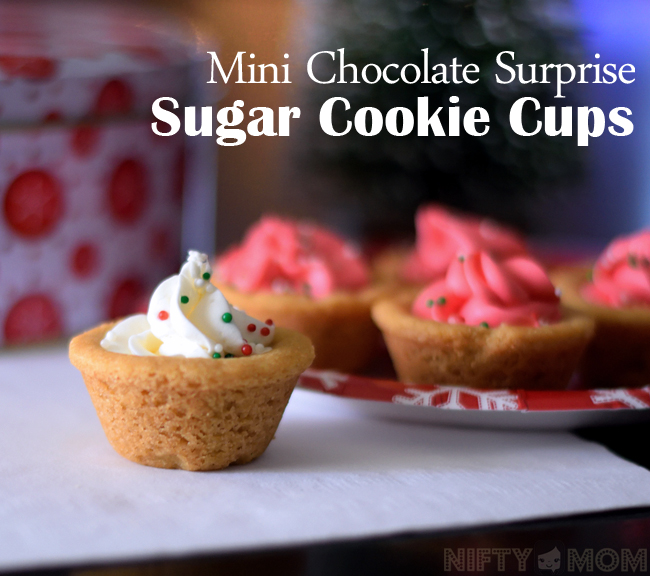 To make them more festive, I also added some sprinkles. I stored all the cookies in a large airtight container overnight. The morning of the party, I started prepping. It was such a relief to not have to bake any of the cookies.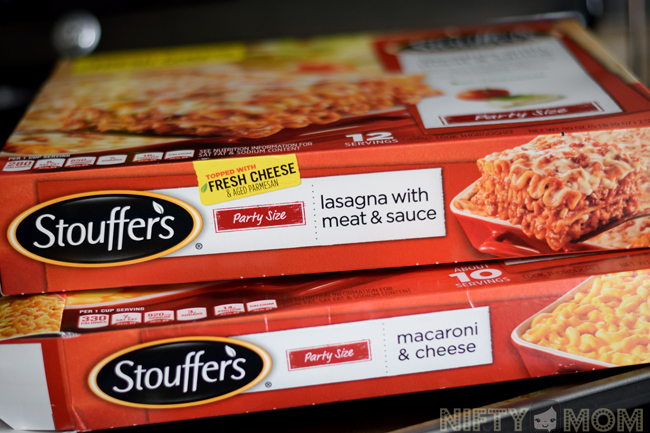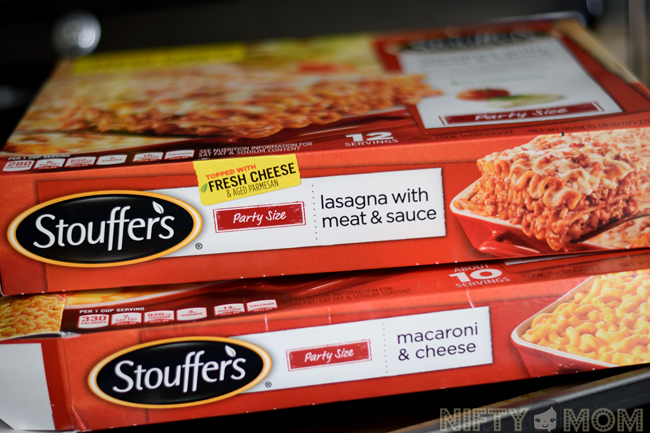 Since everyone was going to be over around lunch time, I decided to pop some Stouffer's Party Size Entrees in the oven. They are great to have stocked in the freezer in case of last minute dinner guests, too. While the were finishing up in the oven, it was time to get the party started.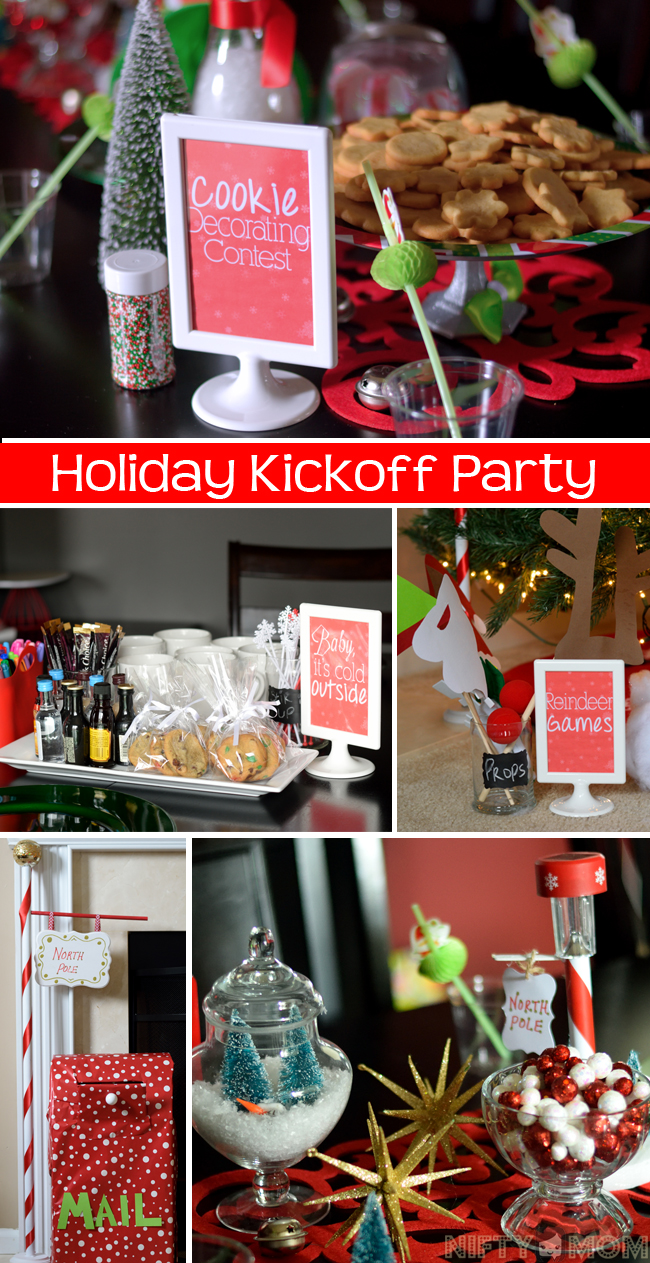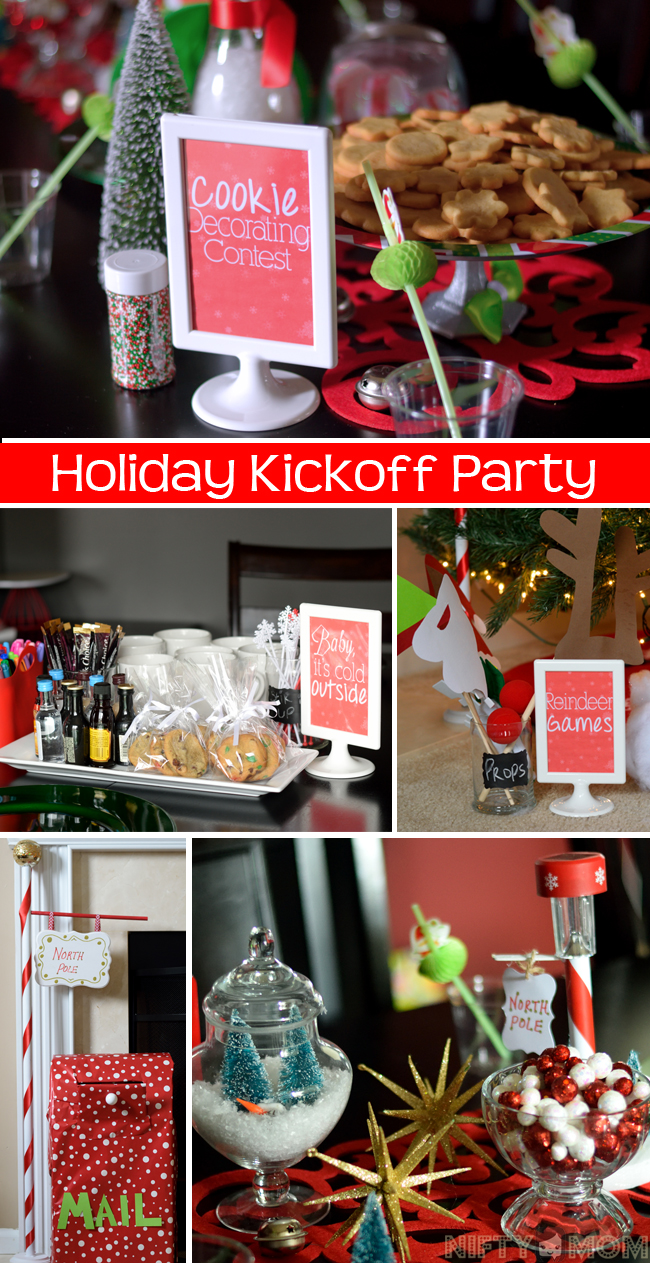 We put holiday decor on the table. Using ornaments, fake snow, and different glass jars is an easy way to add a festive touch to tables.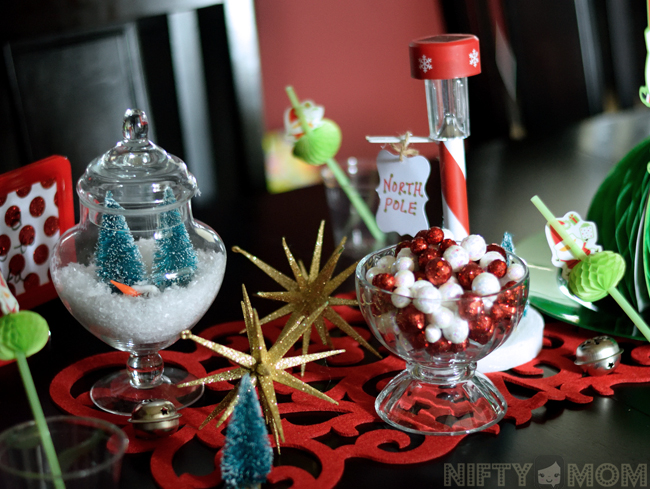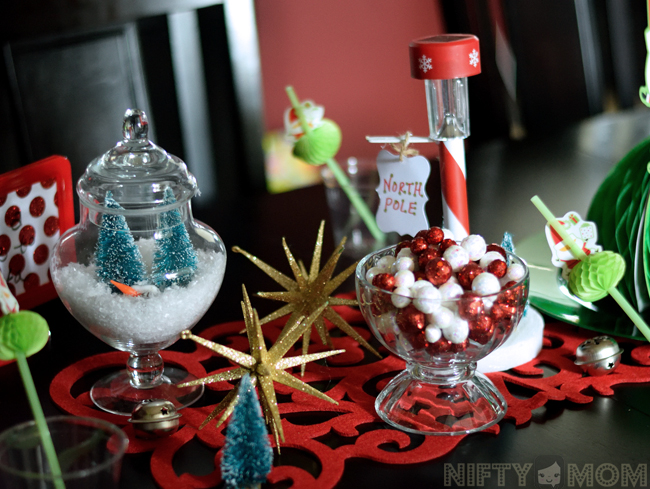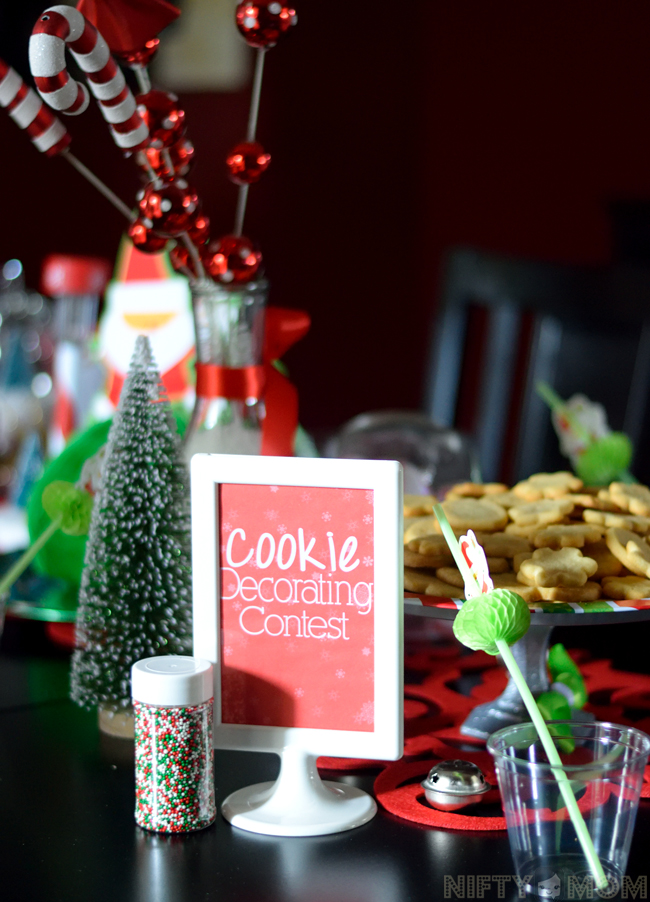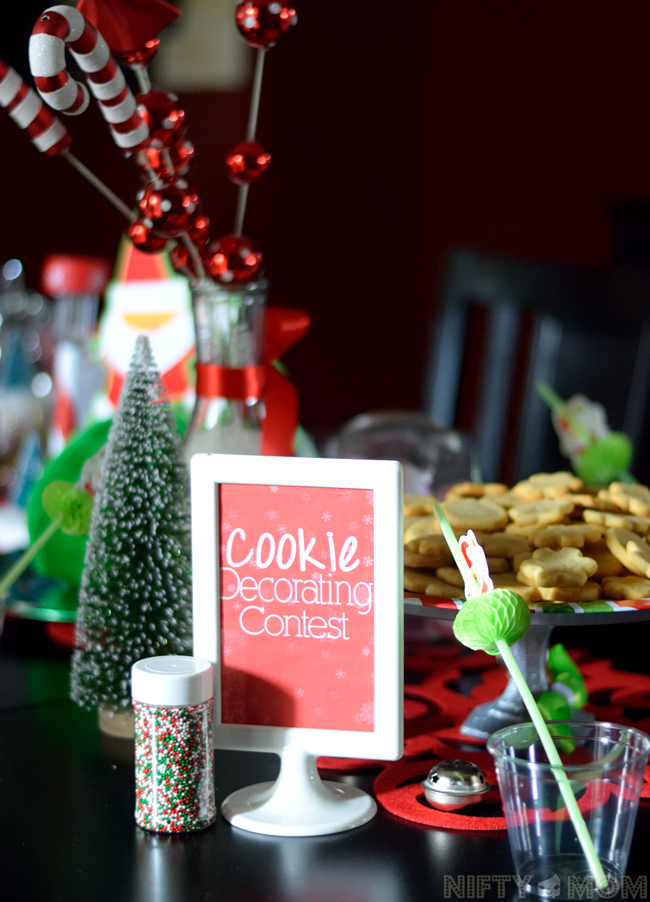 The party started with cookie decorating because the kids just couldn't wait and wanted to dig right into the cookies.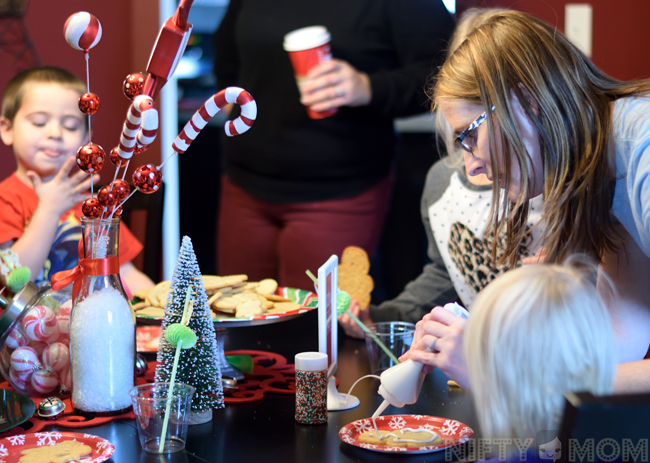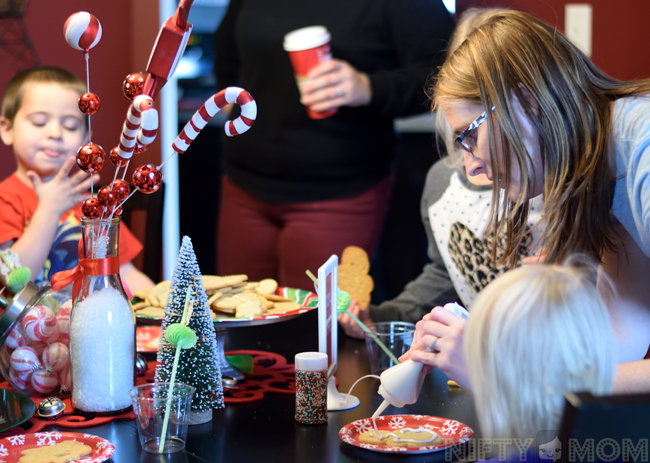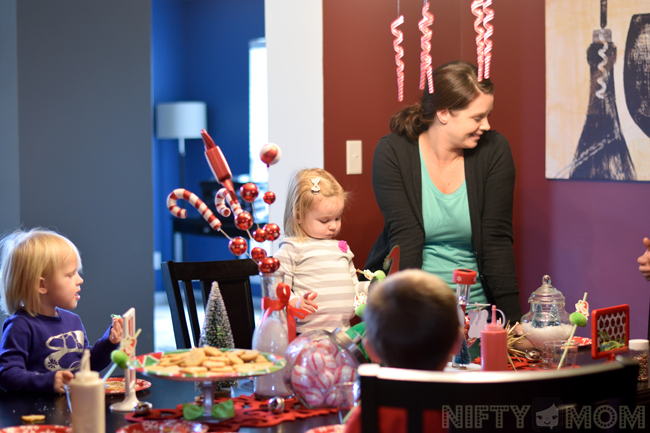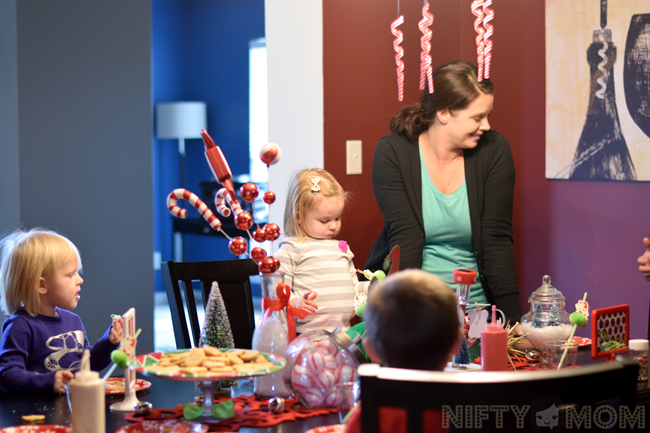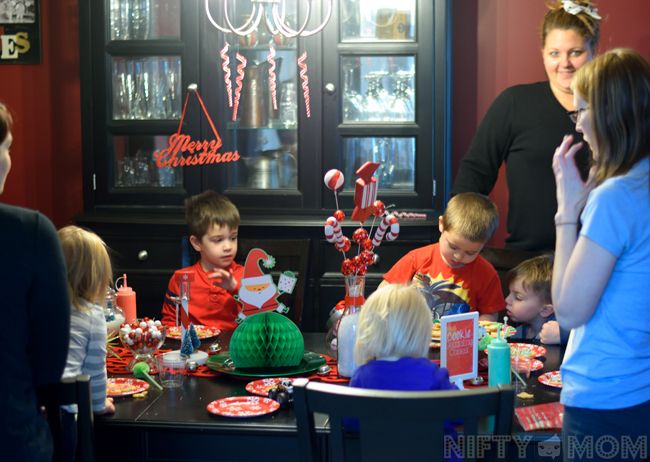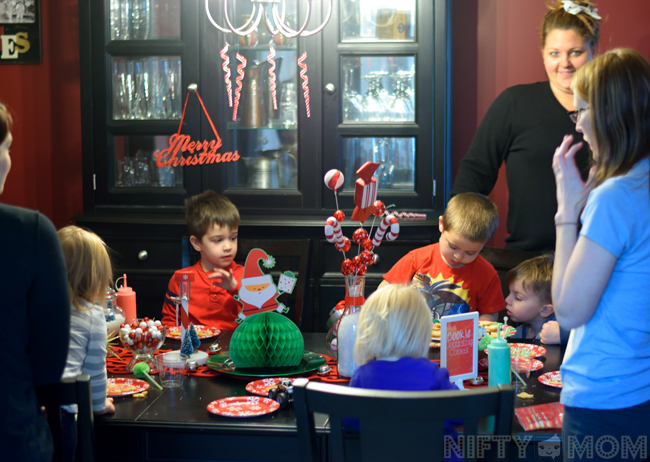 We filled plastic condiment bottles with icing to make it easier for the little ones to decorate. Between nine kids (4 and younger), it is safe to say the majority of the cookies got eaten the moment they were completely covered with icing and sprinkles.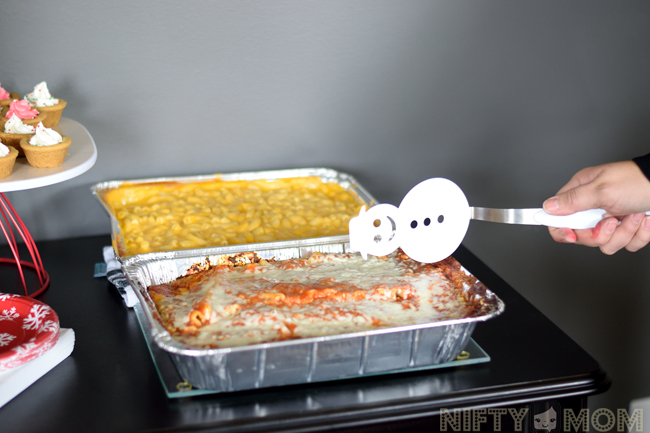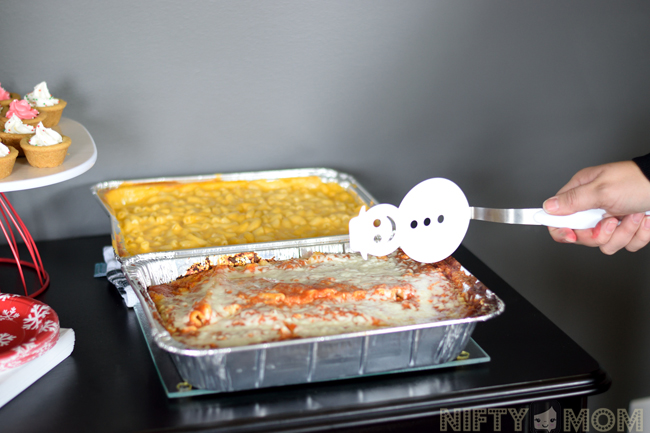 After they had all that sugar, the Stouffer's Entrees luckily were done baking. Everyone immediately agreed it was a good time to offset all the sweets and get some lunch.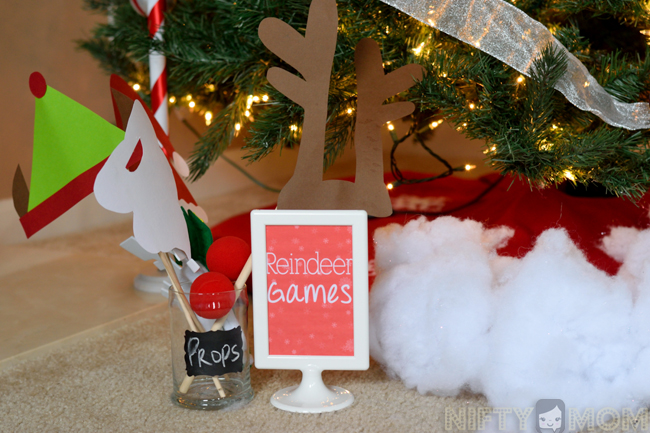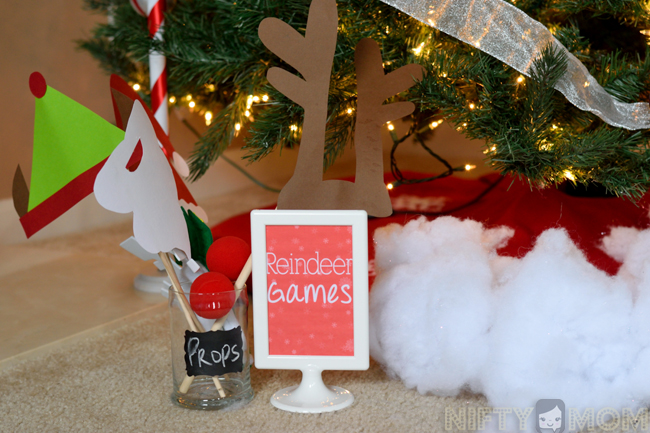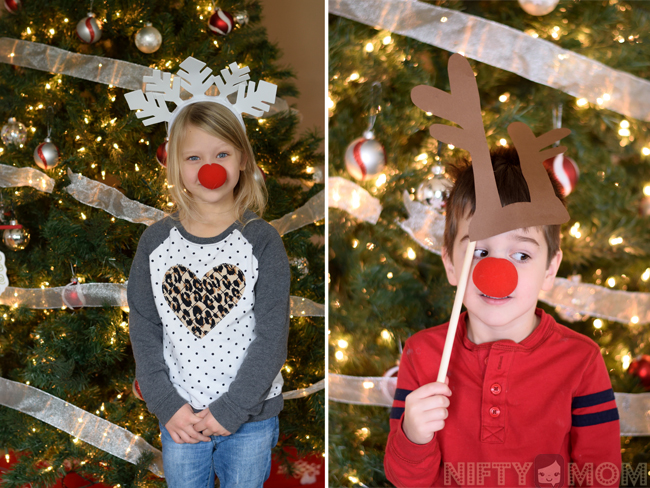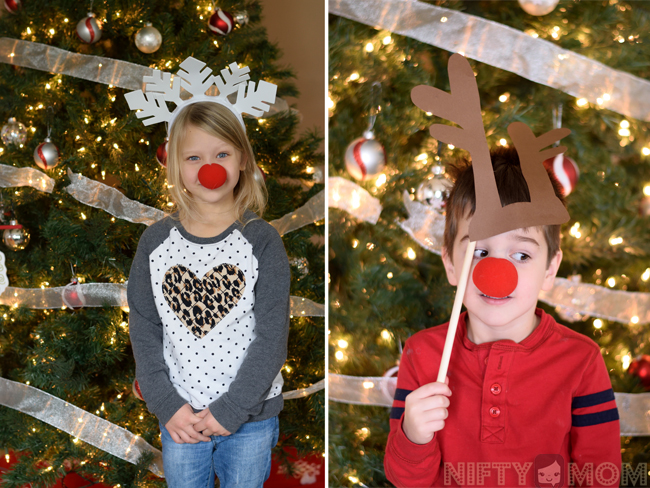 Afterwards the kids played games and pretended to be reindeer. Clown noses work perfect for Rudolf noses. They were the most popular prop by far.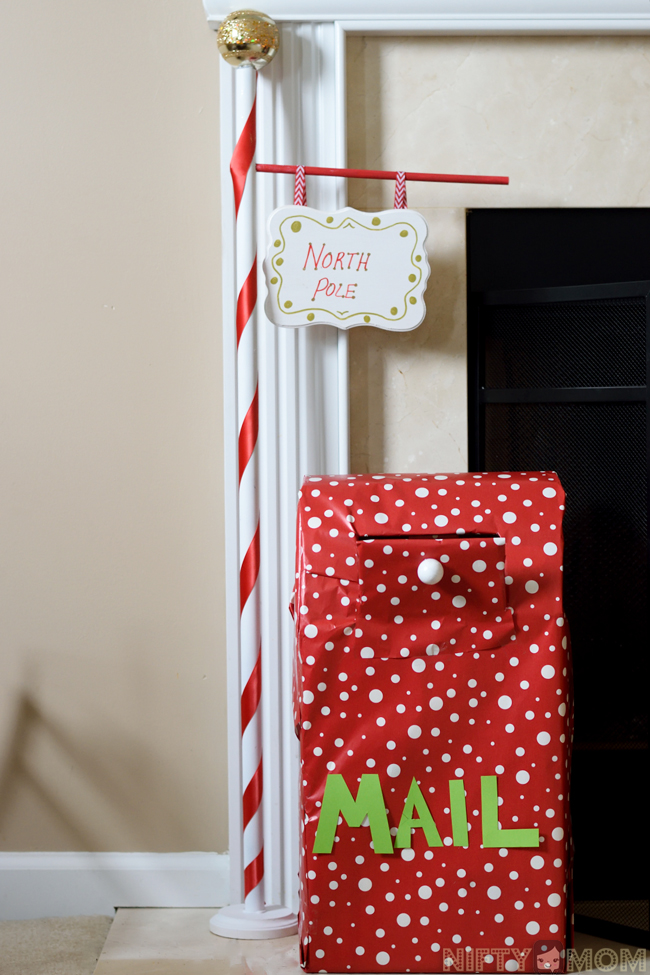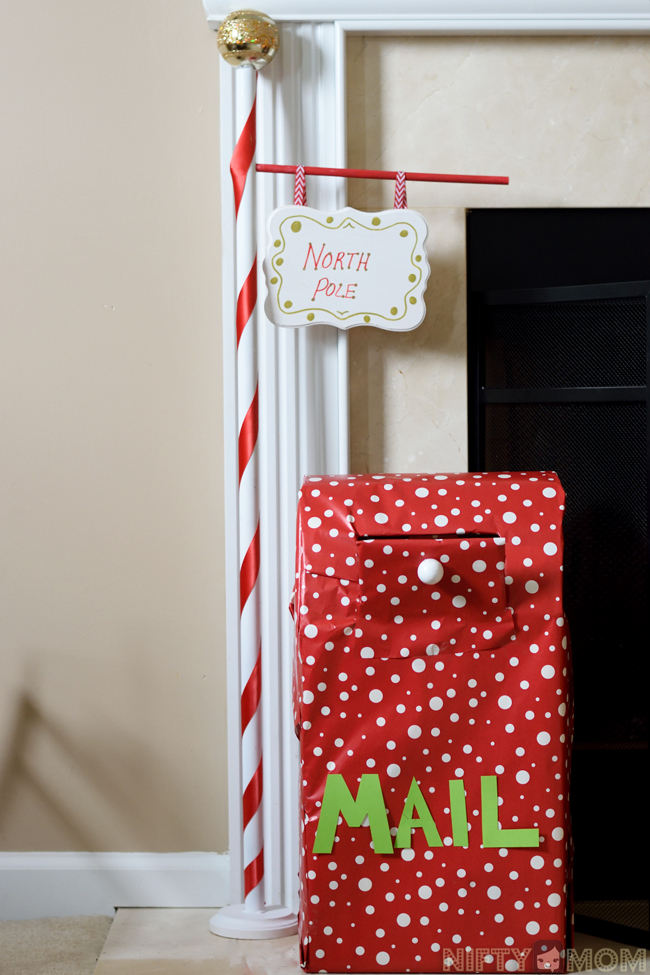 We also made a North Pole and Santa Mailbox. The mailbox is made from a cardboard box and covered in wrapping paper.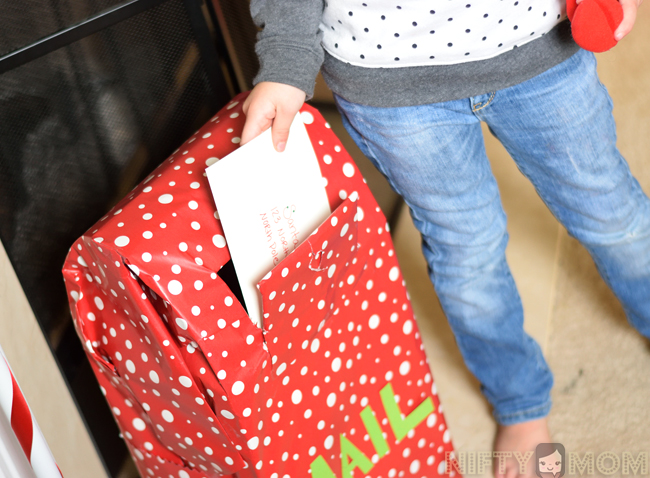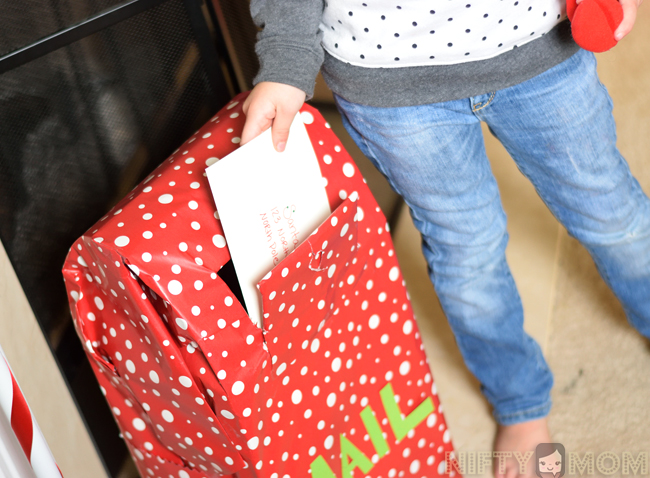 While the kids were running around playing, it was time for the adults to have fun as well. I think play-dates don't always have to be just for the kids!
When I think about the winter and cold weather, a warm cup of coffee comes to mind. So for the adults, I set up a DIY Coffee Mug Station.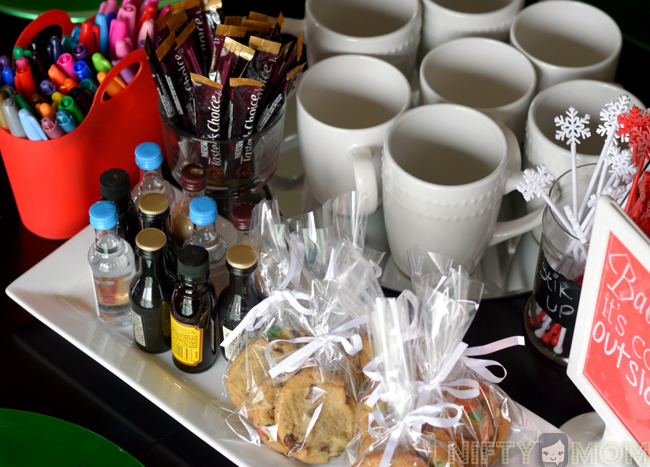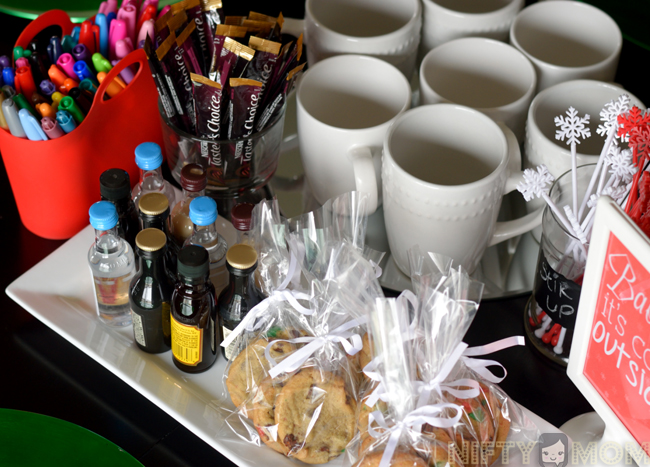 Everyone could design their own mug with permanent markers (and bake for 30 minutes at 425º to set). I packaged the NESTLÉ® TOLL HOUSE® Holiday Chocolate Chip Cookies I made the day before (2-3 per package) because I love dunking cookies into coffee. I wish I could have found the NESTLÉ® TOLL HOUSE® Dark Chocolate Peppermint Refrigerated Cookie Dough when I was at the store, because it would go perfect with coffee!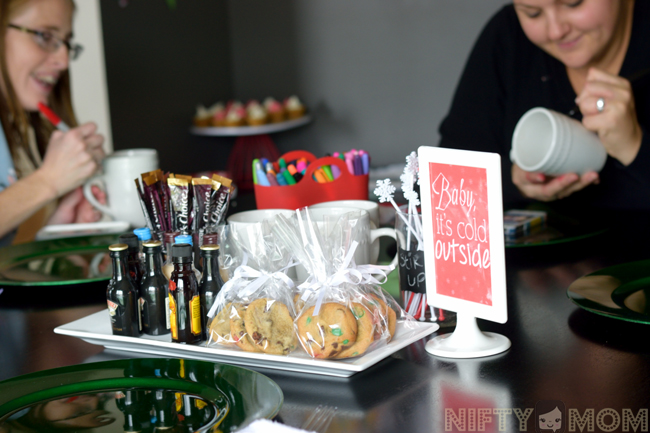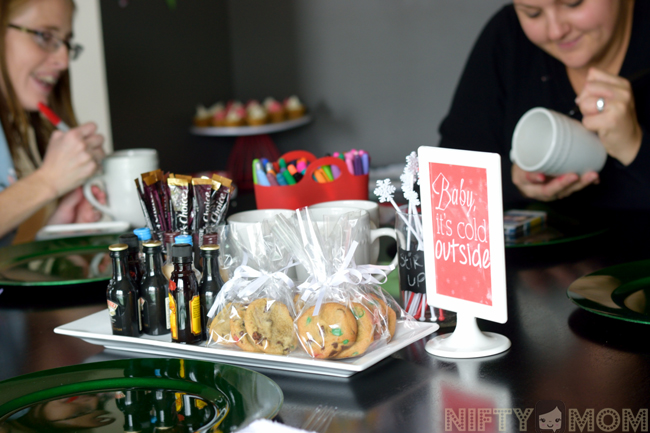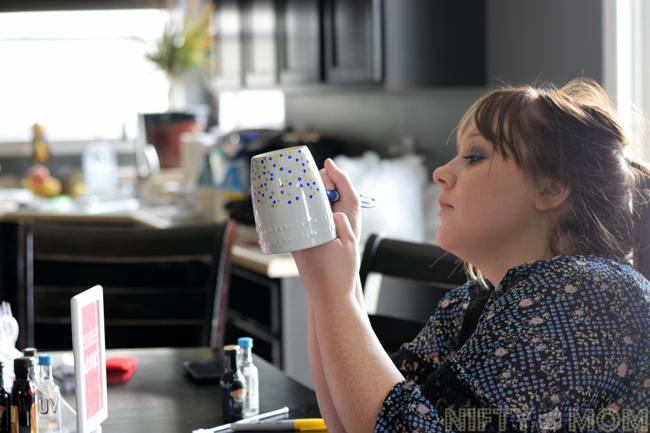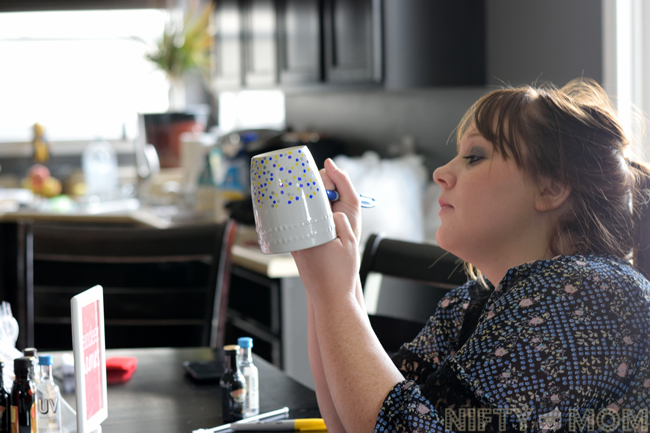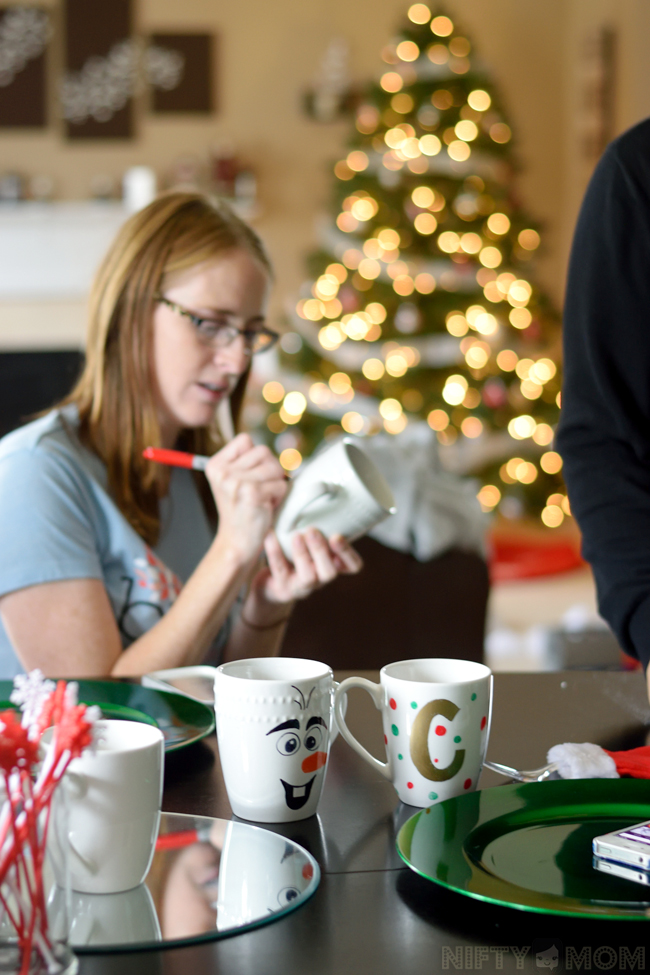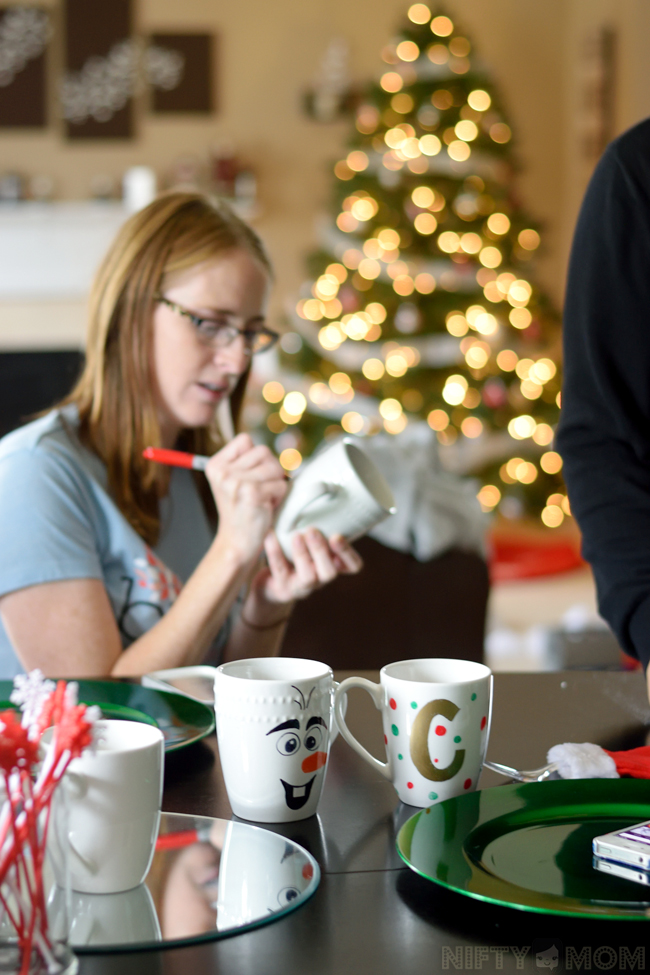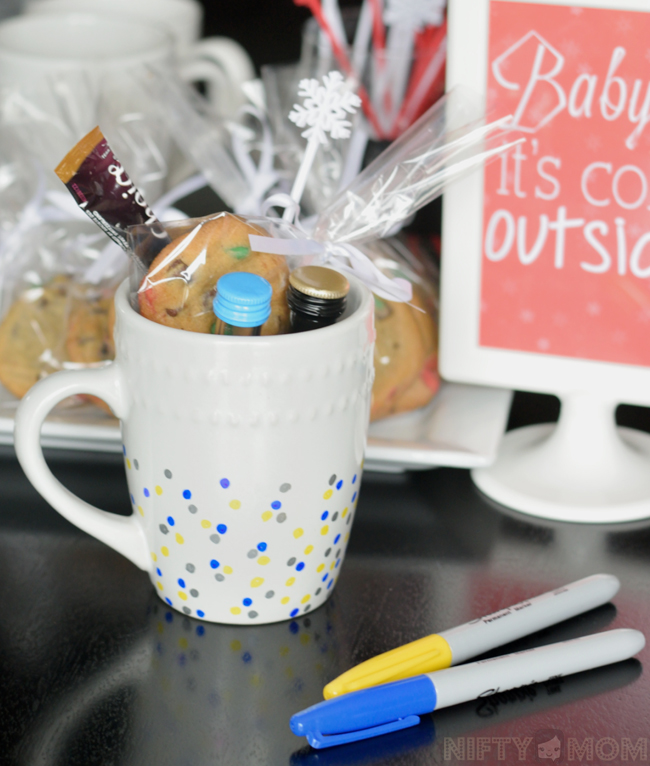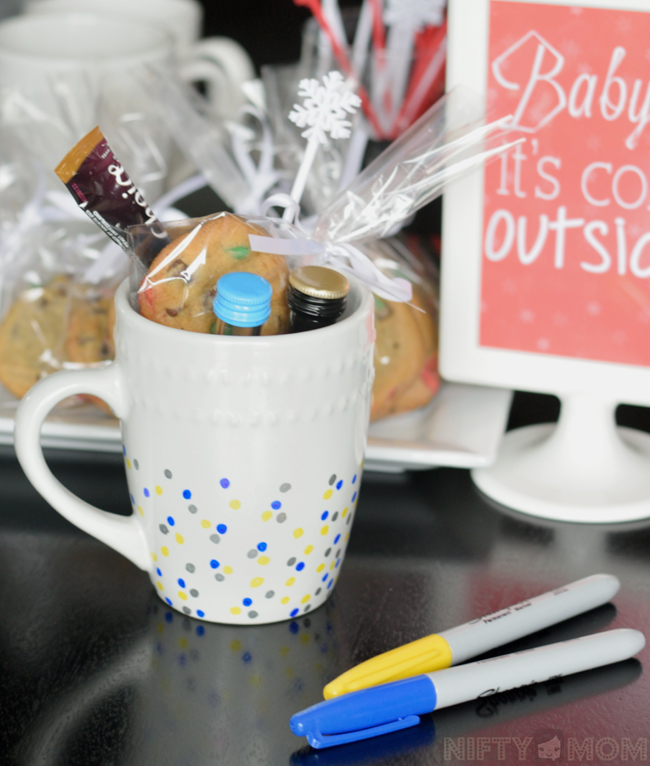 Some things we put onto the mugs was an Olaf, initials, dots with colors of local sports teams, and winter quotes. Making them was definitely a hit, and it was a bonus that the moms actually got to take something home, and not just the kids.
Our Holiday Kickoff Party is something that will definitely become a new tradition among us friends. It's a fun way to get everyone excited about Christmas, decorate cookies, write letters to Santa, and make new memories.
If you need more recipe ideas, check out FlavorfulMoments.net.
How do you kickoff the holiday season?
NESTLE GIVEAWAY!!
Nestle is giving away $1,600 in Nestle Gift Baskets!! 8 winners will receive a $100 Nestle gift basket and 2 winners will receive a $400 grand prize Nestle gift basket! Enter below! Good luck!
Nestlé Holiday Sweepstakes