This recipe for Vegetable Beef Soup has been compensated by Collective Bias, Inc. and its advertiser. All opinions are mine alone. #MyBrothersSalsa #CollectiveBias
With winter quickly approaching, my weekly meal plans typically change, too. More comfort foods are added to the rotation of homemade meals. All kinds of soups are the one thing that can easily warm me up on a cold day.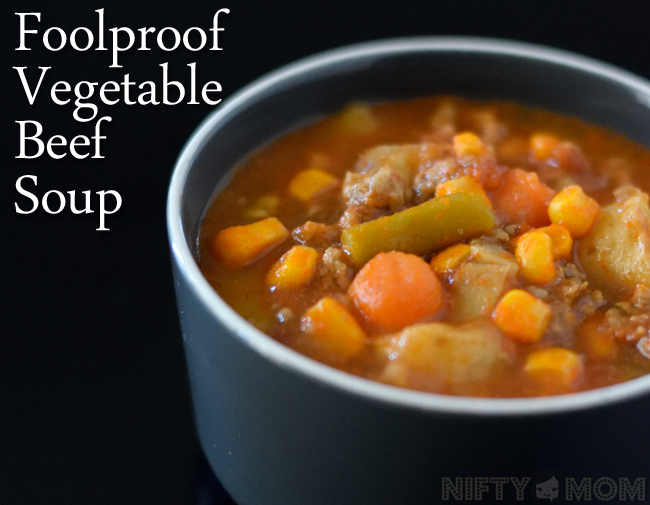 Last winter, one of my favorite memories wasn't a holiday, or a huge event we went to. It was a day we got snowed in. I remember putting a large mixing bowl on the back steps to collect snow for the boys to make their own 'snow cones'. However, not even halfway through the day, the bowl was completely buried in snow.
It was the perfect day for a large pot of vegetable soup. I pulled out the stockpot, cutting board and lots of vegetables we had on hand. The great thing about this recipe is it can easily be modified to accommodate the ingredients that are available. Once the kids saw everything laid out on the counter, they ran in to help.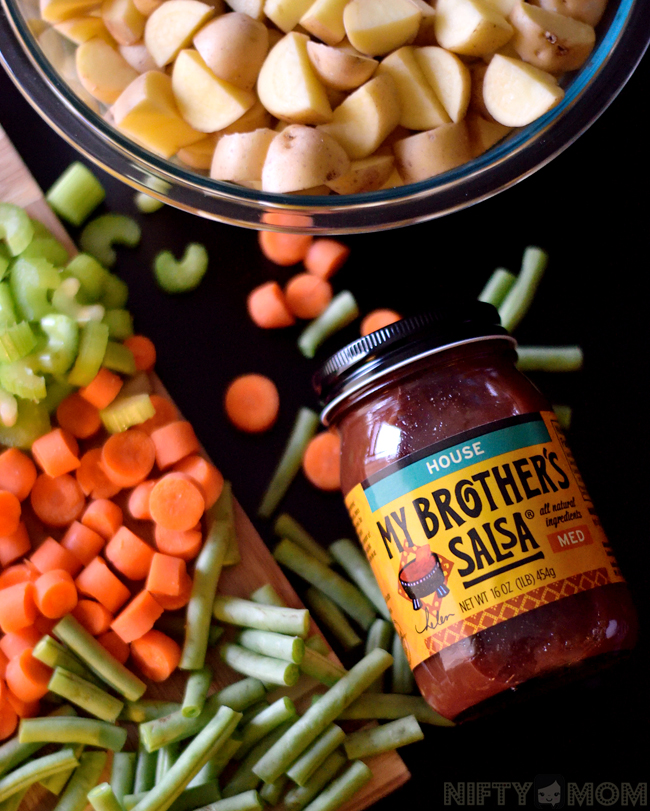 Cooking with them is what makes the memory so priceless. Since they are still little, their favorite things to do when making the soup is putting all the chopped vegetables in the pot and mixing it up. I hope as they continue to grow and get older, we will still have those bonding memories, even when they are teenagers (but I really don't even want to think about that age yet!).
One thing I use to struggle with is the seasonings in vegetable beef soup. However, last year I discovered my secret ingredient. A jar or two of salsa. The House variety of My Brother's Salsa adds a nice zest and since it is made with all natural ingredients, it fits in perfectly with all the fresh vegetables.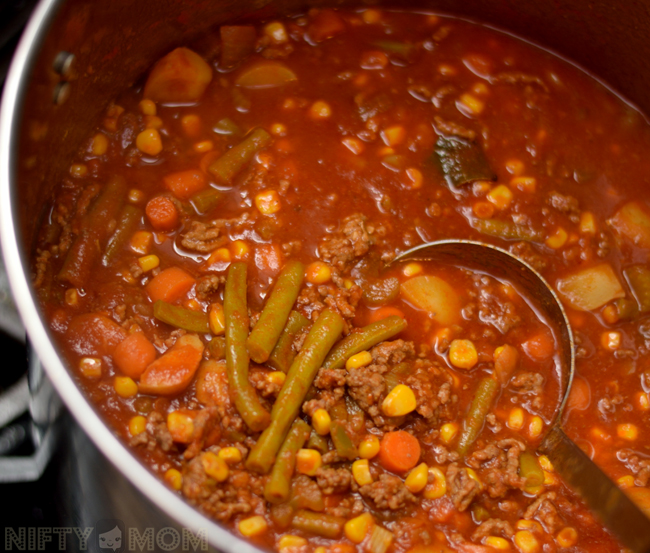 Another reason I love to make this vegetable beef soup is because we make a ton. If you don't want a ton of leftovers, I would recommend cutting the recipe in half. This recipe fills a stockpot over 3/4 of the way full. We have enough for family dinner, to freeze a gallon-size bag for another day, containers portioned out for some lunches for the week, plus leftovers.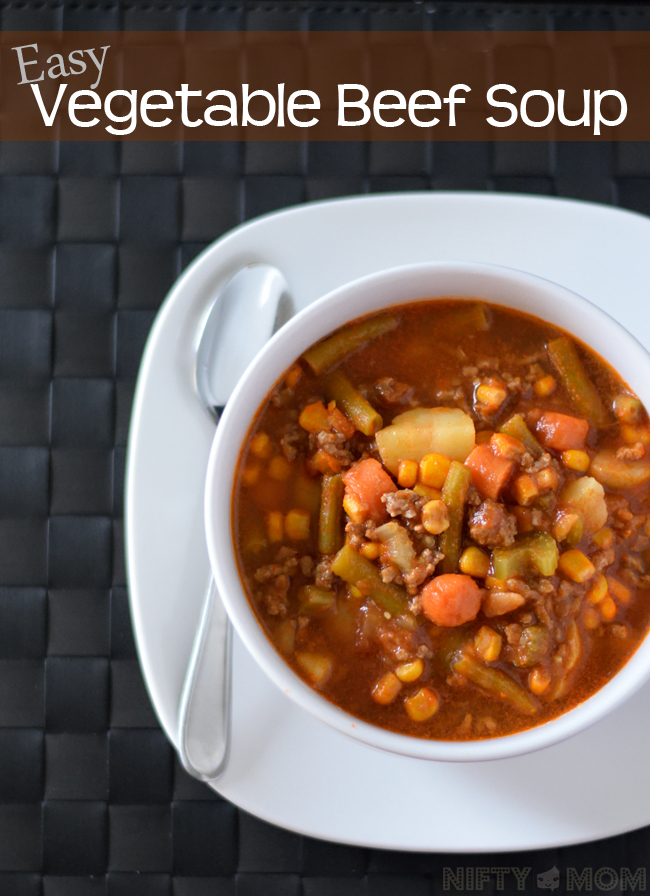 Vegetable Beef Soup
This vegetable beef soup is easy to modify to accommodate the ingredients you have on hand and the amount you want to make.
Ingredients
2 jars of My Brother's Salsa, House
2 large cans of tomato sauce
4 bay leaves
2-4 pounds of ground beef (we normally use 4)
1 onion, chopped
1 head of celery, chopped
1 large bag of baby carrots (or regular carrots, peeled), chopped
2-4 cups fresh green beans, chopped
4 cups baby potatoes chopped
2 large cans of corn (use the liquid as well)
Beef broth (added as needed for consistency/thickness desired)
Instructions
Brown ground beef with all the chopped onions and drain.
In a large stockpot, pour in tomato sauce, salsa, bay leaves, ground beef and onions, potatoes, carrots, green beans, and liquid from the corn.
Cover and bring to a boil.Then simmer for about 30 minutes, stirring often.
Add in the corn and any beef broth if you don't want it as thick (we typically don't use any)
Continue cooking, covered, until all the vegetables are tender.
Remove the bay leaves before serving.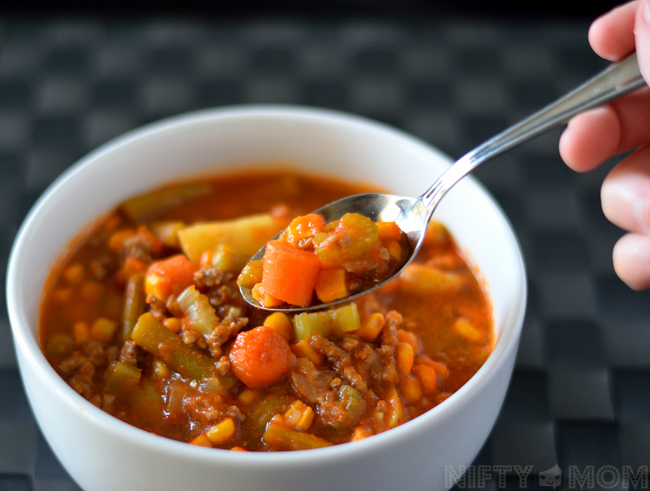 If there is ever a day we don't have a bunch of fresh vegetables on hand, frozen vegetables can also work in the recipe. It really can be made any way you like with more or less of the vegetables, just don't forget the salsa!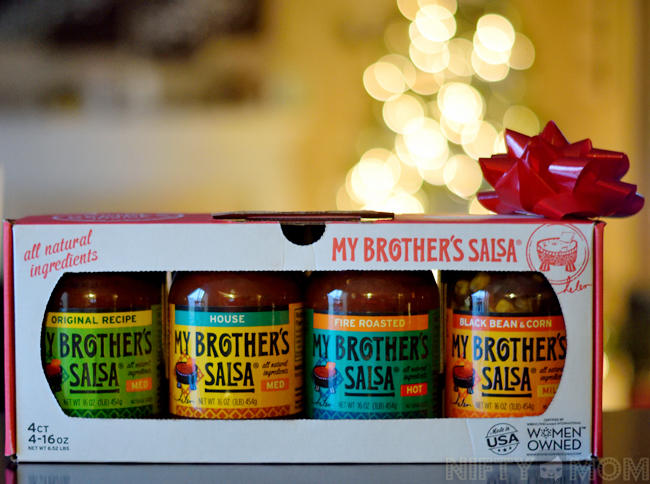 My Brother's Salsa, a woman-owned family company, has a variety of salsa flavors, not just the House that I used. Each jar of salsa even comes with a recipe, or you can find more amazing recipes using salsa on their website. Don't get me wrong, salsa is great for dipping tortilla chips in, but I could cook with it daily.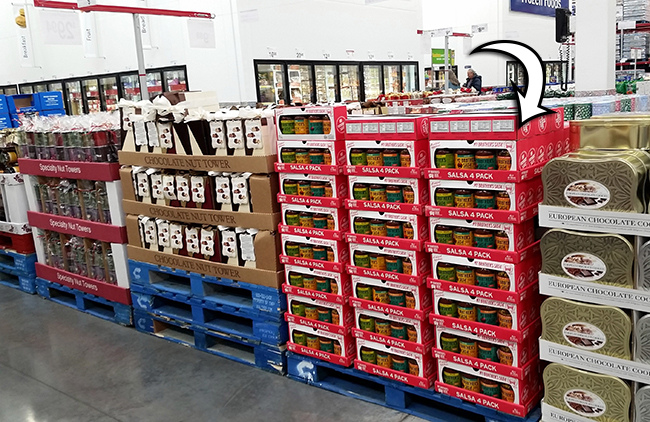 The holiday variety 4-pack is only available at Sam's Club for a limited time and is great for gifts this holiday season. While they make great pre-packaged gifts for a cook or foodie, I am going to be using a couple for hostess gifts for all the parties we will be attending this month. The brand can also be found other retailers such as Walmart, Harris Teeter, and The Fresh Market. Find a store near you.
How do you use salsa?