JORD Wood Watches graciously provided me with the Cora Series Zebrawood & Turquoise watch. All opinions are my own. 
At least once a month I try to get out and go shopping with my mom. Most of the time the kids and my dad come along. Then my dad takes the boys to the play areas so we can shop with a little more ease than usual (and grandpa gets his time with the boys). It's nice to have that time with my mom. And for the last year or so, I have been slowly trying to expand my accessories and clothing options.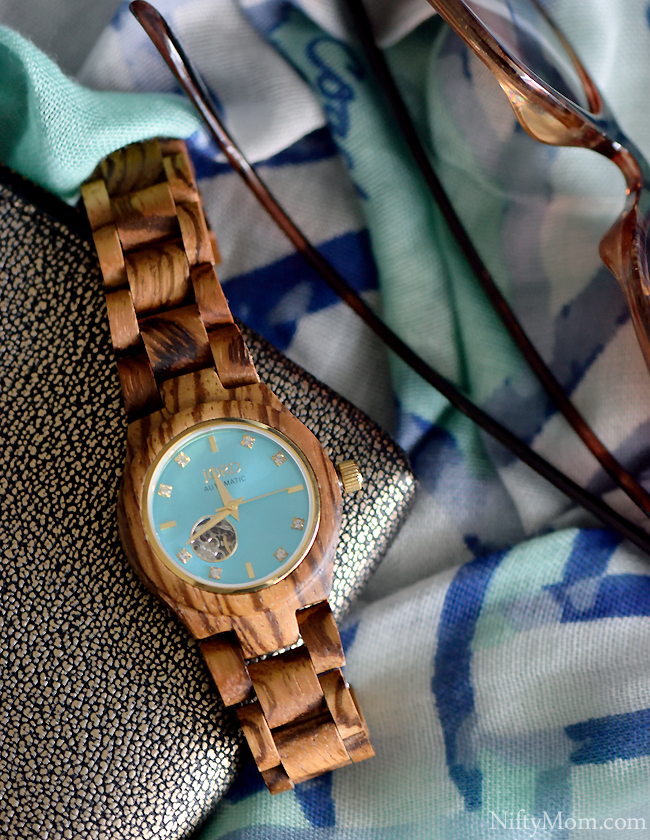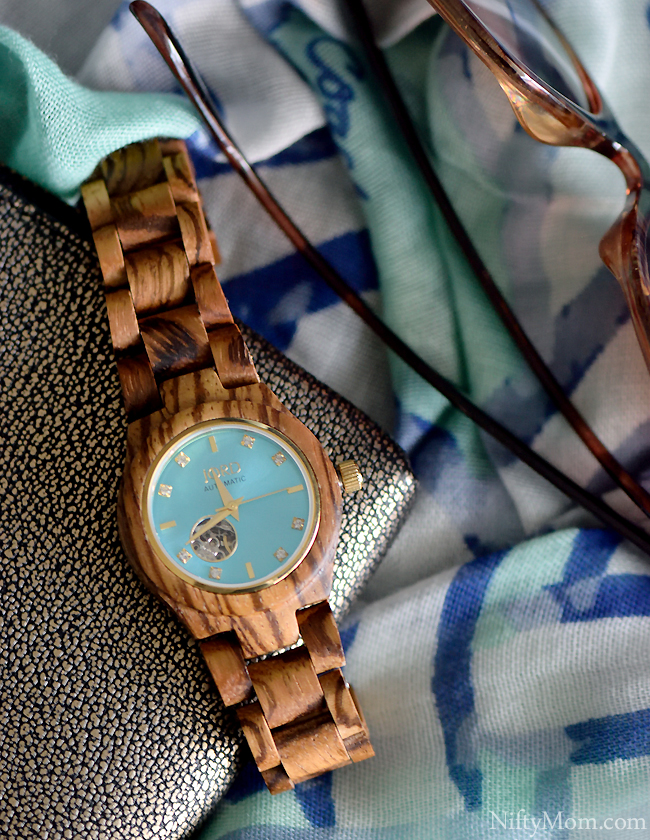 Since having my three boys, the first 5 years or so I didn't really spend time or money on myself. When we went shopping, it was for the kids. I naturally gravitated to the boys clothing sections instead of the women's. However, I have been trying to change all that. Trying to update my own wardrobe and accessories.
One time last summer, when we were shopping, my mom called me out. I remember it like it was yesterday. I was looking at a white & black striped knee-length dress. She said, "Samantha, all you keep buying is black, white, gray, and stripes. Why don't you try some color?" I just stared at her. Then at the dress. Then back at her and giggled a little.
She was 100% right. When I got home after that trip, I looked in my closet and most things were just that: white, gray, black, with lots of stripes. From then on, I have been trying to add more color. One of the easiest way to add color to any look without buying a whole new outfit everyday, is accessories.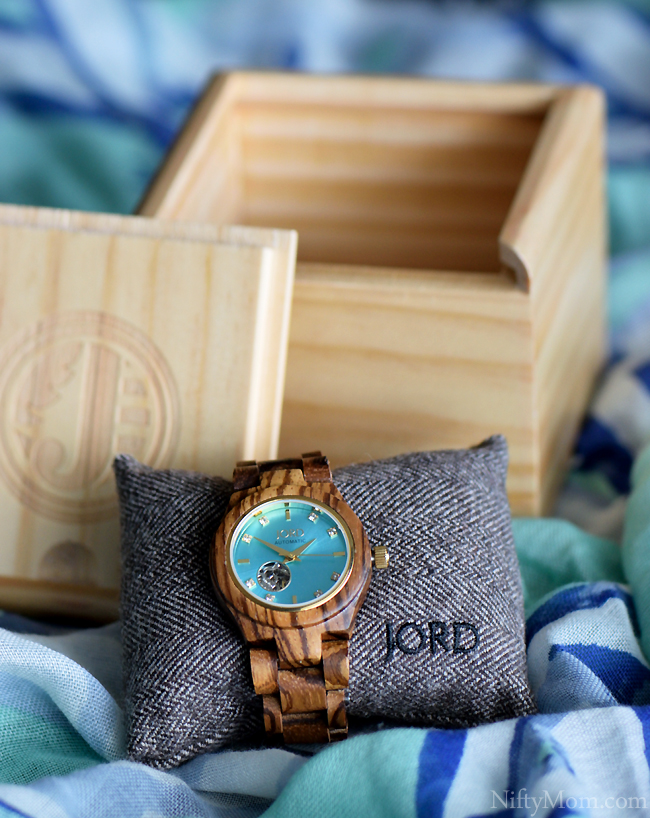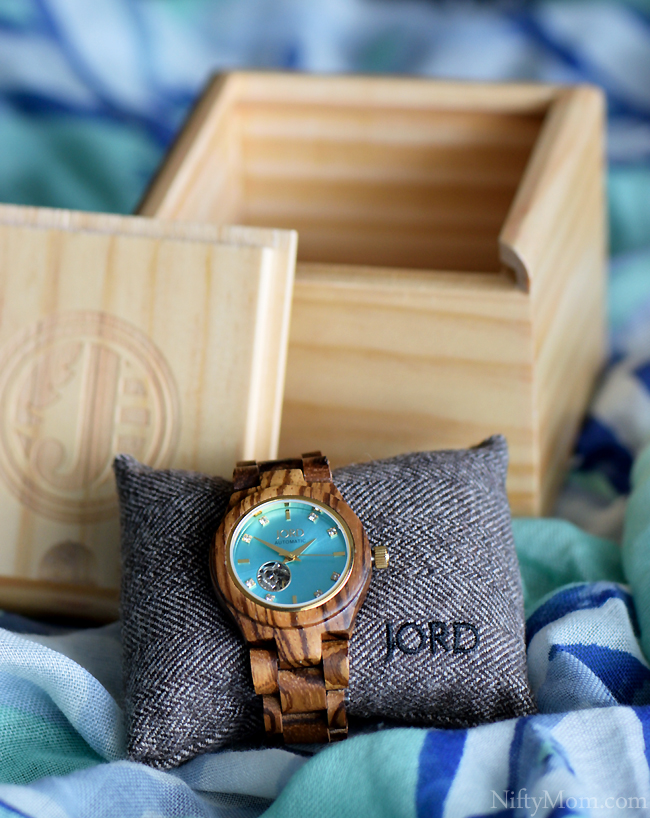 I am a huge fan of accessories. I have about 20 winter scarves and a large stand-up jewelry box full of earrings, necklaces, and bracelets. A few weeks ago when we were out shopping, I even purchased a couple spring scarves with blues and greens. One thing I was lacking was a nice watch. I have never really found one that I liked. Then a local St. Louis company, JORD, contacted me and I was introduced to wood watches. Not just any wood watches, but ones that fit into a modern lifestyle. Ones that are elegant pieces in which function meets fashion.
The moment I laid my eyes on the Cora Series Zebrawood & Turquoise watch, I knew it would be the perfect piece to add a touch of color to my everyday look.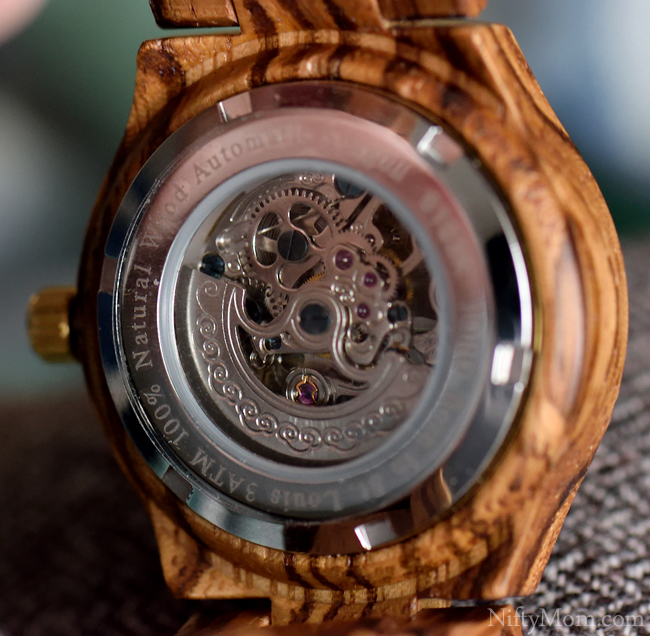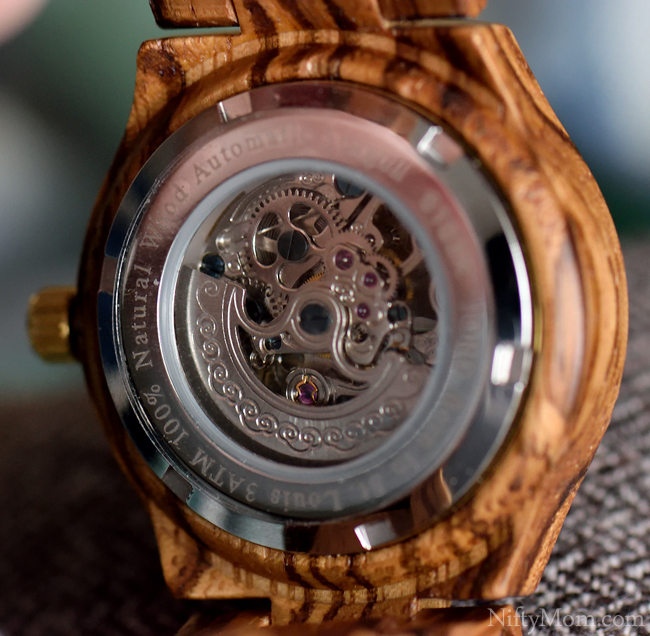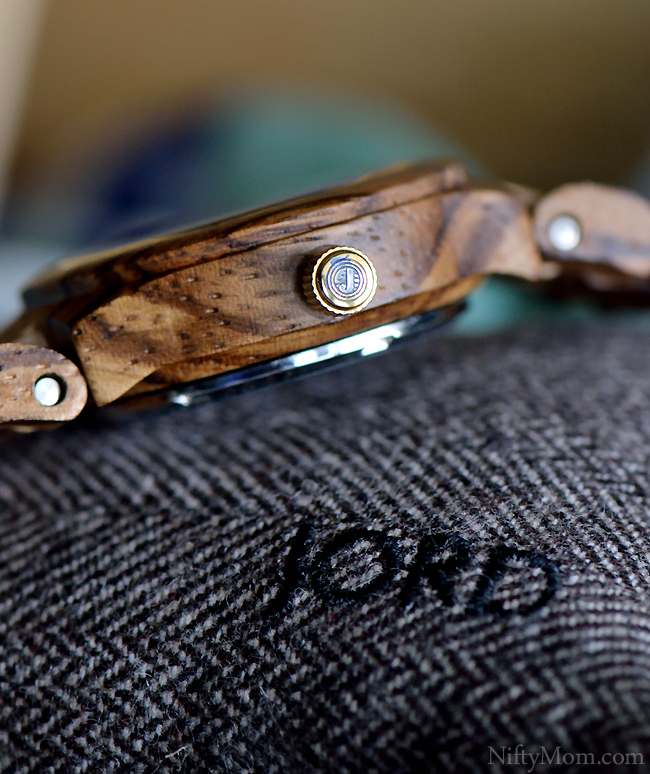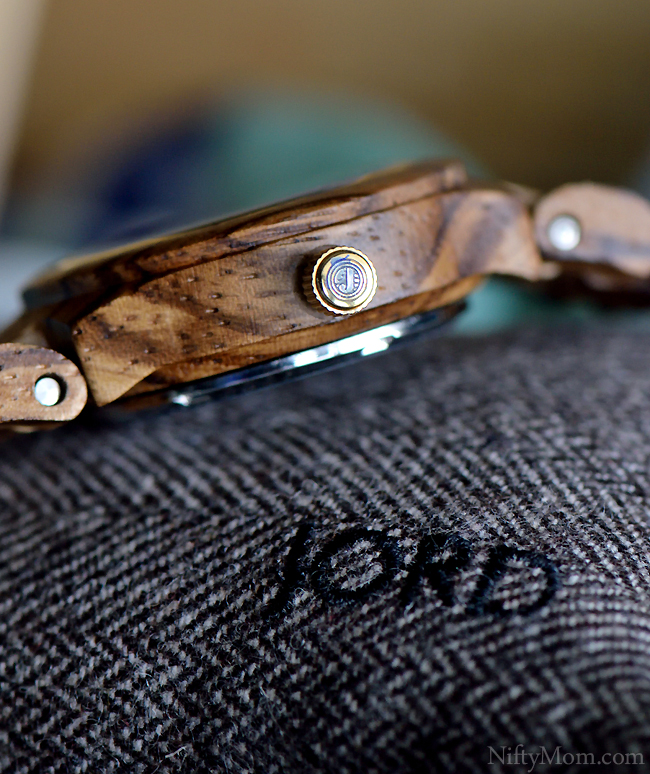 The Cora Series is the first line of lady's JORD wood watches that have automatic movement. It features Swarovski crystals, a sapphire crystal face, and a complex grain wood case & band.
The watch has so much detail and beauty (down to the logo on the screw-down crown), the pictures don't really do it justice. It's easy to see how much love goes into their craftsmanship and products with natural elements and detailed designs.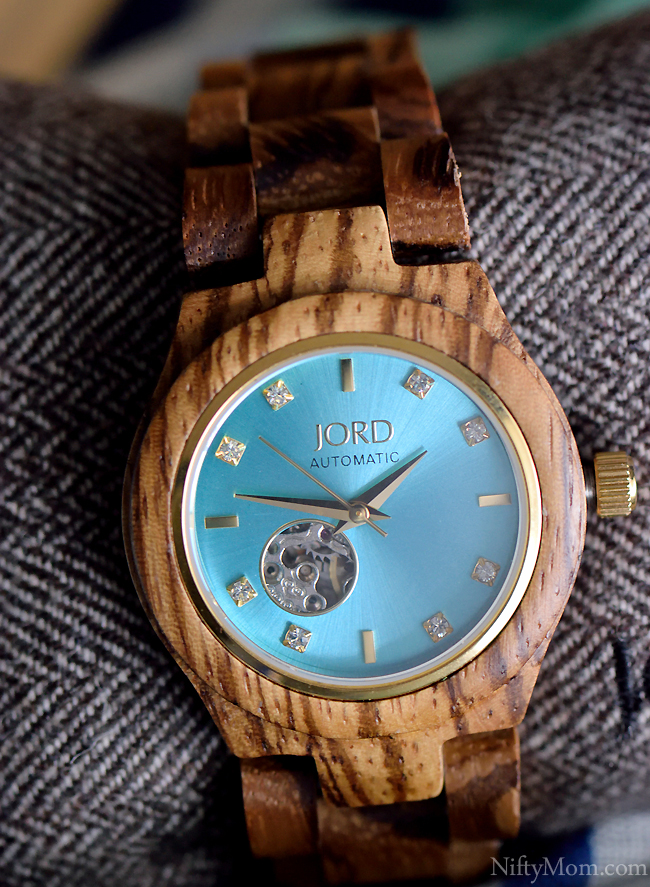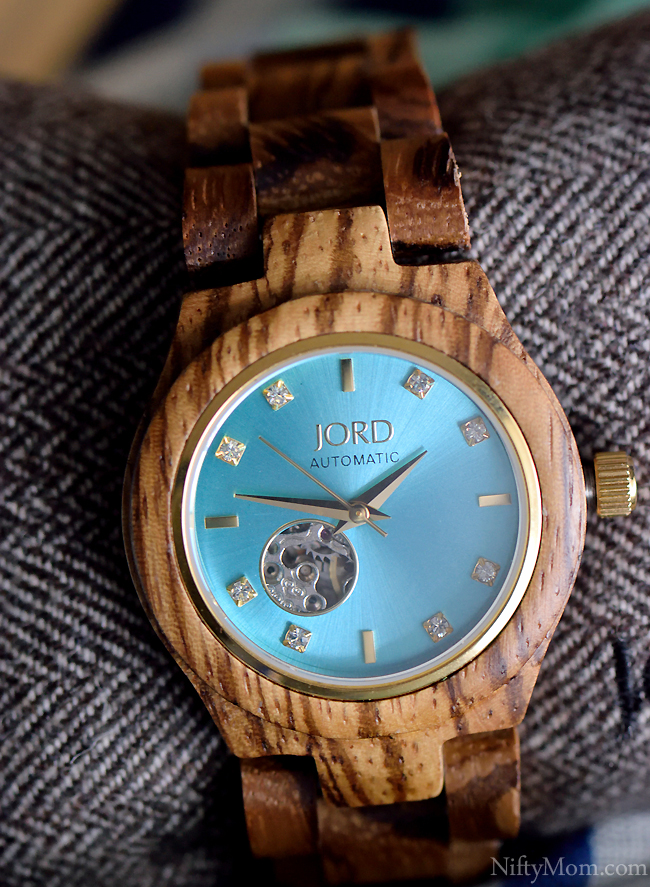 When I considered wearing a watch more often, there was one thing came to mind. When would I need the actual function of a watch? Yes, it looks amazingly elegant with a nice pop of color, but would I actually use it?
Then I realized it gave me the perfect reason to leave my phone in the car or even at home sometimes. See, I am pretty much a workaholic and since I work from home, most of my work related things come via email. So even when I try not to think about it, all it takes is one look at my phone to check the time and I notice a new email or message that needs attention. A few emails later and the next thing I know, I am putting away my phone only to realize I never checked the time after all.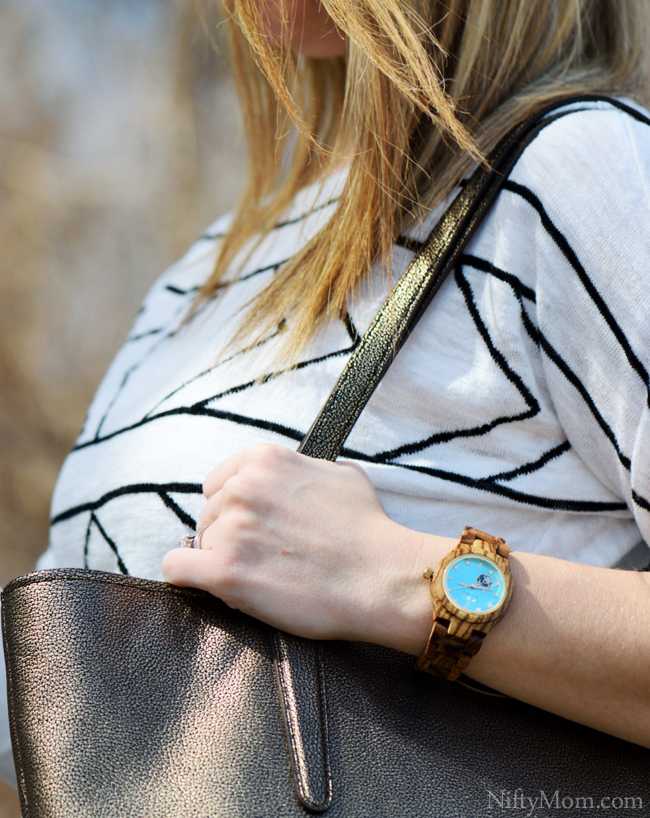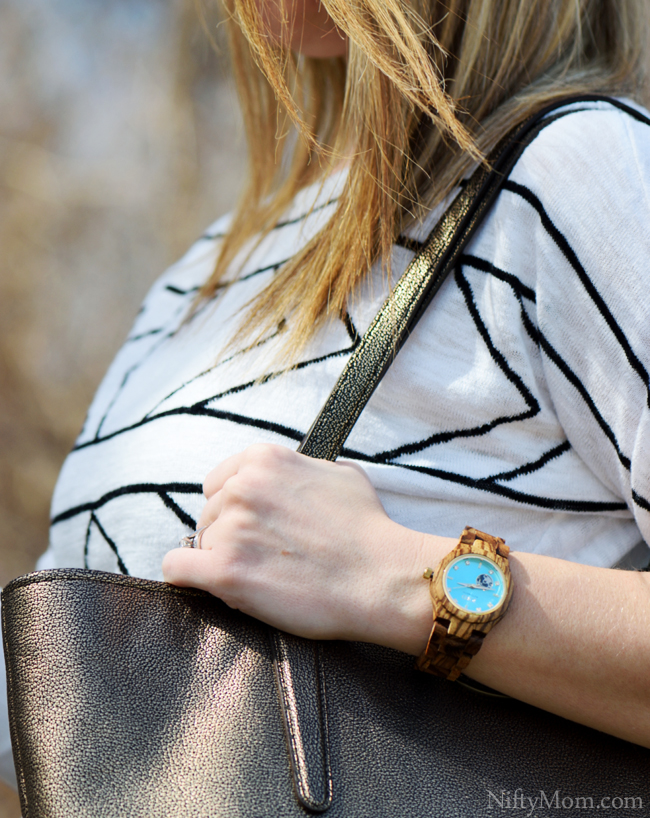 So now I can venture out to the park with the kids or dinner with the hubby, complete 'forget' my phone and still know what time it is. I don't have the excuse to check my phone as often and that is actually comforting. I am sure my family and friends will appreciate it as well.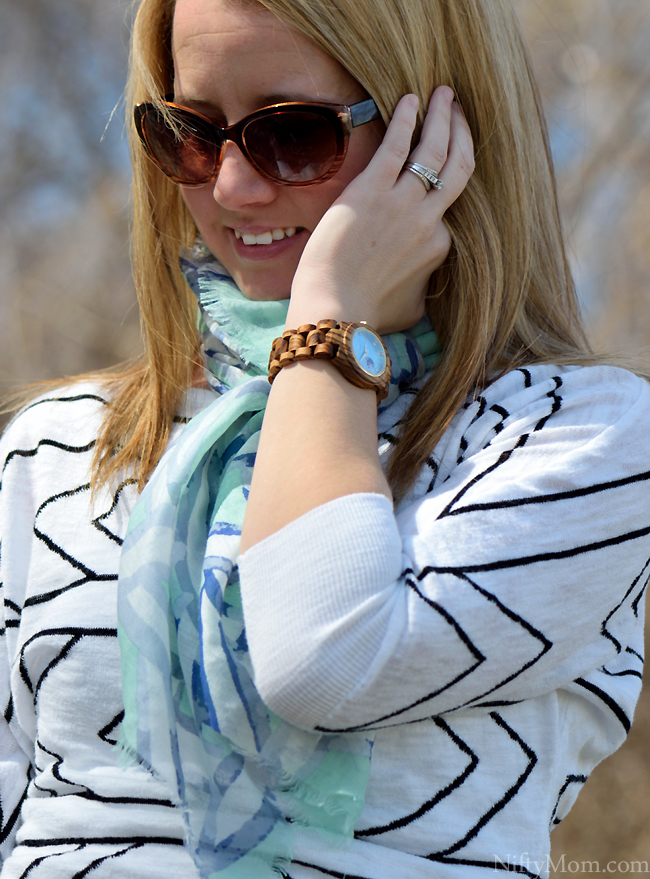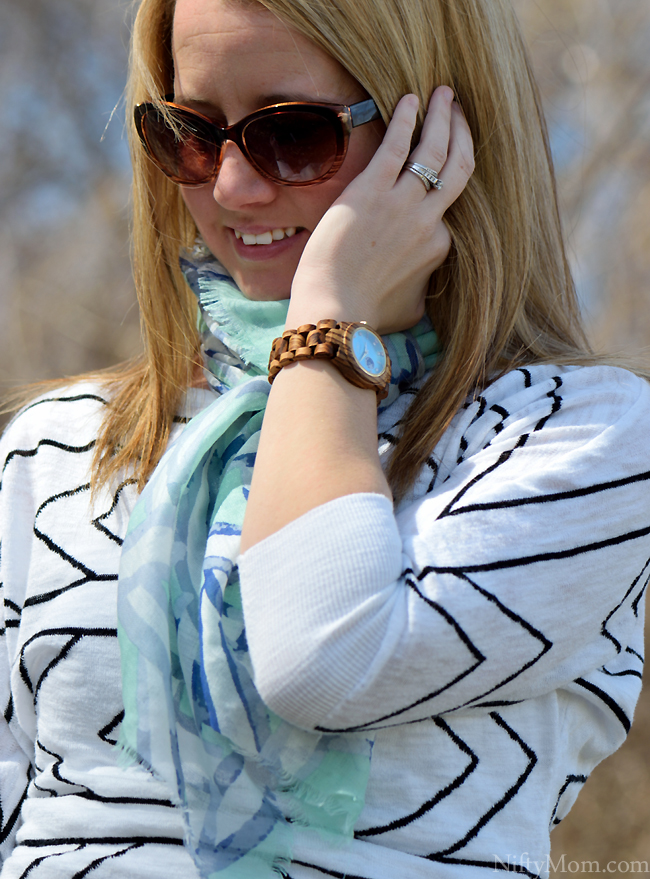 JORD offers men and women wood watches in many different styles. The collections use a variety of natural and sustainably sourced wood with collections featuring bamboo, maple, sandalwood, blackwood, cherry, zebrawood, and koa. They are also very committed to great customer service.
Follow JORD Wood Watches for all the latest updates and amazing styles:
Facebook · Twitter · Instagram · #jordwarch