Today I'm sharing printable lunchbox note cards & Jif™ Bars as part of a sponsored post for Socialstars. All opinions are my own. #TeamJif
School's been in session for a month now. Well, for my oldest at least. 1st grade has been just as awesome as Kindergarten and we have finally gotten back into the groove of school day routines. Most mornings are filled with running around trying to get the kids ready, fed and packing a lunch for Ethan to take to school.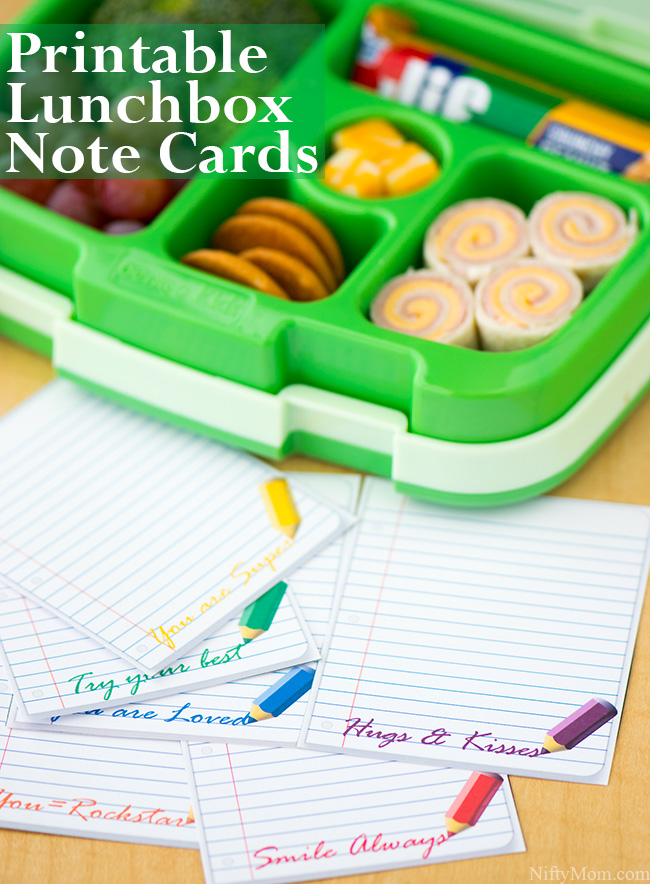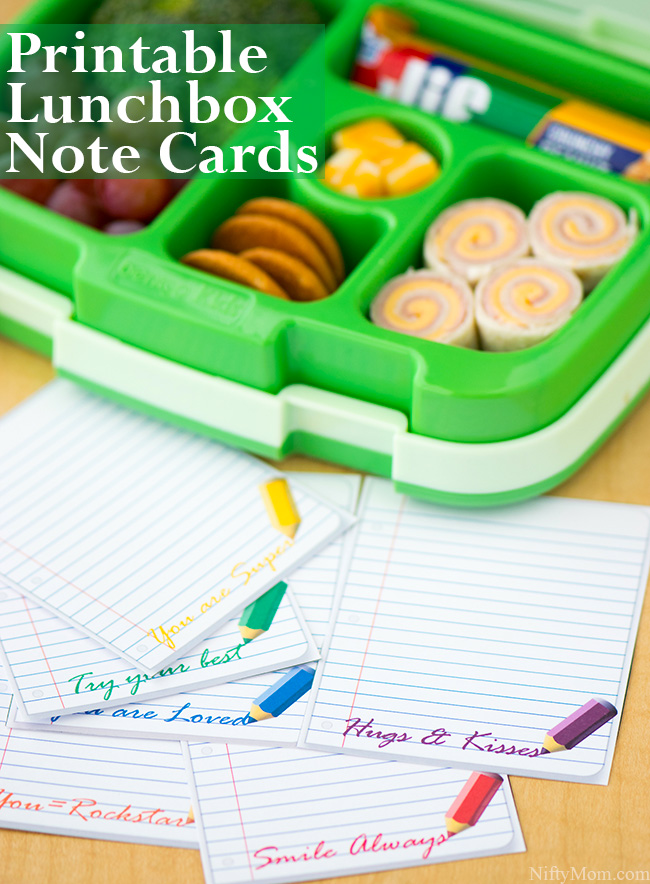 However, just right when I think things are going smoothly, something new comes up. Chase just turned 5 and we are looking at preschools for him, and possibly our youngest, Corbin. That means a whole new routine very shortly and possibly 3 different lunches and/or snacks to pack each day.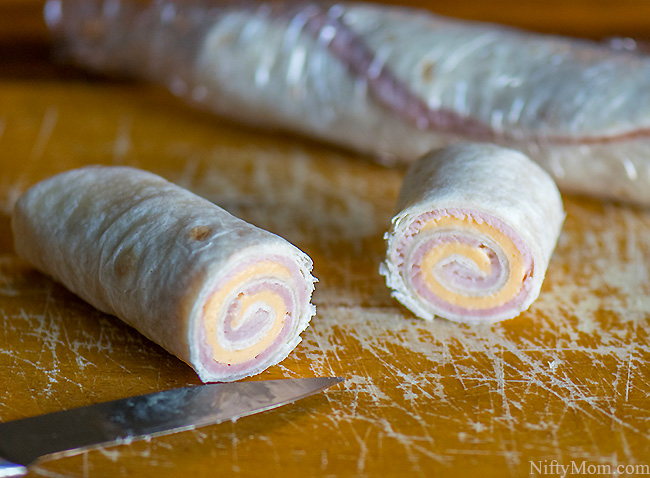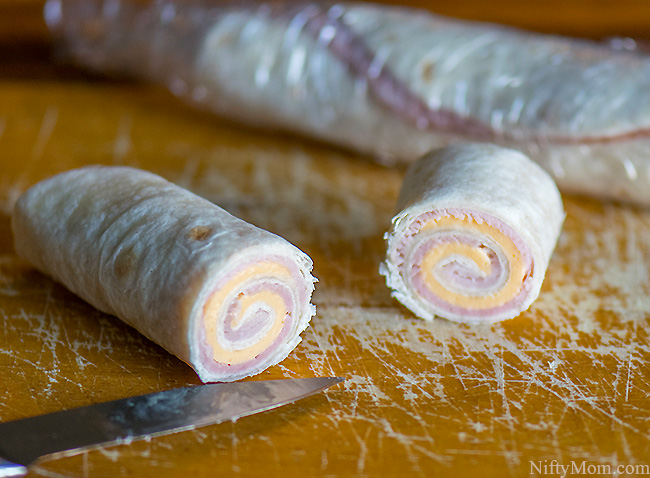 I've already worked on ways to save time in the morning, such as making ham and cheese tortilla roll-ups the night before. I roll them in plastic wrap to refrigerate over night. Then, I prep everything else that is going into his lunchbox.
In the morning I slice the roll-ups to make pinwheels and add everything in a bento box. He likes small amounts of different foods and is not really a fan of packed sandwiches. I do what I can to come up with different things and my younger ones are already requesting lunch ideas for when they are in school.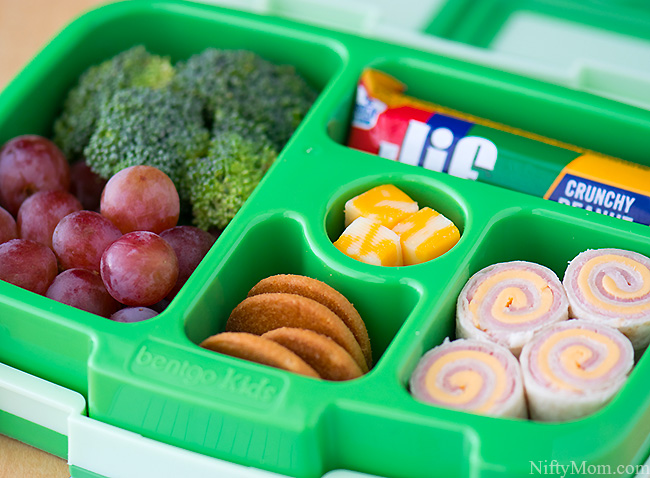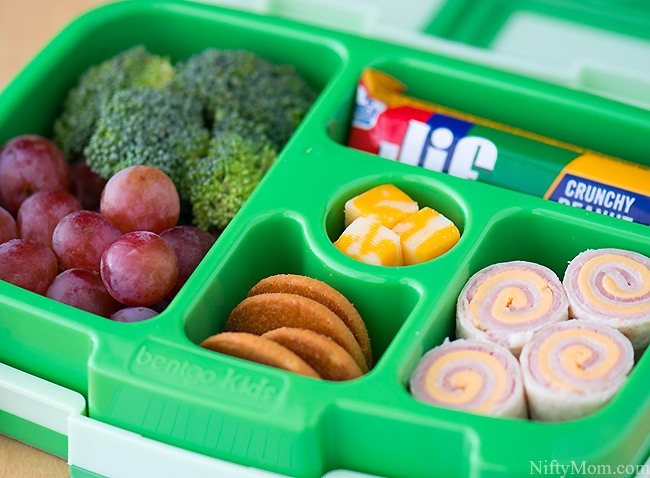 They want the same pinwheels, always fresh fruits and my 3 year old wants broccoli or cauliflower every single day. They have also already requested  Jif™ Bars Crunchy Peanut Butter Flavor. With a little crunch, the chewy granola bars are perfect to go with their lunch or for their school snack time.
First, we have to get them into preschool, but I will continue to let them plan their lunches in the meantime.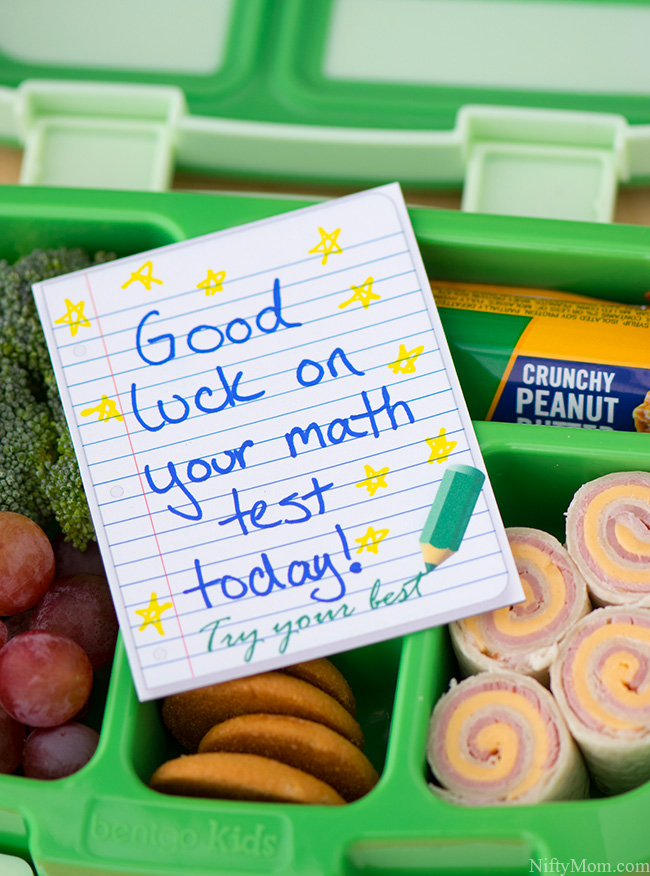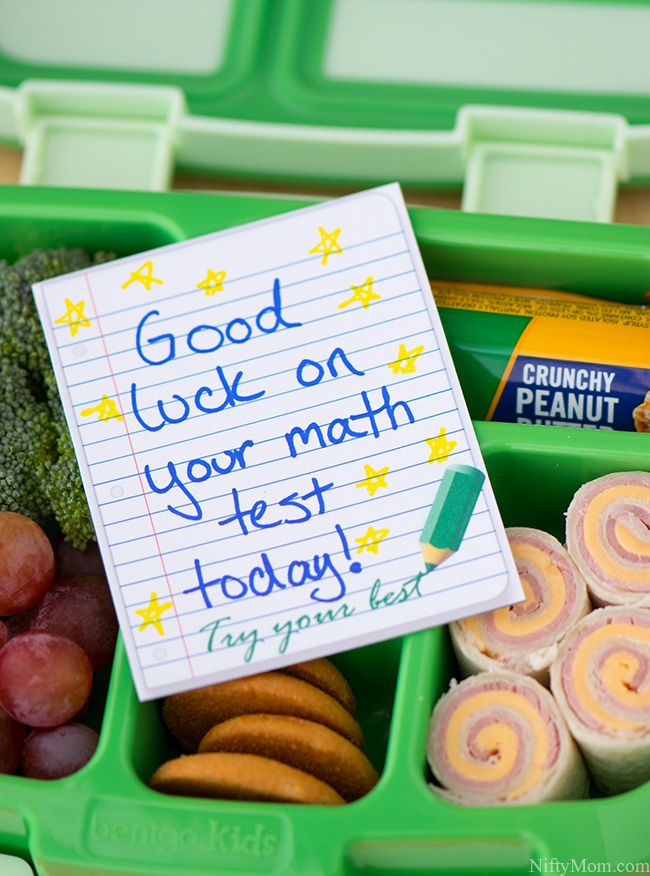 To help my kids get through the day and let them know I am thinking of them, I made some printable notes for their lunchboxes. A little encouragement goes a long way! With the school theme in mind, each note looks like lined paper and has a little message at the bottom with a colored pencil. There is still plenty of room to write in a personal message.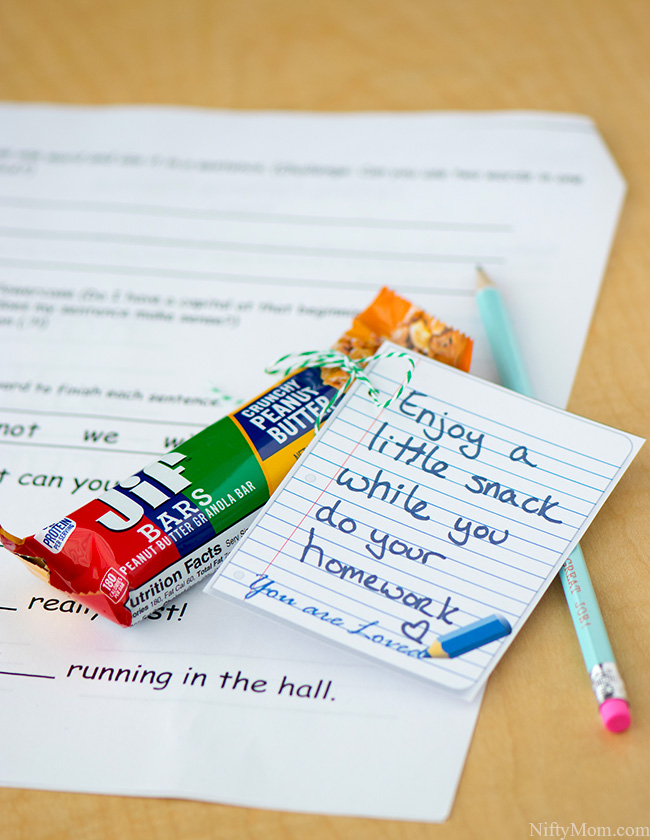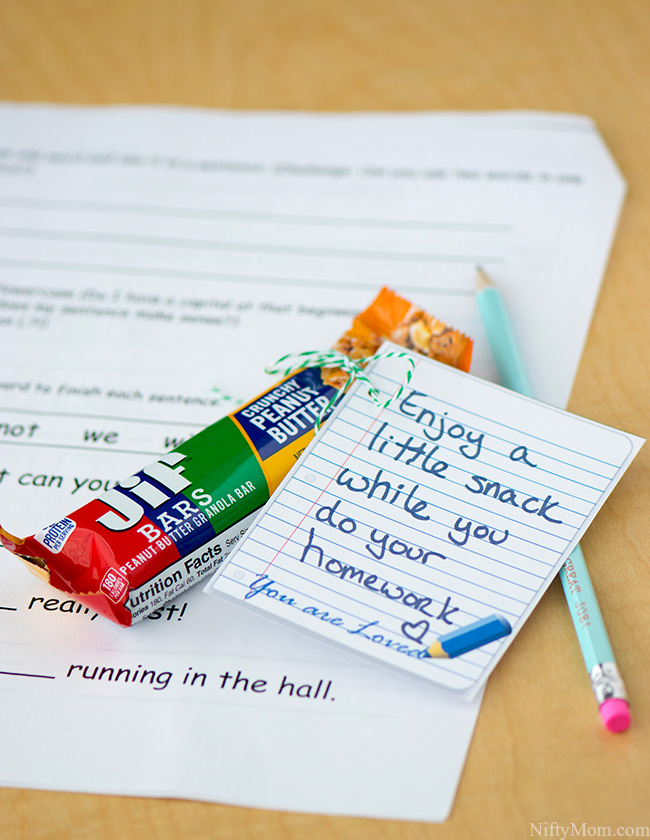 I have also started using the note cards for after school snack. This is really the first year Ethan has homework each week and it isn't necessarily his favorite thing to do. He comes home worn out from the school day and would rather do other things.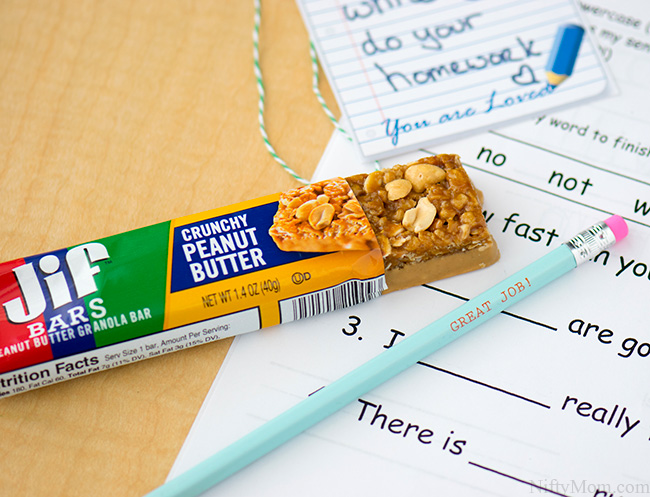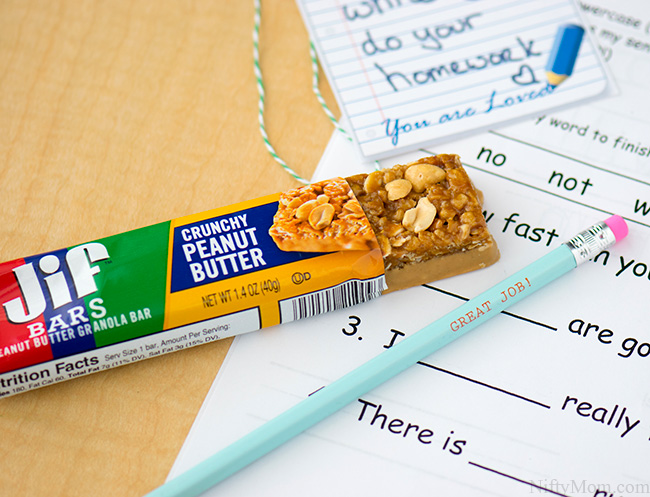 Some encouragement and a little snack for him to enjoy as he does his homework has definitely helped get through the assignments quicker.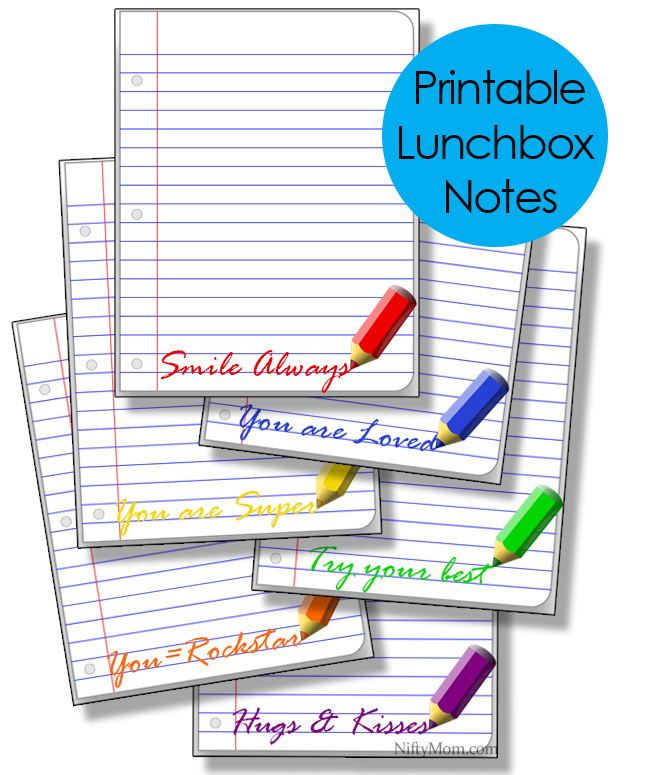 The printable note cards can truly be used randomly, placed in backpacks or other fun places to surprise the kids.
Where would you place the personal notes for your kids to find?