We had our home built almost four years ago, which really isn't that long ago. Home improvement should be the last thing on my mind, right? Well, that's just not the case. There is just something about remodeling that really sparks my interest. I am always on the lookout for inspiration and ideas to finish the basement or remodel the kitchen (and/or every other room in my house). That is one reason I am excited to be co-hosting this amazing event on Saturday!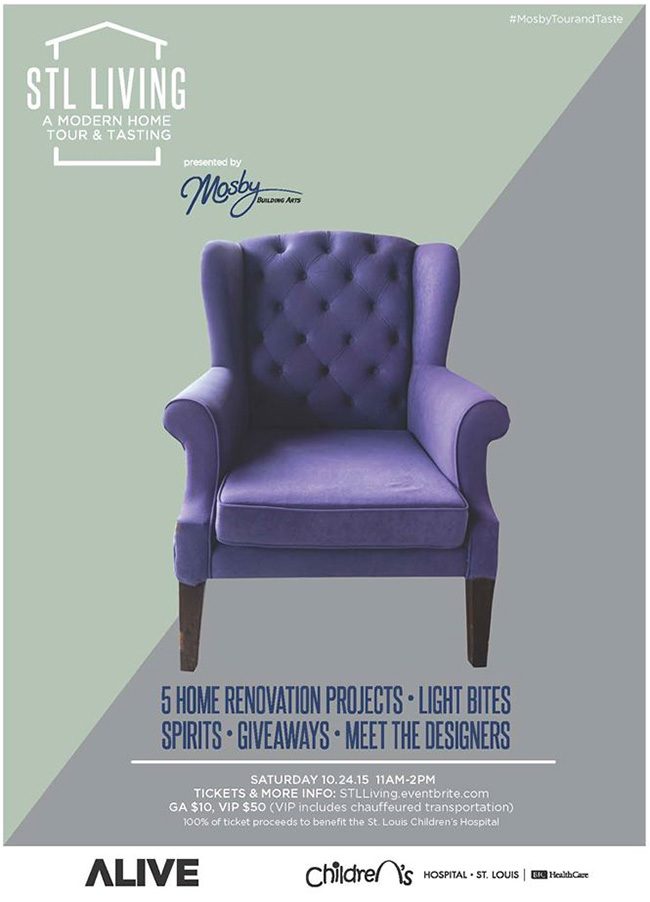 ALIVE Magazine has teamed up with Mosby Building Arts to present STL Living: A Modern Home Tour & Tasting. This Saturday, October 24th, join us on a journey through the St. Louis area as we view five of our city's most beautiful and unique living spaces. Fuel your inner interior remodeler as we invite you into the homes to engage with the designers who made these spaces possible. Collect ideas and inspiration, and take part in exciting giveaways while enjoying cocktails and hors d'oeuvres. 
 TICKETS
$50 VIP: Includes five stop home tour passport and bus transport, gift bag, light bites, cocktails and drinks
$10 General Admission: Includes five stop home tour passport
100% of proceeds go to St. Louis Children's Hospital
With your purchased ticket you will enjoy cocktails, drinks and light bites at each stop on this stunning home tour. Each guest will receive a home tour passport that they will get stamped at each stop. At the conclusion of the tour, guests will be encouraged to submit their passport for entry into a grand prize giveaway. Upgrade to a VIP ticket and receive luxury bus transport to each stop with additional cocktails, gift bags and food!
 THE HOMES
Five homes will be featured in five distinct St. Louis neighborhoods including Frontenac, Ladue and more! For a little sneak peak, check out these pictures from one of the homes.
I will be at one of the stops with a Mosby designer so I hope to see you there!
Next week I will share here some of the design inspiration and information from the designer.