Today I am sharing some great information about Operation Food Search and their efforts to help heal the hurt of hunger in the St. Louis metro area. Thank you to SocialMoms and SUBWAY® Restaurants for sponsoring this important message to help our local community.


Raising kids that give back to their community is becoming more and more important to me each year. I can tell it is starting to get instilled into their minds by acts of kindness they are initiating on their own. Last week my husband came home from grocery shopping with my four-year-old (which doesn't happen often). He was impressed that Chase noticed and insisted on purchasing the prepackaged bags available to purchase for donation. Proud mom moment for me.
Helping the community, no matter how much or how little, should always be on our mind. When we see a donation collection box, even one item can help someone in need. Operation Food Search is one organization that is all over the St. Louis metro area dedicated to ending hunger locally. Each month over 2.75 million pounds of food and household essentials are distributed to 250 community partner agencies, which in turn feed 190,000 people in need. Hundreds of thousands of people benefit from program.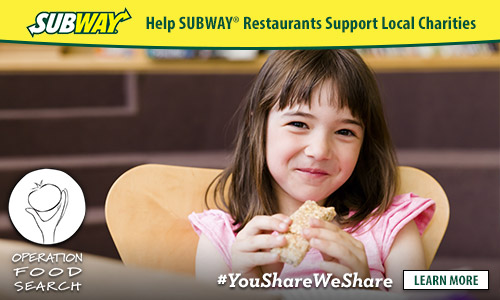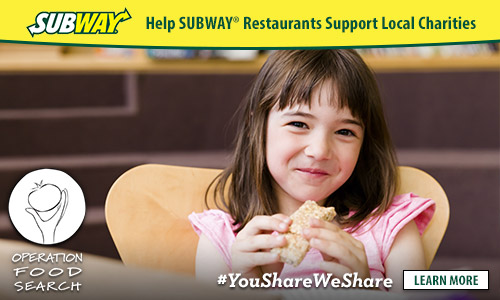 Sometimes, companies and organizations make it easy to give back. Simply doing what we already, such as eating at a specific restaurant on a certain day can help support the community. Participating SUBWAY® Restaurants in the US and Canada are partnering with Operation Food Search to give back to the local community. For the "You Share. We Share." campaign, SUBWAY® Restaurants in the St. Louis area will be donating a percentage of weekend sales from May 1st to August 31st to Operation Food Search. It is great to know every St. Louis area SUBWAY® Restaurant will participate in this amazing campaign and up to $50,000 will go directly to Operation Food Search, to help our very own community.
So what can you do to help?
Locate a SUBWAY® restaurant near you and enjoy a meal over the weekend. Visit Operation Food Search to find even more ways to help end hunger in our community.
"This blog post is part of a paid SocialMoms and Subway blogging program. The opinions and ideas expressed here are my own."