This post for DIY Painted Mason Jars has been compensated by Collective Bias, Inc. and Skittles. All opinions are mine alone. #SkittlesAmericaMix #tastetherainbow #CollectiveBias
It's officially summer which means we are right in the midst of weekly outdoor entertaining. At least one barbecue grill is going, kids running through a sprinkler, good food is being consumed and laughter filling the backyard.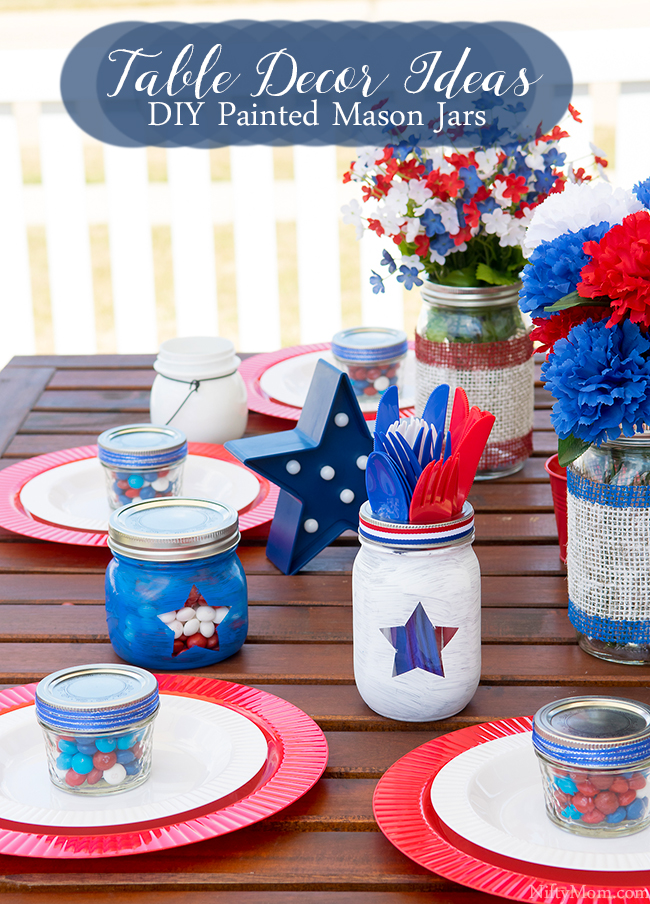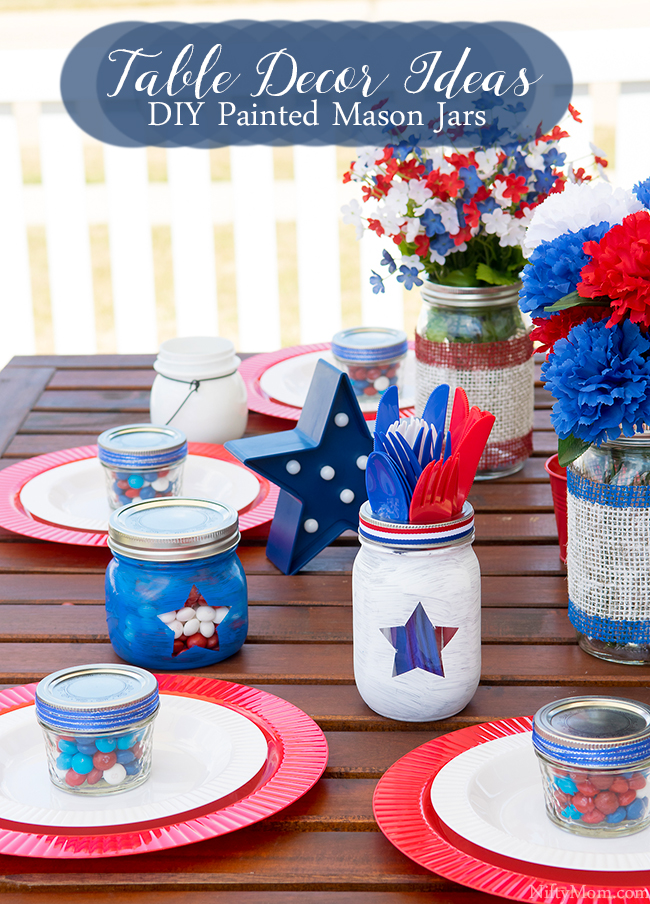 This spring we re-did our two-tiered patio, complete with a little outdoor furniture makeover. It included a new large dining table, benches, a sectional and a chiminea. With the new look, we are out there more often than last year and hosting friends & family weekly.
Since we entertain often, I purchase many products in larger quantities regularly on Amazon. With Amazon Prime shipping, it makes it easy. Last week alone I placed 5 different orders and had each package at my doorstep two days later. It makes shopping with 3 kids much easier, if you know what I mean.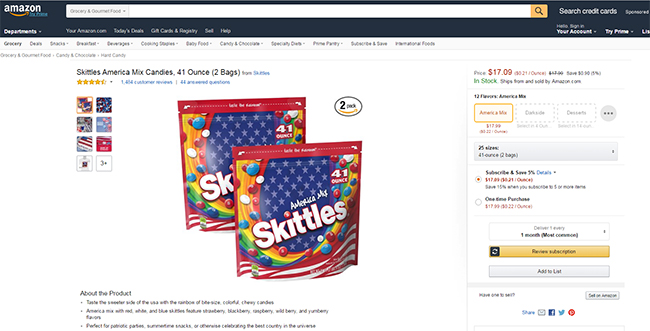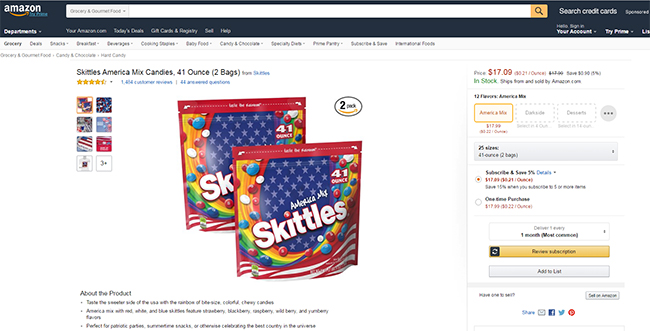 Last week I can across Skittles America Mix, 41oz. Sold in 2 packs on Amazon (with the option to Subscribe & Save), I knew they would be a great addition to our summer gatherings. I added them to my cart along with some various sized jars to hold the candy.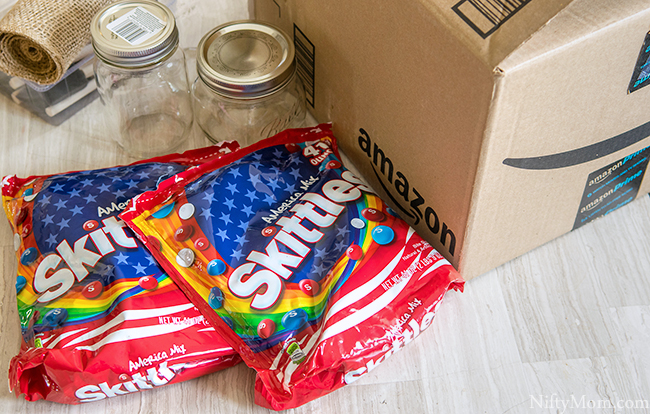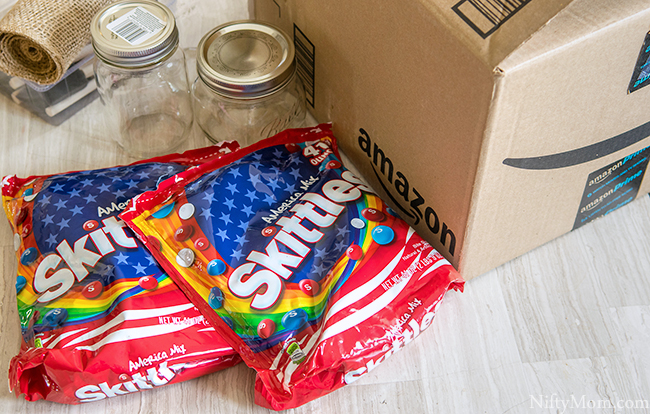 Like clockwork, 2 days later my Amazon Prime box arrived at my door. That's when I had the idea to create various mason jars to decorate our outdoor table.
Here are three simple ideas to add a summer red, white, & blue theme to an outdoor table-setting.
DIY Mason Jar Decor Ideas
The key to easy & effective table decor is various sized jars. I used 32oz, 16oz, 16oz wide, and 4oz sized jars.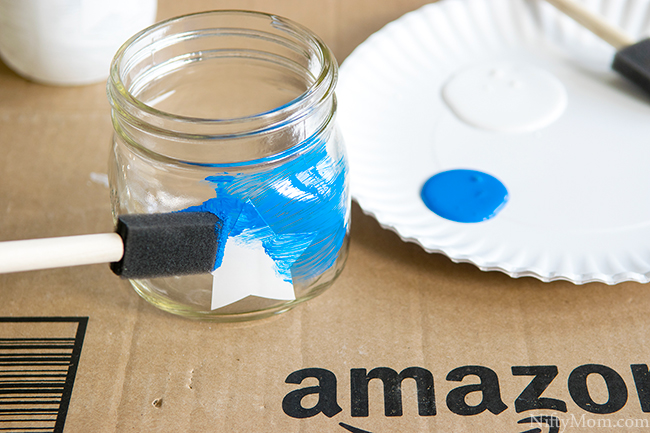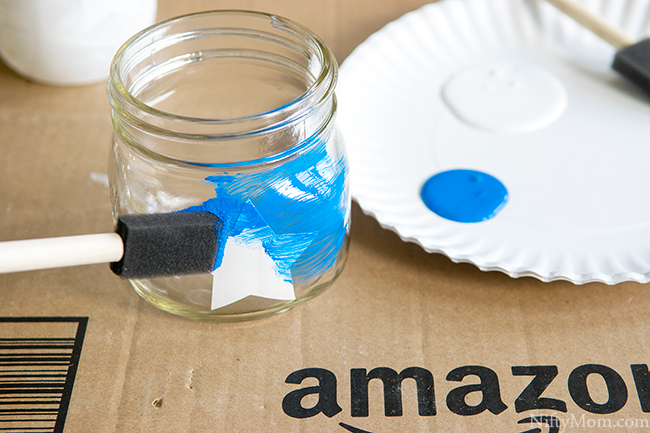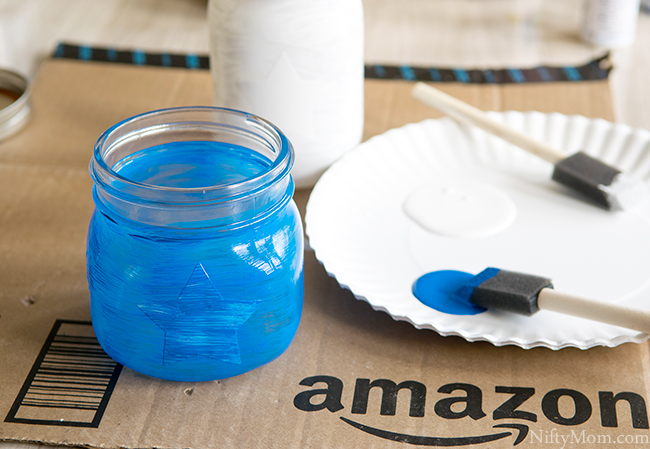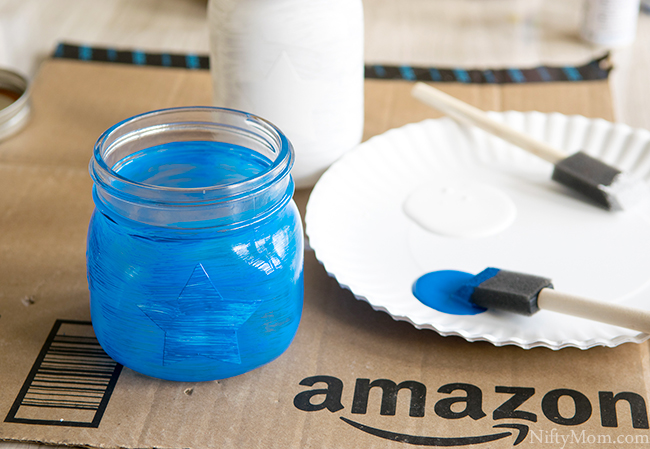 PAINTED JARS – With 2 of the 16oz jars (one wide mouth, one regular), place a star-shaped sticker in the middle of one side. Paint with a multi-surface acrylic paint. You can add a second coat for full coverage, but I like the look of one coat. Once dry (mine dried in less than 30 minutes), carefully remove the sticker.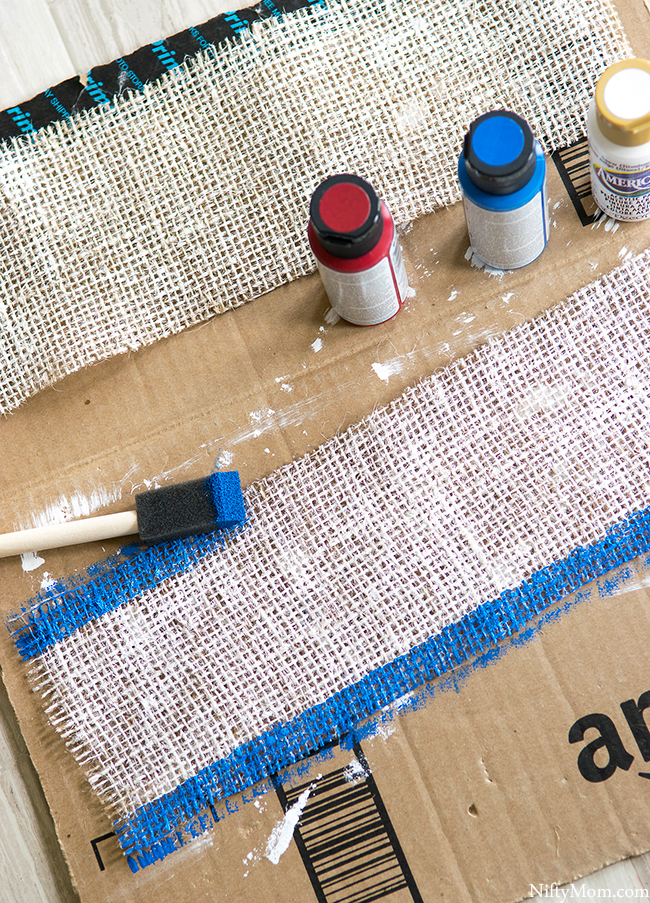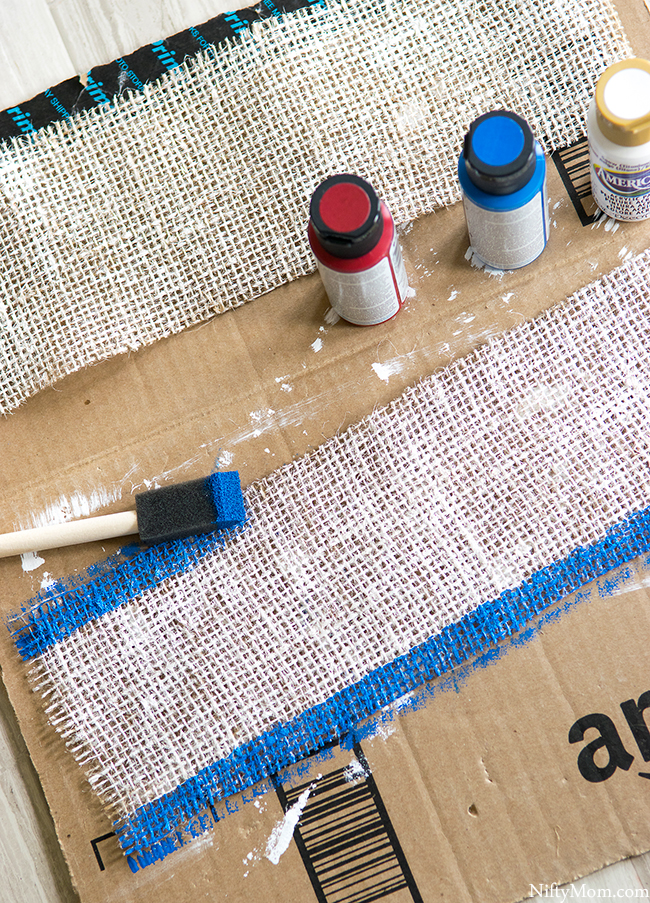 PAINTED BURLAP WRAP – For the 32oz jars, cut a strip of burlap to fit around each jar. First paint it all white with the same multi-surface acrylic paint. (tip: cut the sides of the Amazon box and place it under the burlap for easy clean up.) Next, paint along the edges blue and/or red. Once dry, wrap it around the jar and secure with hot glue.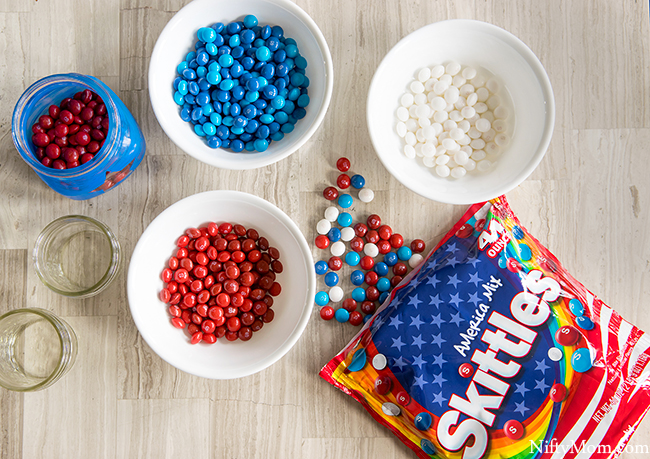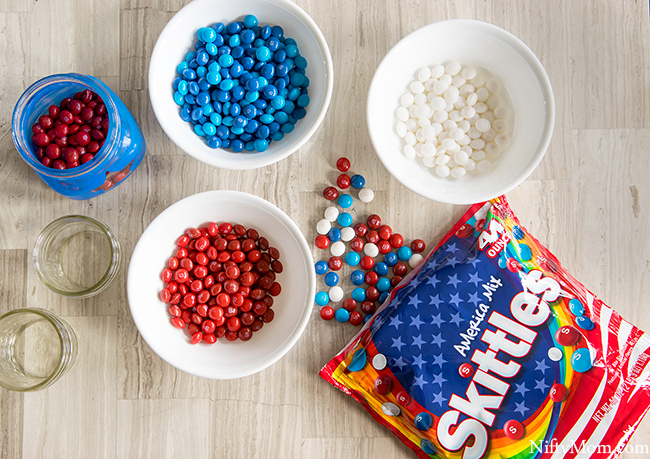 RIBBON TOPPED JAR – The 4oz jars make great favors for guests. To keep it simple, glue red, white, or blue ribbon around the lid.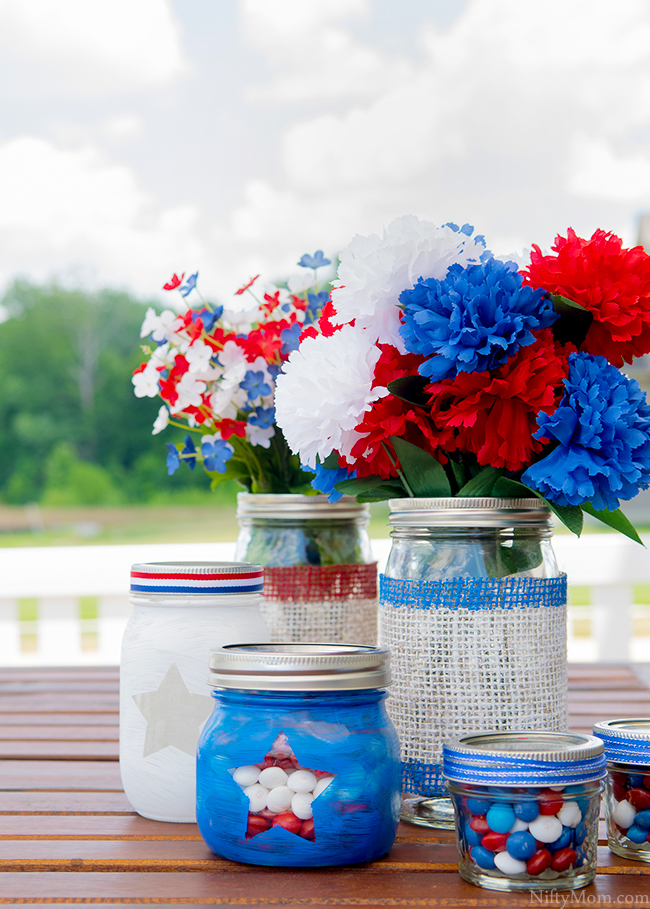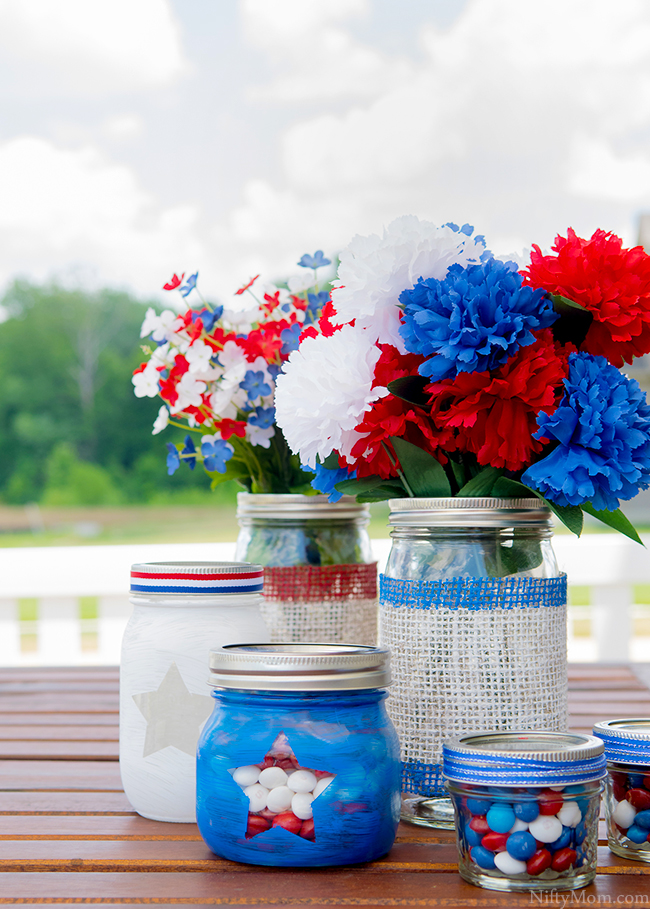 Lastly, sort about half a bag of Skittles America Mix. Layer different color Skittles into some of the painted jars and fill the 4oz jars with a mixture of colors. The limited edition colors add a colorful touch to any summer event, but can be great for The 4th of July.
Don't forget, the Skittles America Mix is limited edition, so order yours on Amazon Prime before they are gone.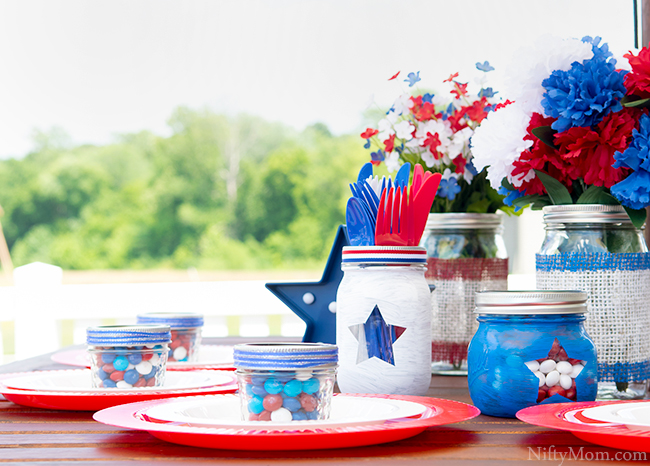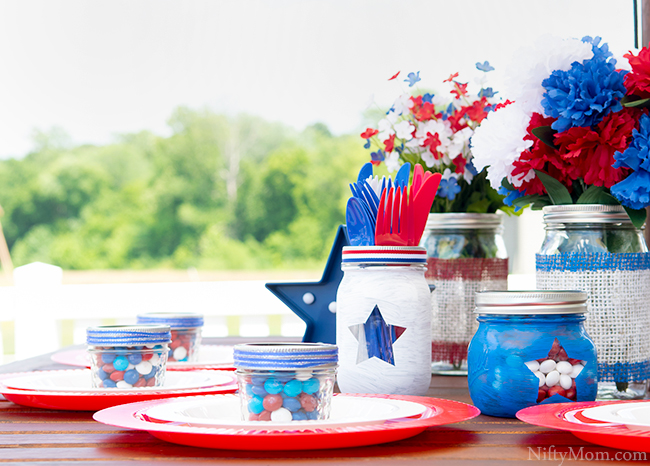 Right before guests arrive, simply add the jars to the outdoor table for a quick & easy summer look. The larger jars are great for flowers and the 16oz regular sized jars make great utensil holders.
All the jars can be made within 30 minutes and be reused all summer long. You can make a lot of small jar favors at the beginning of the season to have extras on hand for when guests take them home.
It doesn't take much to have a stunning simple outdoor table setting, which leaves more time to spend with family & friends.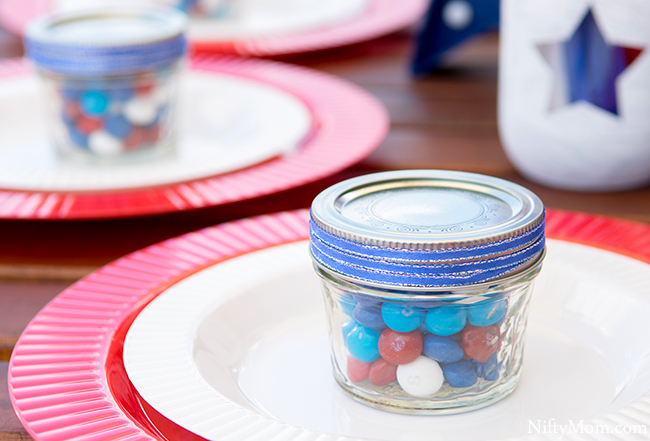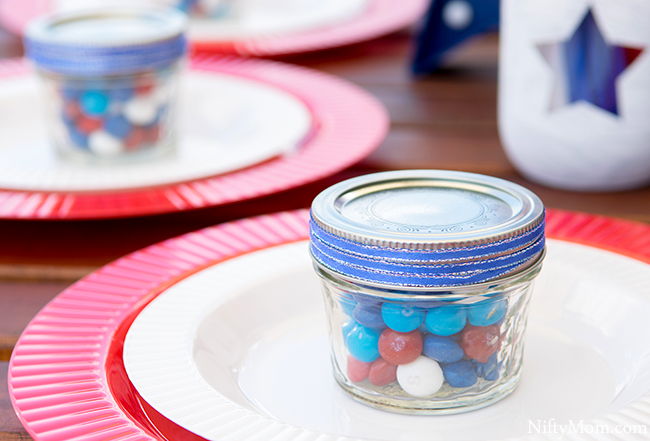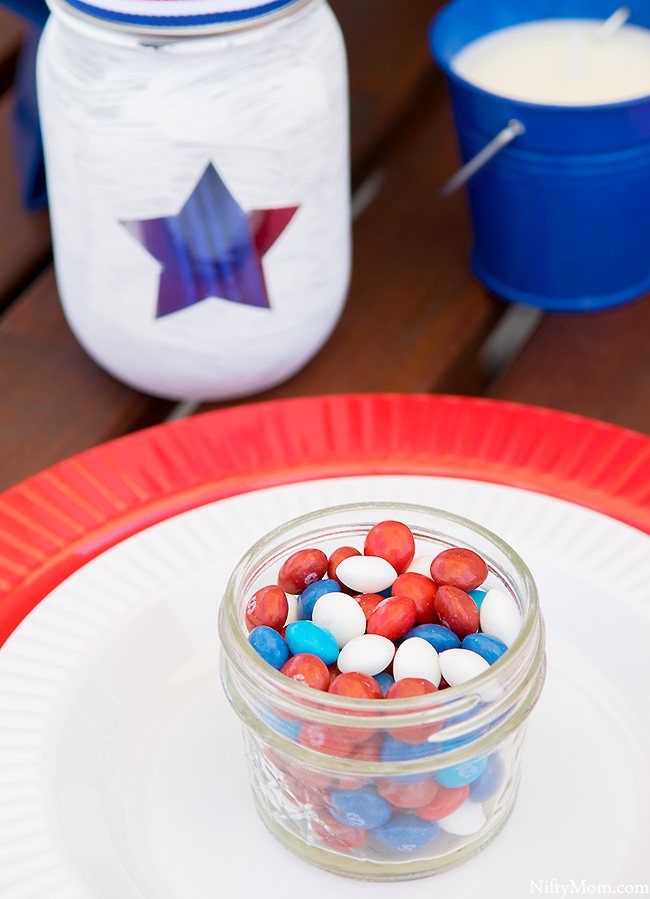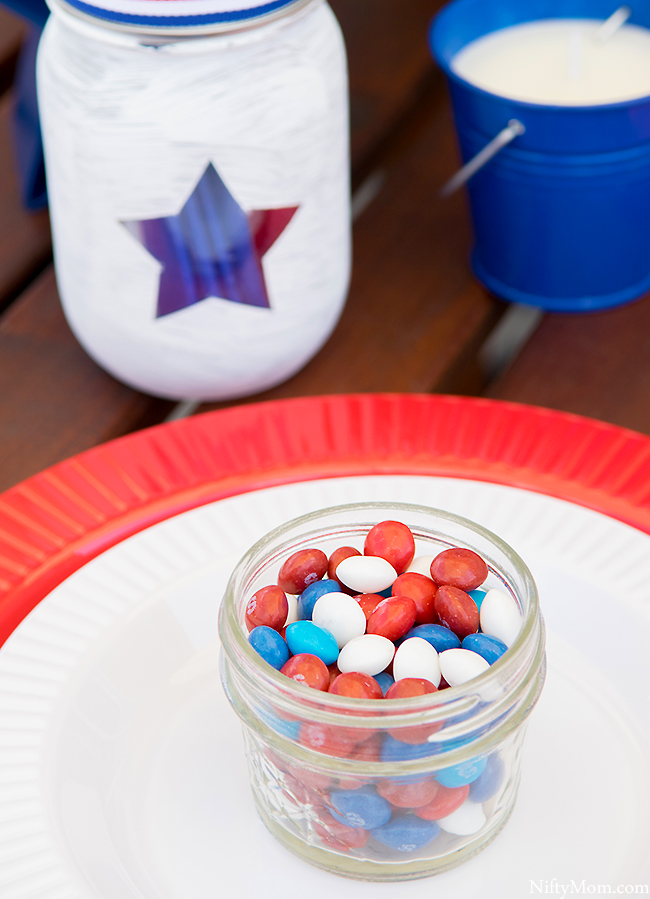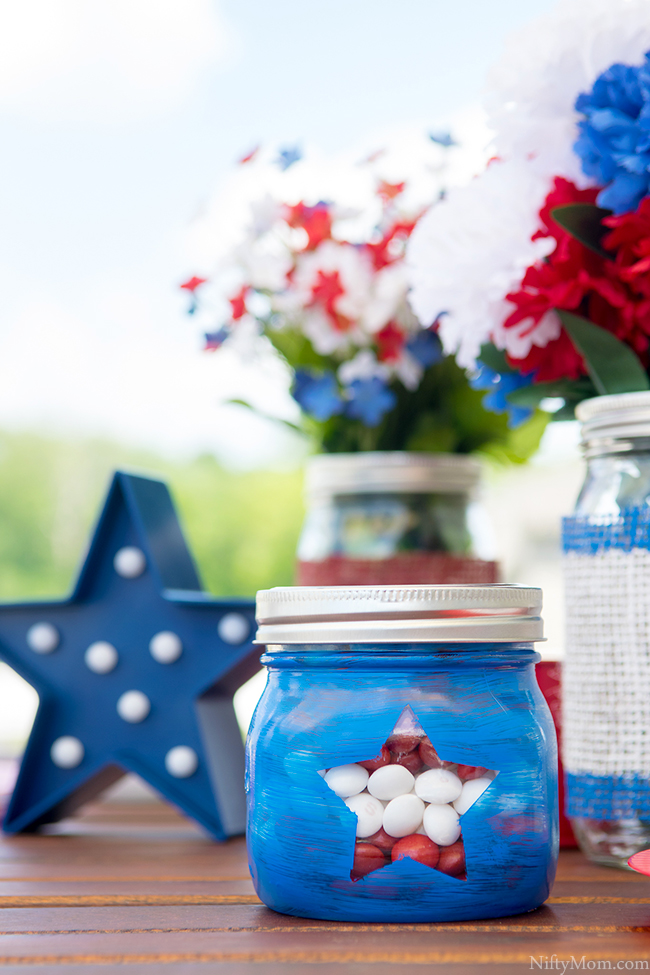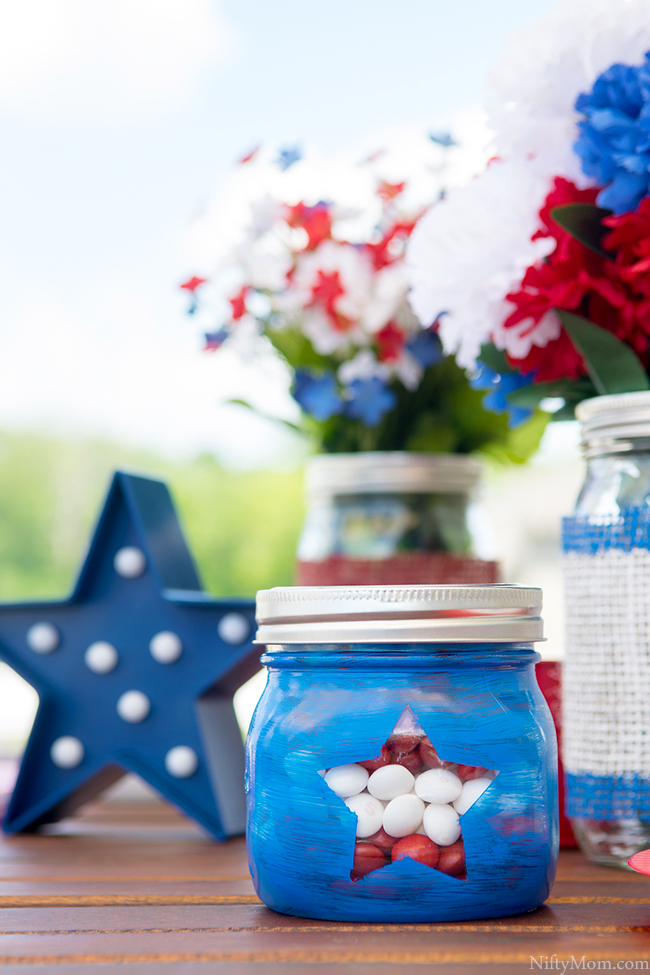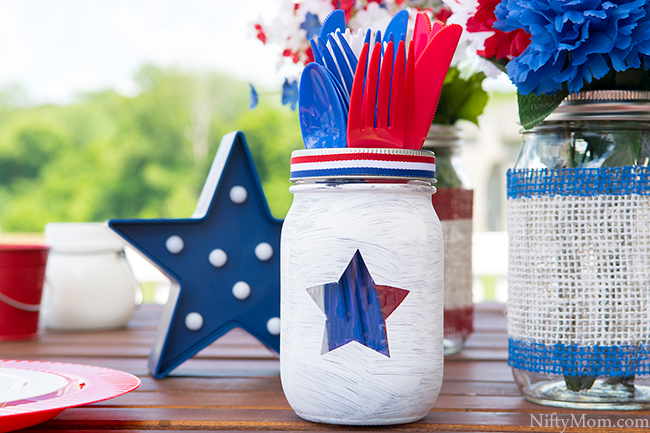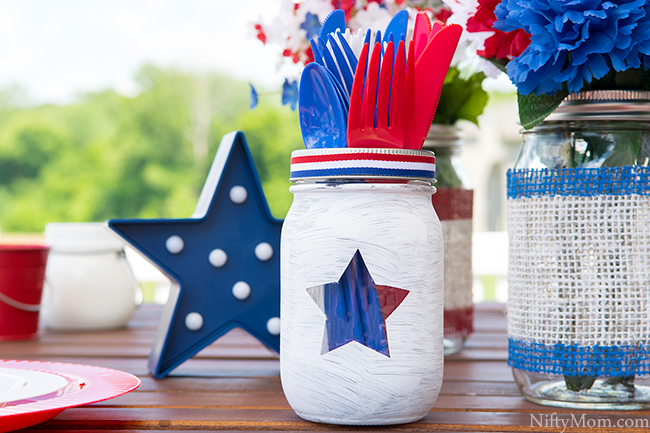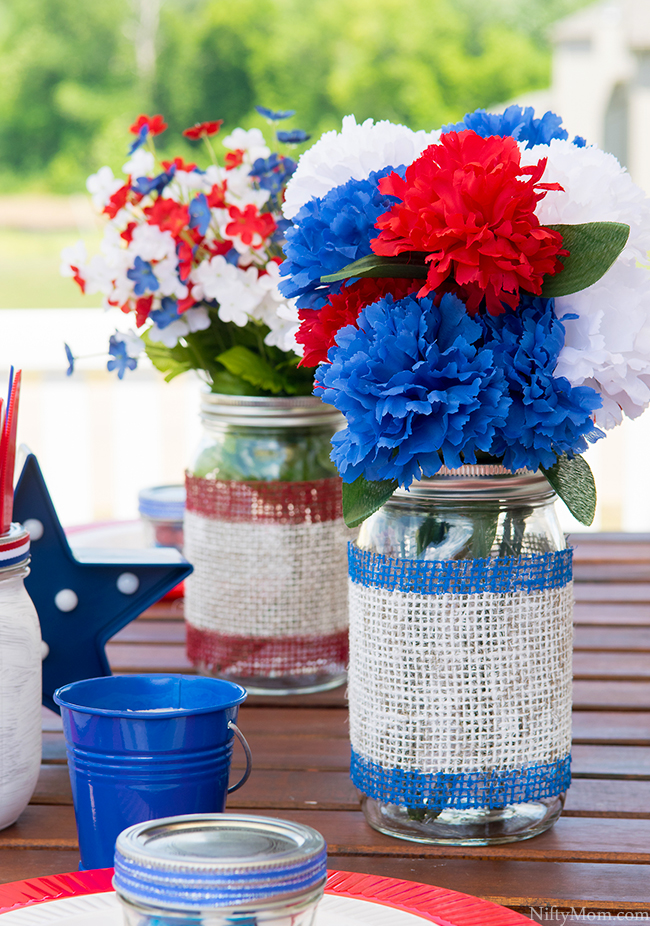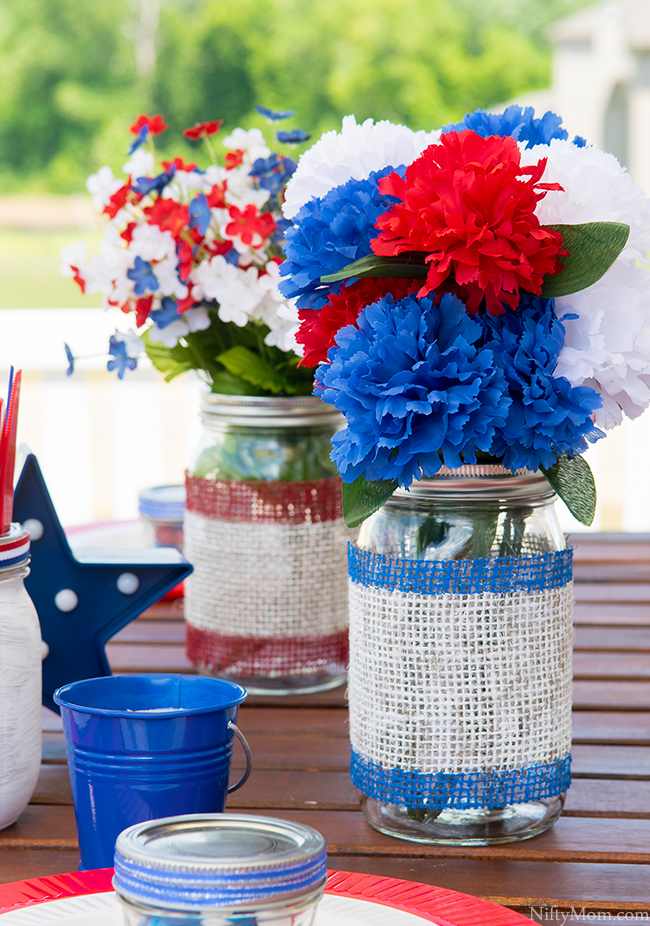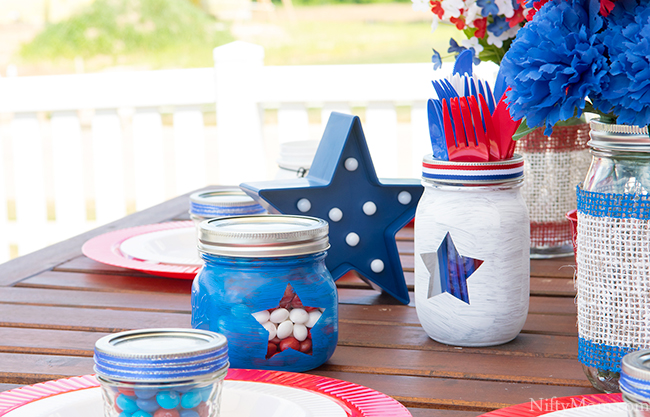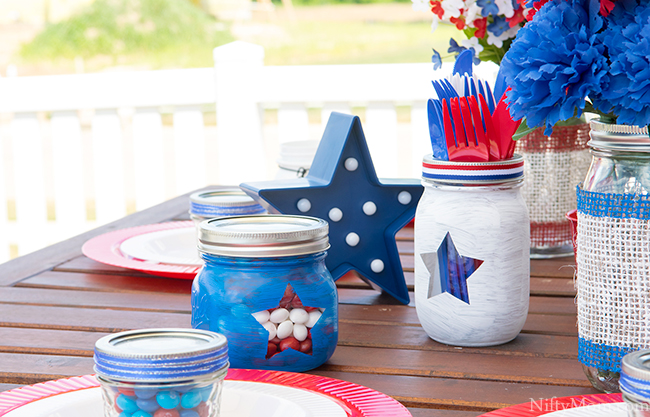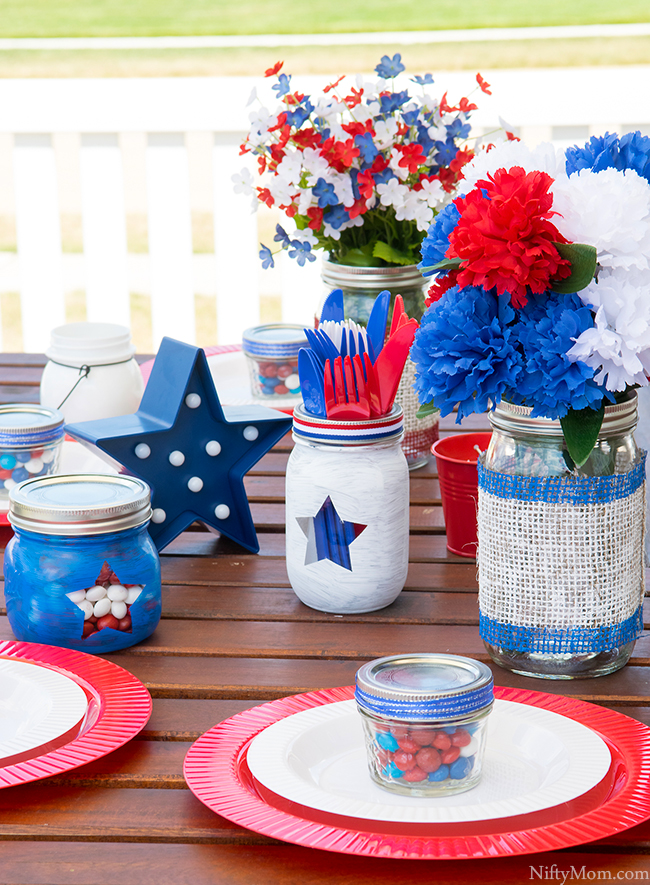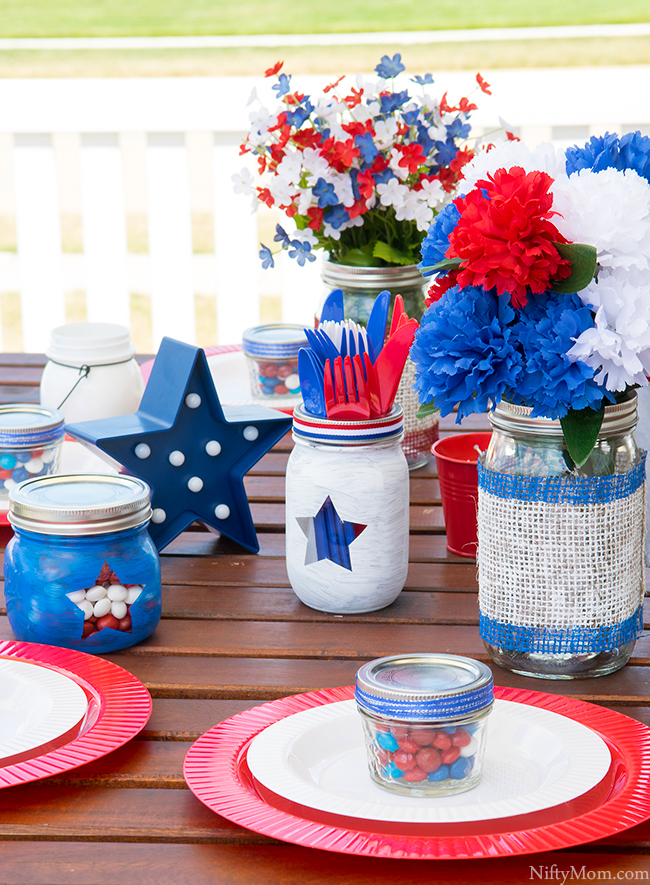 Check out more red, white, & blue summer inspiration here.
How do you celebrate family in the summer?