I came up with this idea for a gift for my husband last Fathers Day. Our son was 11 months old at the time and I decided it was time for him to do his first artwork and finger paint. It was so much fun and so easy to do!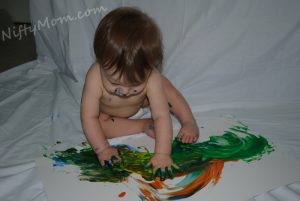 NEED:
Crayola Washable Fingerpaints
Poster Board
Waterproof mattress protector ($10-$15 at Target) – Easy clean up, a great back drop, & reusable
Camera
Picture frame
Tape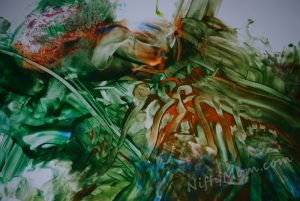 I draped the sheet over a table so it was a background and covered the floor area.
I put down one paint color at a time and let him paint. And after it was all done, I was very happy with his artwork! It was perfect to use as a picture mat. *Nifty Tip: Take a picture of the finished artwork. This way you can use it as a digital background or just have a copy of it.
I picked my favorite section and cut out the size of the frame I was using. *Nifty Tip: Take the frame (with the backing and inserts removed) and hold it over the artwork to see what it will look like before you start cutting.
I then picked my favorite picture (which was not easy, there were too many good ones!) and cut it to down, allowing more room to see the painting. Tape to picture anywhere on the painting and put it in the frame.  Now you have a wonderful gift or decor you can keep for yourself!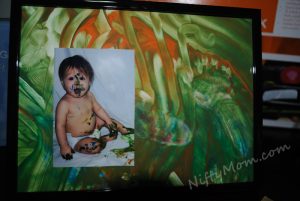 Other Ideas you can do with the left over artwork:
Make another frame or two
Use it as a scrapbook background and scrapbook the pictures you took
Use a section on a homemade greeting cards
Paint Color Ideas:
I used green, orange, and blue because it was for my husband
Use red, white, pink, purple for Mothers Day, Valentines Day
Use pastels for a spring picture
The possibilities are endless :)
***See the hand print flower I did with my son for more ideas.