These Halloween Monster Bash Party Ideas have been compensated by Collective Bias, Inc. and its advertiser. All opinions are mine alone. #WalmartMonsters #MiniMonsters #Walmart
I know I am not alone here, so someone tell me you've started putting Halloween decorations up already. I admit, in the past I always waited until October 1st to do so. Then last year I think I started a few days sooner. This year, some were already up last week. I just couldn't wait any longer.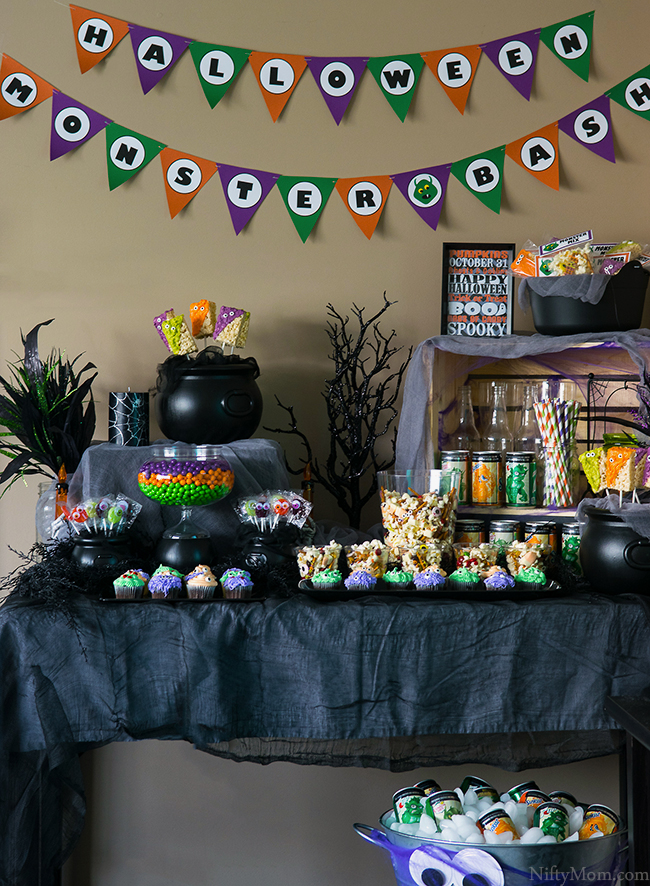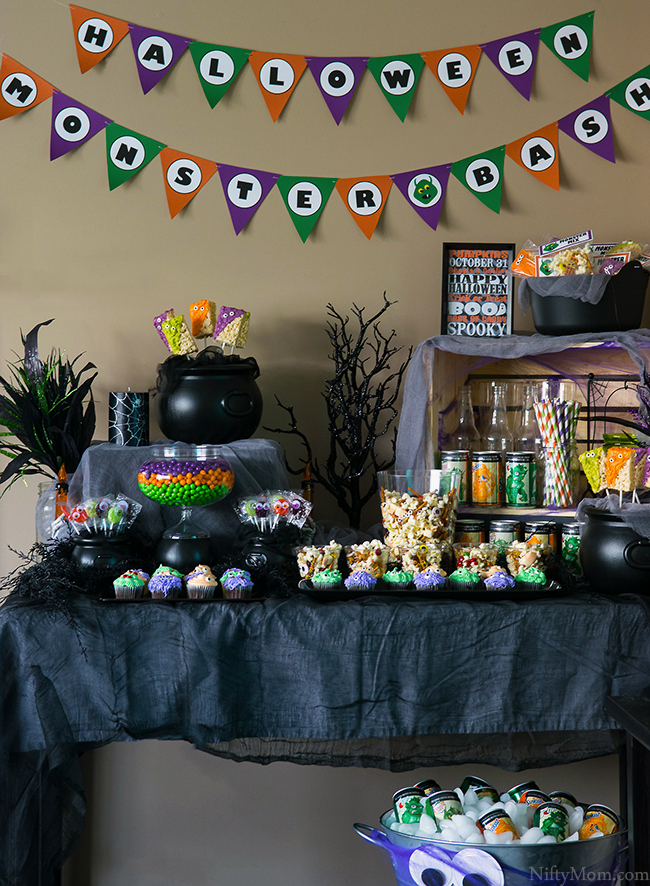 I am pretty sure it was the week the kids started school last month, that I noticed Walmart was stocked with everything Halloween. At first I was thinking it was too early. Then I quickly got excited and started buying new decorations, not that we need them though.
We have more Halloween boxes and totes in the basement than any other holiday (yes, including Christmas). There's just something about all the ghosts, pumpkins and spiderwebs that make Halloween decorating so fun. Or maybe it's just my own little kickoff to the holiday season. Either way, it's undeniable; Halloween is my jam.
While I was doing my weekly shopping at Walmart last week I noticed Sunkist® soda mini monster cans. The 6-pack of slender 7.5oz cans was too good to pass up. These monster cans are also available for Sunkist® Soda, A&W® Root Beer, 7UP®, Canada Dry®, Squirt® and Big Red®. The size and design makes them perfect for parties. Plus, you can use this Walmart-exclusive Ibotta offer for savings!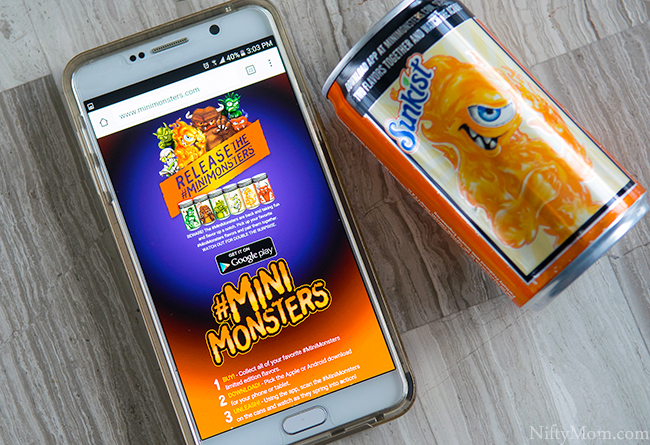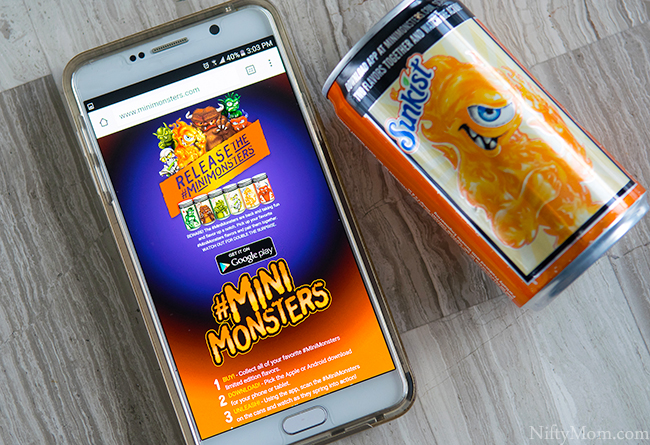 The best part of the cans is the Mini Monsters AR App. Each monster on the each can will come to life with an augmented reality experience through the app (available for free on iTunes and Google Play). The experience starts by downloading the app after visiting minimonsters.com.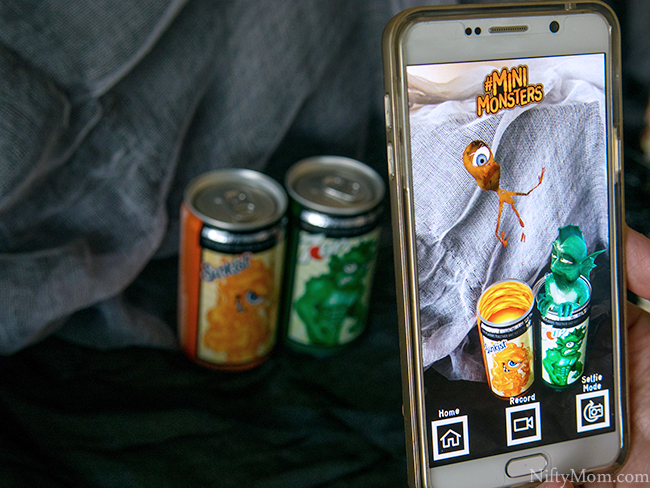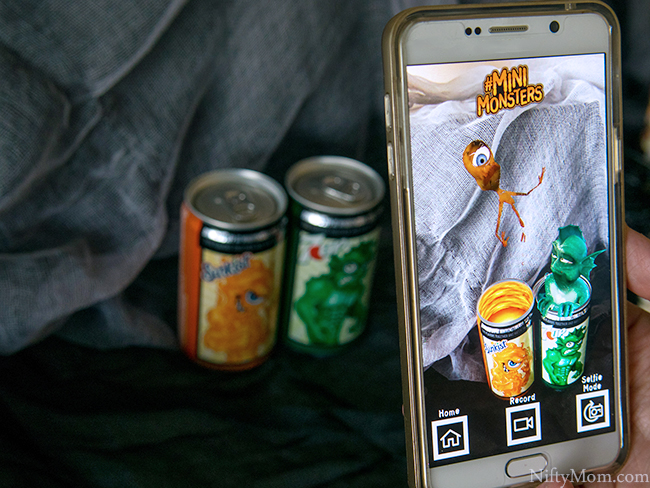 When you point your phone camera at a can or two, the app scans the can(s) and the monsters come to life breaking free out of the can. Through the app, you can also record video of the experience and take selfies with the monsters.
The mini monsters quickly provided inspiration for one of my Halloween parties: A Halloween Monster Bash. October is full of fall harvest parties, pumpkin parties, ghost parties and costume parties. Why not a fun monster bash? I took the colors orange and green from the cans and added purple to round out the color scheme.
Halloween Monster Treat Ideas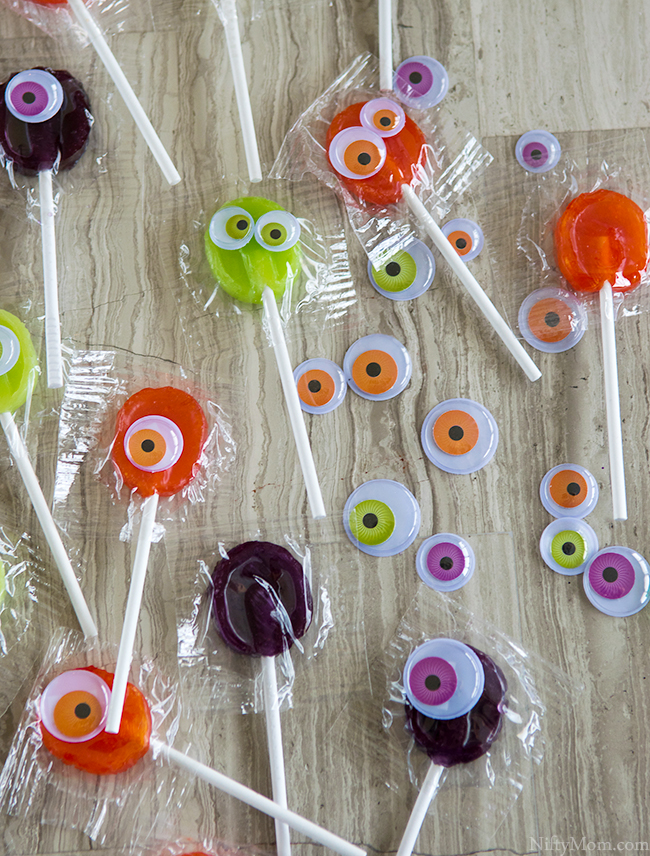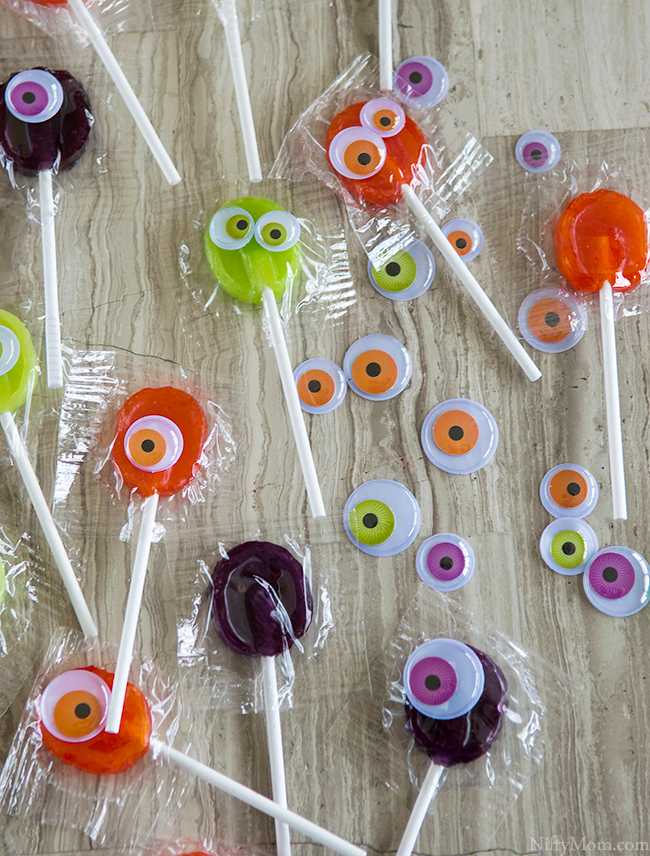 All parties must have lots of treats, right? I started with some easy lollipops. To fit the monster theme, simply stuck various sizes of googly eyes on purple, orange and green pops.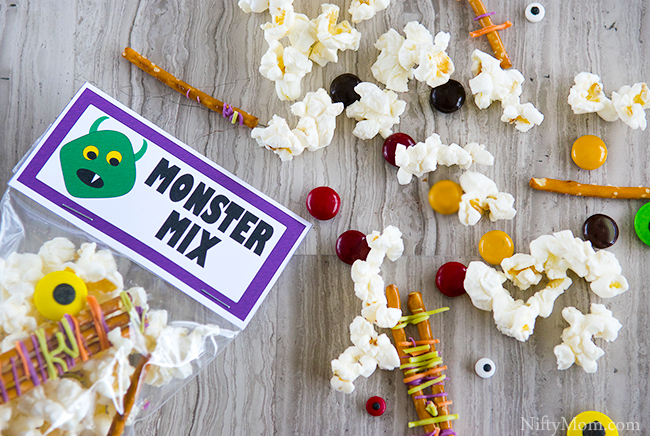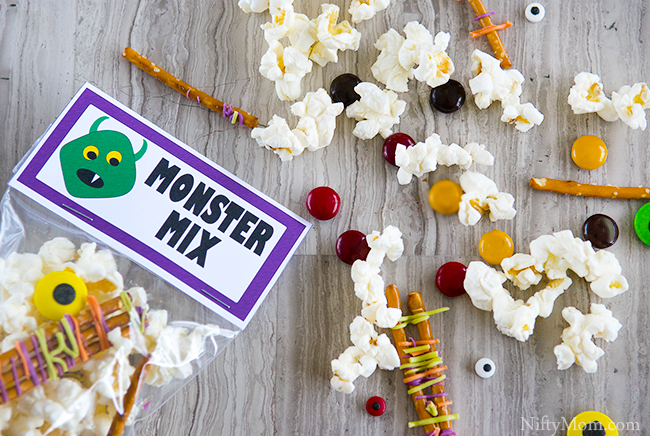 For a snack mix, I made a Monster Mix. Print these 'Monster Mix' labels out here to make favor treat bags. The mix has chocolate candies, candy eyes, popcorn and pretzels with candy melts drizzled on them. Here is a full tutorial on how to make the mix.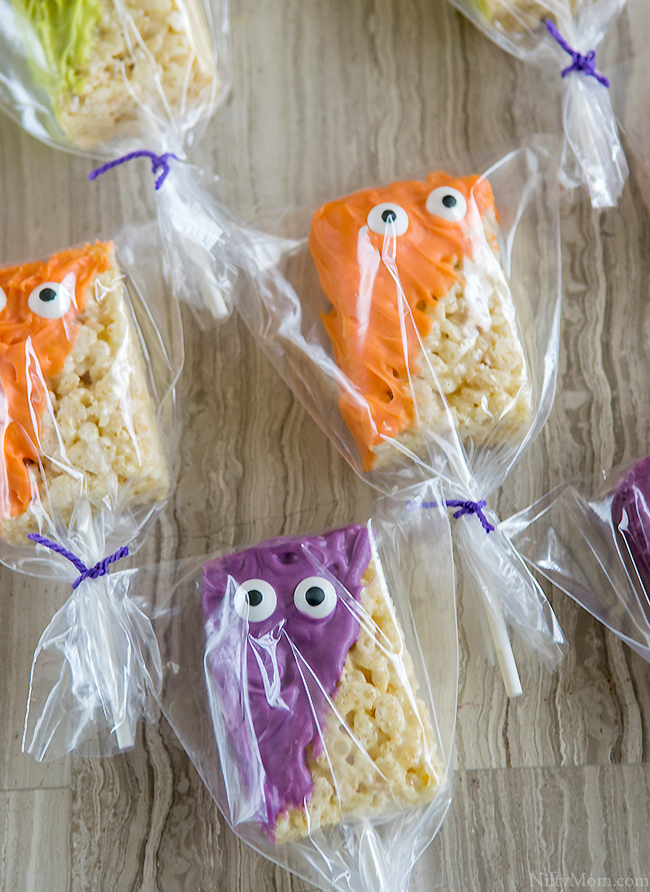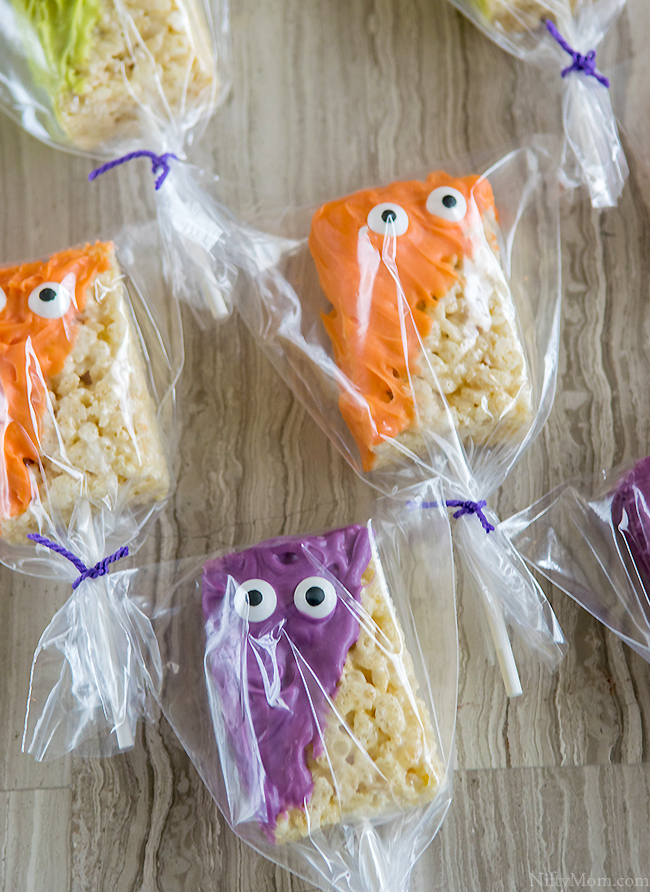 Another fun monster treat is a simple crisp rice cereal treat with candy melts and eyes. Get the full tutorial on the monster treats recipe here.
Mini Monster Cupcakes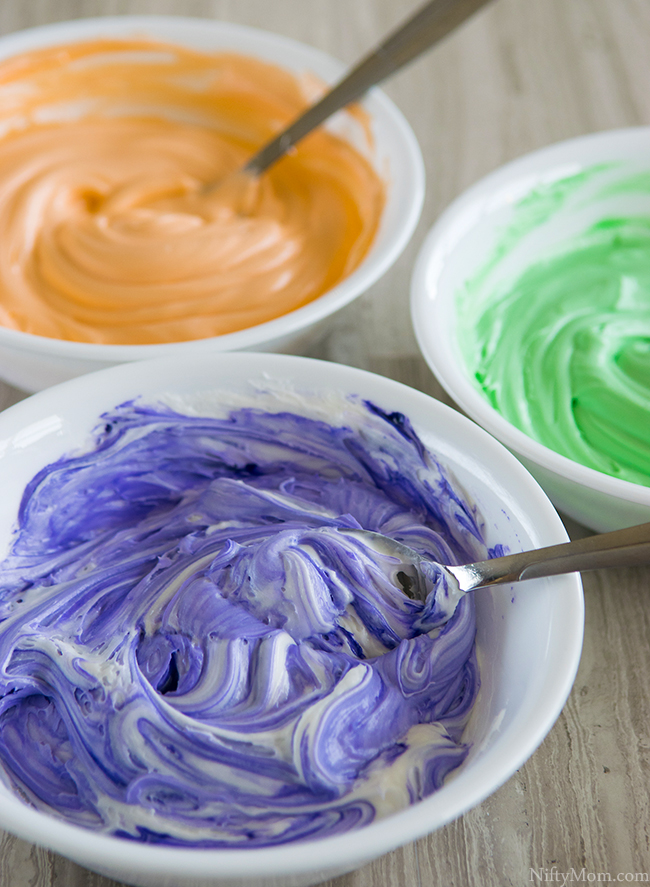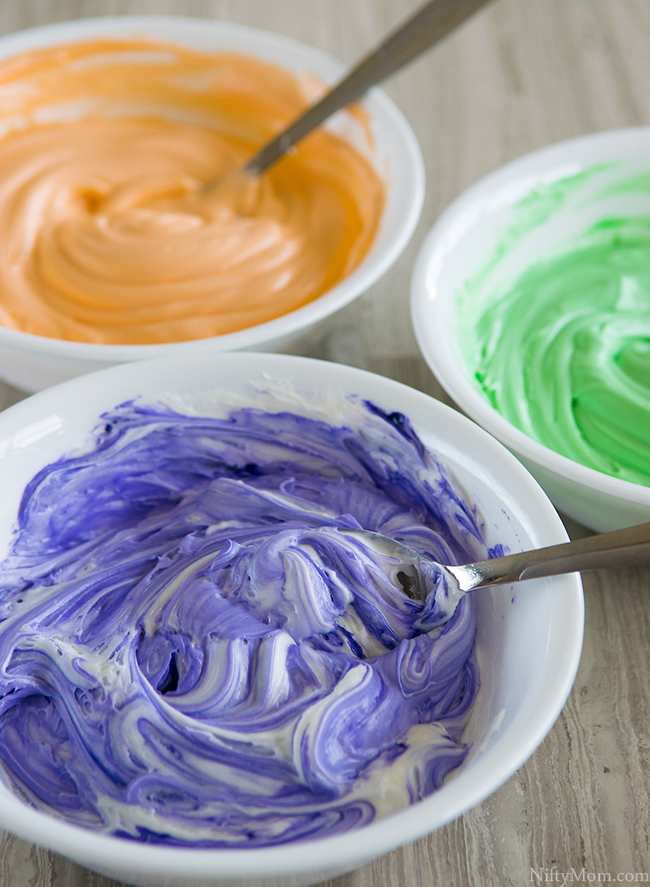 Lastly, I made the cutest mini monster cupcakes. Use your favorite cake mix or recipe and bake mini cupcakes. Once completely cooled, divide two cans of white frosting into three bowls. Add a few drops of food coloring gel into each bowl to make orange, green and purple frosting. Mix each bowl thoroughly.
Put each frosting color into a piping bag or plastic freezer bag with an icing tip.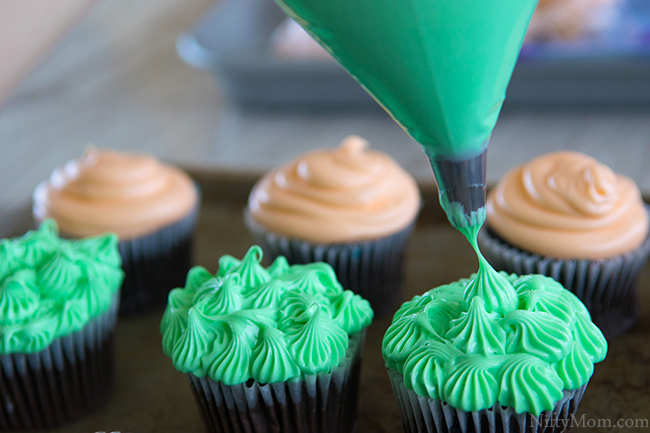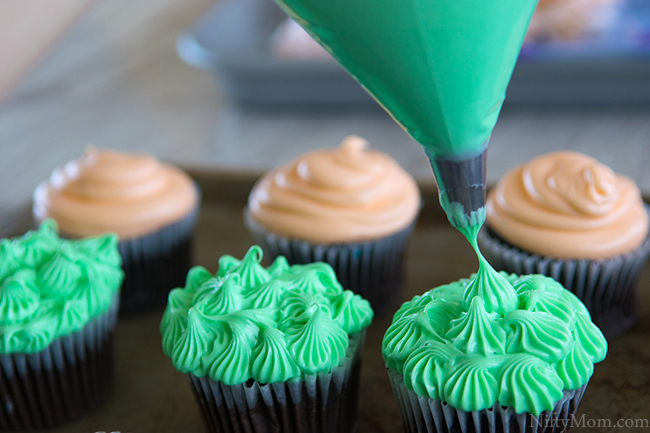 I used the following icing tips for my mini monster cupcakes:
Purple Frosting: Tip 233
Green Frosting: Tip 32
Orange Frosting: Tip 12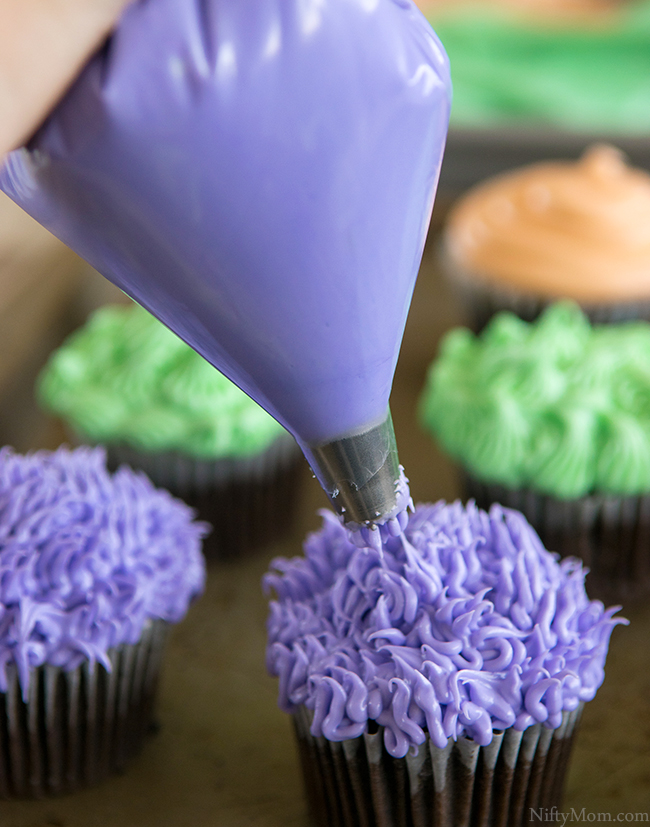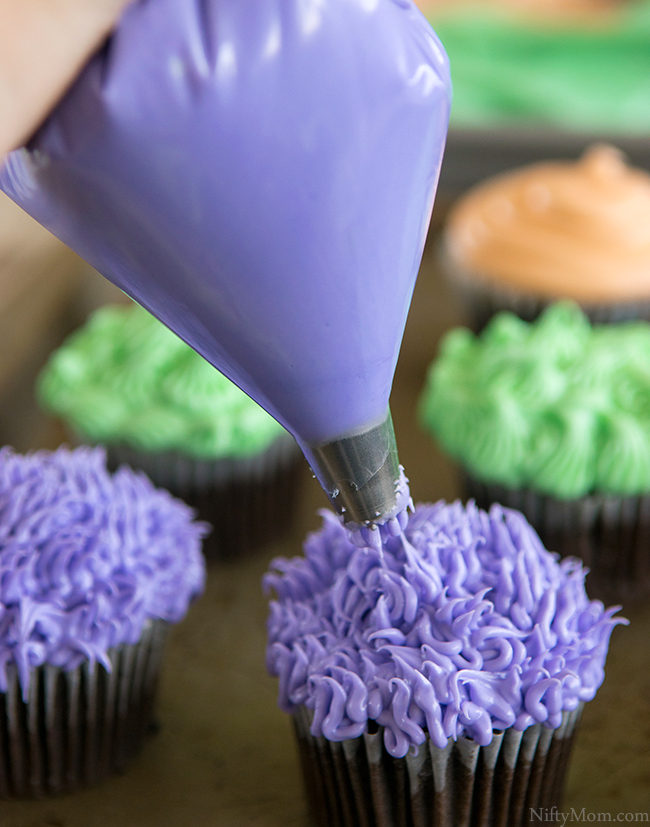 Squeeze the frosting out as shown in the pictures. Be random and try not to be too neat. Remember, they are monsters!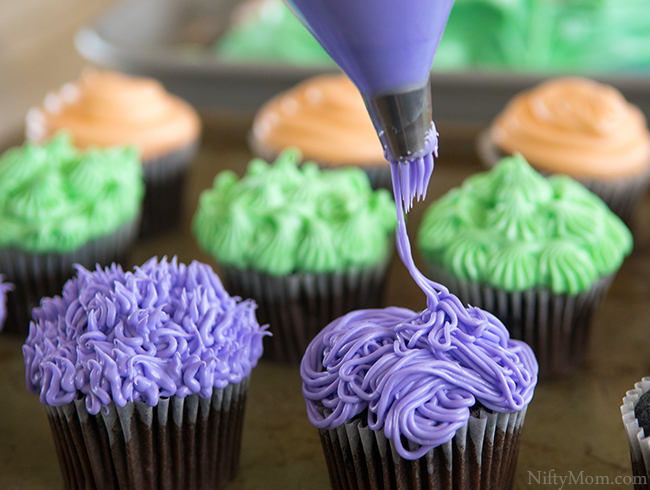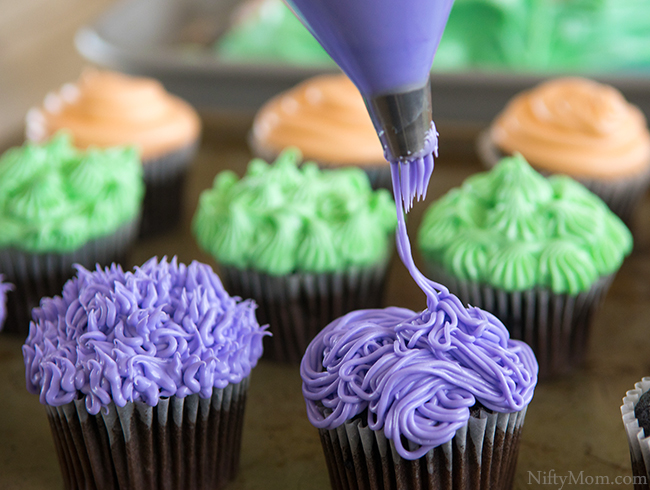 Lastly, add candy eyes to each cupcake.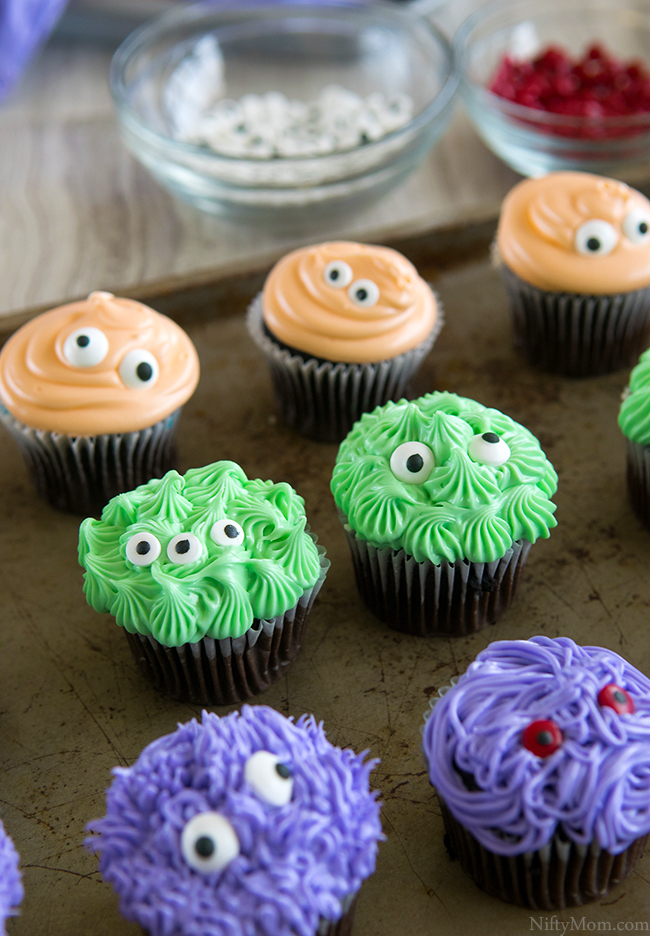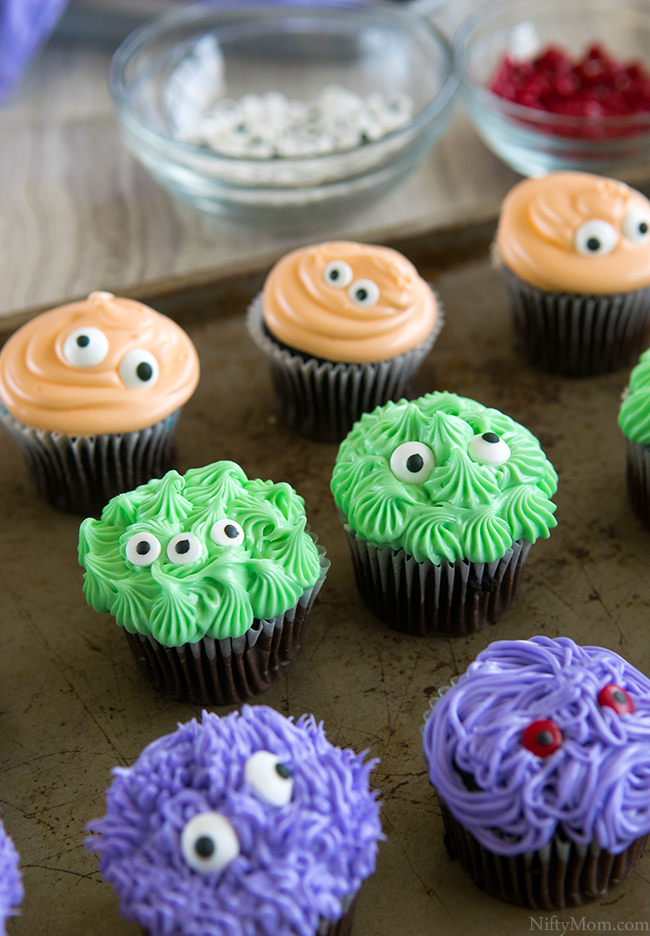 Place them in the refrigerator until the start of the party or you are ready to serve. This way the icing doesn't get too soft and lose form.
Halloween Monster Beverage Idea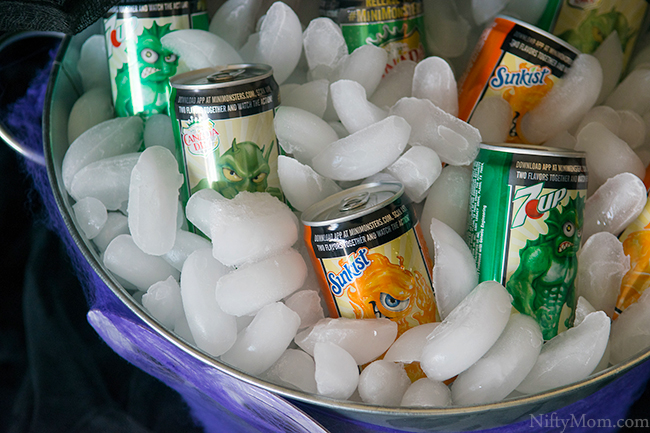 Since the 7.5 oz Halloween Mini Monster cans were the inspiration for the party, of course they were the drink of choice.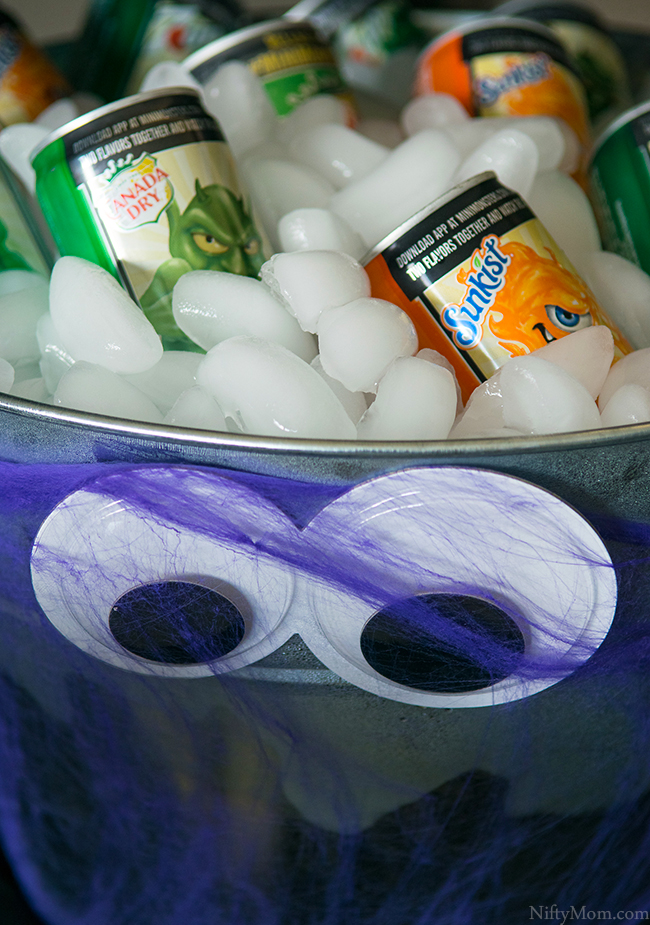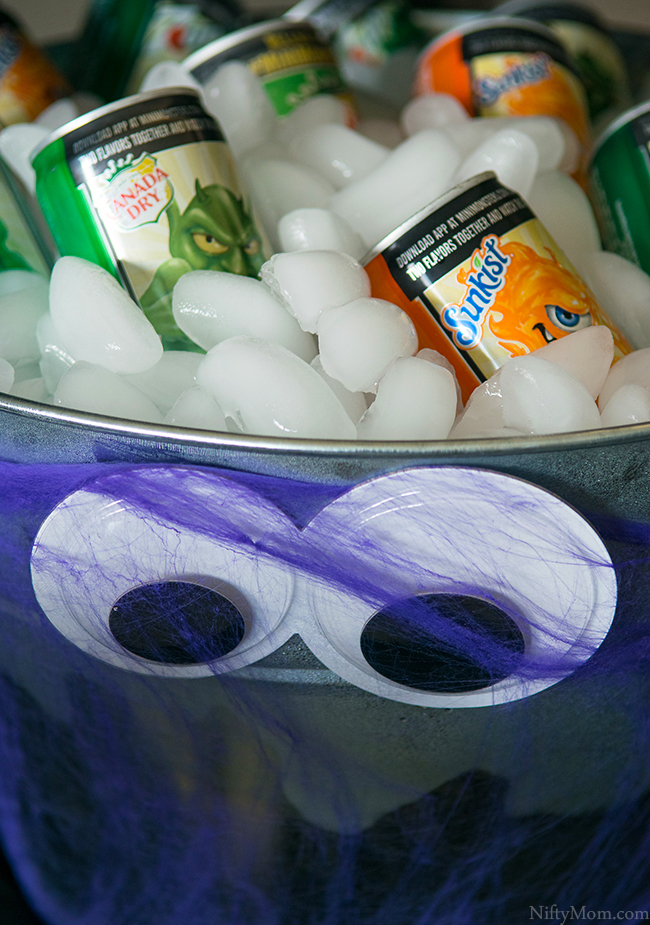 To keep most of the cans on ice, beverages were served in a metal tub. I added large googly eyes and some purple webbing to dress the tub up for the party.
Halloween Monster Bash Table Setup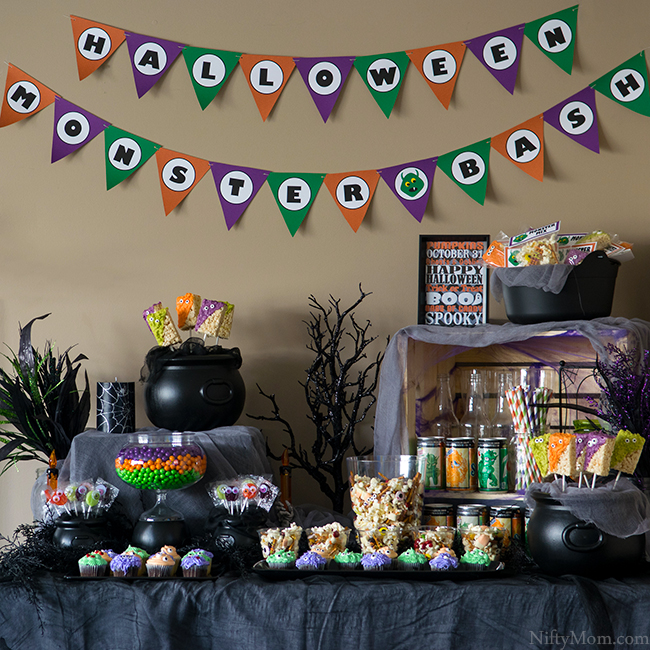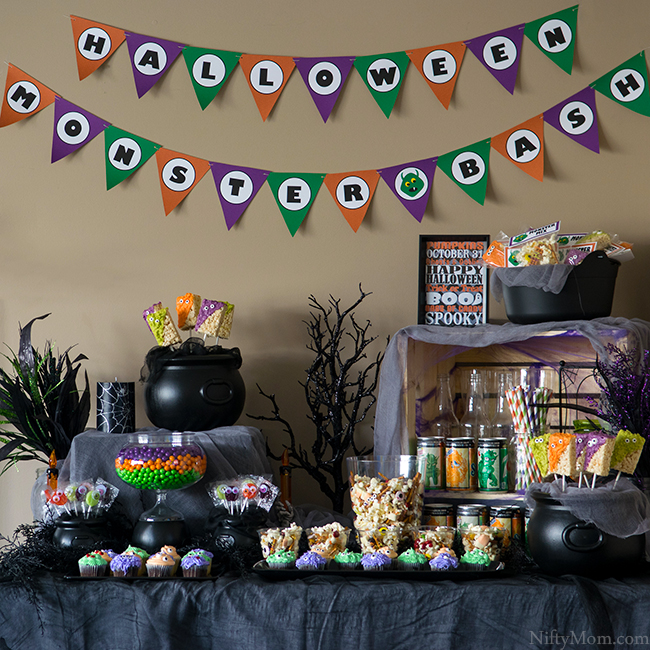 To match the treat bags, I created this banner that reads "Halloween Monster Bash". You can print it out here.
To cover the table, use black and/or gray gauze fabric.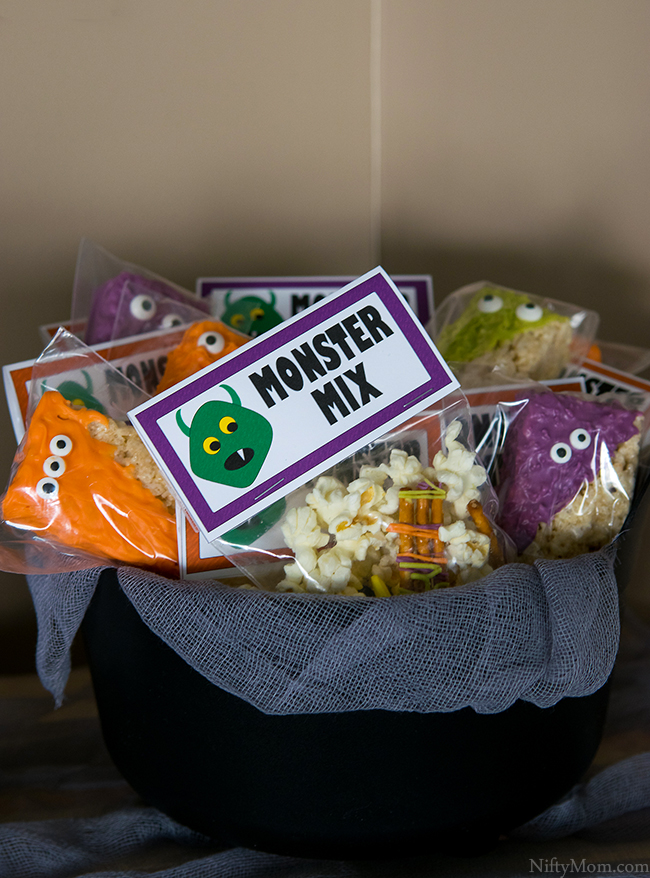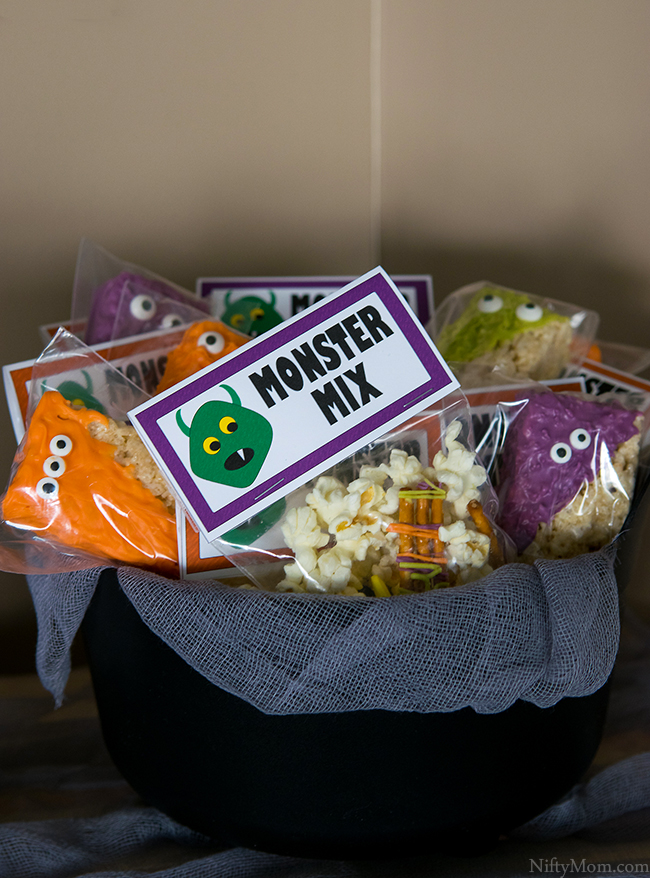 That gauze fabric is also perfect to cut down for crates, buckets and cauldrons.  It helps bring the different elements together visually.
The favor treats are placed in a black pail. Guests can easily grab treat or two to-go.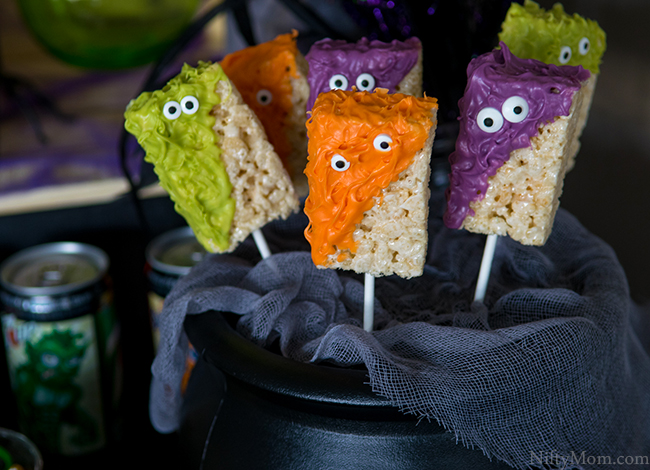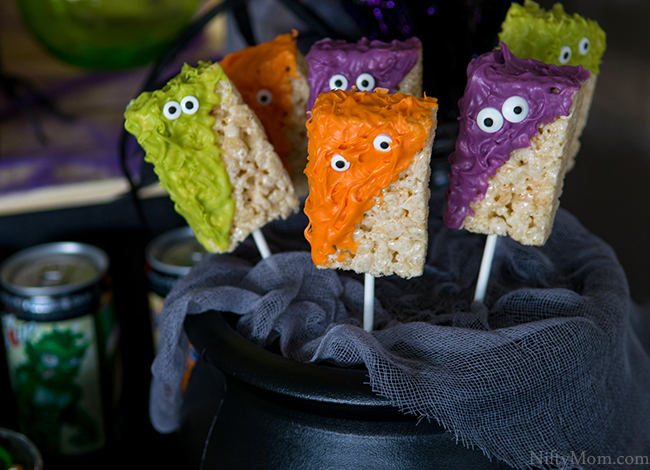 To make the treats that are on a stick stand upright, I used plastic cauldrons in various sizes. Next, I cut foam pieces to fit inside each one. The foam I had was green (from the floral craft section at Walmart), so I painted the tops black. Once dry, place the foam into each cauldron and cover with a cut piece of gauze fabric.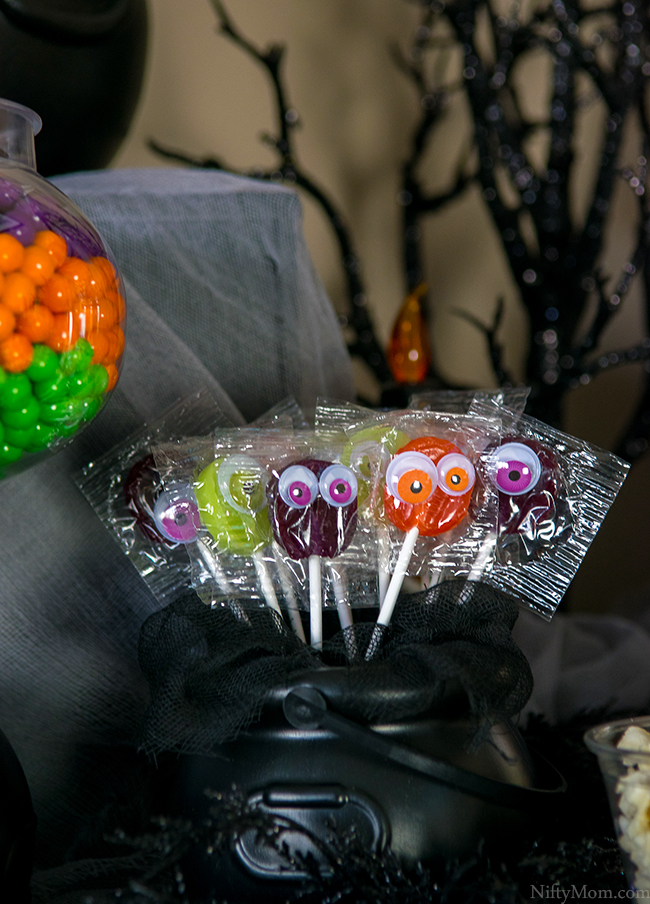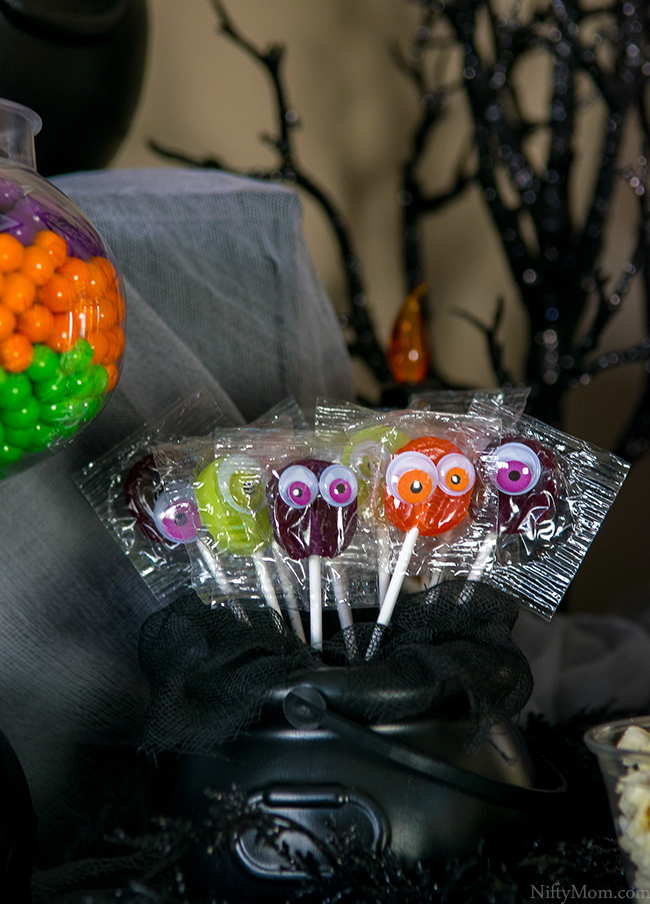 Stick the treats into the foam, keeping each side even to prevent it from leaning.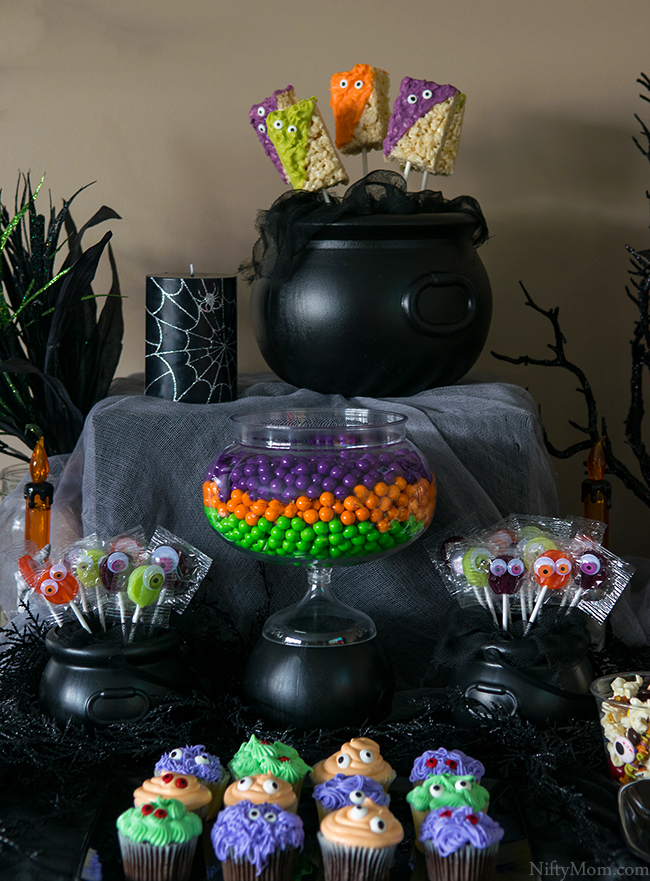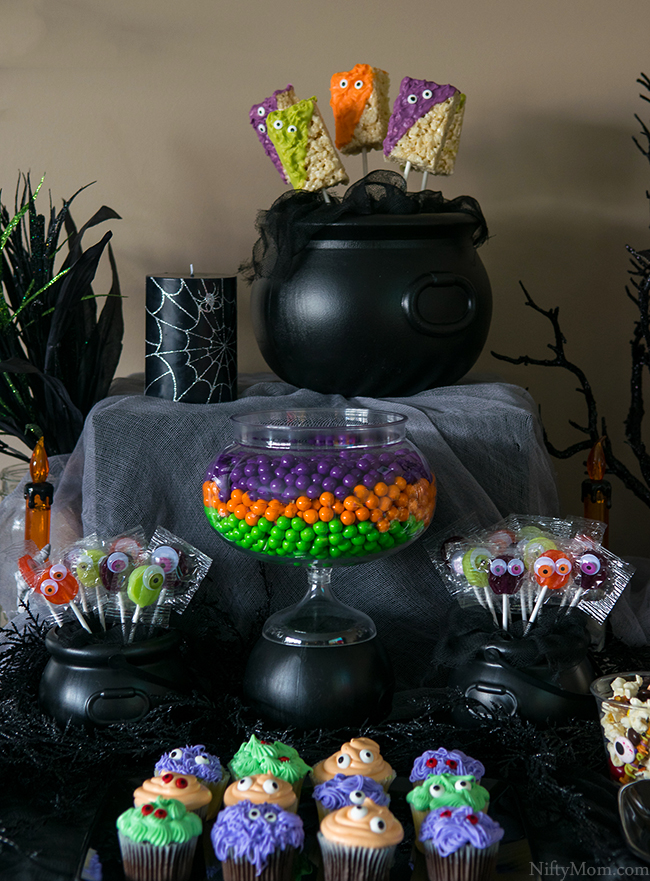 I added a large bowl of candy balls to add more color to the party table.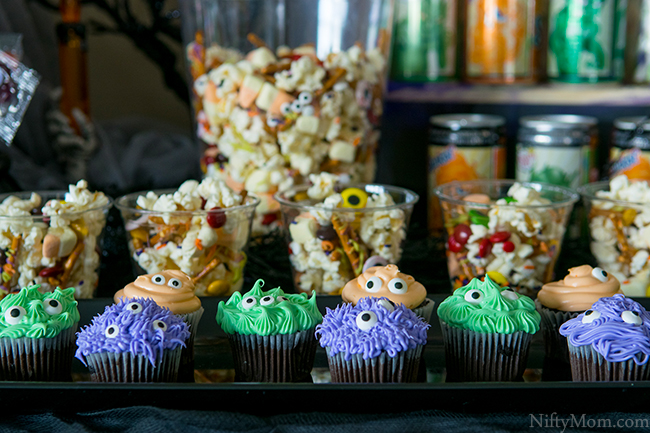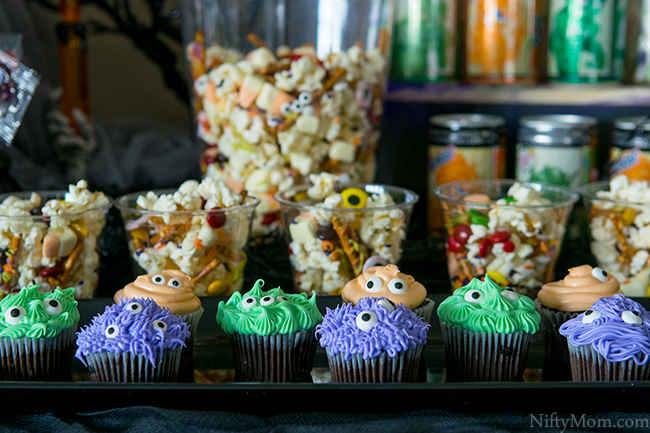 Place the mini monster cupcakes onto black trays in the front of the table.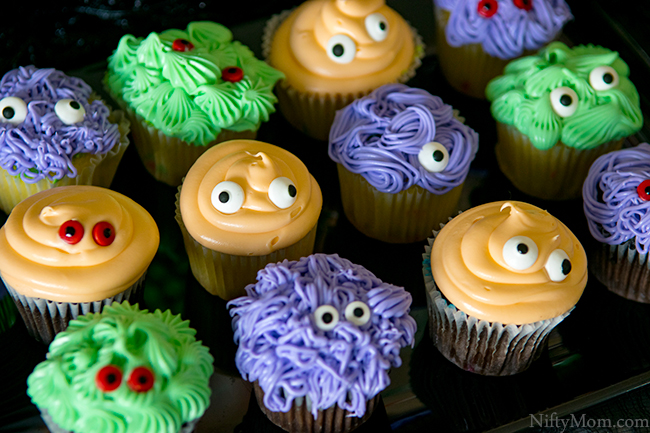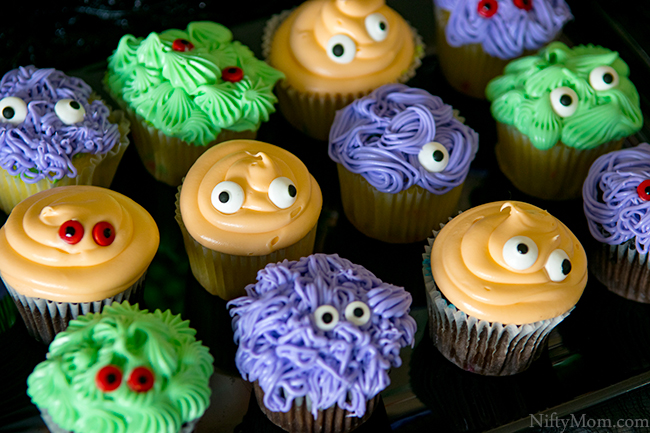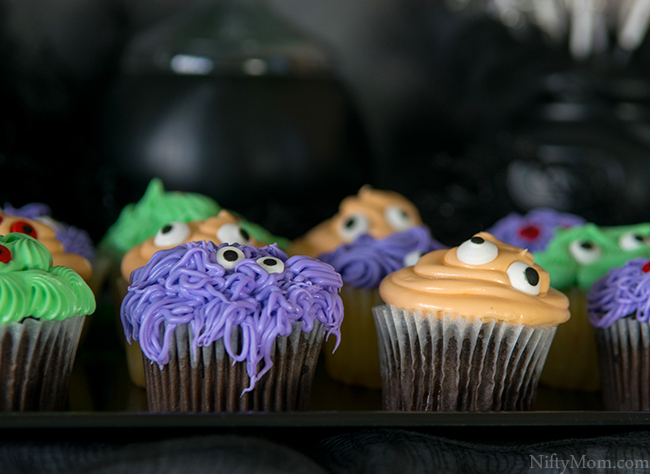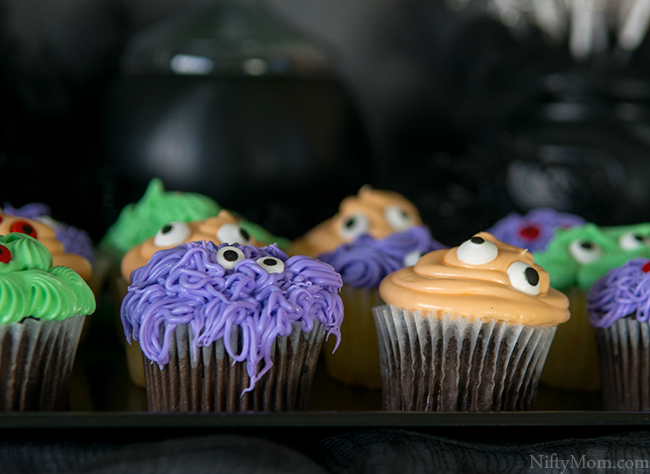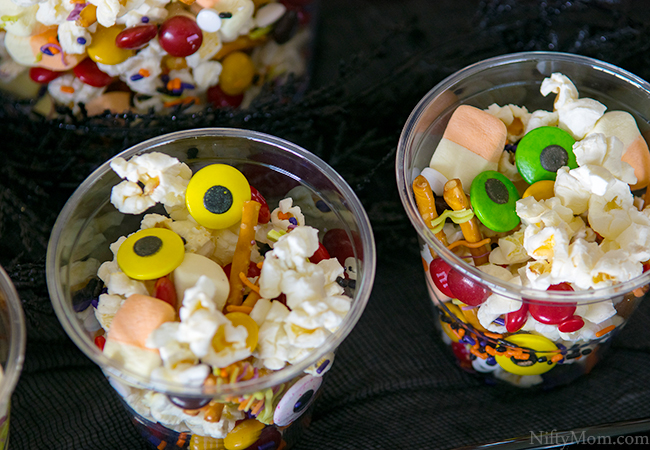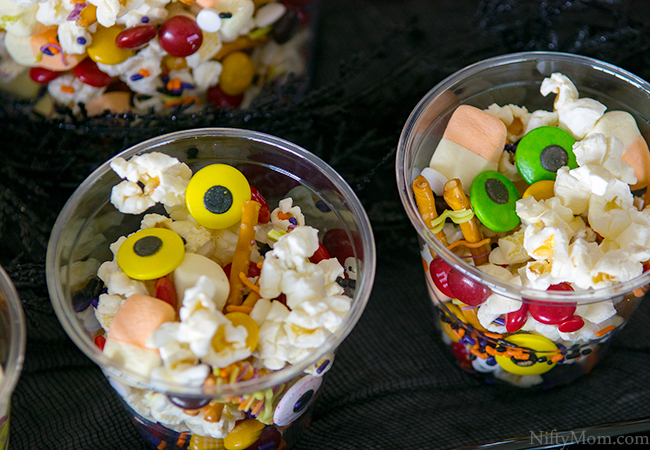 Keep a few small plastic cups filled with the Monster Snack Mix for convenience to the guests.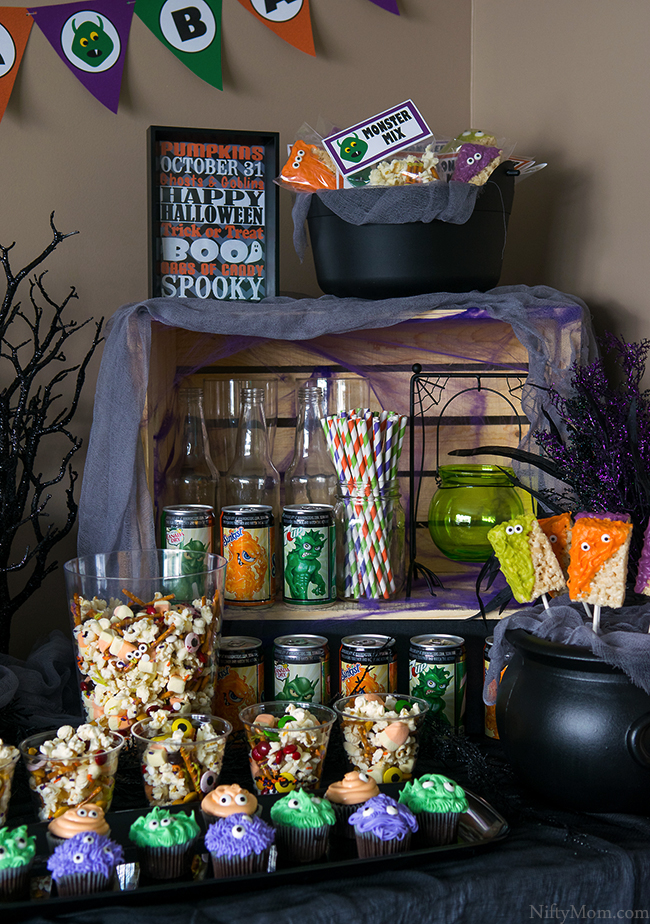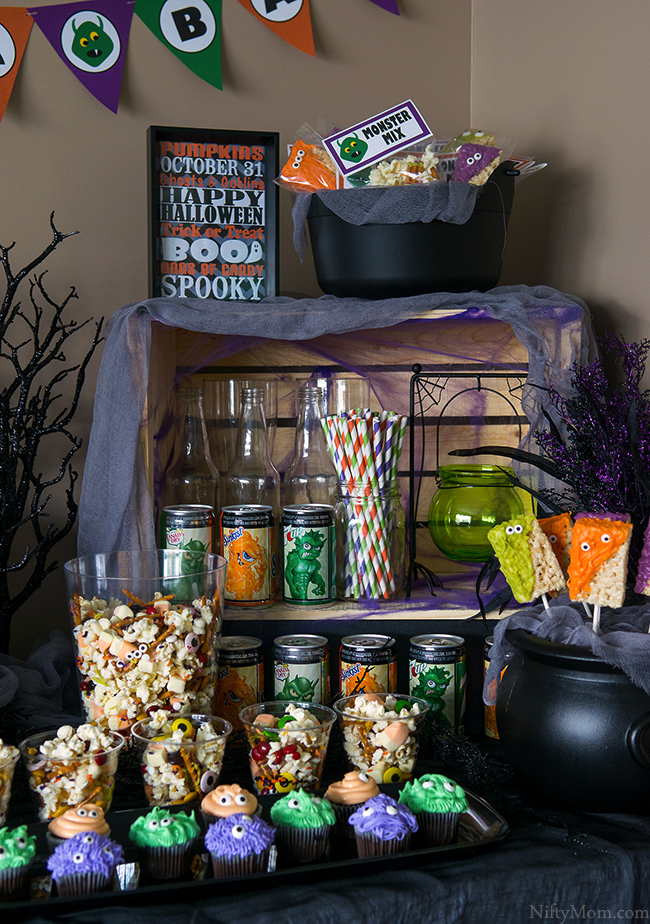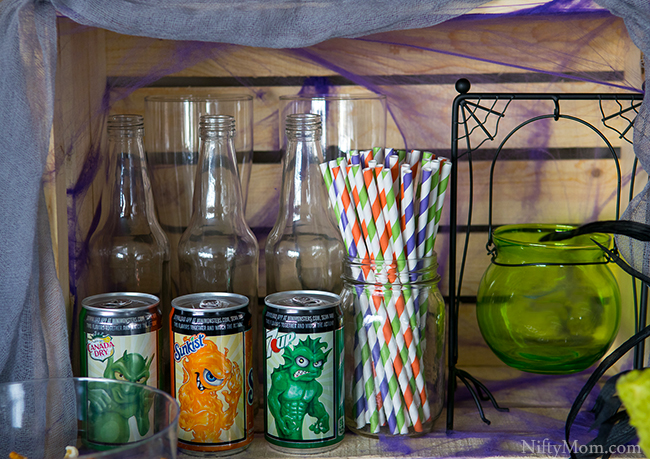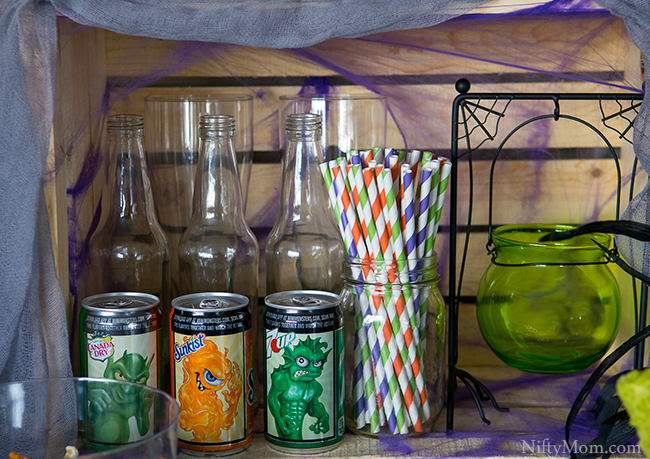 More beverages are added to the table with different sized glasses and straws. Again, I added a little bit of purple webbing to the crate on the table for cohesion.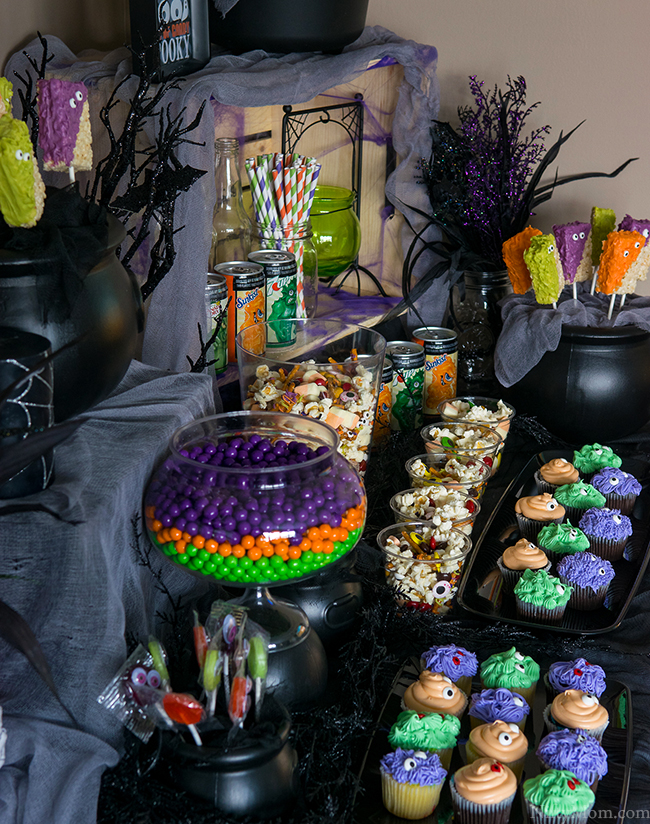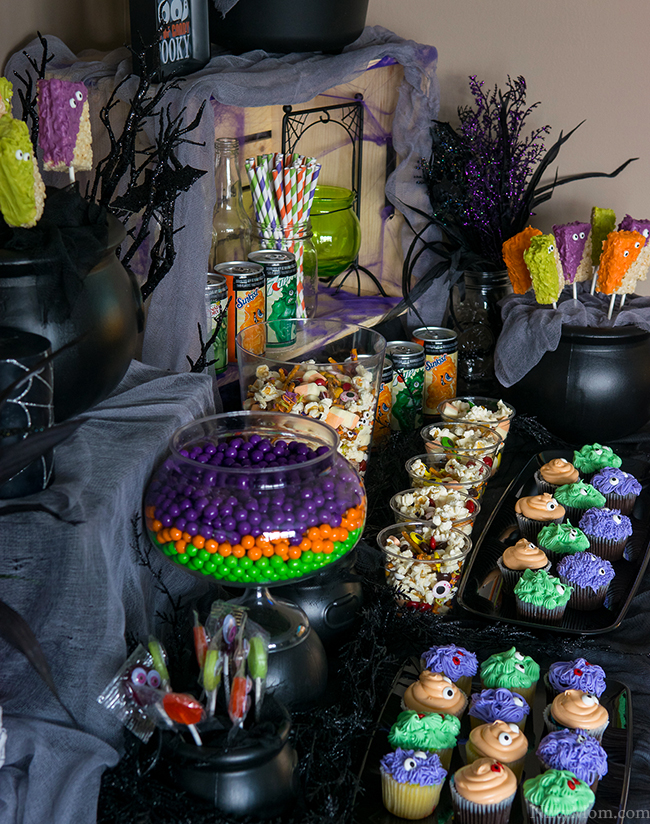 Overall, the table is full of mini monsters ready to party.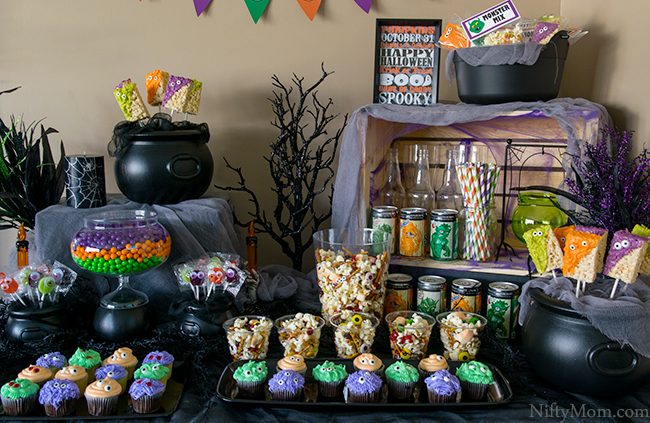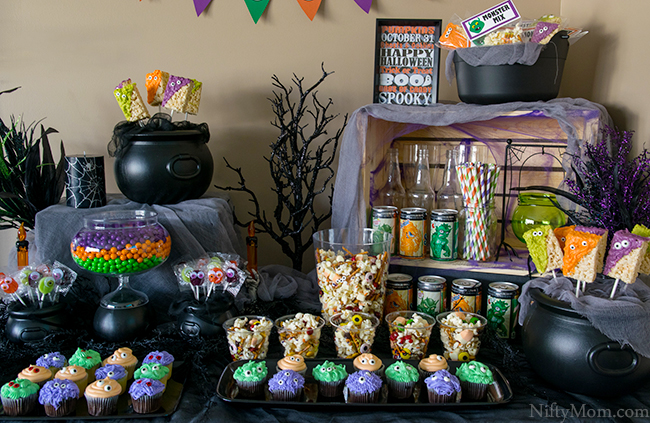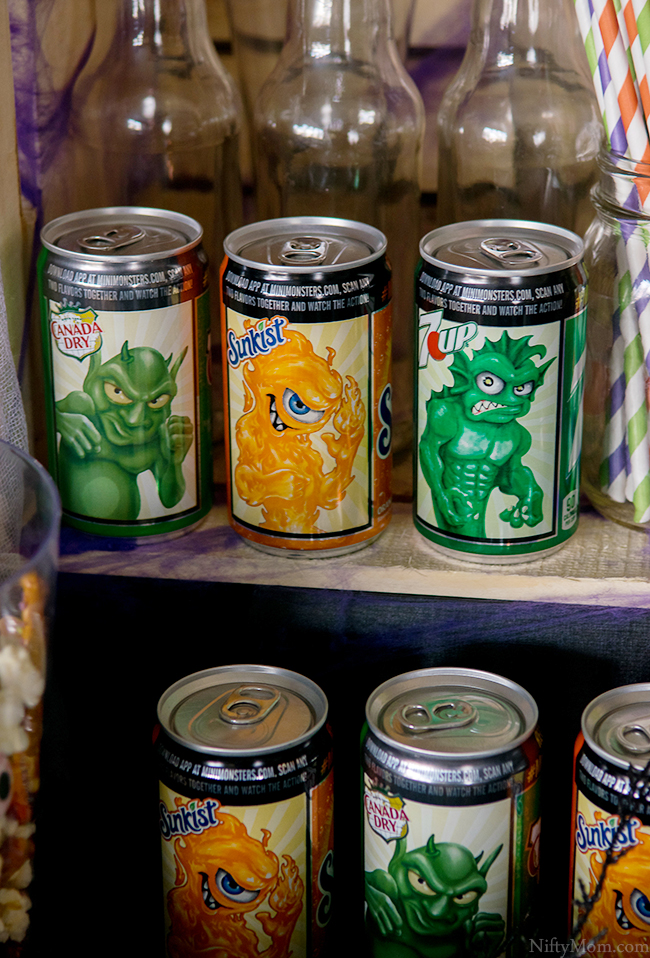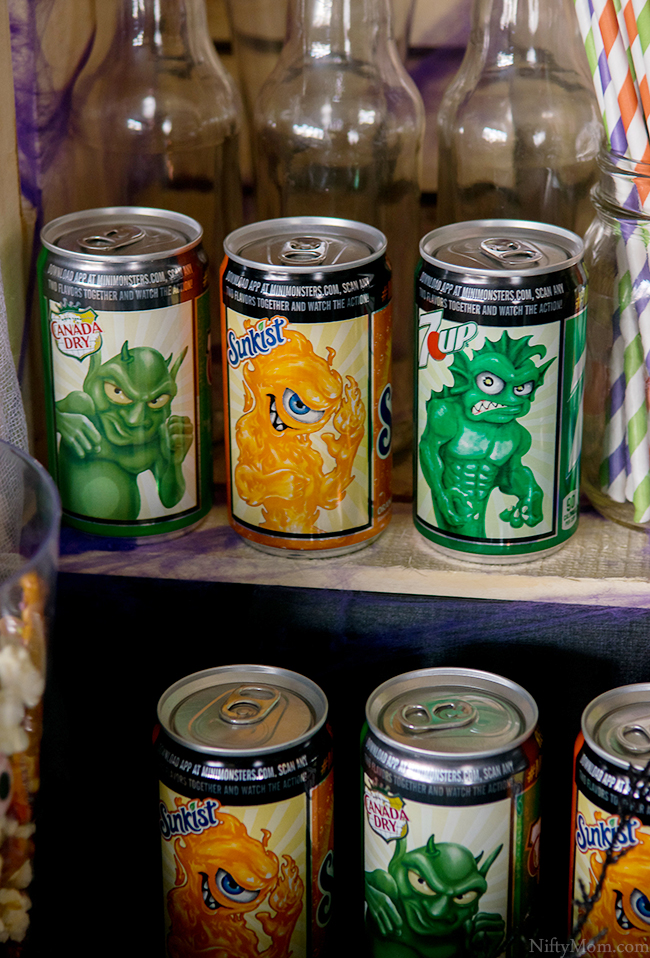 Even during the party, it's fun to pull out the #MiniMonsters AR App so guests can see the cans try to become the life of the party.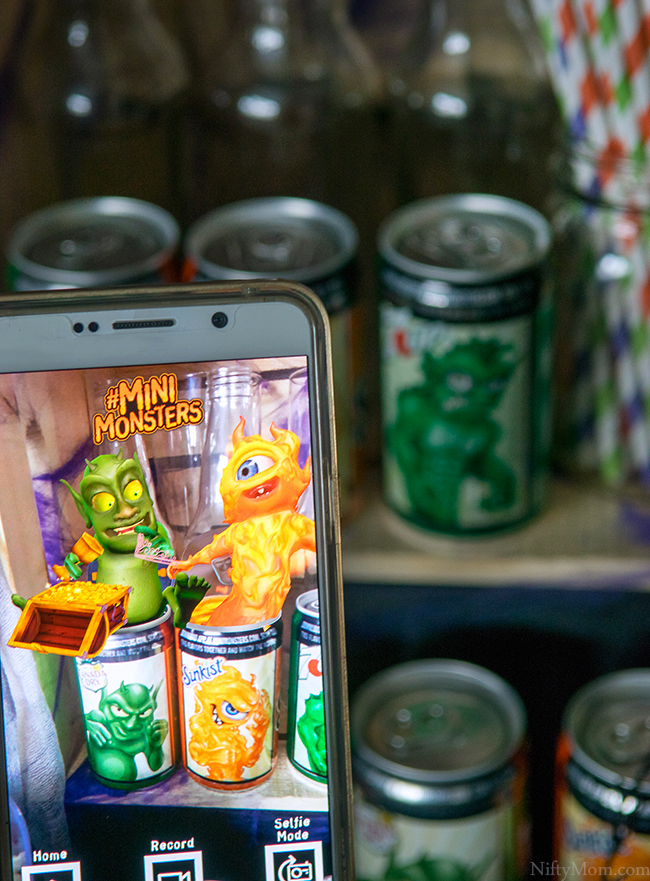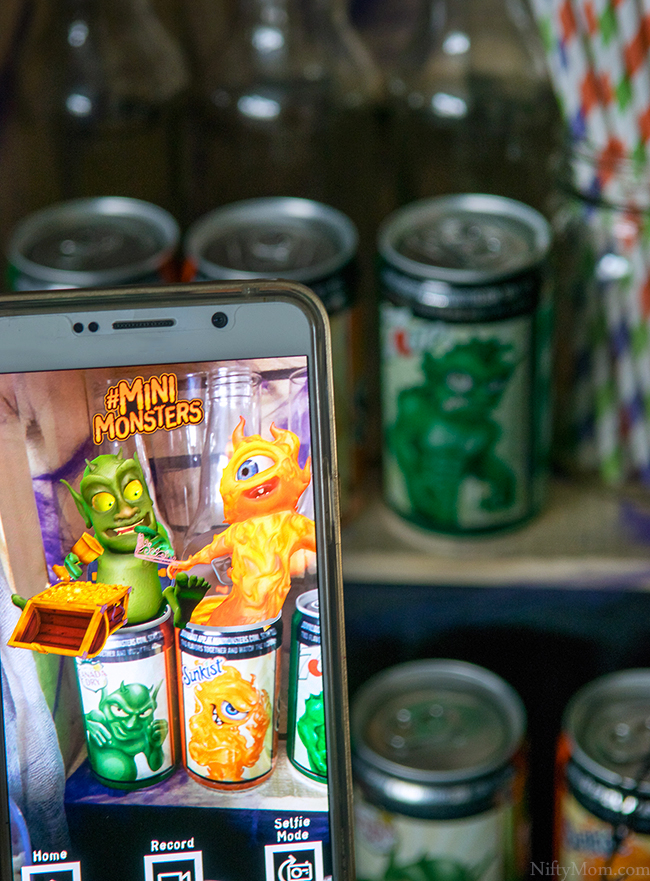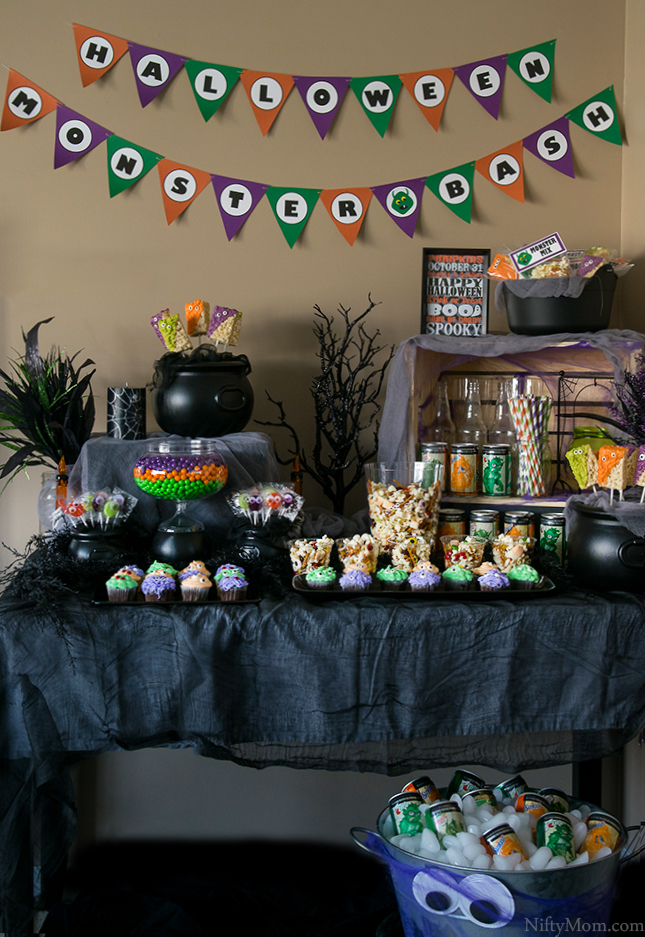 Do you have any other mini monster party ideas?