This printable weekly planner template has been compensated by Collective Bias, Inc. and its advertiser. All opinions are mine alone. #HelloFreshPics #cbias #CollectiveBias
To keep up with our busy schedules, I quickly learned that planning ahead is one of the most efficient ways to make each week manageable. I have to take at least a half a day each week to make countless lists for meals, shopping and daily tasks. Another way to take some ease off cooking dinner is with HelloFresh.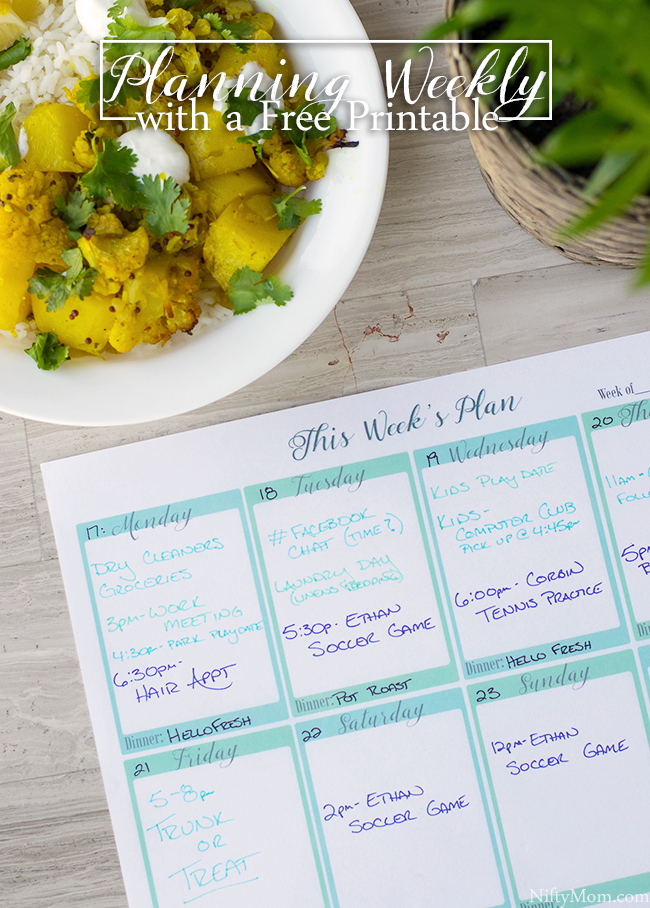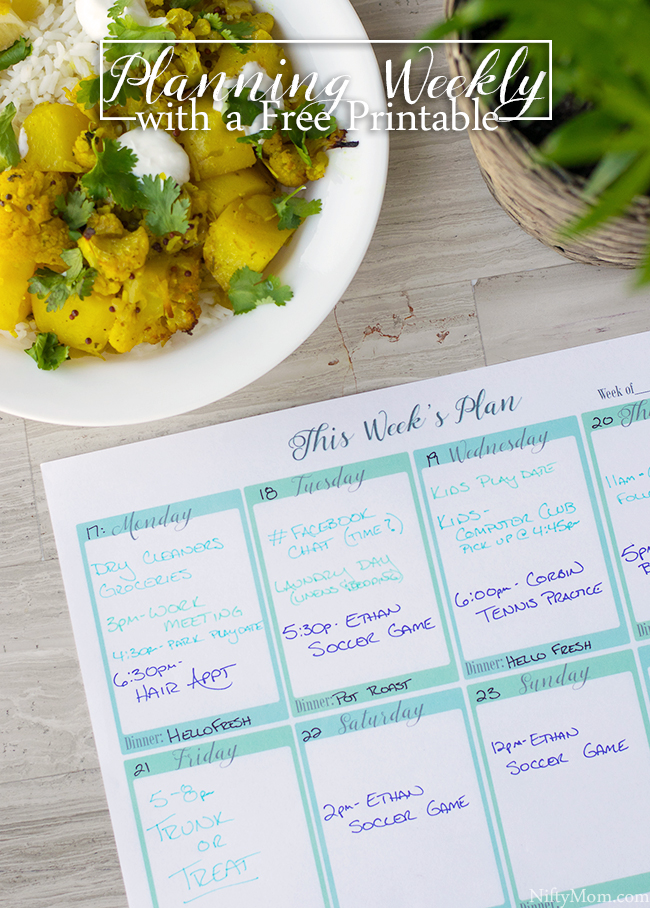 The one day I spend the most time planning and list-making is Sunday. I pull out my weekly meal plan, monthly calendar, to-do lists, goals, grocery store circulars and start making new lists. I have daily and weekly planners I use often as well. However, sometimes a simple one-sheet planner can work wonders.
I created this printable weekly plan to keep all my important reminders on one sheet for week. No digging through all my other schedules & planners needed. On Sunday, spending a little bit of time to fill out this sheet can help me stay on track all week.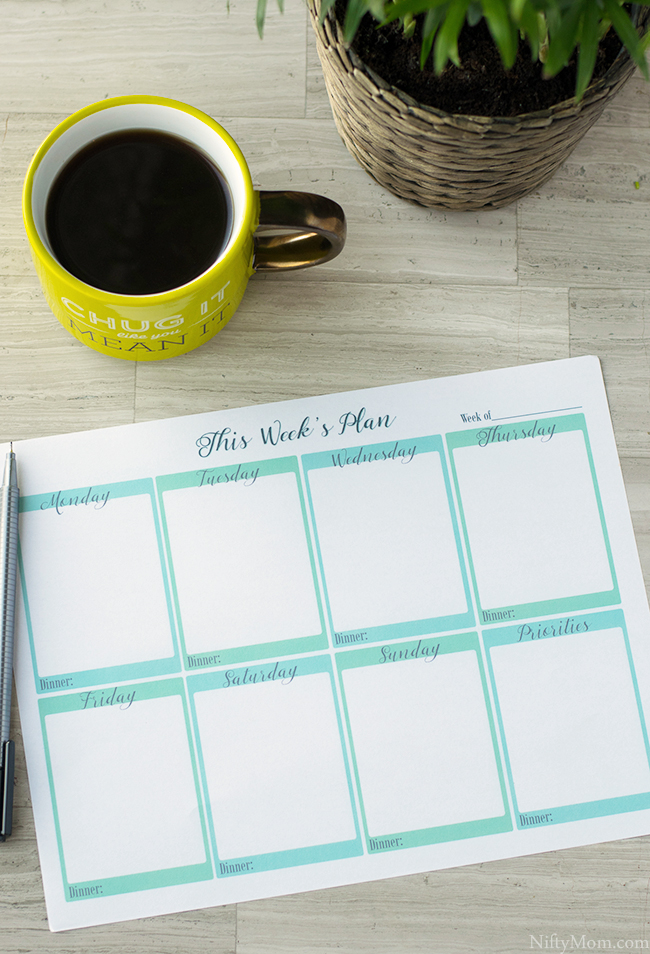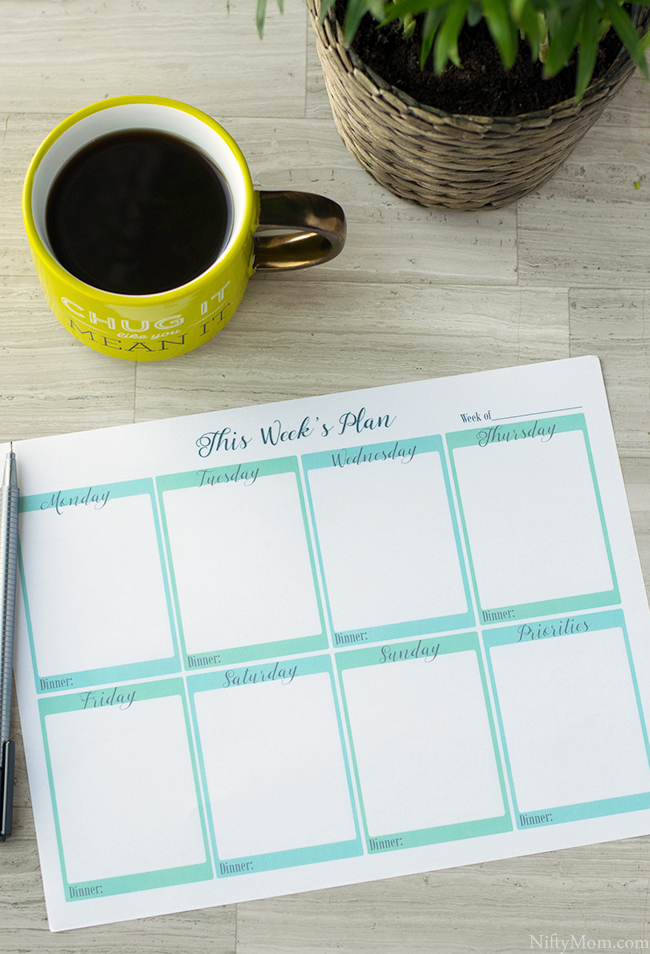 I typically plan dinners for the week, make my grocery list then head to the grocery store Sunday afternoon. However, our Sundays haven't worked out that way lately. I end up not getting my list together, so I don't go to the store by the end of the day. I may try to run to the grocery store on Monday, but without a list, I am lost. I am aimless buying whatever looks good.
Then some days are so busy by the time I pick up the kids and get home, I have nothing out to make for dinner. My brain is going a hundred miles an hour and I can't even come up with anything. That means no homemade fresh meal and typically I give in and order something. I can't let that keep happening.
I've been hearing about food delivery services for awhile now and have finally decided it was time to give them a shot.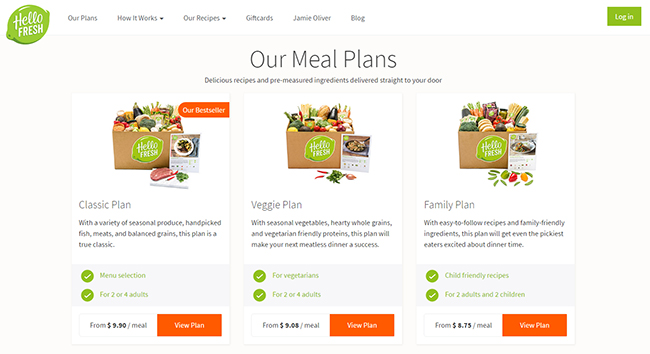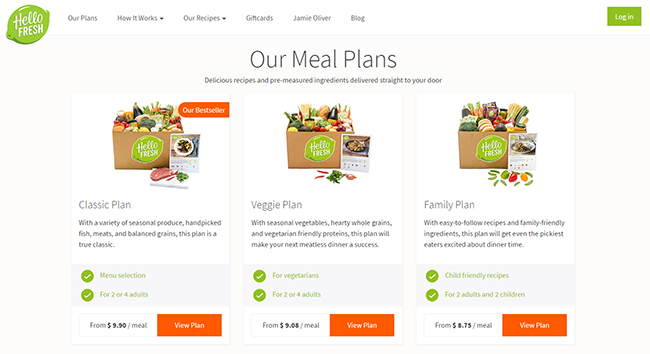 HelloFresh offers a variety of weekly meal plans for 2-4 people. With each weekly box comes with all the pre-measured ingredients needed for three (or more) different recipes. For me, this saves time on planning, grocery shopping and daily meal prep. It's also a great way to introduce new meals & try new recipes.
After I signed up, I immediately downloaded the HelloFresh app (available on Google Play and iTunes).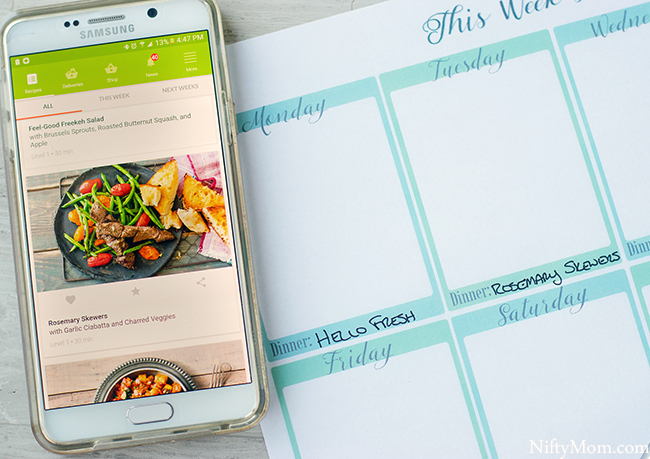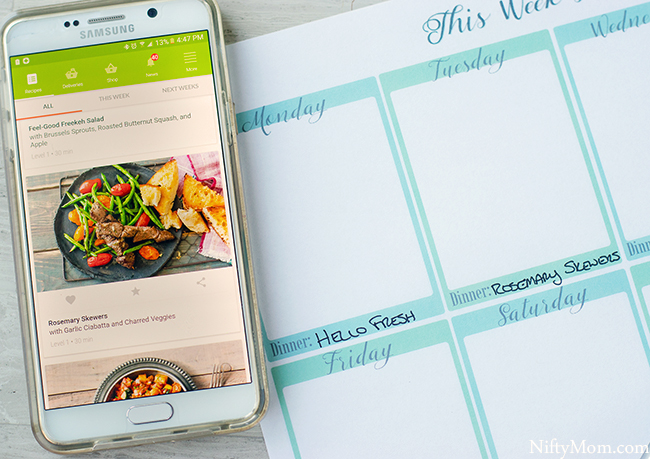 I can use the app to pull up the recipes for my weekly box, or search for new recipes to try. Their recipes are nutritionally balanced to include a protein, fresh vegetables, and a starch.
When Monday afternoon rolls around, I know I will have all the ingredients I need for three family dinners. It is such a relief pulling up to the house after running errands and getting the kids from school to seeing that box there.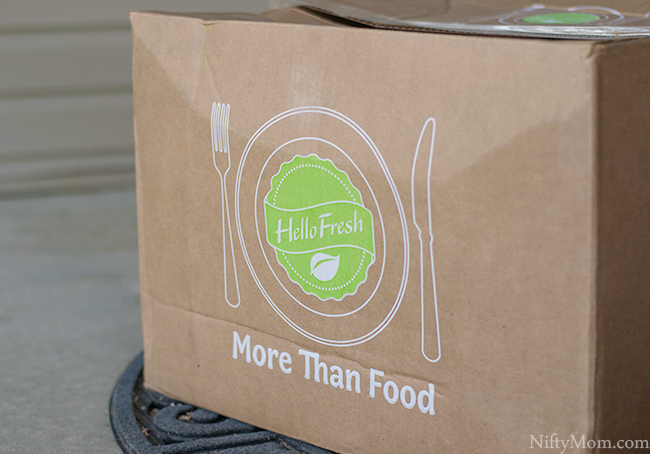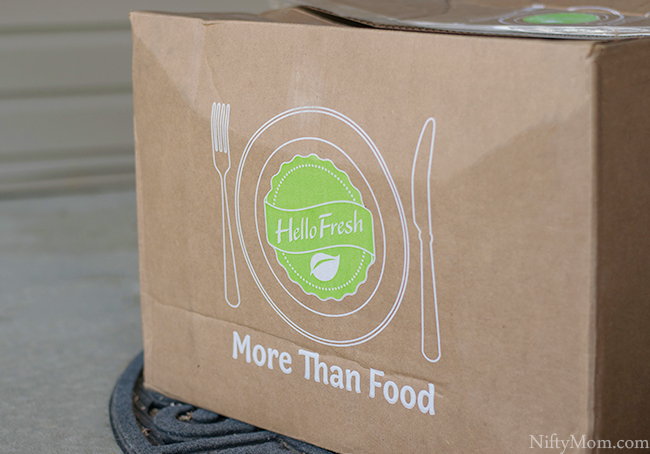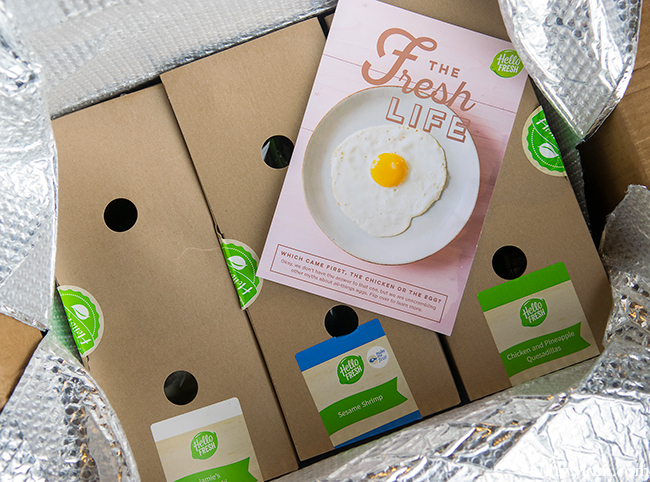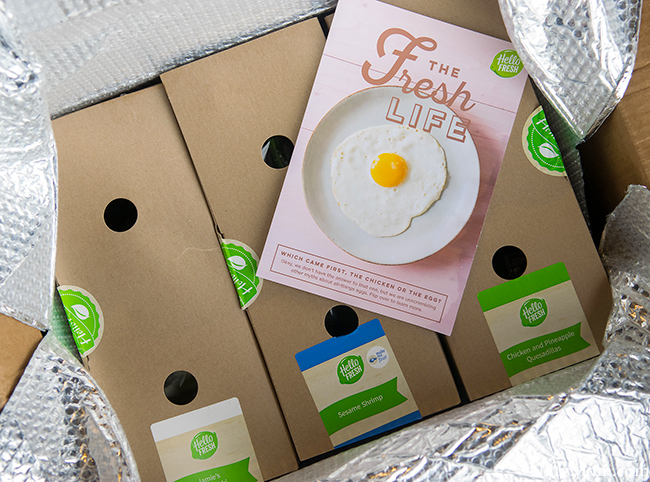 Upon arrival, the recipe ingredients are sorted already and I just take a moment to unpack and refrigerate the ingredients that need it.
When it's time to get dinner prepped, it is quick and easy. No stressing out over if I have enough of the right ingredients or not.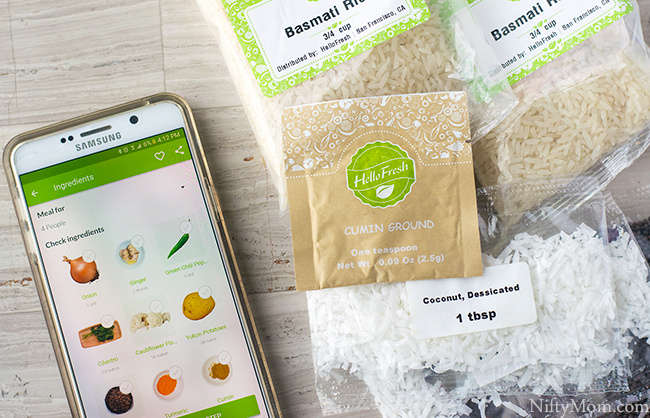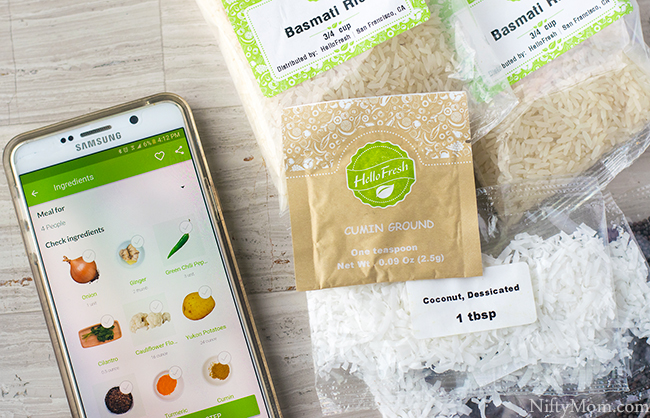 Everything is pre-measured, labeled and I can check the ingredients right from the app (or recipe card that comes with the delivery).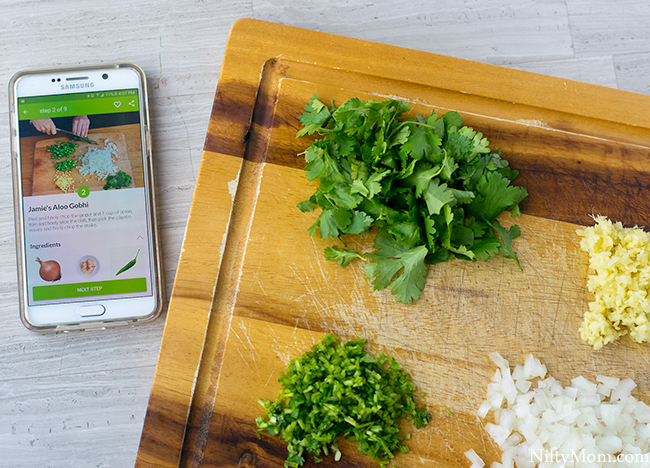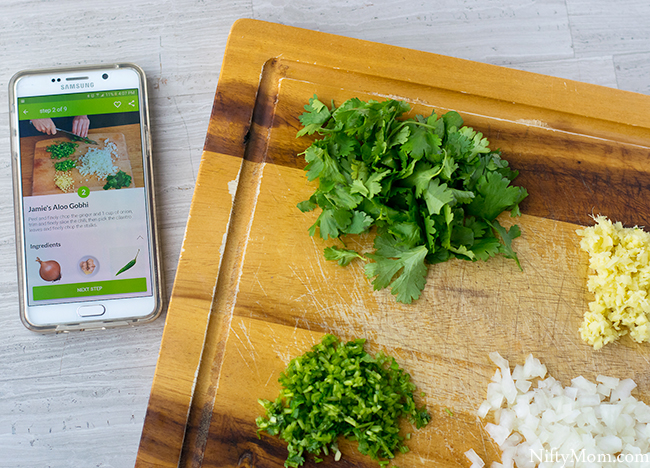 While cooking, I prefer to follow the instructions step-by-step in the app. This allows me to view one step at a time, showing the specific ingredients for that step.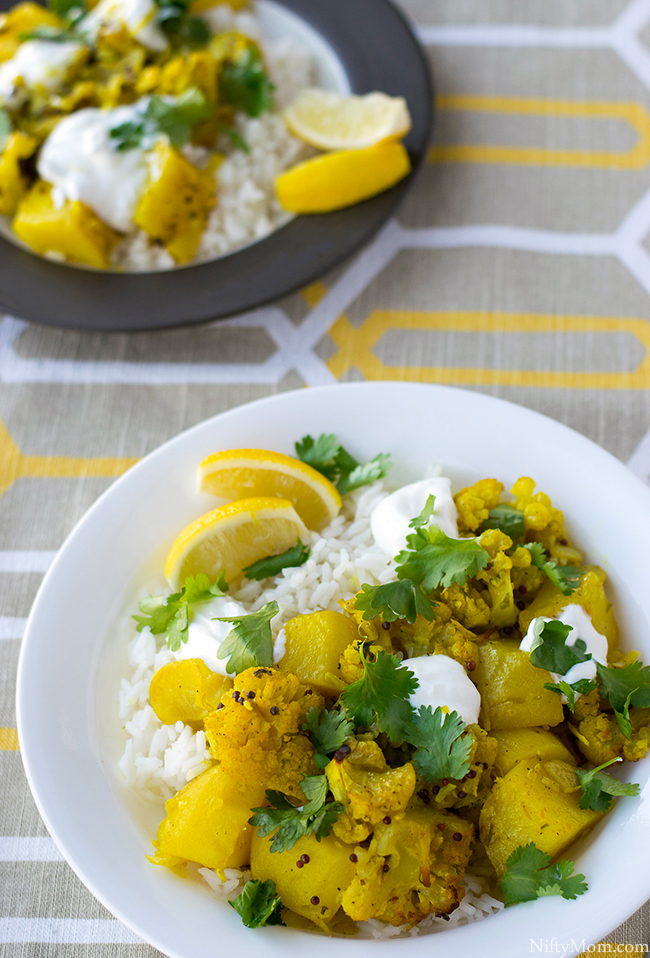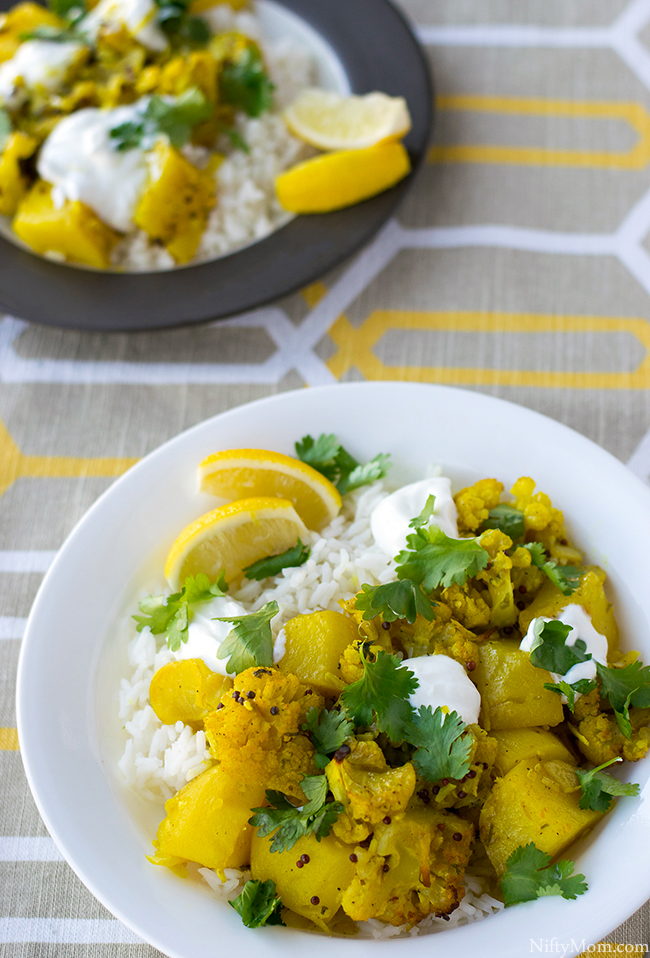 One of the meals from our first box was this Aloo Gobhi, a Jamie Oliver recipe. In January 2016, HelloFresh and Chef Jamie Oliver teamed up to get more people cooking fresh food and each week you'll find one of his recipes in the menu lineup. This one was delicious and something I would have never thought of making previously.
HelloFresh has made weekly meal planning easier and less stressful. To help all your other planning, don't forget to print the weekly planning sheet and take time each week to write down all the important events & tasks for the week.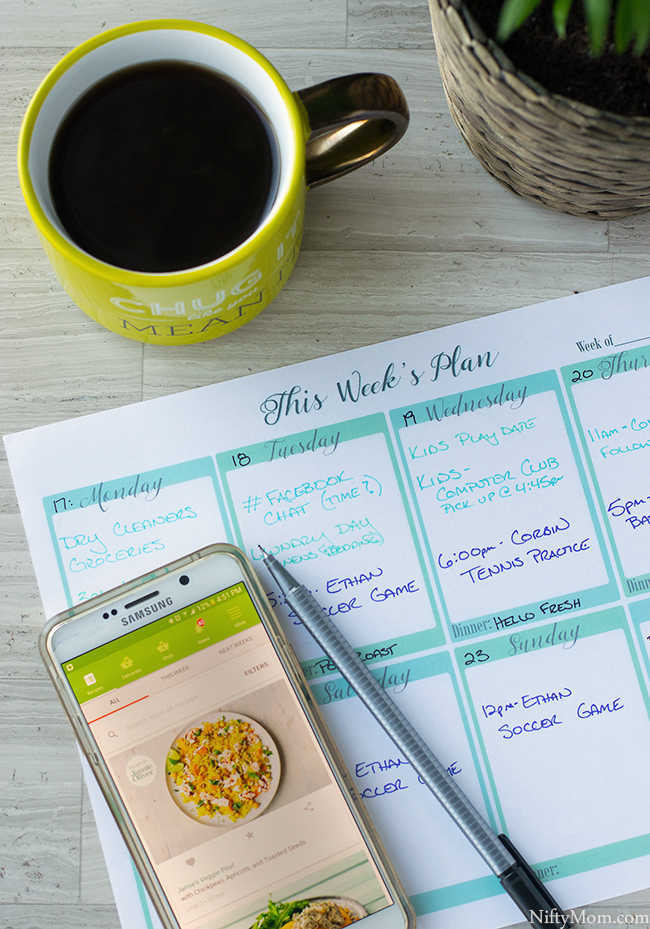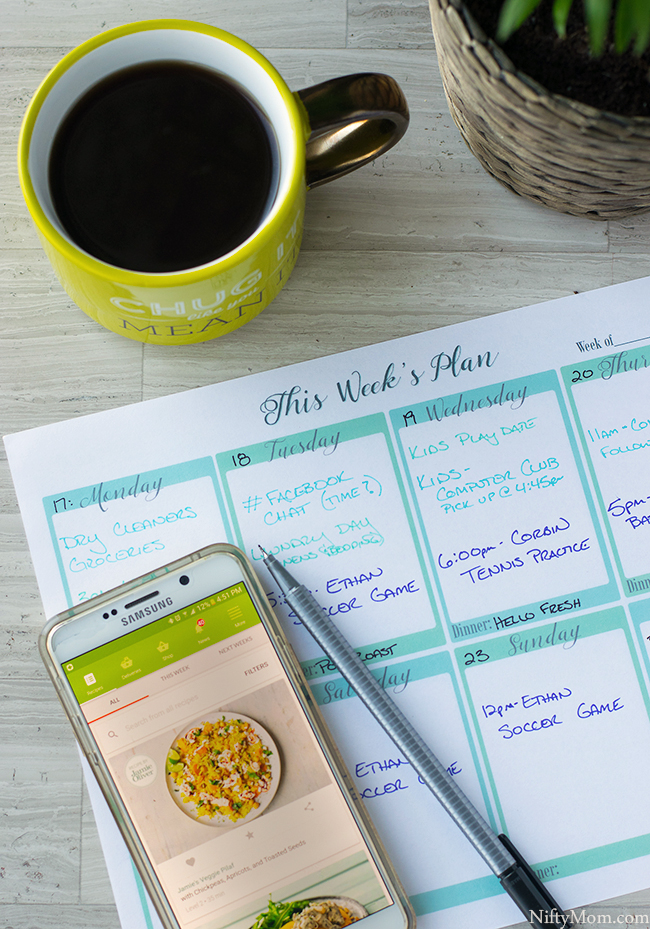 What helps you stay on track each week?