This Waffle Bar idea has been compensated by Collective Bias, Inc. and its advertiser. All opinions are mine alone. #EggoMyWay #CollectiveBias
The weather is warming up and that means long hours of outdoor play for the kids. Having snacks outside also comes with the fun. Served with a variety of toppings, this waffle bar is a great snack idea for everyone to enjoy.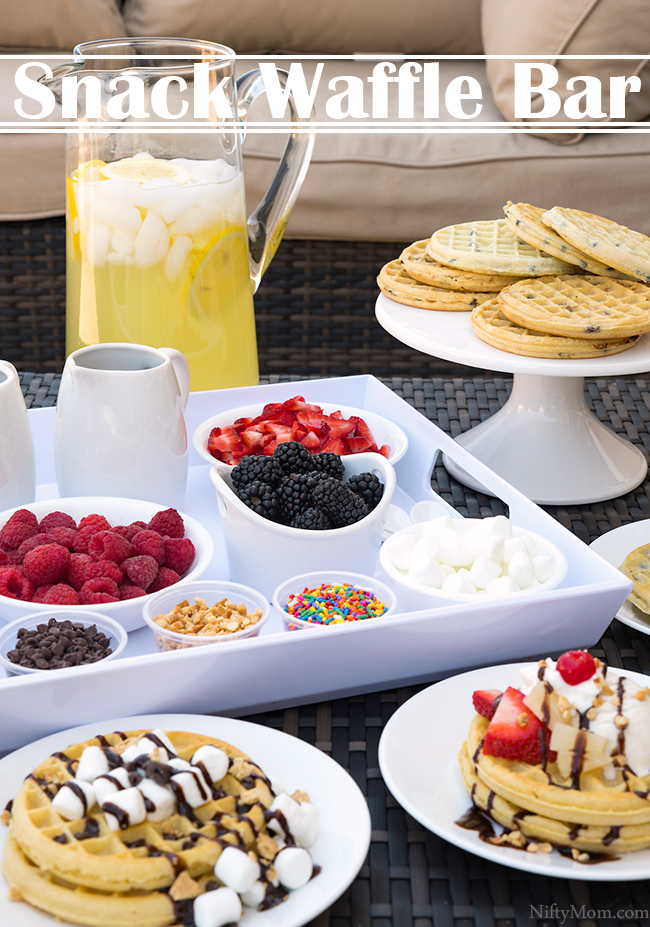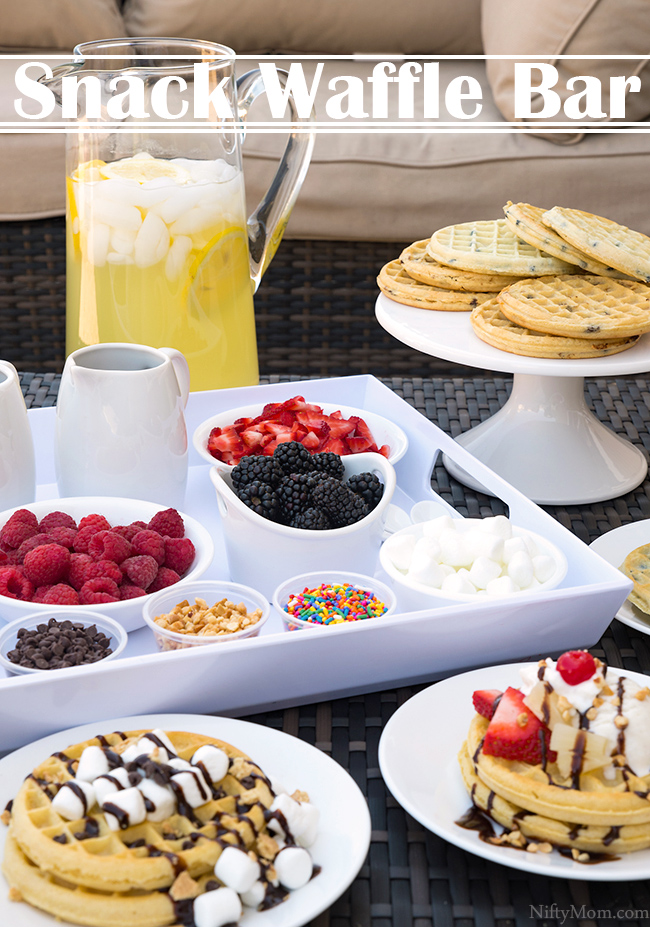 As the kids are outside having fun with friends and neighbors, I can always expect them to come running in for drinks and snacks. They quickly browse the pantry, grab something quick and run back outside. Why not change it up a little bit and make that outdoor playtime snack a fun one?
While picking up some things at Target, I spotted a large variety of Eggo Waffles. I had all 3 boys with me and they each grabbed a box out of excitement. Since the Eggo products were on sale for $1.99 each (until 5/13), I didn't mind stocking up on them. That's a great deal!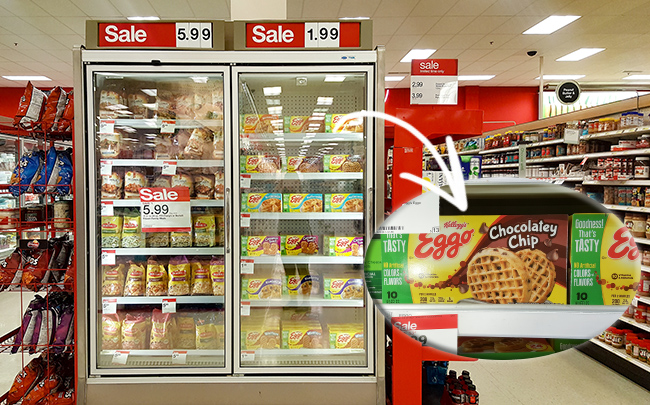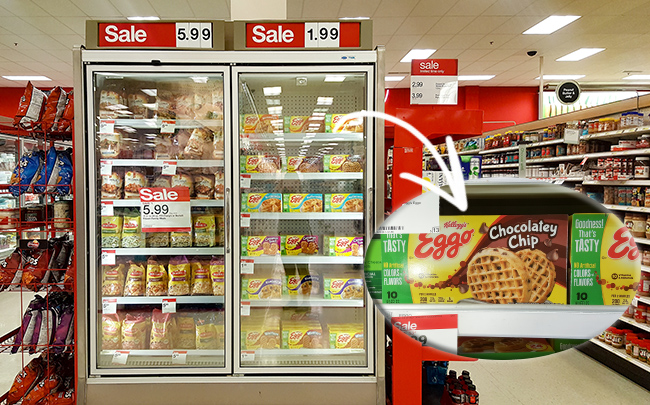 As I was putting the boxes in the freezer upon arriving home, I couldn't help to think, 'What am I going to do with all these waffles?'. That's when it hit me; a waffle bar. However, not for the morning time. Waffles aren't just for breakfast, so why not do a snack waffle bar? So that is just what we did.
Snack Waffle Bar Ideas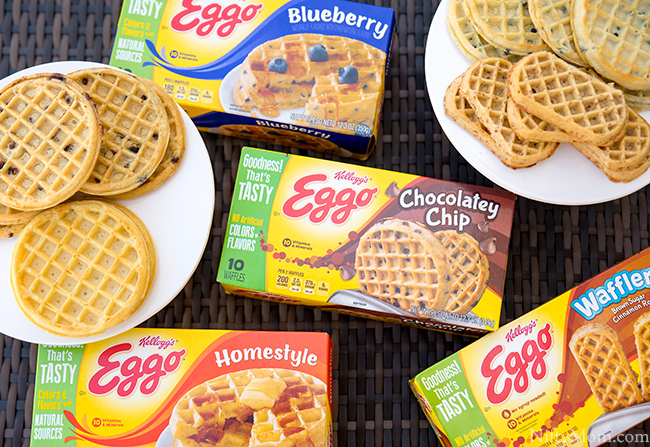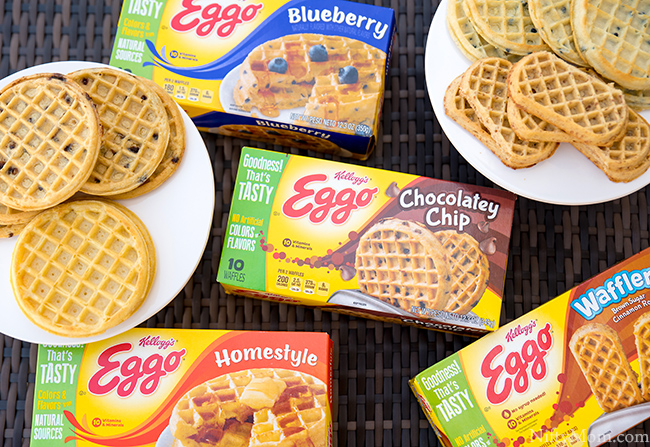 Waffle Variety – To have your own waffle bar, start with a good variety of waffles. Using Eggo Waffles, I can easily prepare a large amount in about 5 minutes in the oven. For our waffle bar, we used Eggo Blueberry Waffles, Eggo Chocolatey Chip Waffles, Eggo Homestyle Waffles, and Eggo Brown Sugar Cinnamon Roll Wafflers.
Can you see from the packaging that Eggo Waffles got a new look? I was excited to see they have a new formulation that is free from artificial. You heard that right, Eggo is now made with 'No Artificial Flavors. Colors from Natural Sources.' Look for the packaging with the green banner!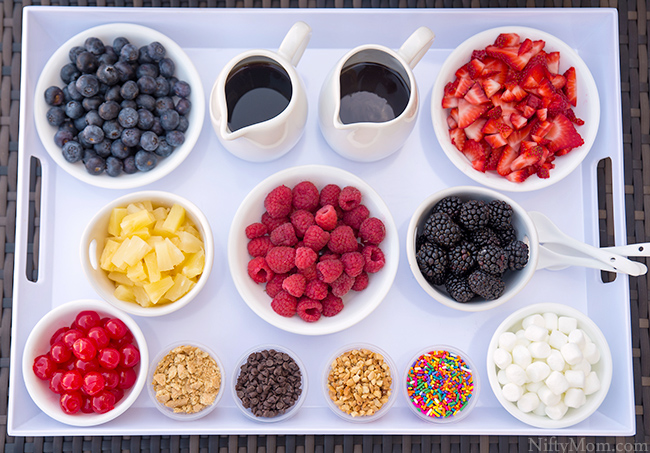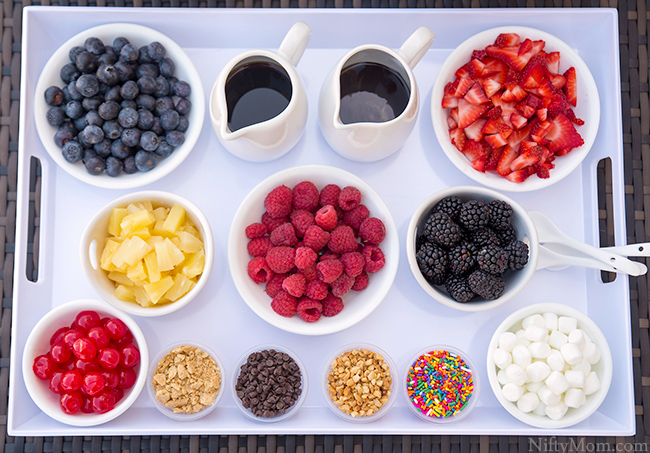 Toppings – When it comes to toppings, the possibilities are endless. See what you have in your pantry and refrigerator and get creative! Here are some topping ideas to get you started:
Fruits

Blueberries, Raspberries, Strawberries, Cherries, Blackberries, Pineapple, Bananas, Apple Slices, Peaches

Syrups

Chocolate, Maple, Caramel, Strawberry

Small Toppings

Sprinkles, Chopped nuts, crushed graham crackers, granola, mini chocolate chips, crushed candy bars, mini marshmallows

Ice Cream
Whipped Cream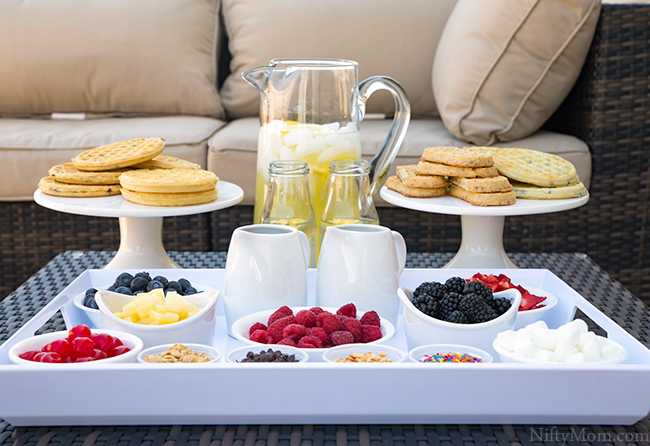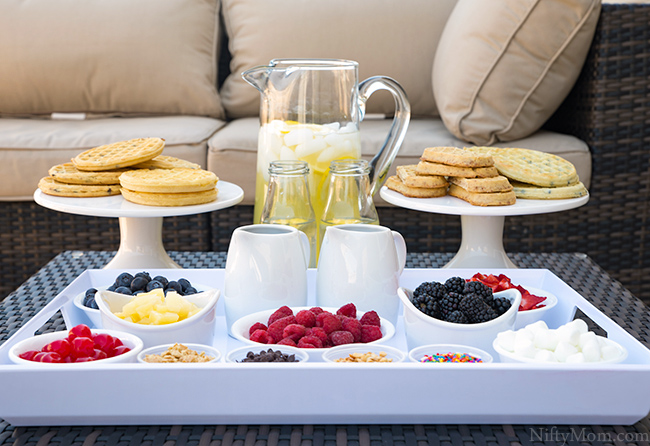 To make the bar easy to set up, I placed all the toppings in small bowls on a serving tray. When I am ready to serve it, I simply carry the tray outside with all the toppings ready.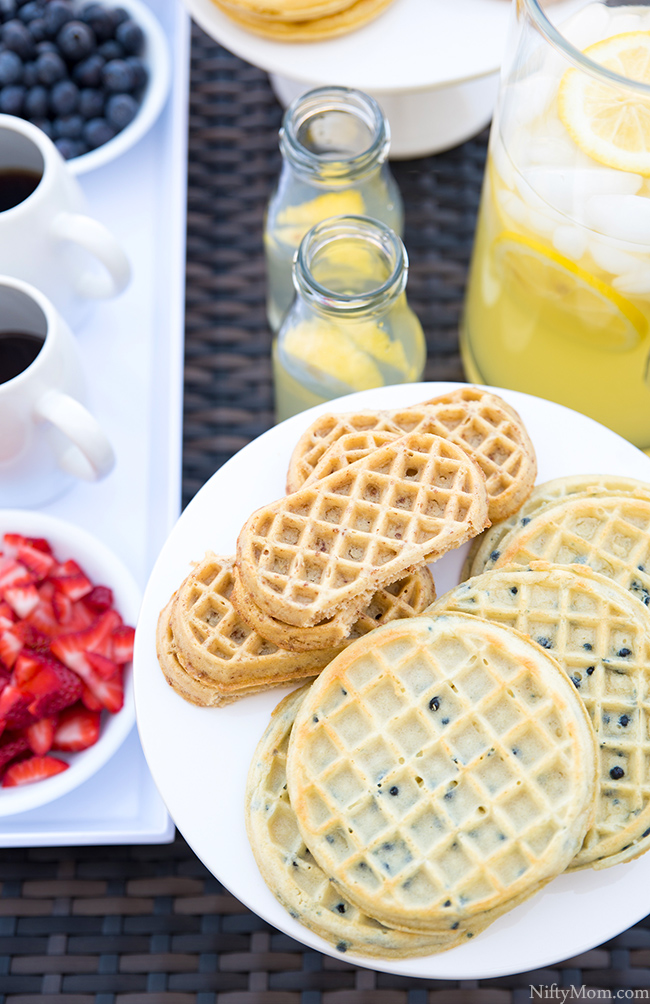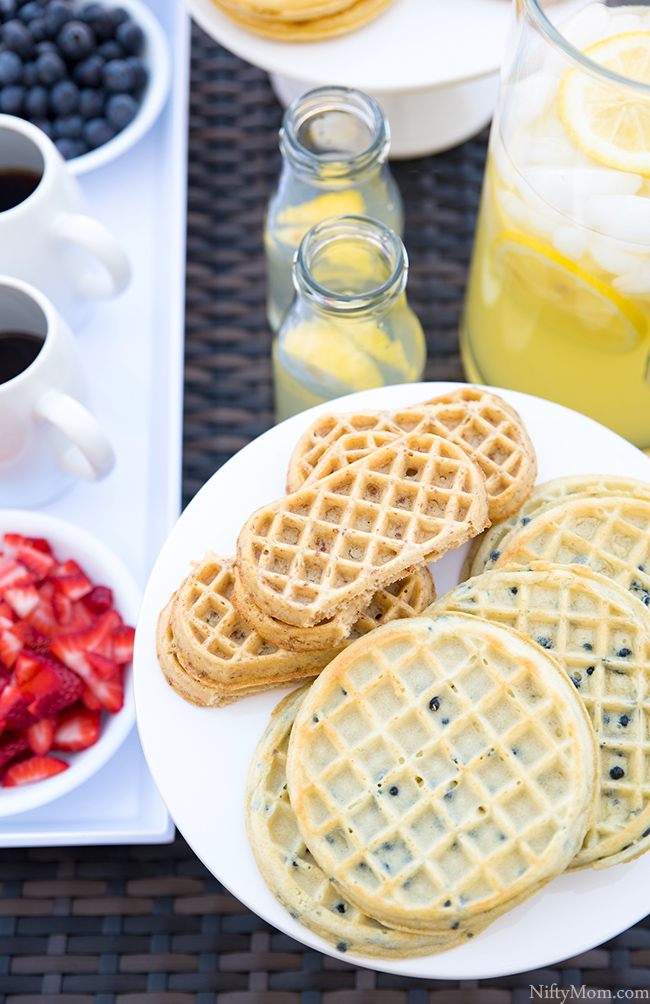 The waffles can go on a serving tray or I like to use cake stands. This allows everyone to easily see what is available and easily make a selection.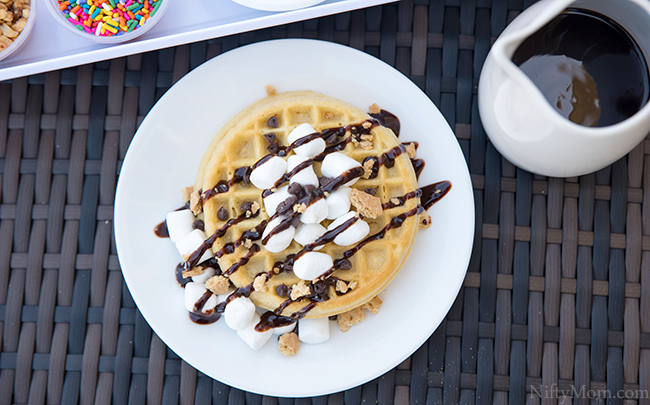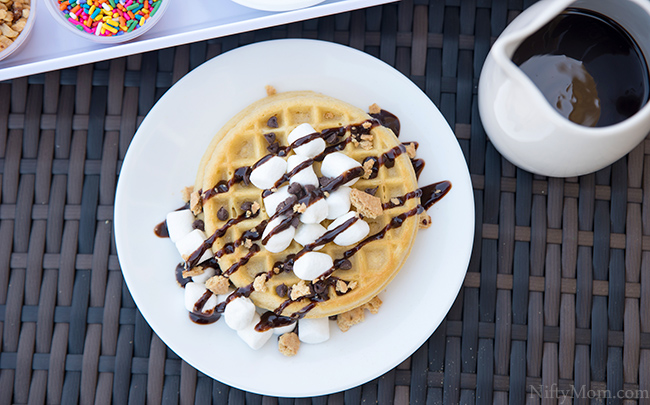 Some waffle snack ideas – Of course, I have some of my own favorite topping choices that make great waffle snacks. Here are 3 ideas for inspiration.
S'mores Waffle Stack

2 Eggo Homestyle Waffles (or 2 Eggo Chocolatey Chip Waffles)
Chocolate Syrup
Mini Chocolate Chips
Mini Marshmallows
Crushed Graham Crackers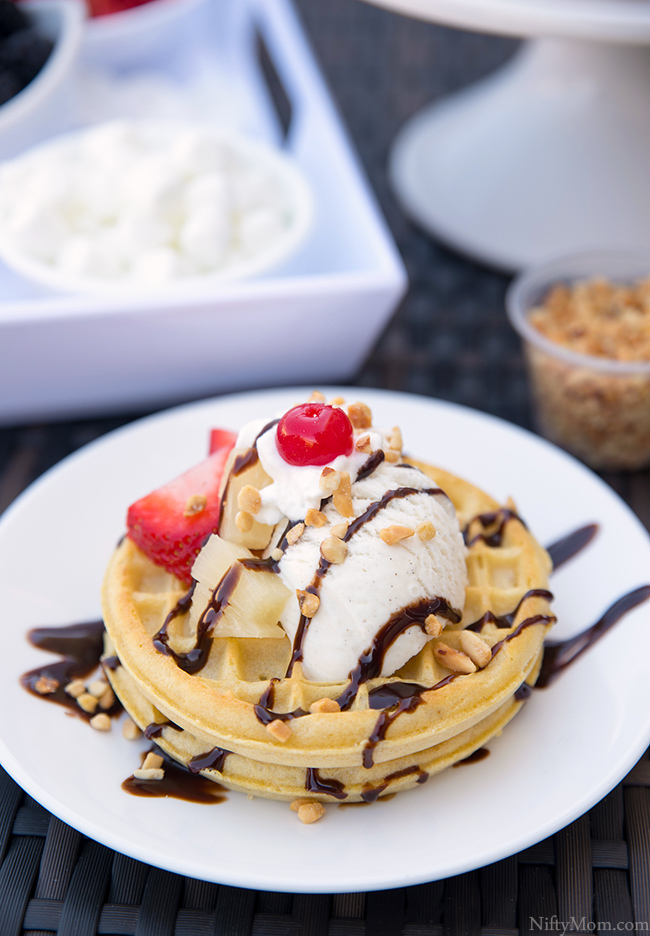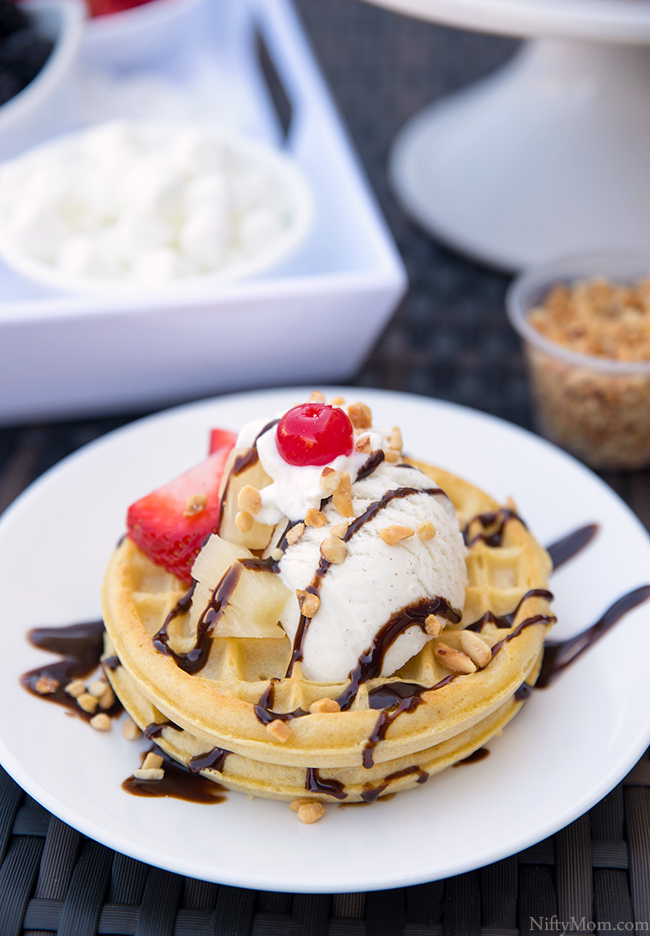 Banana Split Waffle Stack

2 Eggo Homestyle Waffles
Chopped Pineapple
Chopped Strawberries
Banana Slices
Cherry
Chopped nuts
Scoop of Ice Cream
Whipped Cream
Chocolate Syrup
Very Berry Waffle Stack

2 Eggo Blueberry Waffles (or 2 Eggo Strawberry Waffles)
Blueberries
Strawberries
Raspberries
Blackberries
Whipped Cream
Syrup (any variety works great)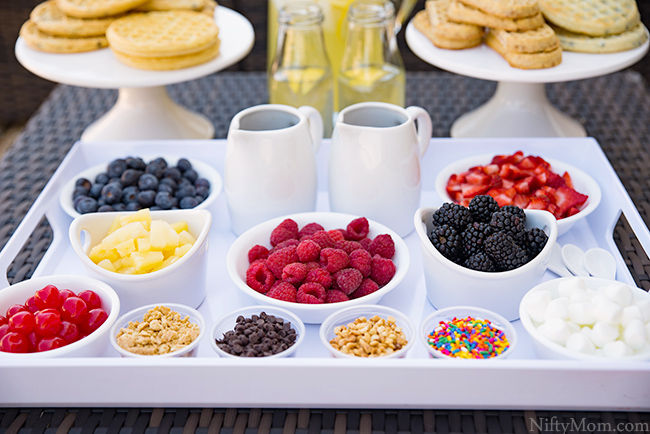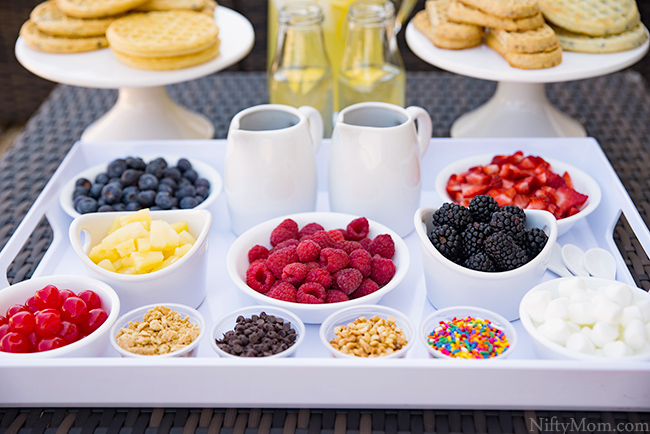 An outdoor waffle bar during a fun spring afternoon can be easy to setup. With a large variety of waffles and toppings, the taste combinations are endless.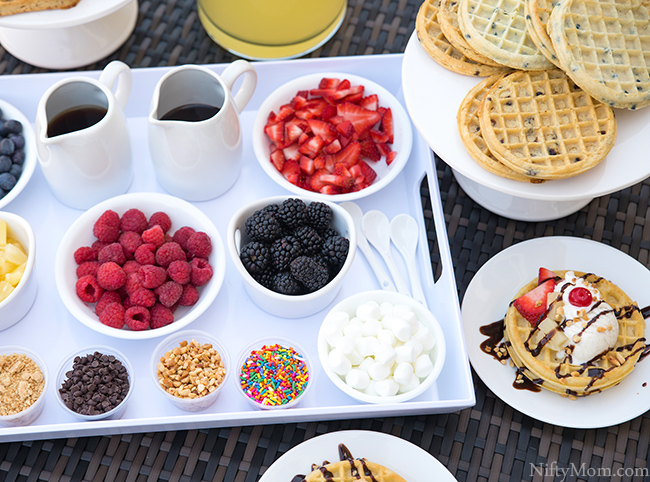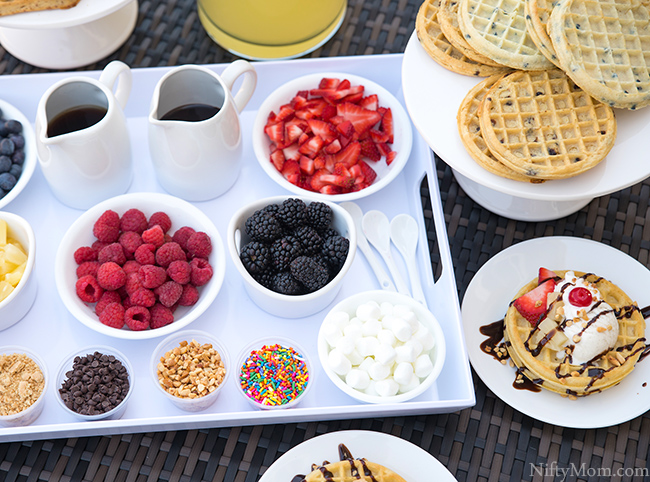 Get more waffle inspiration here!
What is your favorite variety of waffles?