This is a sponsored post written by me on behalf of Spin Master PAW Productions Inc. All opinions are entirely my own. #SnackPatrol #CollectiveBias #ad
I have found the best way to get my kids to eat healthy snacks is to put it out right in front of them. An easy snack platter just for the kids is a great choice for afterschool snacks. Bonus points for making fun themed ones like these paw print snacks!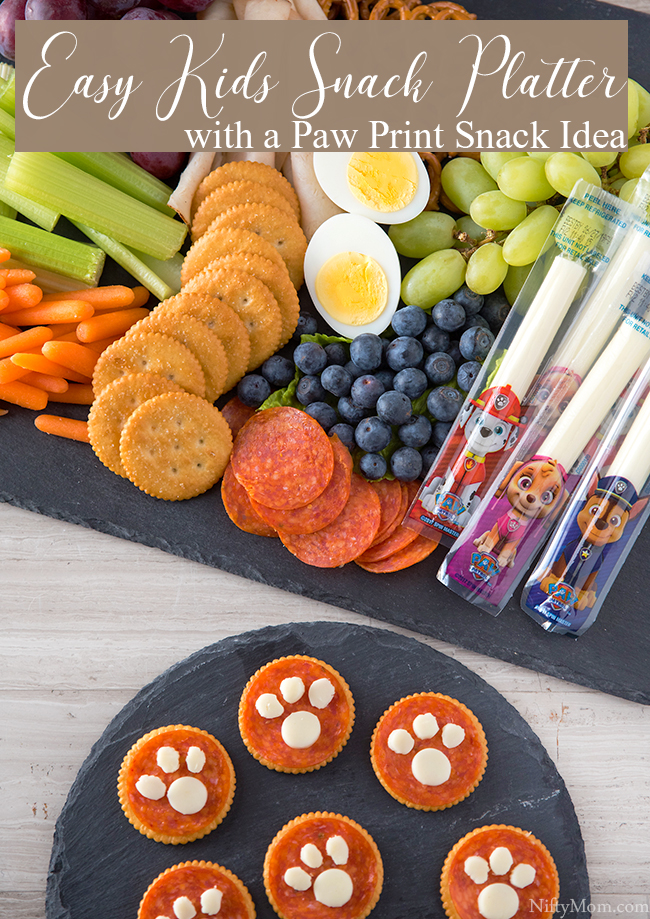 With three growing little boys, I am sure you can just imagine how often I hear the phrase, 'I'm hungry'. It's basically from the minute I pick them up from school followed by similar phrases in five-minute intervals all the way until dinnertime. Non-stop hunger these kids. 
They start opening the pantry, digging through the refrigerator and asking for all sorts of treats and nonsense.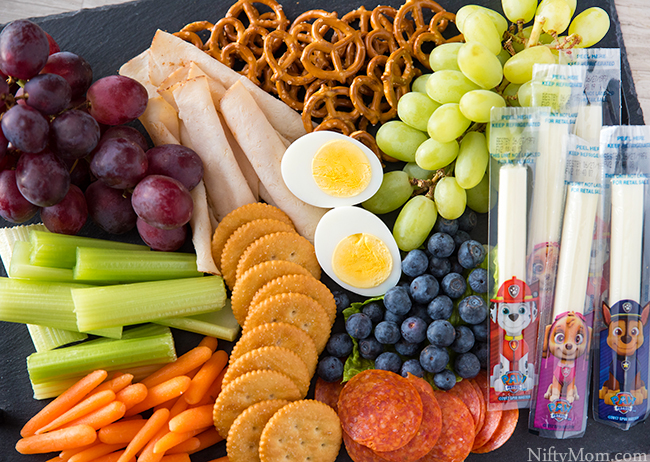 In order to eliminate the questions over and over again, I have found it works best to put out a snack platter on our kitchen island. It is filled with acceptable afterschool snacks and they can pick something from there and stop asking for other treats.
Foods to fill up a simple kids snack platter:
Deli Meat
Hard-Boiled Eggs
Fruits
Raw Vegetables
Pretzels
Crackers
Mozzarella String Cheese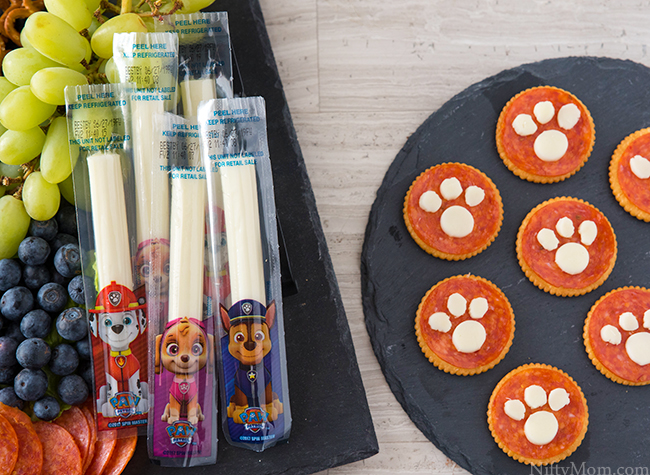 Another fun way to get them to enjoy wholesome snacks is with fun themed foods. I was inspired by the PAW Patrol™ String Cheese for a fun new snack for the boys. While PAW Patrol String Cheese is a great snack on its own and great for on-the-go, I used them to make some paw print cracker snacks.
Easy Paw Print Snack Idea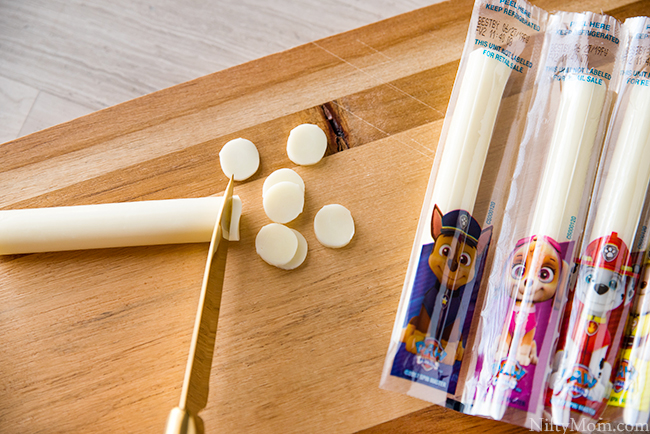 To make the paw print in the crackers, thinly slice a PAW Patrol String Cheese stick.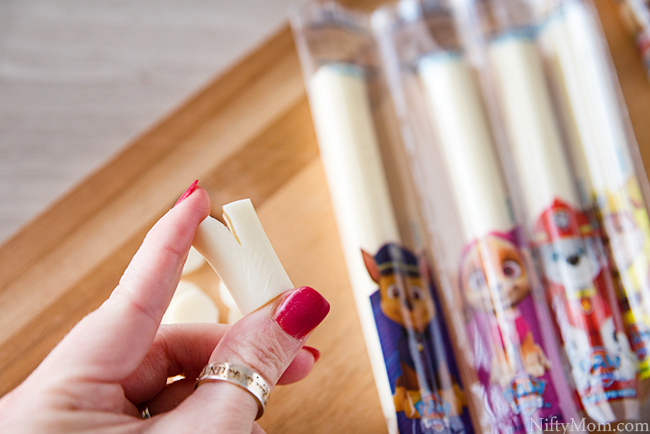 For the smaller pieces of the print, cut one in half longways and slice thinly. Next, pull the string cheese off on the sides until you have a smaller round shape. While it sounds hard, it gets easier as you go and the cheese is easy to mold when needed.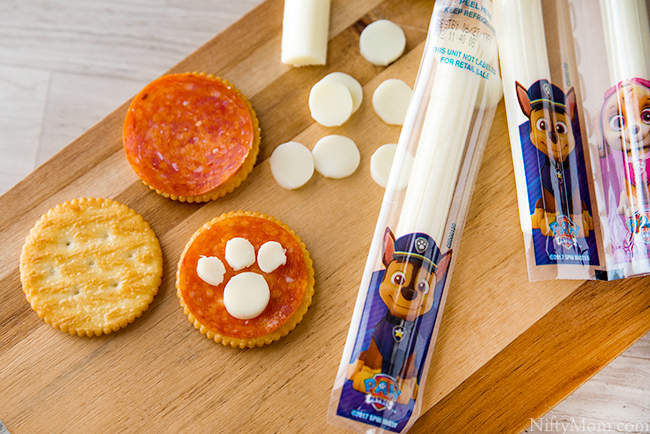 Stack a pepperoni on a cracker and then place the cheese pieces to look like a paw print. The kids are sure to love the paw print bites!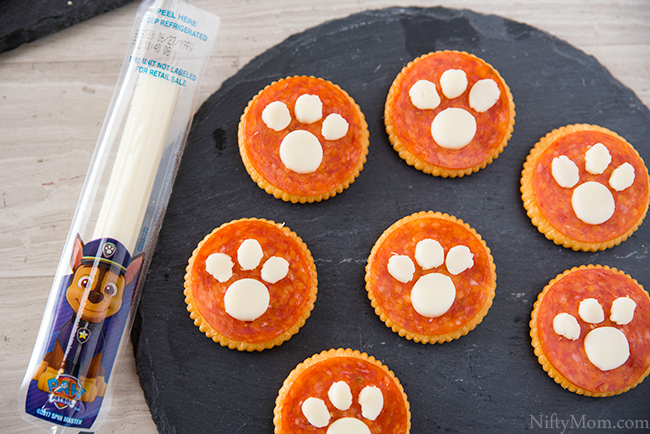 PAW Patrol String Cheese is one of our preferred snacks with 6 grams of protein, 0 grams of sugar, made with milk, and is a good source of calcium. We snack on them when we are on the go, with lunch or any other time a little healthy snack is desired.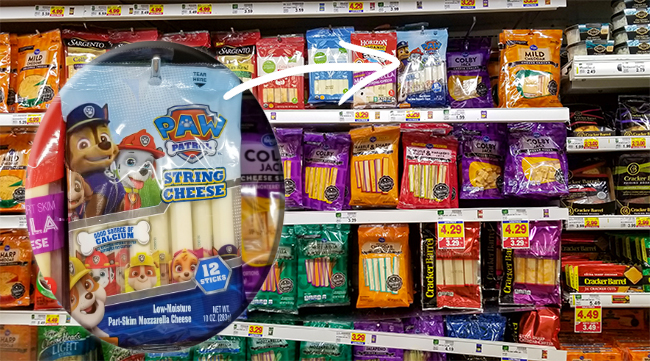 Get PAW Patrol String Cheese the next time you are at your local Kroger store.