This shop has been compensated by Collective Bias, Inc. and its advertiser. All opinions are mine alone. #JoinTheFizztivities #CollectiveBias
This holiday hostess gift basket is a great idea when attending any gatherings over the next few weeks. In the basket, I included festive DIY wood coasters inspired by limited edition Coca-Cola holiday products.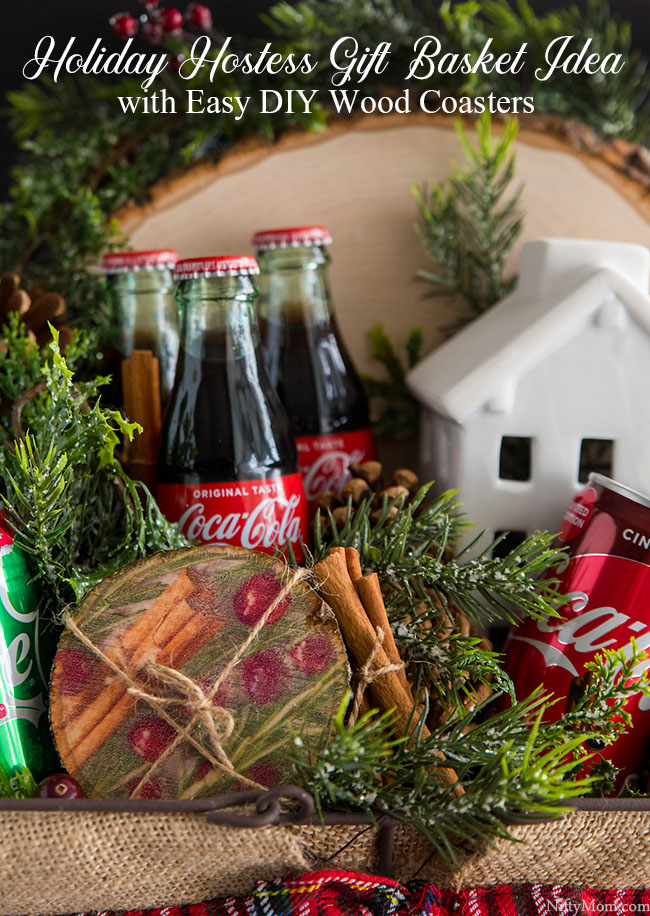 The holiday season is here, and that means a lot of dinner parties and gatherings that we not only host but also attend. With potential last-minute get-togethers or that forgotten gathering, not only do I make sure my kitchen is stocked, but I also keep hostess gifts on hand.
Right now is the perfect time to start making homemade gifts because we aren't in the heart of the hectic month of December, and all the holiday products are already on the shelves.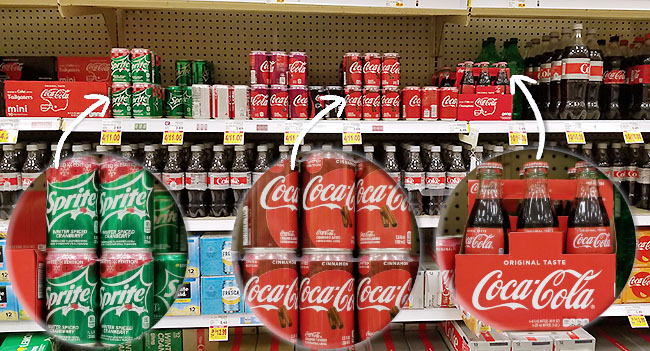 When I was at Kroger over the weekend, I couldn't help but notice some Limited Edition products. Coca-Cola Cinnamon and Sprite Winter Spiced Cranberry. Just looking at the 7.5oz mini cans, I knew they would be a festive addition to gift baskets. I also grabbed the classic Coca-Cola 8oz 6pk glass bottles to go with them.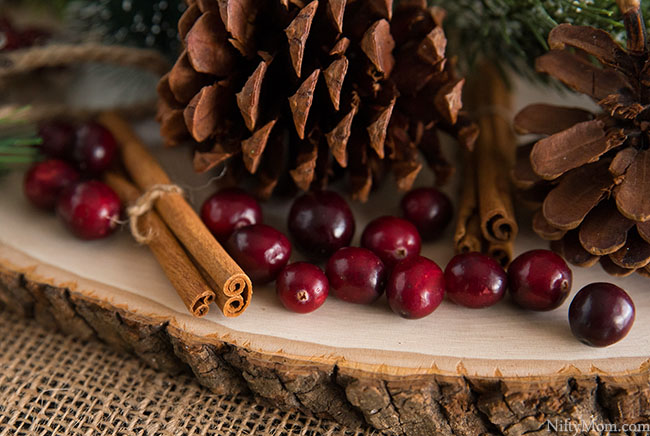 The winter holiday flavor profiles were on my mind all weekend after that. The wheels were spinning as I was thinking about what kind of things I could make with cranberries and cinnamon. While a lot of recipes came to mind, a rustic holiday DIY project was just what I needed.
Being inspired by the winter holidays, I decided to make some wood coasters. I can use some for hosting parties and some as gifts to spread the holiday cheer. While I often use my electric craft cutter and design program to make coasters, I thought this time I would show you guys how to make photo coasters without such technology.
How to Transfer Images onto Wood Coasters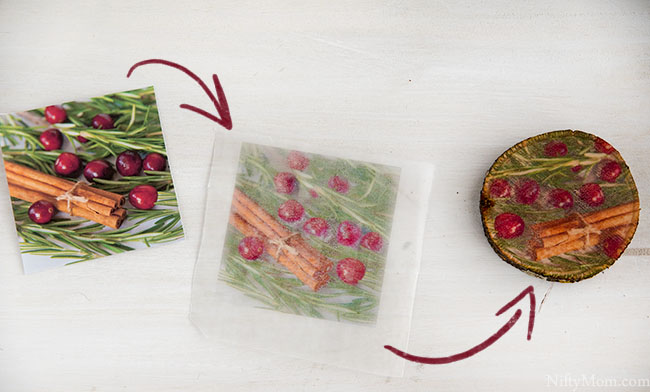 Supplies:
Wood coasters (circle or square, about 3″ wide)
Digital image, at least 3″x3″ (the one I used is here)
Wax paper
Scissors
Tape
Inkjet printer
Credit or rewards card
Decoupage medium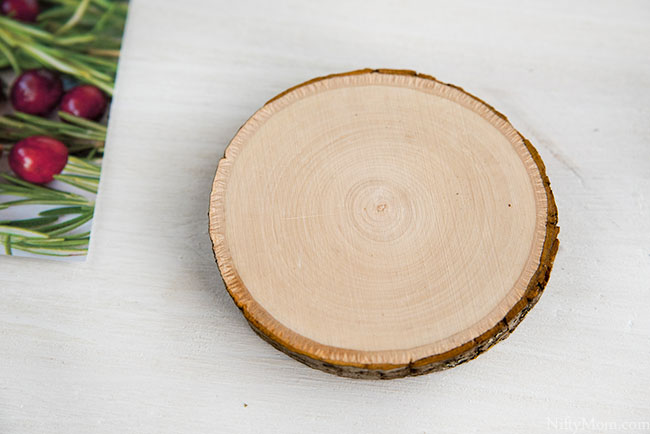 I had some 3″ wood coasters in my craft room. They are thicker, and you can see the bark on the side, which nicely matches the rustic theme.
For the image, I created a winter spice setting and got some pictures. You can use other images for your coasters, but if you want to make these, this is the one to print. Note that if you use your image, when you transfer it to the wood, the image will be flipped, as you can see on mine in the image below.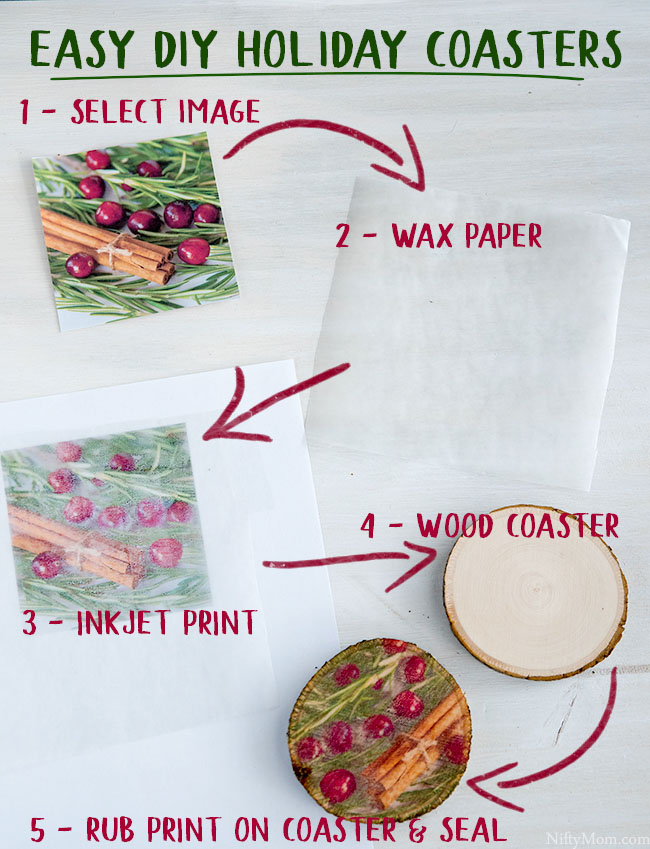 On a piece of plain copy paper, tape wax paper where the image will print. If you are using mine, cut the wax paper to an approximate 6″ square and tape it about 1″ from the top of the paper, like in the image above. Only tape the sides down. With tape on the top, I experience ink smears.
Print the image using an inkjet printer. Once it prints, be very careful not to touch the printed ink. It will smear on the wax paper.
Cut around the printed image on the wax paper, so it detaches from the copy paper.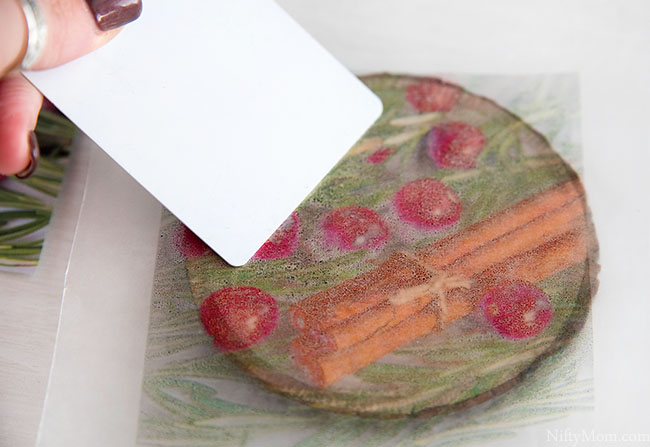 Carefully place the printed wax paper, print side down onto the wood. Do not move it once it is touching it. Use a credit or rewards card to press down all over the image. This will transfer the ink from the wax paper to the wood.
I spent a good 1-2 minutes rubbing each print with a card and then my fingertips. You can lift parts of the wax paper to check the ink transfer and see which spots need more rubbing.
Gently lift the wax paper right up. When you do this, the image will not be very bright or vibrant. Brush a thick layer of a decoupage medium over the transferred ink to seal.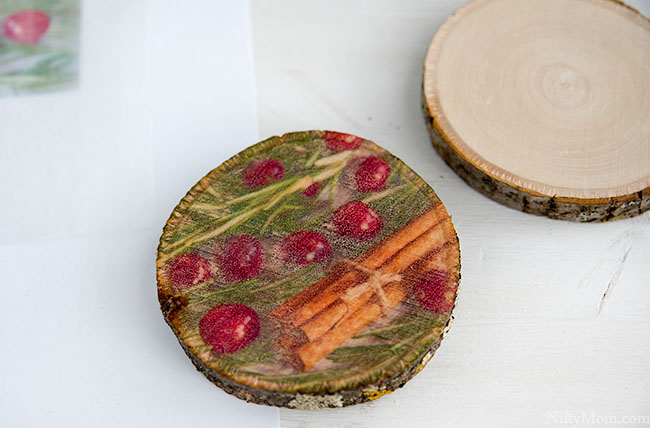 Let it dry before stacking or using. Remember, it doesn't have to be perfect. There may be smears, spots that didn't transfer, etc. That makes it more rustic and unique looking.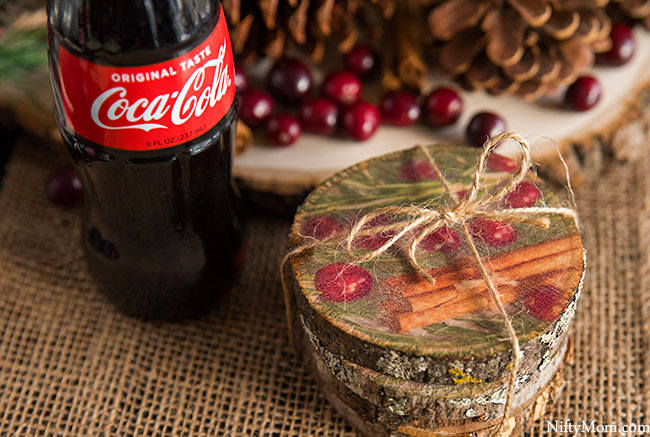 To gift the coasters, you can easily stack and tie them together with some twine.
Holiday Hostess Gift Basket Idea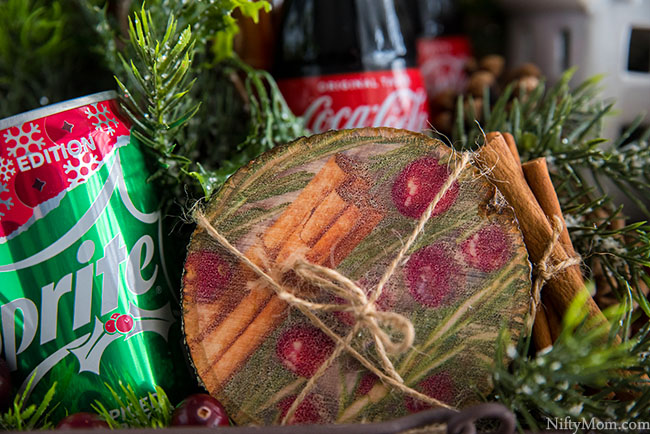 For the holiday hostess gift basket, I wanted this one to reflect holiday moments and create inspiration for a table setting and encourage time with loved ones.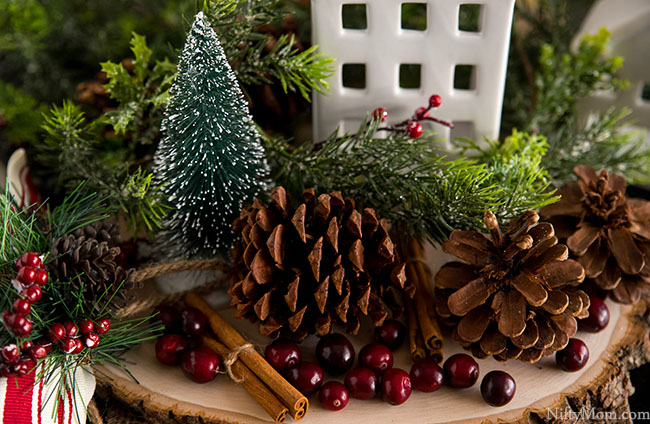 In addition to the coasters, add items that can come together for a table centerpiece or decor setting.
Pinecones
Cranberries
Cinnamon sticks
Mini tree decorations
Greenery holiday garland
Bells
Burlap
Large wood slice that matches the coasters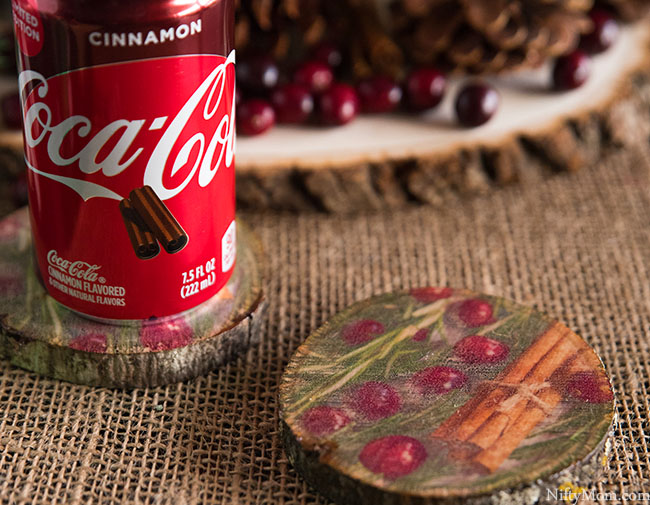 Be sure to add in a few cans/bottles of Coca-Cola, the #1 brand of the holidays.
Think something new and something classic. So with Coca-Cola Cinnamon, we have a classic flavor in a new product.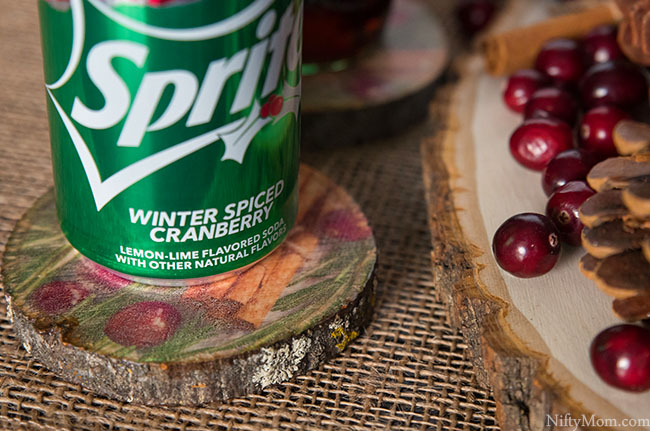 Same with the new limited-edition Sprite Winter Spiced Cranberry. It puts a new twist on a favorite with the addition of warm spice notes that delivers the essence of the holidays. That is what inspired my coasters and the gift basket as a whole.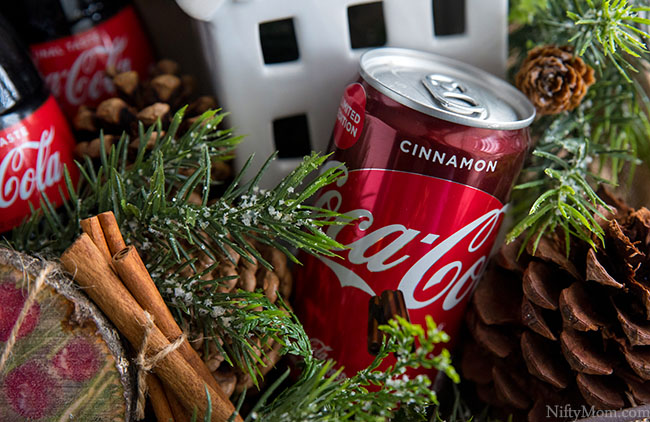 My hope is when I give this gift basket to a loved one, they will take the time to create their magical moment.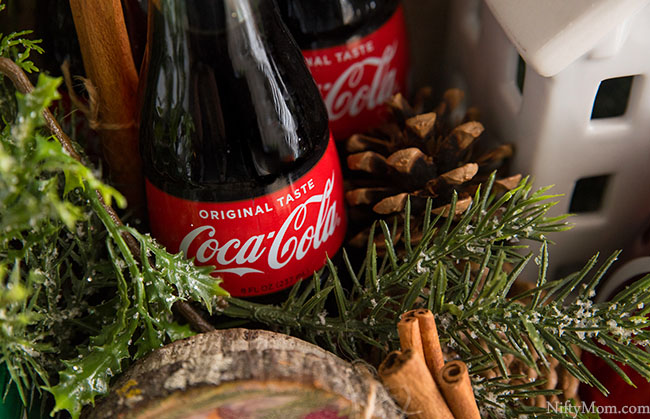 To create a holiday centerpiece, sit down and take a moment to enjoy one of these refreshments, which will set off the feeling of the holidays.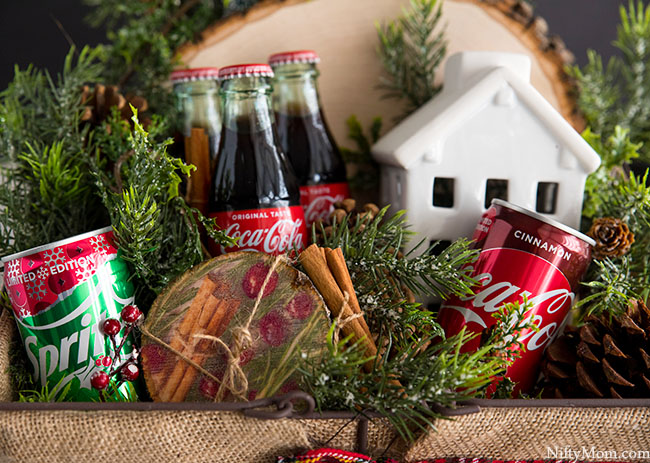 Want more inspiration? Visit the site here to get some new holiday ideas and recipes with Coca-Cola products.