Are you looking to visit St. Louis or planning a staycation? There is plenty to do in St. Louis! Huge thank you to Downtown STL, Inc., for hosting our Downtown St. Louis adventure and providing us with complimentary experiences. All thoughts and opinions are my own.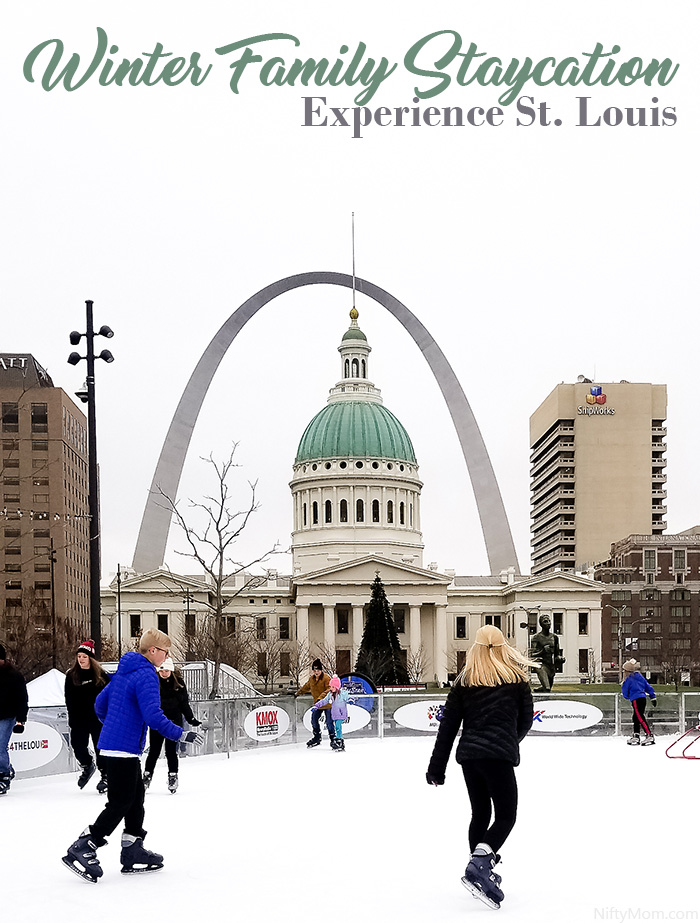 *For a more detailed visual into our STL Staycation, view my Instagram Story Highlight here.
Now that the holiday stress is behind us, can we all plan some relaxing fun with the family? It doesn't even have to be jam-packed and completely scheduled. Book a hotel room for a night or two, and wing it.
Doing it is definitely possible in Downtown St. Louis. There are endless things to do, places to see, and great food to eat. I have lived in the St. Louis area my entire life, and each visit to downtown is unique. While a day trip can be packed with fun, there's nothing more relaxing than an overnight stay.
Last month, we took a break from all the holiday stress and surprised the kids with a Downtown STL staycation. They love staying in hotels, and being close to home makes it less stressful for everyone.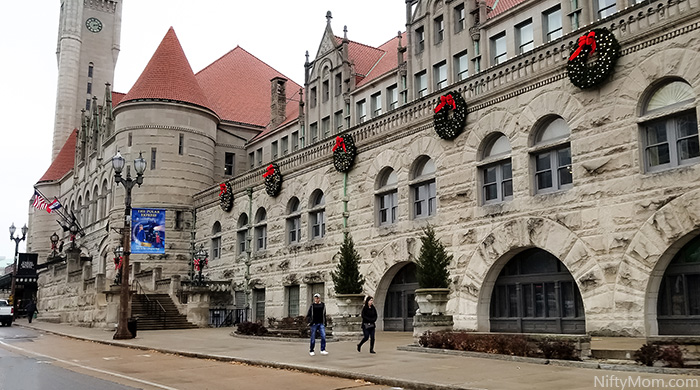 One of our top picks for a stay in Downtown STL is St. Louis Union Station Hotel – Curio Collection by Hilton. The hotel brings an elegant experience for everyone. It can make for a romantic getaway for couples or an exciting experience for families. Last month was our second time there, and it did not disappoint.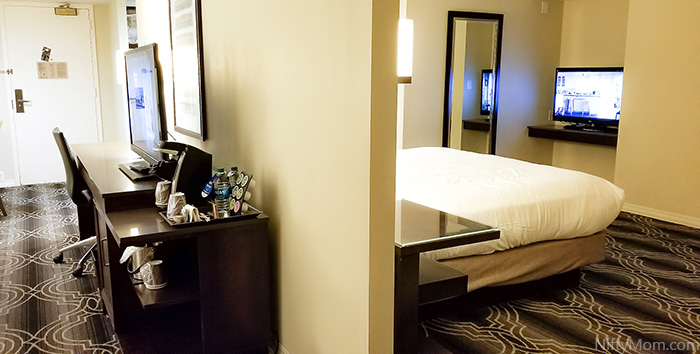 With a family of 5, we often find it challenging to from a hotel that can accommodate us. With the junior suite at the St. Louis Union Station Hotel, we can very comfortably relax and enjoy time together. There are a king bed and a large sitting/work area with a sofa bed, plus we had an adjoining room with two additional beds.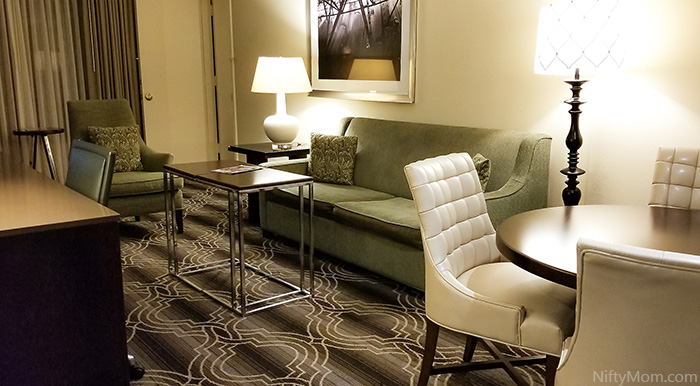 The first night there, after we settled in, we were able to kick back, get some delicious snacks from room service sent up, and watch a movie. Well, that was after taking in some sites of Downtown St. Louis at night.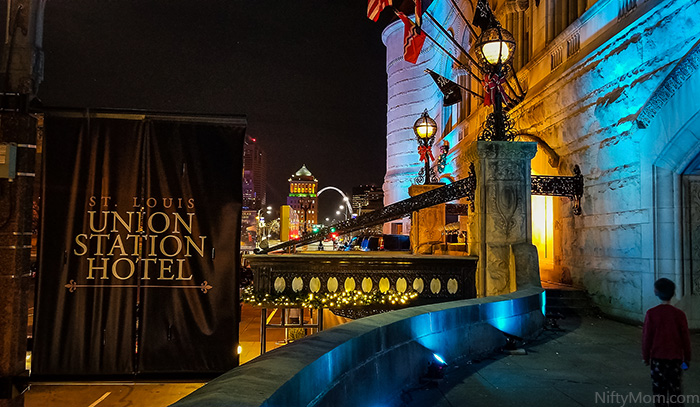 From the front of the Union Station Hotel, you can glance down Market Street and catch the view of the Gateway Arch. Then behind the hotel in Union Station, you can't miss the St. Louis Wheel.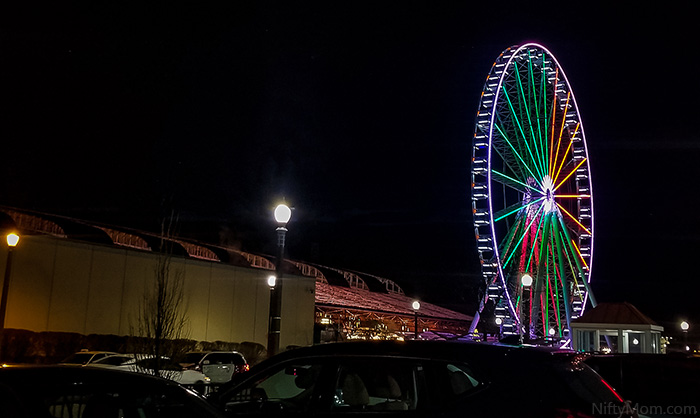 New this year, I couldn't wait to take the kids on it. We had plans to do it in the morning, but we had to catch the view of it all lit up at night.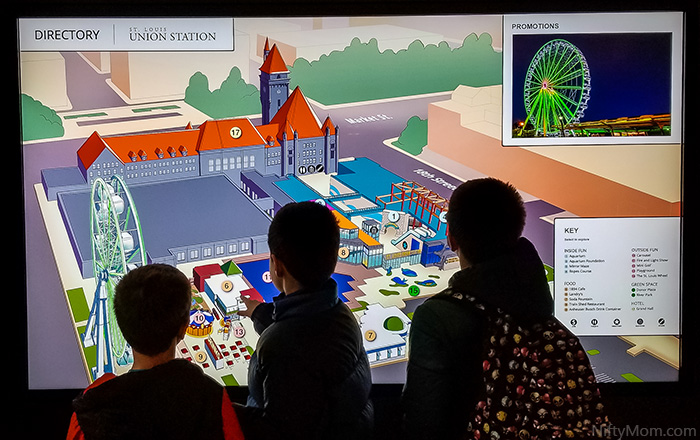 After enjoying breakfast at the hotel lounge, we packed our things and headed to Union Station. This year they have been working hard on remodeling the whole area. It has become an epic area for families with kids of all ages. In all honesty, we could have spent all day and even all weekend hanging out at Union Station. Our next visit might just be that with all the new attractions we still haven't seen.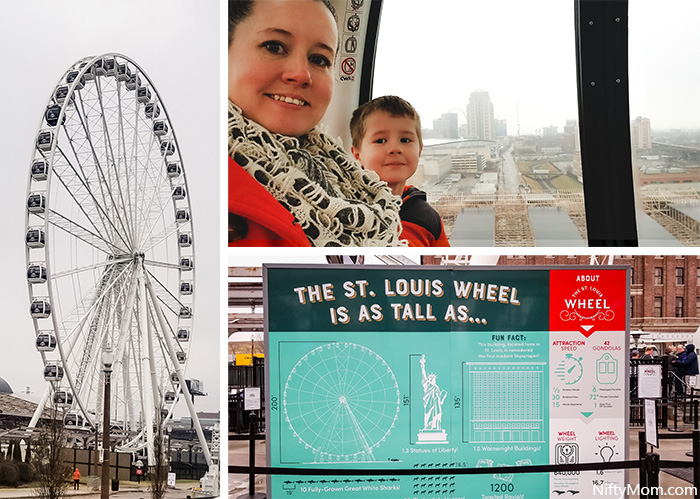 So what all can you do at St. Louis Union Station?
Get a great view of St. Louis from up in the St. Louis Wheel. The wheel is 200 feet tall, and each gondola holds six people. They are also enclosed and heated, perfect for the winter.
Challenge the family in a friendly game of mini-golf on the 18-hole course.
Learn about the 1904 World's Fair while getting lost in the A-Mazing-Ing Discoveries Mirror Maze. The kids wanted to do this one a second time because they had so much fun. While going through the maze, you find interactive experiences, so it is more than just navigating through mirrors.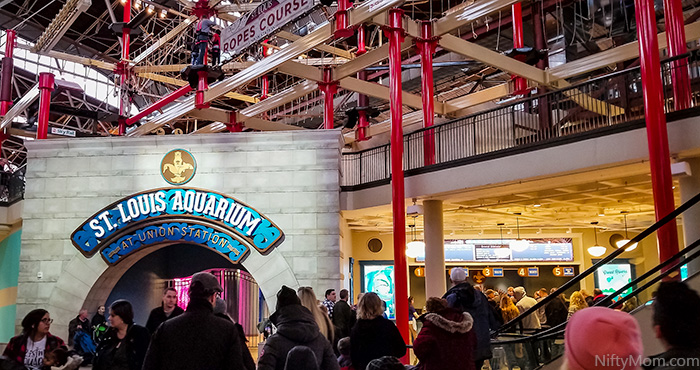 Spend 30 minutes three-stories up on the Ropes Course. With more than 90,000-cubic feet of climbing space and 30 obstacles, it is quite the experience.
With much anticipation, the St. Louis Aquarium opened on Christmas! While we were there, it wasn't open yet, but there was a long line of people buying tickets and season passes. I hope to bring you a closer look at it soon, once we get down there to visit it. I have only heard great things about it. Over 61,000 people visited it during the opening weekend.
There is also a fantastic Fire and Light Show outside at the lake at night. And if you are staying at the St. Louis Union Station Hotel, it is a must to catch the breathtaking Grand Hall Light Show with images and lights projected on the 65-foot ceiling of the Grand Hall lobby.
Don't worry; there is also plenty of places to grab a bite to eat. Landry's Seafood House, the new Train Shed, and the Soda Fountain, to name a few.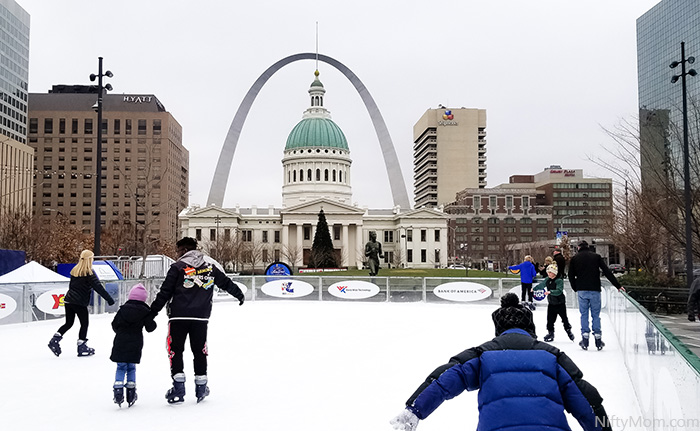 After exploring Union Station, we headed a few blocks over to Keiner Plaza for Winterfest. Open Fridays, Saturdays, and Sundays through January 26th, you can experience St. Louis views while ice skating. It was the boys' first time lacing up ice skates, and they were excited to get out there and try it. If you don't have ice skates, like us, you can rent them there. It is an experience like no other. For a winter activity, this is something that will become a family tradition.
After burning all that energy at the rink, it was time for some dinner. Just a few blocks away, we settled in at Baileys' Range.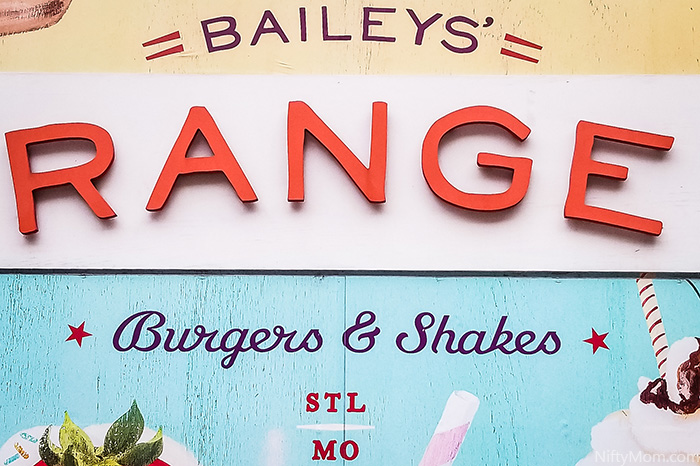 With specialty burgers made with 100% grass-fed, grain-finished American range beef and a long list of house-made ingredients, their food is exceptional and full of flavor. All of their buns and unique sauces are even made in house. Each week they have a Burger Battle with different burgers, so even frequent diners can experience something new.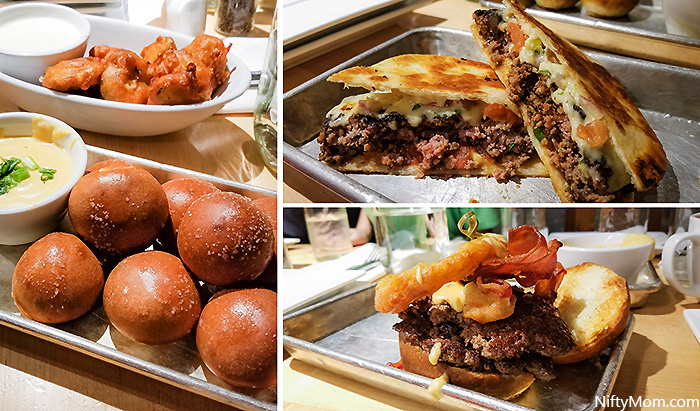 From the Warm Pretzels appetizer to La Catrina and Ballpark Pretzel burgers, the food is mouthwatering. There is also a kids' menu with burgers, chicken, and more. The kids loved their burgers and sandwiches and especially the lemonade.
Don't worry, fellow adults, there are also local beers on tap, boozy shakes & lemonade, and other delicious cocktails. I warmed up with a spiked hot chocolate, perfect for a winter visit after ice skating.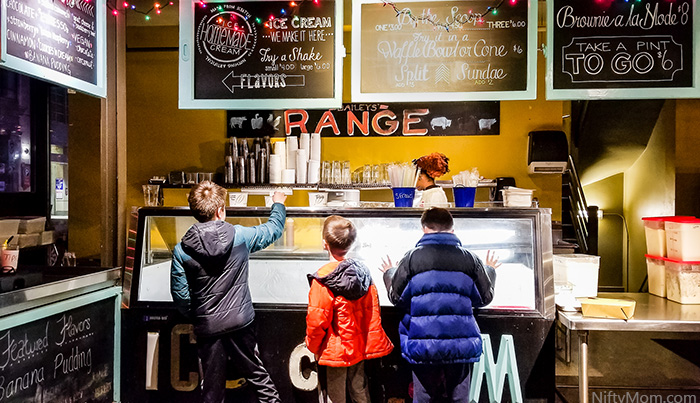 Don't let anyone tell you it is too cold for ice cream! After warming up, we couldn't pass up on homemade ice cream. There are no artificial ingredients, and they only use real sugar, never any corn syrup. A bowl for the road as just what we needed to finish out the night.
There are plenty of other things to do while visiting Downtown St. Louis. Some other ideas include:
A visit to the Gateway Arch. There are museum exhibits, tram rides to the top, and breathtaking views all around.
Enjoy a Riverboat Cruise on the Mississippi River.
Spend the day at the City Museum.
Check out the Citygarden on Market Street.
Visit the Old Courthouse.
There are various museums such as the National Blues Museum, International Photography Hall of Fame and Museum, St. Louis Cardinals Hall of Fame and Museum, Wax Museum of St. Louis, and many more.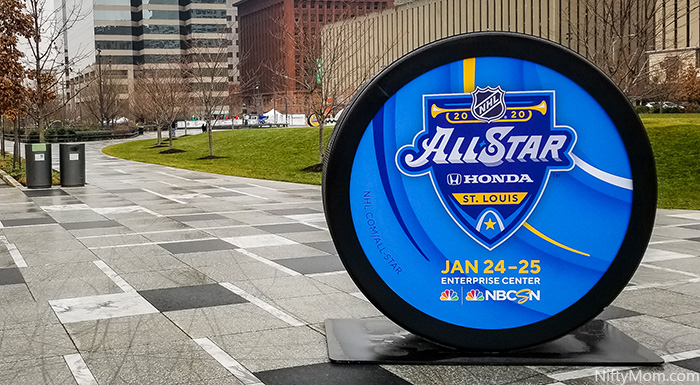 This year, St. Louis is hosting the NHL All-Star Game! There will be a lot of activities around Downtown St. Louis, January 24-25, 2020, for the game and festivities. Be on the lookout for a fun weekend if you are a hockey fan.
The list goes on and on. For more things to do in St. Louis and to plan your trip here, visit Downtown STL. Search around, check out the latest events, and get a visit on the books soon! It is a great family experience, the first time, the second time, and every visit after.
To stay up-to-date on the latest happenings, follow Downtown STL on Facebook, Twitter, and Instagram.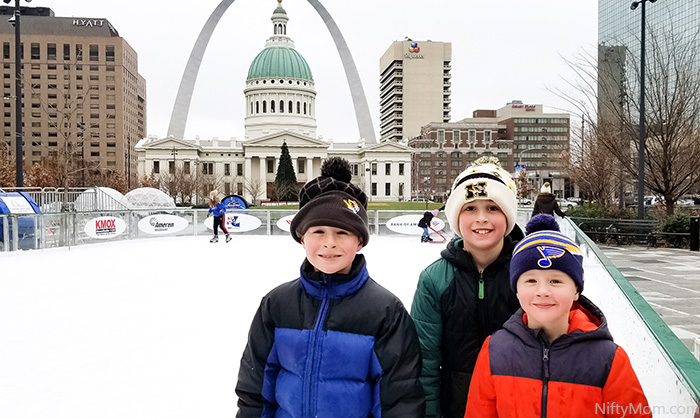 To see a more detailed look into our St. Louis Staycation, view my Instagram Story Highlight here.
Whether you need a full scheduled getaway or just want to see what adventure brings you, Downtown St. Louis will not disappoint.