If you are looking for something fun to do with the family, be sure to check out the St. Louis Riverfront Cruises. I was invited to experience The Riverboats at the Gateway Arch specialty cruise: PJs and Pancakes with Santa Claus and it was a hit with the kids.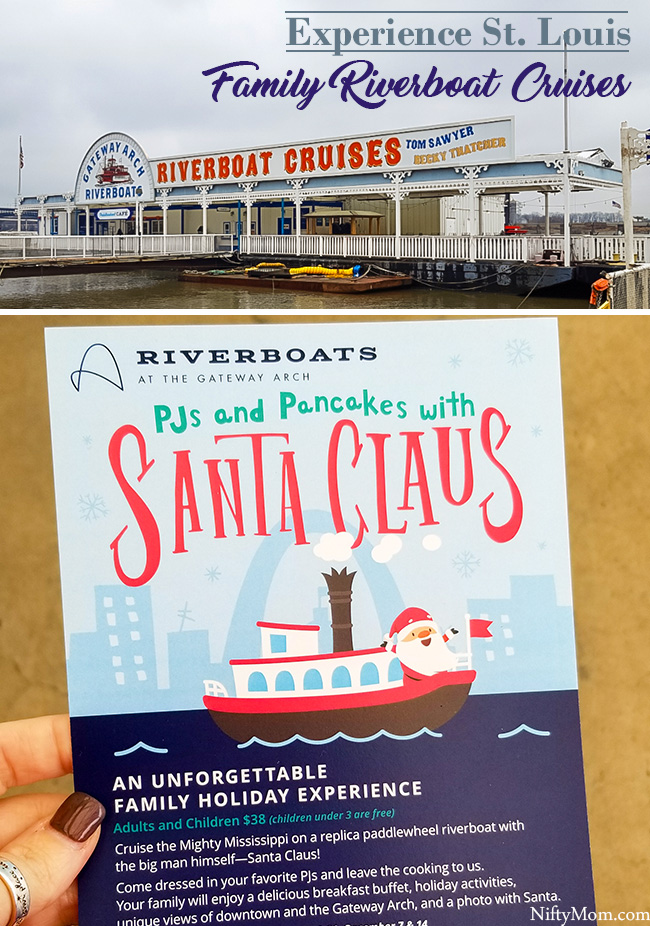 Downtown St. Louis is filled with all sorts of fun activities and events for adults and kids. This weekend we have planned a fun staycation with the kids, but a couple of weeks ago we headed down for a fun-filled Saturday.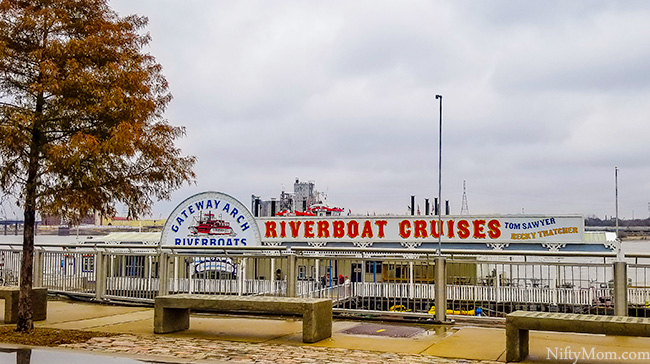 If you have driven down the riverfront in St. Louis, you have probably seen the replica paddlewheel riverboats docked or even cruising down the Mississippi River.
Last year, during a girls' day out, I had my first experience on the cruises. A friend and I went on the Riverboats at the Gateway Arch Sunday Brunch Cruise. During that cruise, we had a large breakfast buffet and kicked back to relax on the rooftop with mimosas in hand.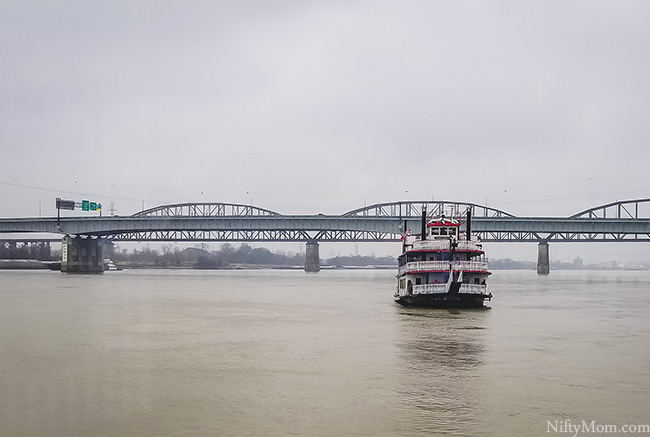 Ever since that cruise, I knew this year I wanted to take the kids on one. One with a little more activities for kids, though. When I saw they had a holiday breakfast cruise, I knew it would be a great addition to our holiday traditions.
The PJs and Pancakes Cruise with Santa was a total win. The 2-hour Saturday morning cruise was filled with activities to keep the kids engaged the whole time. I have to say, they were definitely engaged the whole time.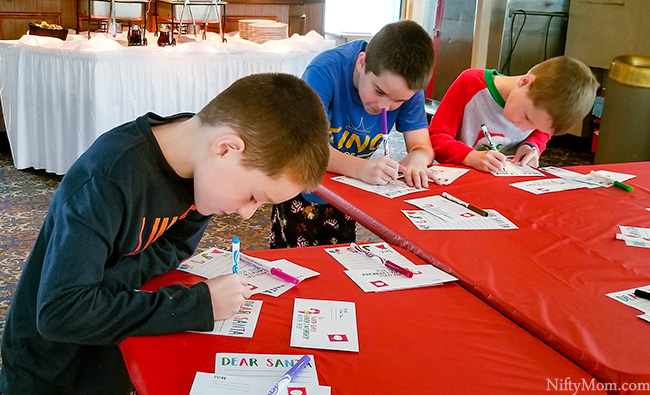 Right when we walked onto the three-level boat, I couldn't help but notice that it was completely decked out for the holidays. We were seated on the second level, and the kids immediately mapped out everything they wanted to do and in what order.
The breakfast buffet included scrambled eggs, pancakes, and sausage. There was also hot chocolate and water, included. They had a cash bar, so the parents can enjoy mimosas (well, at least that is what we did).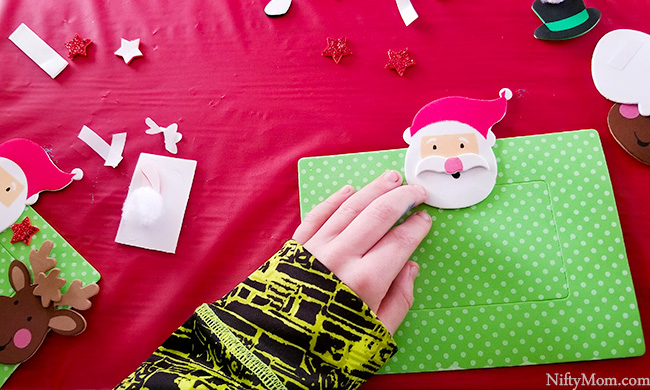 Once we filled our tummies, it was on to all the activities, which included:
Writing letters to Santa
Foam picture frame craft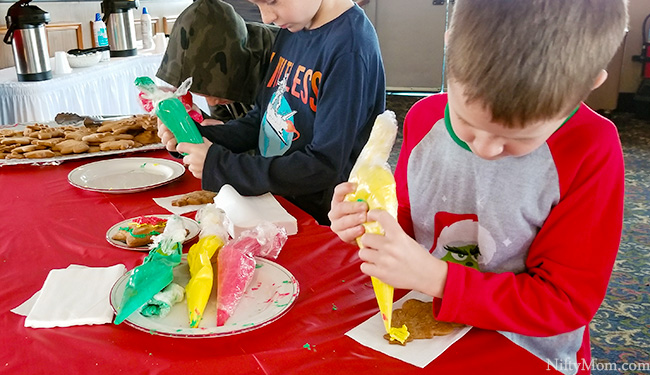 Cookie decorating
Face painting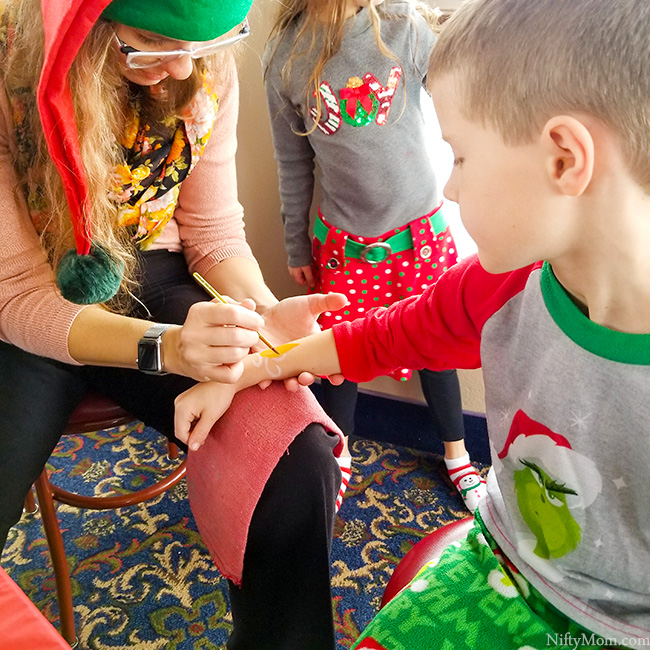 Some time to chat with Santa & getting our picture taken with him
Santa was great! Plus, you get a complimentary picture that they take and put into a souvenir folder frame. You can also purchase additional prints and pictures if desired.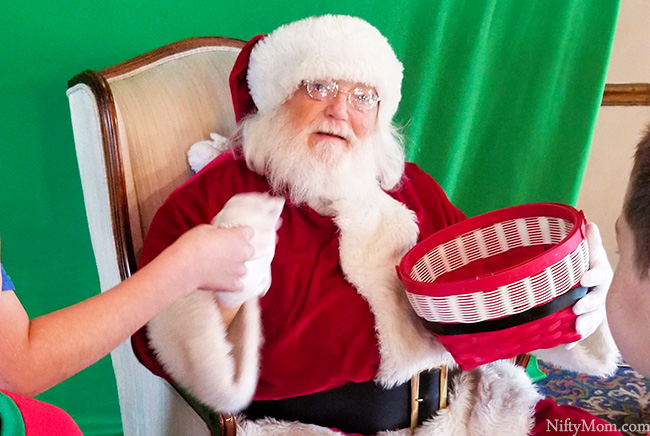 When there was a little downtime and in between activities, the kids went up to the rooftop level. The weather may have been gloomy, but we all still had a blast and they wanted to venture up there over and over again.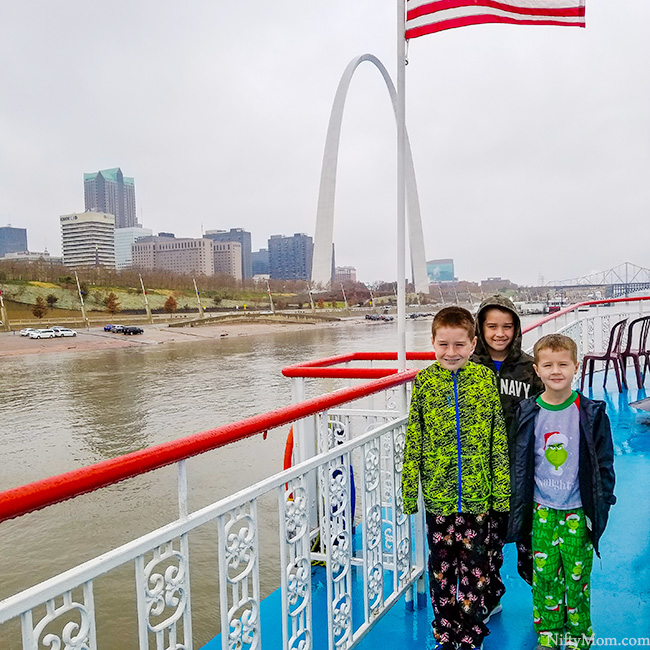 I think the boys went up there over 5 times throughout the cruise because they wanted to see the Arch then the different bridges we drive across when traveling.
The price of this specific cruise is $38 per person (kids 2 and under are free). It is definitely worth it with everything that is included and the memories are priceless.
The last PJs and Pancakes cruise is this Saturday, 12/14/19, so there is still time to get in on the fun.
If your kids are a little older, or if you want less of the activities on the cruise, they also have a holiday Jingle and Mingle dinner cruise through this Sunday and a New Years Eve cruise.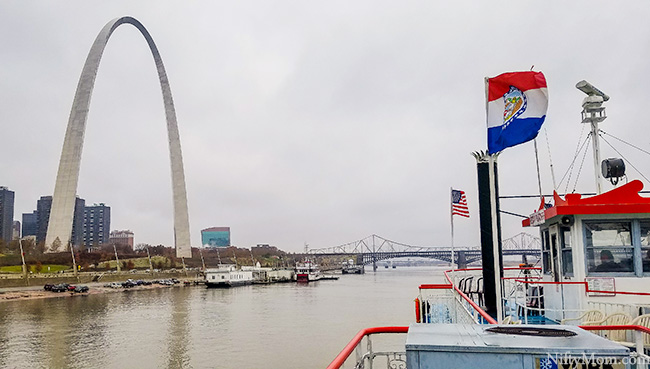 Be sure to check out all the different cruises available.
Still need a gift idea? A gift certificate for a cruise and Arch experience would also make a great gift this season.