We were provided with vouchers to use during our visit to Grant's Farm. All opinions are my own.

The summer is a great time to get out and explore family attractions around town. Last year we took our two oldest boys to Grant's Farm and they really enjoyed it. Last week seemed perfect to take all three of my little adventurers to see what kind of fun we could get into together. Caution: This post is slightly picture-heavy :)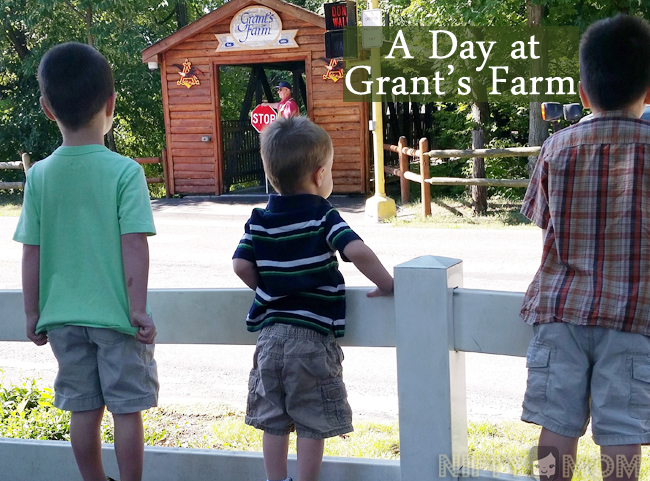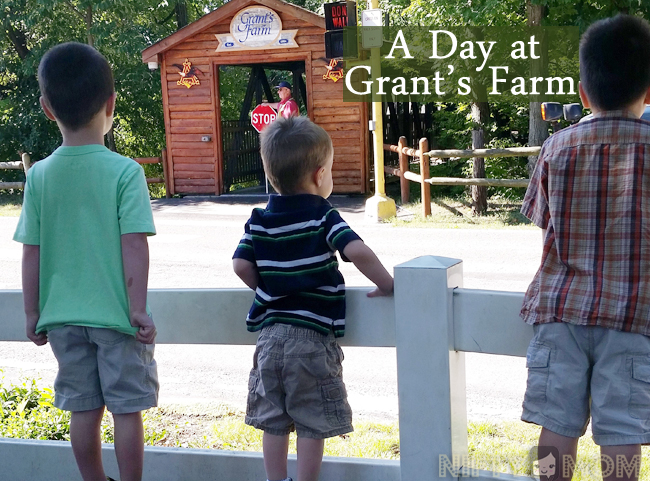 Grant's Farm is a great family attraction in St. Louis that is essentially free. It does cost $12 to park, then there are free attractions as well as some paid. If it is a nice day, especially on the weekend, there will likely be a line to enter the park. Visitors enter at Grand Station and take a tram ride through Deer Park.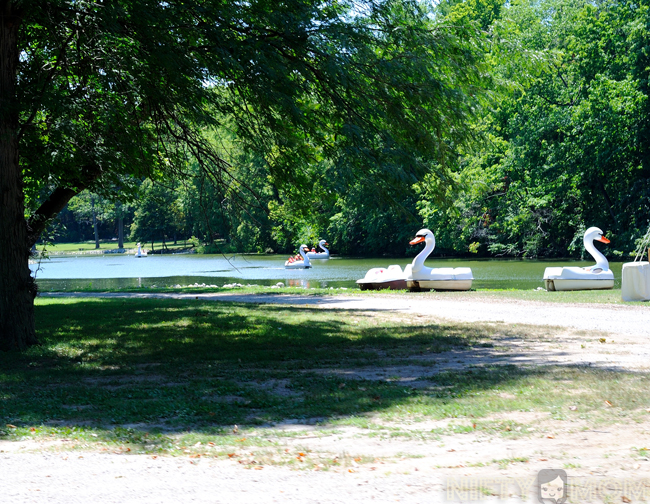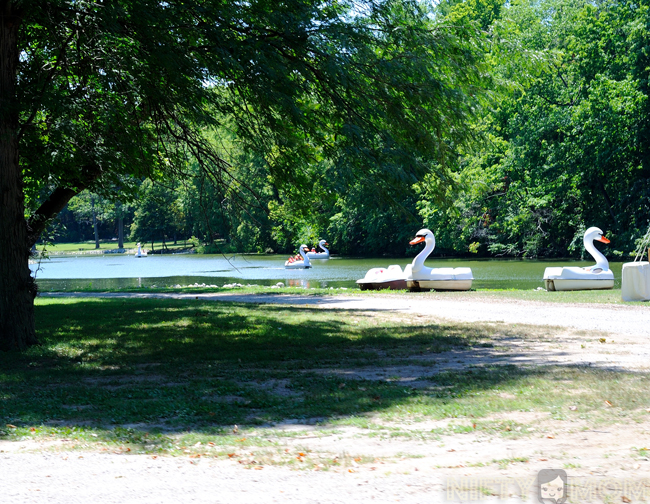 As we left the tram station, we saw the paddle boats. This is a new attraction this year and it looked extremely fun. The swan boats hold two people and it is only $7 for 30 minutes. This is definitely something we plan on doing next time.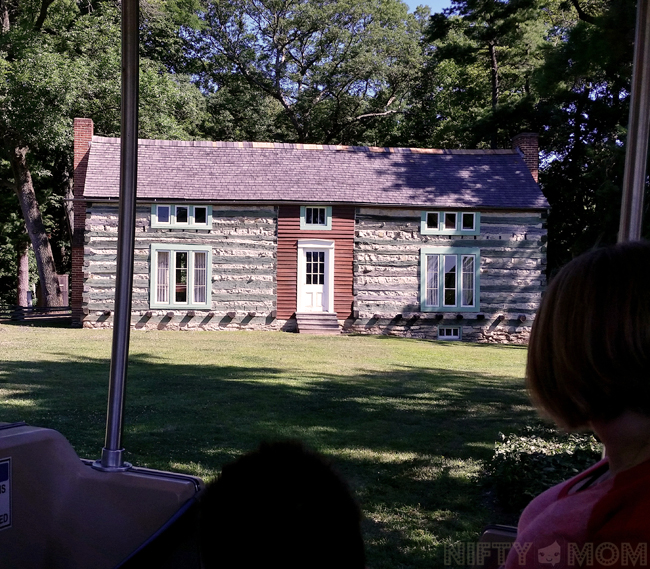 We drove byUlysses S. Grant's cabin and there was fun history shared about it and everything else we saw along the ride.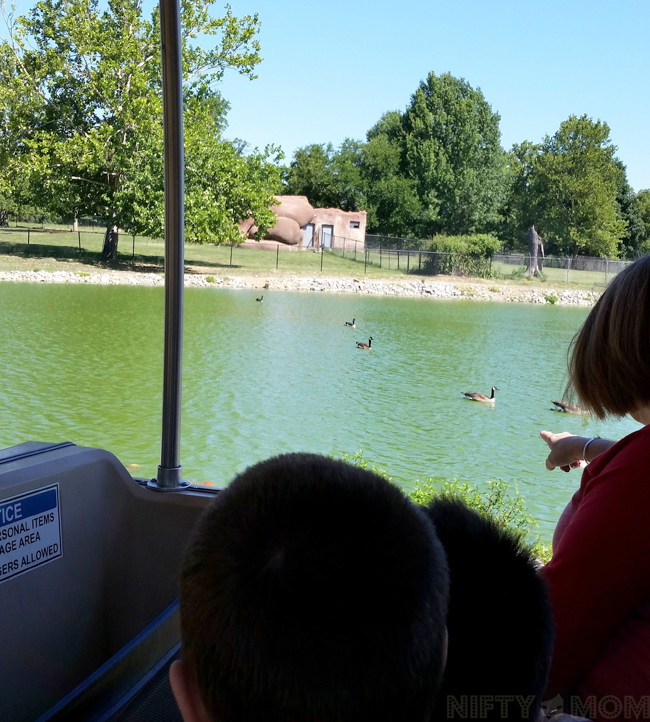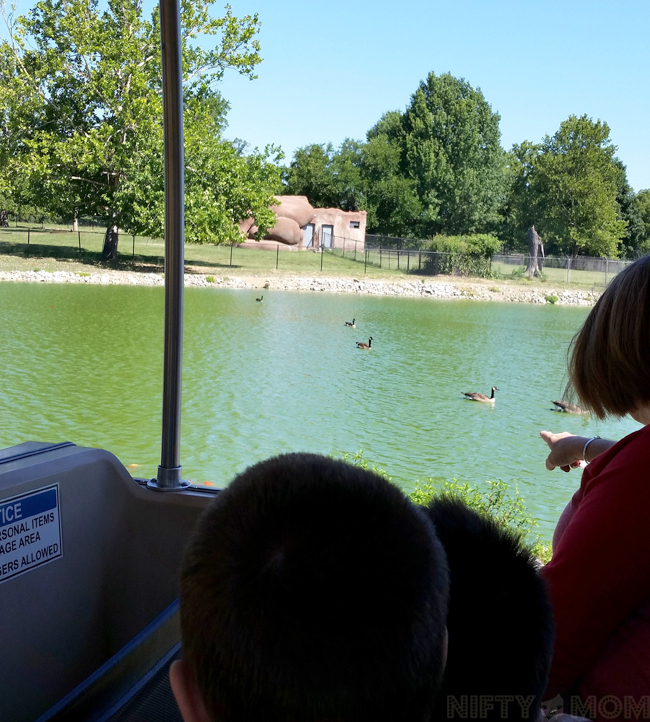 Deer Park includes a few lakes and wildlife from six of the seven continents. This includes Bison from North America , Black Buck Antelope from Europe, Red Deer from Asia and Europe, Zebra from Africa and many more.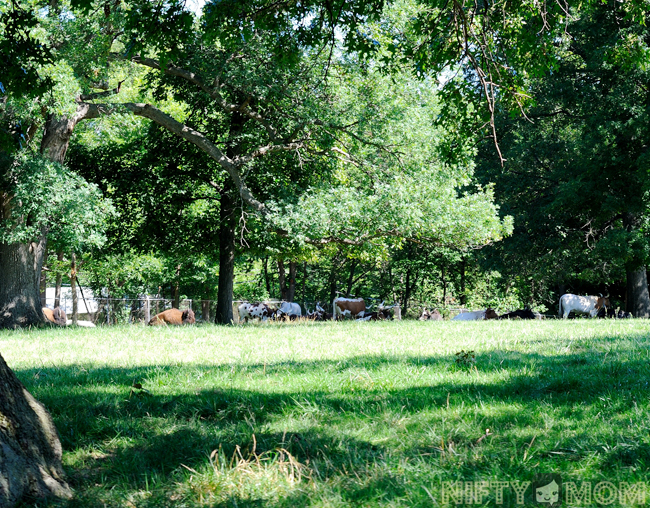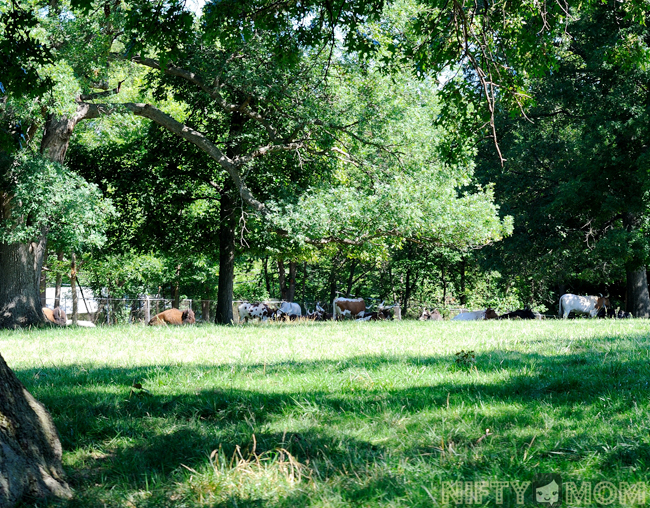 All the animals roam freely in the park and there are no gates blocking the tram path. This time most of the animals were relaxing in the shade, but last time we went, we were in arms-reach of them.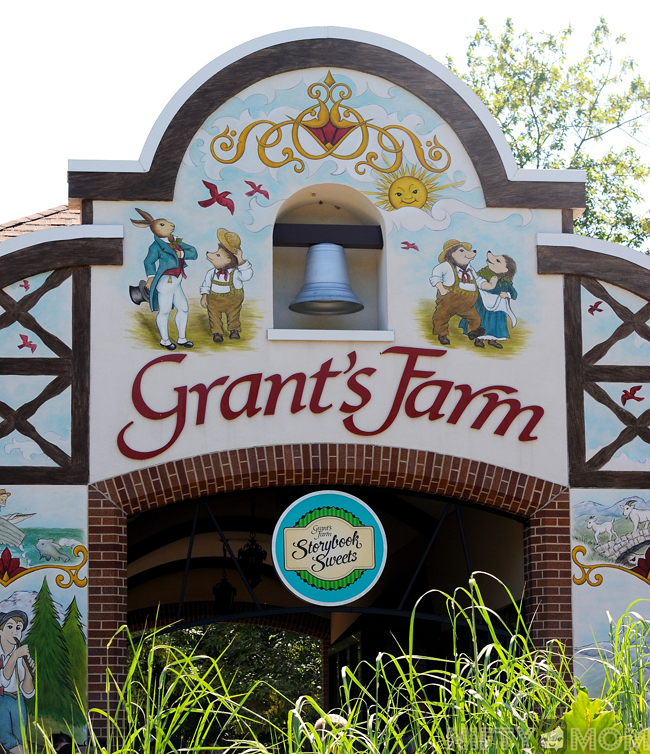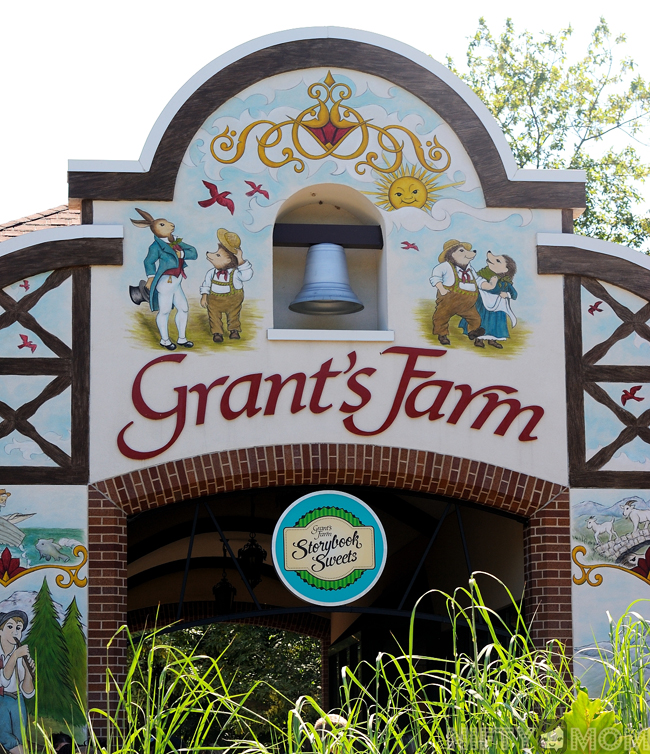 The tram ride ends at the entrance to the attractions.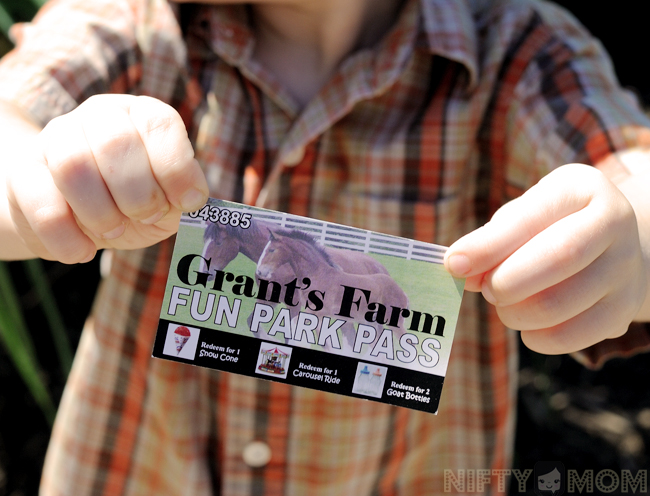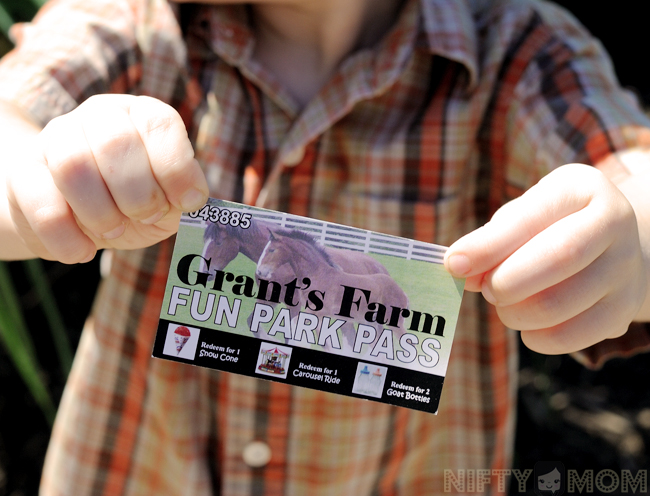 When I take the kids, it is a MUST to get them each a Grant's Farm Fun Park Pass. For $5, it includes a snow cone, carousel ride, and two bottles to feed the goats. That is a great deal for all the fun the kids have.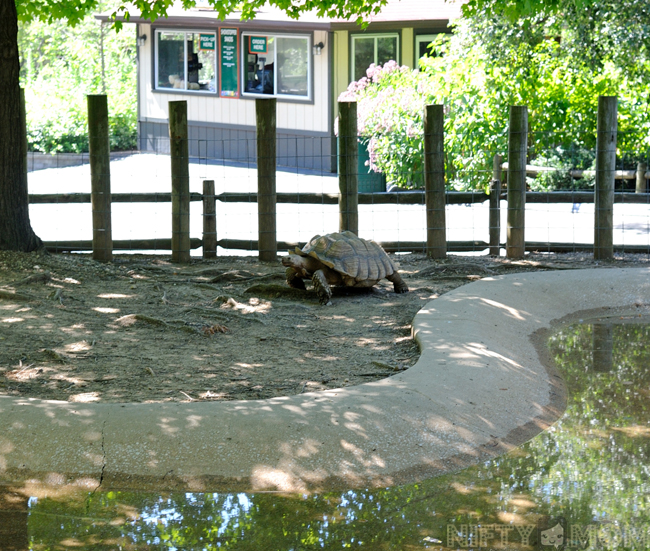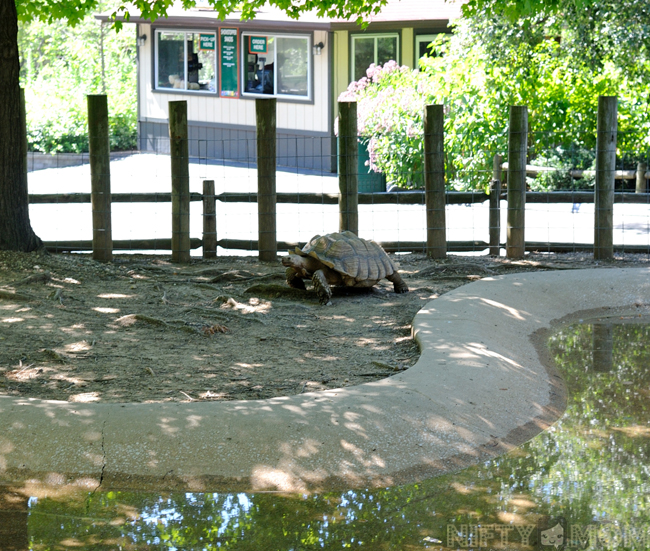 As we entered the park, we began to check out all the animals that were ready for visitors. There are many different animals throughout the whole farm.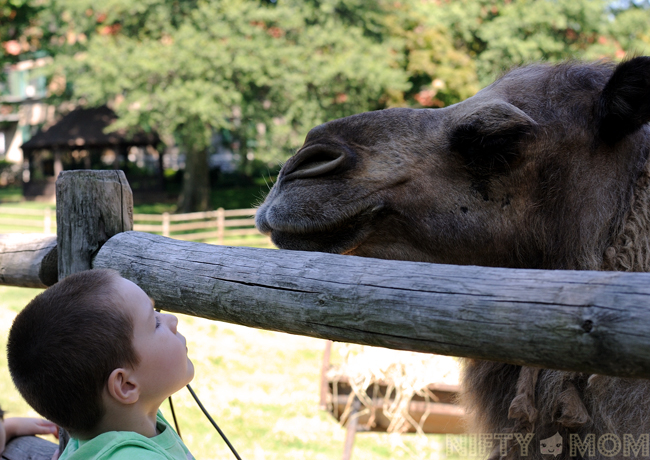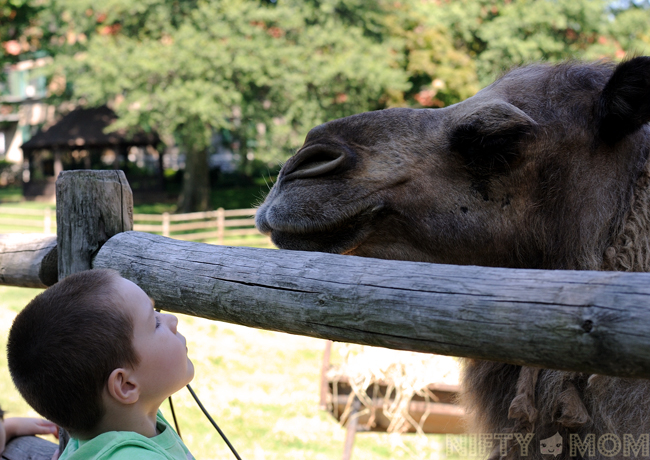 Many of the animals are within reach with a chance for the boys to get up close and even touch.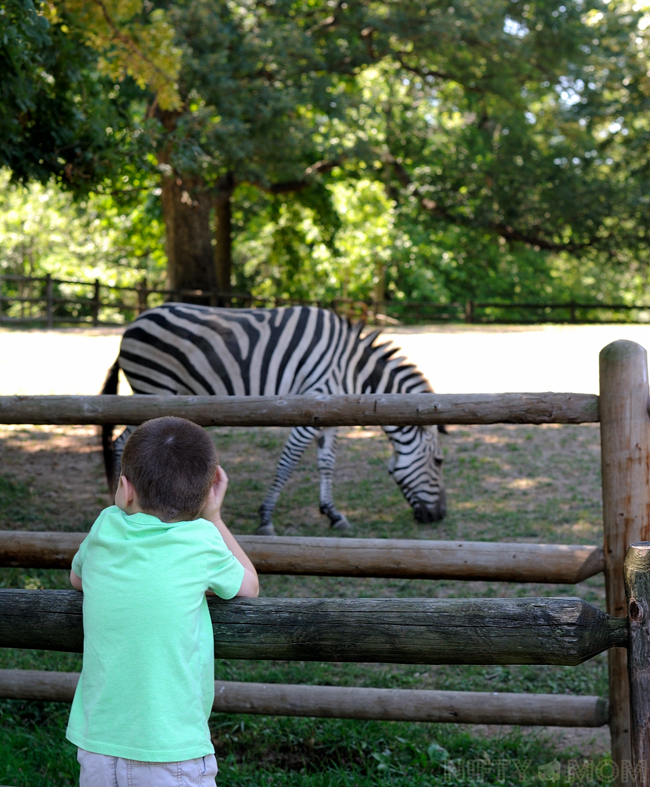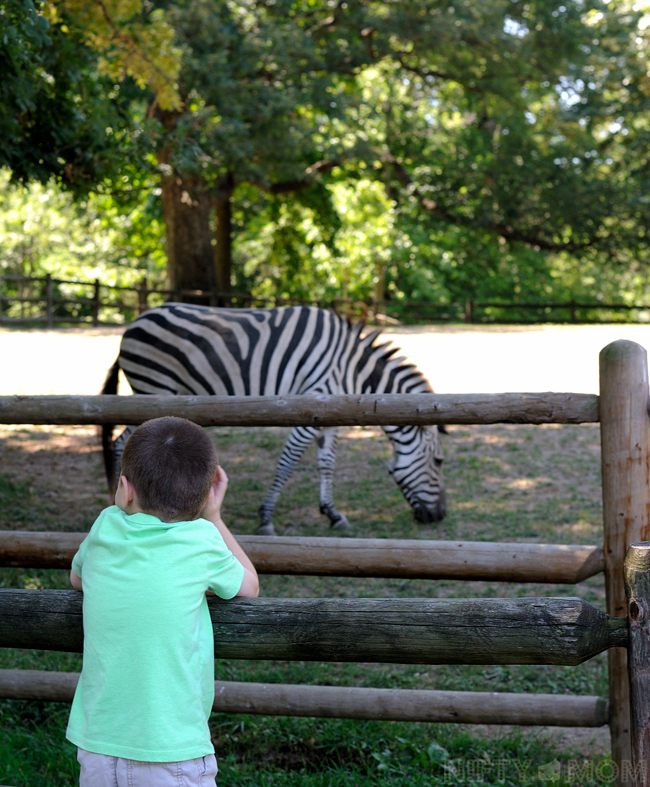 There are camels, zebras, llamas, kangaroos, bald eagles, and more. They also have free animal encounters and elephant shows throughout the day… Unfortunately, we didn't have time to check them all at.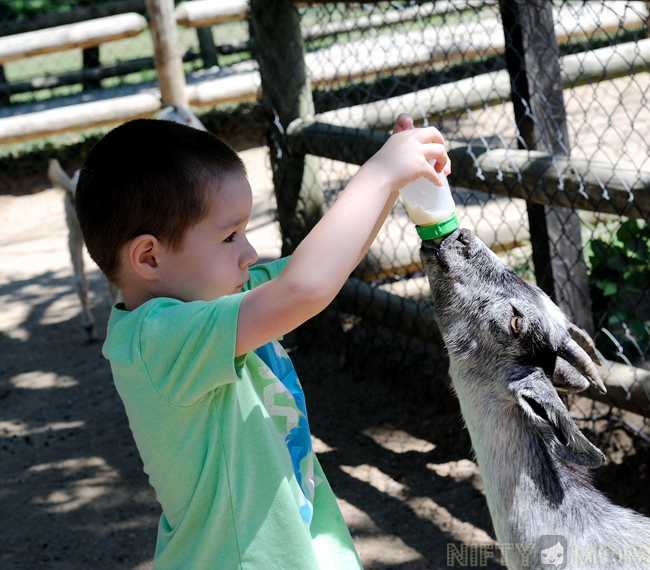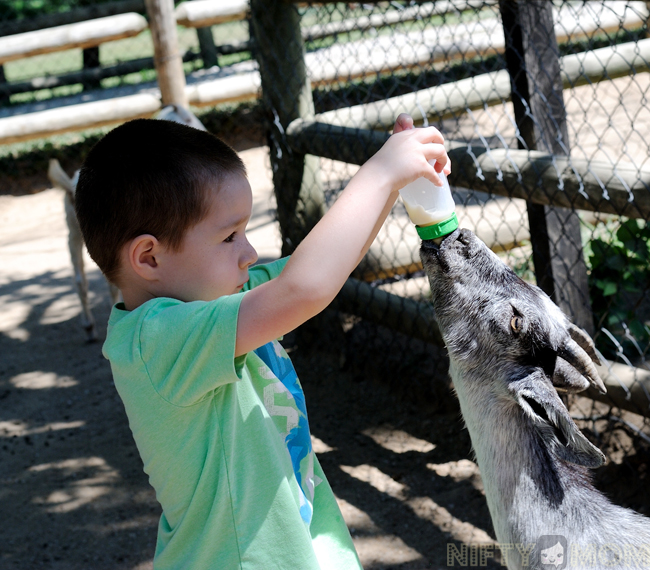 After we walked around, we headed to the area to feed the goats. The large area is fenced in with many goats roaming around. This was my favorite part of Grant's Farm, even when I was a little kid. With two bottles in hand, the boys went in. Apparently, a lot of them were extremely hungry and ran at my two and three year old trying to drink their bottles. It scared them a little, so my mom went out of the area with them while Ethan fed the goats.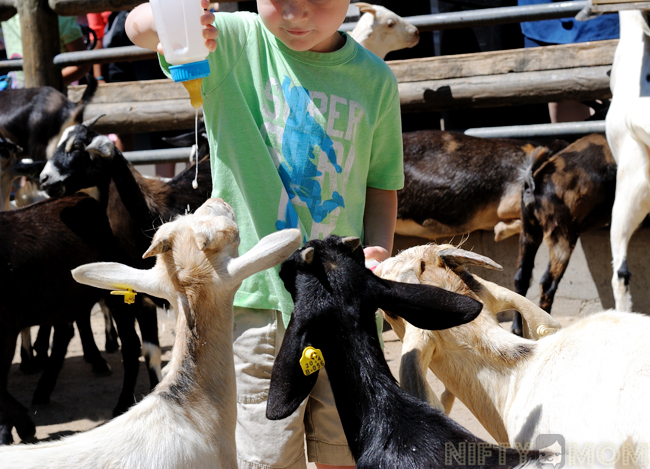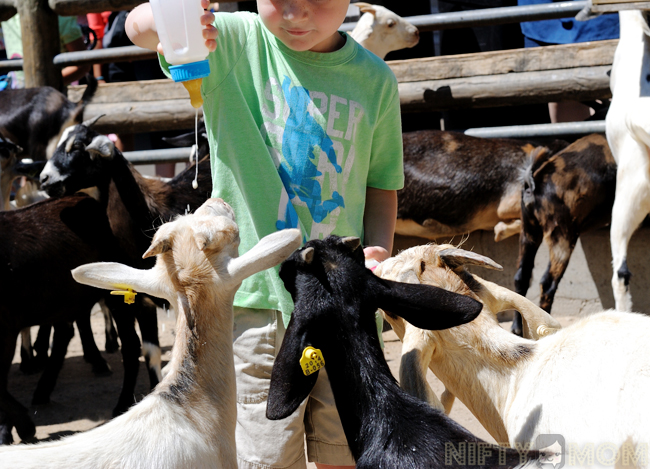 There were about 5 trying to drink his bottles and he felt bad he couldn't feed them all, so at one point he was trying to pour it into their mouths. After his bottles were empty, he just sat with a few, petting them.
After that I rode the big carousel with the boys. I didn't get any good pictures from it, but you can see some from our last visit here.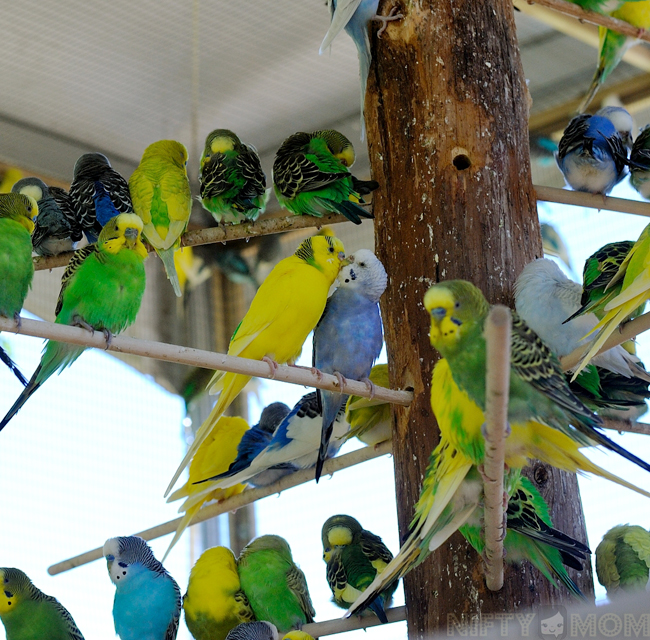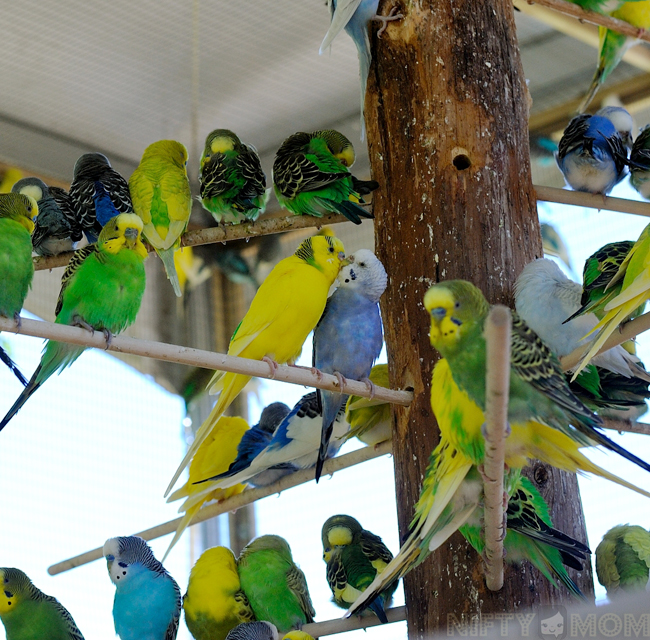 This was the first year they had a Parakeet Feeding area. A wooden stick with bird food can be purchased for just $1 each and you can go into the large caged area. There are probably hundreds of parakeets in it.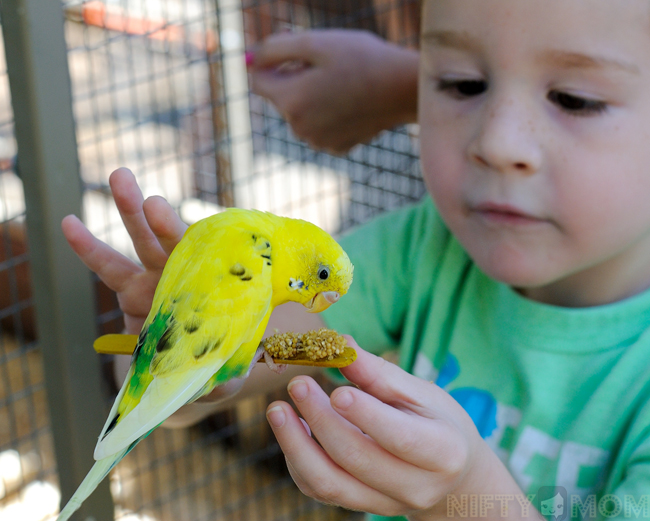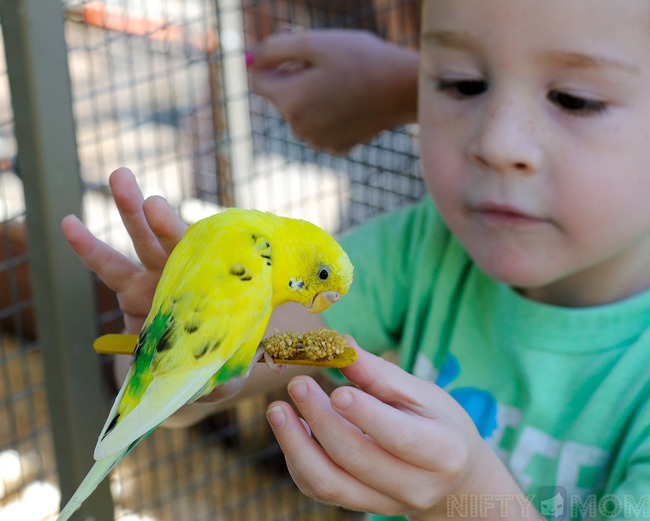 Ethan was able to get a few to eat while sitting on his finger and the stick. He had 3 sticks with food and wanted more after that. He wanted to just hold them and pet the parakeets. I even enjoyed it.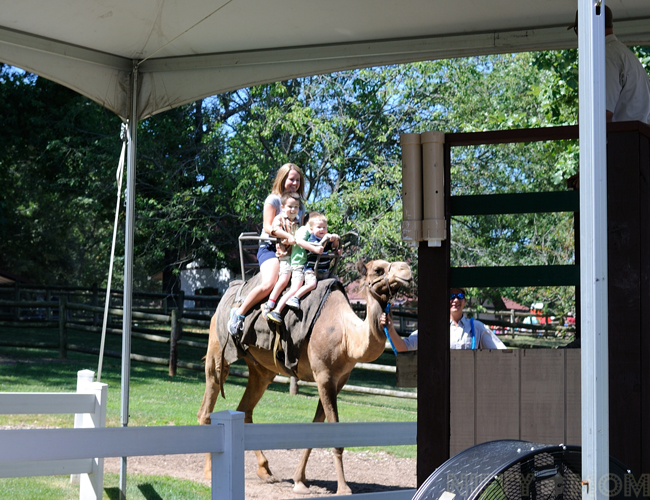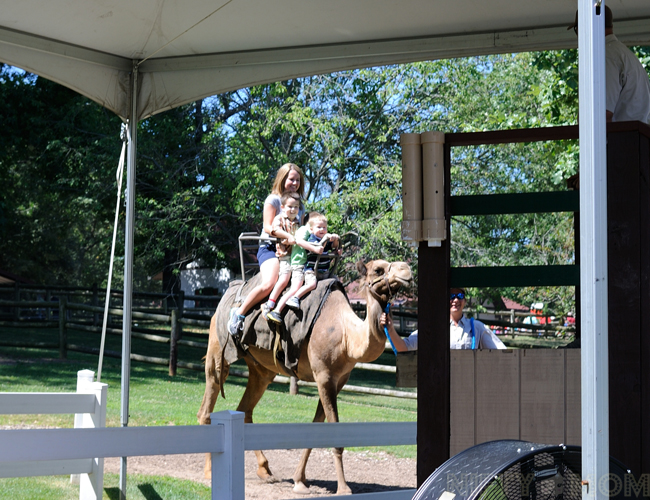 Another paid attraction is to ride a camel ($5 a person). I'm going to be honest here, I had no interest in doing this. All three of the boys really wanted to ride. I was going to let them go on, but my mom convinced me to go with them. The camel is walked for a couple laps around the fenced in area. It was slow and bumpy. I was surprised that none of the boys cried. They actually laughed the entire time while I was holding on tight.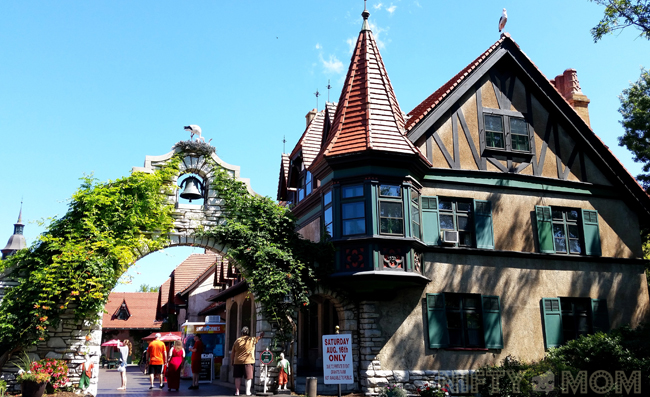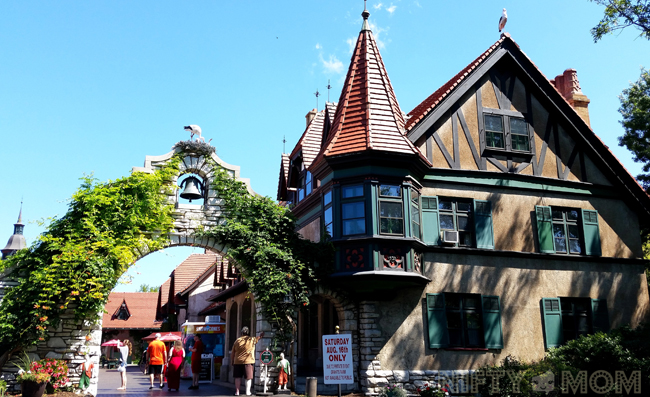 By this time it was past lunchtime and the boys were getting hungry and tired. We went to the Bauernhof, which houses a couple places to get food, snow cones, beverages, and covered tables.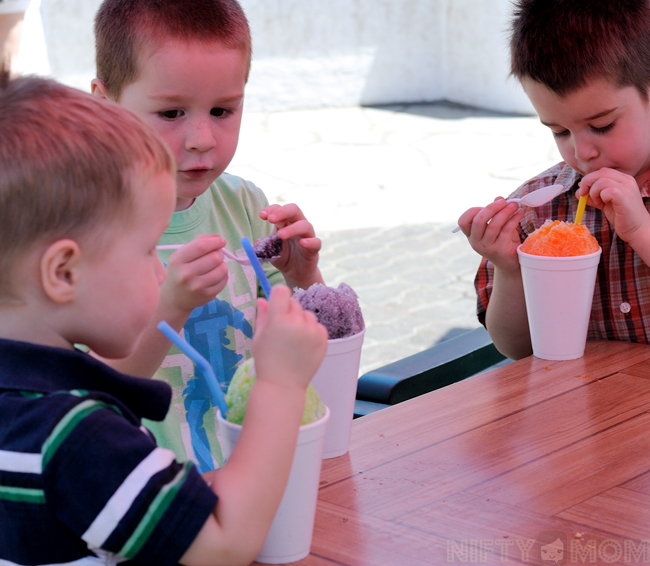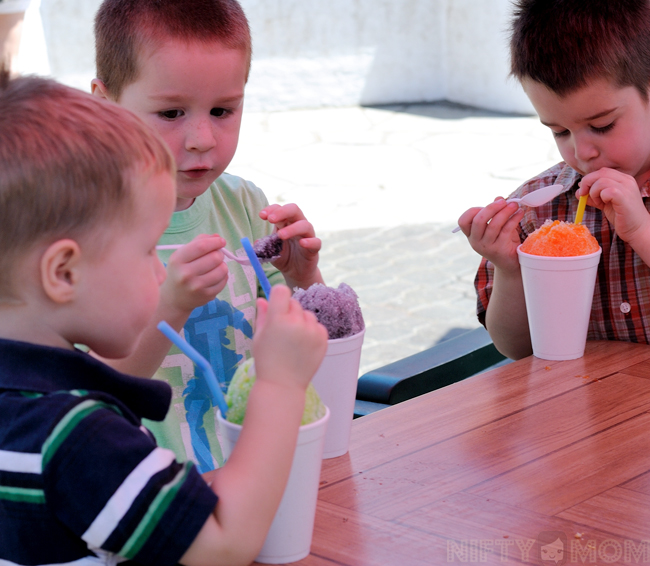 We cashed in the last of our Fun Passes for snow cones. They were bigger than I remember them being! After they were finished we made our way to the tram to head back to our car. There were many things that we didn't do that I mentioned above, plus there is a Clydesdale Stable next to the parking lot. You can walk into the stable and see some of the Cydesdales and/or book a VIP tour to get a behind-the-scenes look.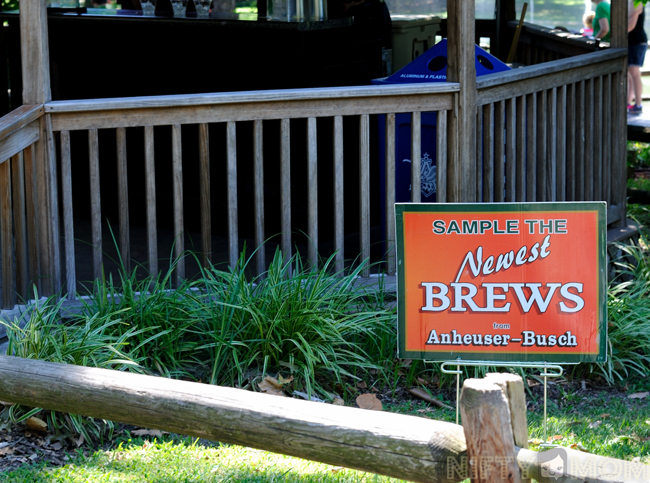 A little bonus for the adults: There are a couple places around the farm to get free samples of Anheuser-Busch products (2 per person). They were serving Lime-A-Ritas at one spot when we were there.
I can't wait to go back again with the family (they are already asking to go back). There is so much to do and it can be very budget-friendly. Grant's Farm is also available for hosting birthday parties and private events. For more information on all the attractions, visit their website.
Have you ever visited Grant's Farm?