When a hit movie is about to be released on DVD, my husband is normally anxiously waiting to purchase it on that day. Not only is he a huge movie fan, he is also a Marvel fan. When the Avengers movie was in the theaters, we never got a chance to go see it because we rarely get time for a 'date night' having three little ones. This past Tuesday, the Avengers was released and at my husband's disappointment, we had to wait until Wednesday to go purchase it. We decided to take the kids and headed to Walmart because not only do they have an exclusive Avengers Blu-Ray/DVD/Graphic Novel Combo Pack for only $24.96, they also have an Avengers Augmented Reality App that we were looking forward to using.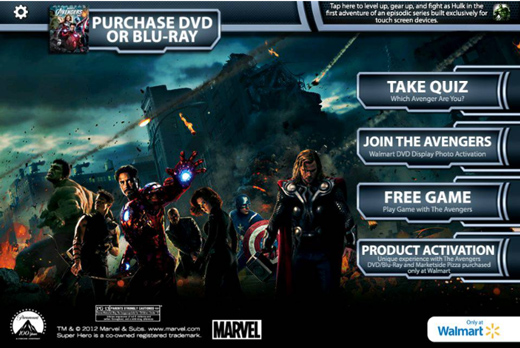 We downloaded the app on our Android phones and tablet via the Google Play Store for free. When we got to Walmart, we looked for special trigger points to activate the app and unlock quiz questions and 3D characters. We first headed to the Deli section to get a MarketSide Pizza for our family movie night and there was a trigger point to start the 'Which Avengers Are You' Quiz.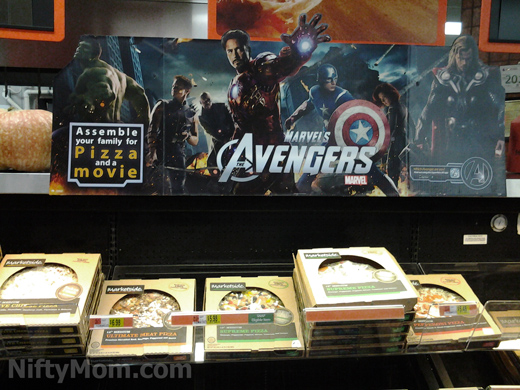 Specially marked pizzas can also be activated for a 3D action scene in a city (I'll get back to that later). We picked out a huge 16″ cheese pizza for under $10 which I think is a great deal and plenty of pizza us.
After we picked up some stuff to make a salad and a few other grocery items we made our way to the electronics section. There was Avengers everywhere: Playing the display TVs, lots of different movies available, and another trigger point on the movie display. This one lets you take a picture with the Avengers as they appear to be in the store with you. Our two year old was trying to get next to the Hulk.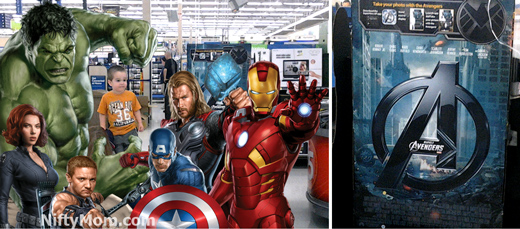 We almost didn't get the DVD because they were all out the that display. But we finally found one after walking around for awhile. As we were getting a few other things we needed, we tried to find more trigger points, but we had no such luck. We found some Avengers toys and apparel, but after almost two hours, we were ready to call it a night.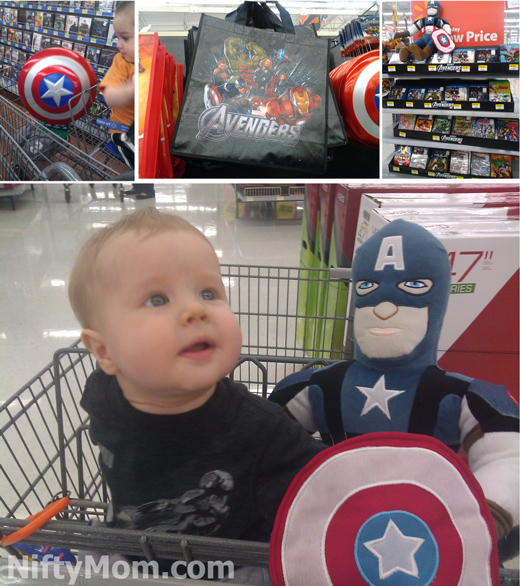 My little guy really wanted to take his new friend Captain America home. He's so cute, isn't he?!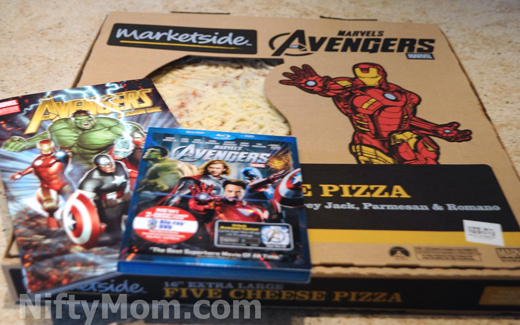 Last night we were ready for pizza and a movie!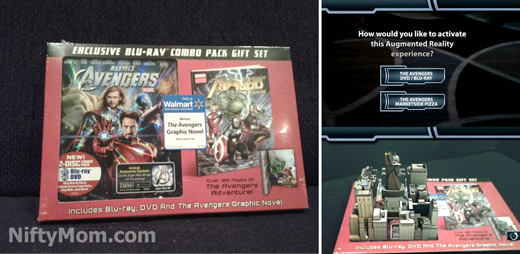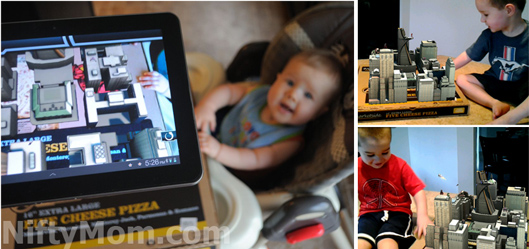 First, we played with the app some more with the pizza box and the DVD. My sons really enjoyed it. They thought it was funny, but kept looking for the city to really appear on the boxes. We could have played with it for hours, I am sure. It is pretty neat with sound effects and complete animation.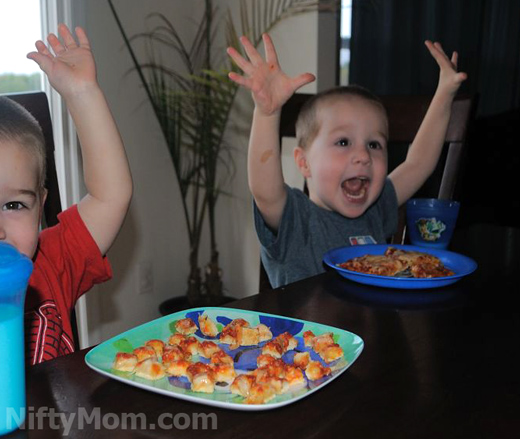 My sons love pizza night. My husband has been getting our sons all pumped up about superheroes and the Avengers so they were pretty excited. It is a fairly long movie, so the kids watched the beginning with us while they played with some new hot wheels and colored. The DVD combo we got included an exclusive graphic novel, which I read to the kids for a little bit and then they were arguing over it because they each wanted to have it. It got added to their collection of books for future use and to ensure it would not get ripped up.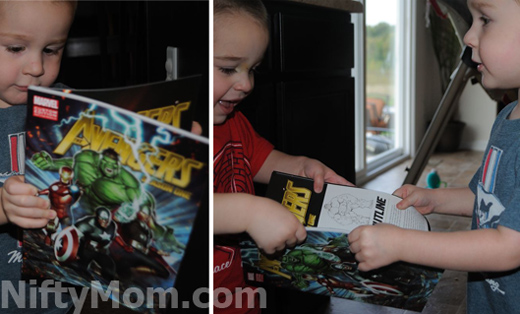 After the kids all went to bed, we finish the Avengers and as expected, we love it. Check out my Google+ album to view my full Avengers adventure and shopping trip.
Stay connected with Marvel for the latest and greatest updates by following @Marvel on Twitter, becoming their fan on Facebook, visit their website, and be on the lookout for the hashtag #MarvelAvengersWMT. Check with your local Walmart for Avengers Character Appearances in select Walmart stores on Saturday, September 29, 2012.
"I am a member of the Collective Bias™ Social Fabric® Community.  This content has been compensated as part of a social shopper insights study for Collective Bias™ and Marvel. #MarvelAvengersWMT #CBias #SocialFabric. All opinions expressed are 100% mine."