Cars and dinosaurs. Those are my sons' two favorite things. They always want to play with cars, dinosaur toys, or watch either on TV. When it comes to toys, my sons tend to get bored with them quick and it is hard to find ones that capture and keep their attention. So what kind of toy could really make them go crazy (in a good way)? How about one that is a dinosaur and a vehicle in one. That's what VTech has created with their new Switch & Go Dinos.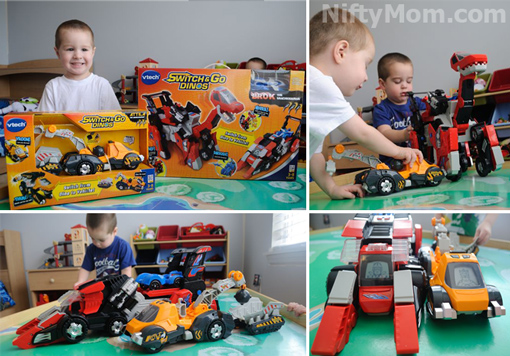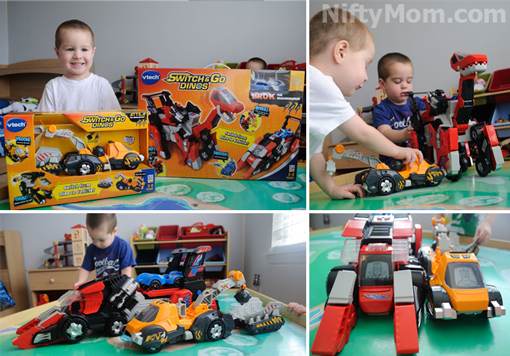 I received two (of the seven) Switch & Go Dinos for the boys to play with and they exceeded my expectations. I have seen the commercials advertising them, as my 3 year old always makes sure to get my attention to tell me to 'buy that' every time it is on. I didn't realize how big they are and how many features they actually have. Within a few simple steps, each one can transform from a vehicle to a dinosaur, and vise versa. They each have a screen in the front that is animated with the vehicle drivers or the dinos eyes. There are so many features to the dinos, I probably still don't know them all.
We first played with the Attila the Ankylosaurus Dinosaur.  This heavy construction vehicle comes with a wrecking ball, tow hook, and a trailer. The tow hook can be used to tow around other Switch & Go Dinos. There are over 70 sayings and sound effects that it makes. My sons loved towing around the trailer and playing with the wrecking ball. When the Attila is switched into a dino, the wrecking ball is now a powerful tail and with the push of a button, the tail moves. I really love that there were two parts to the toys so my sons could each play with a different part as they played together with it.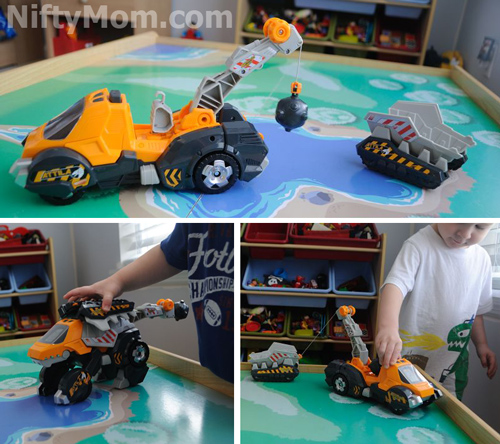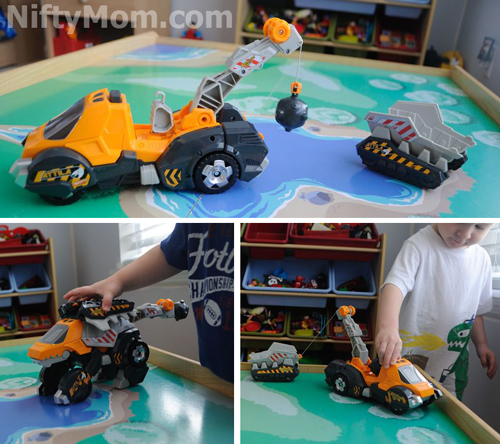 Next, we got out Brok the Brachiosaurus Dinosaur. This is the king of the Switch & Go Dinos. It comes with a smaller race car and a Pterodactyl. When it in the car mode, it can carried a car, including the race car. With just the pull of the spoiler, the race car launches down for front of the car and the Pterodactyl launches out of the car. They had so much fun launching the car. This was one of my two year old's favorite features. When switched to the dino, Brok towers high and can move his neck and head all around. This Switch & Go has over 80 different sounds effects and sayings from real-life sounds, fun facts, and cool phrases.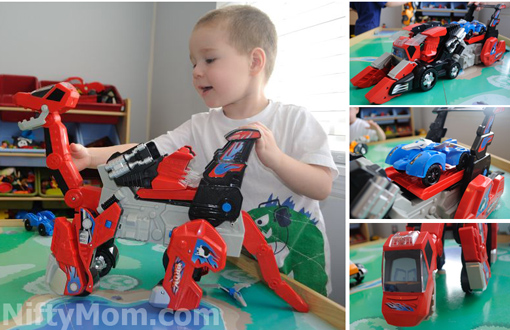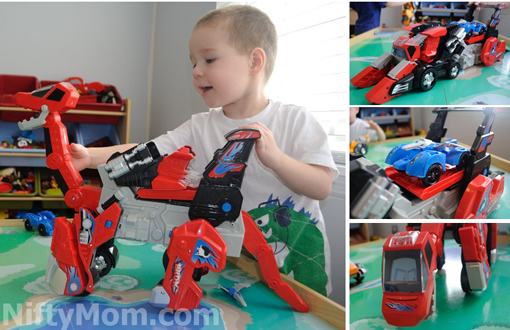 The dinos are heavy duty and I know my boys will test their durability (they aren't really gentle with their toys). I really love all the different sound effects and sayings that each one has. Normally with new toys, it takes about ten minutes to memorize its sayings and I get annoyed hearing the same thing over and over again. Not with the dinos. I still notice something new every time they are playing with them. The sounds effects are also very realistic. I can't tell you what my sons' favorite things are about the toys, because they get so excited just seeing them and the excitement doesn't die down as they continuously play with them. I can see the dinos being in our household for a very long time.
I would definitely be purchasing more of the collection for my boys. You can purchase the Switch & Go Dinos at national retailers near you, or on Amazon.com.
VTech is holding a Show & Tell Contest on their Facebook page! To enter the contest your child can DRAW or BUILD their own Dino, and no purchase is necessary! Submit your entry by October 1st, for your chance to win a lifetime supply of VTech toys, one of 25 Dino toy sets and more!
"I participated in a campaign on behalf of Mom Central Consulting for VTech. I received VTech Switch & Go Dinos product samples to facilitate my review."