At least once a day, you can catch my three year old singing "Spider-Man. SPIDER-MAN. SPIDER-MAN!" I really have no clue where it came from, but one day, him and his two year old brother decided they were huge Spider-Man fans. I don't mind at all. I myself am a fan of Spider-Man and my husband has been anxiously waiting to see 'The Amazing Spider-Man' movie since we never had a chance to see it to the theaters. The movie's DVD release date is November 9th. However, I just learned not only can you pre-purchase it now at Walmart, it also comes with access to an UltraViolet digital version that can be viewed on October 30th!
Reasons why to pre-purchase 'The Amazing Spider-Man' at Walmart:
It's an awesome price just under $25 for the Blu-Ray combo, or $18 for  the DVD combo
Get access to bonus featurettes (deleted scenes and stunt rehearsals) immediately.
View the movie over a week before the release date starting October 30th on VUDU.
If you are new to VUDU, when you register you get a FREE movie.
You don't have to rush to the store on November 9th. The movie will be mailed to you.
This past weekend I headed to Walmart to pick up the pre-purchase box of 'The Amazing Spider-Man'. When I got back to the electronic section, I easily spotted the pre-purchase boxes with the new releases.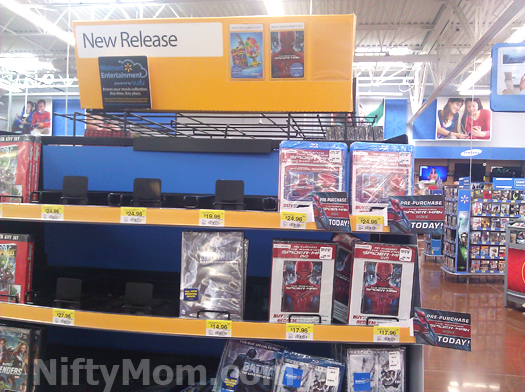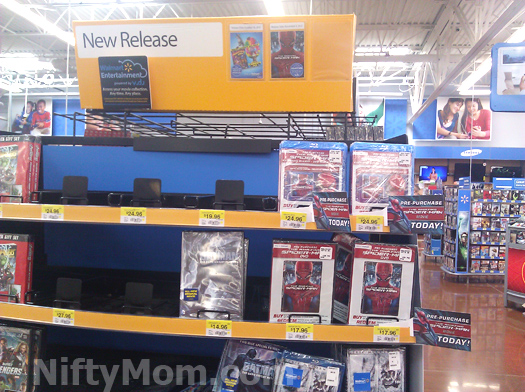 For only $24.96, I got the pre-purchase of 'The Amazing Spider-Man' Exclusive Blu-Ray + DVD Movie Gift Set which includes the Blu-Ray + DVD + UltraViolet Combo Pack and a Bonus DVD & Limited Edition Mask DVD Case.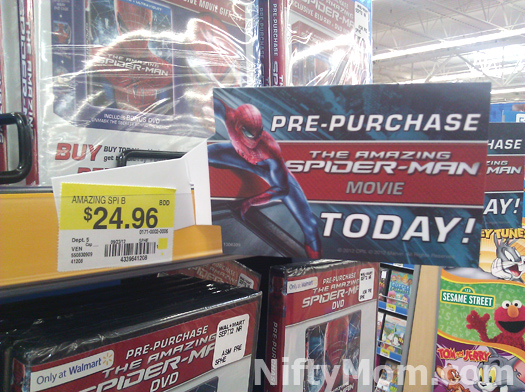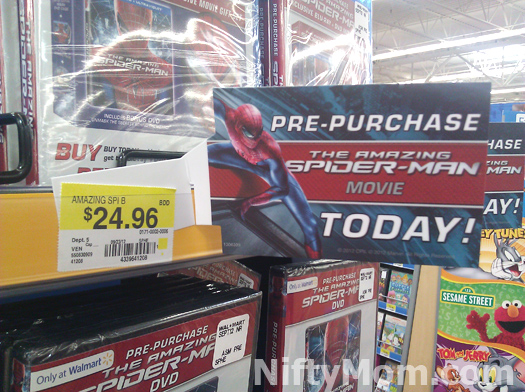 My two year old was so excited, he tried to open the case in the store, not knowing the only thing in the case is just a code to enter on VUDU.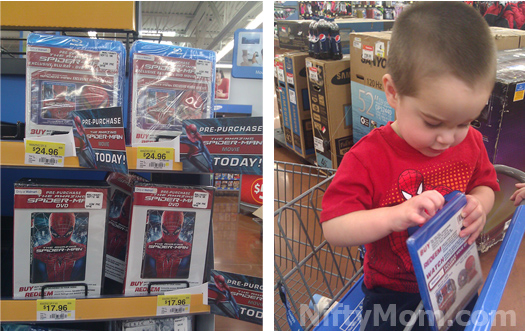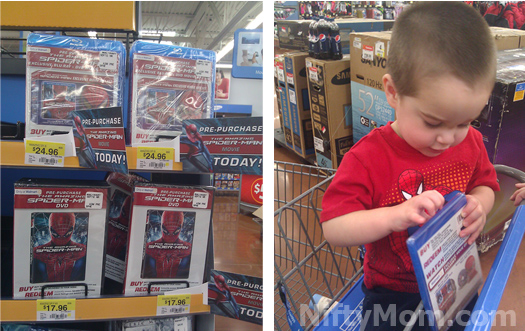 After we got home and the kids laid down for their afternoon nap, I opened the box and redeemed my code online. The directions are very clear, easy to follow and it only took a few minutes complete.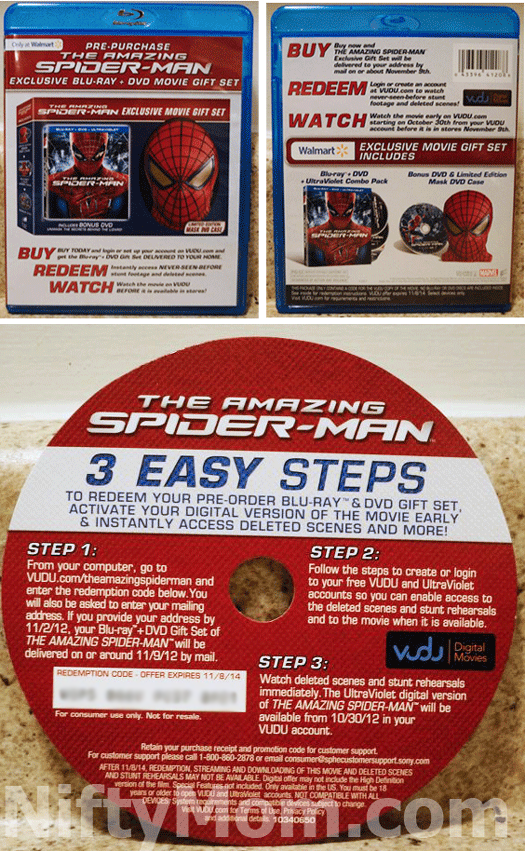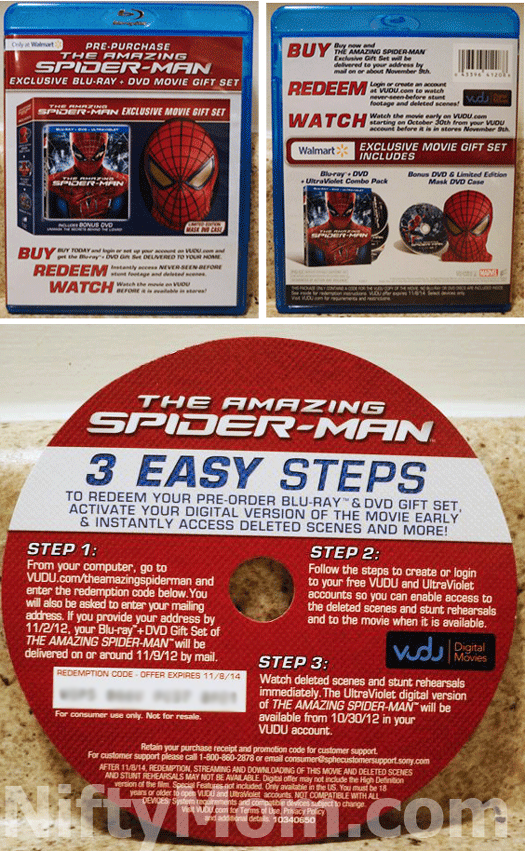 First, head over to VUDU.com/theamazingspiderman. I already have an account, but if you are not familiar with VUDU, it is an HD movie streaming service. You only pay for what movies you watch and there are NO subscription fees. You can watch movies from your internet-connected TV, Blu-ray™ player, PS3™, Xbox 360® or computer.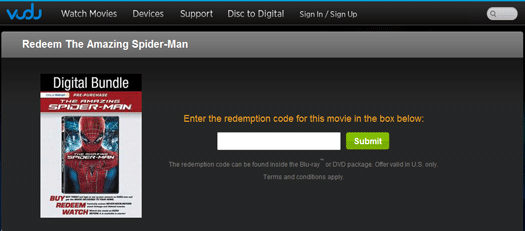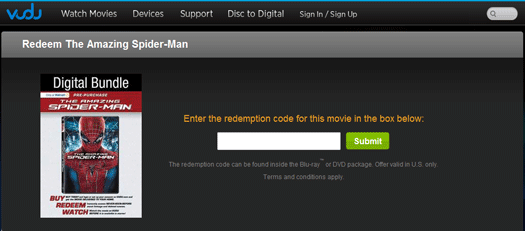 Enter the redemption code from your box.  After you enter the code, you will be prompted to log into your account or sign up. If you are new, when you create a new account, you will also get a FREE movie!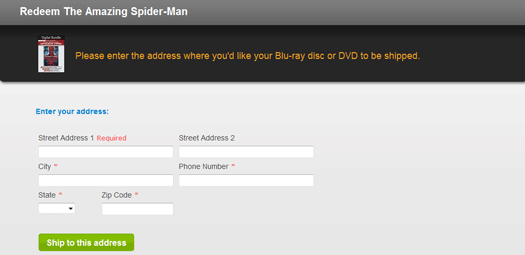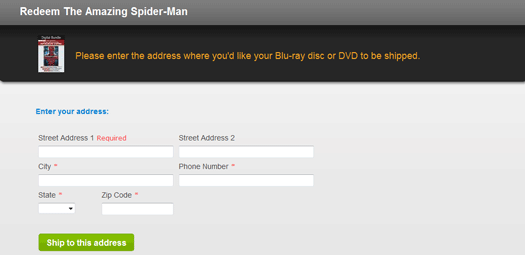 Next, enter your mailing address. This is important and you must do this by November 2nd to receive the Blu-Ray + DVD Gift Set in the mail on or around the release date of November 9th.


After you submit your shipping address, you will receive your order number. It's that easy! You can then click on 'Go to Movie' to view the Bonus Featurettes of deleted scenes and stunt rehearsals. On October 30th, you will be able to access and watch the movie on VUDU. That's over a week before the release date! We are going to be having a Spider-Man themed Halloween party when the digital copy is released, so make sure you check back at the end of the month to see how much fun we had!
For the latest news and updates for 'The Amazing Spider-Man', make sure to stay connected and follow them on Twitter, become a fan on Facebook, and visit the website. Are you excited for the DVD release? View the movie trailer to get more excited!
"I am a member of the Collective Bias™ Social Fabric® Community.  This shop has been compensated as part of a social shopper insights study for Collective Bias™ and Sony Pictures Home Entertainment #CBias #SocialFabric. All opinions expressed are 100% mine."