This reading challenge post has been compensated by Collective Bias, Inc. and its advertiser. All opinions are mine alone. #Back2SchoolReady #CollectiveBias
One thing we started doing more this summer was going to the local library. I was always hesitant to take the boys, since they are younger and have a hard time keeping their voices down. I found out that our library has a section just for kids with a play area and they offer a children's summer reading program. The program just ended last week, but I decided to do more at home to encourage the kids to read and build our personal library.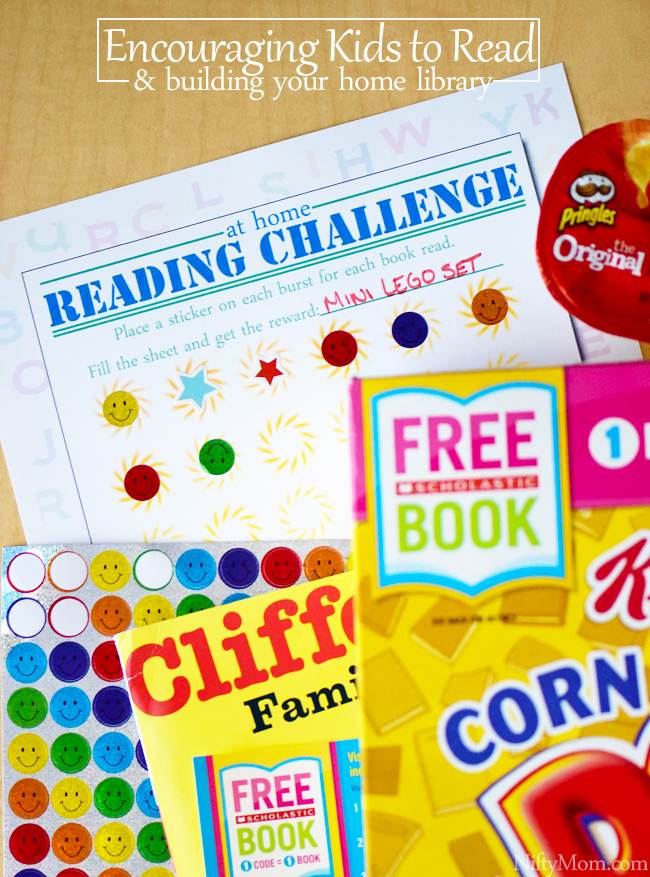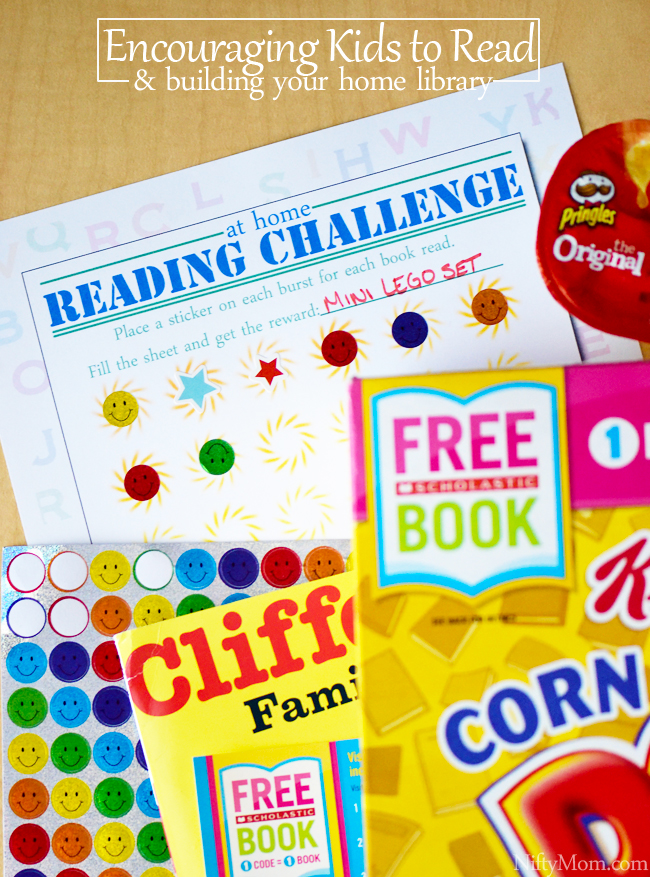 With school starting this week, we have been spending some time each day prepping and making new schedules. I want the transition to go as smooth as possible. We start moving bedtime a little earlier again and slowly get our routine closer to the school-time schedule. It is also that time to start making a better meal plan with easy meals, lunch ideas, and after-school snacks.
I also re-stock my whole pantry to max it out. Having large quantities and many selections means less trips to the store and more time to spend with the family. Another easy way to do so is by shopping online. Since shopping online is extremely convenient for me, when I find a good deal or offer, I always take advantage of it.
Such as the free book offer from Kellogg's. Between 7/21/15 and 9/11/2015, purchase any Kellogg's item from Walmart.com and get 1 free book for each box. That is one free, full-length Scholastic book and each participant can redeem and receive up to 30 free books!
Ordering is simple. Just make selections from Walmart.com.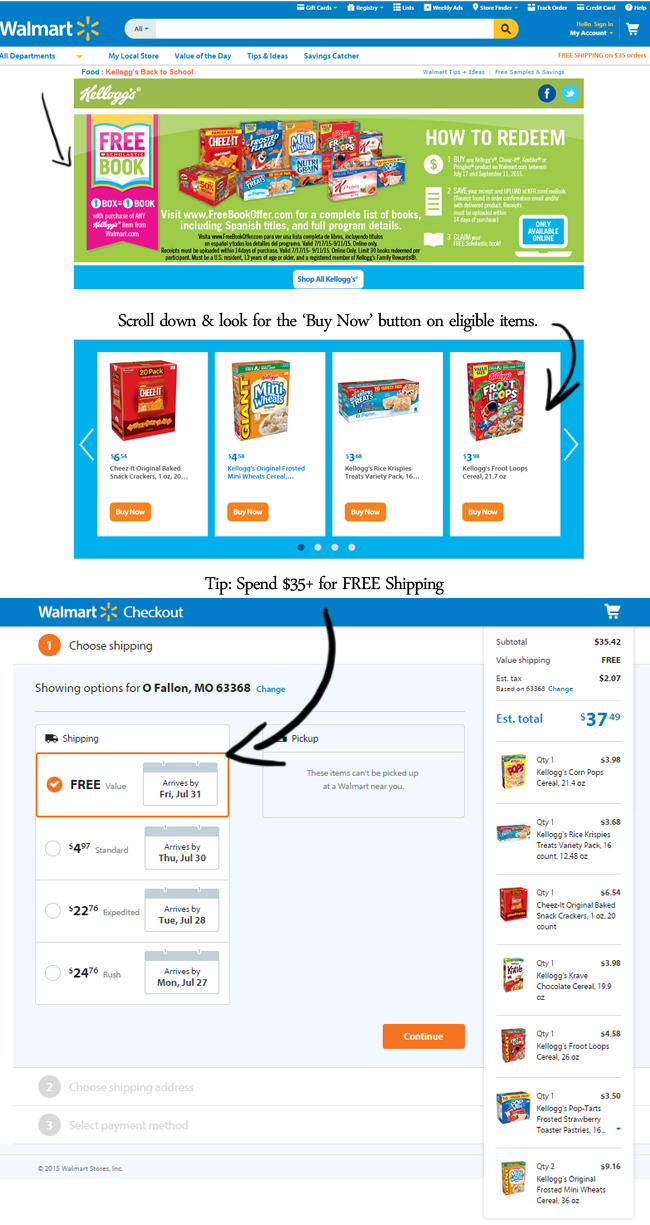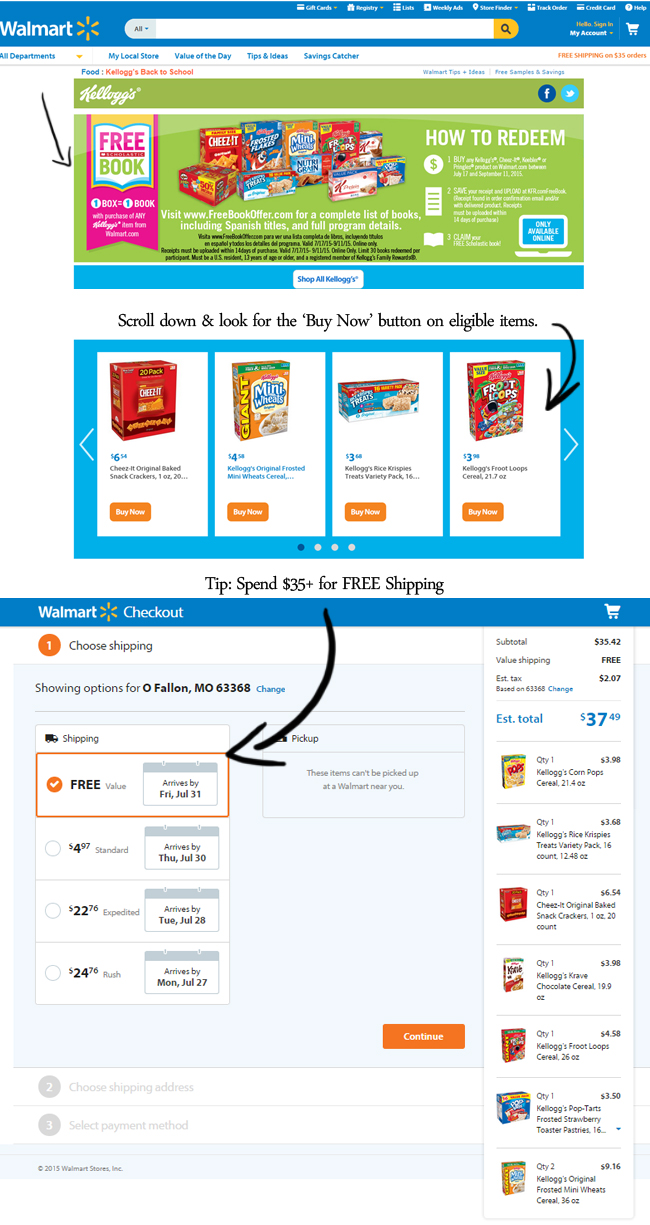 Since I was taking advantage of this awesome offer and stocking up for back-to-school, I also made sure to qualify for free shipping. Once the order is complete, a confirmation is sent, along with an email at the time of shipment to include a tracking number.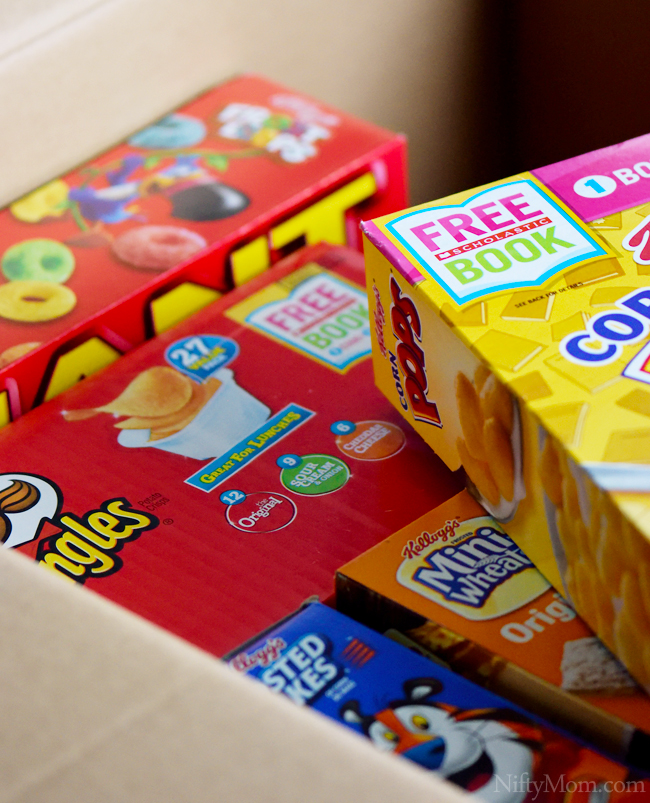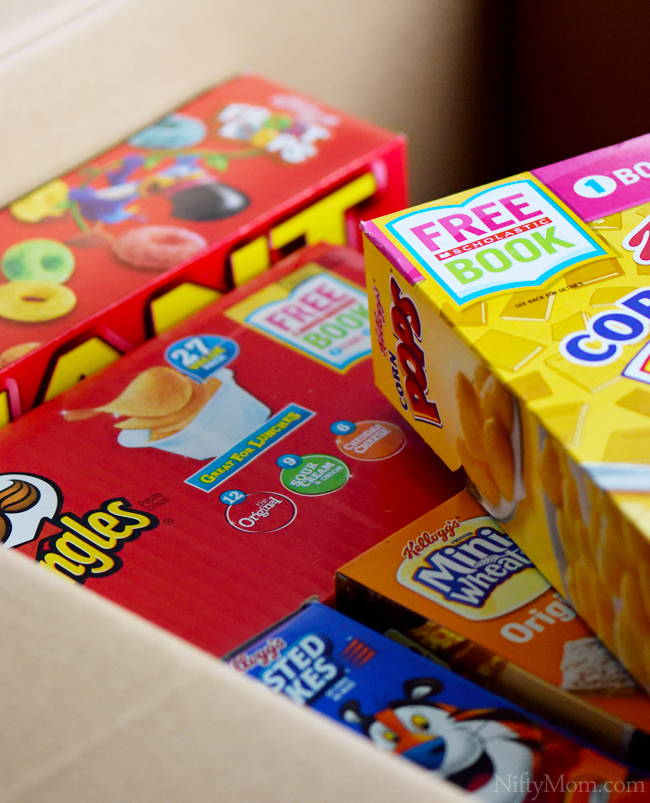 Within a week, a box arrived at my doorstep with all my products. Luckily, the kids weren't around at the time, because I am sure they would have started to open all the delicious food. I made sure to mostly stock up on cereals, because around here, they get eaten at all times of the day. Breakfast or as a snack.
How to Redeem the Free Books
To redeem the books, you must be a member of Kellogg's Family Rewards. I have been a member for awhile, but you can sign up (it's very easy) at KFR.com.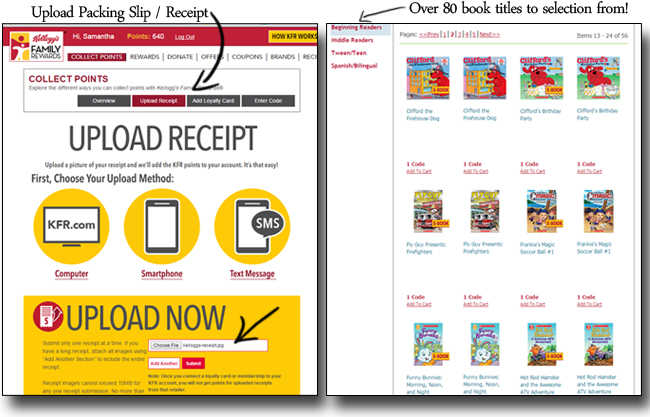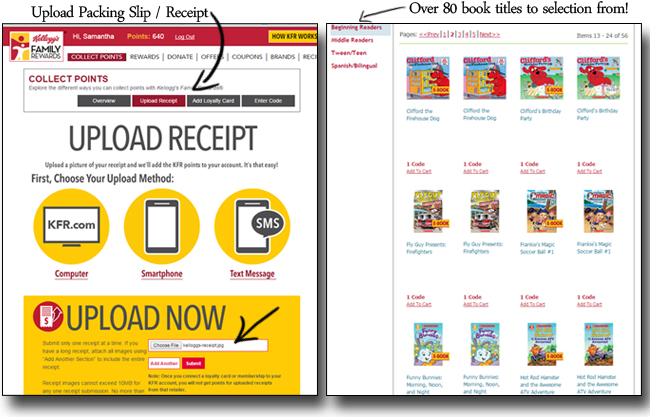 Once you are a member, the packing slip or receipt must be uploaded within 14 days of purchase to redeem the free books. There are three ways to upload: Text message, the Kellogg's Family Reward App, or scanning it on the computer. I did a quick scan and uploaded it to the computer. You can also take a picture of the receipt with your phone as a third option. Once the receipt is accepted, an email will be sent and usually within 24 hours (but can take up to 3 days) the points are automatically added to your account.


Once the receipt is approved, you can select from over 80 book titles. Codes can be redeemed for hard copy books or E-books. You also have the option to donate hard copy books and have them sent directly to the recipient.
If you are shopping in stores at Walmart, you can also look for specially marked Kellogg's products (has the FREE BOOK) logo on the packaging. Those have codes inside that can been redeemed for a free book up until 3/31/16.
Encouraging Reading at Home
Earlier I mentioned the reading program through the library that just ended. With our at home library growing and school starting, I thought it would be fun to start our own reading challenge with rewards for the boys.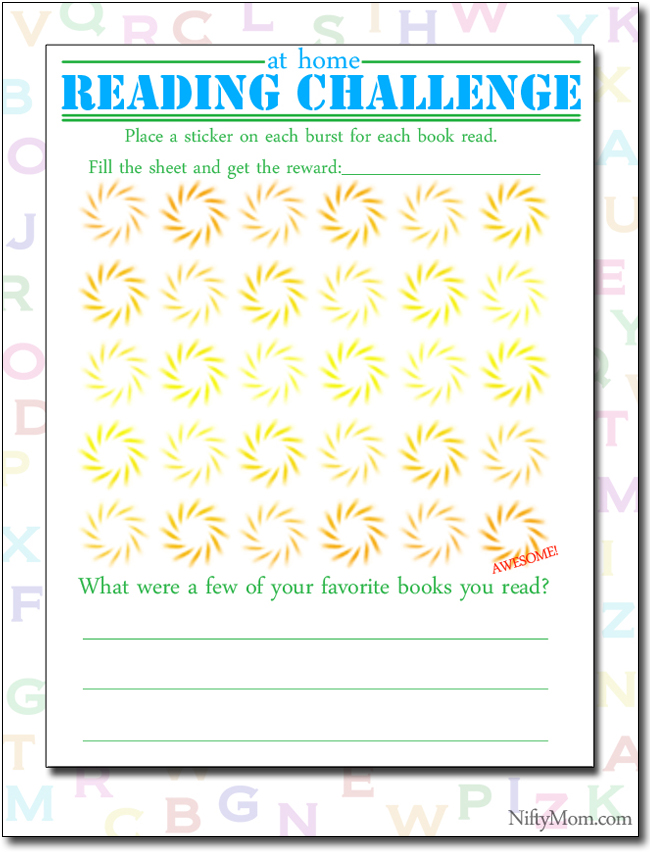 I created a Reading Challenge Sheet they can pick a reward to work for, track books with stickers, and write down a few of their favorites. Click the image above or link below to get a print copy of the sheet for free!
**DOWNLOAD READING CHALLENGE SHEET**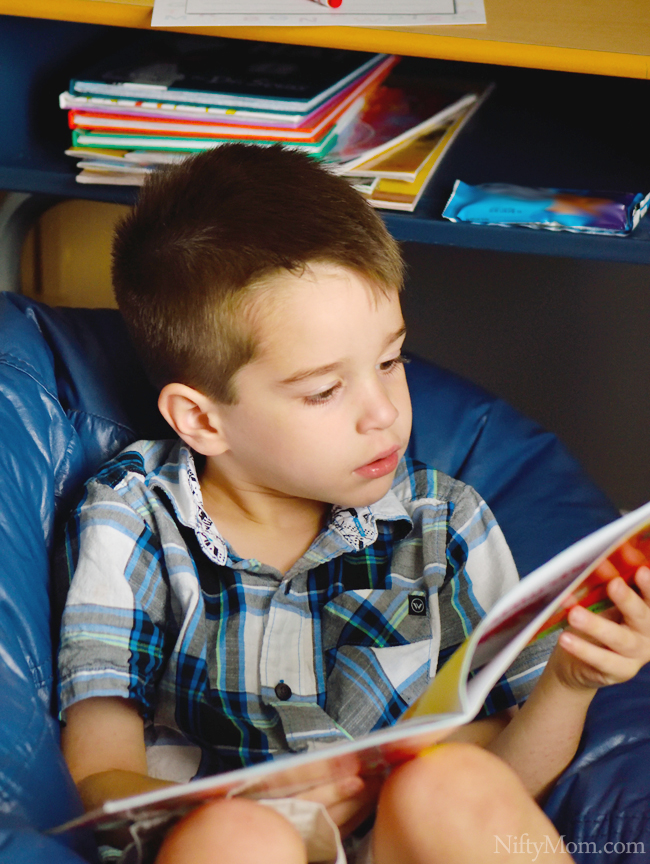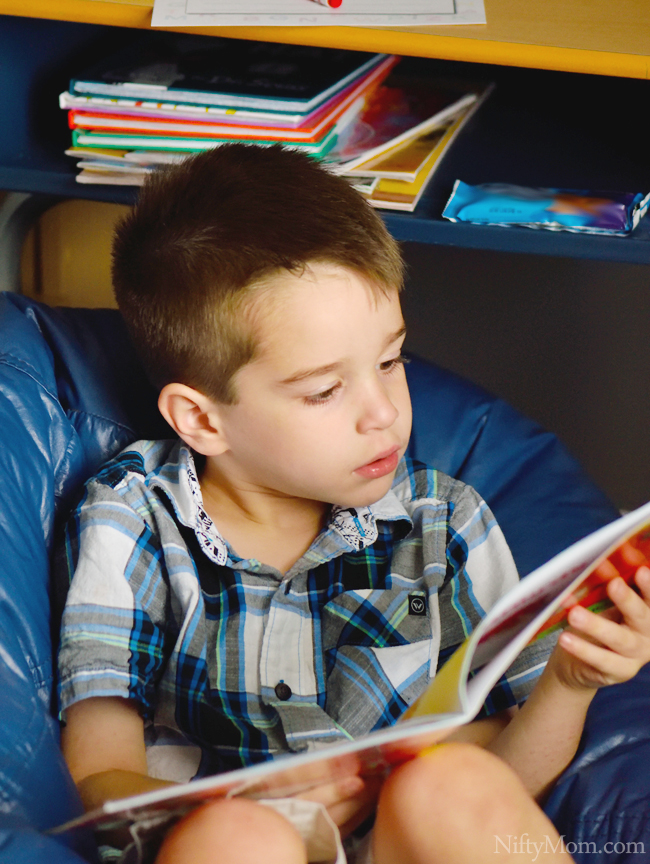 Reading is always fun in our house. We have book shelves in all the kids' rooms, they all have desks and a reading area. Sometimes we even incorporate snack time with reading, which is always a hit with the boys. Now with the sticker sheet, we have an added bonus with rewards to work towards. I can't wait until the new books start arriving and our personal library continuous to grow.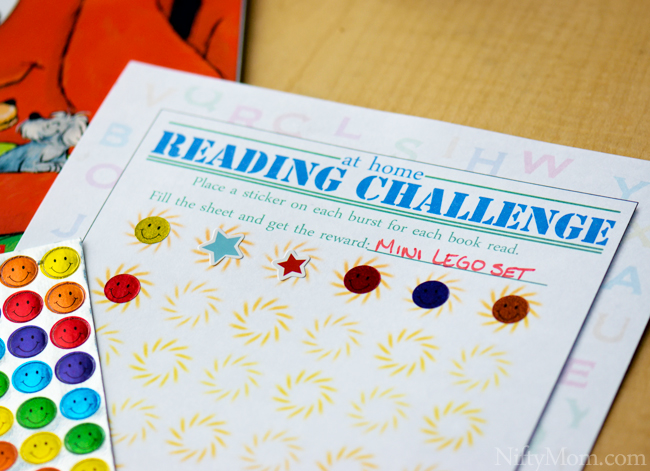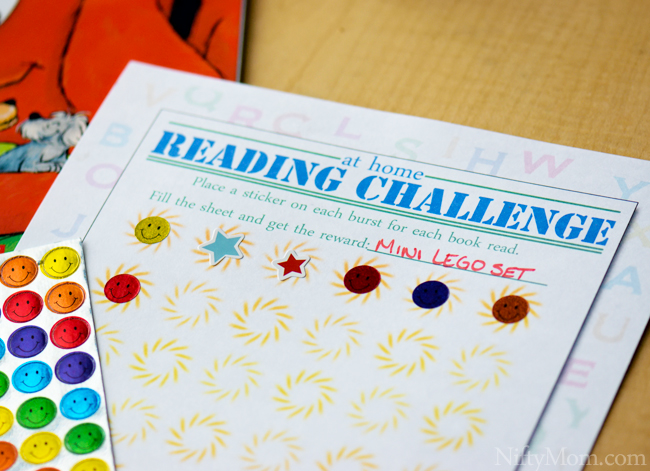 Be sure to check out all the books available via this Kellogg's offer here. I'd love to hear your favorite book offered!