"I participated in a campaign on behalf of Mom Central Consulting for Cascade. I received a product sample to facilitate my review and a promotional item as a thank you for participating."
During the warm summer months, not only do we grill often, but I also enjoy making lots of summer desserts. Some of my favorites involve  lots of fruits and ice cream. When I saw Gail Simmons recipe for Bumbleberry Summer Sundae, I knew we had to try it.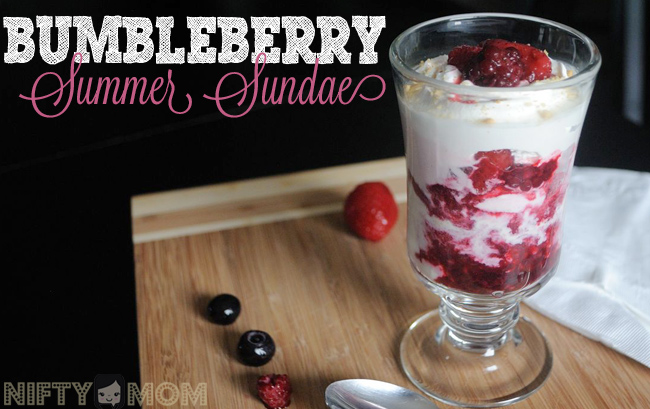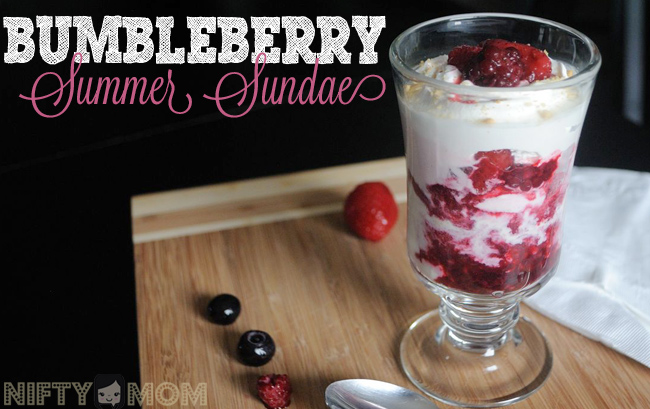 Last week I talked about Cascade partnering with Gail Simmons, a Top Chef judge and editor of Food + Wine magazine. She has been discussing why food presentation is just as important as the preparation. If you are serving a delicious, irresistible meal, you want it to look as good as it tastes. This starts with the dishes it is served on. Using Cascade Platinum achieves that look for all my dishes, leaving them sparkling and spotless.
I checked out a few of Gail's recipes, including the Bumbleberry Summer Sundae. With the all the berries and ice cream, it sounded perfect for a refreshing treat after grilling this past weekend.

Bumbleberry Summer Sundae + Cascade Platinum
Ingredients
2 cups plus 1¾ cups mixed berries, well washed and divided (any combination of strawberries hulled and quartered, blueberries, raspberries, blackberries halved)
4 tablespoons granulated sugar, divided
2 teaspoons fresh lemon juice
1 pinch coarse salt
1 cup heavy cream
1 pint vanilla ice cream
1 pint raspberry sorbet (I used Strawberry ice cream)
6 graham crackers, crushed
2 tablespoons fresh lemon zest
Instructions
In a saucepan heat two cups of mixed berries, 2 tablespoons sugar and lemon juice over medium heat, until the blueberries begin to burst and the other berries break down, approximately 10 minutes.
Remove from off heat and stir in the pinch of salt.
Place half the berry mixture in a blender and puree until smooth.
Return the sauce to the saucepan and stir well to combine with remaining fruit. Allow to cool slightly.
Meanwhile, in a medium bowl crush 1¾ cups of mixed berries with remaining 2 tablespoons sugar using a fork, until slightly chunky and loose.
In a large bowl or stand mixer, using a balloon whisk or hand-held mixer, beat the cream at medium speed until soft peaks form. Gently fold the crushed berries into the whipped cream. Refrigerate until ready to serve.
To serve: spoon 2 tablespoons of the sauce into each of 6 parfait or rocks glasses. Top with a scoop of vanilla ice cream, a sprinkle of crushed graham crackers, and a pinch of lemon zest. Add a spoonful of the crushed fruit mixture. Then add a scoop of the raspberry sorbet and another 2 tablespoons of the sauce. Top with a dollop of whipped cream and finish with a sprinkling of the graham crackers and another pinch of zest. Serve immediately.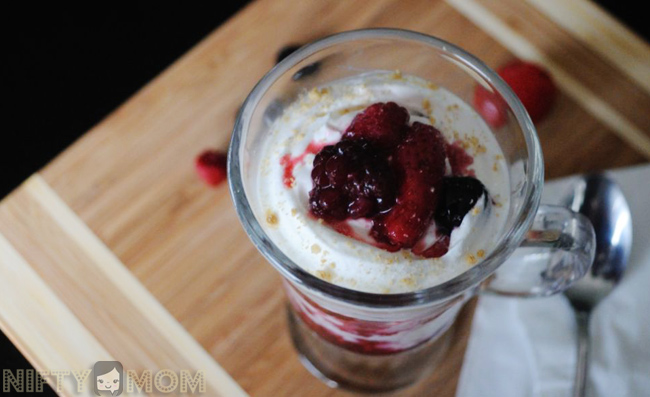 When I made it, I cut the recipe in half and split it with my kids. It was refreshing and once the fruit sauce and mixtures were made, it was easy to put together and enjoy.  Then there is the downfall of a great meal…. the abundance of dirty dishes.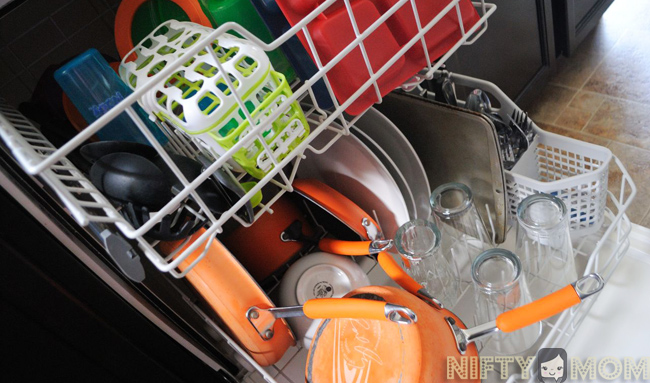 With each load of dishes washes with Cascade Platinum, I become more and more impressed. My time spent doing dishes is starting to decrease and it makes it easier to entertain and enjoy everyday meals.
Don't forget about The Cascade 'My Platinum' Instagram Contest currently in progress. You can still join in for your chance to win $10,000 KitchenAid Kitchen Makeover. Upload your pictures that go with the current week's theme while including the tags #MyPlatinum and @MyCascade. The contest schedule is as follows.
Week 1: My Platinum Plate (Entry Period: 6/3-6/9) – Show your best dish styled from the sparkling plate up.
Week 2: My Platinum Bite (Entry Period: 6/10-6/16) – Show your best bite and most creative use of sparkling silverware.
Week 3: My Platinum Clink (Entry: 6/17-6/23) – Show how you serve up creative concoctions in sparkling glasses. Cheers.
Week 4: My Platinum Table (Entry Period: 6/24-6/30) – Show your sparkling tablescape for your most special celebrations.
Here's my entry for week 2 – My Platinum Bite.