Getting my kids to do simple routine things each day can be a task. It can be a struggle just to get them to change out of their pajamas some mornings. Then there is brushing their teeth. Another chance for them to try to avoid me. However, recently, that has changed thanks to ARM & HAMMER Tooth Tunes.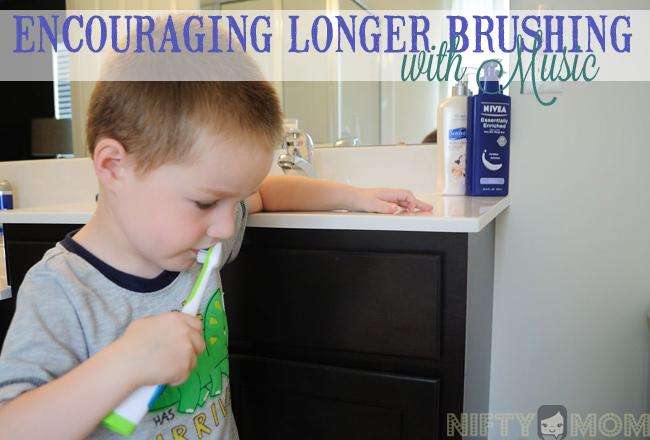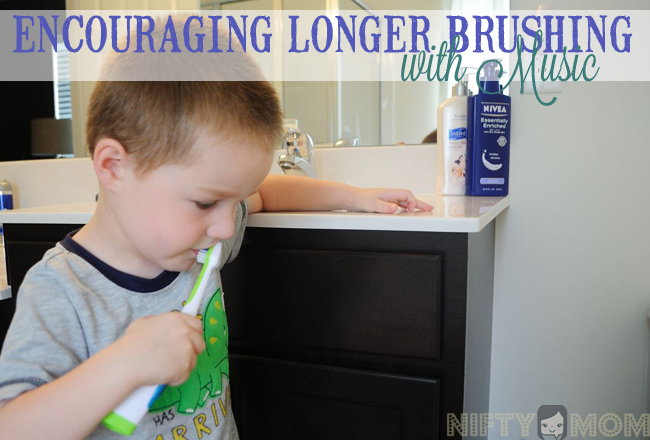 I have to say, getting my 2 & 3 year old sons to brush their teeth has been pretty easy. I have a daily routine and schedule set in place and when I disrupt it, they let me know. They know when they are suppose to nap, eat meals, take baths, brush their teeth, etc. The problem is they just breeze through some of the things, such as brushing their teeth. They will do it for less than 30 seconds and then I have to finish it (sometimes with a struggle).
I have tried toothbrushes with popular characters and electric toothbrushes and after a day or two, the excitement wears off. That is until recently. Until my son started using the ARM & HAMMER Tooth Tunes One Direction toothbrush. There are two new ARM & HAMMER toothbrushes featuring One Direction singles "What Makes You Beautiful" and "One Thing" and is the only brush in North America that plays their music.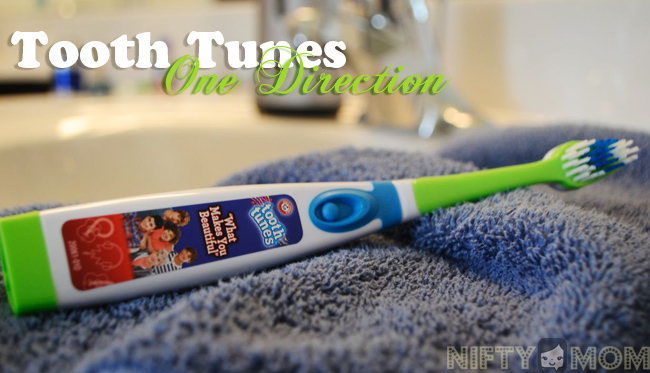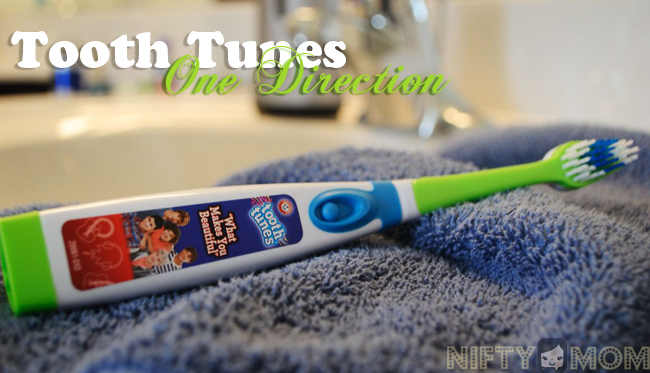 With a push of a button, two minutes of music plays. What I find interesting is the way the music is played. The music isn't loud (or annoying), like I thought it would. The toothbrush has one of a kind technology that streams sound vibrations from the bristles through the teeth so the music can be heard while brushing. I actually put the bristles on my teeth just to hear it, and it is pretty cool and I have never seen anything like it before. The bristles are soft and the brush is lightweight, and fits perfectly in my little guy's hand.
My three year old loves his new toothbrush. He now brushes his teeth the entire two minutes. And the first few times he used it, he got upset it went off at the end of the two minutes and started it over, twice. My two and half year old was pretty jealous of his brother's new brush and even refused to brush his teeth until I got him a Tooth Tunes toothbrush as well. So we had to make a special trip to the store so he can pick one out.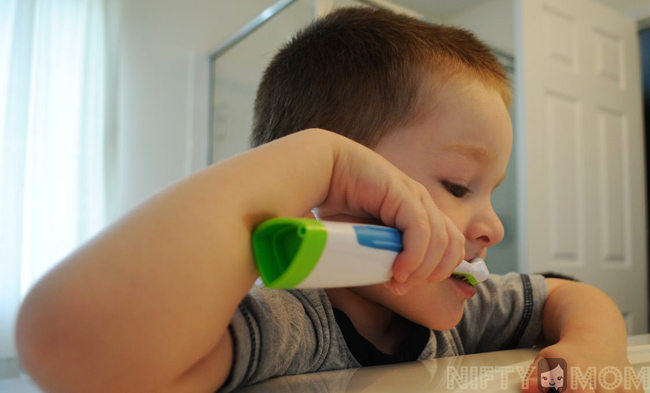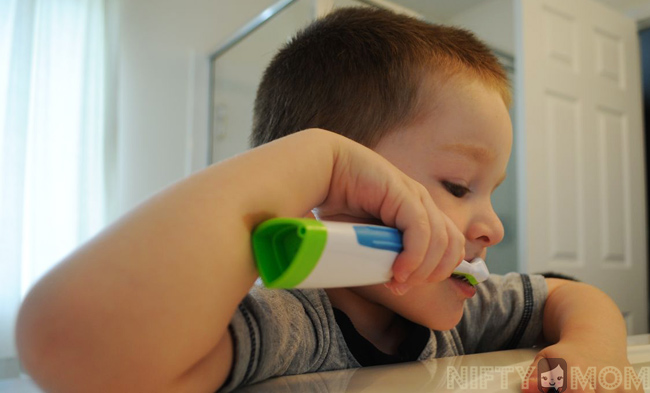 There were a few different ones for him to pick from. Tooth Tunes was launched in July 2012 featuring:
"All Day" performed by Cody Simpson
"Dynamite" performed by Taio Cruz
"I Gotta Feeling" performed by Black Eyed Peas
"If I Ruled the World" performed by Big Time Rush
"Round & Round" performed by Selena Gomez & The Scene
"Tonight, Tonight" performed by Hot Chelle Rae
"We Will Rock You" performed by Queen
He picked "We Will Rock You". The suggested retail price is $9.99, but my local Walmart had them for just under $9. Now they both rock out while they brush their teeth. They are available at mass, drug, and food retailers nationwide. You can also connect with Arm & Hammer on Facebook.
Tooth Tunes definitely impressed my kids and makes me one happy Mom now that they brush for the recommended two full minutes.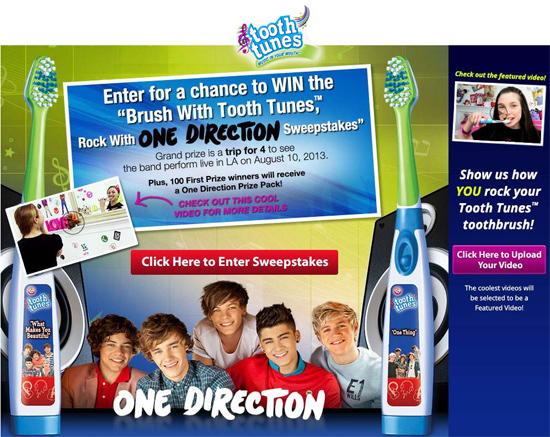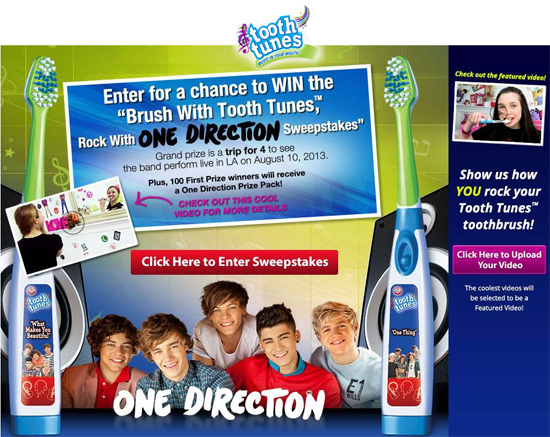 Enter the Brush with Tooth Tunes Sweepstakes to win the Grand Prize of four tickets to a One Direction concert in August 2013. Plus 100 First Prize Winners will receive One Direction prize packs, with One Direction merchandise. You can enter once per week through 6/30/2013 by completing the registration form on ToothTunes.com. Winners will be chosen in July 2013. There is no purchase necessary. The sweepstakes is open only to legal residents of the 50 United States and the District of Columbia, who are 13 years of age or older. For the complete official rules, visit ToothTunes.com.
You can also create an optional video of yourself or your kids brushing with One Direction ARM & HAMMER™ Tooth Tunes™ for a chance to be featured on ToothTunes.com! (A video is not required for entry.)
Good luck to those that enter!