Thank you to Proctor & Gamble for sponsoring today's outdoor cleaning tips and giveaway. All opinions are my own. 
I spend nearly every day with my kids outdoors in the backyard in the spring and summer. Then every weekend we grill and sometimes have friends or family over for dinner. Since we entertain frequently, our backyard is full of furniture, a fire pit, two grills, and lots of toys for the kids. So for me, that means a lot of things that frequently need cleaning from being outdoors.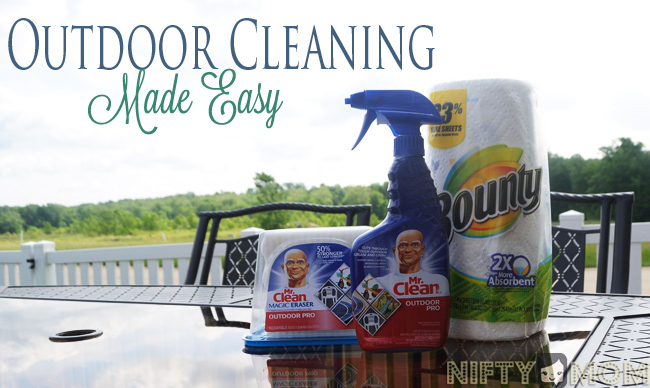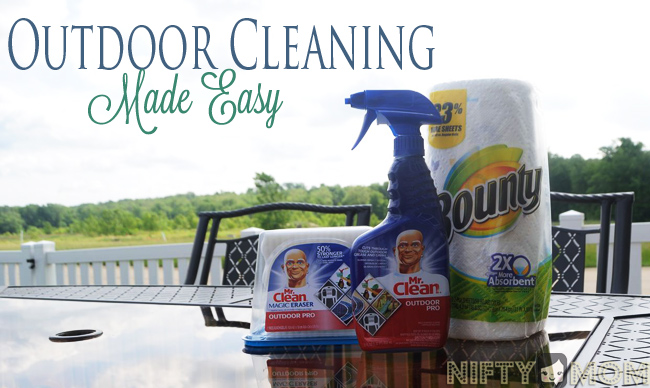 I typically dread cleaning outdoors. It sometimes just seems pointless to me. There are still being new houses being built in our neighborhood so there is dirt flying around daily. After I clean outside it only takes a day or two for everything to get dusty and dirty again. However, it needs to be done since we spend so much time out there. To get the job done, I've learned a few tips and products to ease the pain of the chore.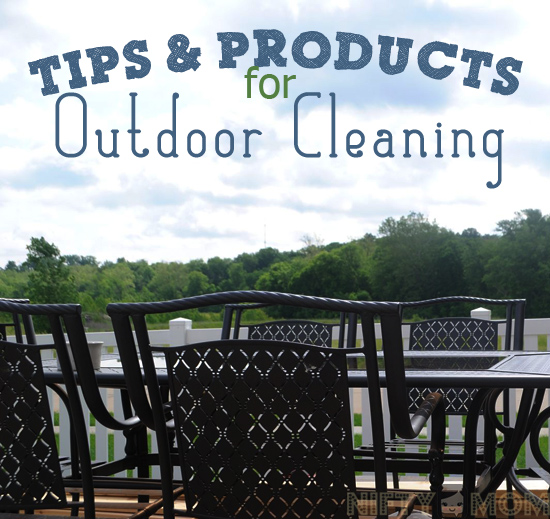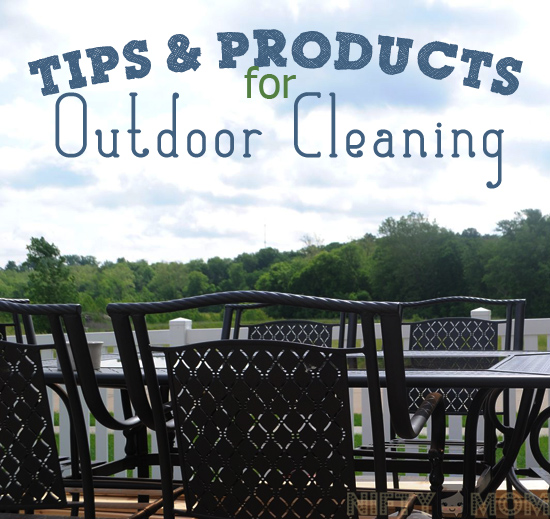 Start with the dirtiest: I always say to knock out the worst task first. So for cleaning, it's the dirtiest area. In my backyard, that is normally the gas grill. Even though it is normally covered, it still frequently ends up being coated in grease and grime because we use it so often.
Use Durable Cleaning Products: When cleaning, I don't want my paper towel or cloth to fail on me. It is never pleasant when I am scrubbing an area and my paper towel starts disintegrating and creating a whole new mess. I have been using Bounty paper towels and they have never once broken down, even when scrubbing the worse areas.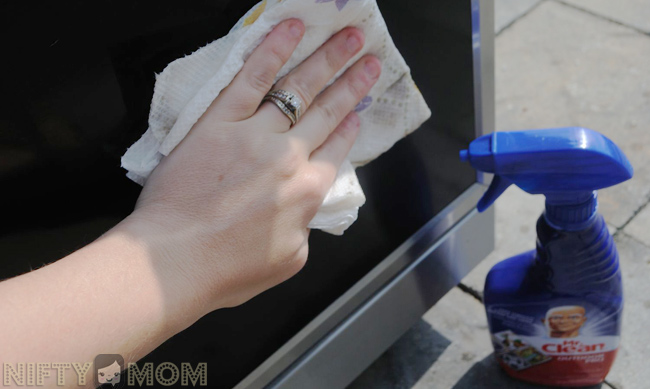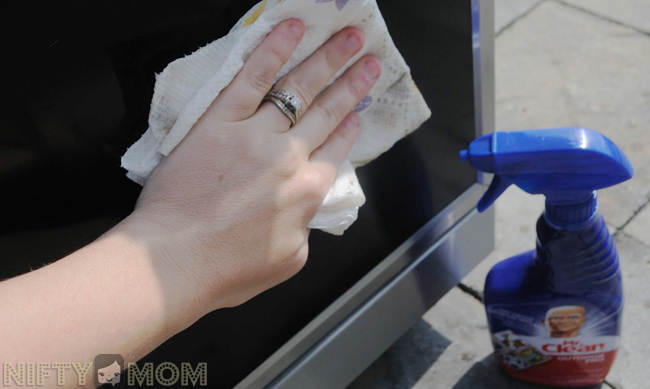 Mr. Clean Outdoor Pro: The first time I used this multi-surface spray, I was shocked at how heavy duty it is. Each pull of the trigger coats the area with a thick cleaner to cut through grease and stubborn grime. It is great on grills, patio furniture, siding, garbage cans, toys and much more.
Clean Extremely Dirty Glass with Outdoor Pro First: Both of our patio tables have glass and it only takes a day or two to get weathered. A glass cleaner alone is not enough to get it spotless. I use the Mr. Clean Outdoor Pro to cut through the grease and outdoor crud first. Then I use a glass cleaner to add a nice shine to it.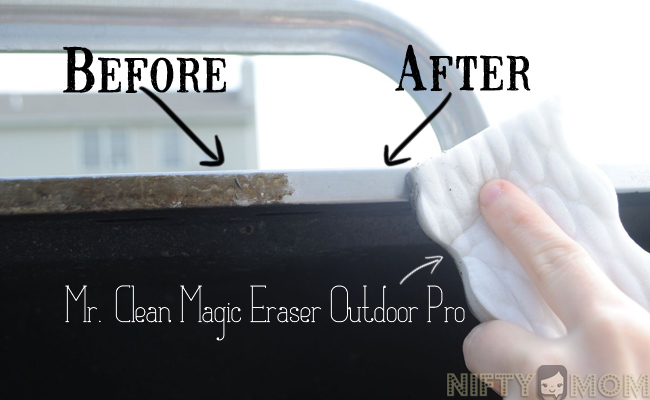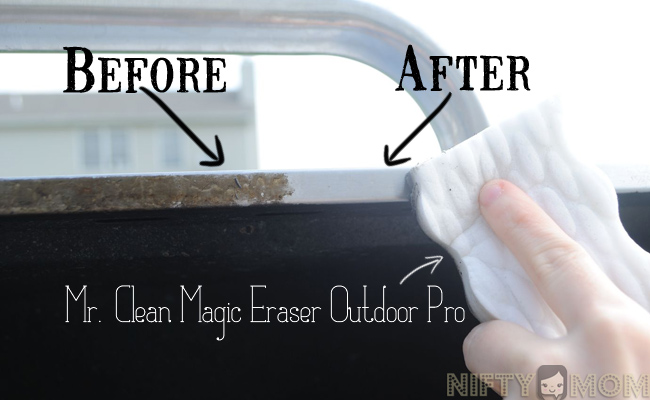 Mr. Clean Magic Eraser Outdoor Pro: You may not know this, but I have a slight obsession with Mr. Clean Magic Erasers. I use them all over my house. You can't imagine how thrilled I was when I learned they have an outdoor Magic Eraser. They are 50% stronger than the orginal eraser and ready to take on heavy-duty outdoor messes. I tried to find one of the greasest spots on our grill and first tested it on the edge of the lid. With just a few passes, it got all the grease off. Do you see the picture above? It's amazing!
The Water Hose and Sprayer is Your Friend: If you don't like to get your hands dirty, spray everything generously with Mr. Clean Outdoor Pro. Let it sit for about 5 minutes, and spray it all down with the hose on the most powerful setting your sprayer has.
Spray Down the Patio or Deck Last: If you do it first, you risk getting it dirty again while cleaning everything else.
Cleaning outdoors doesn't have to be a downer. Keep it sparkling and enjoy time with family and friends.
Prize Pack Giveaway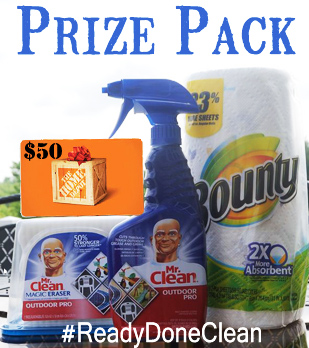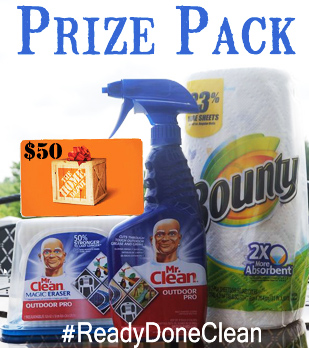 Proctor & Gamble has put together a special prize pack for one lucky reader that includes:
Mr. Clean Outdoor Pro Spray

Mr. Clean Magic Eraser Outdoor Pro
Roll of Bounty Paper Towels
$50 Home Depot Gift Card
 No purchase necessary to enter. The giveaway is open to US residents 18+. Giveaway ends at 11:59pm EST June 20th, 2013. The winner will be selected via random.org and contacted by email. Winner has 48 hours to reply to confirm their prize or a new winner will be picked. If you have any issues entering or have any questions, please email me at contact (at) niftymom(dot)com. Momma Rambles and Random Mommy are not responsible for prize fulfillment. 
I received the mentioned prize pack from Proctor & Gamble and was in no other way compensated. All opinions expressed are 100% mine.