I received a pair of Proskins Slim Leggings to participate in the 28 Day Blogger Challenge. All opinions are my own. 
I am always up for a challenge and trying new things. When I heard of Proskins, I was extremely curious. Could I really lose inches just by wearing a pair of leggings? Will they really improve my skin? My interest was definitely sparked.
When I got married 5 years ago, I was pretty small, probably too small. I wore a size 0/1 most of the time. Within 3 months, I got pregnant and gained almost 60 pounds. After I had my son, and started to lose most of the weight, I found out I was pregnant again. Then repeat. I had three kids within 30 months. Needless to say, that really took a toll on my body. The third pregnancy was really rough on my legs.
Now, my youngest is a year and a half old. I'd say I am at an average size, but my thighs and hips just aren't improving anymore. I don't expect to get to where I was 5 years ago (or really want to), but I'd like to get those areas slimmer. That's why I am excited to be using the Proskins. I have high hopes that they will help me in those areas.

Proskins Slim Leggings are made of special compression fabric and patented micro-encapsulated yarn. They are created to promote blood circulation and lymphatic drainage and to flush fluid and toxins which cause cellulite.  The microcapsules in the fabric are guaranteed to remain in the garment for at least 100 washes and contains:
Caffeine – A renowned active slimming agent that activates micro-circulation and promotes fat destruction.
Retinol – A skin re-generator to stimulate collagen, which gives skin a youthful appearance.
Vitamin E – An antioxidant to help skin feel smoother and softer.
Aloe Vera – Another ingredient to help skin feel smoother and softer.
Ceramides – Restores the skin's barrier system providing an immediate tensor effect.
Fatty Acids – Natural ingredients that exist in our skin. They are the perfect vehicles to improve the penetration of the rest of the active principles into the skin.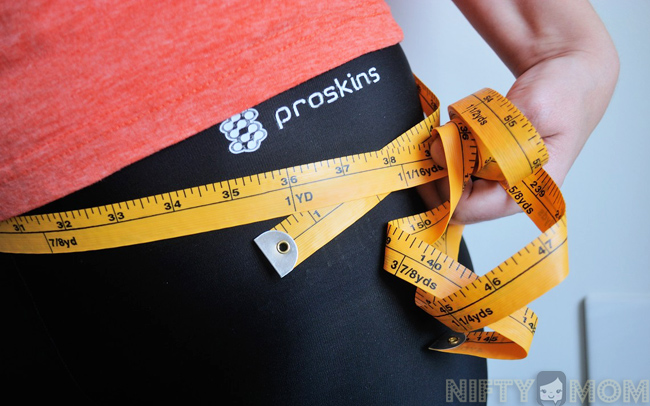 To track my progress during the duration of the challenge, I had to record six different measurements. I can't believe I am putting them out there for everyone, but here they are:
Hips – 35″
Top of thigh – 22″
Widest part of thigh – 19.75″
Above knee – 15″
Below knee – 12.75″
Widest part of calf  – 13.75″
I will be wearing the Proskins, as directed, for a minimum of 8 hours a day, for 28 days. They can be worn while sleeping, so I don't see this being a problem.
The only thing I thought was going to be an issue was the length. I am just barely over 5 foot tall so I have a hard time with pants and leggings most of the time. These are a little long and I was going to cut them off. But I tried wearing them over my heels and it works great. I can't even tell so they don't bother me. And since the fabric is suppose to smooth and soften skin, my heels could use some of that love too.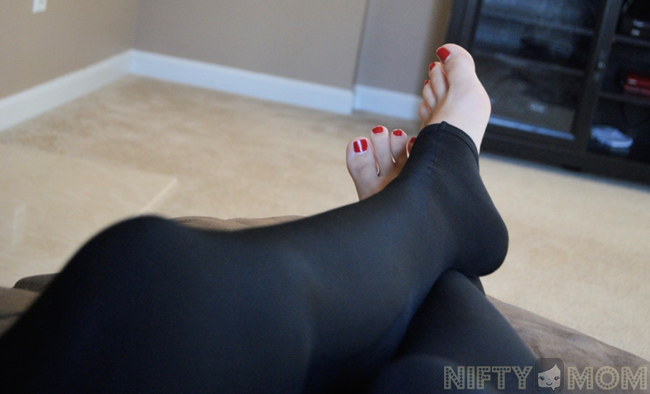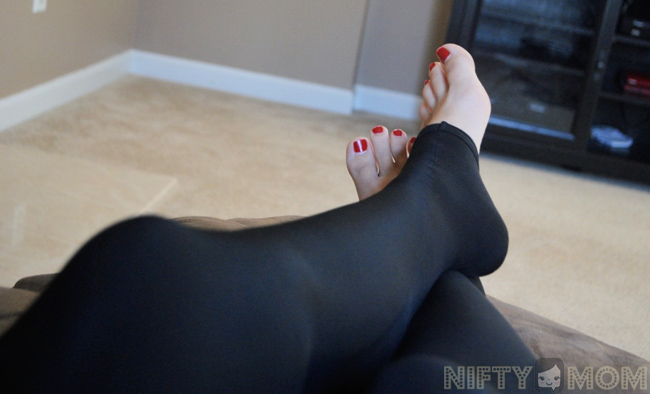 I have already worn them for one day and I can't believe how comfortable they are. They are extremely lightweight, which is also nice in the heat. Yesterday was almost 100 degrees outside and I wore them out for a little bit and was surprisingly not crazy hot. The material is amazing. I could wear them all day everyday if I had multiple pairs. After day one, I could already see a difference in how soft my skin is. I think good things are to come!
For more information on Proskins, visit them on Facebook, Twitter or ProskinUS.com. If you want to join the 28 Day Challenge you can get 50% off the classic black leggings.
I will be sharing my weekly updates on Twitter and Facebook, so be on the lookout every Monday. After the 28 days are up, I will post my experience and results.