I created these Halloween recipes and a free bottle label printable as part of a sponsored post for a Collective Bias® #SpookyCelebration campaign. All opinions expressed are my own. 
October has been filled with a bunch of Fall themed crafts and activities. The boys are loving all the things involving pumpkins, leaves, and apples. However, I know they are patiently waiting for the candy treats. To get them psyched about Halloween, I made them a spooky dessert and juice snack.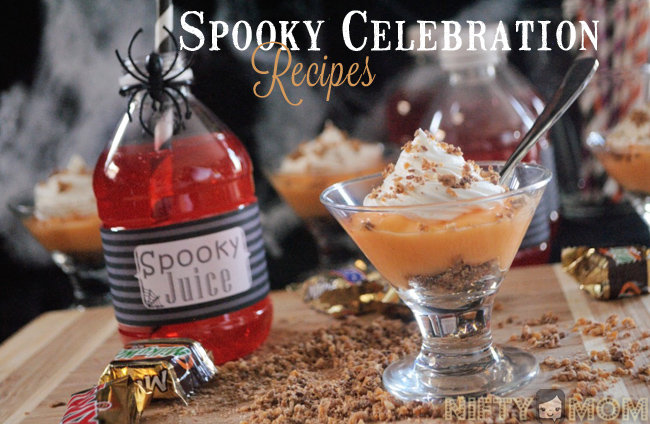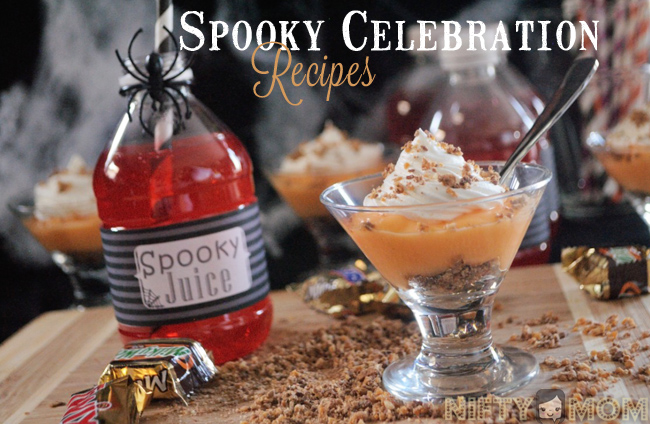 I had a lot of plans for this week to visit the pumpkin patch, a corn maze, go on a nature scavenger hunt, and more outdoor Fall activities. However, that derailed last week when my three year old broke his leg (I'll save that for another post). He can't walk with the cast, so we have been doing the best we can to adapt to it. A special Halloween snack seemed fitting to help cheer him up.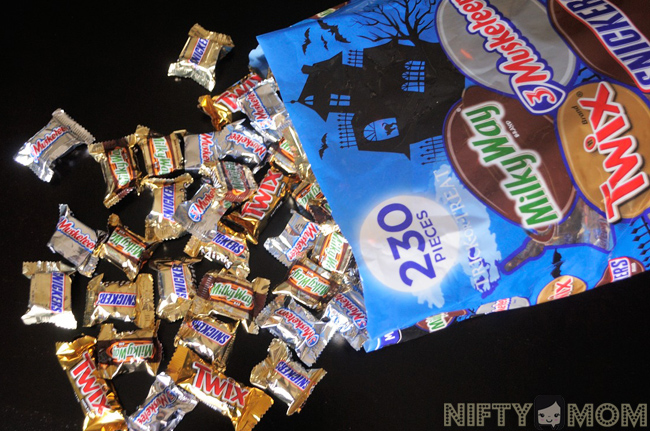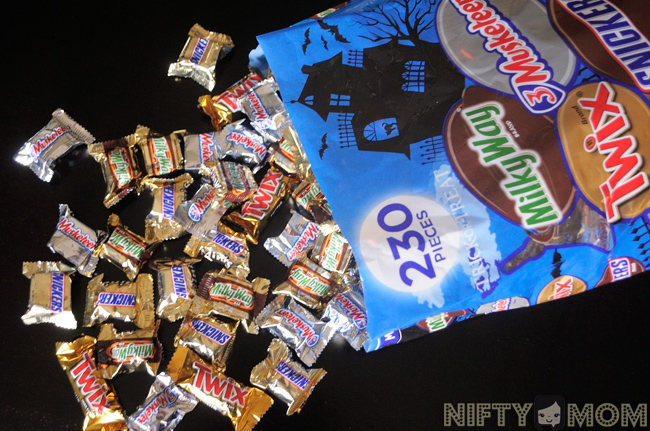 While out running errands, I stopped by Walmart to pick up some Halloween candy (I had some Mars Candy Coupons). I couldn't pass up the Mars Variety Pack of Mixture Miniatures. I can only assume that 230 pieces of mini Milky Way, Twix, 3 Muskateers, and Snickers bars will last longer than a week at in my house. I also purchased Hawaiian Punch and 7UP a Spooky Juice beverage.
No Bake Halloween Mini Pudding Dessert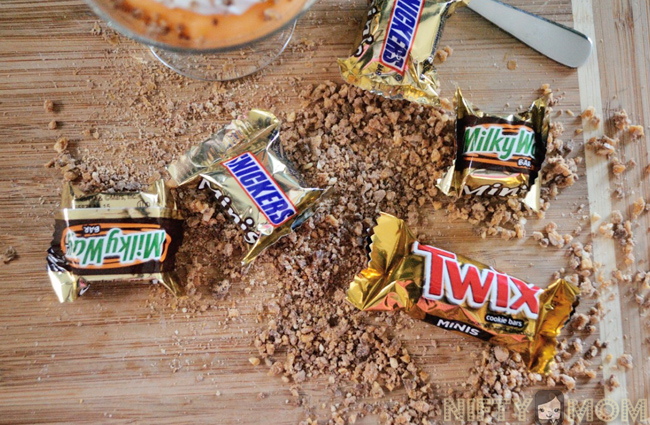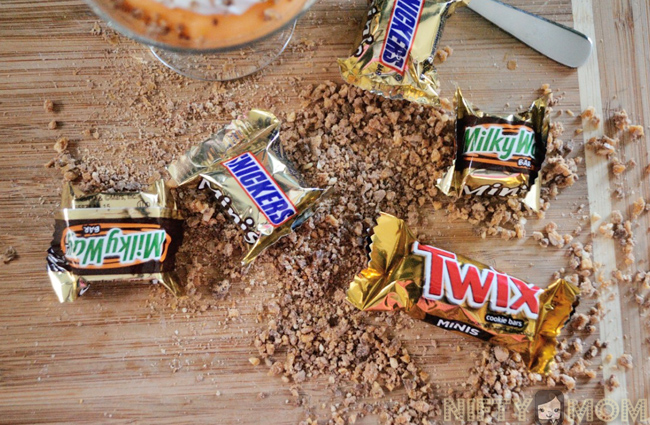 Not only is this dessert delicious, but it also is simple to make. Please note: the 3 Muskateers did not chop very well. However, they are perfect  for snacking on while  making the dessert (at least they were for me).

No Bake Mini Pudding Dessert
Ingredients
1 Package White Chocolate Pudding
2 Cups of Milk
Orange Food Coloring
15 Miniature Candy Bars (Snickers, Twix, Milky Way)
Whipped Cream
Instructions
Whisk together the pudding mix and milk as directed. While mixing, add a few drops of orange food coloring. Place in refrigerator to set.
Finely chop the mini candy bars.
Spoon a layer of chopped candy in the bottom of 12 miniature dessert bowls. Reserve some to sprinkle on the top.
Spoon a layer of pudding on top of the chopped candy.
Next add a layer of whipped cream.
Sprinkle some chopped candy on top.
Serve immediately or place in refrigerator until ready to eat.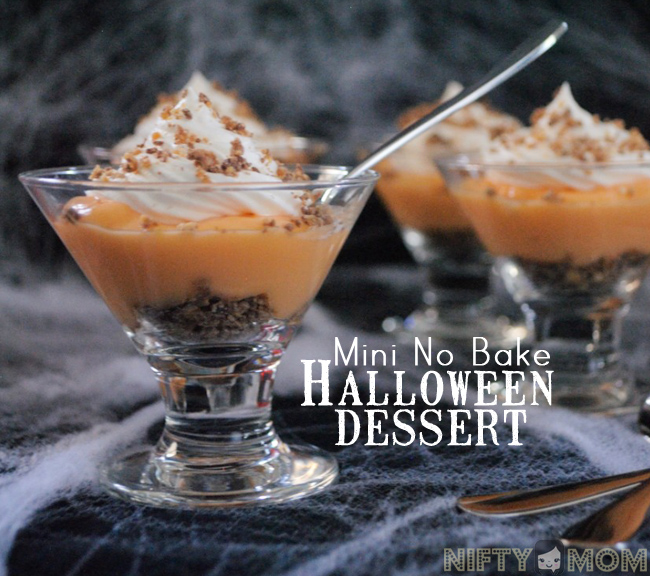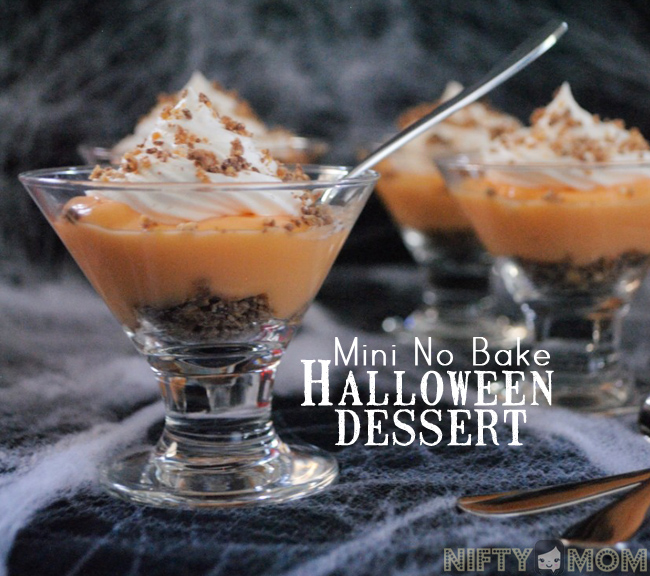 Spooky Juice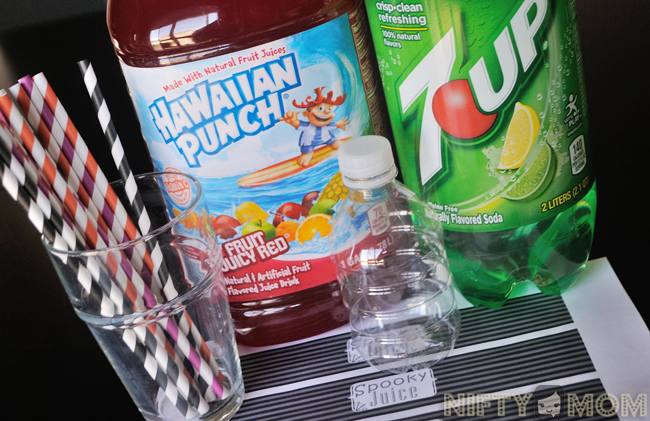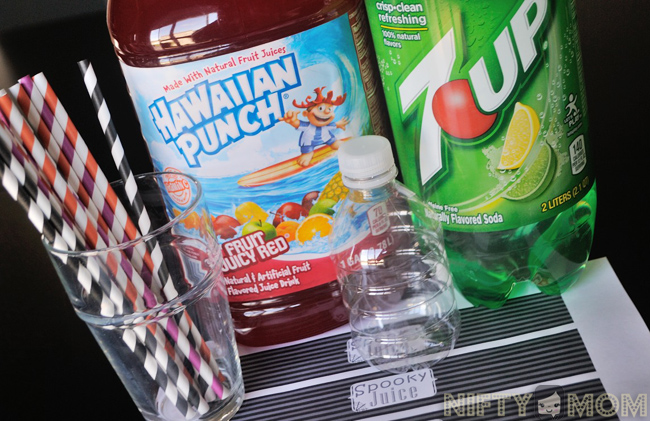 To make the Spooky Juice, I just mixed equal parts Hawaiian Punch Fruity Juicy Red and 7UP. My sons love the small 8oz water bottles so I put the beverage in those. To give the drink a special touch, I created a printable label that would be great for a Halloween party. I created the labels so they could also fit most 16.9oz water bottles as well.
**Print the FREE printable water bottle labels (4 per page)**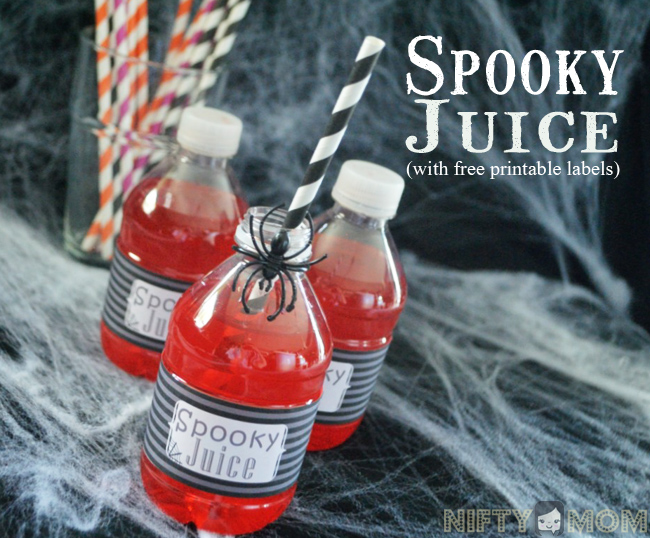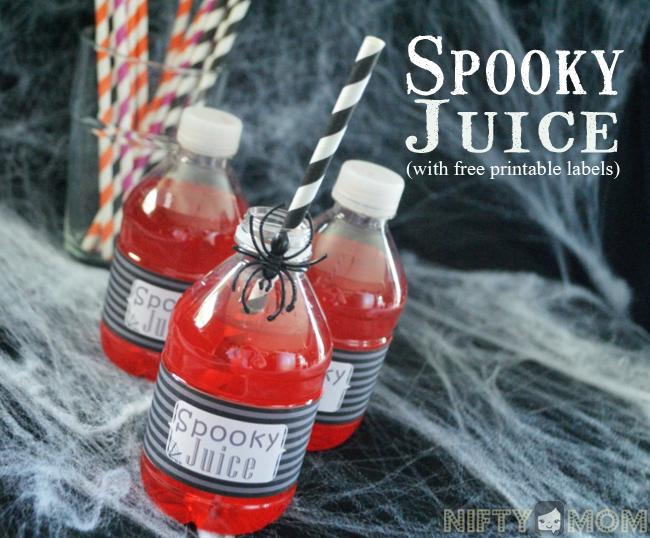 The miniature sizes were perfect for my little ones. They all loved the special treat, especially my three year old. Both treats would be great for any Halloween Celebration, small or large (or just to cheer up a little one).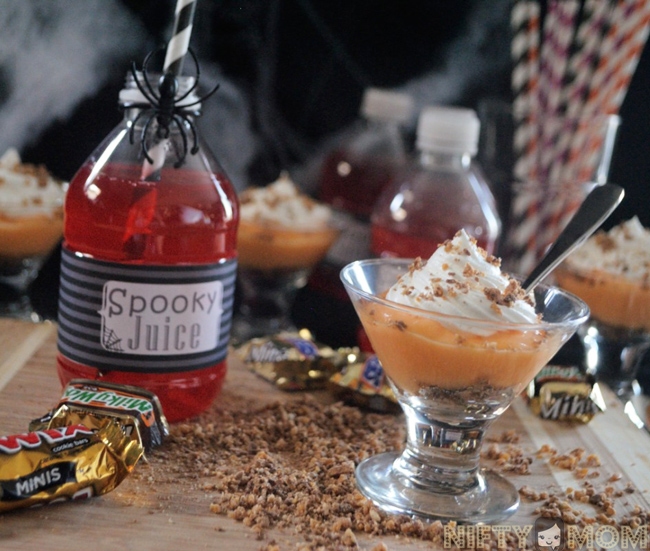 For more Halloween treats and recipes, check out all these amazing ideas on the Pinterest Board: