Good afternoon to all my baseball fans! I know you are out there and I am right there with you. Who is ready for the 2013 World Series match up? I live in Cardinals Nation and proud that once again, I get to cheer the Cardinals on through another World Series.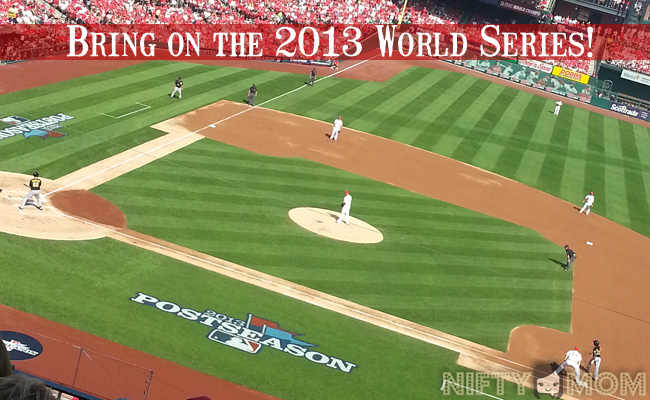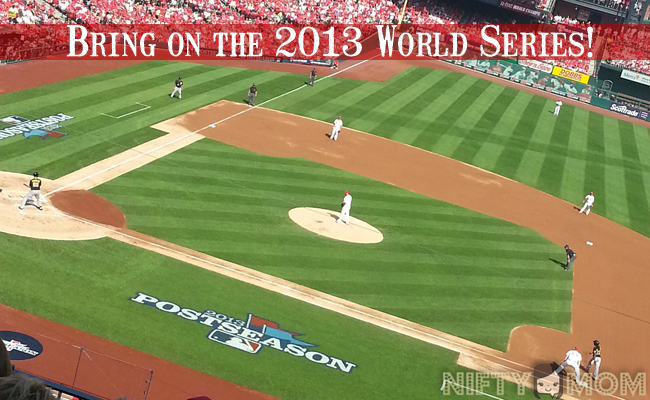 Tonight, at 7:07 CST, the Cards will face the Boston Red Sox at Fenway Park for Game 1. Some are saying the champion team is too hard to predict because both teams seem to be on their game. Both teams won 97 games in the regular season. However, we all know the Cardinals are going to win right?!? That 12th ring just sounds so nice ;)
I'm not the only blogger out there excited that her team has a shot at the 2013 Ring! My bloggy friend Ashley, over at Momma Rambles, is a huge Red Sox fan. Her favorite kind of diamond is the one on the field and she can't post enough love for her favorite team.
It's exciting that both our teams made it to the championship, so we couldn't help but place a friendly little wager on who's team comes out on top. We like to have some fun! Since we are always on social media, be sure to check us out there after the Series. You will then see what the "loser" as to do in honor of the winning team! Let's just say both us have our fingers crossed that our team wins.
LETS GO CARDS! Today is the start of a great series! Can't wait until you are back home this weekend!