As a Bulu Box Ambassador, I receive a subscription at no charge plus a Bulu Box coupon code for 50% off to share with my readers. Links may include affiliate links. All opinions are my own.
Monthly subscriptions are a great way to have new things delivered right to the doorstep with little effort. I've had a subscription to Bulu Box for a year now and have not once been disappointed. It is a great subscription with more than just awesome product samples.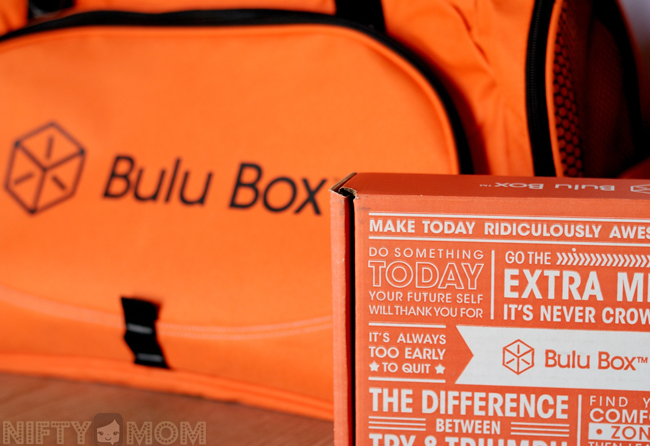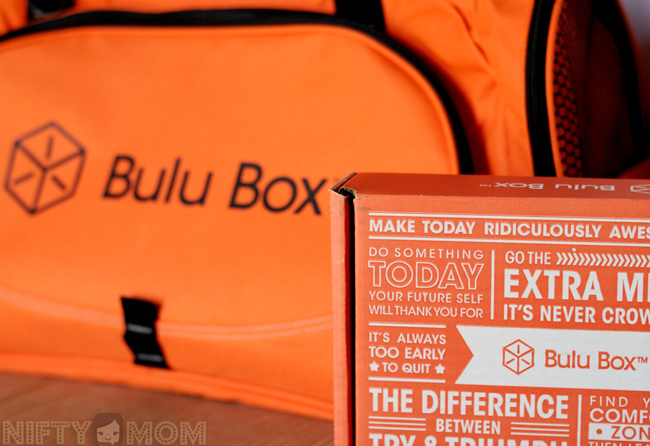 So what is Bulu Box?  This orange box is a monthly subscription that includes 4-5 samples from top brands. It allows you get discover feel good products. It can including different products such as vitamins, supplements, online vouchers, coupons, energy foods and more.
So what's the big deal? I have people ask me, 'why would you just want one sample of vitamins or supplements?' My answer has always been the same. Each month it introduces me to new products and new brands. There are things I would have never thought about taking or thought would benefit me. With each set of samples is a summery card with product information and cost. Basically, it takes the research out of finding new products. If you like a product, not need to search for a retailer. It can easily be purchased from the Bulu Box website, another time-saver.
February Bulu Box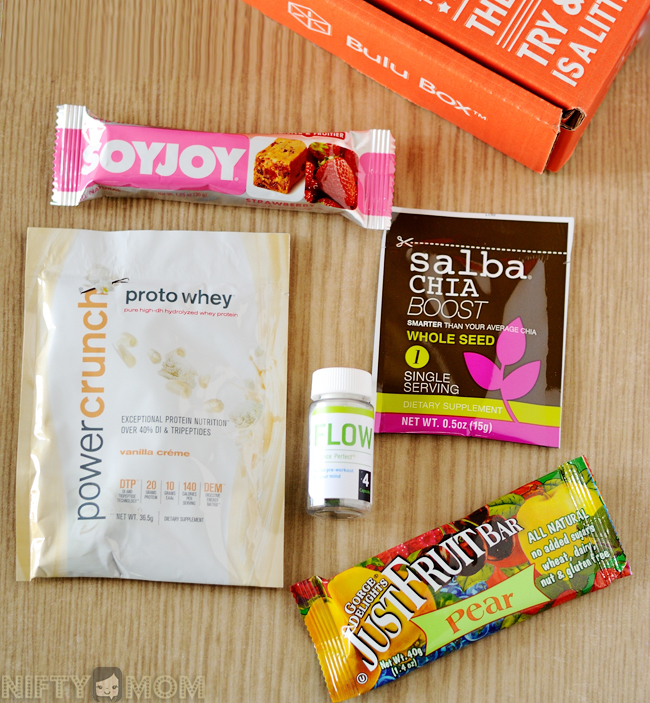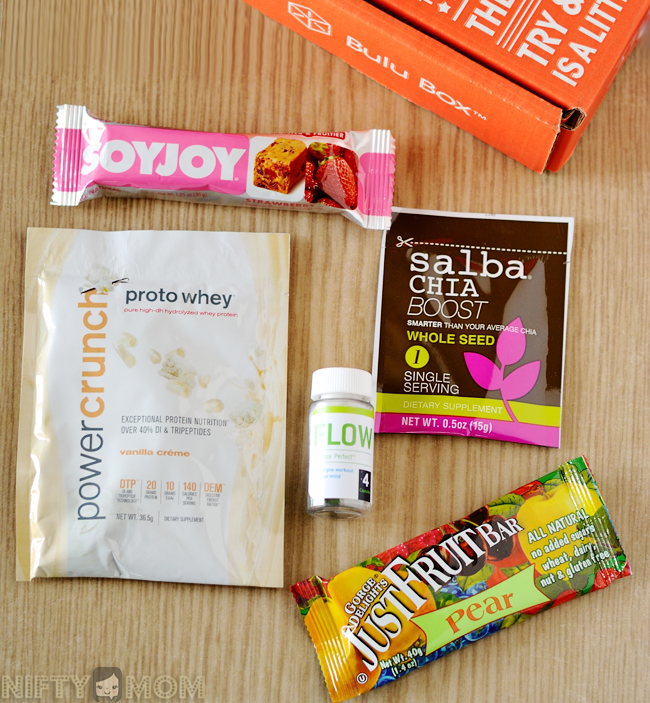 I got my February box a little over a week ago, which mails out around the 15th of each month. This one included:
Just Fruit Bar: All Natural Fruit Bar
Flow Athletics Neutral Enhancer: Energy + Focus Herbal Supplement
SoyJoy: Gluten-Free Natural Indulgence
Power Crunch Proto Whey Protein: Fast Absorbing Protein
Salba Smart Chai Seed Packs: Nutritional Boost
Coupon Code for a Free Weekly Meal Plan from Prep Dish
Exclusive Coupon Codes to BuluBox.com and other sites
I am actually excited about all the samples. The SoyJoy is the only one I have used before. I am looking forward to the Chai Seeds the most. I just started making smoothies daily and I think they would be a great addition to my daily routine.
If you want more samples of what can be included in the boxes, view some of my past Bulu Boxes.
Bulu Box Coupon Code for 50% Off Any Subscription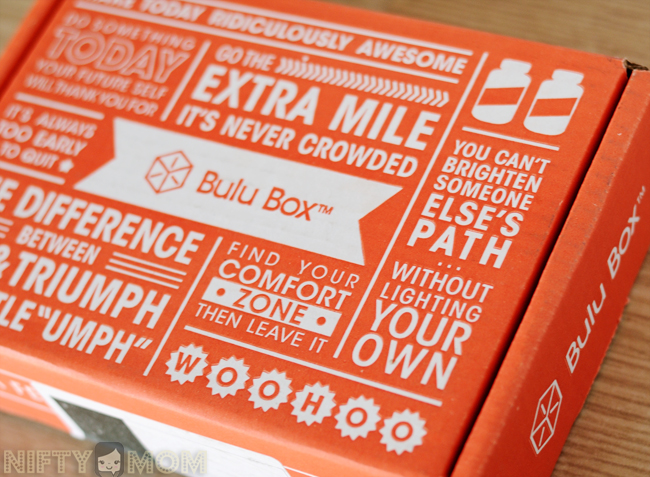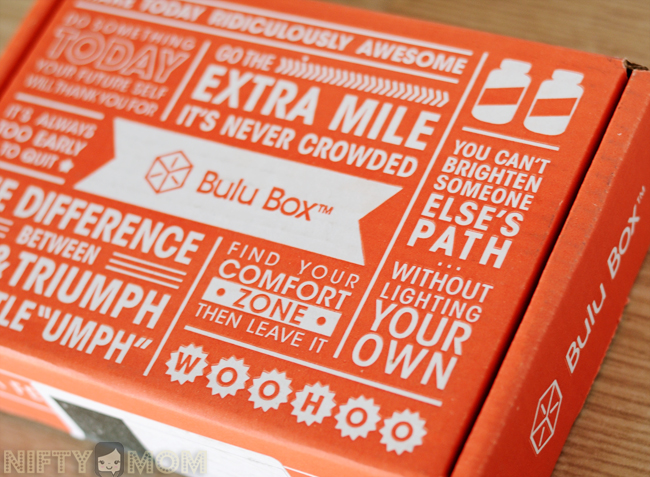 Now is a great time to try out a subscription of your own. There are two different boxes, the original Bulu Box (what I got) and the Weight Loss box, which is geared towards products that promote weight loss. You can pick which one you want when you place your order and you have the option to change it each month.
If you are a NEW, first-time customer, you can use my coupon code BULUGAN311 to get 50% off ANY subscription.  Select from the following options:
Month-to-Month –  $5 + Free Shipping (regularly $10)
3 Month – $15 + Free Shipping (regularly $30)
6 Month – $30 + Free Shipping (regularly $60)
12 Month – $55 + Free Shipping (regularly $110)
Another bonus – You can also easily earn reward points with each box to use towards purchasing full-sized products on their site. Last year, I got a free Bulu Box t-shirt with my points.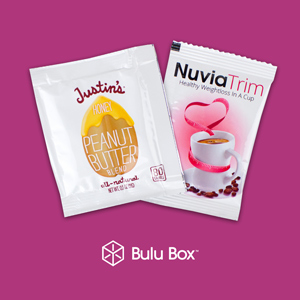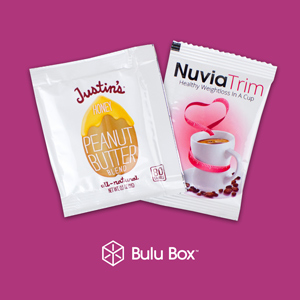 Sneak Peak into March Bulu Box – Order before March 5th to receive the March edition of Bulu Box. I got a sneak peak into next month's box and here are two of the samples you will be getting:
 Justin's Peanut Butter – A environmentally friendly all-natural peanut butter that will surely have your taste buds wanting more!
NuviaTrim – Healthy weight loss in a cup! This coffee-like drink supports appetite control, thermogenic fat loss and is an all-around healthy dietary supplement to help you shed pounds!
ORDER YOURS NOW and let me know what you think!
Bulu Box Exclusive Giveaway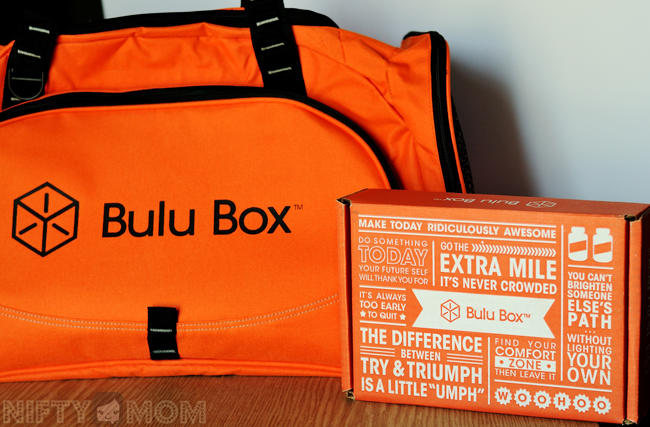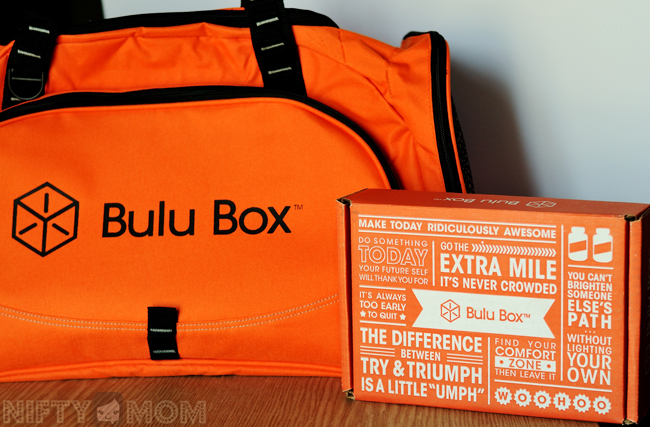 Since I love Bulu Box so much, I would like to give one lucky reader a prize pack that includes:
Bulu Box Gym Bag

3 Month Bulu Box Subscription
No purchase necessary to enter. Enter using the Rafflecopter form below. The giveaway is open to US residents 18+. Giveaway ends at 11:59pm EST March 3rd, 2014. The winner will be selected via random.org and contacted by email. Winner has 24 hours to reply to confirm their prize or a new winner will be picked. If you have any issues entering or have any questions, please email me at contact (at) niftymom(dot)com.