I'm sharing some cleaning tips for maintaining my healthy home as part of a #WalgreensOlogy sponsored campaign for #CollectiveBias. All opinions expressed are my own.
As a mom of three, it is important to not only keep our house clean, but also healthy. Things can easily get messy, dirty, and unorganized. Therefore, I need to stay on top of the household chores to ensure our family is safe and the house is spotless(ish). This isn't always easy with three little one.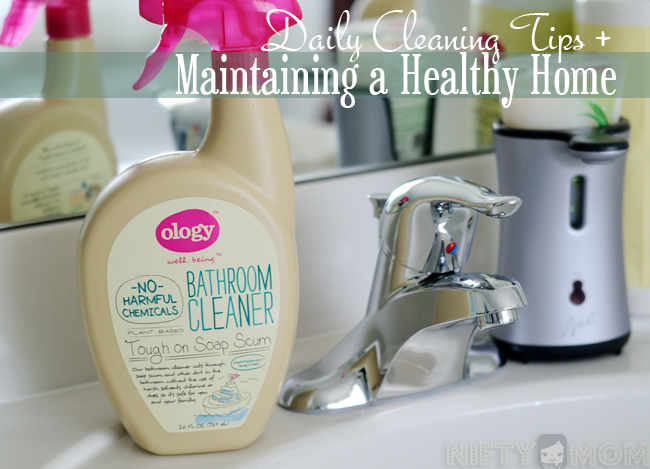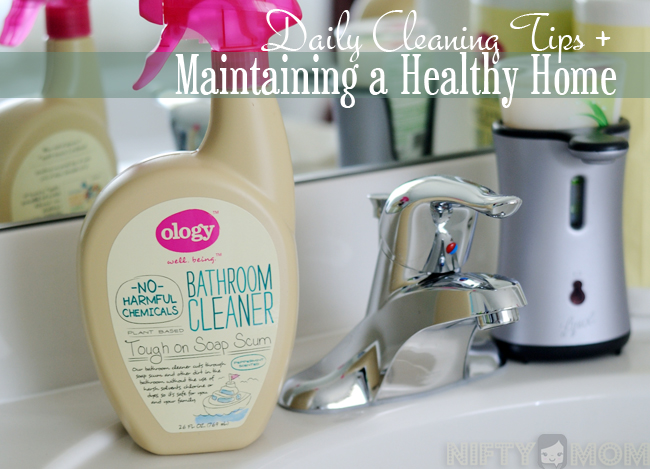 Having a healthy home is important to me. I have been focusing on freeing my cabinets of harmful chemicals and the cleaning products that contain them. This seemed like a tough task at first. I have a whole cabinet under the sink downstairs, one upstairs, plus a hall closet filled with many different cleaning products, many of which I have no idea what ingredients they contain.
The most important products to focus on are ones that my kids come in contact with daily. My kitchen island is something that I have to clean numerous times a day. We spend a lot of time in the kitchen and gathered around the island baking, prepping meals, doing activities, crafts, and just chatting.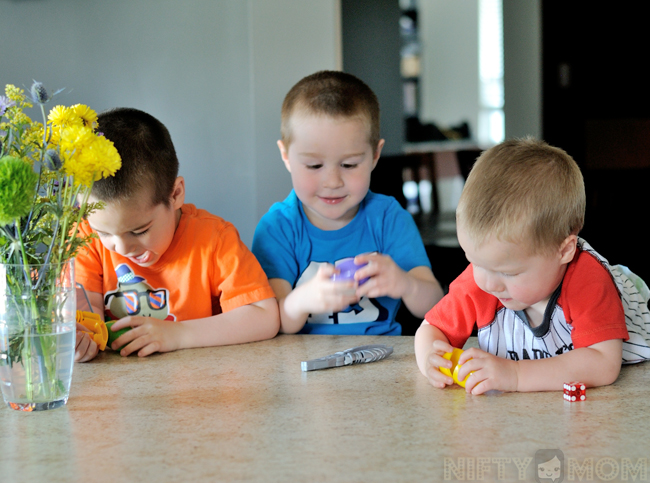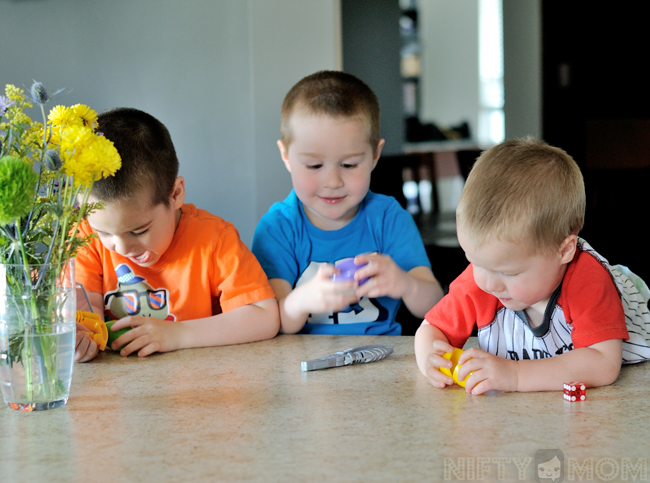 When I would have to clean the counter off while the boys where sitting there, I would have them move back or get down for a few minutes. I didn't want the cleaning products to get on them or in their face. I am always paranoid it will make them sick. That is my main motivation for this change. I am on a mission to maintain my healthy home and to free it of all the harmful chemicals. It is best for my family and the environment.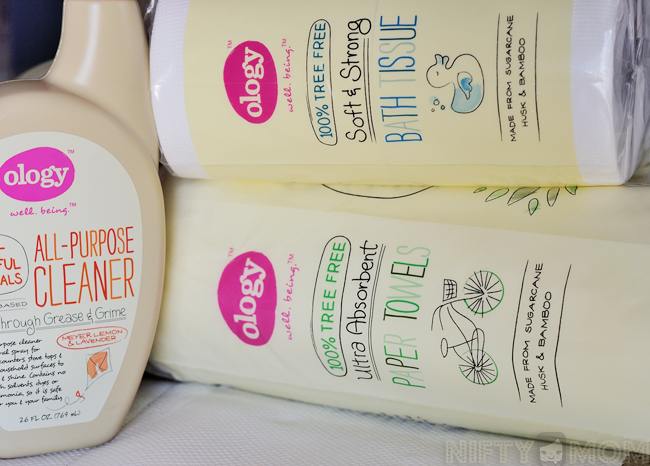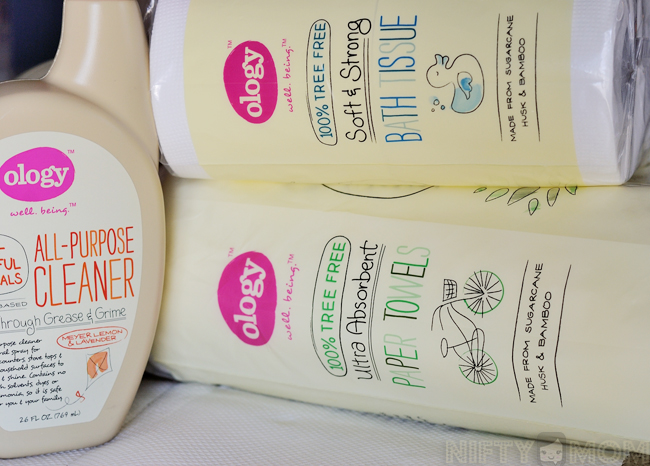 First, I have started by switching out the main cleaning and paper products we use daily. It was easy to see that Ology was the right choice for my family. The sleek packaging is upfront with their commitment to a healthy home with safe products. The paper products are 100% tree free and has the same cleaning power and absorbency as ones we have used in the past. Having them available for my family makes me feel much more comfortable.
The plant based liquid cleaning products also have amazing cleaning power and are free of 10 commonly used harmful chemicals. I no longer worry about the boys still sitting at the counter while I am cleaning it off. Bonus points: The products smell more like a room freshener than a cleaner.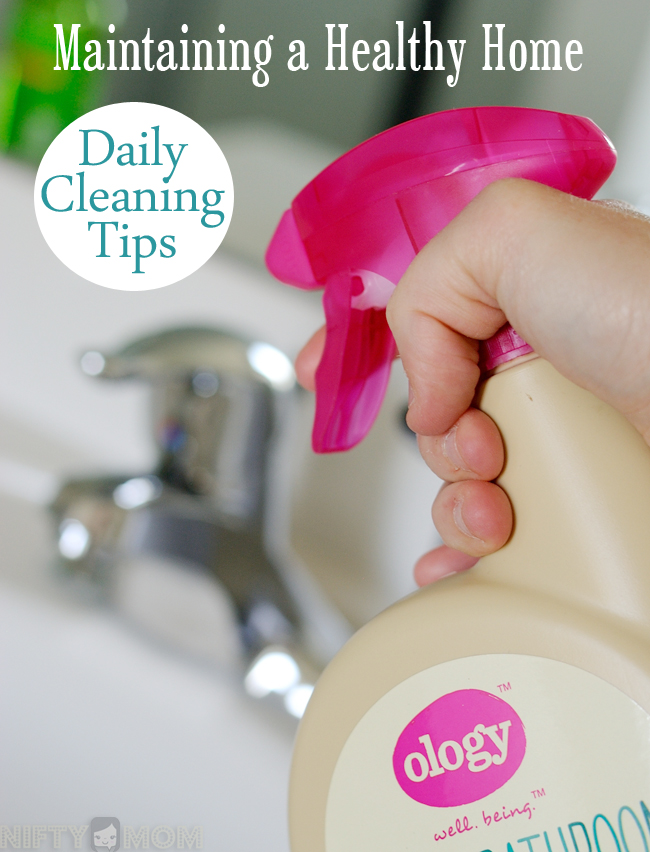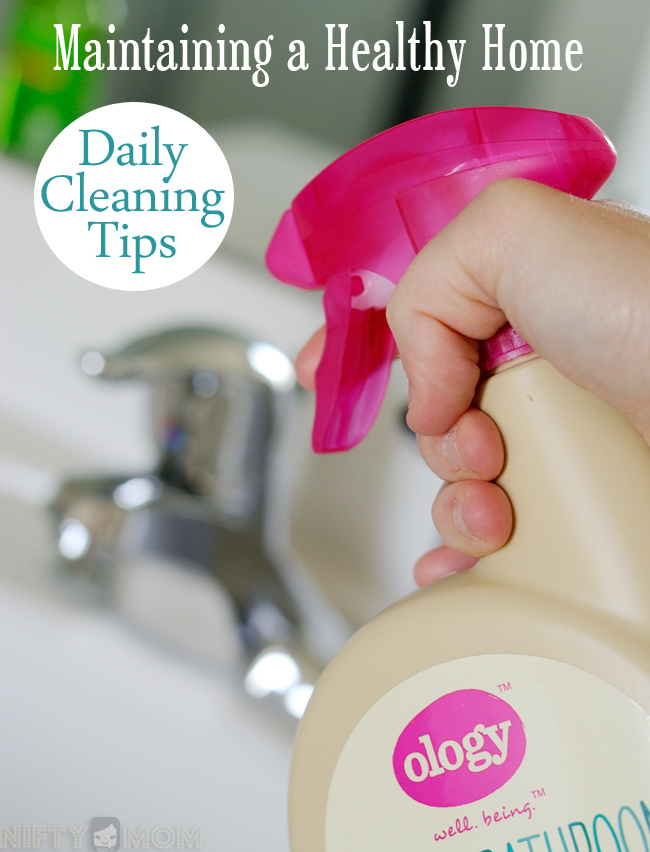 The new products will be more beneficial once I have implemented my typically daily chores. Keeping a clean house with little ones is an ongoing task and if I miss just one day of cleaning, it could take a week to get caught back up. Or worse, I have to spend a full day to get back to my (mostly) clean house.
Last year I wrote a post on tips for being productive using lists. Cleaning is the same way. I typically make a new list every morning with my cleaning goals. There are always tasks that have a permanent spot on the list. Each task on my list takes no longer than 5 minutes. So instead of 'clean bathroom', it is broken down into smaller tasks that are easier to tackle. This may include cleaning the toilet, wiping down the counters, washing the mirror, organizing the cabinets, etc. Instead of getting overwhelmed by a huge cleaning project, I can easily pick one of my 5 minute tasks when I have a few minutes to spare. It is a HUGE help.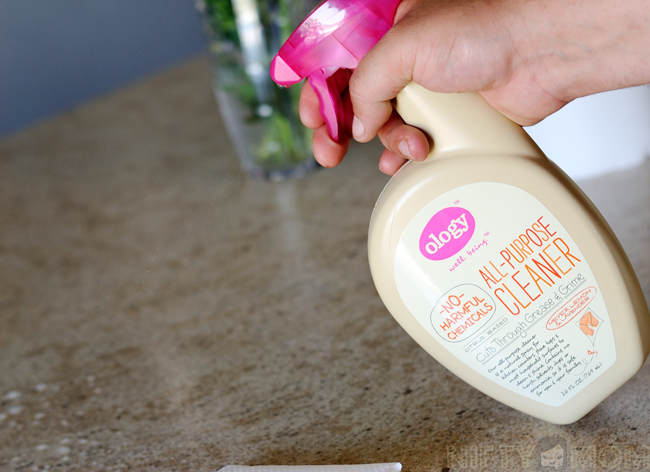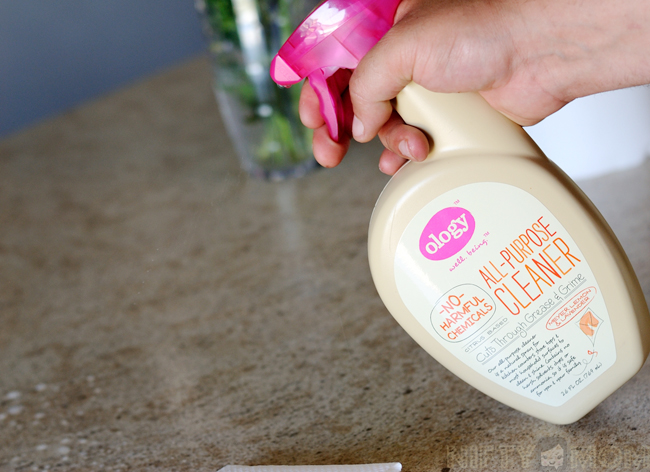 Some of the cleaning tasks I complete every day:
Unload the dishwasher every morning. That way dishes don't pile up in the sink while clean dishes sit in the dishwasher. Ours more than fills up every night.

Hand wash any dishes that didn't fit into the dishwasher. Again, so they don't start piling up in the sink and on the counter.
Take anything back upstairs that was brought downstairs. Typically these are toys the kids took out of their room.
Wipe down all kitchen and bathroom counters. Even if they don't look dirty, their are probably germs hanging out there. Don't wait until it is extremely dirty and hard to wipe up set in messes.
Kitchen and dining room tables cleared and clean.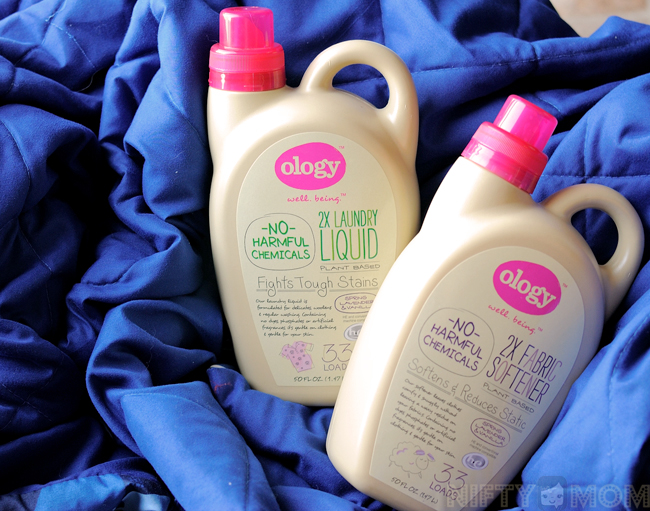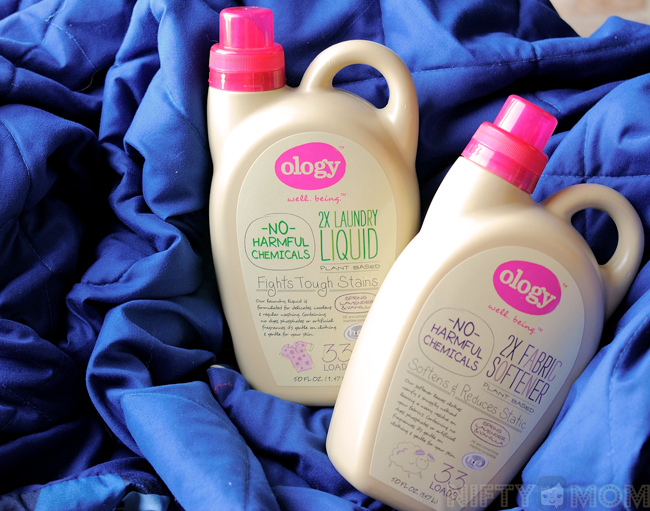 I also have to do laundry at least once a day. I know it seems like a lot, but between towels, clothes, and bedding, there is always something to wash. I would much rather do a load a day than 6 loads at the end of the week.
Safe laundry detergent is important with little ones, but also having one that can get the dirt and stains out. These boys are pretty messy. The Ology laundry products provide just that with their plant based products.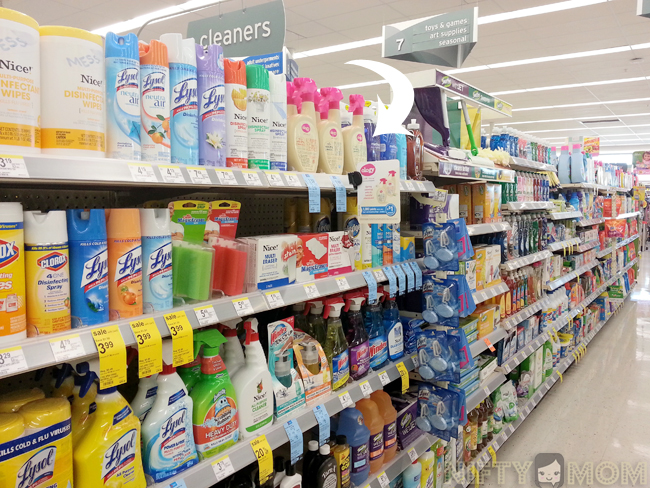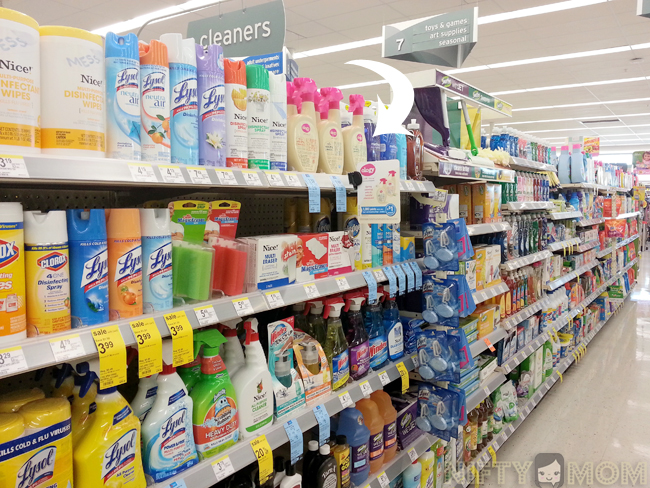 Ology products are sold exclusively at Walgreens, which is great because I get to use my Balance Rewards points and earn more when shopping there.
It is an amazing feeling of security when using products that my family comes in contact with every day that are free of harmful chemicals and still having a clean home.
What cleaning chores do you tackle daily?