This shop has been compensated by Collective Bias, Inc. and Sam's Club. All opinions are mine alone.
#TrySamsClub #CollectiveBias
When my friend, Ashley, and I get together with the kids, we like to have fun. She jumps at any excuse to have a themed party, dinner, or playdate. However most of the time, she doesn't even need a reason (or lots of guests) to do so. I remember last year when her oldest started preschool, she had a huge school-themed layout complete with decorations, just for her 3-year-old's breakfast.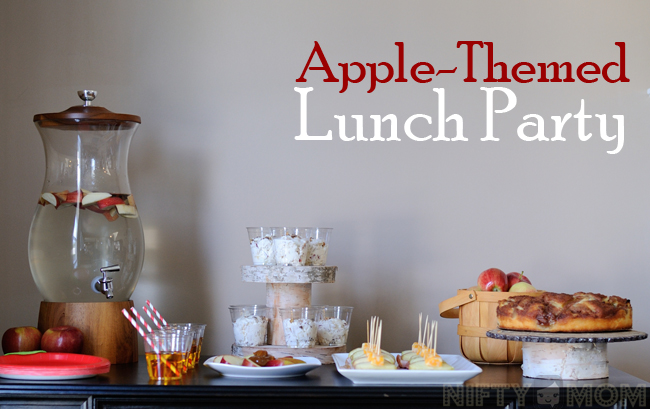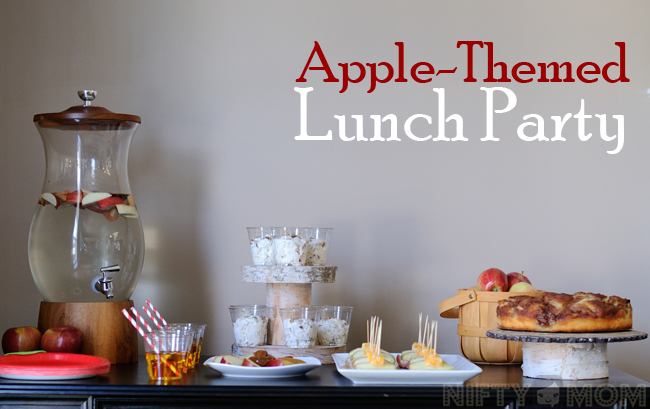 A few weeks ago, during a playdate, we were chatting about the fall, some party opportunities, and activities to do with the kids. With so many things coming up this month, I thought it was a great time to get stocked up on party supplies, treats, and food in general. With three kids and guests over often, Sam's Club is the best place for me to get everything I need.
As a 5+ year member, shopping there at least once a month is typical. I can easily stock my kitchen, pick up a quick dinner, furnish my house, get everyday essentials, etc. I can't even tell you how much I have saved over the years, especially with Sam's Club Instant Savings. Plus there are many other useful services available including tire/auto, photo, pharmacy, health screenings and more.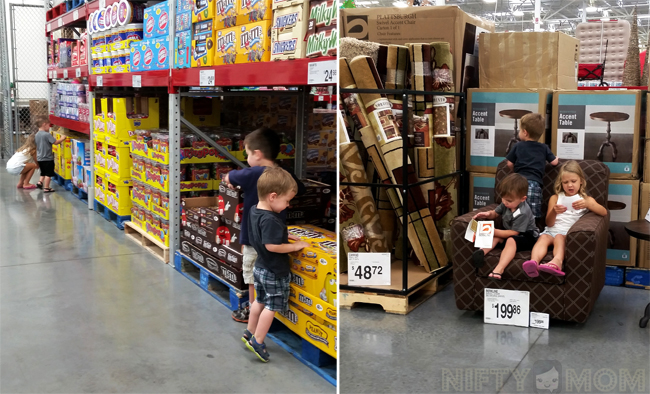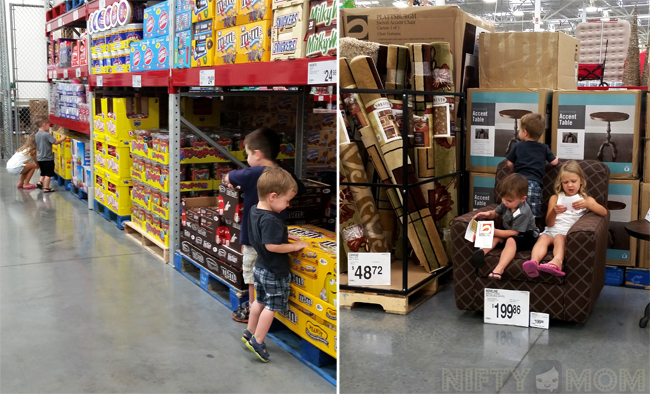 Last week Ashley and I headed to Sam's Club to see what we could get for our busy month of events and so I can show her how shopping there really helps my family and party planning.
One reason I stock up is so I don't have to make as many trips to the store with kids. We were there with 5 kids (4 and younger) and we made the mistake of going down the candy aisle. Before we picked out the one thing we needed, they had loaded about 10 boxes of different candy into our carts.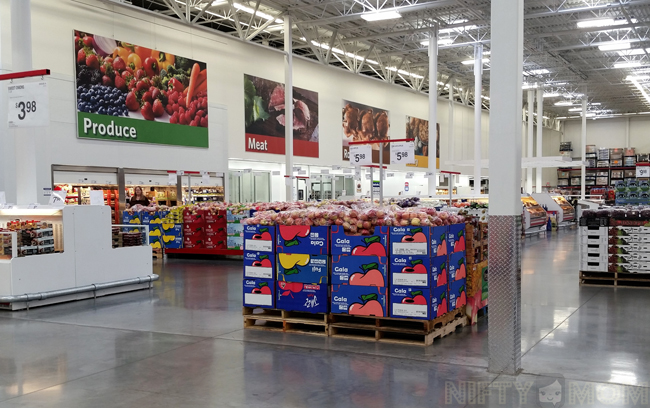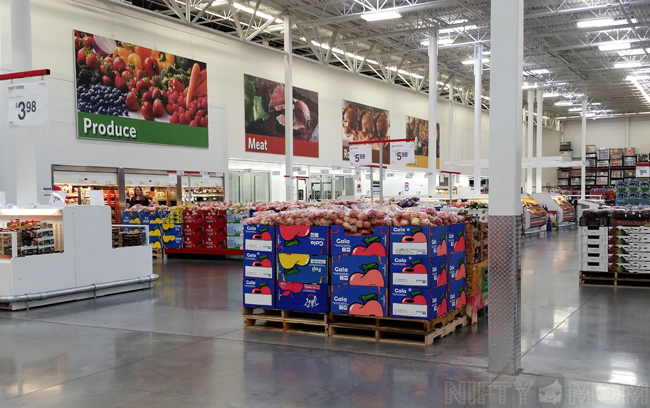 It was hard not to notice the large section of apples available in the produce section. That's when we decided it would be fun to have an apple-themed lunch party with the kids. We are fully anticipating all these fun fall parties and activities, and apples are a great way to kick off the season (even if it is a little early still). Aside from everything else we needed, we picked up a few varieties of apples, apple juice, fun-sized candy bars, serving cups, deli meat, cheese cubes, caramel dip, an apple cake, and a beverage dispenser for our little party.
No Bake 4-Ingredient Happy Apples Recipe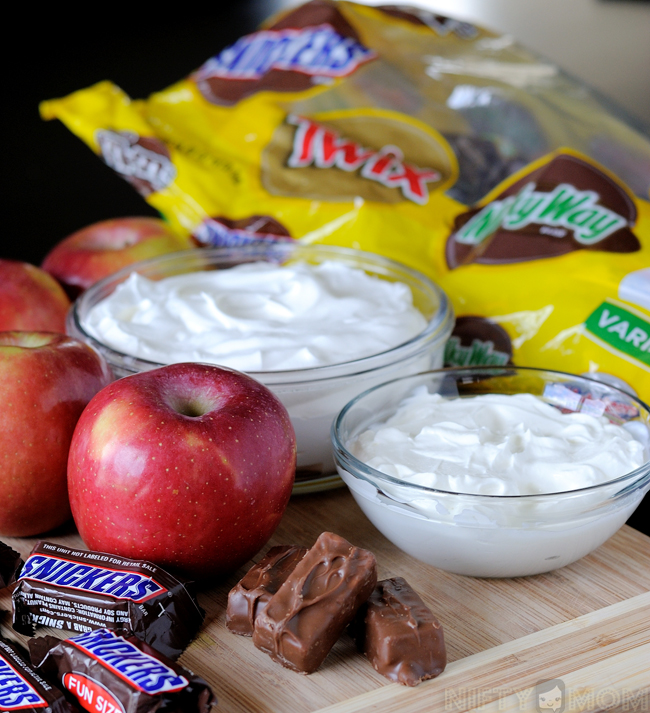 There are many things to make with apples and I am sure I will be cooking and baking a lot this fall. However, this is one simple, no bake recipe that I love making (and eating).
Ingredients:
– 3-4 Large Apples
– 3-4 Snickers Bars (or 6-8 Fun Sized Bars)
– 8oz tub of whipped cream
– 8oz sour cream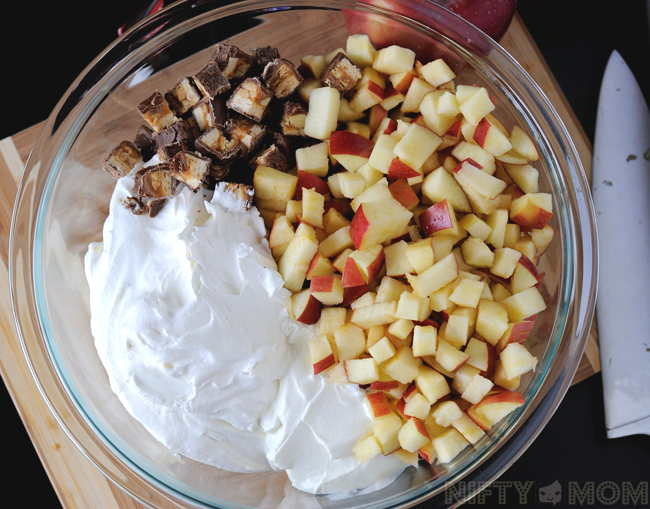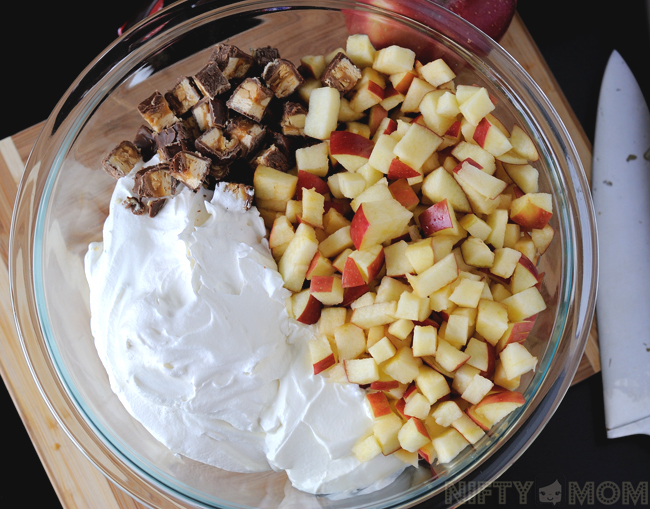 Chop up Snickers bars and apples. Mix together with the whipped cream and sour cream. Once mixed, put into a large serving bowl or in individual servings. Store in the refrigerator if not serving immediately.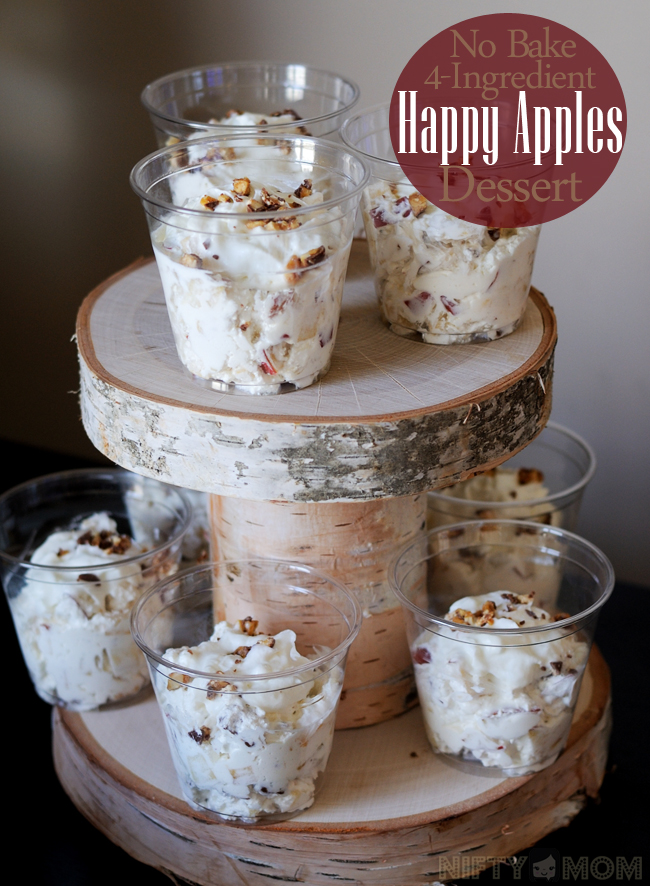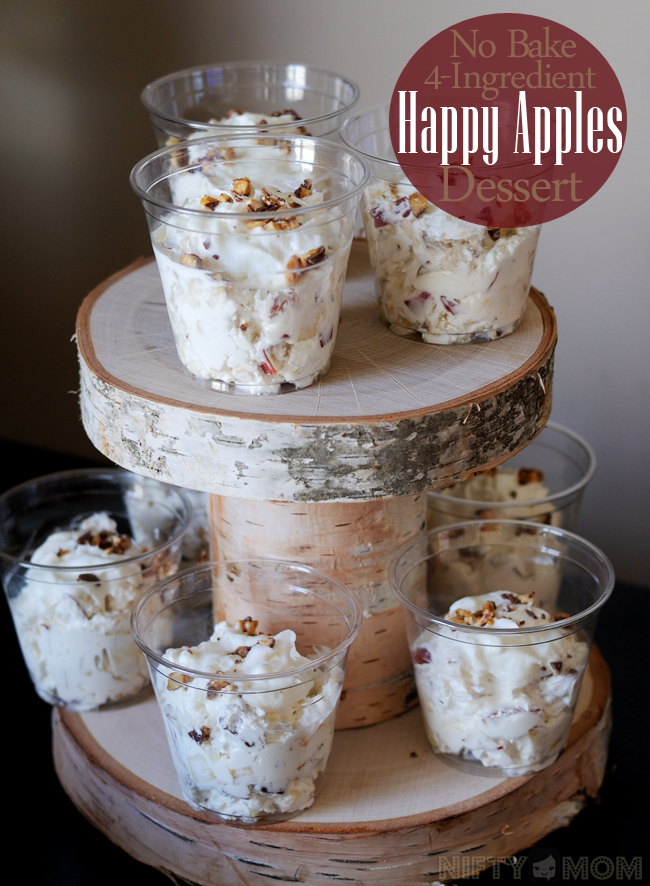 I spooned the mixture into small clear plastic cups, topped with a little more whipped cream. I finely chopped one additional Snickers and sprinkled a handful on each serving.
Apple-Themed Lunch Party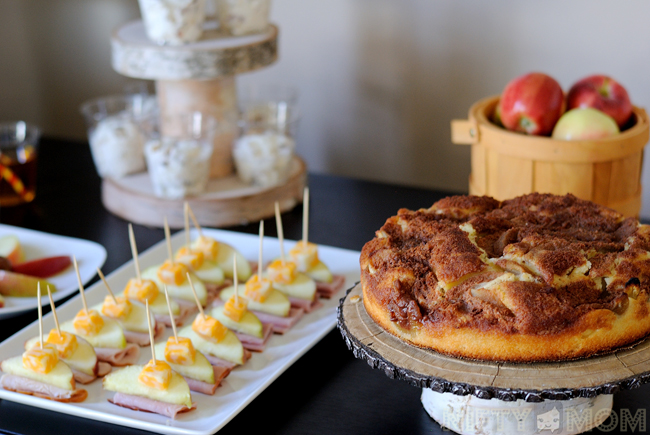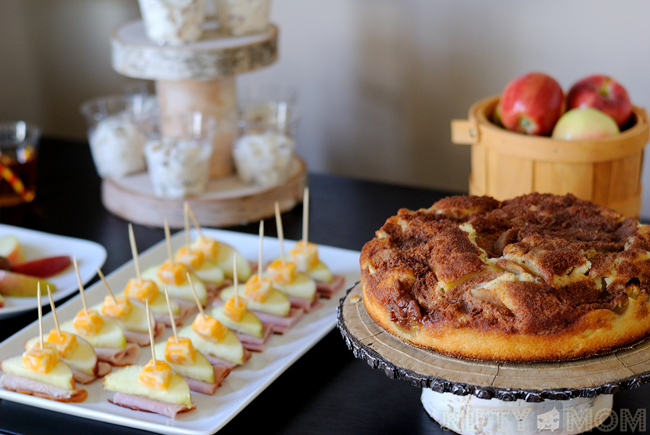 We set up a little table and gave it a little fall flare with some tree bark food stands. The apple cake from Sam's Club was the perfect addition to the layout.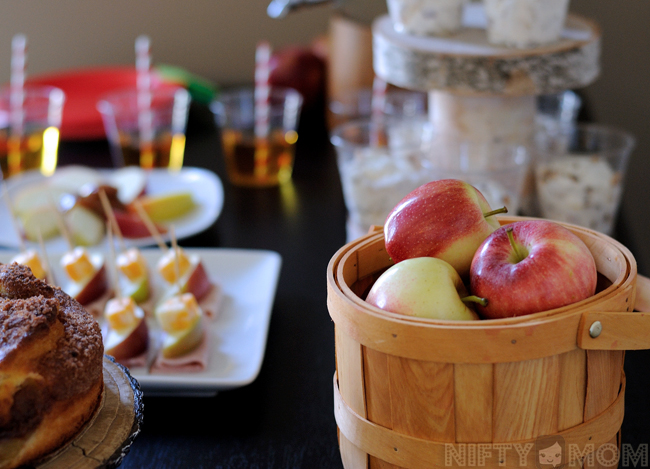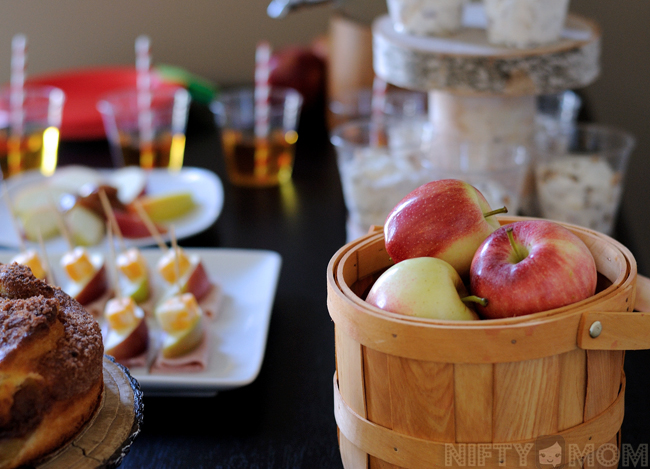 A simple mini wood bucket not only showed the fall theme, but also was an easy way to serve and display extra apples.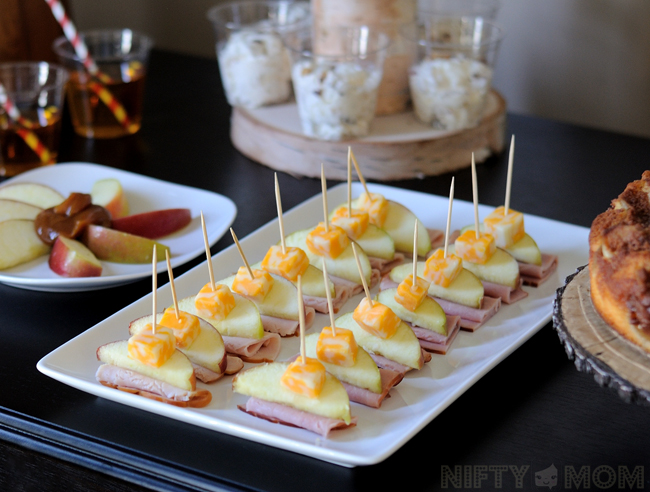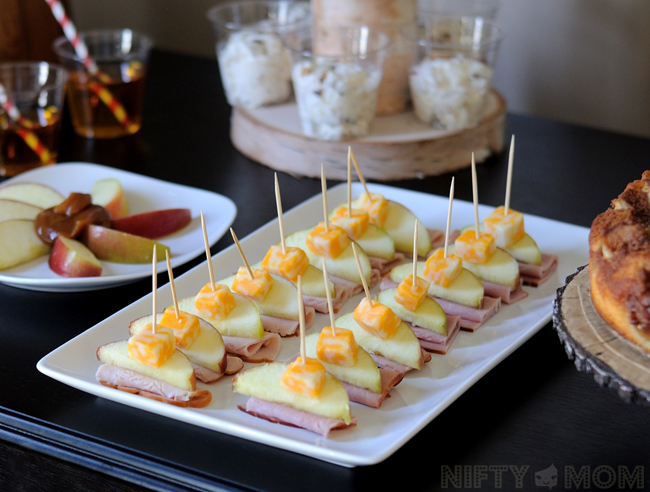 For the lunch, we layered a slice of deli meat, apple slice, and a cheese cube on a stick. This made it easy to display and the kids loved getting their own food that way.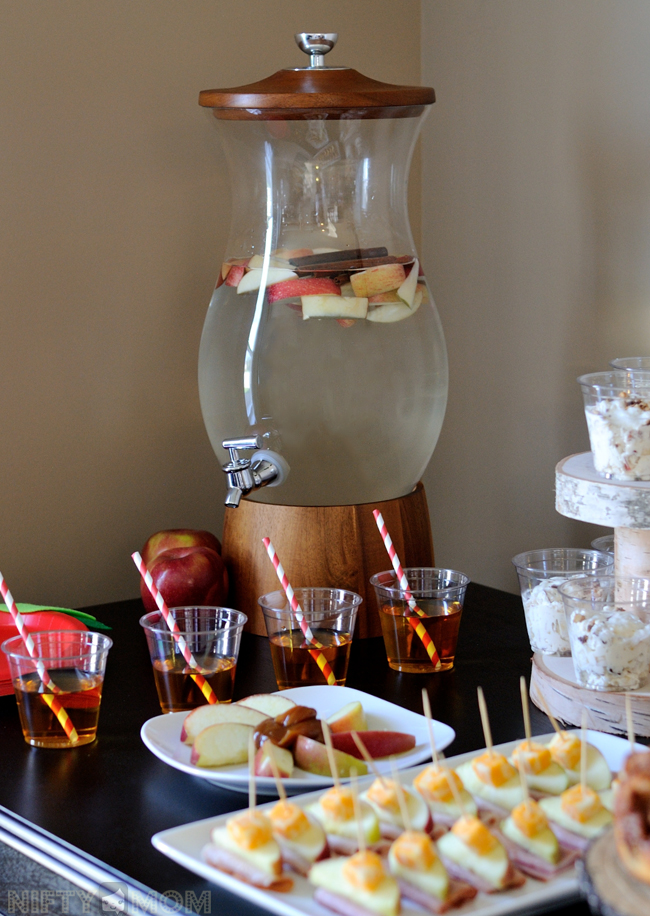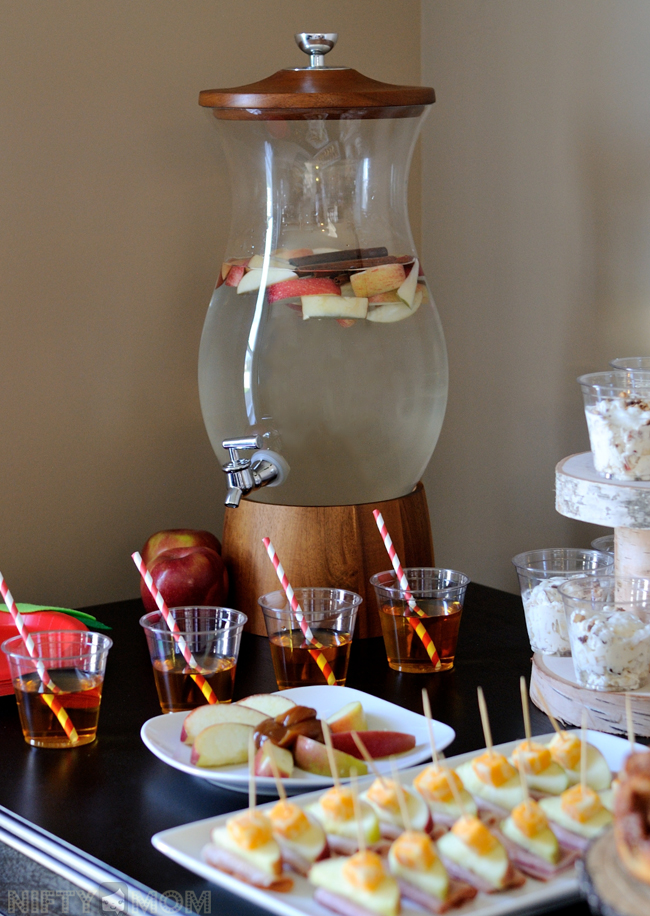 My favorite thing we purchased on our Sam's Club trip, was the beverage dispenser. For under $40, the wood and glass dispenser will become a staple in many of our parties going forward. It completes the table setup. We filled it with water, apples, and a few cinnamon sticks for those that didn't want apple juice to drink.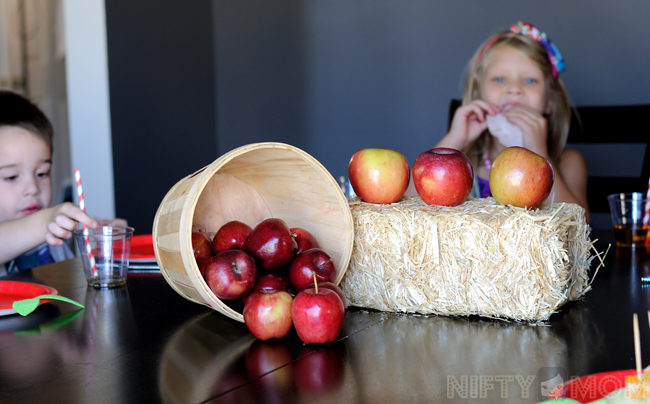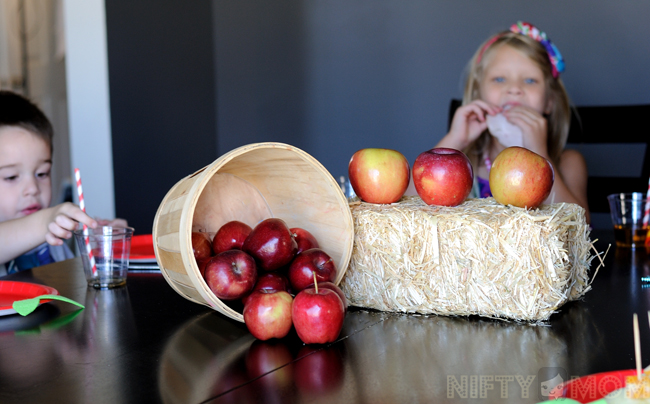 We served the kids lunch on red plates with little green felt leaves. It was a fun lunch and a great kickoff to the fall season. I can't wait for the rest of our gatherings, parties, and kids' activities we have planned this month. Luckily, Sam's Club is within minutes from my house, because we are going to need to make a few more trips before our Fall S'mores Party coming up.
If aren't a member of Sam's Club and would like to see what it's about and try it out, you can shop during their Open House September 12-14, 2014 where no membership is required. Also get updates on the latest deals and events by following @SamsClub on Twitter and becoming a fan on Facebook.
How does being a Sam's Club Member help you?