This football party ideas post has been compensated by Collective Bias, Inc. and its advertiser. All opinions are mine alone. #BigGameSnacks #CollectiveBias
We are down to just under two weeks until the big football game…. who's excited?!? I know we are, because it's a great reason to get friends and family together and eat amazing food. It's time to get out the decorations, cupcakes, and delicious game time snacks for a fun Sunday tradition!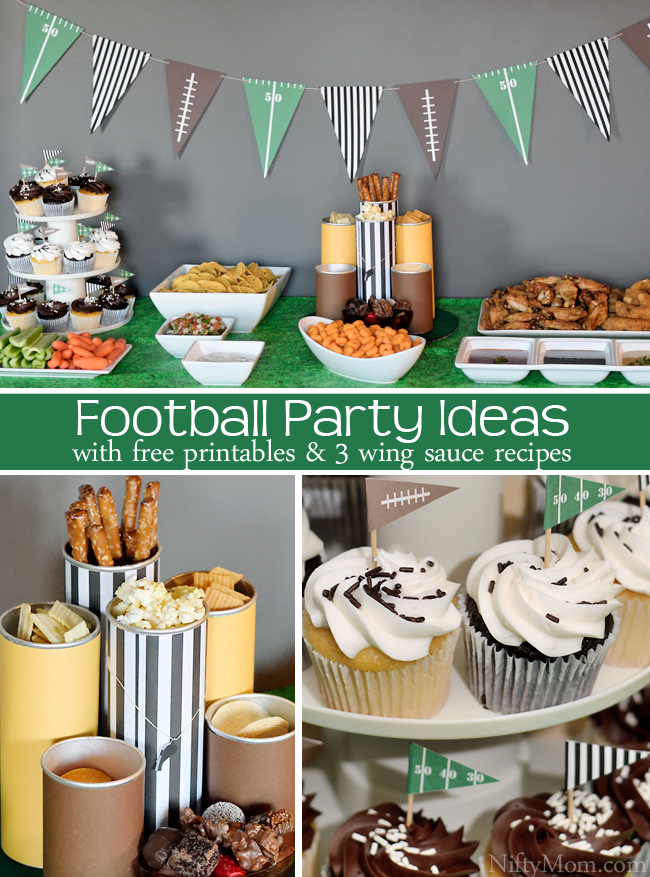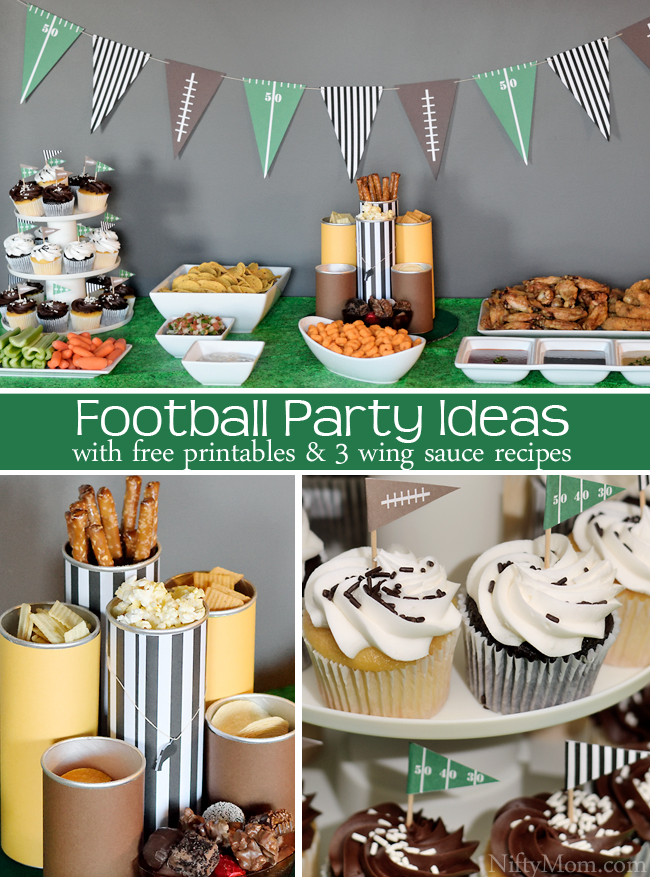 Our home team won't be playing in two weeks, but that doesn't mean that we won't be celebrating. I can't remember the last time we didn't go to or host a party for the big game. Before we had kids, we would head to a friend's house and play cards, mingle, watch the game, and eat plenty of food. Now, we typically spend the morning making tons of food and have a bunch of people over the rest of the day.
Yesterday, since it was the last two games before the big one, we decided to get out the football party decor and have some family over while watching the games.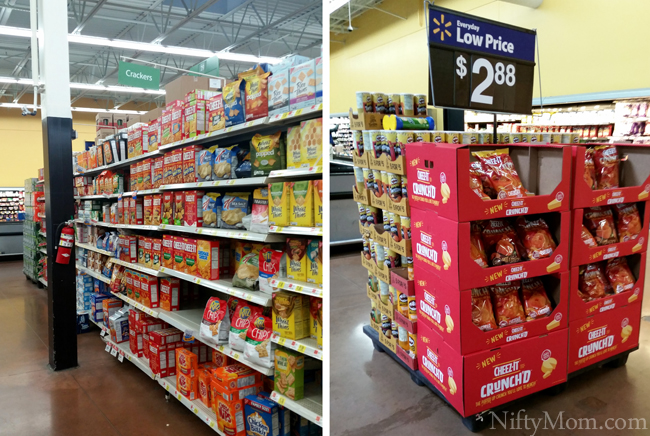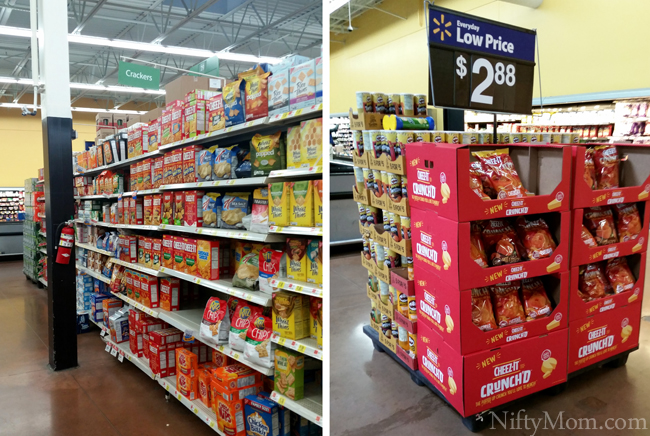 First, I headed out to Walmart to stock the kitchen with snacks. Food is one of the most important things at a football party (other than the game we are watching). Our parties must include chips, dips, and chicken wings. I grabbed a few cans of Pringles (since they have such a large variety), some new Cheez-It products and ingredients for pico de gallo and wing sauces.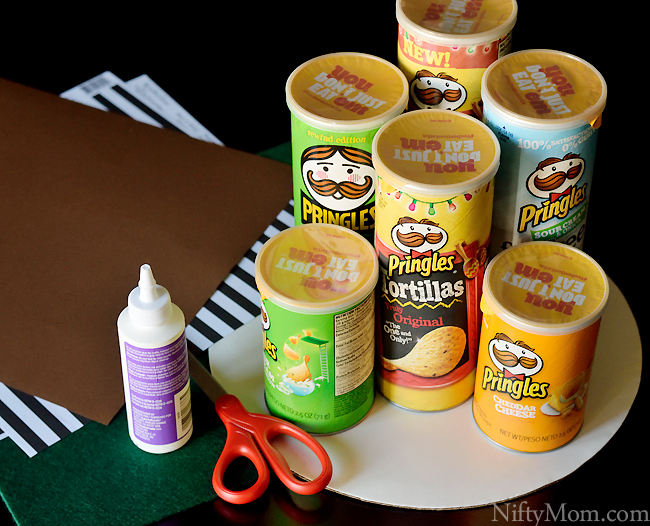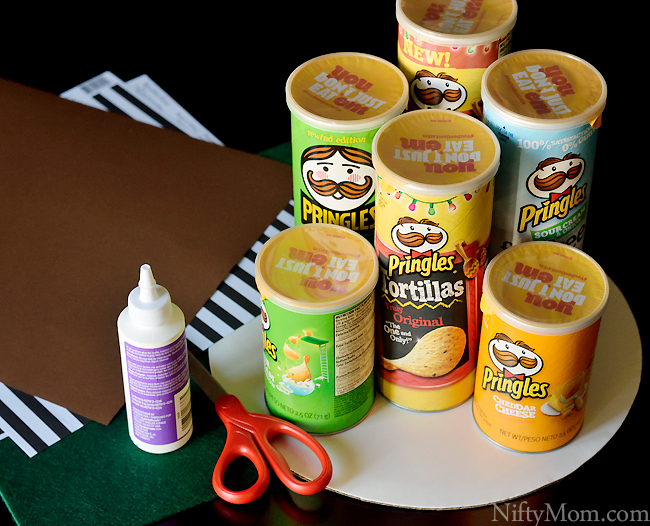 After I got home and set the Pringles cans aside, the different sized cans really caught my eye.  That's when I got an idea for a DIY snack center. This way a few different snacks could be together on the table and easily moved to the room the game is on so the guests have quick access to the snacks.
I covered a round piece of cardboard (I had some extra cake bases at the house) with green felt. Then, I simply wrapped the cans with different themed paper, cut to fit, and glued.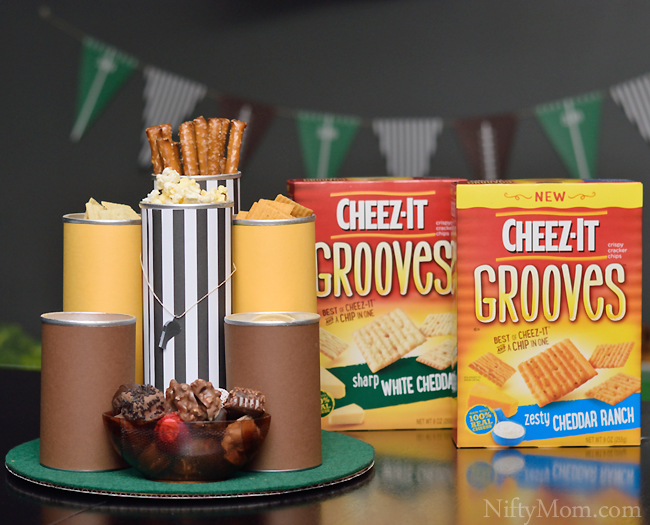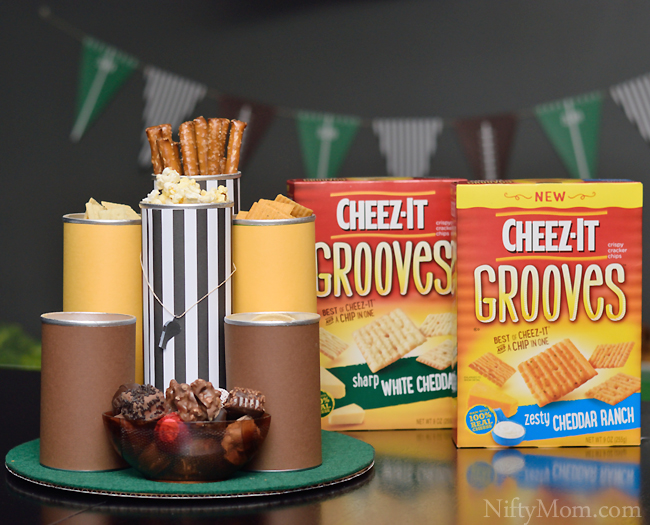 I didn't secure the cans to the base, so that the snacks can be poured out if needed. I left Pringles in the smaller two, and emptied the rest out into different bowls. Pretzels, popcorn, and Cheez-It Grooves filled the empty cans. I also added a small bowl of chocolate to satisfy those guests that needed something sweet.
Baked Chicken Wings
In the morning, we started by prepping the chicken wings. In my house, if I don't have wings for the game, I don't think my husband would even stay here to watch it! They are that important.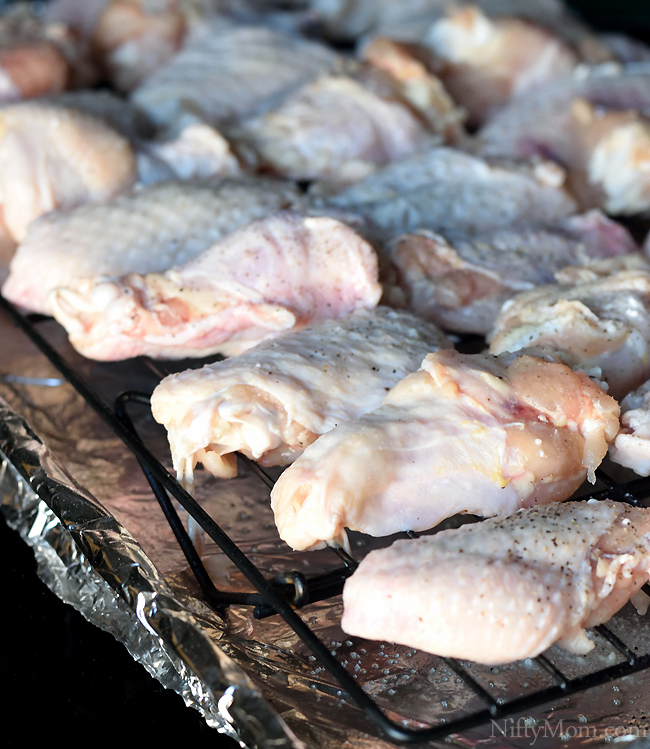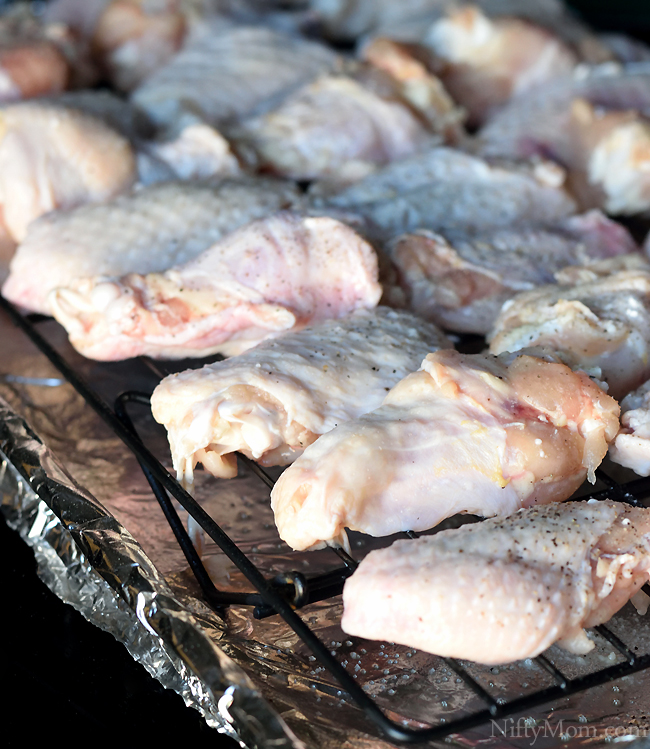 We typically have frozen uncooked wings in the freezer at all times. To make these, thaw, rinse, and pat dry. Lay them on a baking rack over a foil-lined baking sheet. Sprinkle with salt and pepper, then a dusting of baking powder on both sides. Bake for 30 minutes at 250°, then 50 minutes at 425° (or until crispy golden brown).
3 Wing Sauce Recipes
While the wings are baking, it's time to made three different wing sauces. I like to have variety at the table.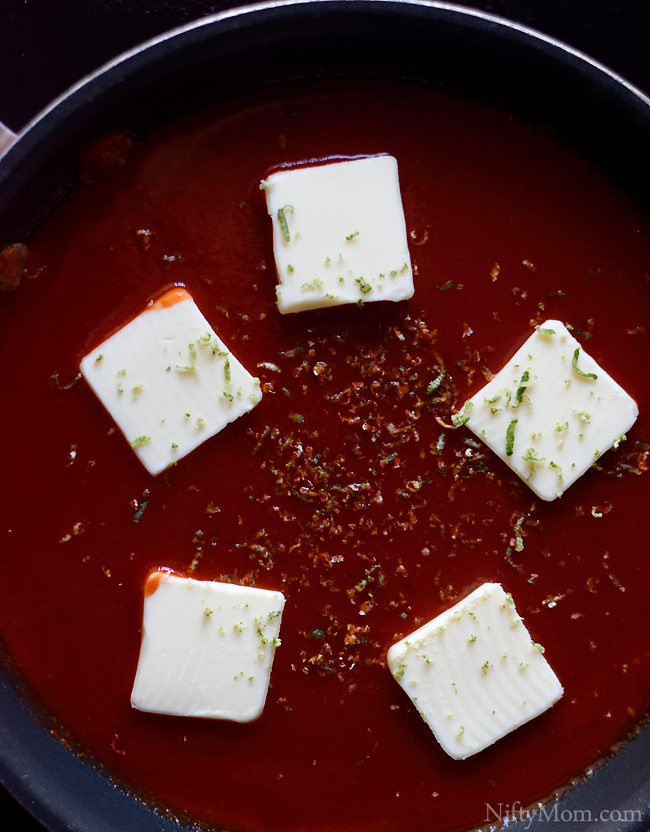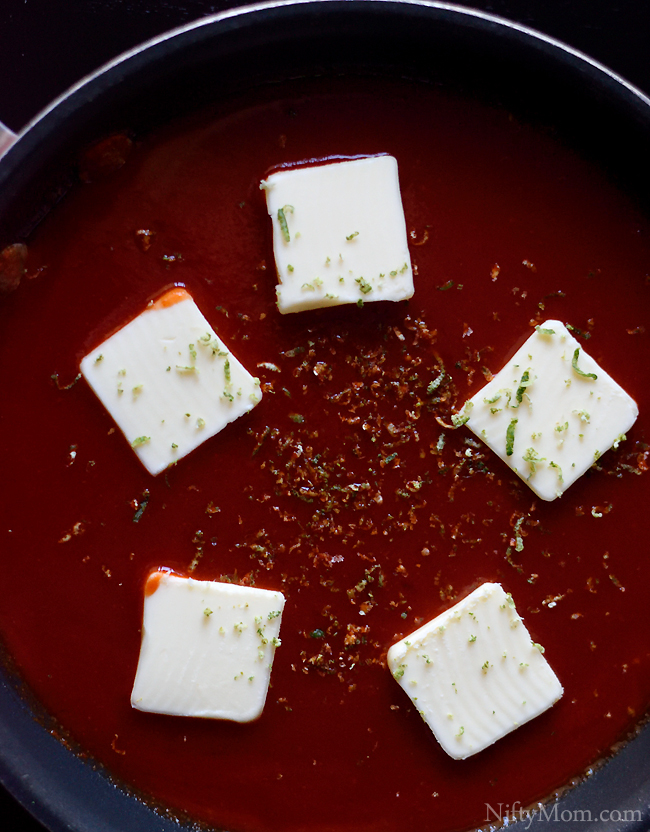 3 Chicken Wing Sauce Recipes
To serve a variety of chicken wing flavors, make these 3 different sauces to serve with plain chicken wings and let guests toss their wings.
Ingredients
SPICY HONEY MUSTARD SAUCE:
- 6 tablespoons dijon mustard
- 6 tablesppons yellow mustard
- 9 tablespoons honey
- 6 teaspoons apple cider vinegar
- 3 teaspoons hot pepper sauce
- black pepper to taste
HONEY BARBECUE SAUCE:
- ½ cup of your favorite barbecue sauce
- ½ cup honey
- 2 teaspoons apple cider vinegar
SRIRACHA SAUCE:
- ½ cup sriracha
- 1 tablespoon apple cider vinegar
- 3 tablespoons honey
- 3 tablespoons butter
- zest of 1 lime
- salt to taste
Instructions
SPICY HONEY MUSTARD SAUCE: Mix all six ingredients together in a medium bowl.
HONEY BARBECUE SAUCE: Mix all three ingredients together in a medium bowl.
SRIRACHA SAUCE: Mix all six ingredients together in a small sauce pan over medium heat. Whisk together and cook until the butter is melted.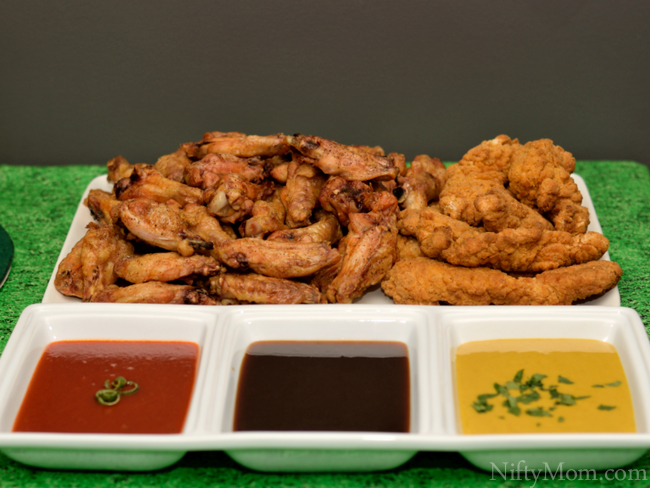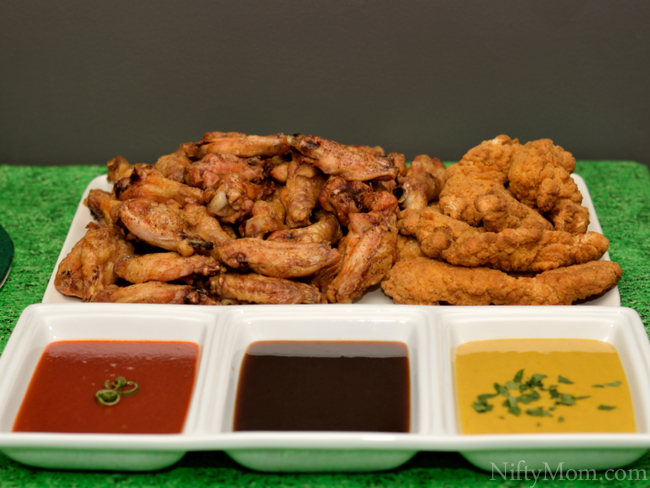 Once everything was cooked and ready, I set the sauces out with plain wings and crispy chicken tenders.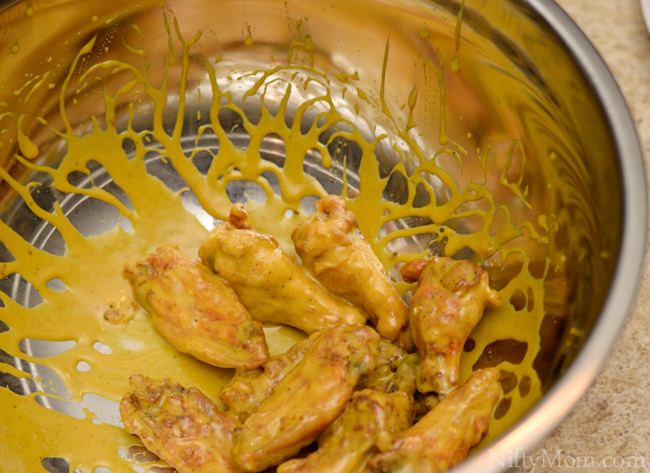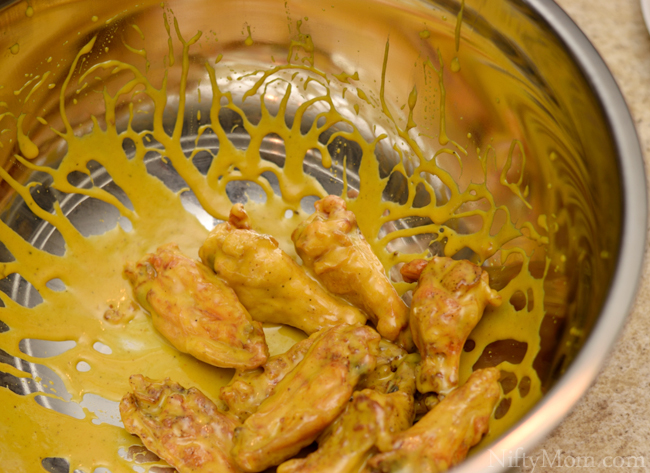 I also kept a large bowl out to toss wings for guests. This way, guests can either dip their chicken, or toss them with a few spoonfuls of sauce.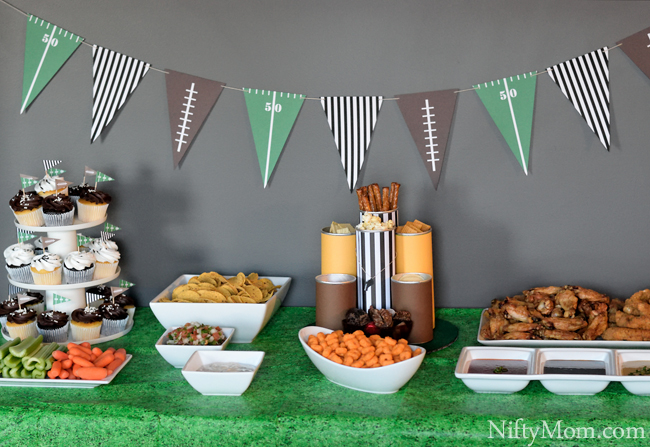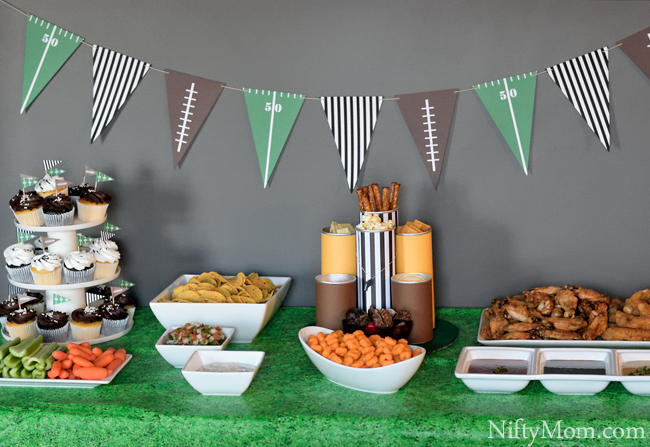 To add some decor to the spread, I made a football banner. I uploaded the files so you can print your own banner for the game in two weeks! It is best to print them on cardstock. Click the ones you would like to print (there are 3 on each sheet):
Once the banner was hung and the tablecloth was down, the snacks came out. This included the completely new CRUNCH'D, which are Cheez-It's first-ever crunchy puff made with 100% real cheese.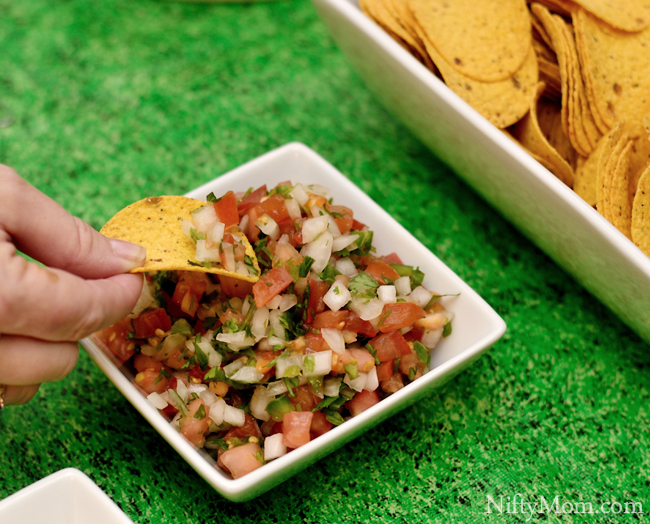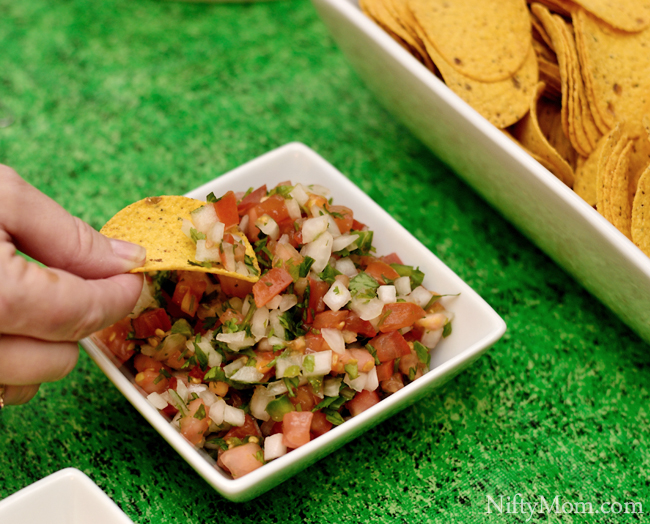 There was also a bowl full of Pringles Tortilla chips, which everyone was asking about because they had never seen them before. I added a bowl of fresh pico de gallo dip (recipe coming soon) which paired amazingly with them.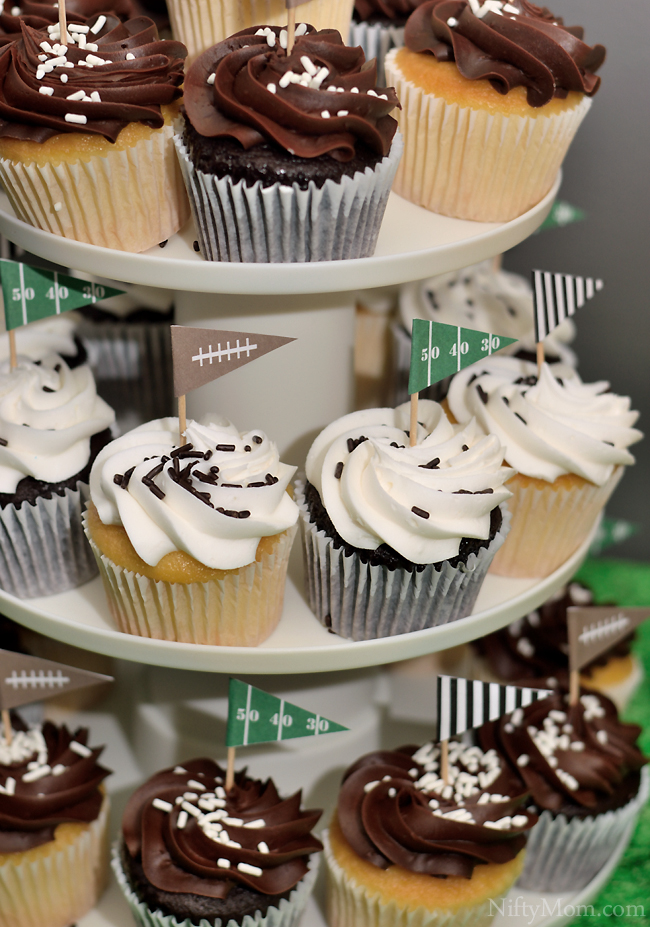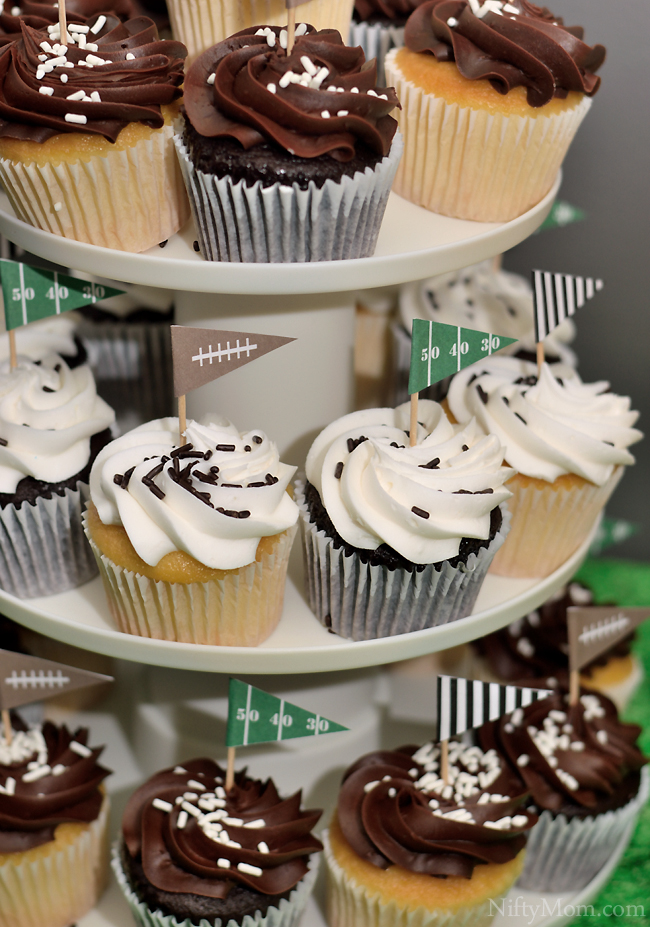 To save time in the kitchen, I purchased two dozen cupcakes at the store and created football toppers to match the banner. Those are also printable here.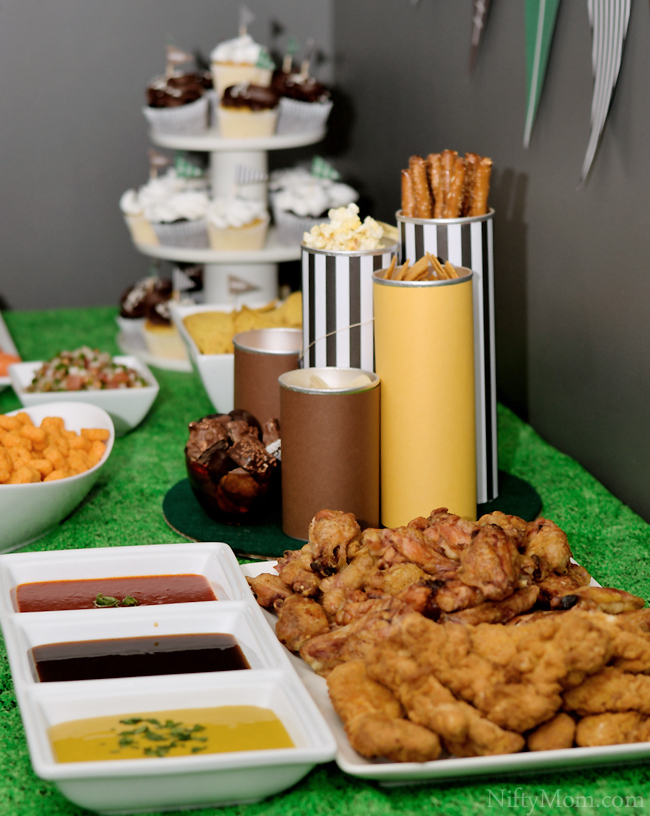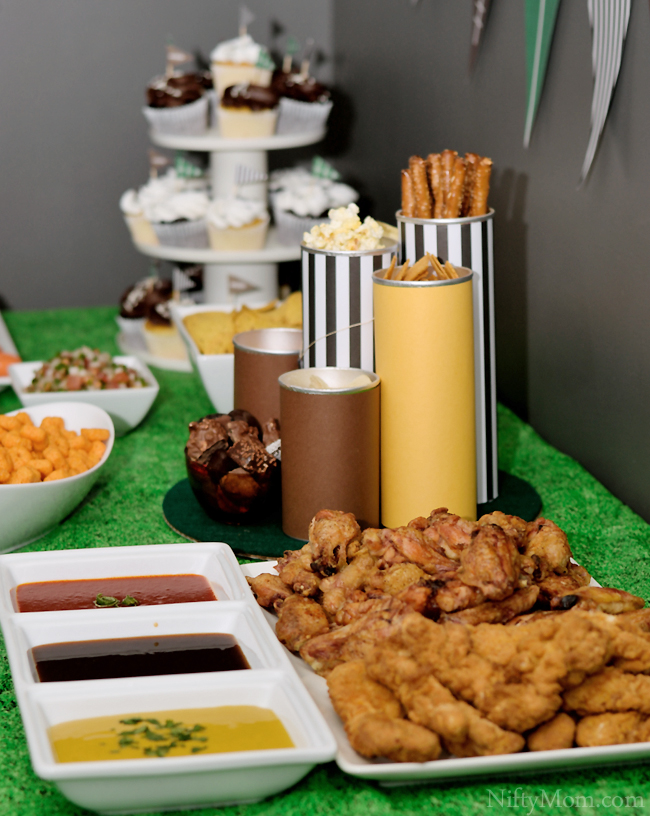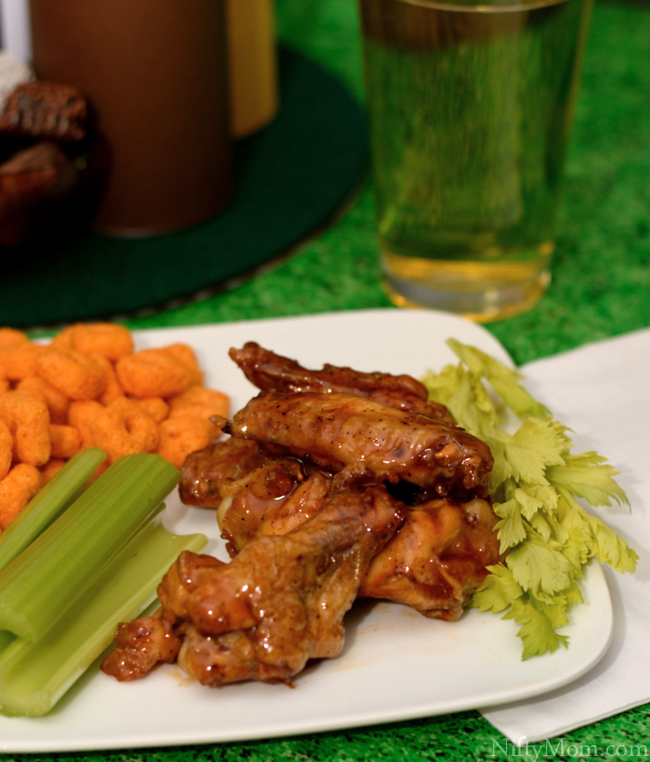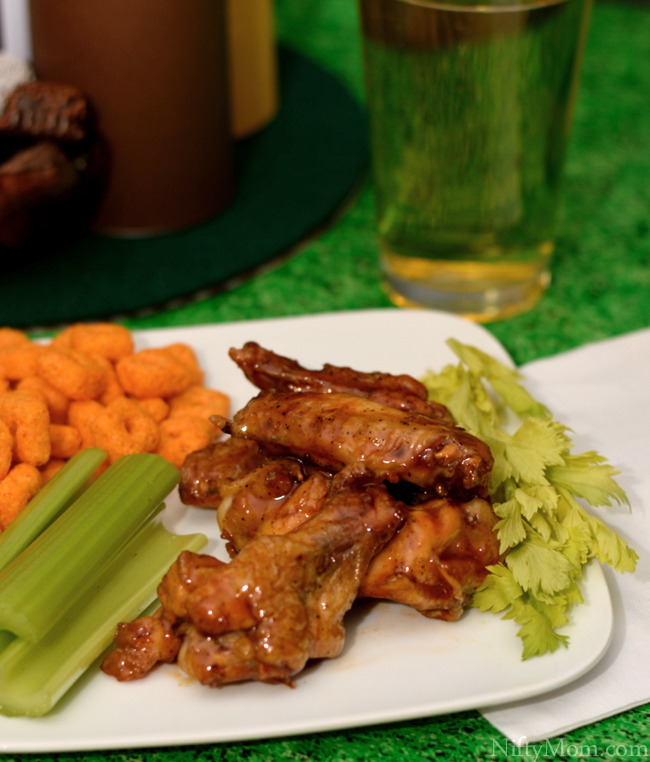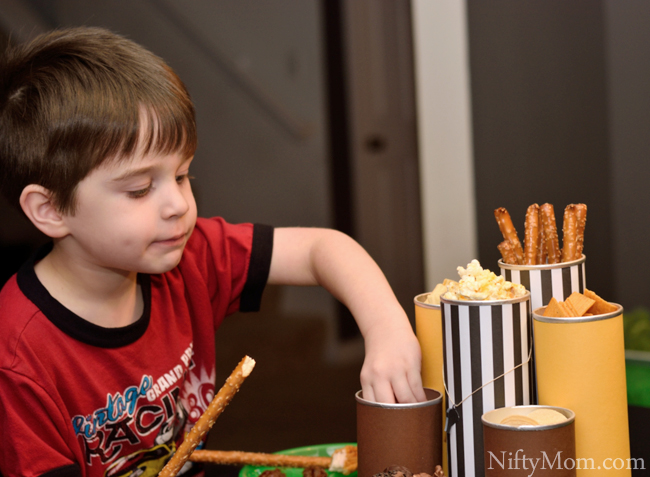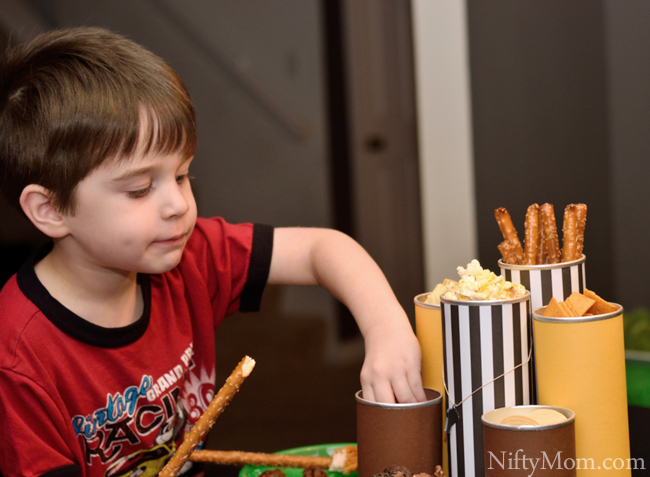 The whole setup and football game viewing party was a success with all the tasty finger foods and game day fun. For more game day ideas and amazing recipes, visit snackablemoments.net.
What are your favorite foods to have while watching the big game??