"I participated in an Ambassador Program on behalf of Influence Central for Holstein Housewares. I received product samples to facilitate this post well as a promotional item to thank me for my participation."
When I start thinking about holidays, my minds ventures to fun dessert ideas. There's just something about spending the afternoon in the kitchen with the kids. Laughing and enjoying time together baking & decorating cakes, cupcakes and treats and getting to enjoy them together afterwards.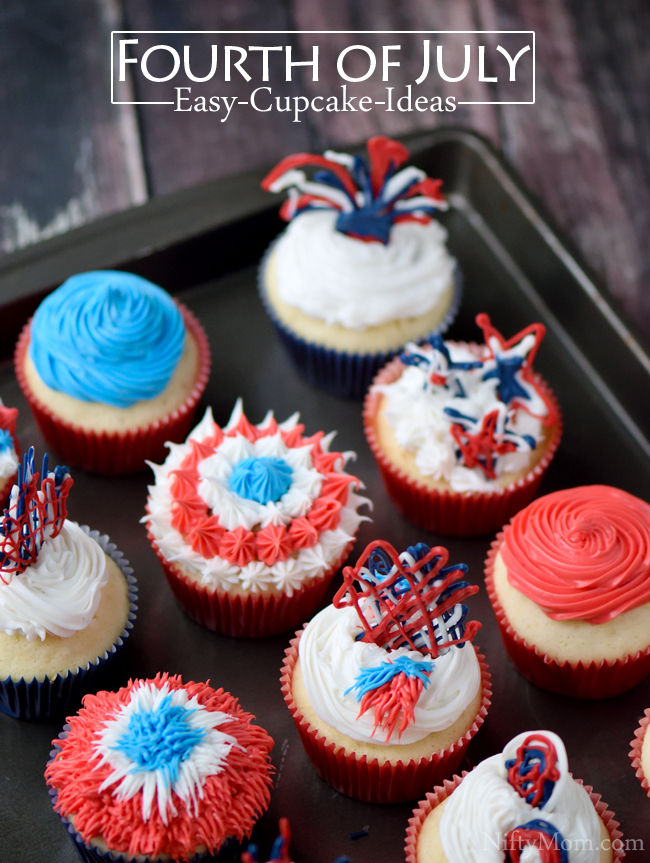 A few weeks ago, the boys wanted to make cupcakes but dinner was already in the oven. I had a solution though. Holstein Housewares has a variety of small appliances which includes an awesome cupcake maker. It bakes 12 standard size cupcakes in under 10 minutes right on the counter top. It's convenient, easy to use and the kids can help out for every step of the baking process.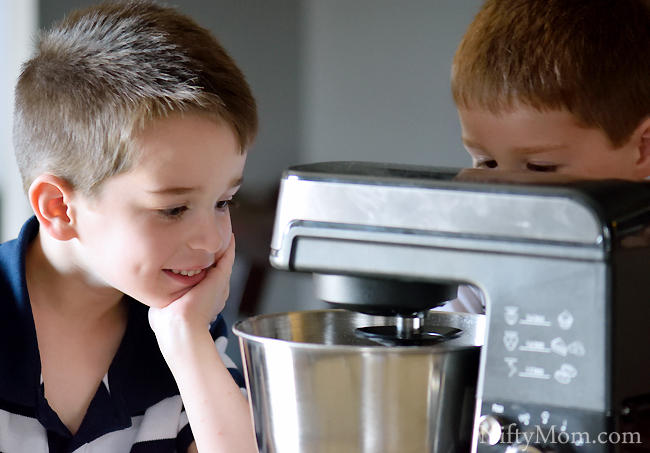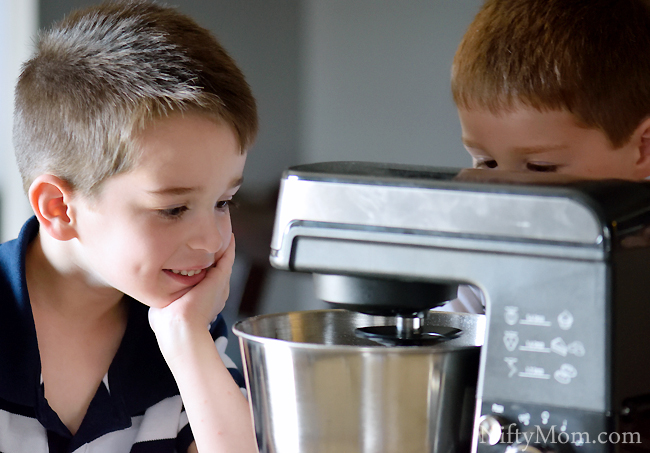 Since our baking session was impromptu, we just used a boxed cake mix. However, the cupcake maker comes with a recipe book with some tasty ideas that we will be trying soon.
After I measured and prepped everything, the boys poured and mixed the ingredients in the mixing bowl.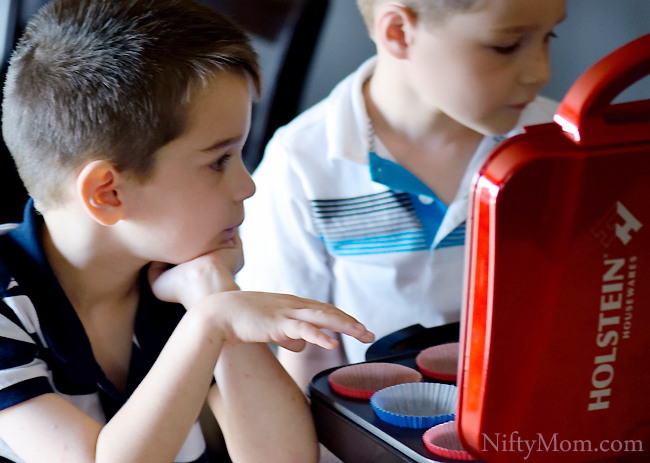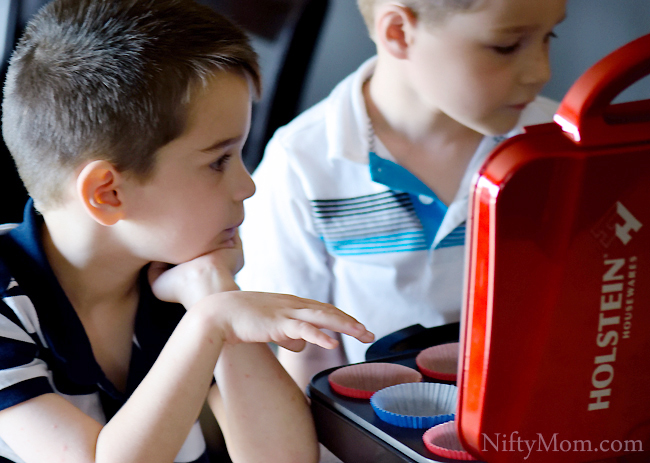 I let them put the cupcake liners in the cupcake maker, but only for the first batch before I turned it on. The non-stick plates get pretty hot and my kids are still a little too young to use it without my help.
(Note: Cupcake liners don't need to be used with the maker, however I like using them when we are decorating cupcakes.)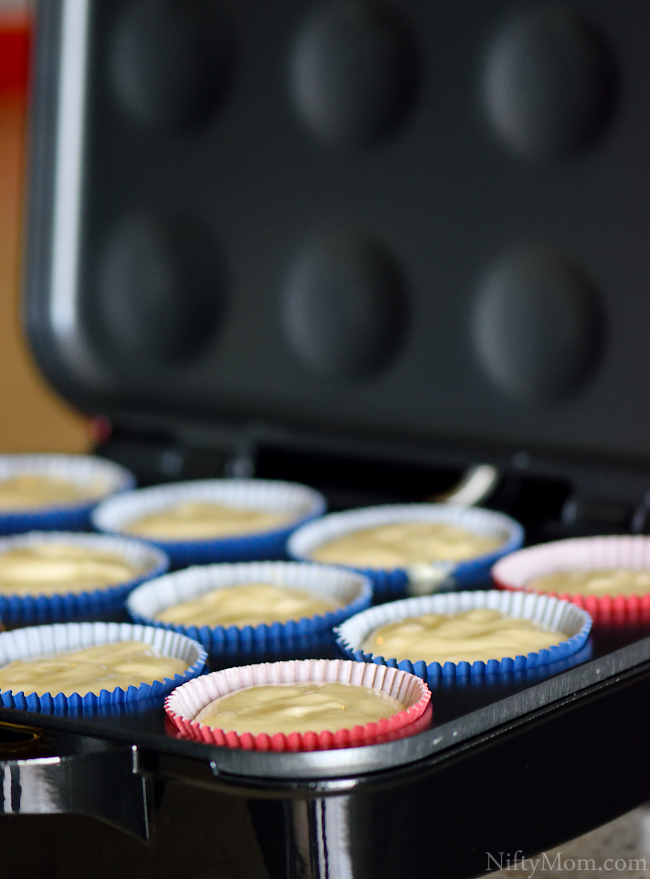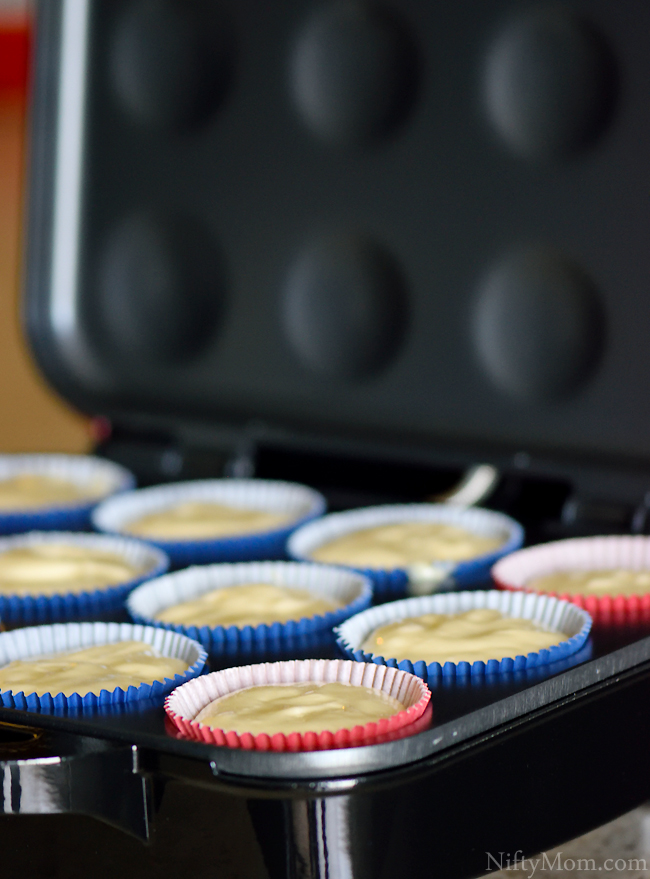 After being plugged in for a few minutes, the green light on top came on, indicating it was ready to bake. The mix simply gets poured into the cupcake liners a little lower than the edge (be careful not to overfill). We then closed the lid and let it bake for 7-10 minutes, until fully cooked.
Just like that, we had freshly baked cupcakes without needing the oven.


Fourth of July Cupcake Ideas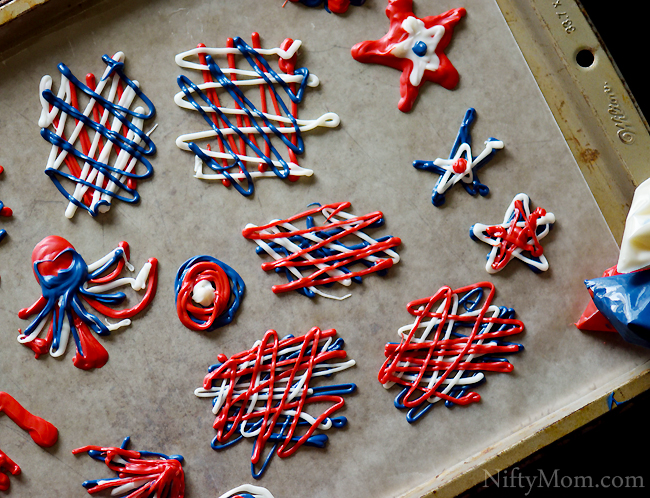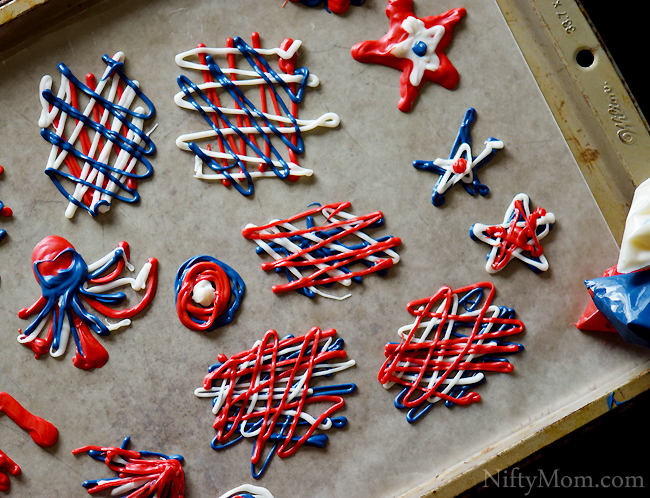 While the cupcakes cooled, we made some candy cupcake toppers. I use this method often because it is easy and the results are great.
Melt different color candy melts in the microwave, as directed on the packaging. Pour each color into a quart-size freezer bag and make a small slit in one bottom corner. Pipe different designs on wax paper and place in the freezer for a few minutes to harden.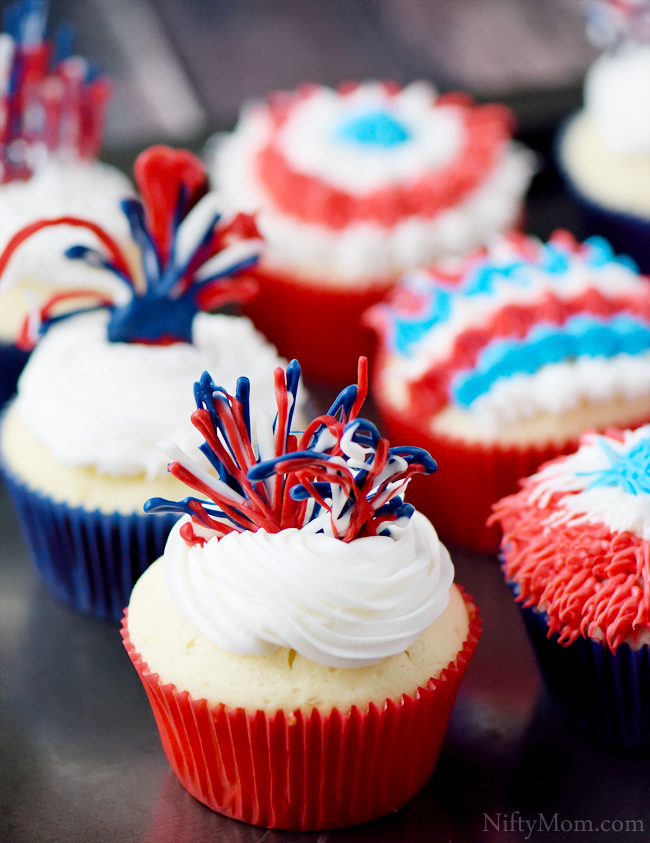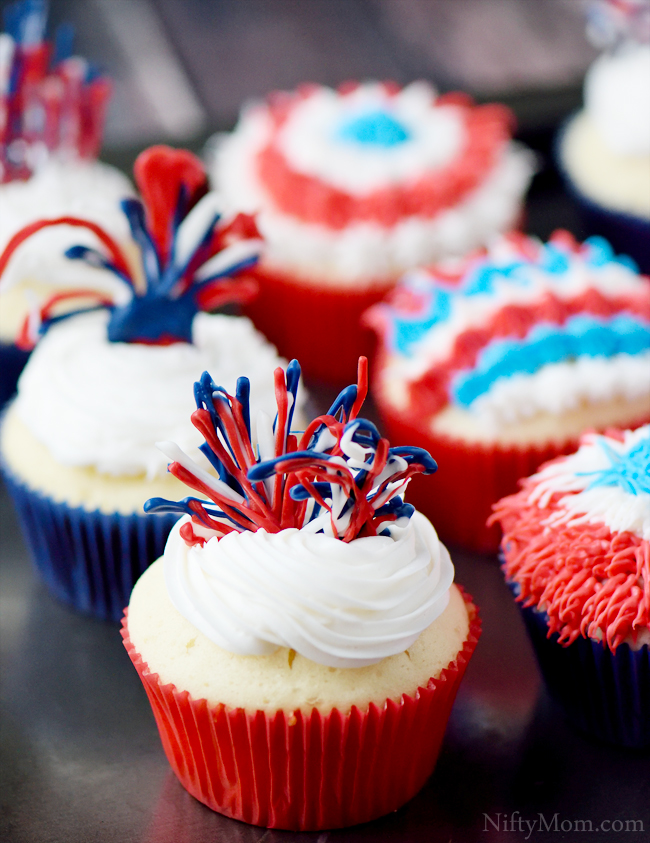 Since Fourth of July was right around the corner when we made these, I decided to try a few different decorating ideas. I piped white icing on some of the cupcakes before placing our different candy toppers on. We made a few that looked like fireworks  and some that just had squiggles of red, white, and blue.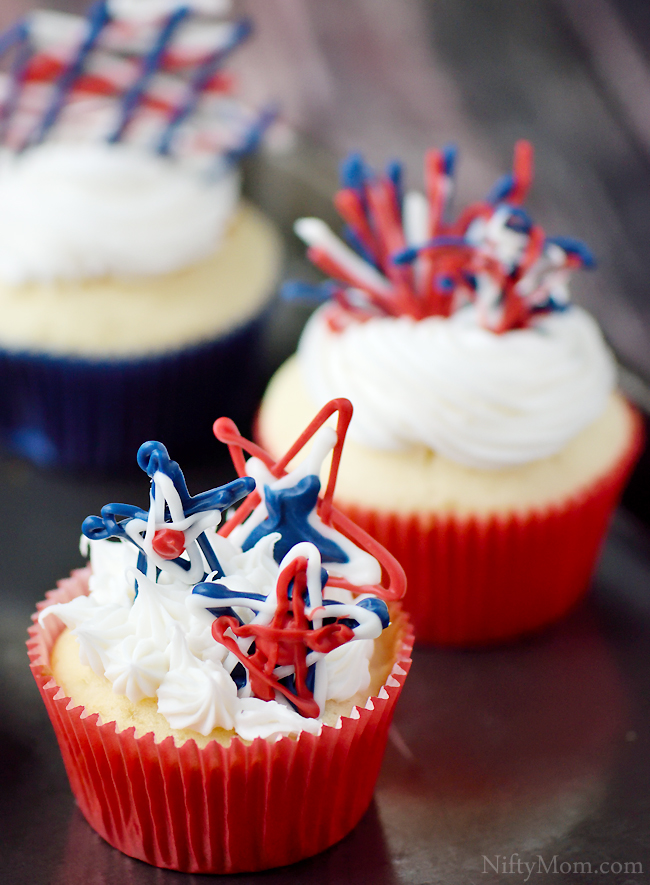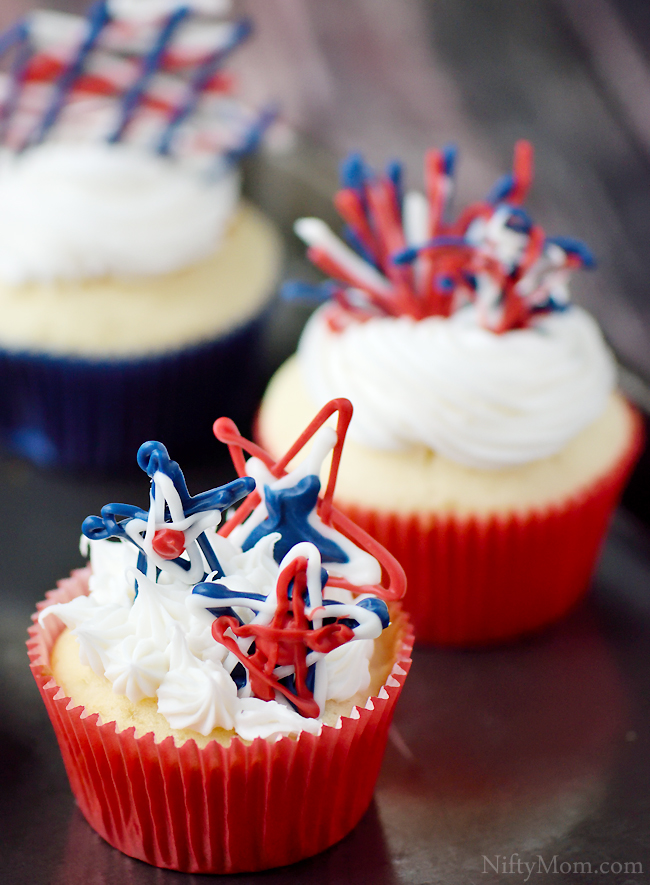 I also had a few stars that didn't turned out all that good (in my opinion), but the boys insisted they all go onto one cupcake.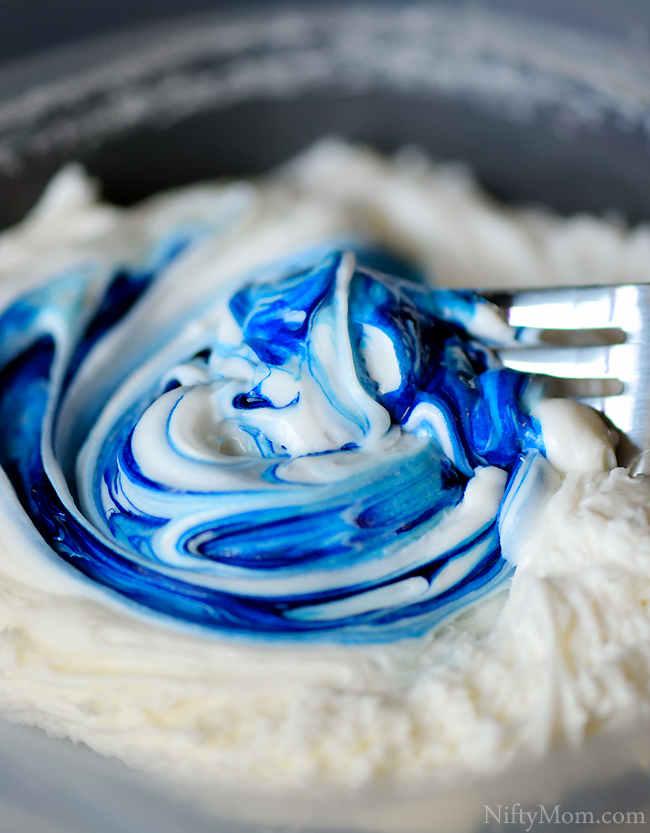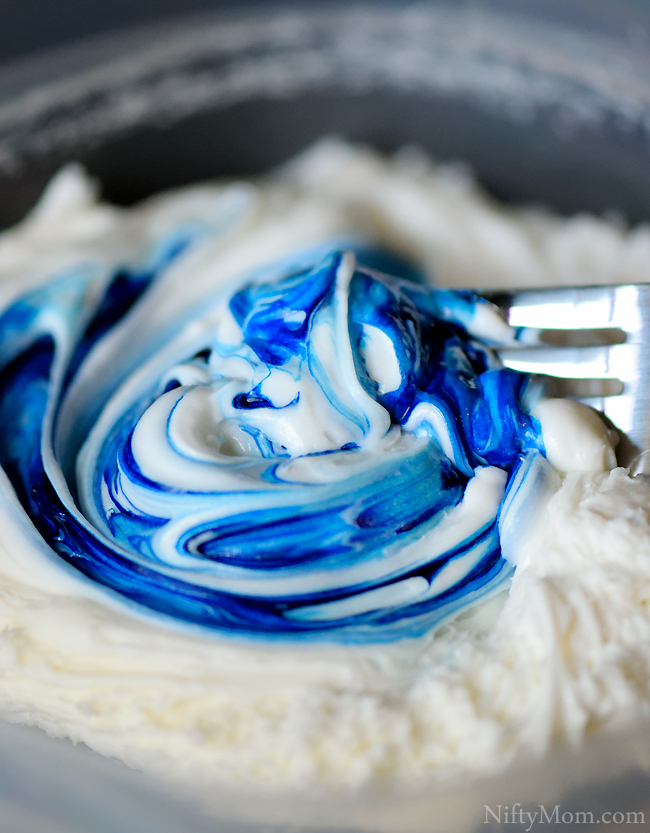 For the other cupcakes, I wanted to ice them different ways using red and blue icing along with the white. I simply put a few drops of icing gel colors into a bowl of icing and mixed. It doesn't take much to color a whole bowl, so do a little at a time.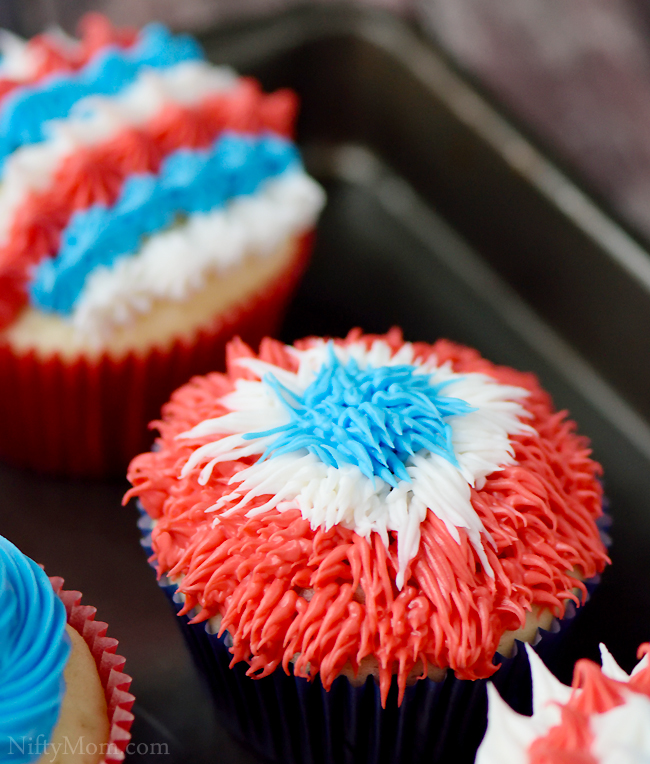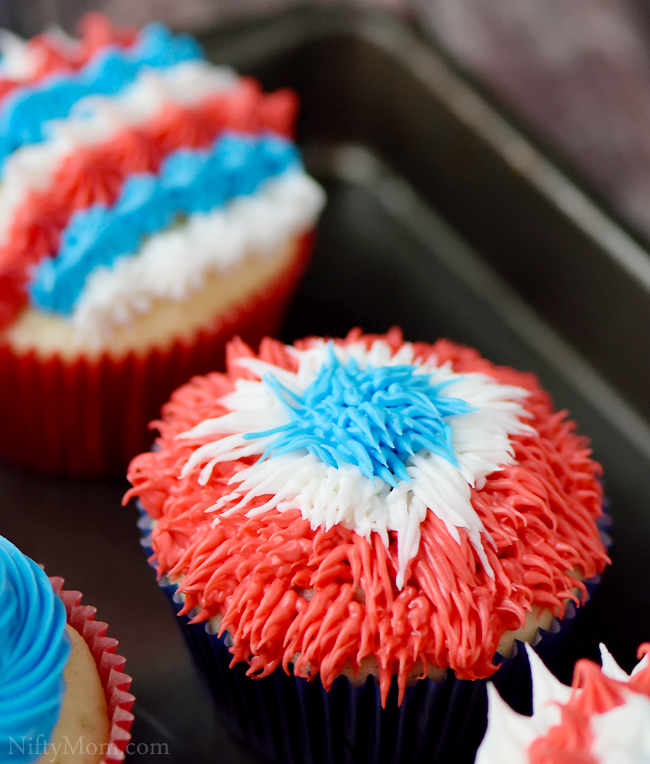 Fireworks cupcakes were again requested and after playing with a few different icing tips, I got two that weren't so bad. I used icing tip 233 and started on the outside working my way in to make the one above. I used 3 icing bags, one for each color, changing the tips out as I went.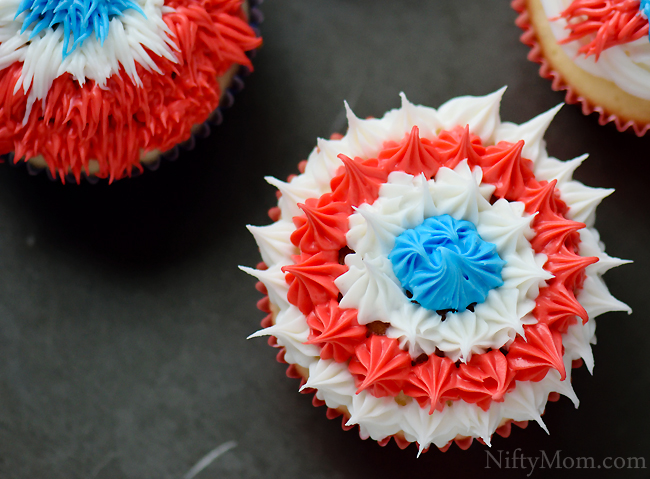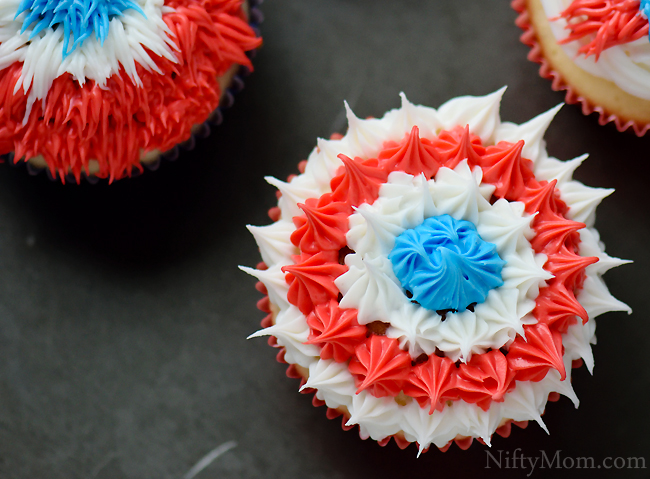 This one was made with icing tip 22 going around the outside working my way in. After I got done, the boys took the icing bags and each covered a cupcake with as much icing as possible, in hopes to eat it.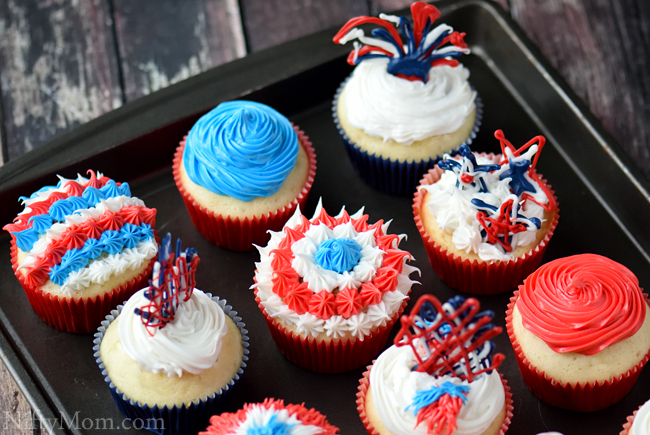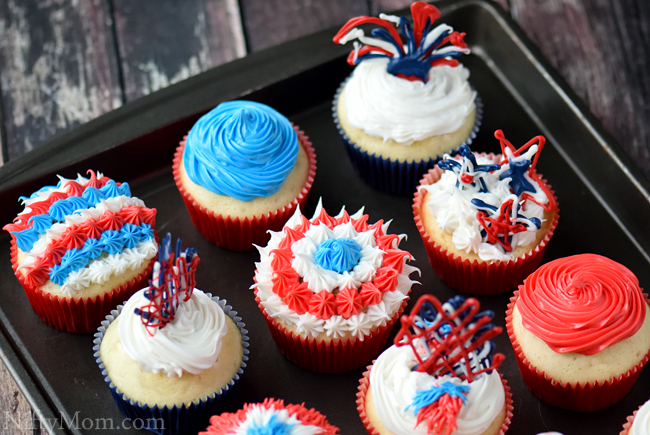 It's really fun to be able to quickly make cupcakes at any time and experiment with decorating. Do you make cupcakes for The Fourth of July?
Be sure to check out the Heart-Shaped Waffle Maker and Fun Doughnut Maker from earlier this year. Holstein Housewares has many different treat makers and innovative products you can purchase right from their site. Which treat maker would you love to have in your kitchen?