Today I am sharing a free printable cleaning list as part of a sponsored post for Socialstars. All opinions are my own. #ZepSocialstars
Making various lists has always helped me streamline my day and hectic schedules. I need that visual reminder and that satisfaction of crossing things off once complete. I normally have different notepads, list-pads and my planner on hand, all filled with my lists I reference throughout the day. I am trying something different now, and making printable sheets to help organize them and eliminate all the notepads.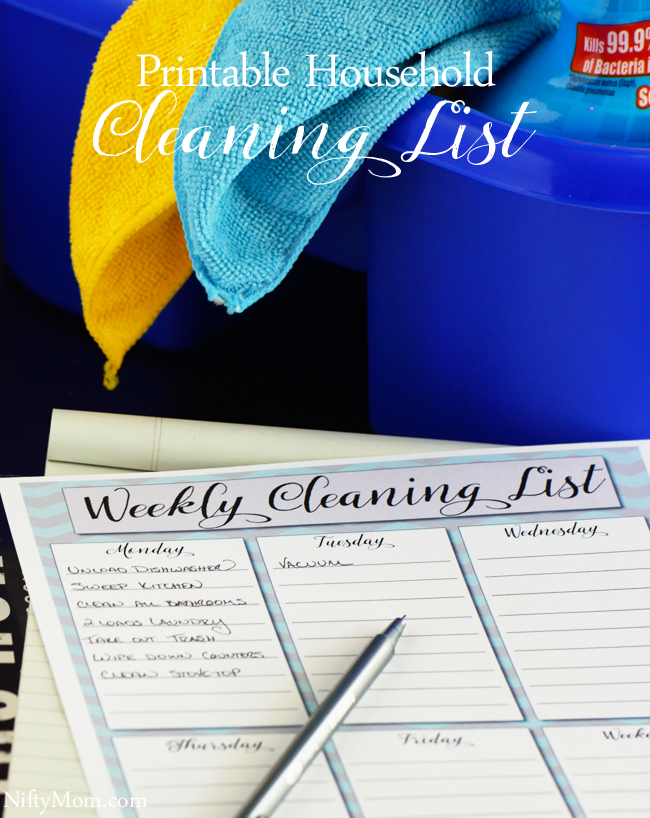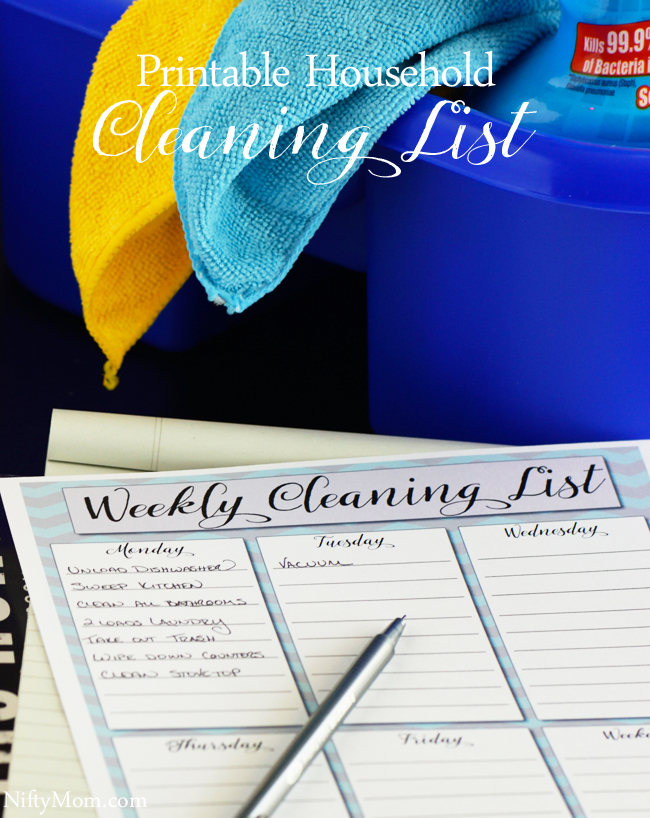 The first list I decided to revamp is my daily cleaning tasks. When it comes to cleaning and organizing, I always say to make a list first. Previously, I would make a list each day with everything that I need to clean mixed with other tasks around the house.
However, having a sheet dedicated to just household cleaning that shows the whole week has become much more efficient. I can easily see what I didn't get done the day before and plan ahead for the week, as needed.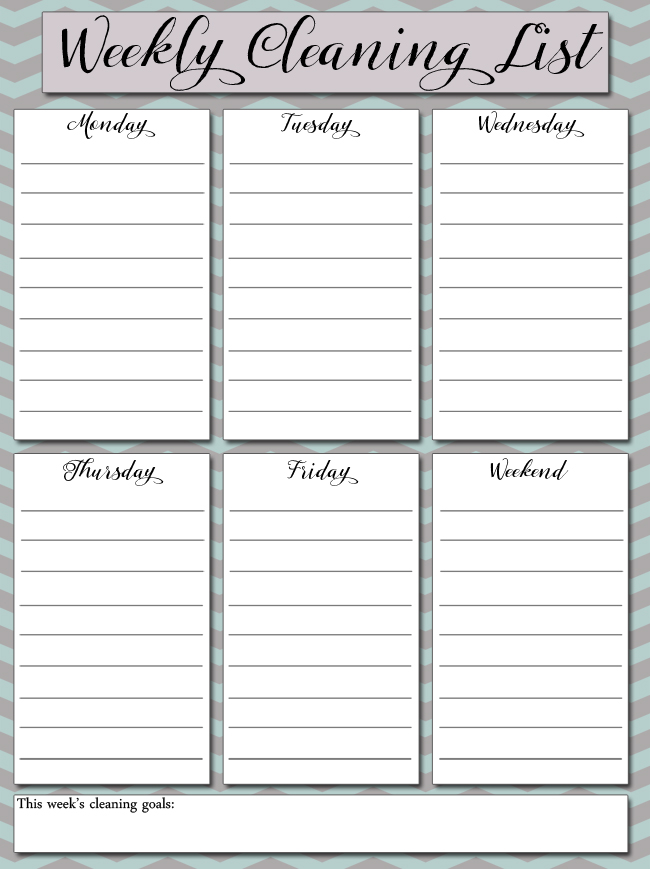 I start with the tasks I typically have to do each day. I try to keep each task small. This makes it easier to handle each one throughout the day. An idea of some of those tasks:
Unload the dishwasher
Sweep the kitchen
Wipe down the kitchen table
Clean the bathroom countertops
Take the trash out
Gather all the laundry from each room
Do at least 1 load of laundry
Wipe down the kitchen countertops
Clean the stove
Load the dishwasher
Pick up toys off the floor
Walk-through spot clean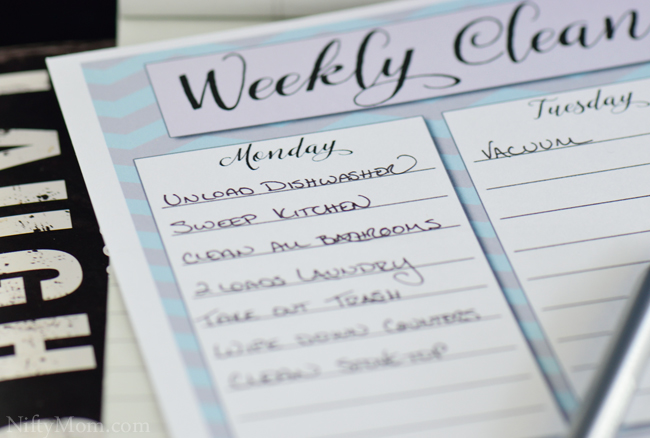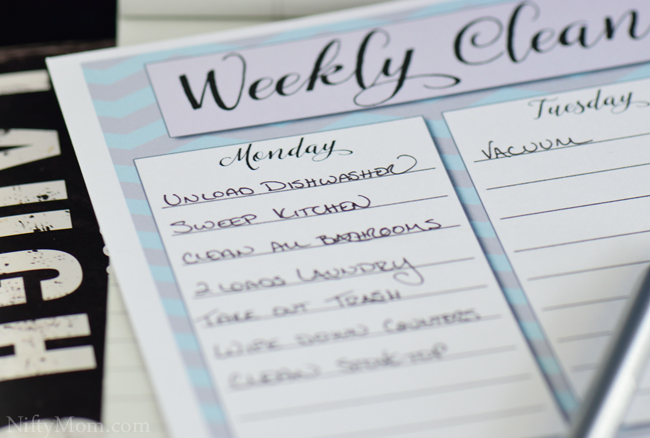 Once I have those on the list for the day, I add in things I do every few days or weekly. This can include:
Vacuum living room
Vacuum upstairs
Clean the bathroom toilets
Mop the kitchen
Mop the bathroom
Wipe out the microwave
Dust each room
Clean the windows / glass in the rooms
Wipe down cabinets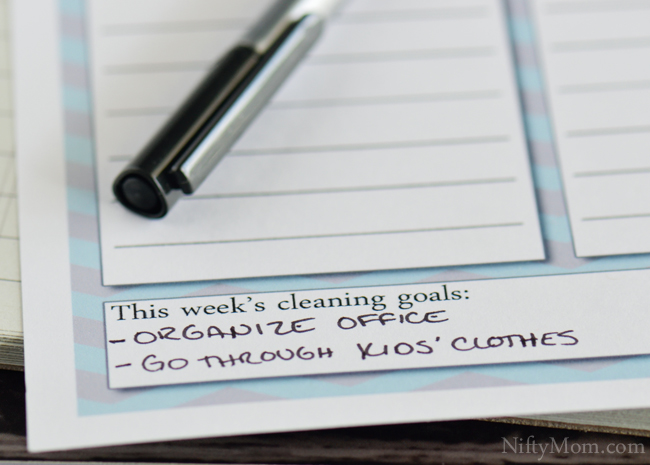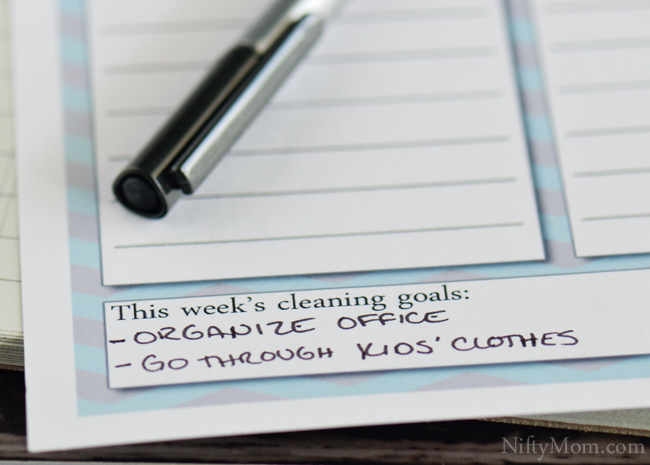 The last section I added to the sheet is for weekly cleaning goals. This is more large scale tasks. Maybe something that is only done monthly or less frequently. For me, I add in different areas I want to have fully cleaned or organized by the end of the week. One I was working on last week was organizing my office. So each day, I add smaller tasks to lead to it being organized. For example, go through paperwork, file, wipe down the desks, put up command center on the wall or make new binders.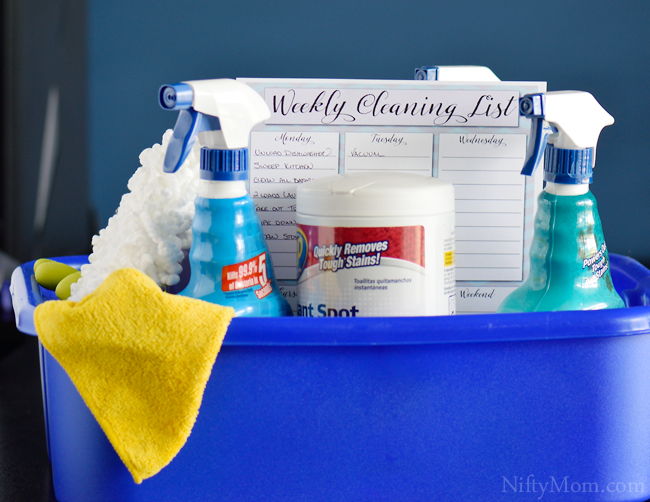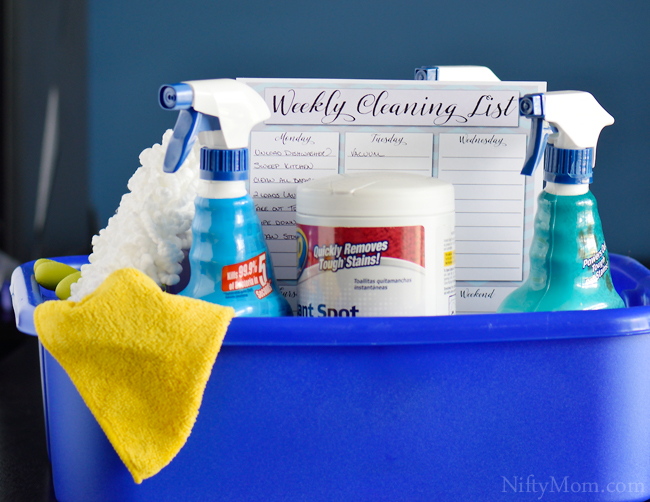 Keeping the list visible throughout the day is a great reminder of what still needs completed. It is also a good reference when I have a few extra minutes. I can easily select a quick task to complete.
To get through it quickly, having my most frequently used cleaning products together is essential. I can select a task, grab the corresponding supplies and get to work.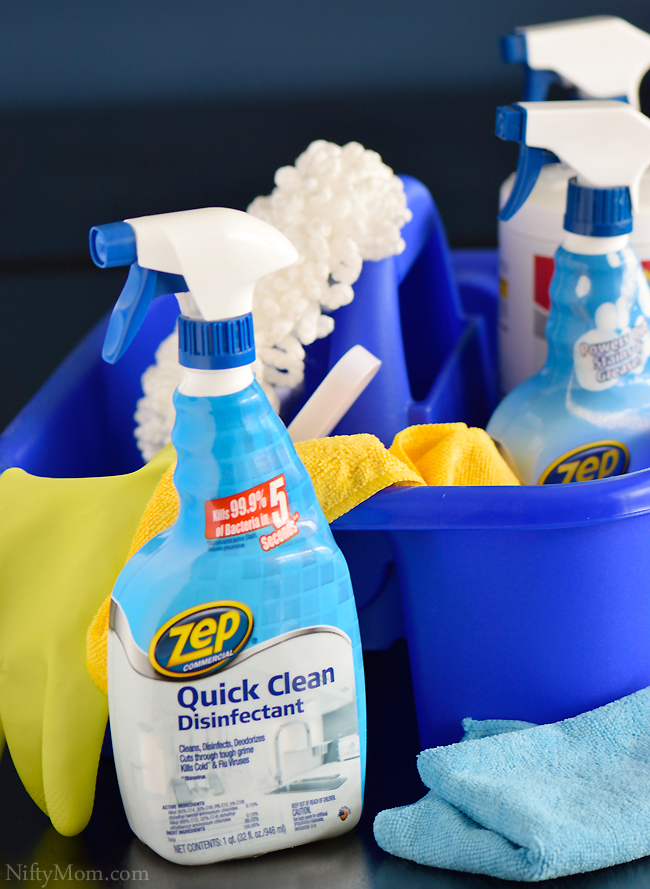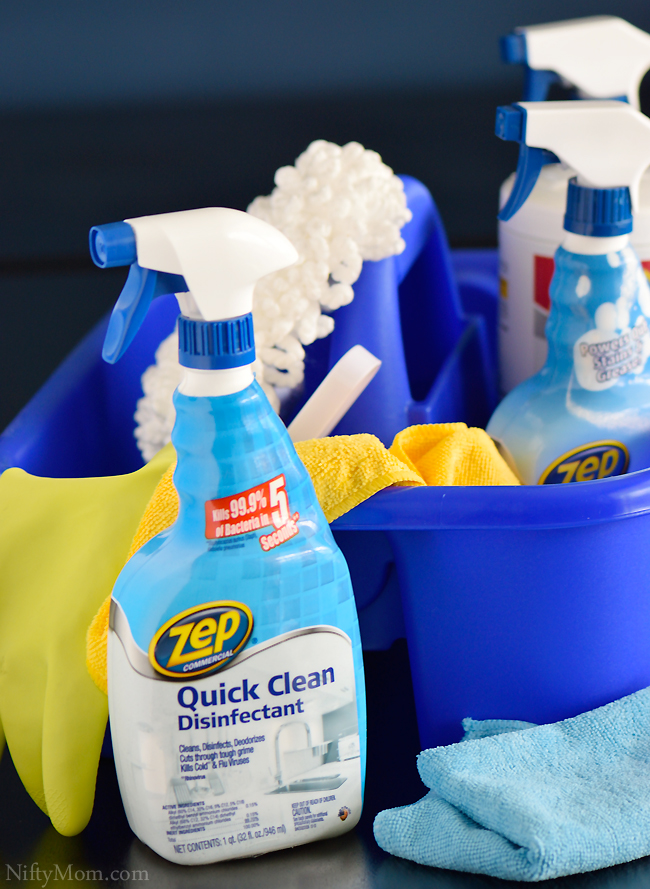 When it comes to wiping off the countertops in the kitchen, bathroom, and other surfaces, Zep Quick Clean Disinfectant is my 'go-to' cleaner. I can't talk about it enough. I use it that often. It kills 99.9% of bacteria and the effective virucide kills cold (rhinovirus) & flu virus. In one easy step, the area is clean, disinfected and deodorized. Since I have three little ones, having it work quickly is important. I use it in the morning, after each meal and at the end of the day after the kids are in bed.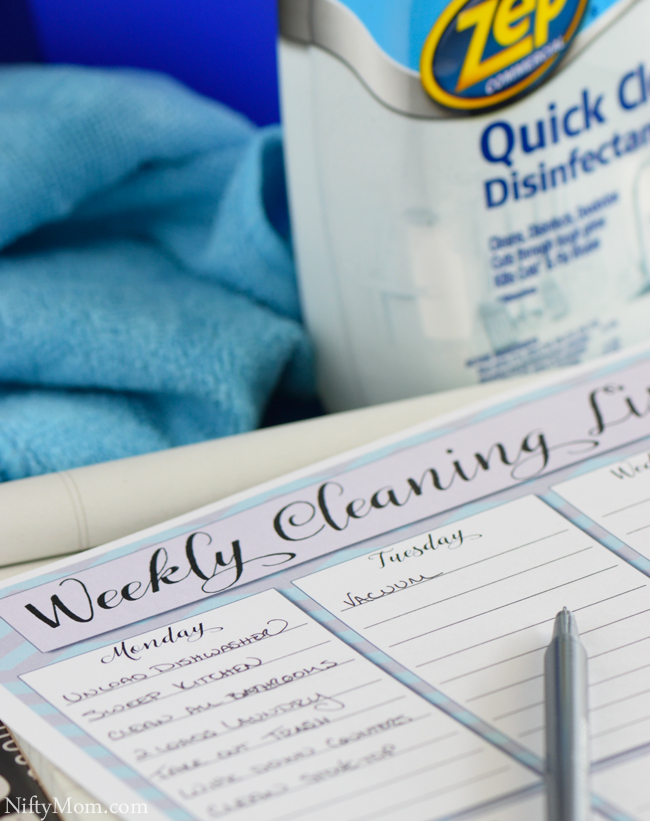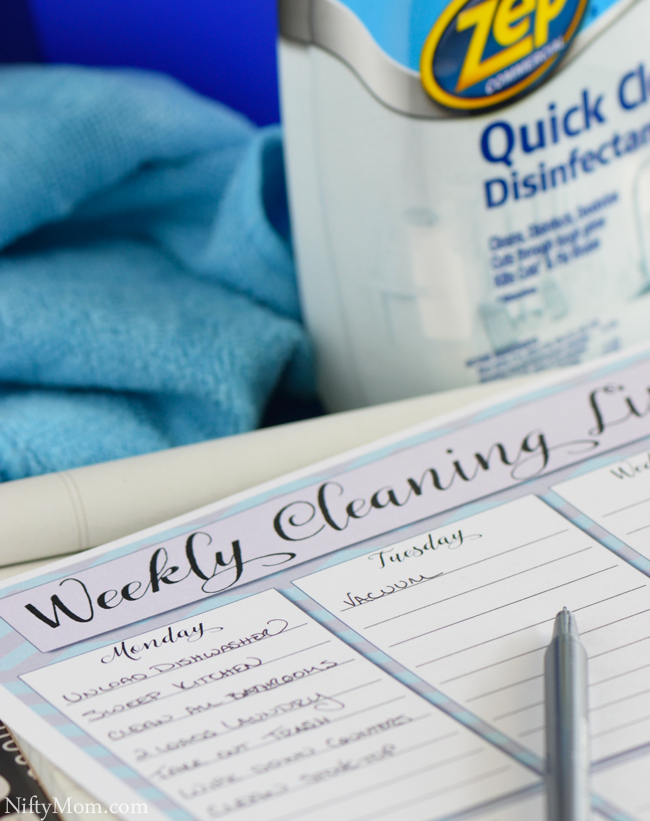 Being organized and completing these daily cleaning tasks helps make cleaning easier and more manageable.
Be sure to print out your own copies of the weekly cleaning list and check out more Zep products for all your cleaning needs.