This DIY Gold & Silver Christmas Card Display tutorial has been compensated by Collective Bias, Inc. and its advertiser. All opinions are mine alone. #SendHallmark #CollectiveBias
The holiday season is full of traditions for my family and I. Each year we make a Christmas Bucket List and then fill December with festive events, family time and some of my favorite things. One of the things on this list each year is picking out Christmas cards.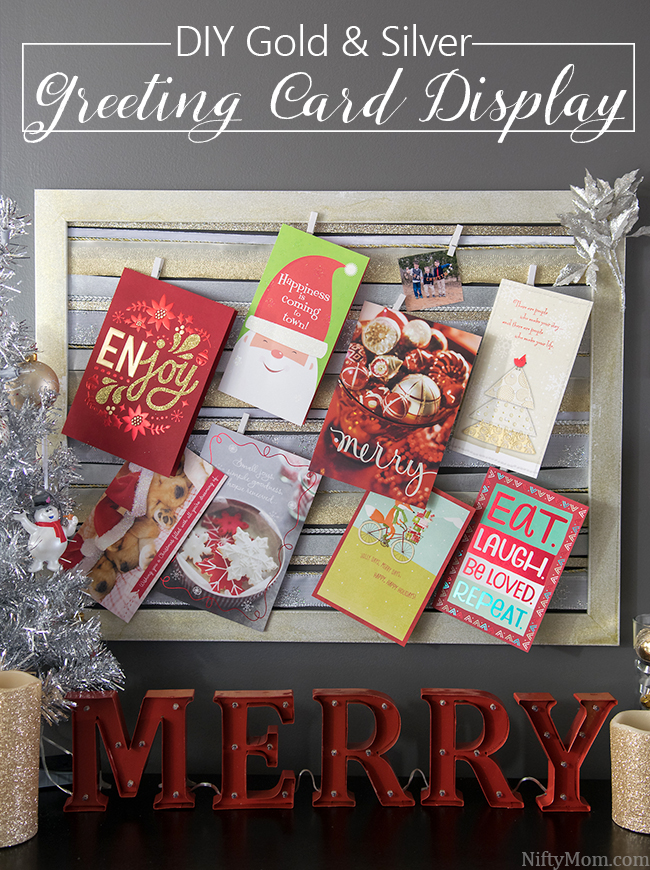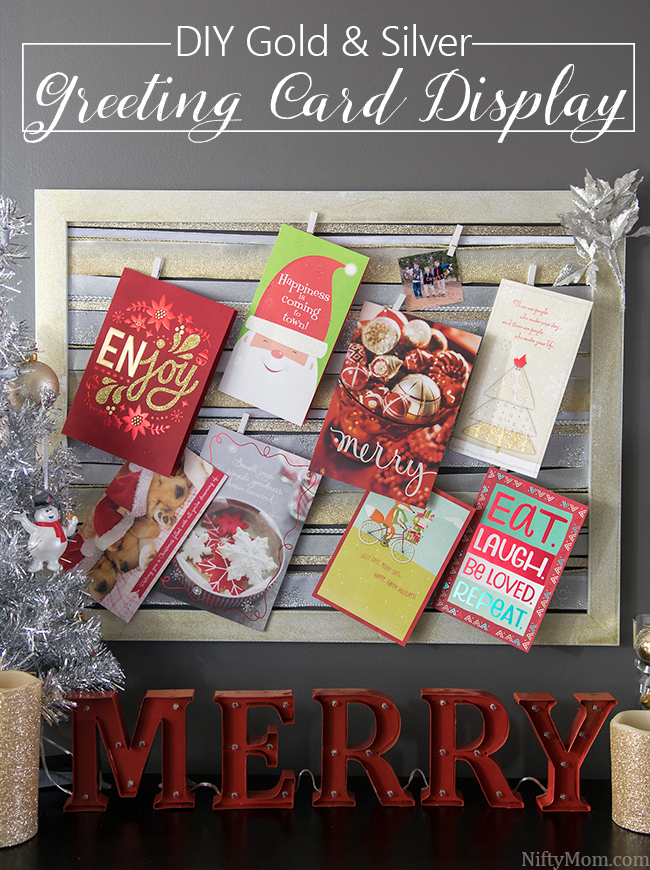 Greeting cards have a special place in my heart. I will always be a fan of snail mail and cards. A little thoughtful card or note in the mailbox can go a long way. It can turn a frown upside down and often speak words that are hard to say.
Hallmark greeting cards are always my choice of cards. They have a large variety for any and every occasion or just to say a simple hello. I can grab a card filled with humor or filled with amazing words of love. There is literally something for everyone.
Holiday cards are no different. My kids and I can select many different cards for loved ones to spread the holiday cheer.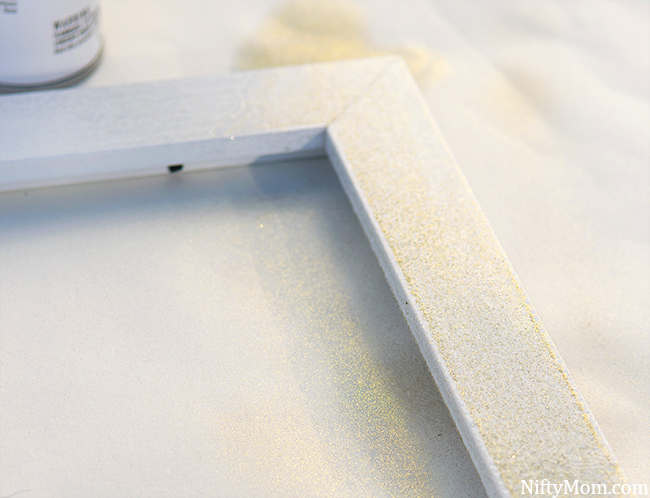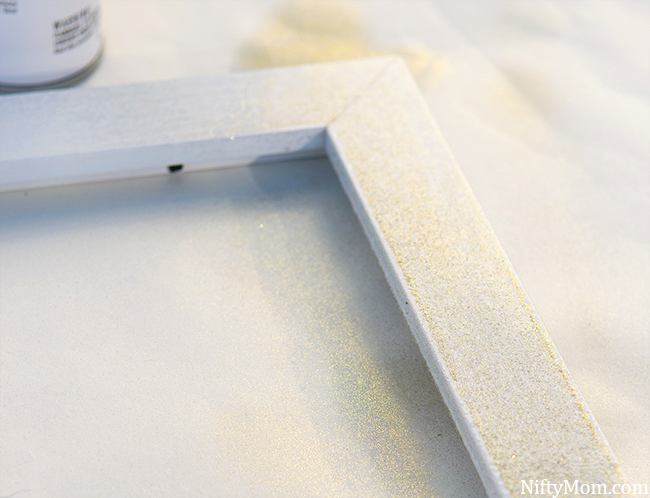 Along with all the cards we are sending out and attaching to gifts each year, our mailbox is filled with happy mail and greetings from loved ones across the country. All the cards we receive are filled with love and joy. The definitely do not deserve to be piled on my desk or tucked away in a drawer. They deserve to be displayed and showed off.
Last year, I stood all the cards up on the entry way table. This year to display the holiday cards we receive, I decided to make a fun gold and silver display. Assembly is easy and makes for a great addition to the entry way and holiday decorations.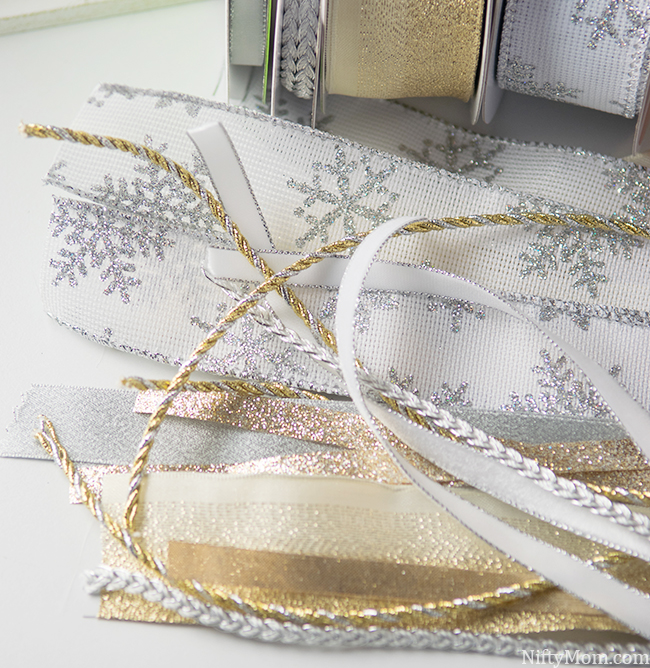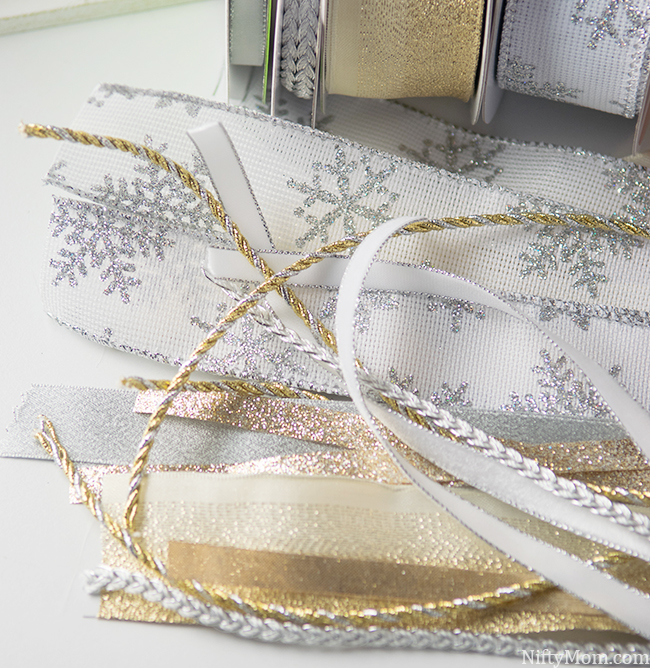 Supplies:
A wood frame, at least 18″ x 24″ which is the size I used (you don't need the glass and will just use the outside frame)
Gold or silver spray paint (I used gold glitter spray paint)
Variety of gold and silver ribbon, different widths (I used 6 different ones)
Hot Glue Gun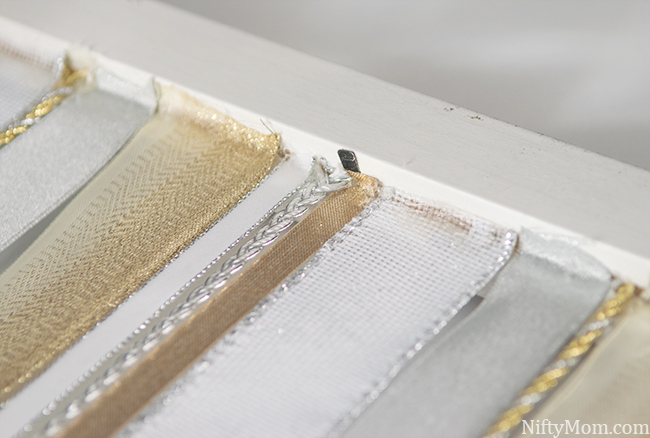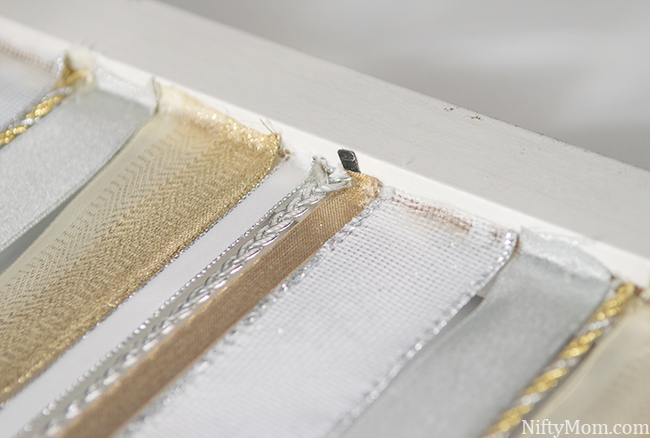 Start by spray painting the frame. Depending on the paint, you may need more than 1 coat. After it dries, measure how long the opening is with room to glue it down on each side. This is the measurement to cut the ribbon. I cut 4-5 pieces, 24 inches long, of each variety of ribbon I had. I did have some left over, but how many you need will depend on the ribbon widths.
Next, glue the ribbon on the back of the frame on each side, one ribbon at a time. You want to get it as tight as possible, so it holds the cards without too much slack. Start at the top and add the ribbon going down, in no particular order.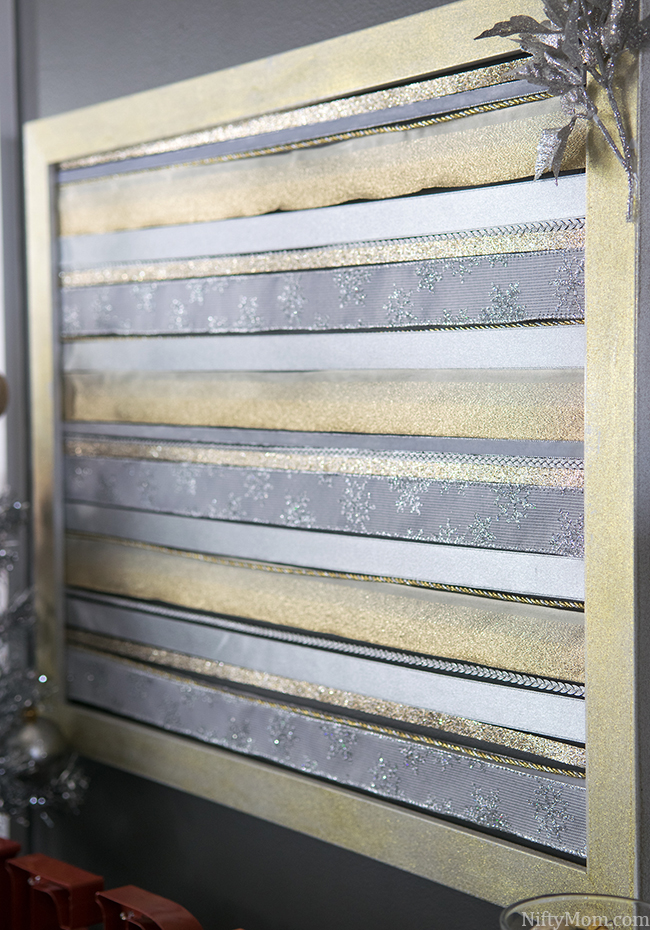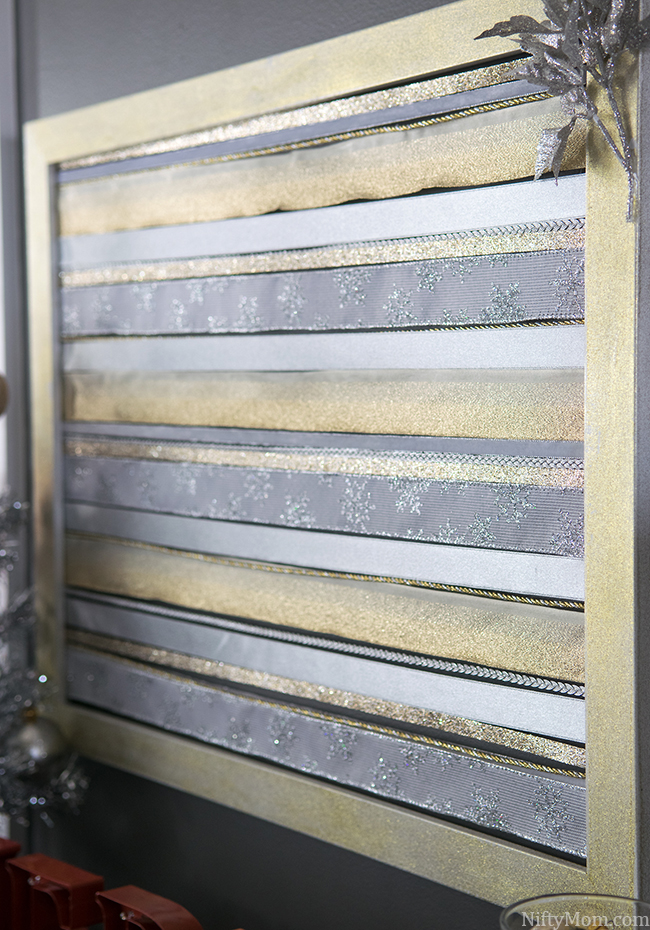 Once I got it up on the wall, I decided it needed a little something more, so I added a glittery leaf bundle to the corner. It turned out perfect and really compliments our gray entry way walls.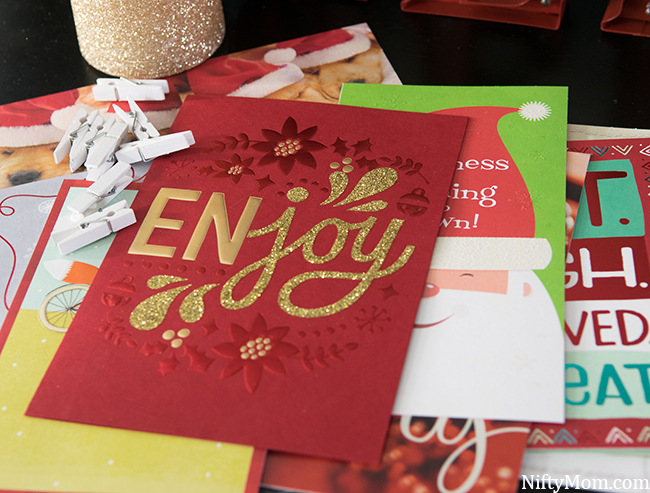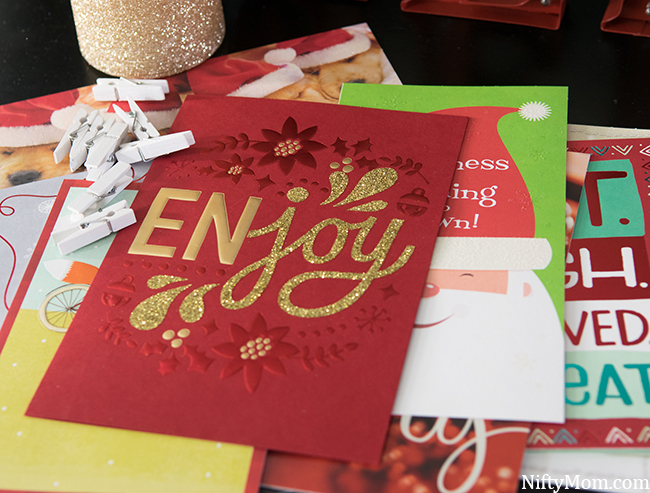 Next, gather all the love-filled gorgeous holiday cards and hang them using mini clips. As more cards come in the mail each day, you can add it to the display.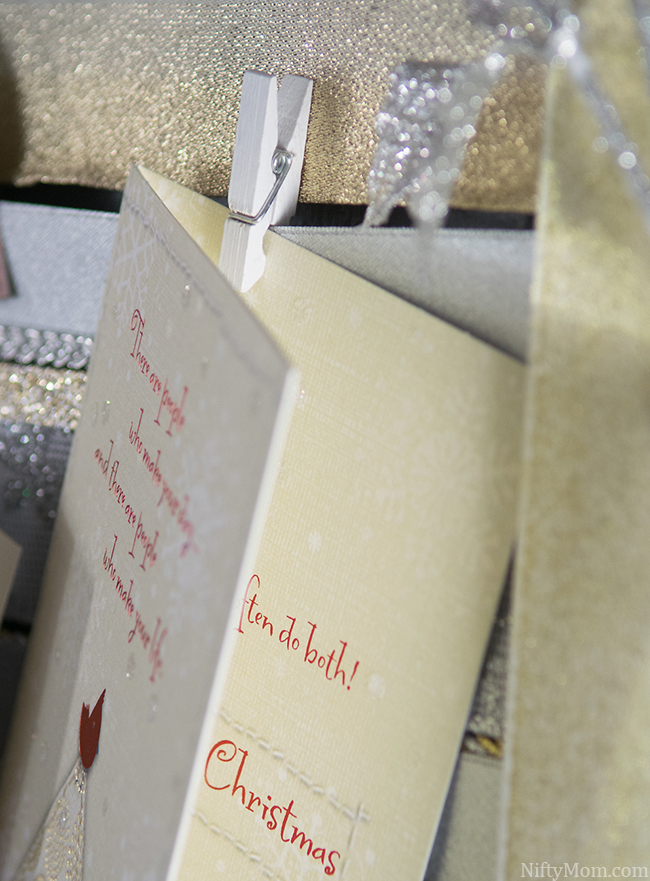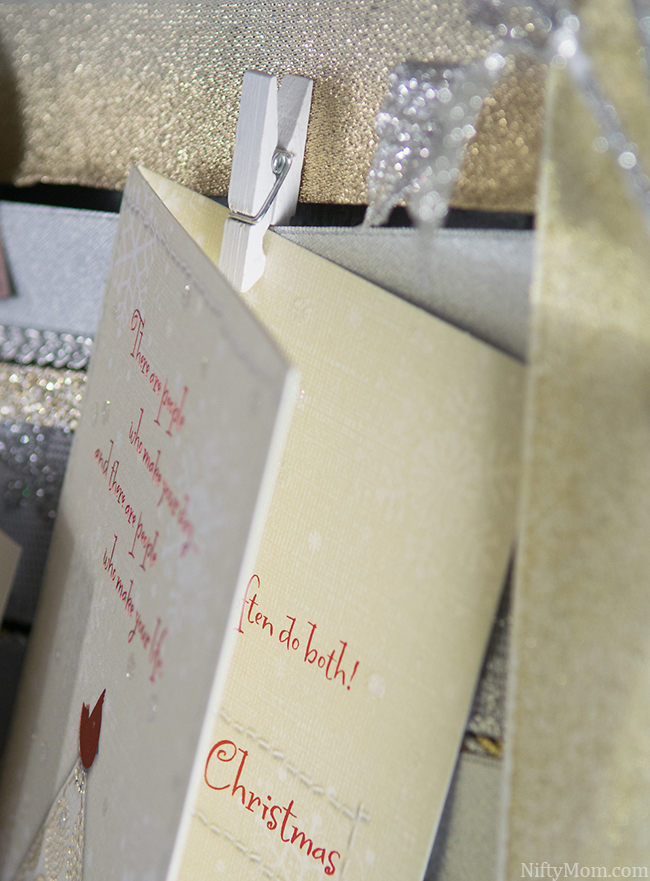 A little tip: Heavier cards should get clipped to the outer edge for more support. It is also helpful to stagger the cards so all aren't on the same strand of ribbon.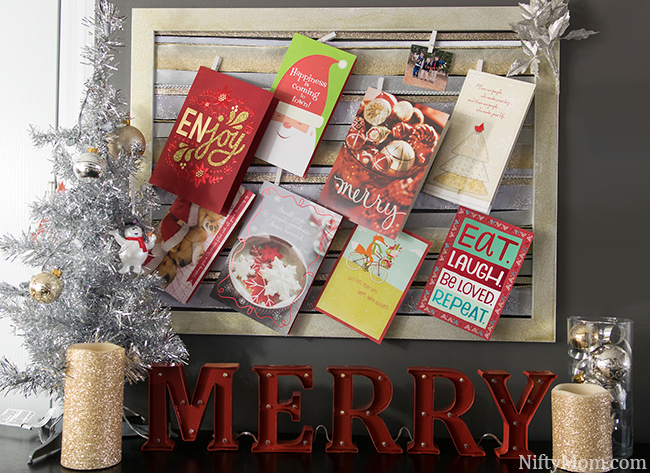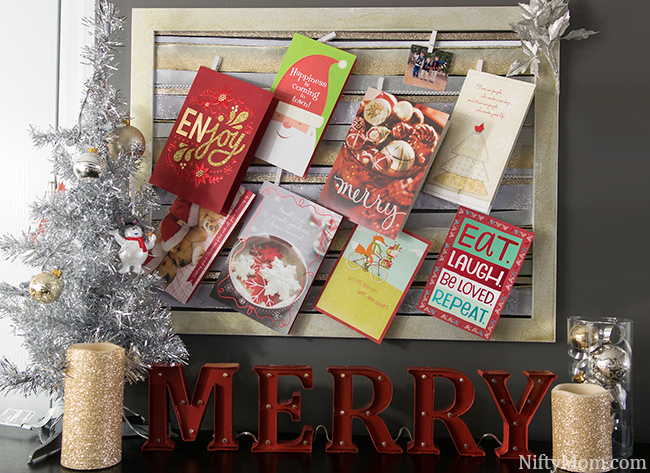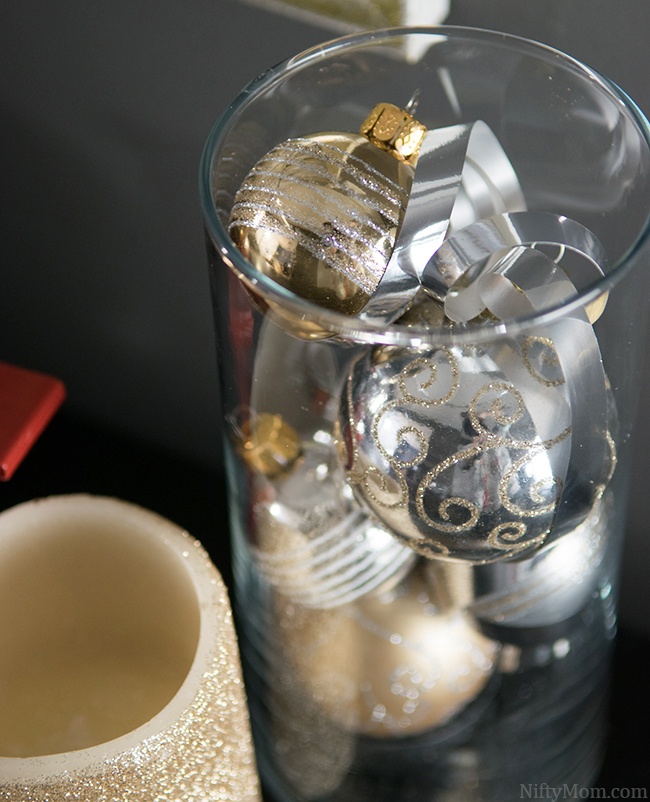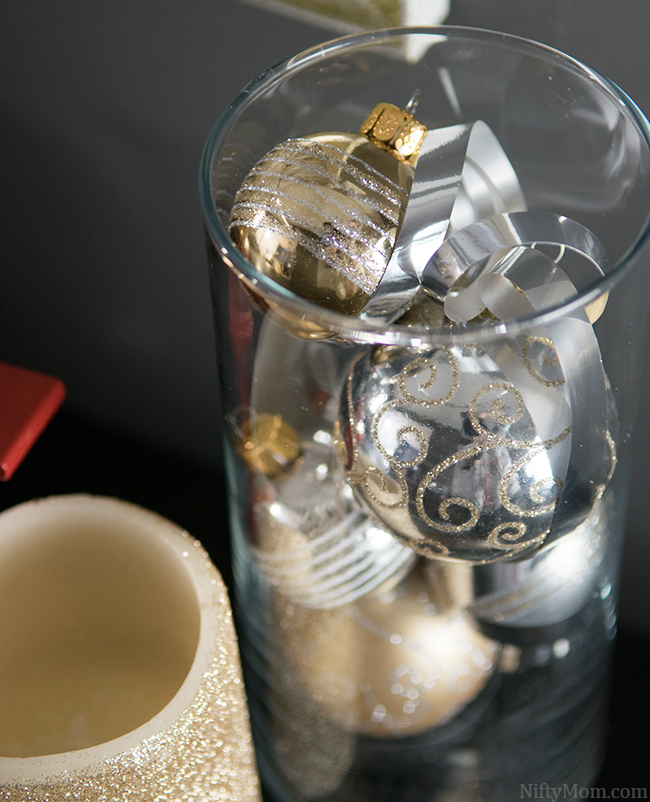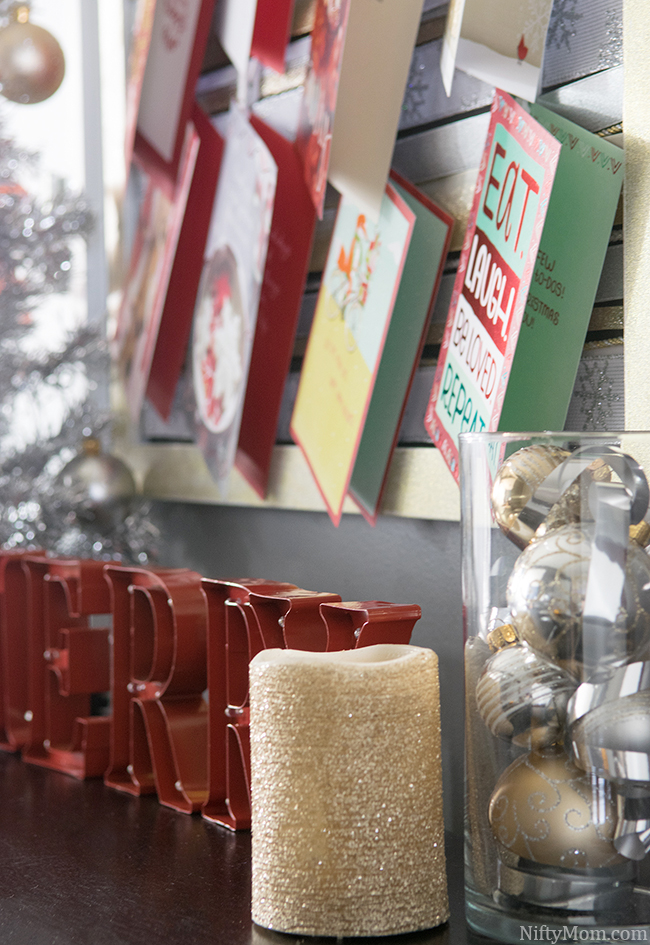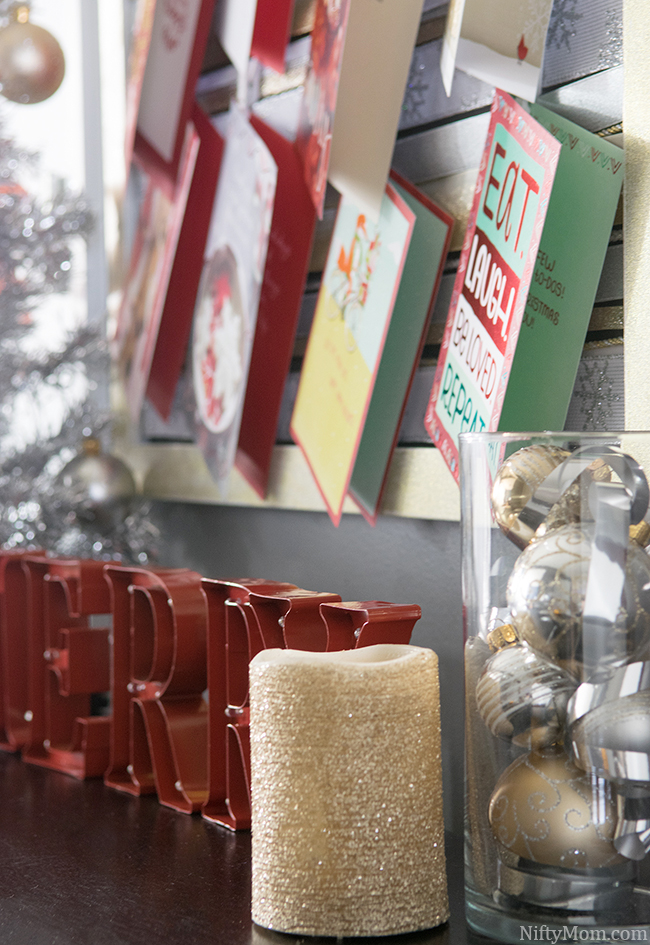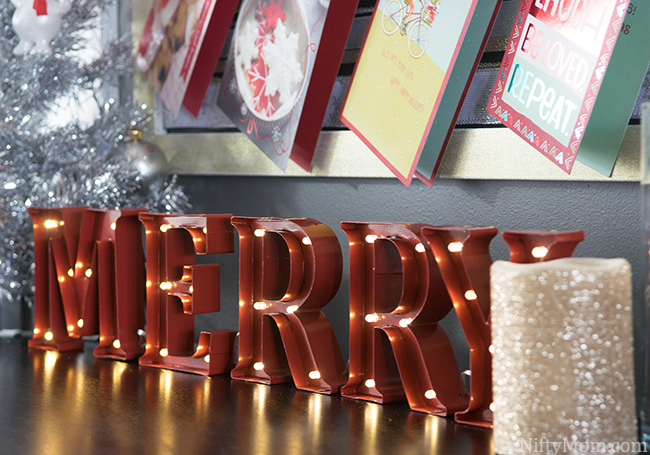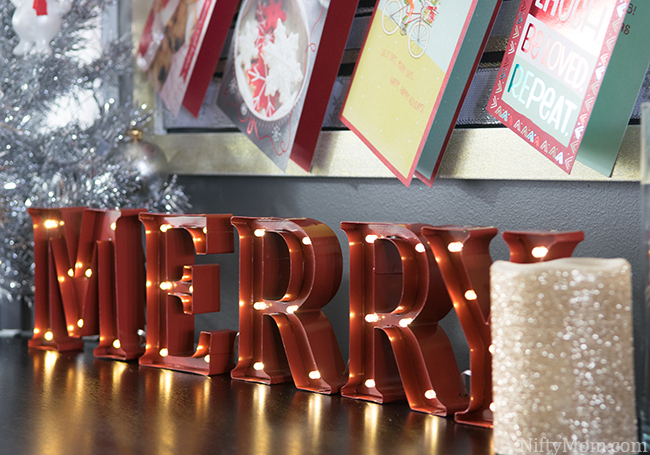 To complete the look, I added some holiday decorations on the table under the card display. This included some sparkly LED candles, holiday marquee letters, a glass vase with gold and silver ornaments, and a mini silver tree.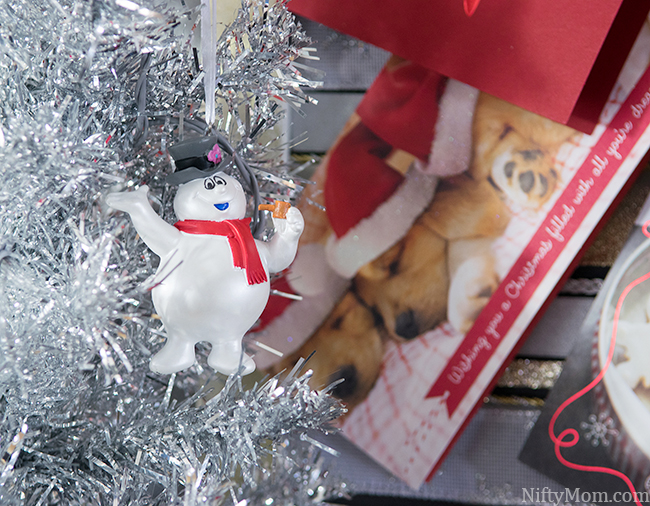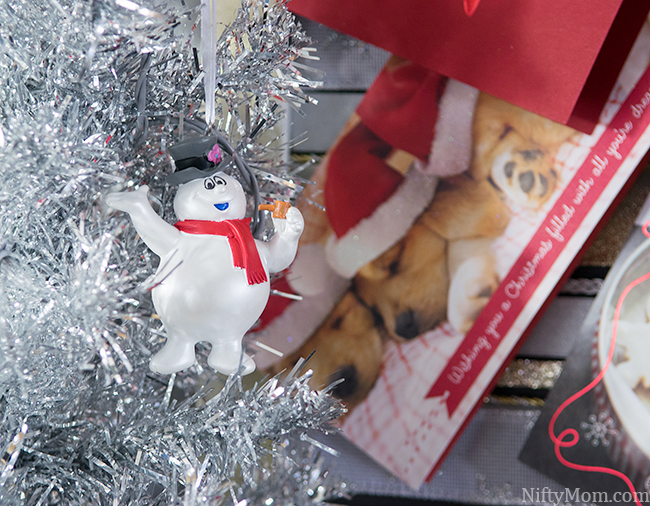 Of course the tree needed a few ornaments. Along with the gold and silver ones, I felt this Hallmark Frosty ornament I found at Walmart really completed the look.
I can't wait until more cards come in this month to add to the display. I also clipped up a few pictures of the boys to fill the rest of the display for now.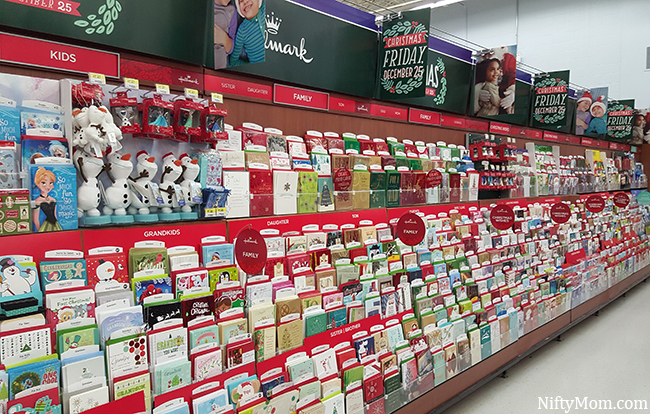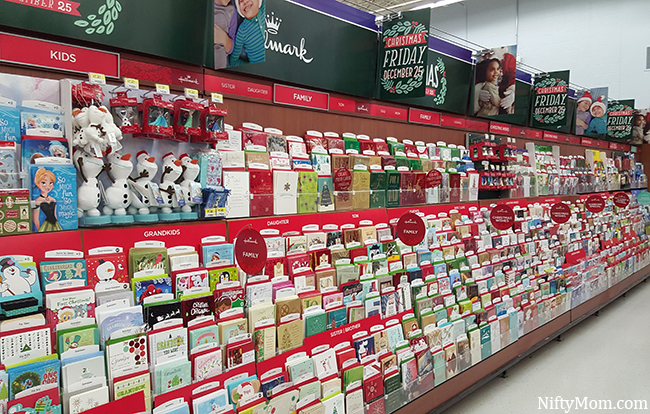 Click here to save $1.00 off of a two Hallmark Greeting Card purchase at Walmart, minimum $1.00 purchase required. Take advantage of the savings and #SendHallmark this holiday season!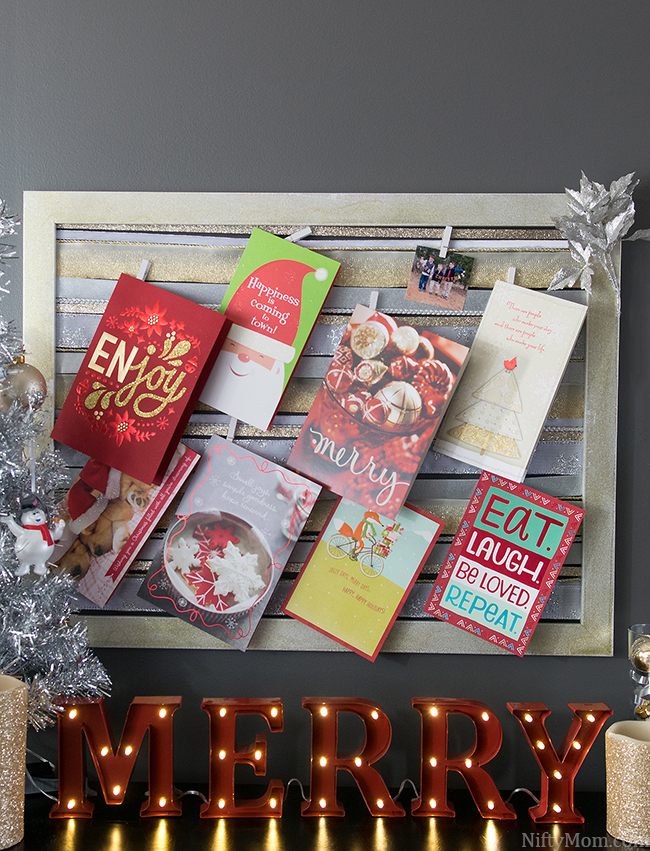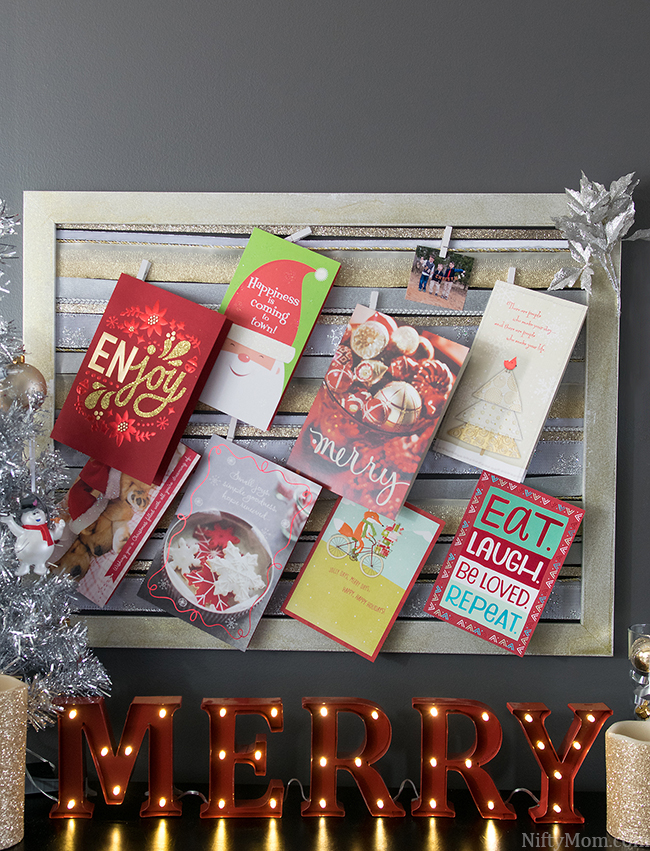 See more great holiday card ideas and share how you show off all your Christmas cards.