This nature walk collection printable activity sheet idea was written as part of my Let's Play Ambassadorship. Let's Play is an initiative by Dr Pepper Snapple Group that provides kids and families with the tools, places and inspiration to make active play a daily priority by building and improving playgrounds and donating sports equipment to groups in need. Even though I am being compensated, I fully believe in the initiative. All opinions are my own.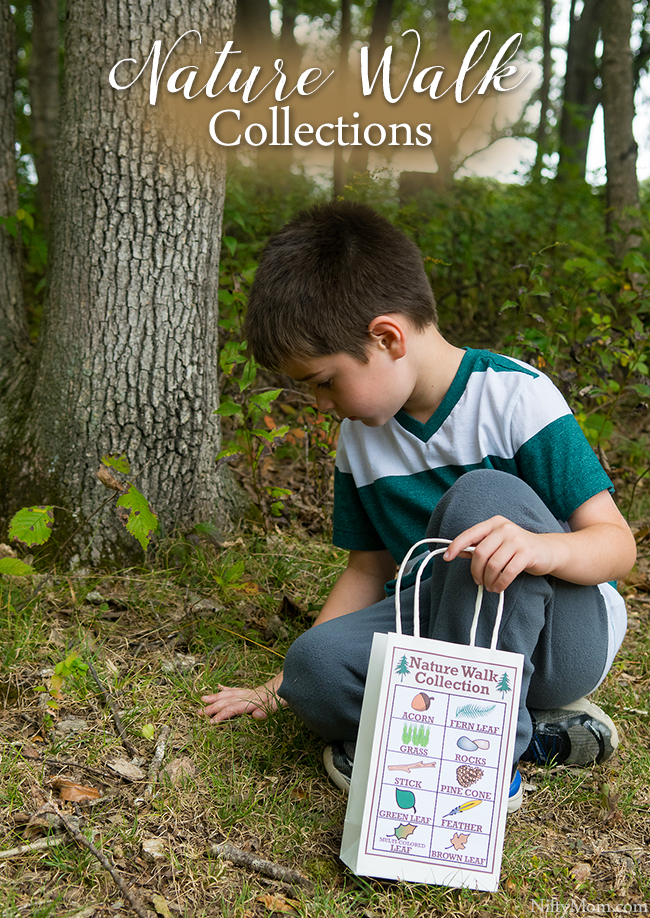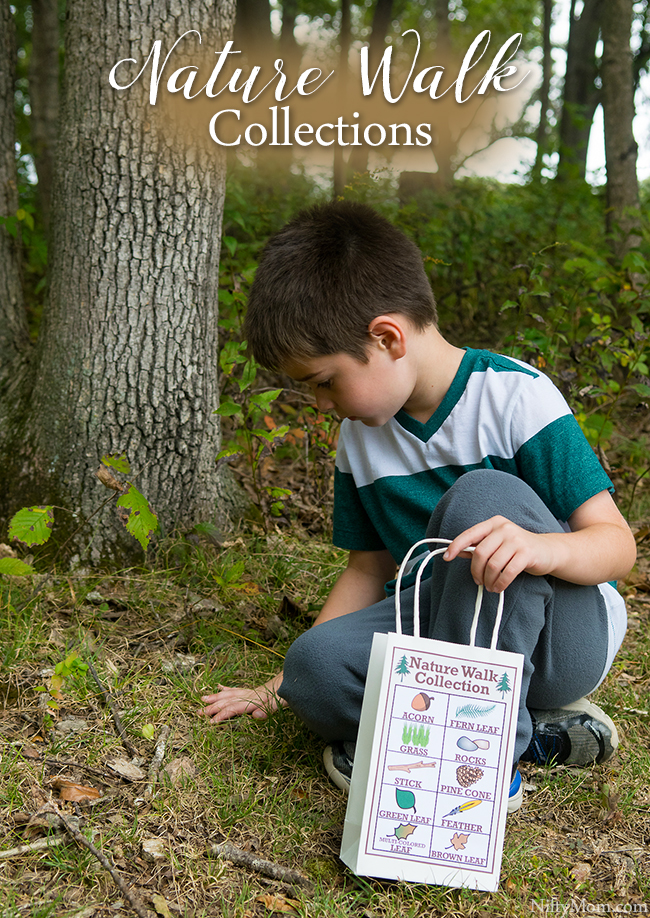 Last week was the first week it finally felt like fall. I was ready for it. I have been waiting for the crisp cool mornings, bonfires, orchards, and for the leaves to change colors. Fall is definitely my favorite season and because of that, we have many fall family traditions.
For example, fall is our favorite time to get out and discover new parks and trails in the area. The weather is just right and the scenery is beyond gorgeous. There are many ways to keep the kids active and engaged on our walks, however, one of my kids' favorite activities is a Nature Walk Collection.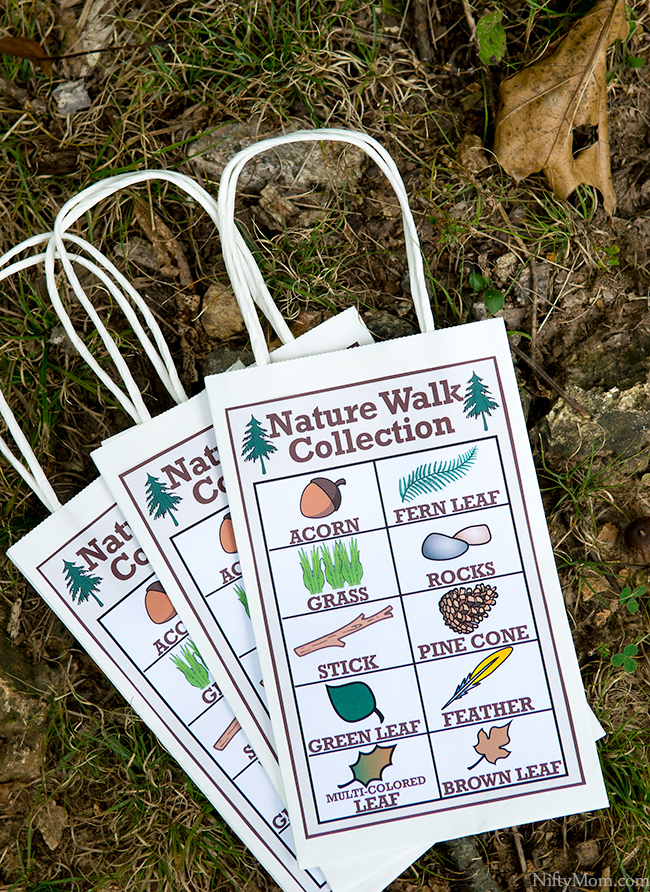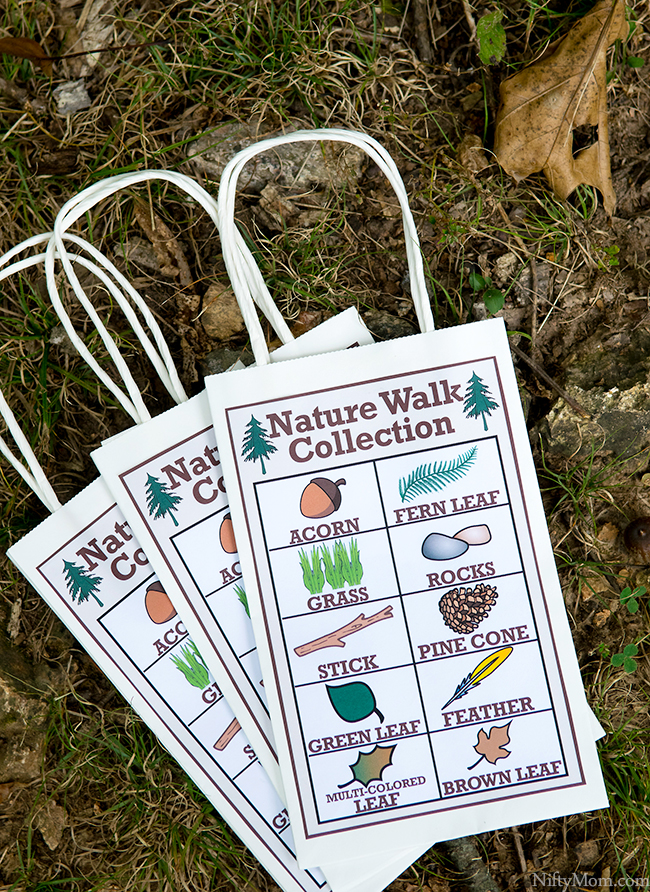 In the past, the kids would each have a plastic jar they would carry around adding items to. They'd just collect various things that caught their eye.
This year, I decided to make a sheet to attach to the bags. This gives the kids some guidance with something specific to look for. While the sticks and leaves are always easy to find, trying to track down a feather or a pine cone isn't as easy.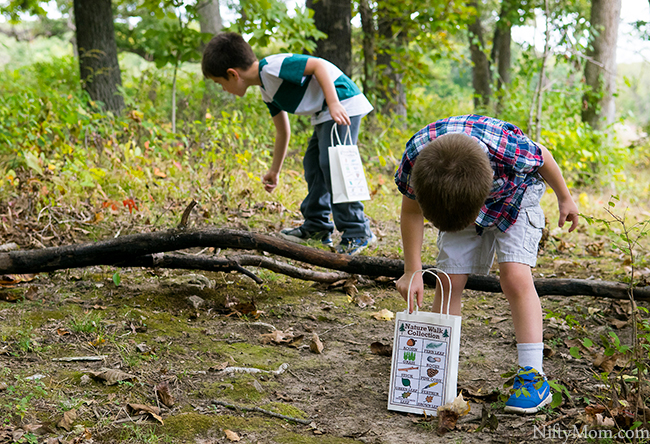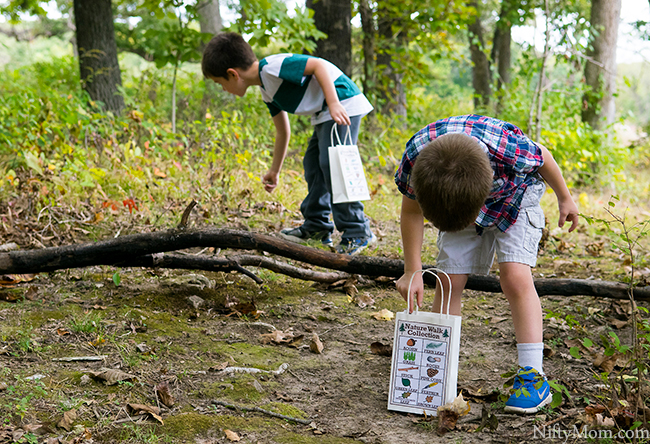 The sheet above has two copies of the activity. Print as many as you need, cut each one out and attach it to a bag. I used gift bags with handles to make it easier to carry. You can also use brown paper or plastic bags.
Look at the sheet as more of a starting guide. Encourage them to add more items such as tree bark, other nuts or various weeds they come across. Each area has different things, so this is something that can be added to when visiting different locations.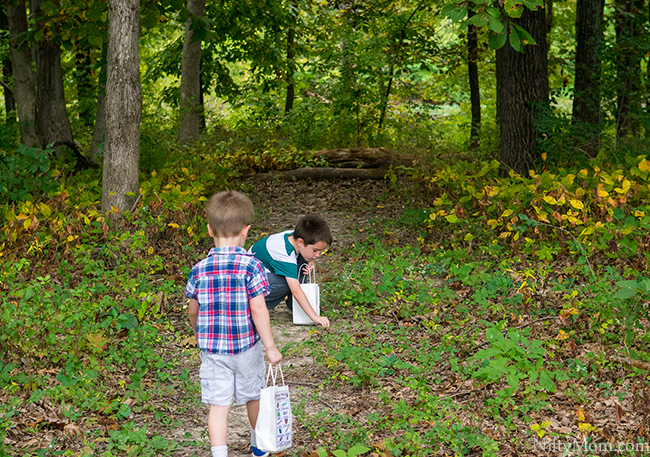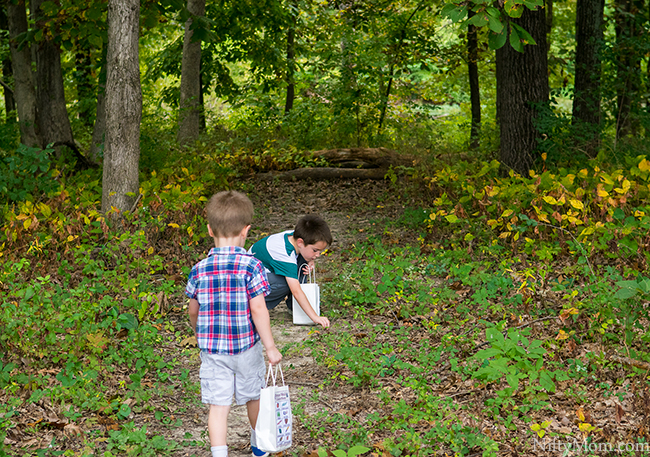 When we go on our walks, I do create a few rules. Mainly, they need to stay on the walking path and can only collect things on the ground (already fallen off). We don't want any poison ivy, injuries, or to harm any good living plants. Also, no bugs or insects in the bags.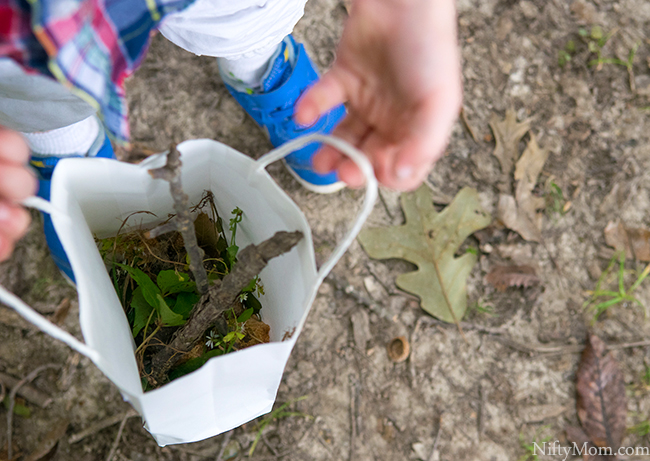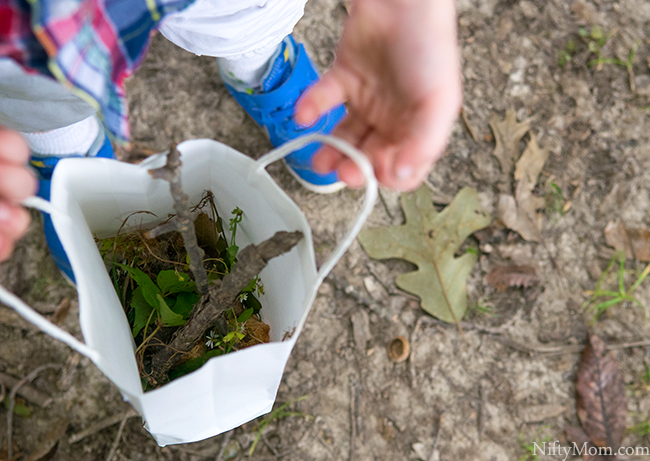 It's fun to see how different their bags end up after each walk. After we are done, they show each other their findings while talking about the differences and similarities. We often find that the kids each love to collect a variety of leaves.
If you don't have any trails or parks nearby, this can also be done on a neighborhood walk or even in your backyard.
FREE PRINTABLE:
Engaging Nature Walk Ideas for Kids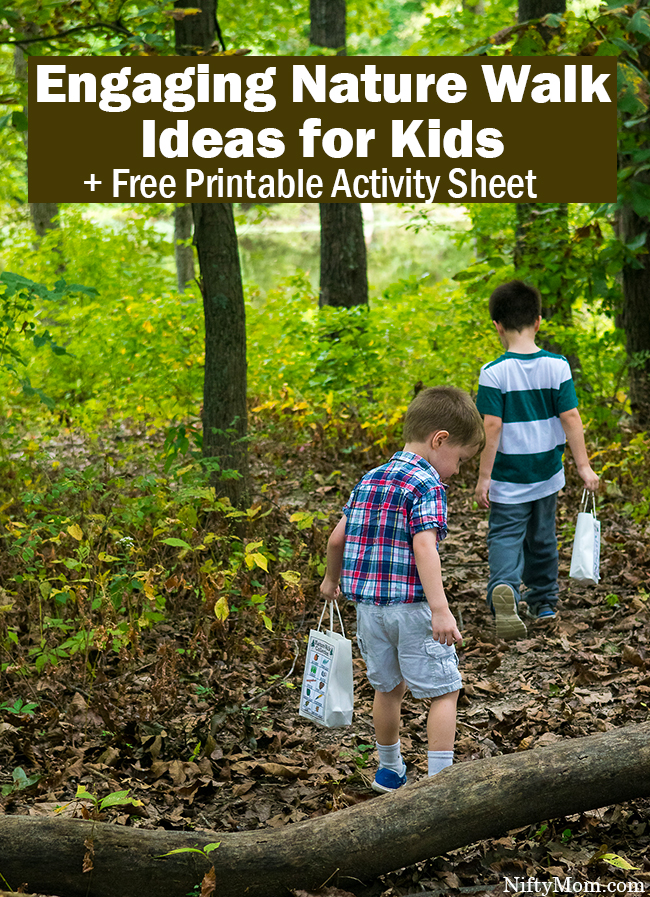 Need more ideas to keep the kids active and engaged on nature walks?  Here are a few ideas:
Animal Locators – The kids each try to see how many different kinds of animals they can locate; Squirrels, birds, rabbits, insects, fish, etc.
'I-Spy' – Take turns trying to guess what each other spies. This helps kids with adjectives and observation.
Colorful Flowers – It may not be spring, but many beautiful flowers still exist. Have the kids try to point out flowers for all the colors in the rainbows.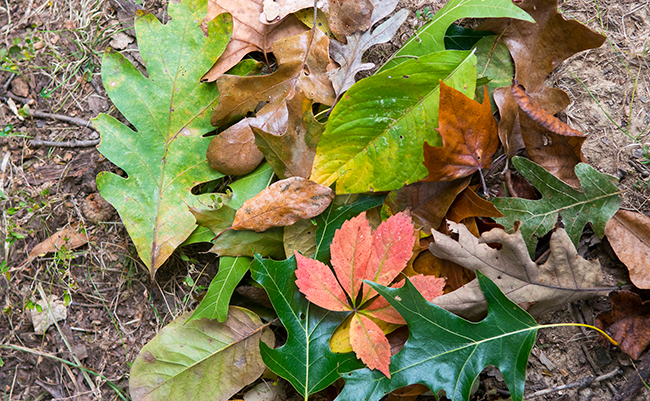 Simon Says – Playing Simon Says gives you, as the parent, a great opportunity to keep the kids moving. IE jumping jacks, skipping, stretches, etc.
Walk This Way – Have the kids get to point A to point B in various ways. IE skipping, hopping, walking backward, etc.
Leaf Collection – Each kid gets their own bag to collect all different kinds of leaves. I encourage my kids to find as many as possible in different shapes, sizes, and colors. When we take walking breaks or when we get home, we use the leaves for educational activities such as:

Put the leaves in order from biggest to smallest
Put the leaves in order from darkest to lightest
Group all the leaves by color
Group all the leaves by size
Match the leaves that are the same shape
Count how many you found
Group them in twos, threes, etc.

Draw It – Take a sketch pad, pencils, and/or crayons and stop along the walk so everyone can sit and draw something they see.
Collection for Art – Let the kids fill a small bag with items they want to try to use as a paintbrush. They often go for leaves and branches, but anything on the ground will work. It also creates a new activity for later.
No matter how long or how little time you have to walk, at least one family outdoor walk a week (or day) can be very beneficial and entertaining for the kids.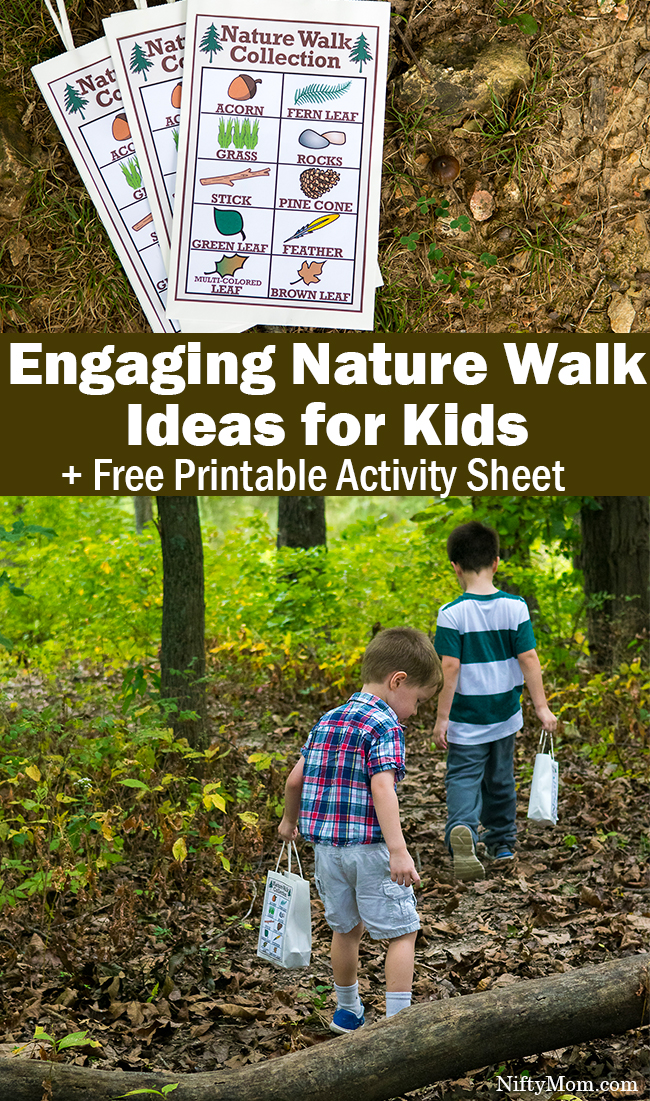 FREE PRINTABLE: