With the kids at home more than ever, I am always looking for new ways to keep them active. This month we made an activity jar and it has been a hit. I have also included over 30 ideas for indoor activities to get kids moving.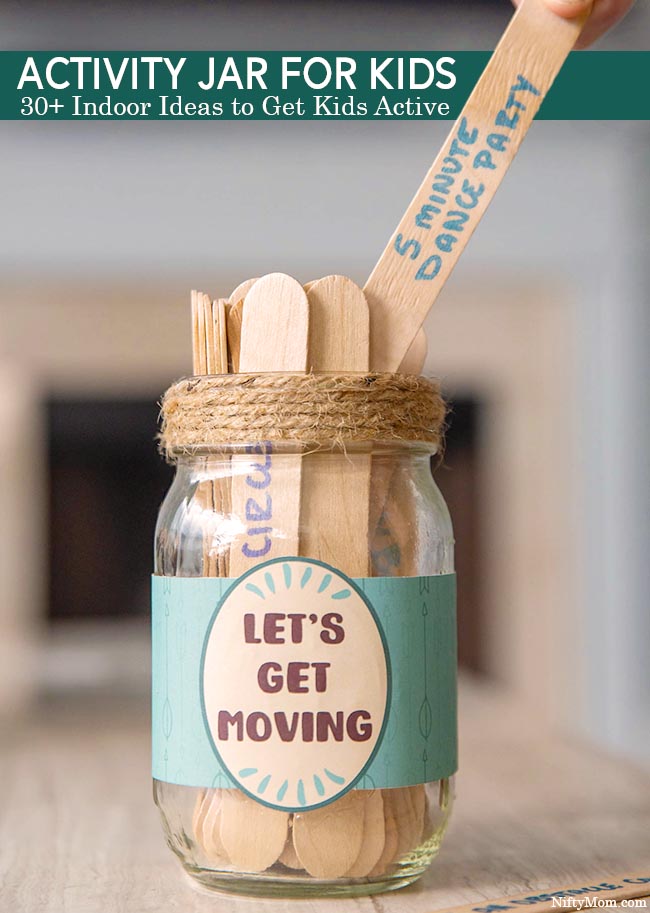 The kids have been doing various learning activities from home daily. Videos, slideshows, reading, assignments; It is a little bit of everything each day. At first, their daily physical activities almost always involved riding their bikes and going for walks.
Then we had a few days of non-stop rainstorms. The kids started rotating time on the exercise equipment we have, but then it became 'boring'. I gave them a list of ideas, then this activity jar was made. This way they can randomly pick different things to do inside to get moving, no one is arguing over what to do (well, for the most part), and they now look forward to doing activities from it.
The jar is very customizable, as you can make the activities as long, hard, easy, or short as you would like. Make them relative to your kids' ages and/or make this a daily family activity. You don't have to limit yourself to indoor activities. We do have some outdoor playtime in ours, but coming up with indoor activities can be more challenging.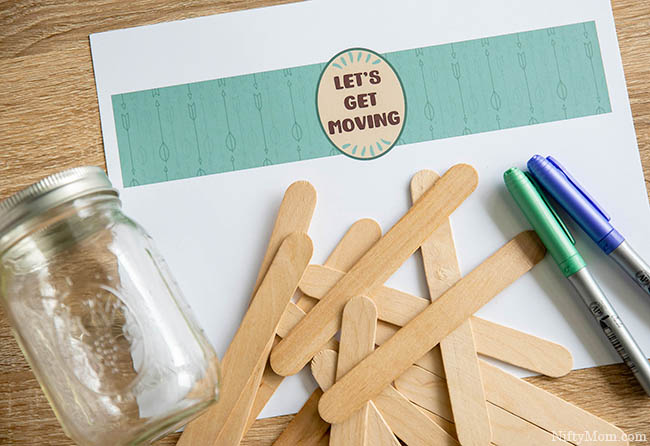 Supplies:
Mason Jar
Wooden craft sticks (or pieces of paper)
'Let's Get Moving' Jar Wrap (PRINT HERE)
Print the 'Let's Get Moving' Jar Wrap, cut it out and glue it around your jar. No printer? Make your own wrap or tag for the jar. I also added some jute to the top of the jar.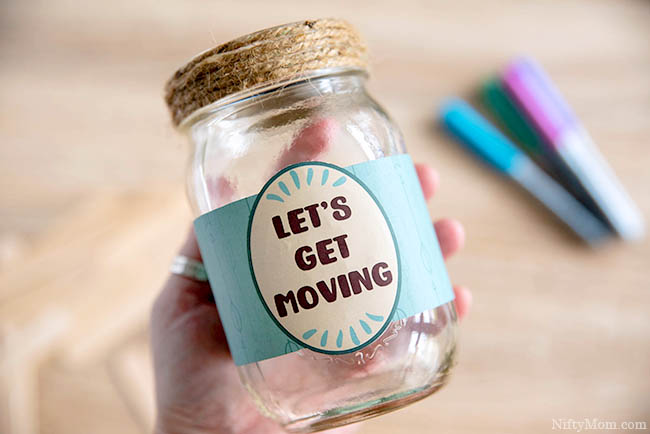 Based on your kid(s) age(s), add a different activity on each stick (or piece of paper). You can do simple quick activities (jumping jacks, run in place) and longer ones (Nerf Gun war, create an obstacle course). Be creative and get your kids moving! Below I have shared some different ideas for your activity jar.
NIFTY TIP: You could also color code the sticks/paper activities based on the time it takes to do them. For example, put red washi tape around the top of sticks that are quick under 1-minute activities, blue tape for long activities that could last over an hour, and so on. You could also do indoor/outdoor activities, individual/family activities, etc.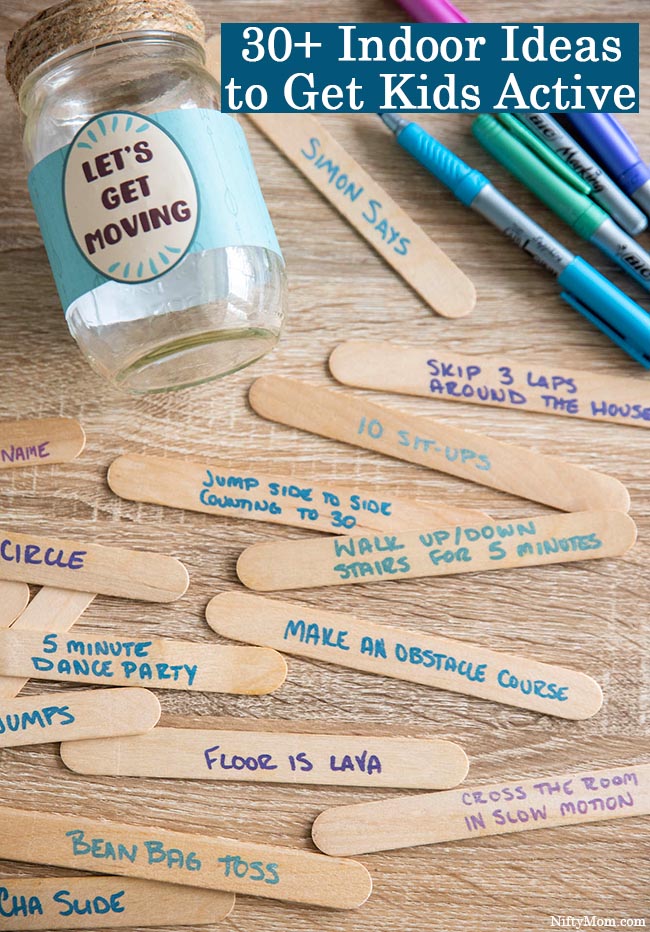 30+ Indoor Ideas to Get Kids Active
Easy exercises (Determine how many based on age & available time) You could also have them spell things out while doing them instead of just counting

Squats
Push-ups
Side-to-side twists
Jumping jacks
Sit-ups
Bicycle crunches
Arm circles
Mountain climbs
Burpees
Lunges
Side-to-side jumps
Planks
Toe-touches

Make activity stations throughout the house with each station being a
Kids Yoga (there are lots of YouTube videos)
Frog jumps
Roll a ball across the house without using your hands or feet
Balance on 1 foot for X seconds
Pretend to jump rope for X minutes
Run in place counting to 100 (or other # age dependant)
March in place while spelling your name or for X minutes
Skip X times around the house
Cross the room in slow motion
Walk up/down the stairs for X minutes
Play Red, Light Green Light
Indoor skating – Use paper plates or tissue boxes as skates
Pillow Fight!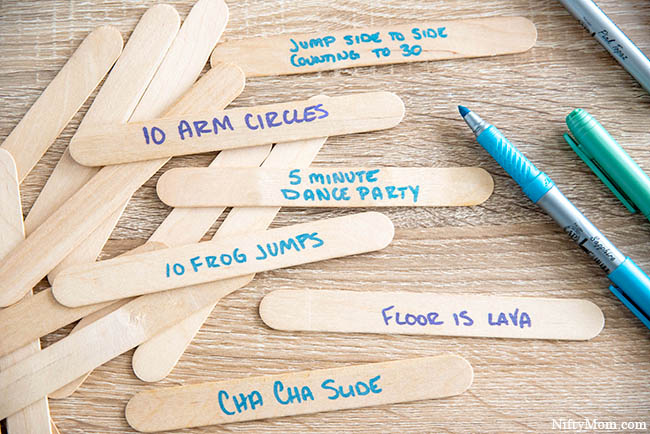 Make up a new dance to your favorite song
Dance to X number of songs
Play in an airband
Play freeze dance
Do the Cha-Cha Slide
Play the floor is lava
Build a fort
Have a Nerf gun war
Make an obstacle course throughout a room or the whole house
Balloon volleyball
Toss a small ping pong ball back and forth in plastic cups
Play Simon Says
Create an indoor scavenger hunt
Bean Bag Toss (or other bean bag games)
Indoor hopscotch with painters tape on the floor
Make an indoor mini-golf course with painters tape and household items
Make cleaning a game! Seriously, it gets them moving and chores can get done. Try finishing a chore before a song is over.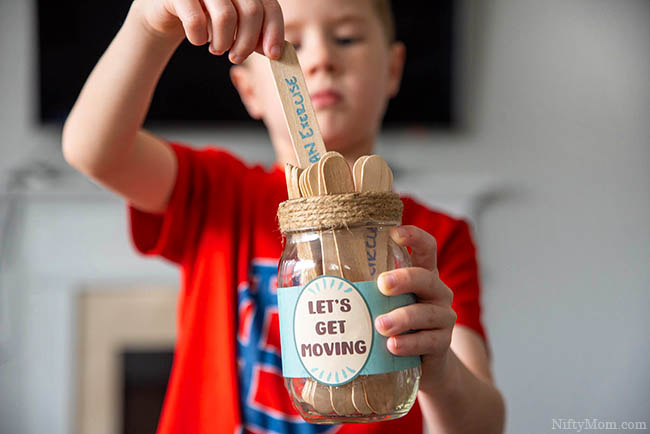 What other activities would you add to the list?