I cleaned up with Zep Commercial® as part of a sponsored post for Socialstars. All opinions are my own. #TryZep
Dare I say this, but cleaning is like my happy place. When I get overwhelmed with work, I take a break and clean my house. When I am feeling over emotional, I become a super cleaner. When I have 2 too many cups of coffee, I have cleaned the whole house in a blink of an eye and re-organized closets.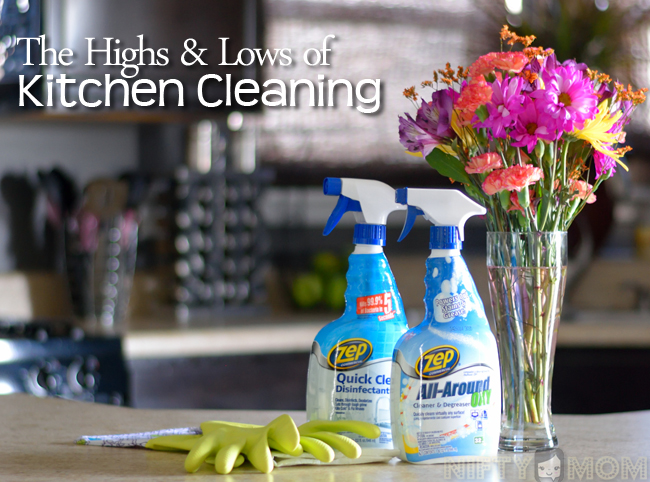 It's what I like to do. With three kids, it may sound crazy and impossible. But I have always been that way, even before getting married and having kids. Cleaning and organizing just helps me re-group and focus. Plus having a clean house is one less thing to stress over.
I have numerous lists I complete daily that include 5-minutes tasks to help keep things simple and more manageable. I am cleaning things everyday throughout the day in-between everything else. Since the kitchen is the heart of my house and I spend a lot of time in there, it gets cleaned multiple times a day. I am continuously sweeping, cleaning up spills, wiping down the sink, and disinfecting the counters.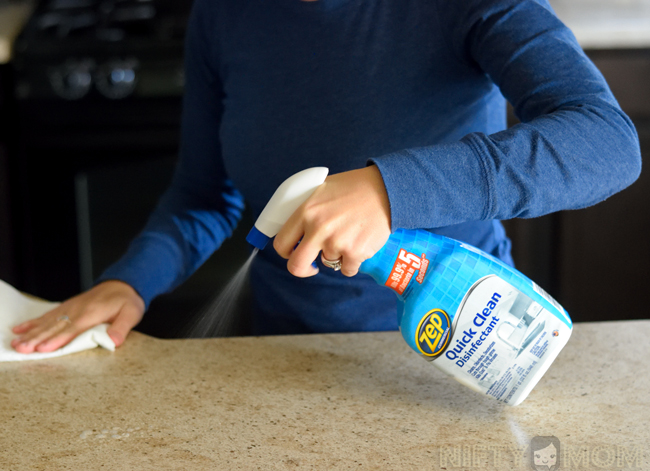 Zep Commercial Quick Clean Disinfectant kills most viruses in 30 seconds to 2 minutes which is what I need with three kids. Since my oldest started Kindergarten this year, sickness just seems to be lingering around my household. I am trying to prevent it and keep it out as much as possible so frequent wipe downs with the Quick Clean is necessary.
Another thing I do daily is try to find one 'forgotten spot' that doesn't get cleaned so often. Sometimes it is just moving the couches and getting all the toys out from under them or organizing the shoe closet. Other times it is down & dirty deep cleaning.
Finding these spots are easy. I take a new view of things. I am always cleaning everything right in front of me. But what about what's above and below eye level: the highs and the lows. I go into the kitchen and lay on the floor and look up. New dirty spots are always around somewhere. Such as under the microwave. The microwave and stove get cleaned frequently, so how do I always forget about the bottom of the microwave?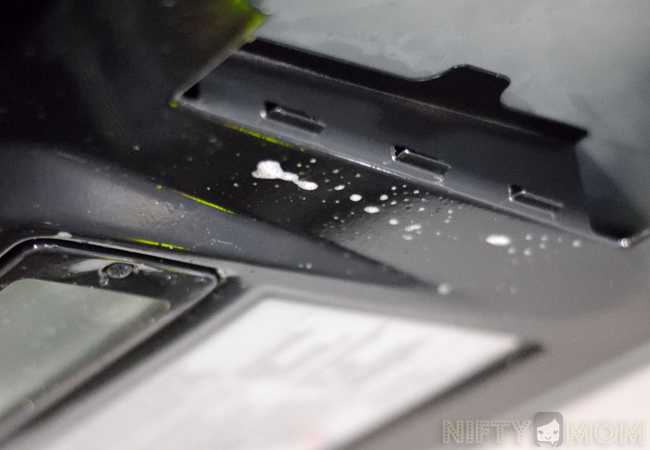 It was bad. The caked on grease and dirtiness from being right above the stove burners definitely showed. I got out the Zep Commercial All-Around Oxy Cleaner and Degreaser which is made to tackle tough stains and break up grime. It is recommended to spray and let the product sit for a minute, but I knew I couldn't do that. At least not without spraying everything around it and having the cleaner drip onto the already-clean stove.
So I saturated a spot of a cleaning cloth and lightly rubbed it the areas. That allows for the cleaner to sit on the area, but not drip off.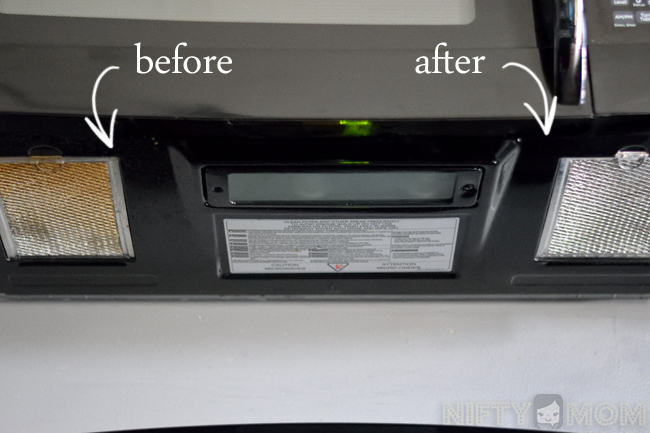 Cleaning it made a huge difference. I snapped a picture after cleaning only the right side and you can really see the contrast. I don't think it was even necessary for me to point out which side was which on the picture. It's pretty obvious. It's true "That @%!# Will Clean Anything".
There is always something out of normal view to look for and take a minute to clean. Instead of having an all-day cleaning spree, I like to just do some each day.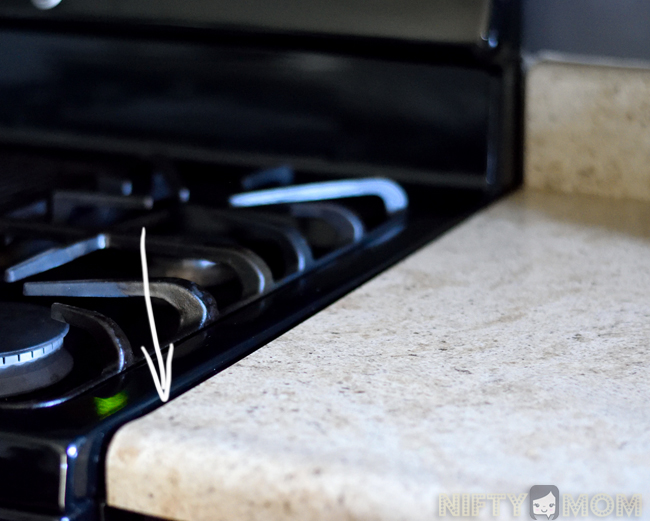 Here are 5 more spots in the kitchen to check:
In between the counter & the stove: That little crack is a prime spot for grease and crumbs. Every few months, move the stove and clean under and around it. 
Under the refrigerator: Another thing to move every few months to check under. Ours also sits next to the counter so lots of little crumbs and even papers fall down there.
Light fixtures: We have four in our kitchen and they can easily be forgotten.
Floor Air Vents: Our vents get dirty fast. With three little ones, not only do things get spilled or swept into them, but my toddler likes to hide stuff in them. Easily forgotten by me, but not them!
Silverware Drawer: I recommend taking out the silverware frequently and cleaning out the organizer. We put clean eating utensils in there so it should stay clean, too.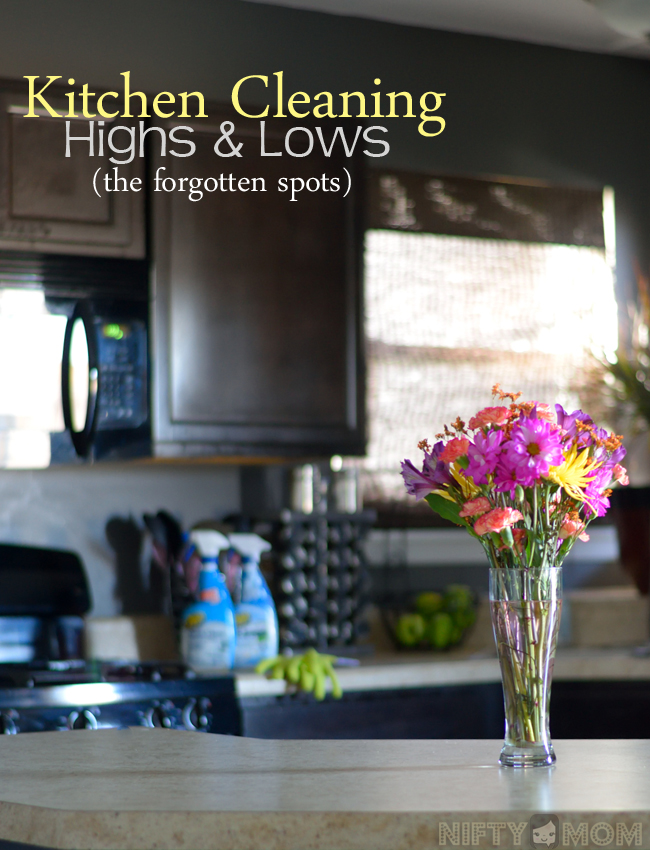 Look high and low. What are some forgotten spots in your house?